14 Blue and White Floral Duvet Covers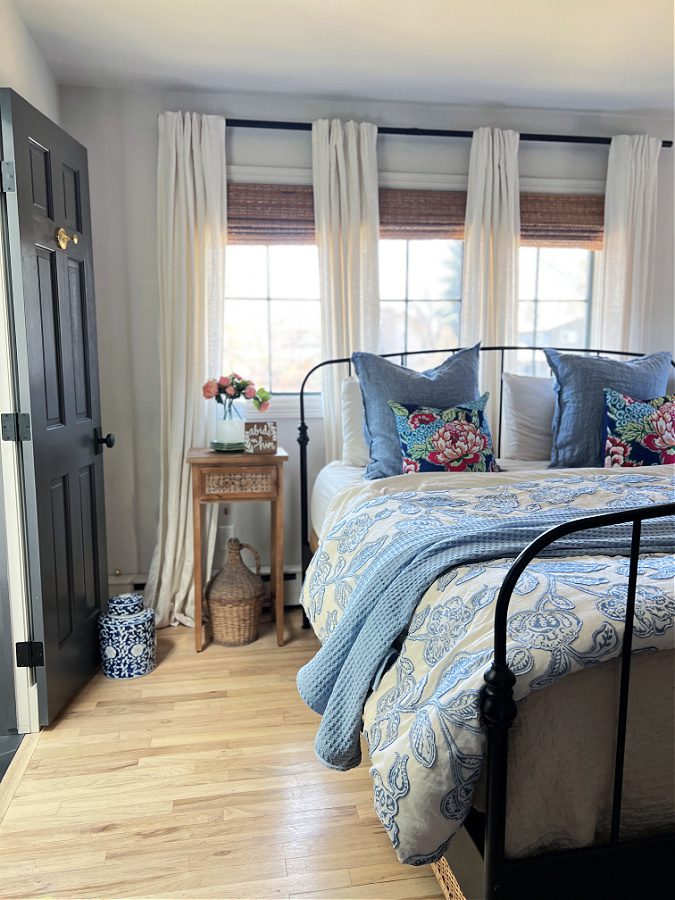 Today, it brings me great joy to explore a topic that resonates so closely with my personal life and living space. – the enchanting world of blue and white floral duvet covers.
If you're anything like me, you understand the power of transforming a bedroom into a serene haven with just a few well-chosen pieces.
And boy, have we struck gold with the star of our master bedroom: the captivating blue and white floral duvet cover that I found on Amazon of all places.
Now, let me share a little secret with you: this gorgeous duvet cover has been flying off the shelves and finding its forever homes faster than a hummingbird's flutter.
It's been so popular that it's had to be restocked not once, not twice, but several times! The sheer joy of seeing how our community of home enthusiasts has loved this particular piece of bedding warms my heart beyond words.
*As an Amazon Associate, I earn from qualifying purchases. This post contains other affiliate links too for your convenience. Click here to read my full disclosure policy.
But here's the thing – as much as I wish I could invite each and every one of you into my home to experience the sheer elegance of our beloved blue and white floral duvet cover, reality reminds us that distance can sometimes be a pesky roadblock.
So, in the spirit of sharing, caring, and transforming bedrooms far and wide, I'm excited to present you with a fun alternative.
In today's post, I'm curating a roundup of other duvet covers (along with ours so you can check when it is in stock) that capture that same ethereal charm, those lovely blue blossoms layered over a creamy white background.
Whether your style is more cottagecore, modern chic, or somewhere delightfully in between, there's a little piece of duvet heaven for everyone. Because let's face it, friends – there's no hiding the fact that I have an absolute crush on all things blue and white.
From the way the colors play off each other in perfect harmony to the timeless appeal that never seems to fade, it's a love affair that I'm not afraid to flaunt.
So, sit back, relax, and prepare to be whisked away on a journey of comfort, style, and a sprinkle of that signature blue and white magic. Let's dive into the world of duvet covers that'll make your heart skip a beat and your bedroom a canvas of dreams. (Ok that might have been a bit dramatic, ha ha!)
Here's to creating cozy, calming spaces that resonate with our souls and reflect the beauty we hold dear. Let's spread the love, one blue and white bloom at a time!
Blue and White Floral Duvet Covers
So here is a peek at our blue and white (actually more of a cream) duvet cover that I adore.
The blue flowers have a lovely mix of light and dark blue threading that looks like the flowers are appliqued or hand sewn on! This provides a beautiful textured and raised look that makes it unique.
It honestly looks so much more expensive than it is. We used this white down comforter an an insert and I would say if you get this duvet to make sure you use a cream or white insert since it is lighter fabric. It has ties to hold the comforter in place. In the summer we toss this light blue waffle blanket across the bottom and in the fall and winter months I switch to the same blanket in navy. Love how it works with both!
Our dogs sleep at the foot of our bed every night and it has held up well and does not show the dirt. We truly love it.
Bonus: it comes with two king size matching shams as well!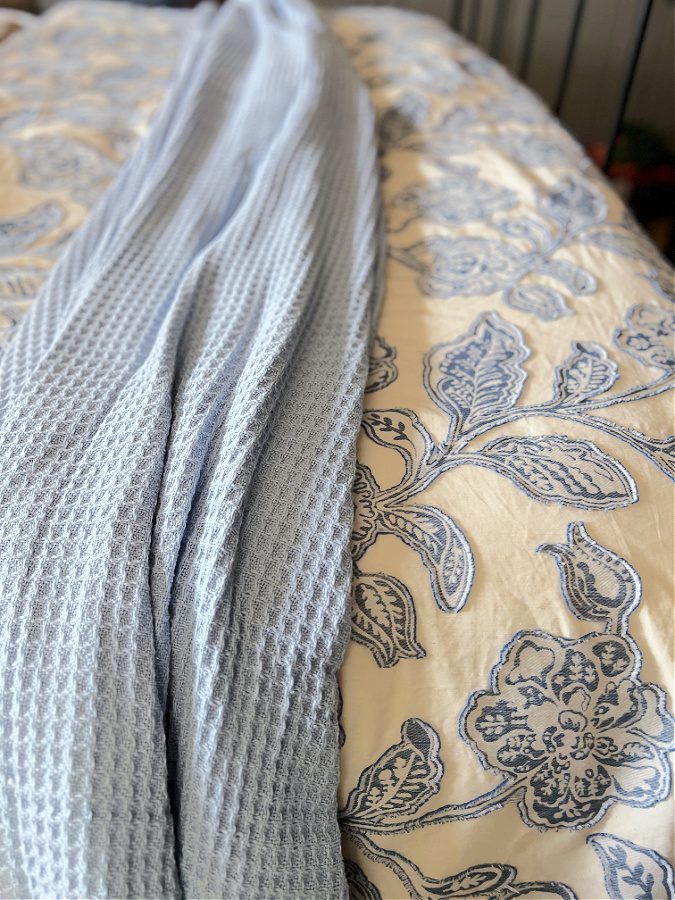 Other Blue and White Floral Duvets
Maybe mine isn't speaking to you or you just don't want to wait for it to come back in stock.
No worries, I have found some beautiful alternatives. And good news, there is a variety of price points as well! These are all duvet covers and do not come with the inserts. If you need a wonderful insert this is ours.

First up is this SLEEPBELLA duvet also from Amazon. It is more of a muted blue and cream with an overall floral pattern that looks like it could be from Pottery Barn! I adore it and it has fabulous ratings too.
You can see it HERE!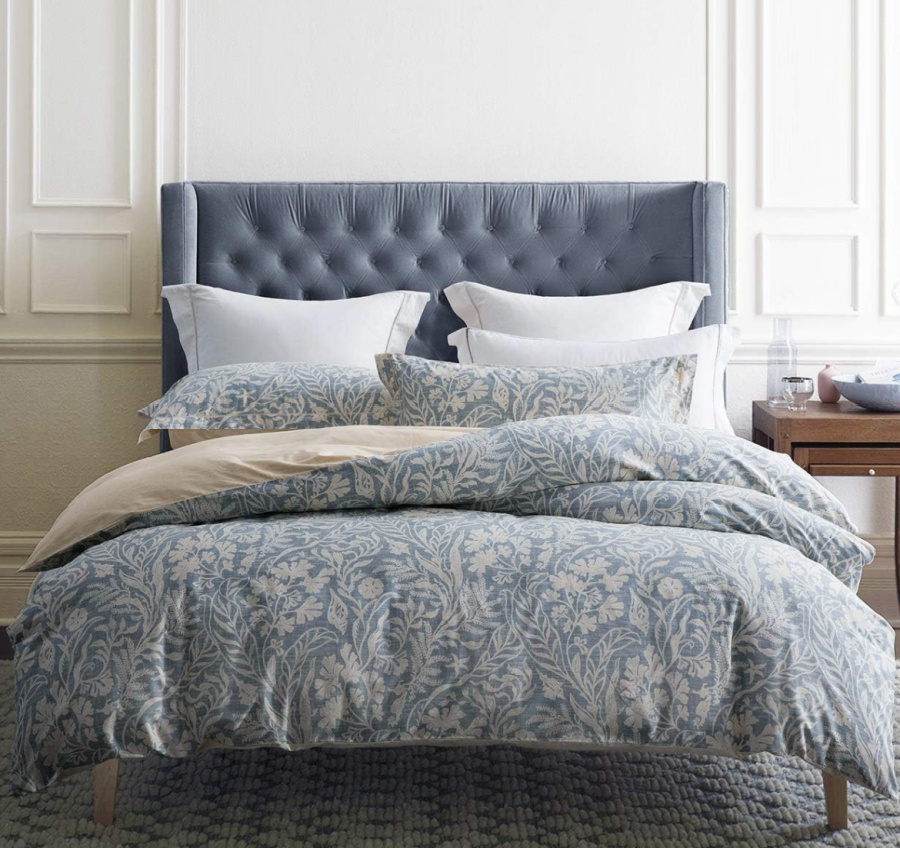 This next glorious duvet cover IS actually from Pottery Barn! This gives off French countryside vibes that I adore. It's a brighter blue that can be used year round. Reverses to the same pattern.
You can see it HERE!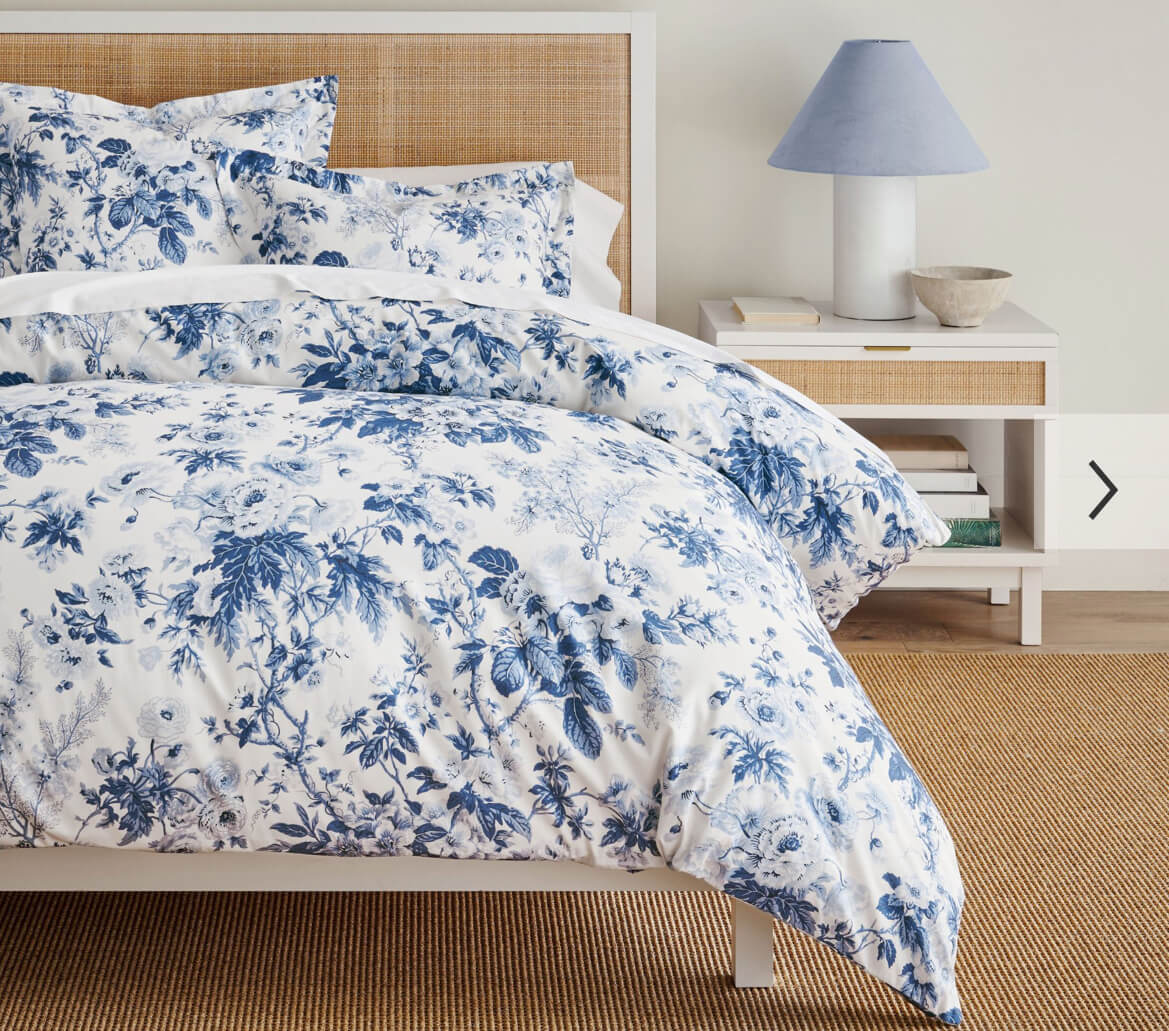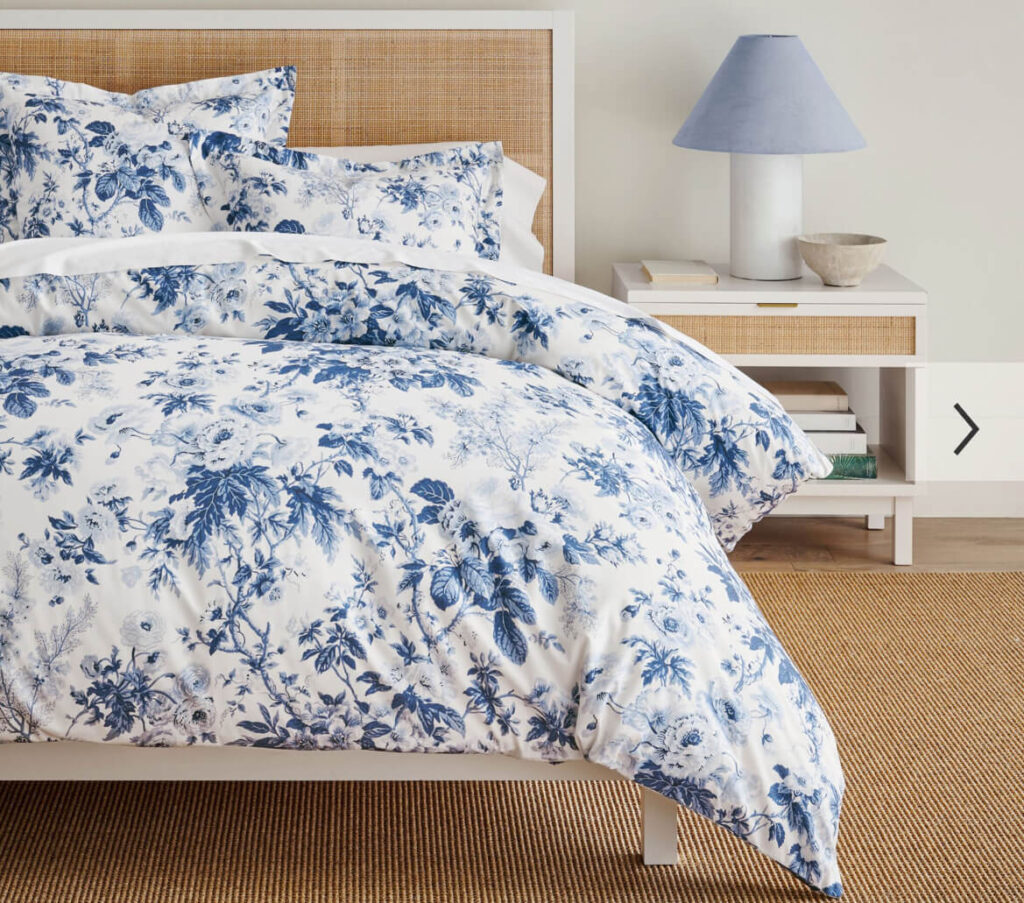 Urban Outfitters duvet has an overall vintage Toile print. Looks soft with a relaxed and casual vibe that could work in a master bedroom or even possibly a teen bedroom.
You can see it HERE!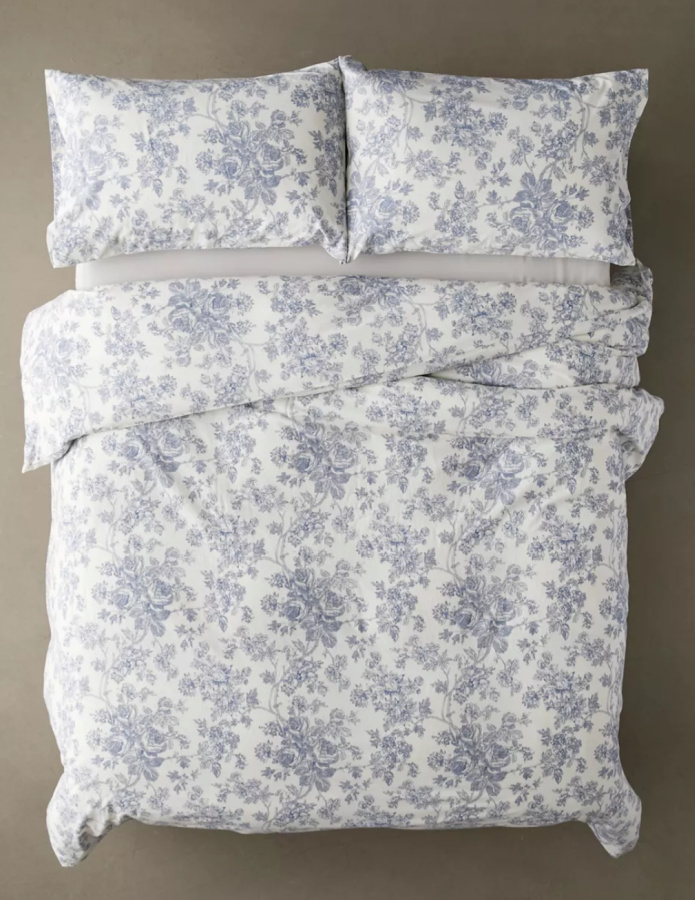 Yes of course I had to include a Serena and Lily duvet. This one has been on my radar for quite some time! This is a higher price point but is very high quality and gives off that upscale coastal vibe that is so charming.
You can see it HERE!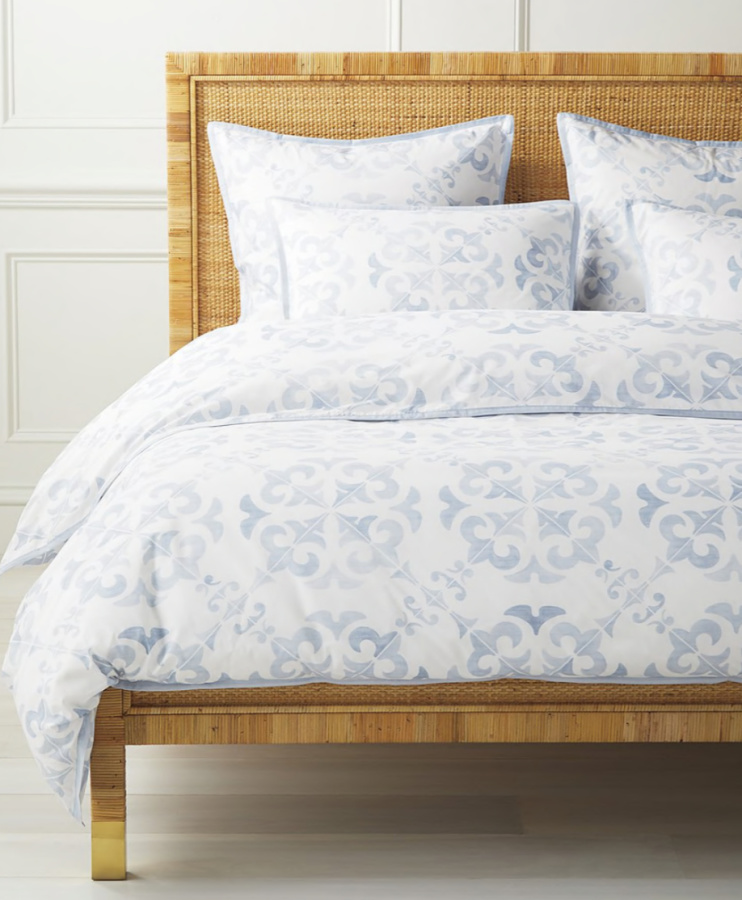 Ok, this Nordstrom Rack toile duvet is seriously stunning! It comes in this bright blue which they call navy, but it also comes in a light blue too! It is currently on sale and is machine washable and the review say it has more of a cream background!
You can see it HERE!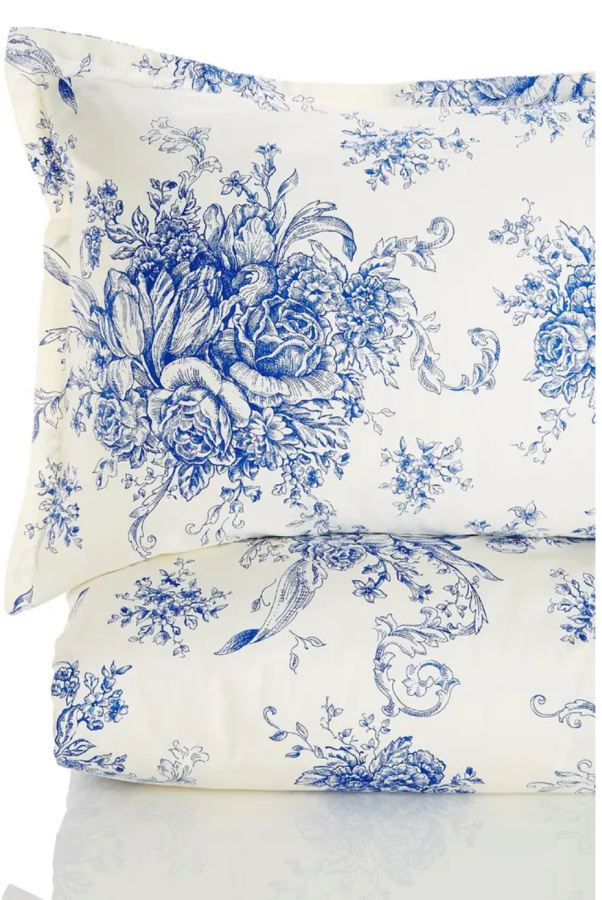 My eyes stopped on this Walmart duvet with a dark blue background and very unique floral look. It appears to have a bit more of a shiny look to it and I would suggest reading the reviews.
You can see it HERE!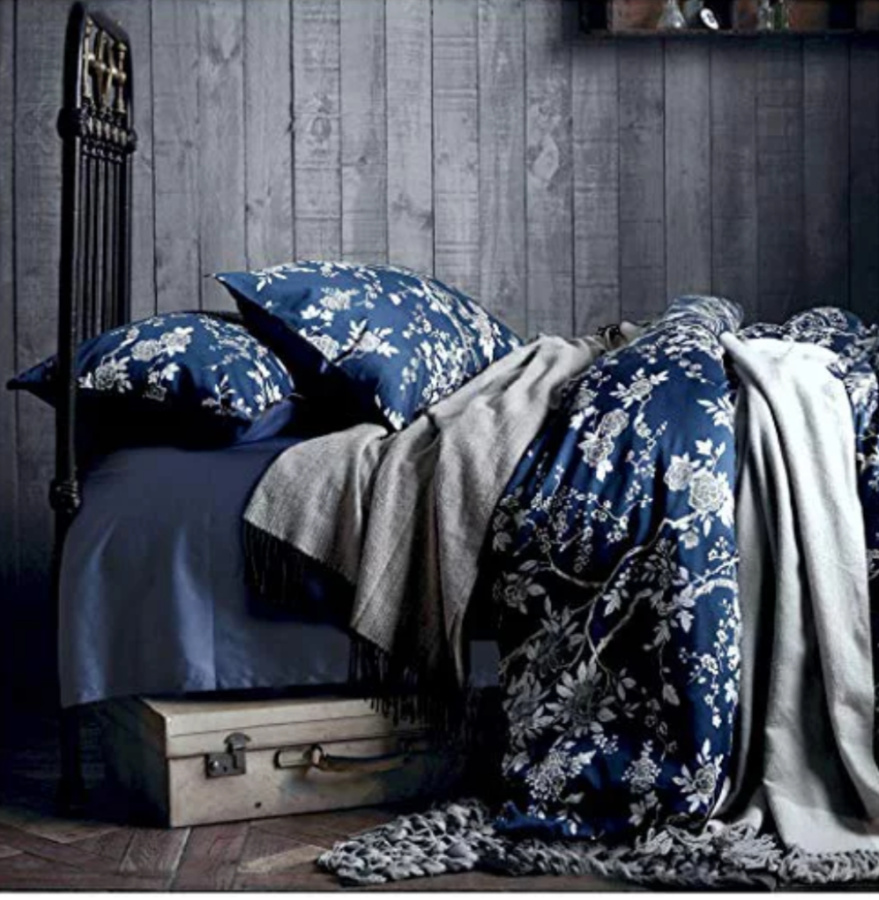 More Blue and White Floral Duvet Covers
That's not it! I found several more blue and white floral duvet covers for you to take a peek at!
You know I love Amazon and found this beauty one day while browsing. I loved that it has a hidden zipper enclosure and ties to hold your insert in place. Plus the review were all so lovely I had to share it with you. Not so much floral but definitely beautiful.
You can see it HERE!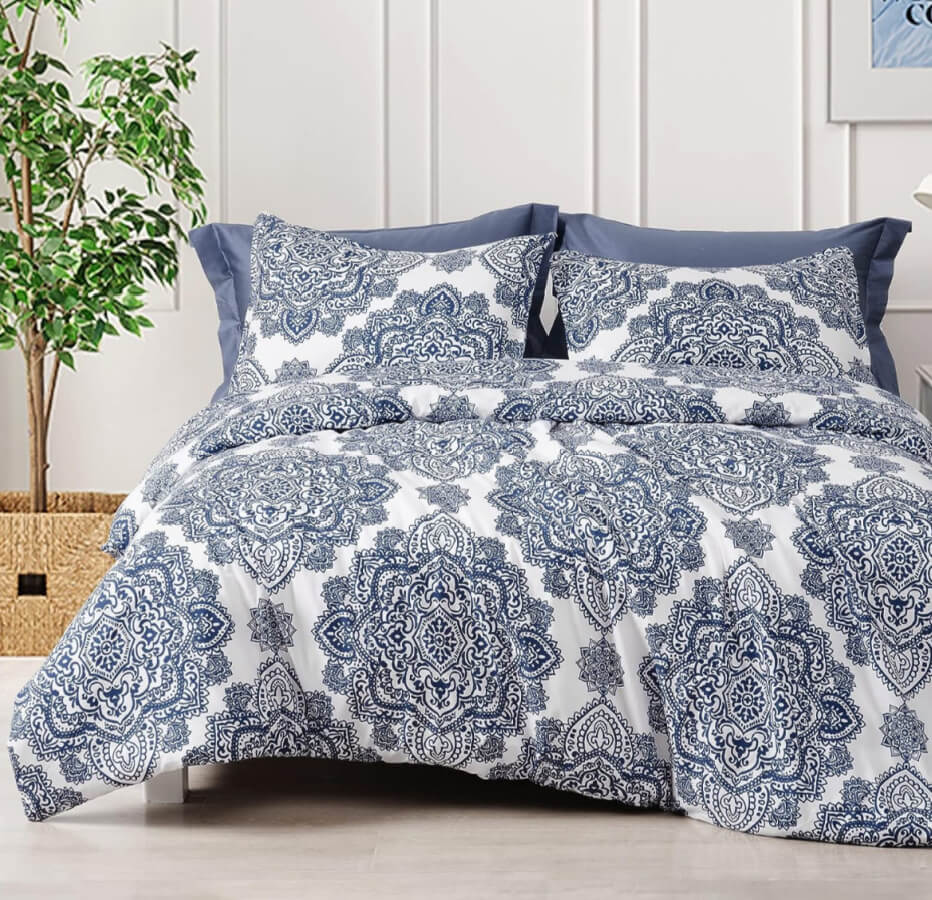 Have you shopped at JC Penney lately? This garment washed matelassé style duvet cover (and her price) just might make me shop at JC Penney more often. I really like her casual and faded look.
You can see it HERE!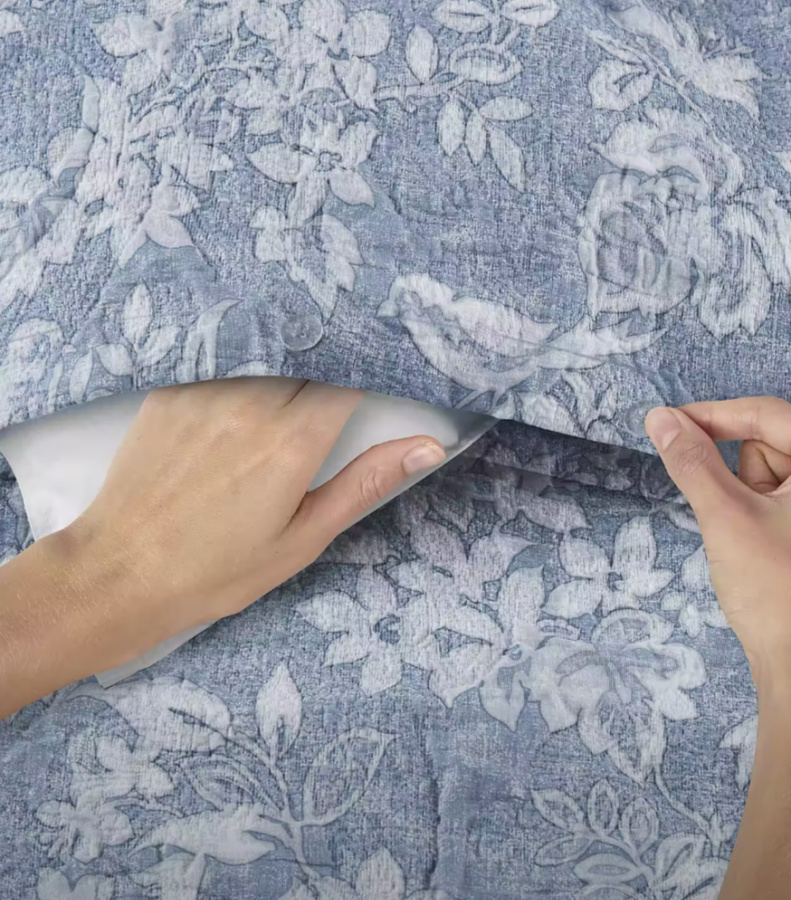 Another pretty Walmart find! This is a brushed microfiber duvet cover meaning it shouldn't wrinkle and it is super soft. The print is only on the front side of the shams and the cover itself. Lovely overall print and pattern fand perfect or those who love blue florals like me!
You can see it HERE!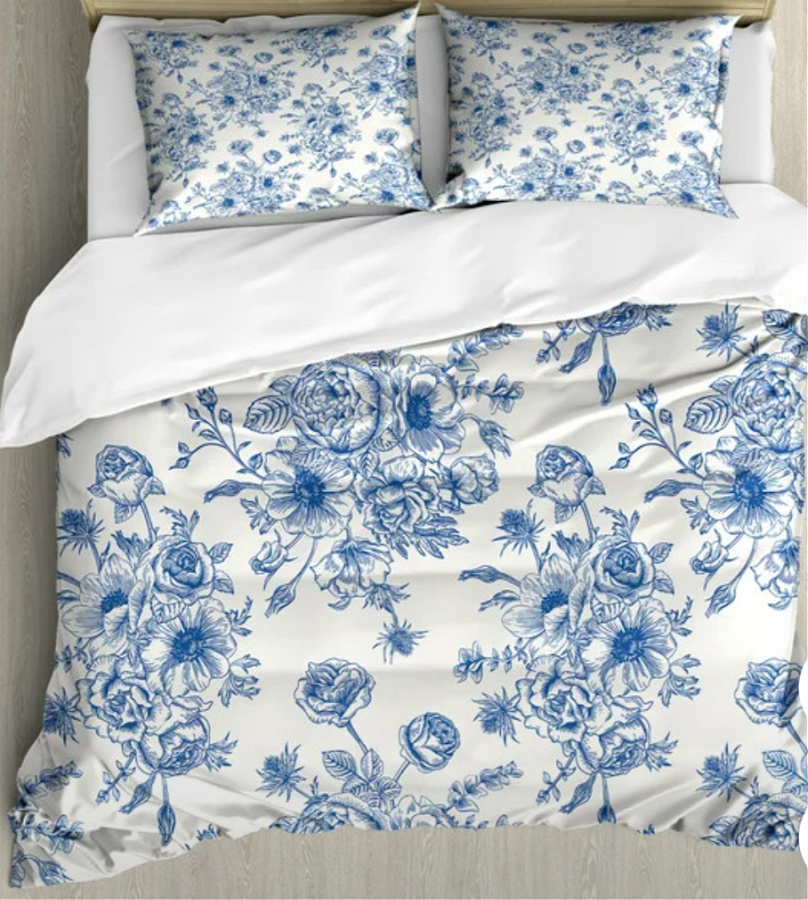 Isn't this such a pretty blue and white floral duvet from Kohl's? And did you notice that when you fold it back the other side has a stripe pattern? I love that. The only bummer is that it is only available in a queen size. But double check !
You can see it HERE!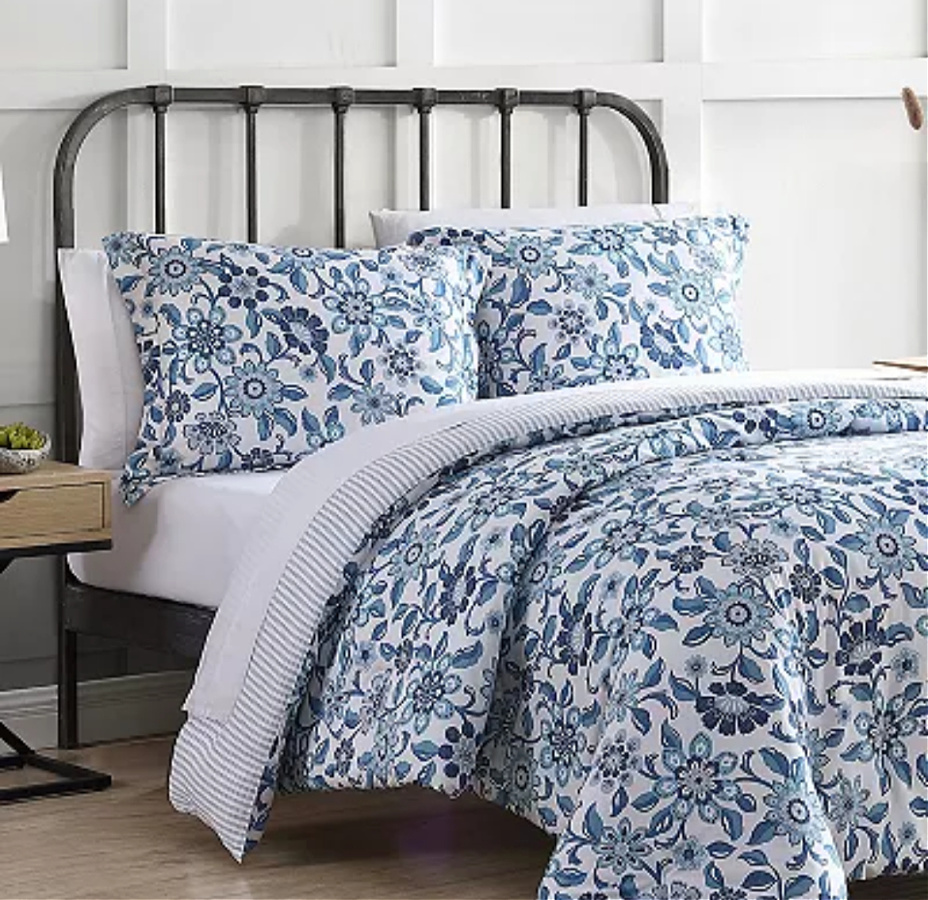 Linens and Hutch is a new to be retailer but I really like their look! This duvet of their is reversible with a stripe pattern and sipper enclosure. I like that it has more of a blue background because I feel like it would show less dirt.
You can see it HERE!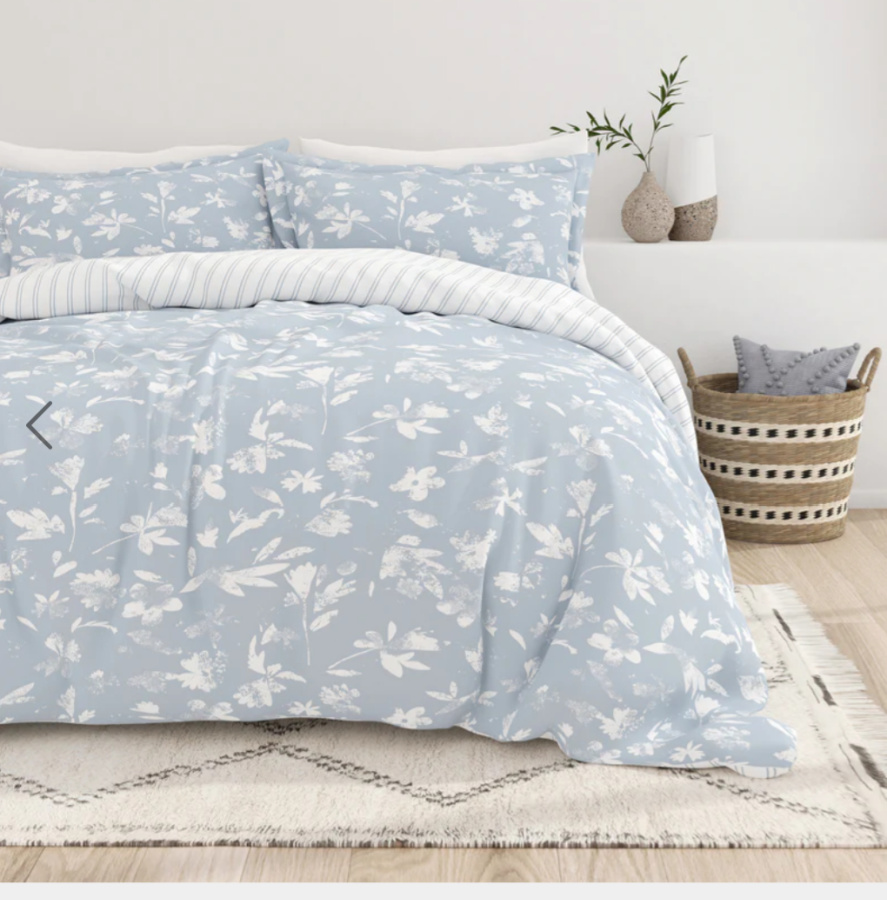 ETSY even has duvets. Isn't this one lovely? I think the small pattern and print is so charming and this one looks super comfy. It is 100% cotton and currently on sale too!
You can see it HERE!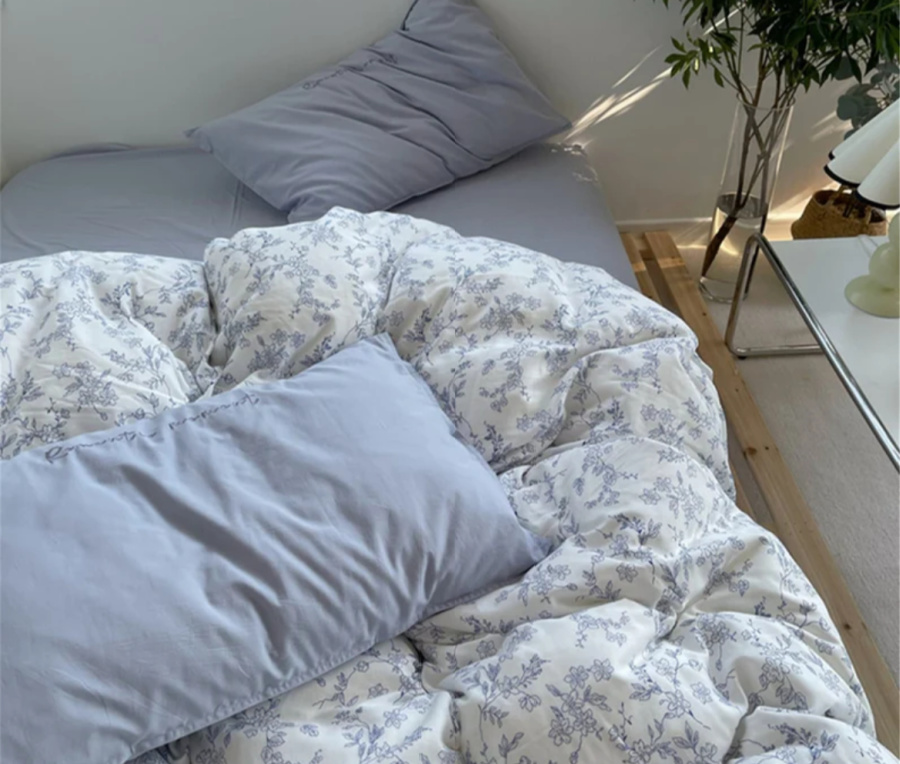 Ok I saved this gorgeous SPOONFLOWER duvet for last because it is TOP QUALITY!!! This beauty is made from 100% Italian cotton sateen and softens with washing. A true cottage style pattern. Take note these are print on demand products made by an independent designer!
You can see it HERE.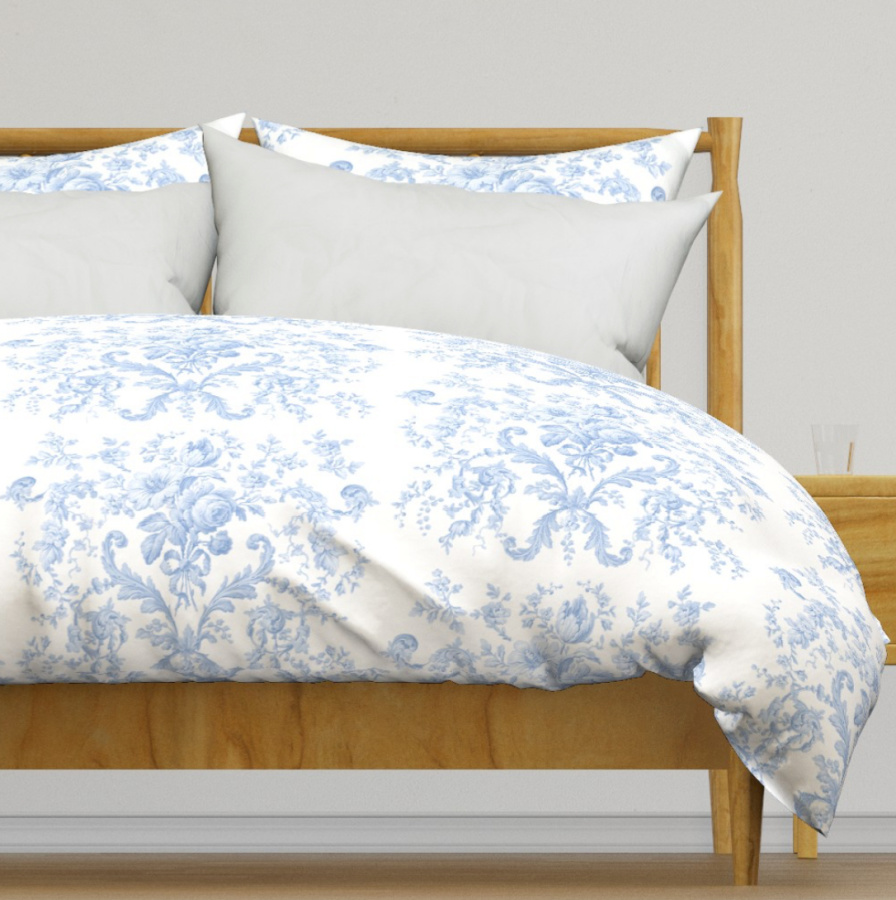 Lovely Blue and White Floral Duvet Covers
As we wrap up our exploration of the world of blue and white floral duvet covers, it's been an absolute joy sharing these finds with you. From the moment our master bedroom's centerpiece, the blue and white floral duvet cover, took center stage and became an instant favorite, to the diverse array of alternatives we've uncovered, spanning various styles and price points – this journey has been a celebration of both elegance and comfort. As you move with choosing and adding your personal touch into your space I'm curious which of these beautiful duvet covers resonates most with you? Which one will find its way into your haven, adding a touch of nature's beauty and a pop of serene blues? The choice is yours, and I'm excited to see which duvet cover captures your heart and imagination.
I'd love to have you hang out with me some more! Feel free to follow along with me on any of the platforms linked below.
LTK | Facebook | Instagram | Pinterest | Amazon
xoxo,
Kelly