I recently came to terms with the fact that I am turning into my mother. Yep, it's true. My husband will confirm it and my friends and family will too.  This revelation actually makes my heart happy because my mom is one amazing woman. She has always been so purposeful in her faith, life and even how she decorates her home. I can recall being a young girl and watching her experiment with painting and up-cycling furniture. She was flipping furniture before it was cool and all the rage. So I owe a lot to her for helping me develop a love for all things old; as well as being able to see the beauty in what my kids lovingly refer to as, "old rusty crap!"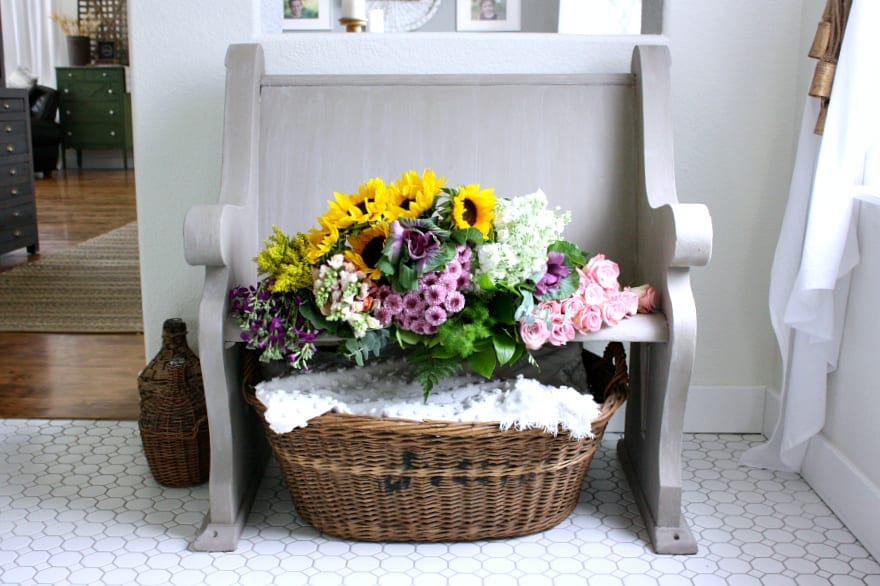 Pew Envy
One such item is her almost 10 foot long vintage pew that she currently has in her mudroom. Ever since she scooped that pew up I have had "pew envy"! My husband, sister and mom knew this so whenever any of us would go out to the flea markets or out junkin', we would always be on the lookout.
One day my husband and I were at the local flea markets in what was turning into another fruitless search for a pew for our home. I got to talking to an older lady about her scale collection when I heard my hubby calling my name. "Hey Kelly, is this the kind of pew you are looking for? It's shorter than your mom's." I walked over (ok, I RAN over) all the while thinking it was probably just a bench. You see, my luck hadn't been so great so far and I didn't want to get my hopes up. Well, low and behold I saw this sweet little golden pew and my husband proudly standing next to it! It was AMAZEBALLS! Much different than what I had imagined in my mind, but isn't that pretty much how life goes anyway? I did a little squeal and then I did my happy dance (This dance happens quite frequently when I am out junkin' and find what I lovingly refer to as a treasure).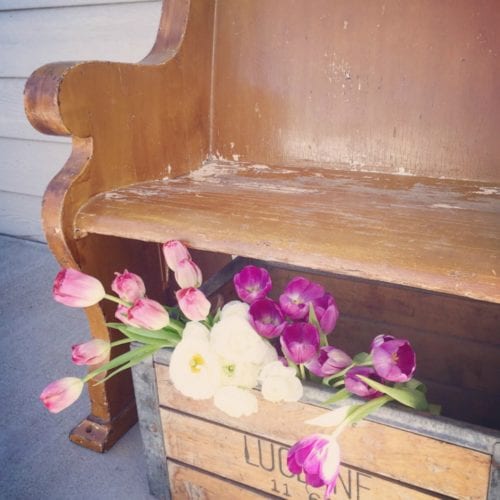 The Perfect Pew
It was absolute perfection! Just think of all the people who had prayed and talked to Jesus on that darling little pew. The history and story behind it already had me excited! The only thing I was nervous about was the price. Let's be real, this mama is on a budget and for some reason most of the pews I had found were so ridiculously expensive! Before I could reach for the price tag my husband announced that he was getting it for me and started to haul it to the front. (He is a good man!) I smiled and asked him the price… it was $150. Not cheap, but not bad at all when it comes to the going rate of pews these days. So I "happy danced" my way to the front of the flea market and brought this perfectly imperfect pew home to our house. I knew exactly where it would go…in our entryway to greet everyone who walks through our front door.
The tradition of the pew that my mom started continues…my sister now has two. Looks like I have some catching up to do!
xoxo,
KELLY
****UPDATE****
I have recently found a pew for our front porch! Her name is Miss Fanny! (You can read all about her story HERE) So now I have a total of 3 amazing pews…all unique and different…just like you and me! You can also read about our pew through the seasons and see it repainted here in our entry!