Christmas In Our New House (Part 2)
It's December (my absolute favorite month) and around here that means it's holiday home tour time! I don't know about you but I love looking at other peoples homes. Seeing their creative take on decorating, especially at Christmas, gives me all the inspiration I crave! Earlier this week I shared part one of Christmas in our new home and today I am so excited to welcome you in for part two! My hope is that you will find a little inspiration from my home and my style.
I'm joining Krista of The Happy Housie for her Seasonal Simplicity series and this week is all about Christmas home tours! If you are visiting from Judy at Life Is Better At Home, Welcome! Wasn't her Christmas décor just lovely?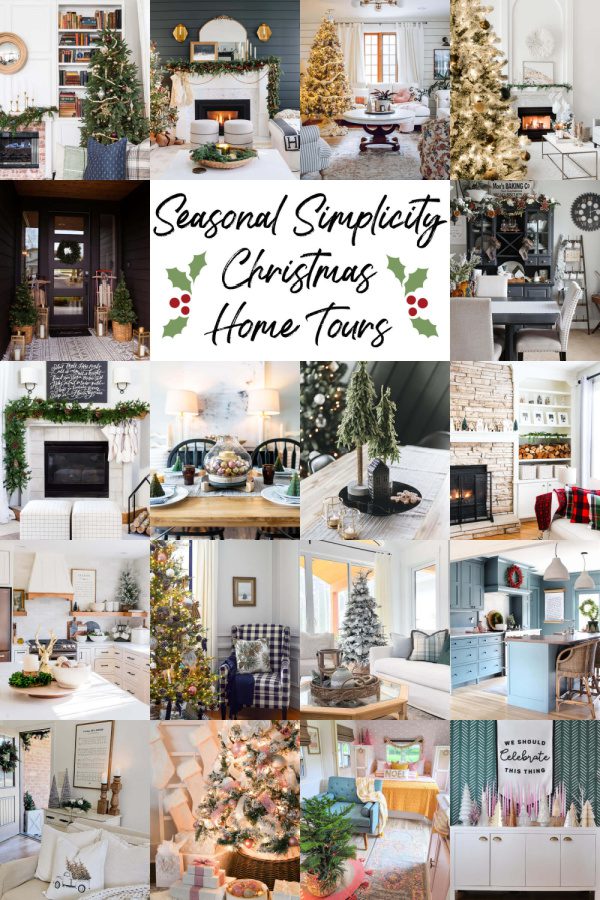 This post contains some affiliate links for your convenience. Click here to read my full disclosure policy.
Christmas In Our New Home (Part 2)
I'm so glad you are here and I can't wait to show you around! I'm Kelly, a kindergarten teacher and hot mess, Jesus loving, wife and mom. I adore mixing old and new furniture and décor and hunting for pieces that speak to me!
Today I will be sharing our kitchen, and mudroom, and master bedroom! When planning and thinking about my Christmas décor this year I was inspired to use a lot of greenery and a lot of plaid and of course my favorite color blue! I wanted our new home to feel cozy and traditional and very Christmassy.
That's a word, right?!
I can't wait to see what you think!
Christmas In The Kitchen
Below is our kitchen. When we first looked at this house I was obsessed with the blue in the kitchen. And guess what?
I still am!
The color is Distance by Sherwin Williams. Now, I want you to look closely at this picture because in the next few pictures you will notice that I changed a few things up. There wasn't enough greenery! Do you ever do that? Think you are done decorating and then live with it for awhile and realize something is just missing? I do this all the time!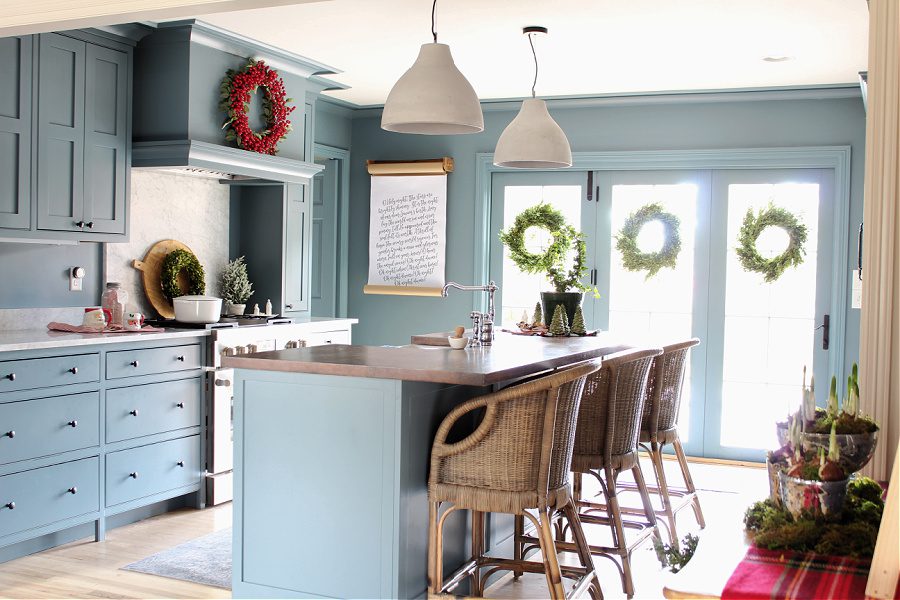 So I added greenery over the hood in the kitchen and around the scroll on the back wall. They needed that finishing touch.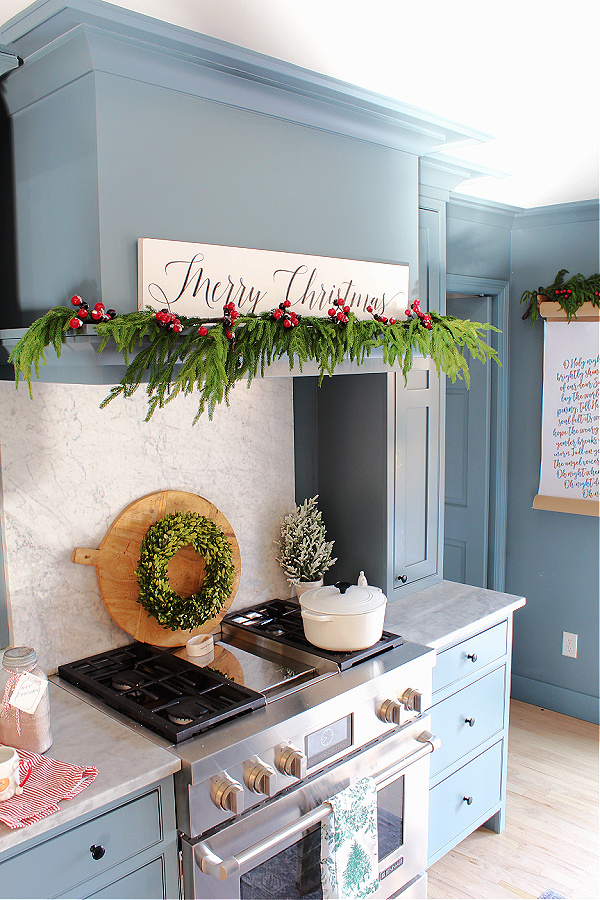 The greenery added the warmth and color this Christmas kitchen was missing! I always use faux greenery inside and this is real touch Norfolk pine garland from Alforal. It's sold out as of now but I can't recommend it enough. It's also over on our mantel and honestly I'm in love!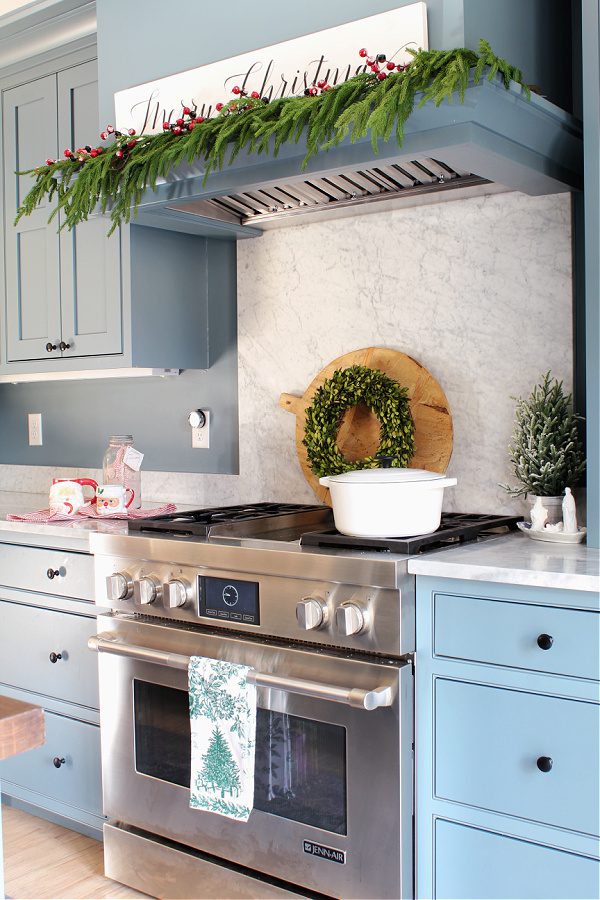 One of our favorite Christmas traditions is drinking my mom's homemade hot chocolate out of Santa mugs! The mug on the left is from World Market and the one on the right is vintage. You can find her hot cocoa recipe here! Did you notice that it's in a vintage Kerr jar? This is fun because Kerr is my maiden name. My mom is always intentional about everything; even her packaging and I love that about her!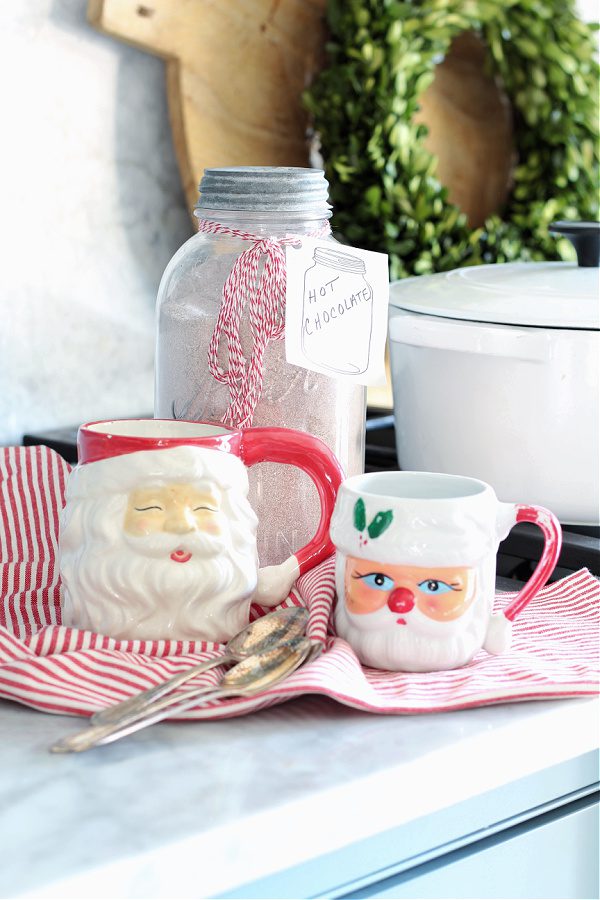 Shop Our Kitchen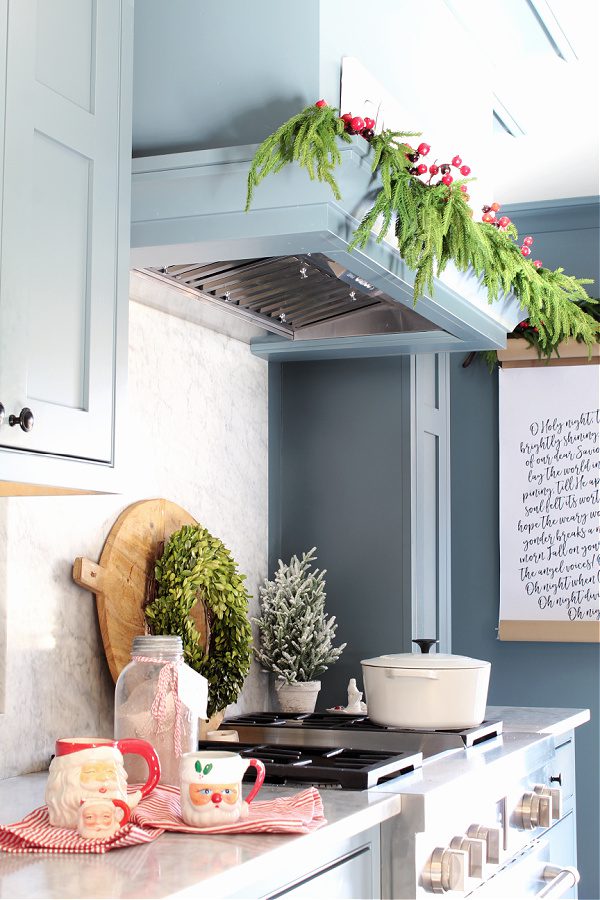 Here is a quick peek into our mudroom so I can show you where the rest of our Santa mugs live! The Lindsay Letters sign I had in my daughter's room last Christmas now lives in here!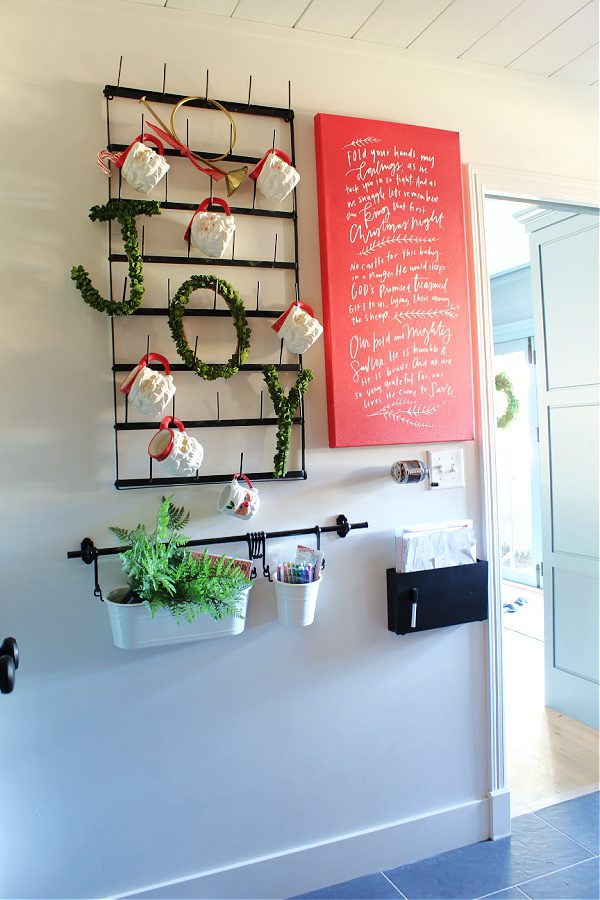 Boxwood Wreaths
I hung three boxwood wreaths from Trader Joe's on the three doors on the other side of our kitchen. I love how they add that pop of green I love at Christmas. On the wall next to them is a craft paper scroll left by the previous owners.
I wanted to write something on it but my handwriting is atrocious! Luckily I found this free O Holy Night large printable from Ella Claire Blog and had it printed at Staples for just a few dollar. I used small little clothespins from the Dollar Store to attach it to my scroll. I love it and of course the greenery on top makes it that much better! The red berries in the greenery are just little picks that I used in THIS Christmas wreath last year!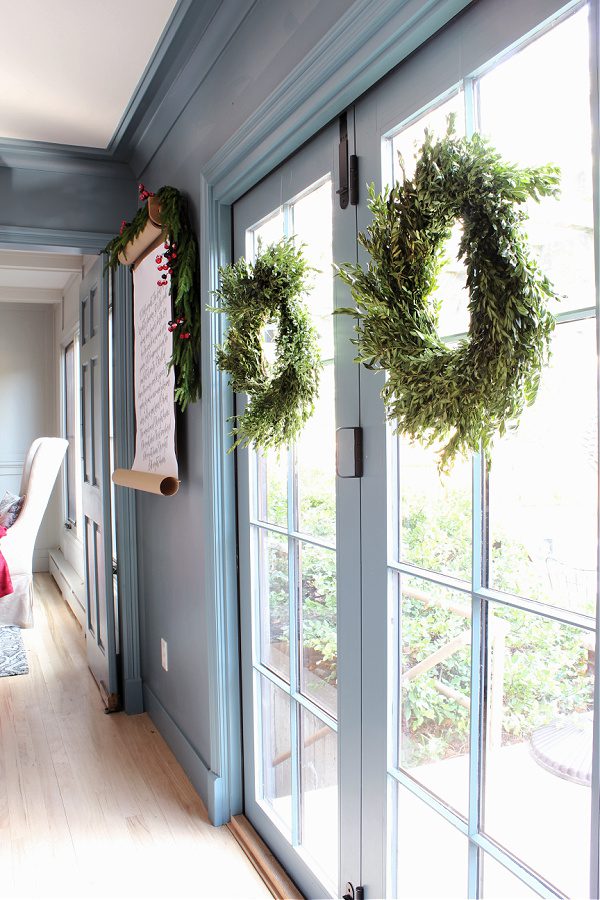 O holy night is one of my all time favorite Christmas songs! I love that it tells of our dear Savior's birth and every time I walk by and see it I can't help but sing it. It echoes the sign in our entry that you can see in Part One of our Christmas Home Tour!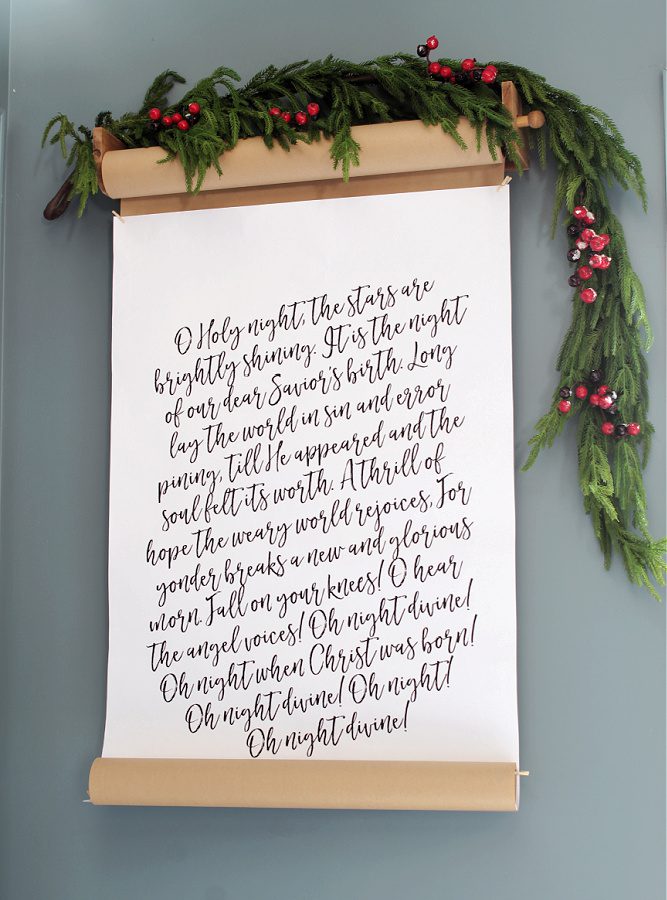 Just on the other side of our stove and kitchen wall is our dining room. You can see more of it and my gorgeous Christmas tablescape here!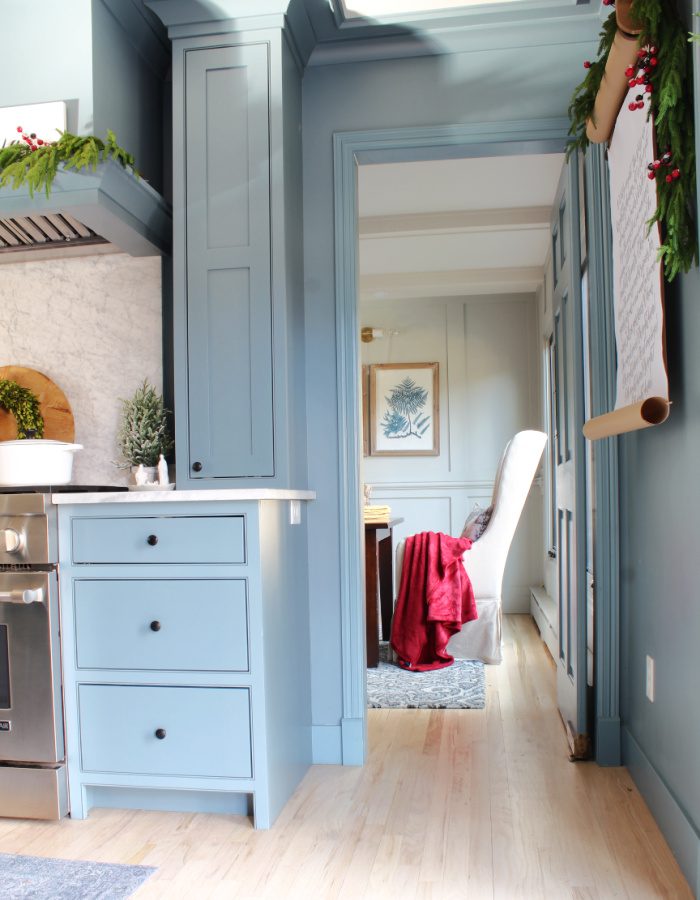 Growing Some Christmas Ivy
Over on our island I have an ivy topiary that I recently made! I will be sharing that tutorial next week and it's so simple it will have you running to make your own.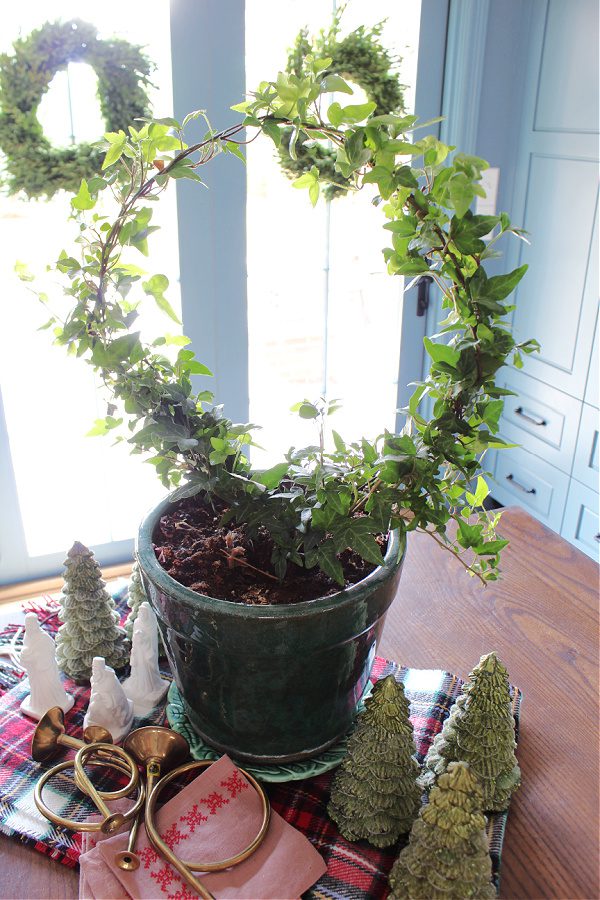 The topiary is sitting on a plaid scarf my mom found at old navy and I simply tossed down some pretty linen napkins, mini french horns and tree candles. The wise men are part of my chalk vintage nativity set. Did you see Mary, Joseph and the baby Jesus over on the counter?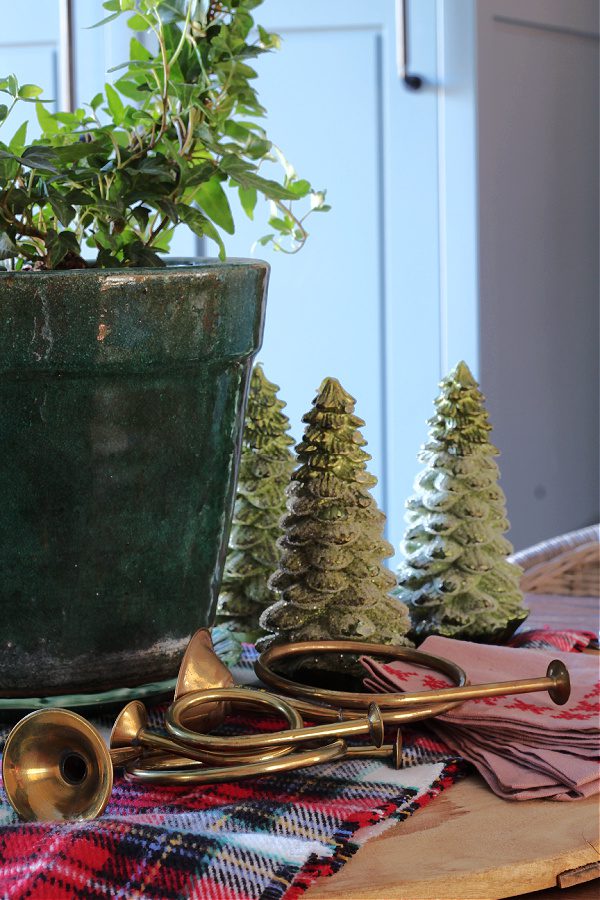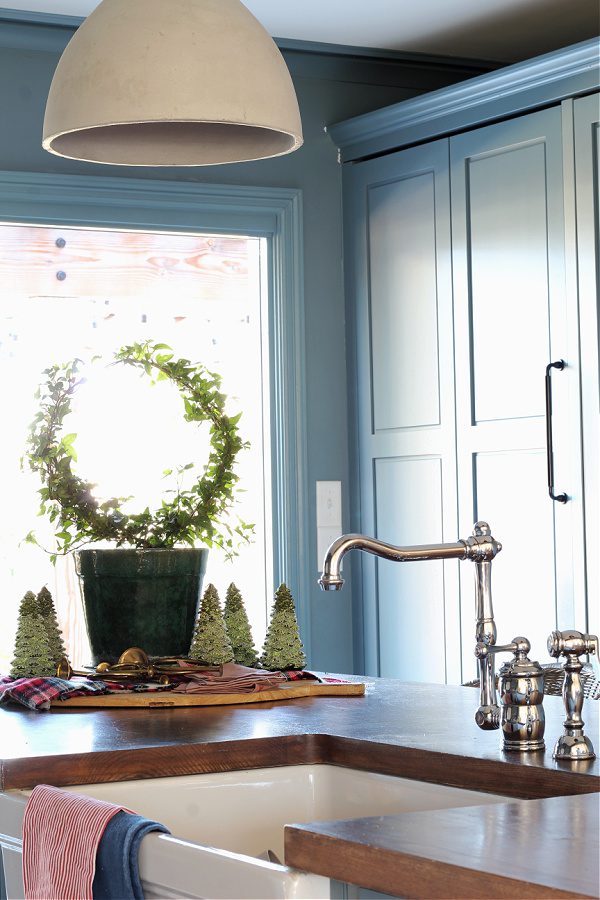 A Look At Christmas In Our Master Bedroom
When you stand behind our island and look to the right this is your view to our front door.
I love this view!
Just around the corner are the stairs that take you to our master bedroom.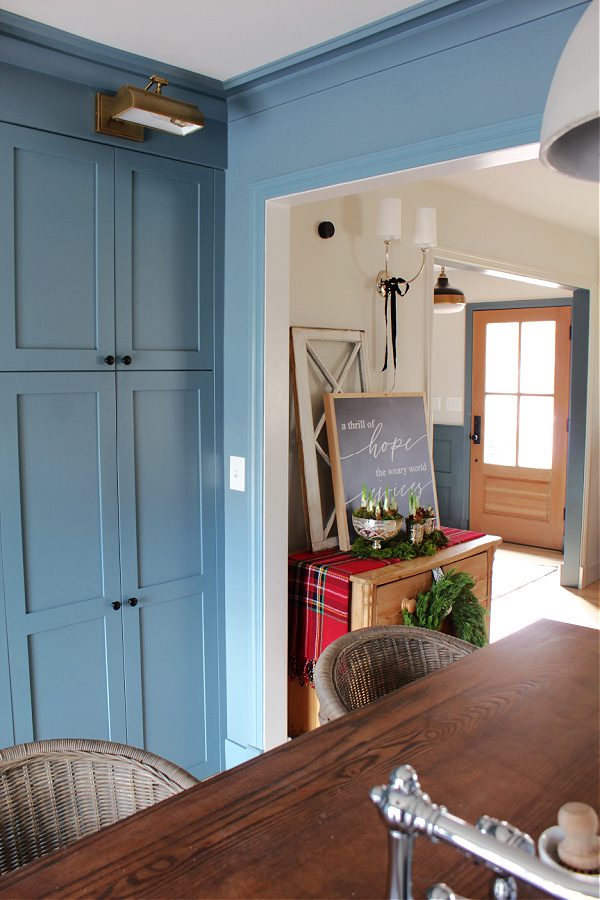 Cozy Christmas Feels
At first I wasn't sure I would have time to decorate anything other than our downstairs and outside. But after awhile I realized that I missed the glow of a Christmas tree in our bedroom at night. Our room is small but cozy and I didn't know if a tree would fit. Click here to see our bedroom decorated for Fall!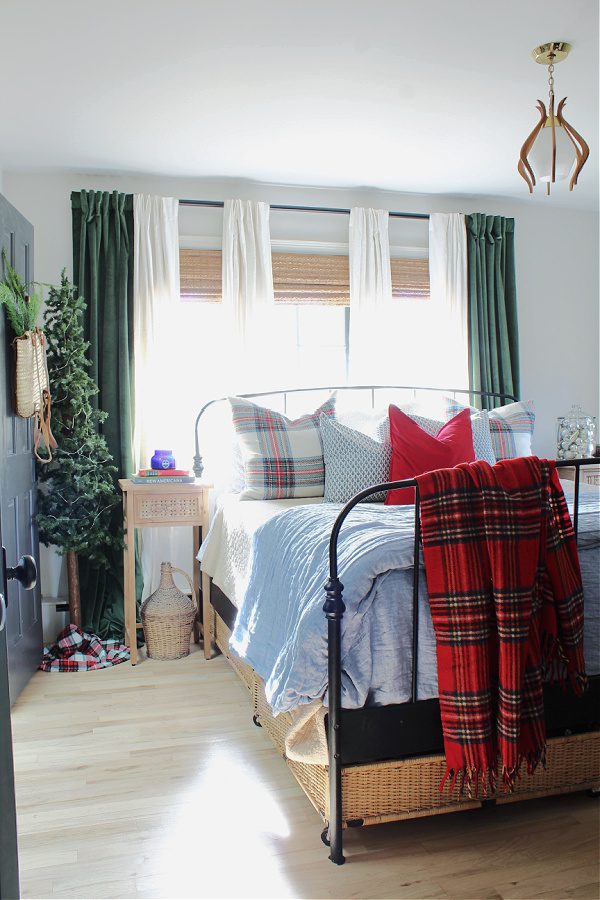 But I ended up hauling a skinny faux tree that we have had for years and gave it a try. I snuggled it next to my side of the bed, added fairy lights and it did the trick!
*I always get asked about the under bed storage…I found these on Facebook Marketplace but they are originally from IKEA and I haven't been able to find then though. I would love to have two more! The bed is from IKEA too and was also purchased off of Marketplace. I love a good deal!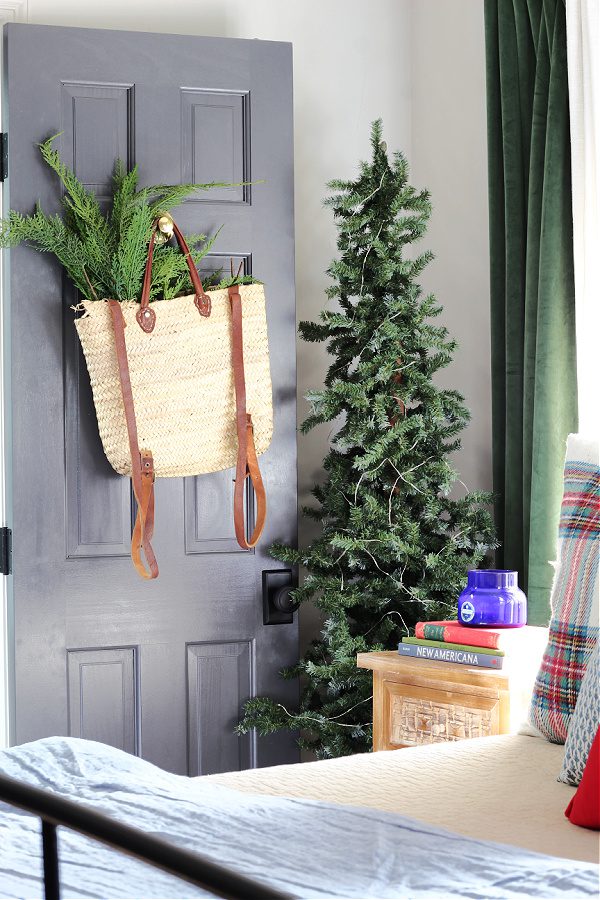 After the tree was up I was in a was in a zone and started hauling up pillows, plaid throws and the green velvet curtains we had in our dining room at our old house. My husband kept looking at me wondering what I was doing while he was watching football. Ha! Just doing my thang!
I am all about the velvet curtains! They add even more cozy to this already cozy space!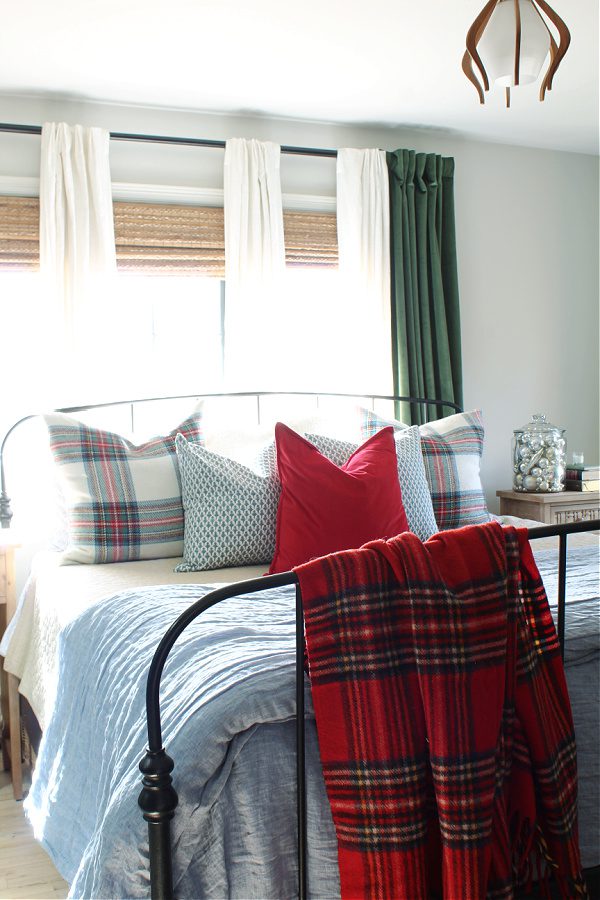 In my opinion you can never have enough vintage plaid throws!
Can I get an AMEN?!
The plaid pillows were found at Home Goods a few years ago as well as the red velvet ones. But the blue patterned pillows are from one of my favorite small shops, Linen and Oak!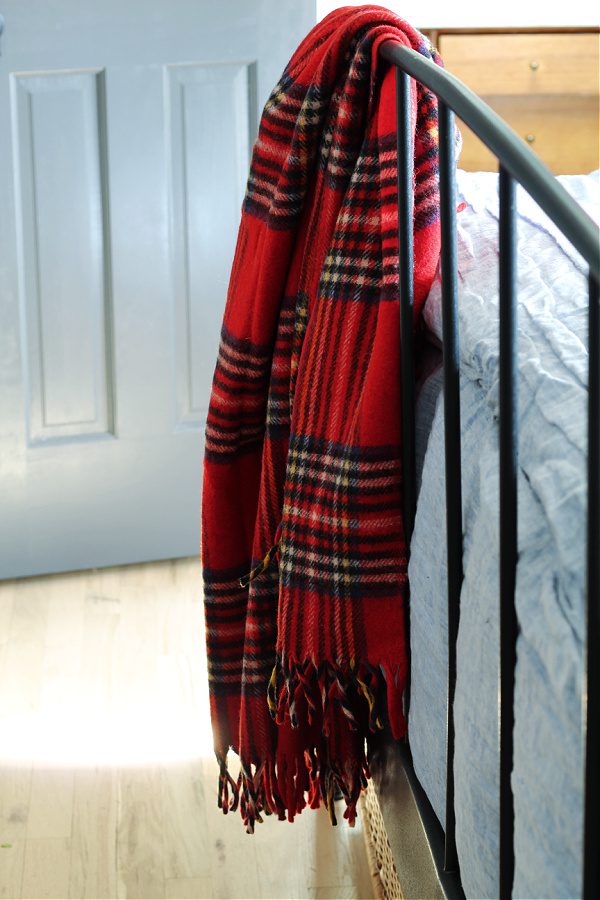 Shop Our Bedroom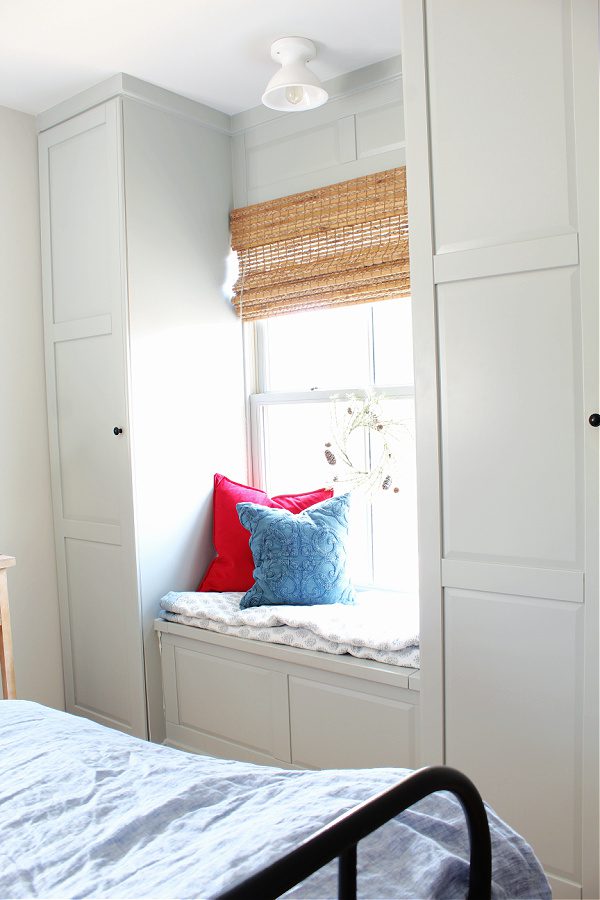 And that is it for our cozy Christmas master bedroom. Simple additions that make me happy! The best part was that I didn't have to spend any money to decorate this room. It also helps that this is my first time decorating it for Christmas because everything feels new even if I have used it before!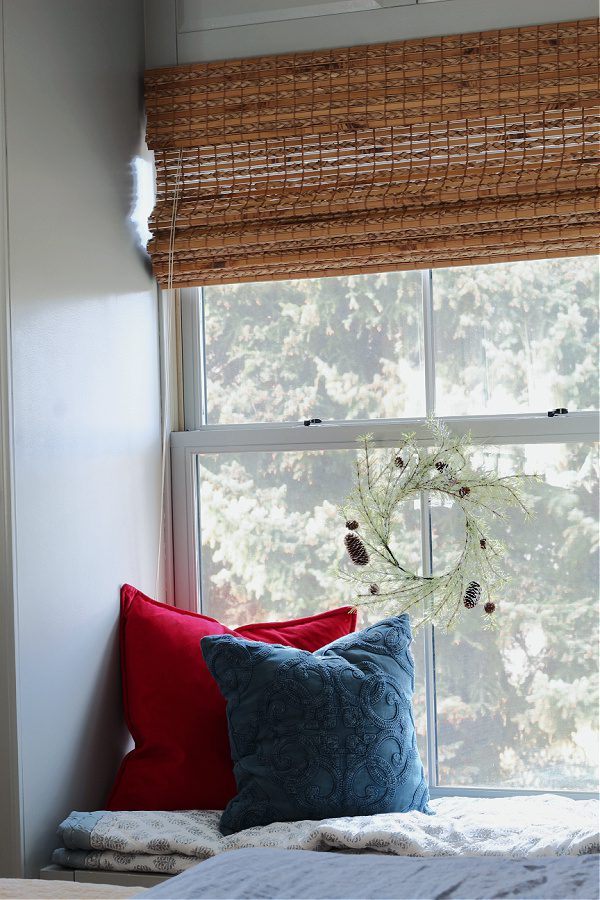 Christmas In Our New House (Part 2)
Thank you so much for stopping by part two of my Christmas home tour. I hope you found some inspiration and enjoyed your time. I will be sharing the outside of our house decorated for Christmas soon so if you want to stay in touch and see more of my posts make sure to subscribe!
Now make sure to head over to Jo-Anna of A Pretty Life In The Suburbs to check out her simple ways to decorate for Christmas! Then visit each of the tours linked below and don't forget to have fun!
xoxo,
Kelly
This week is Christmas Home Tour Week! Each day this week, some talented bloggers are sharing their tours with you – be sure to hop around and see what they've got in store! You can visit their posts by clicking on the links below the images.
Sharing with me today…
Thursday
Grace in My Space / All Things with Purpose / Life is Better at Home
The Tattered Pew / A Pretty Life in the Suburbs / Just a Girl and Her Blog
And sharing the rest of the week…
Monday
The Happy Housie / Inspiration for Moms / Joanna Anastasia
She Gave it a Go / Modern Glam / Taryn Whiteaker Designs
Tuesday
Rambling Renovators / Life is a Party / Clean and Scentsible
House by Hoff / Rooms for Rent / The Happy Housie
Wednesday
Maison de Pax / Stacy Risenmay / Maison de Cinq
Place of My Taste / A Pop of Pretty / The Happy Housie
Friday
This is Simplicite / Deeply Southern Home / Lemon Thistle
Love Create Celebrate / Sincerely, Marie Designs / The Happy Housie