An Elegant Outdoor Tropical Tablescape
I'm thrilled to be sharing my latest tablescape inspiration with you today. Picture this: a warm summer breeze gently rustling through the palm leaves, vibrant hues of turquoise and lime dancing in the air, and the delicate fragrance of peonies filling your backyard. Are you in heaven? Me too! Today, I'm going to show you how to set up an elegant outdoor tropical tablescape that will transport you and your guests to a blissful island paradise. So grab a refreshing drink and let's dive right in!
*As an Amazon Associate, I earn from qualifying purchases. This post contains other affiliate links too for your convenience. Click here to read my full disclosure policy.
An Elegant Outdoor Tropical Tablescape
Today I am honored to be joining some of my friends for their monthly virtual supper club! This month is all about tropical cocktail party ideas! You can visit their ideas at the end of my post. So much inspiration!
If you are an old friend welcome back, and if you are a new friend, welcome! My name is Kelly and I live in Colorado and love sharing gardening tips, home decor ideas and simple ideas. I'm a hot mess mom who loves Jesus and a good gin and tonic. Well, lately a good frozen mojito! You can read more about me here:)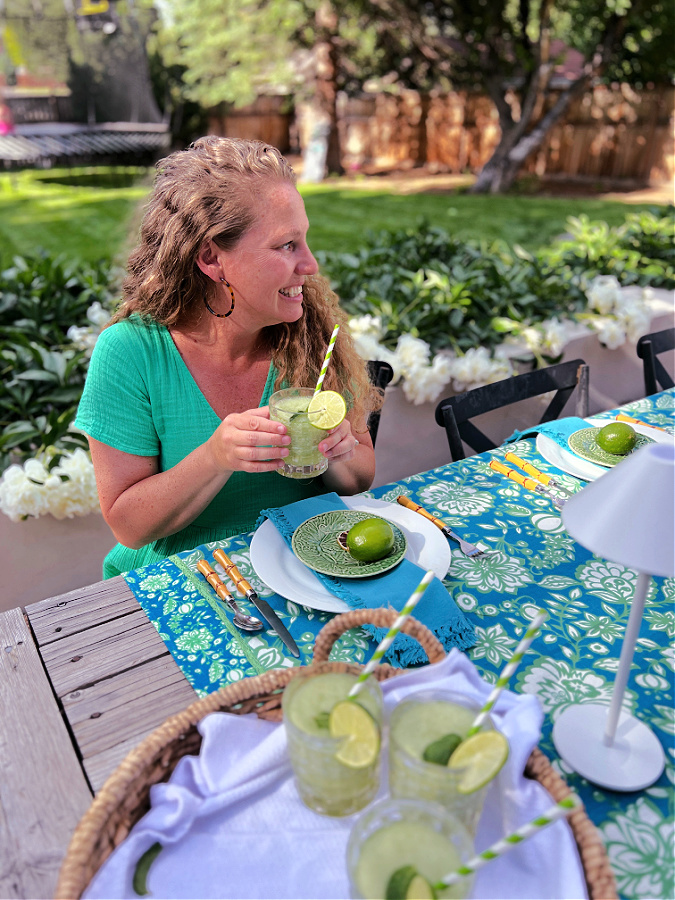 My table was inspired from our recent trip to Hawaii where I fell in love with frozen mojitos! (recipe coming on Saturday) Hawaii has a great topical vibe and I wanted this table to feel a bit tropical and a bit elegant just like Hawaii. Hopefully you will pick up on that when you see all the pictures I am sharing!
Here we go!
The Foundation: Turquoise and Green Floral Tablecloth
To set the stage for this tropical oasis in our backyard dining space I started with a stunning turquoise and green floral tablecloth. I have had this tablecloth for years. It was originally from Anthropologie but here is a similar one of you like it.
The vibrant and eye-catching fabric instantly brought the colors of the tropics to our backyard. So if you want that tropical yet elegant feel for an outdoor tablescape I suggest you opt for a tablecloth that features bold botanical prints or intricate floral patterns to create a visually captivating foundation for your tablescape.
Matching napkins with one of the colors is always a good idea too.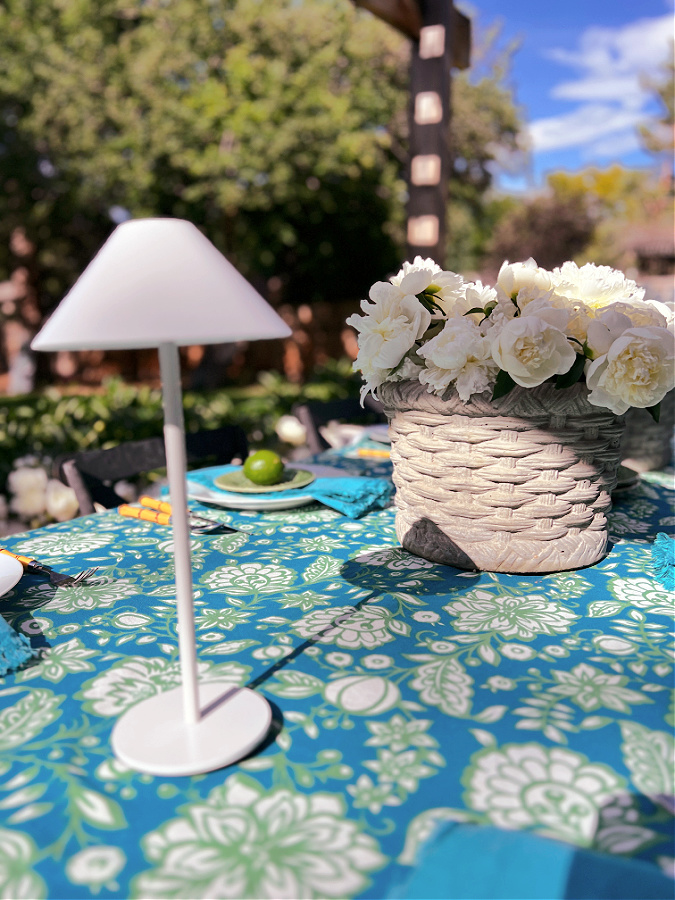 The Accents: Faux Bamboo Silverware and Lime Elements
Next, let's talk about the details that can take your tablescape to the next level. For an elegant touch, consider using faux bamboo silverware. This silverware not only adds a unique and exotic element to your table but also complements the tropical theme flawlessly.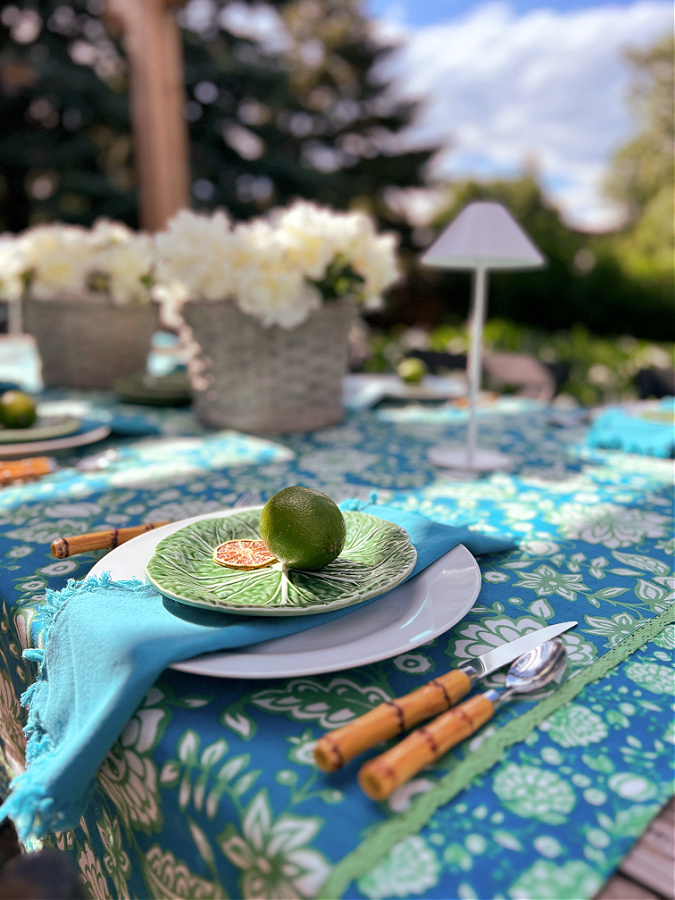 Its natural, earthy texture combined with the silver sheen will create a beautiful contrast against the vibrant colors. I have had this faux bamboo silverware and love that it is dishwasher safe and can be used on any type of tablescape. See how I used them at Christmas!
To enhance the tropical vibe further, I incorporated lime accents throughout the table on the plates (full limes and dried lime slices). I actually stole them from the mojitos that I also made for the table.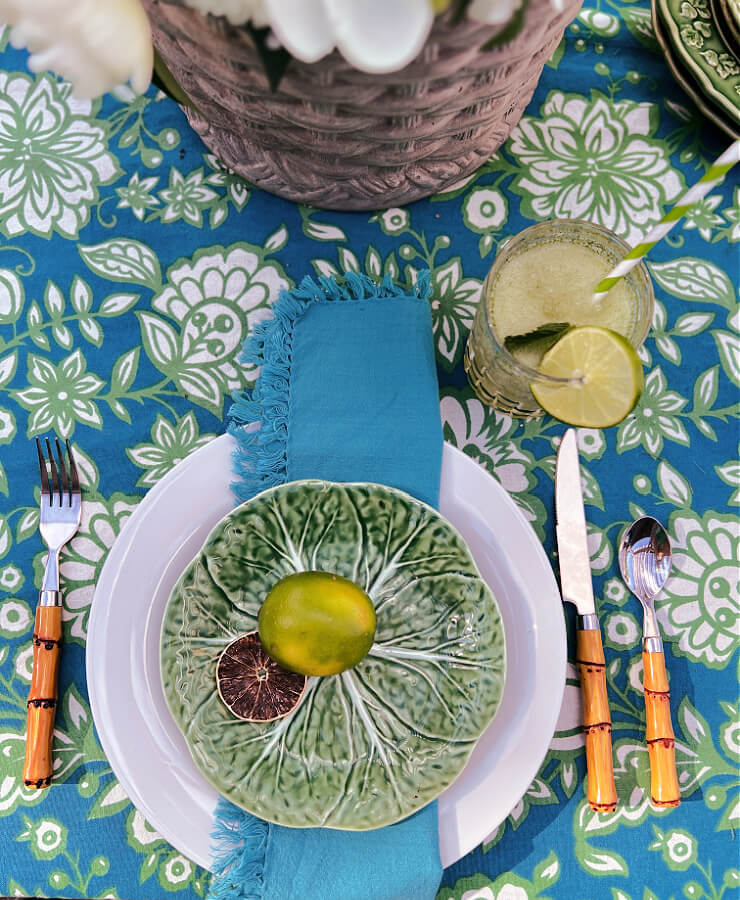 You could also place lime slices on the napkins or use lime-shaped place card holders. The zesty green color of limes adds a refreshing burst of brightness and perfectly complements the turquoise and green color palette.
The Dinnerware: Green Plates
Now it's time for one of my favorite parts, the green plates!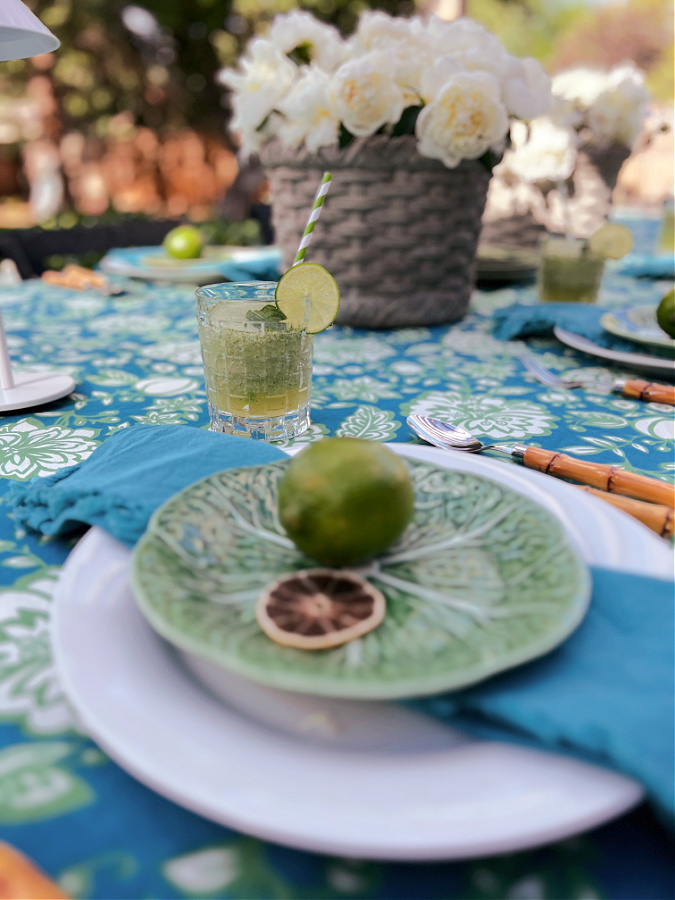 My parents gave me these beauties for Christmas this past year and I adore them. I have used them stacked for decor on side tables but they are the perfect size for layering on top of other plates. So I set them on top of a turquoise cloth napkin and white dinner plate.
The combination of the vibrant green hue and the charming cabbage details elevated the overall look and feel of the table setting.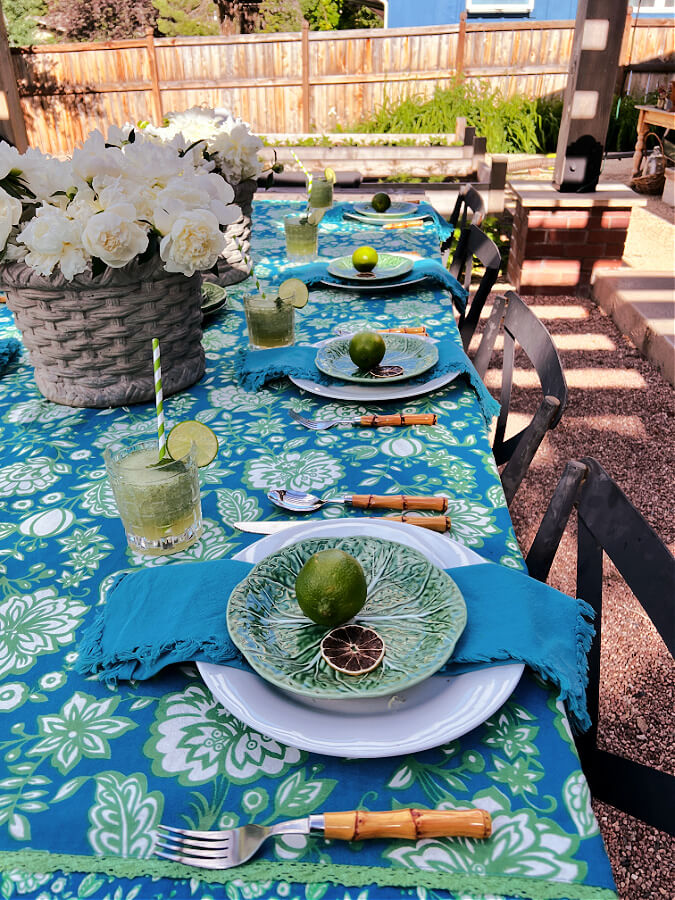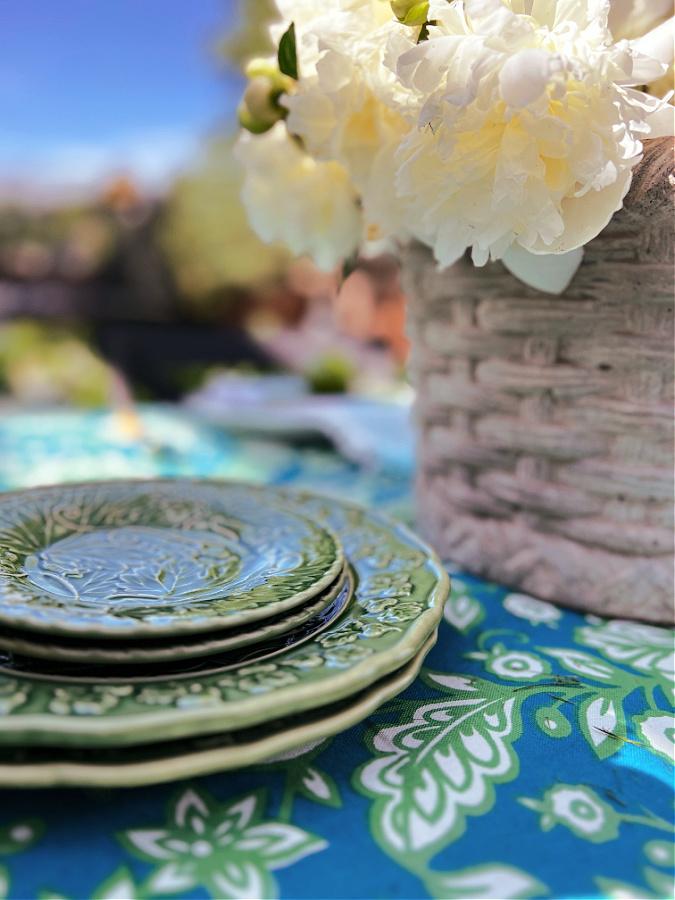 The Centerpieces: Concrete Pots with Basket Weave Details and White Peonies
One of the best parts of setting a table is the outdoor table centerpieces! I have had this idea in my head for awhile now.
To create a truly enchanting tablescape, we can't forget the centerpiece. I placed these beautiful concrete pots, that were my grandmother's, with basket weave details on the table, and filled them with gorgeous white peonies.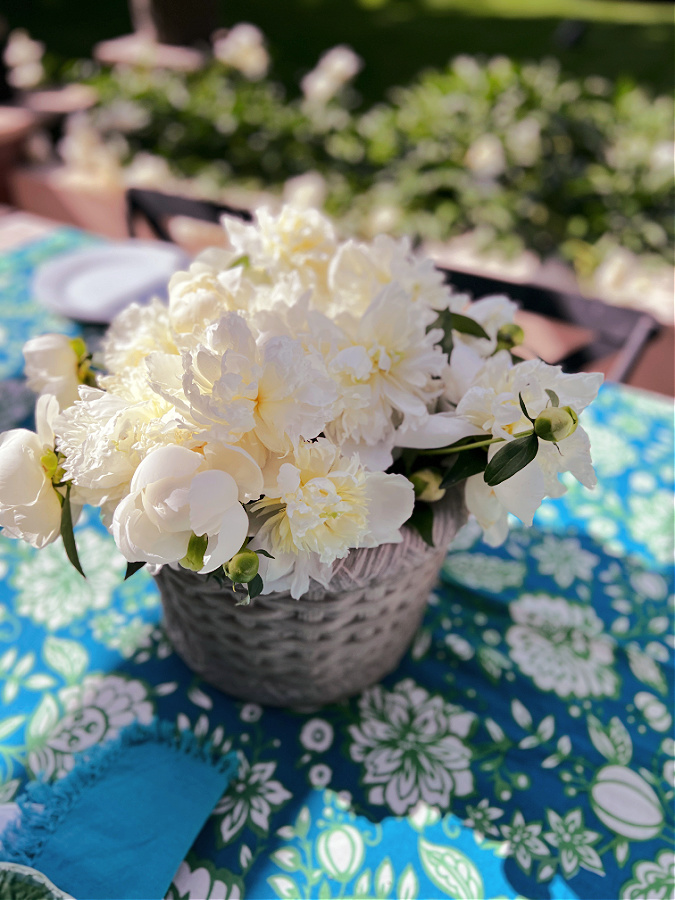 The contrast between the delicate blooms and the sturdy concrete vessels adds a captivating visual element. The peonies, with their soft, romantic petals, added elegance while providing a touch of natural beauty to the tropical ambiance.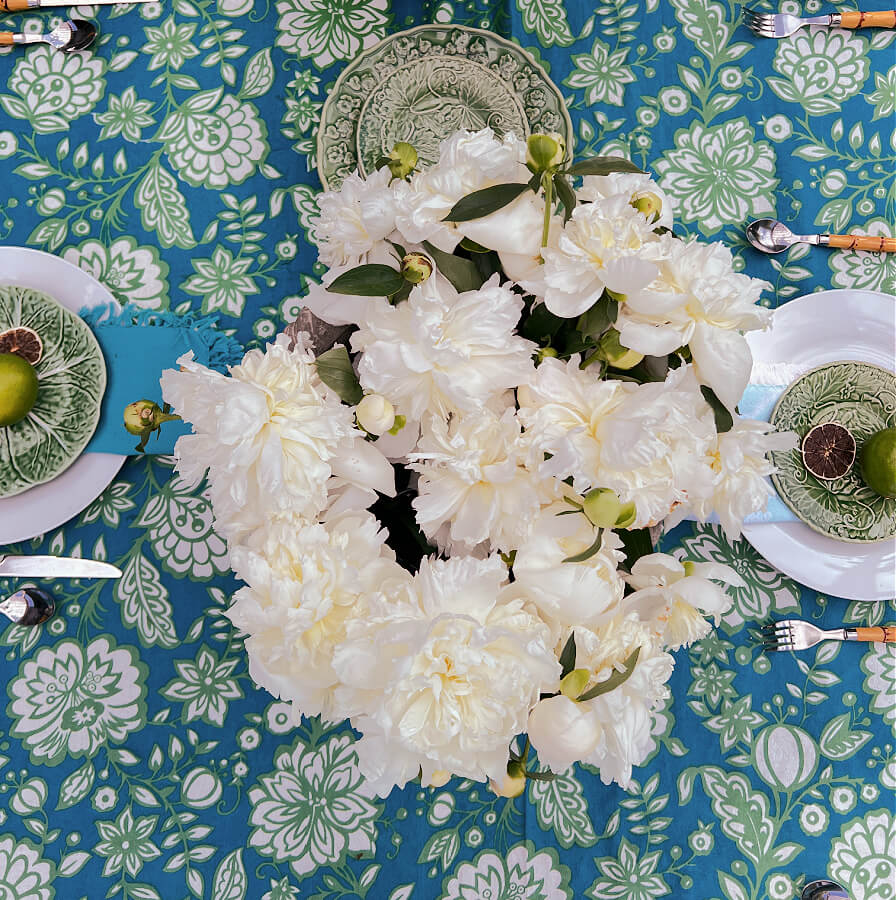 You might have also noticed the gorgeous basketweave details on both the concrete pots and crystal cocktail glasses. I love that I was able to repeat this subtle pattern in a couple of places. It made the table feel more cohesive and purposeful.
Our peony hedge behind the table is one of my favorite parts of our backyard! Their smell was divine as we dined at the table. If you love peonies too then you won't want to miss my post where I share my best peony tips and tricks! Mine are almost done so I am happy we were able to enjoy them on this pretty table.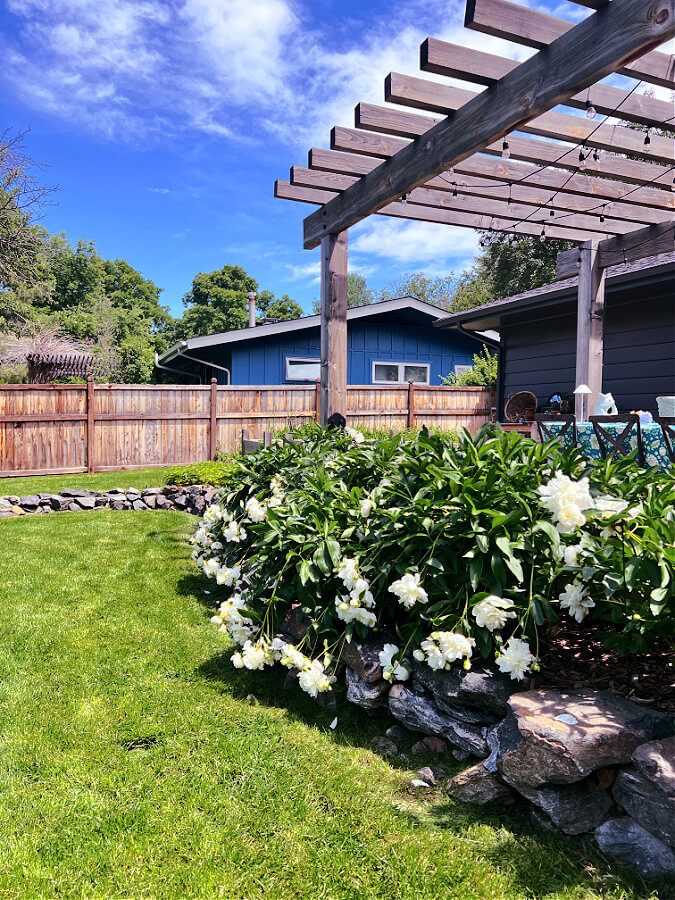 I'm all about the real and fresh flowers for centerpieces but faux white ones could work as well. Keeping your flowers in one color elevates any centerpiece. Do what works best for you!
The Refreshing Complement: Frozen Mint Mojito Recipe
No tropical tablescape would be complete without a delicious and refreshing drink to accompany it. To complement the vibrant colors and the laid-back atmosphere, I'm sharing my favorite recipe for a frozen mint mojito.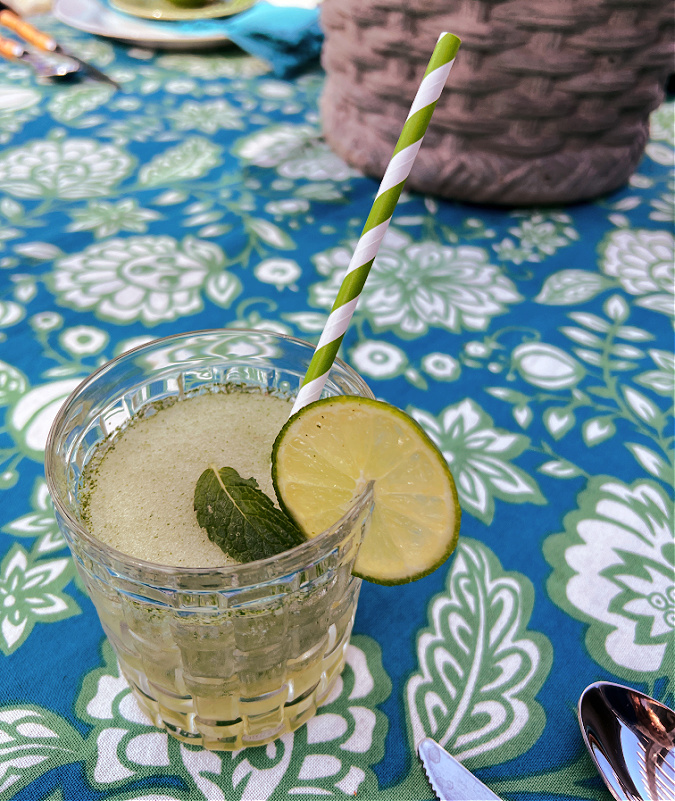 Shop My Table

An Elegant Outdoor Tropical Tablescape
And now, my dear friends, I wish you could come enjoy this table and a frozen mojito with me! By incorporating a vibrant turquoise and green floral tablecloth, faux bamboo silverware, lime accents, green plates and more, I was able to give our outdoor table an elegant and tropical feel! I'm so ready for summer outdoor entertaining.
Scroll down for more tropical cocktail party ideas from my friends as well!
I'd love to have you hang out with me some more! Feel free to follow along with me on any of the platforms linked below.
LTK | Facebook | Instagram | Pinterest | Amazon
xoxo,
Kelly
More Tropical Cocktail Party Ideas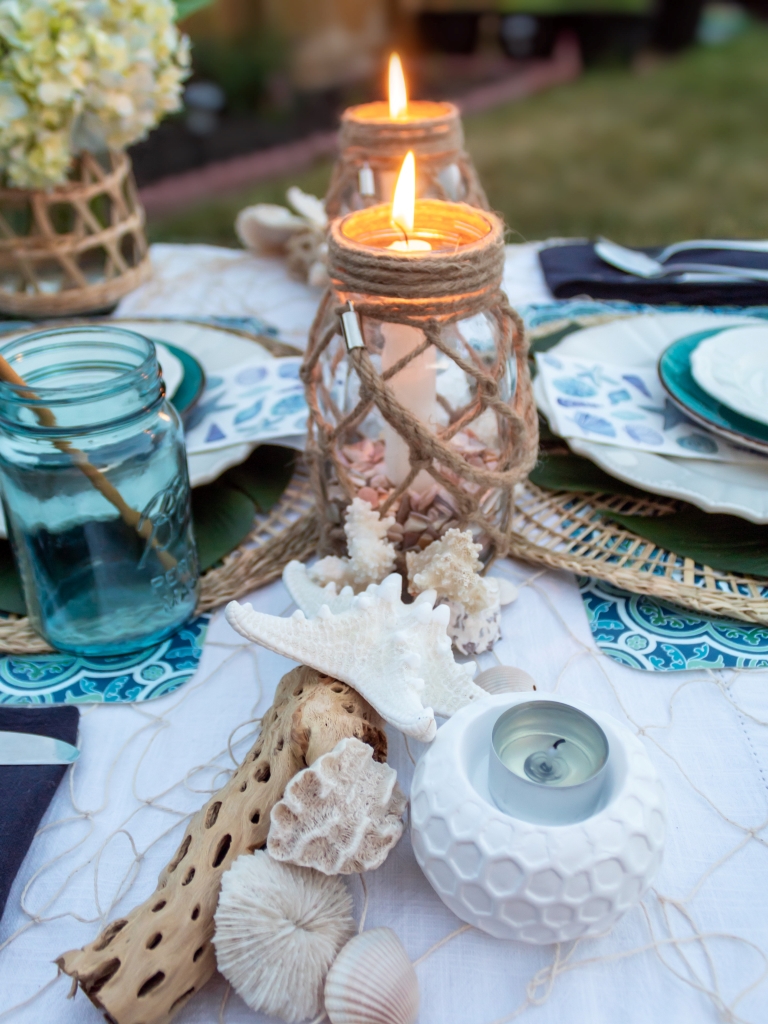 Midwest Life & Style // The Ponds Farmhouse // Vintage Home Designs