Simple Tips For Styling A Gorgeous Christmas Table
It's my favorite time of the year and this year I am over the moon excited to decorate our new house! Today I am starting in the dining room and sharing some simple tips for styling a gorgeous Christmas table.
This post contains some affiliate links for your convenience. Click here to read my full disclosure policy.
Virtual Supper Club
I am so honored to be joining some of my very favorite blogging friends for their monthly virtual supper club. Today we are sharing Christmas tablescapes and tomorrow we will be sharing recipes! Make sure to catch all of their tables at the end of my post!
If you are popping over from my dear friend Jen at Midwest Life and Style, welcome! Wasn't her blue and green tartan plaid table just beautiful? I always love her styling!
I'm Kelly. A wife, mom, step-mom and the blogger behind TheTatteredPew.com. My family and I live in Colorado where I teach kindergarten by day and become a DIY/lifestyle blogger by night. I loves quick and easy projects that anybody can do. Faith, family, and flea markets are also at the top of my list!
Simple Tips For Styling A Gorgeous Christmas Table
Slowly but surely Christmas is making its way into our home. I have been doing little spaces in the evenings when I get home from teaching. It's always therapeutic and usually the way I decompress.
One night last week I had the urge to set the dining room table for Christmas. Now if you saw my Thanksgiving tablescape that I shared last week, well then you know that I am hosting Thanksgiving at our house this year (next week).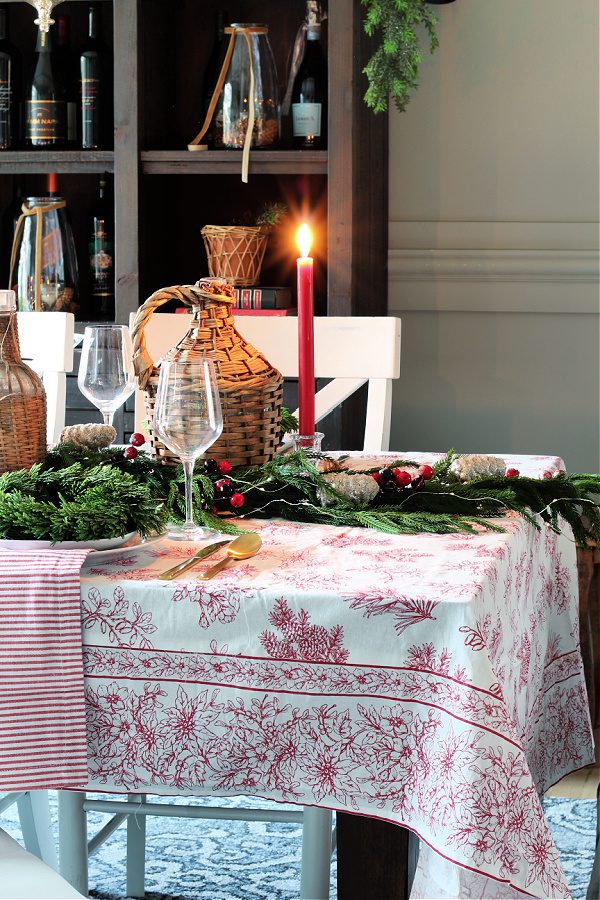 Well that also means I will have to take all of this down before Thanksgiving and put it all back up again after Thanksgiving. The life of a blogger…just so you know it doesn't bother me at all!
I had a vision in my head and there was no stopping me even knowing it would only be up for a week. The vision consisted of lots of reds, whites, greenery and vintage accents!
And to say that I love how it turned out, well friends, that would be an understatement.
I adore it!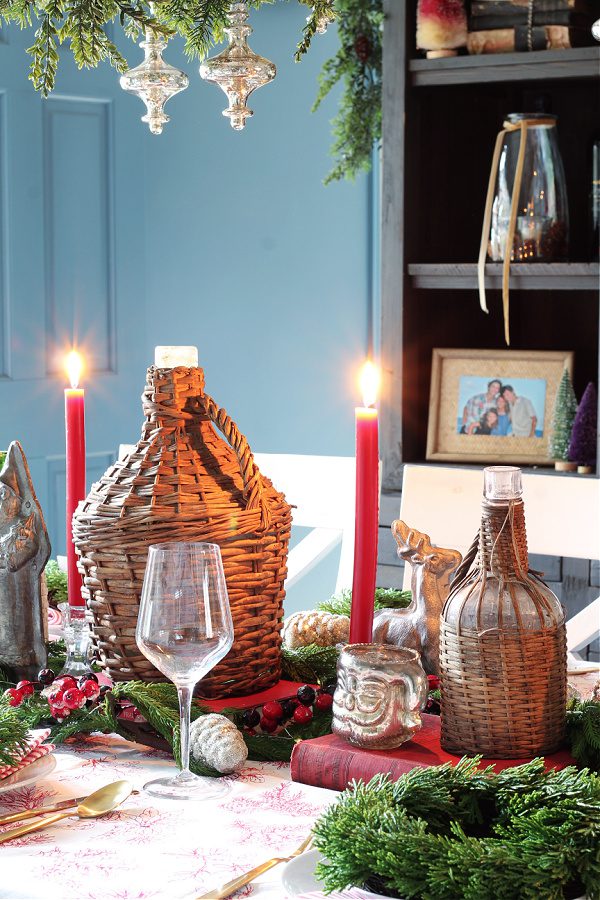 Tablecloths and Patterns
Whenever I start setting a special tablescape, especially for the holidays, I love to start with a pretty tablecloth with some kind of pattern or texture. I love everything April Cornell makes so when I saw this red and white floral tablecloth at Home Goods a month ago I knew I could give her a good home!
After the tablecloth I grabbed my favorite white plates from World Market (that we use as everyday plates) and sat them directly on the tablecloth. To bring in another pop of pattern I added my red and white ticking stripe napkins I found last Christmas.
Mixing patterns makes me happy and adds visual interest to any table!
Simple Christmas Place Setting Ideas
Once the main things were on the table I noticed everything was red and white. So I grabbed 6 of the mini Hobby Lobby wreaths I used last year too and set them on each plate!
And how cute is that mini vintage Santa mug?!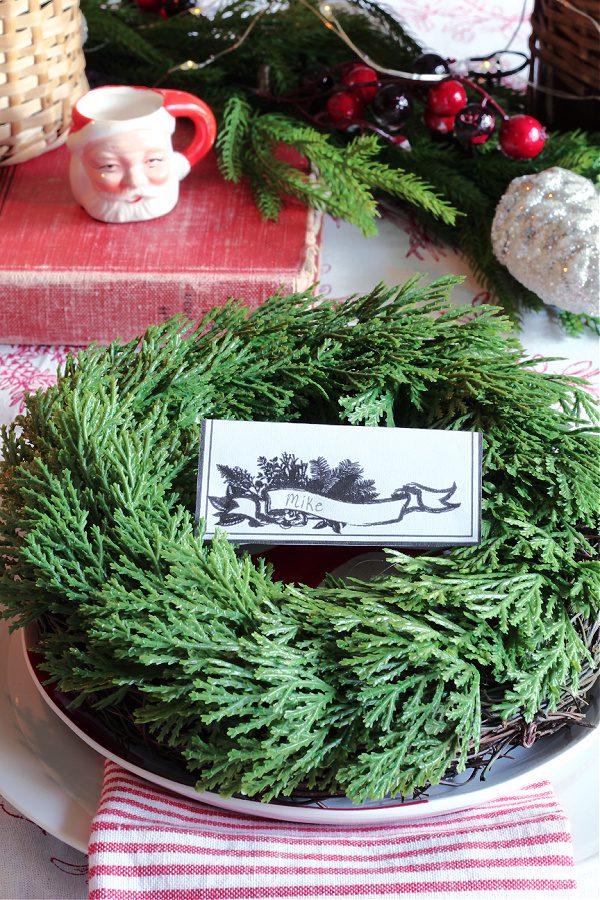 The contrast and pop of color made my heart sing! Next, I added my free holiday printable place cards in the center of each wreath and this personalized the place setting instantly! You can grab my HOLIDAY PRINTABELS BUNDLE here!
Christmas Greenery and Garland
Once the place settings were done I moved onto adding the greenery and garland down the center of the table. I used my favorite faux Norfolk pine garland from Afloral. I think it's currently sold out sadly, but I can't recommend it enough!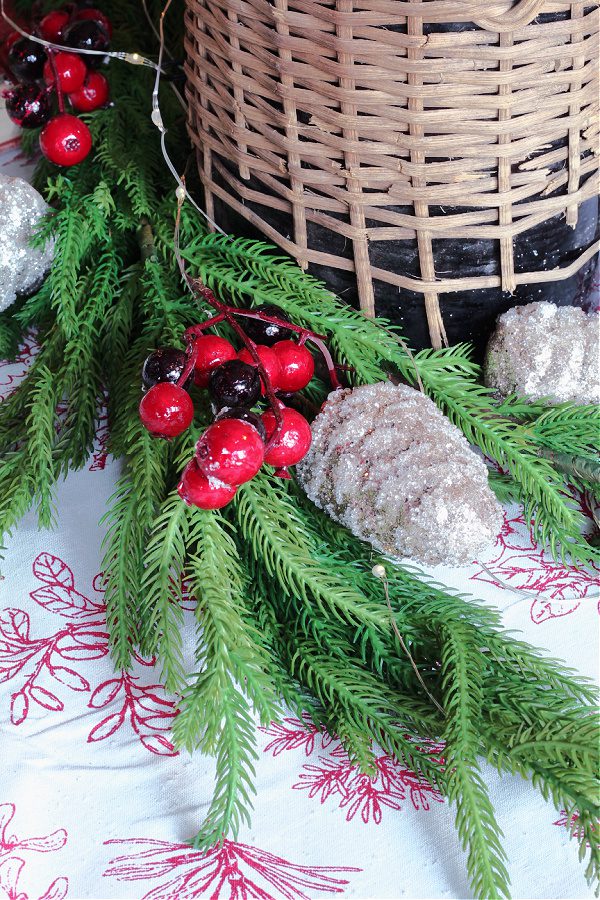 Then I layered in some red berry picks, silver glittery pine cones and fairy lights. I had the pinecones on my tree last year and the red berry picks were on my all time favorite outdoor wreath! I love to find new ways to repurpose the same décor year after year!
Simple Christmas Details for Your Holiday Table
Adding simple and meaningful Christmas details comes down to finding items you love and that have meaning for you.
I personally love vintage touches and that's why you see that wicker demi johns and vintage books. You will also love that there are touches of mercury glass weaved in as well. This echoes the mercury glass around my home and on my tree that I can't wait to show you!
And do you see the red candles? I bet you would never guess the clear glass candle holders are from the Dollar Store! Yes, they sure are!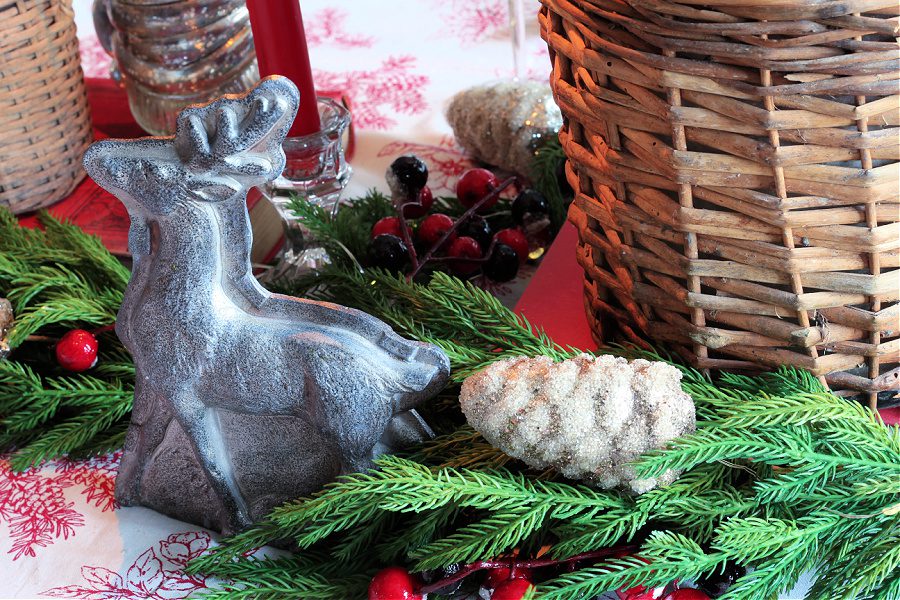 The Final Touches
My final touches for the table came in the form of the garland on the chandelier with mercury glass ornaments hanging from it. I also hung a fresh boxwood wreath from Trader Joes on the wall over the art and finally added soft red throws to the end chairs with some winter scene pillows. I found the pillows at H & M last year and wish they were still available!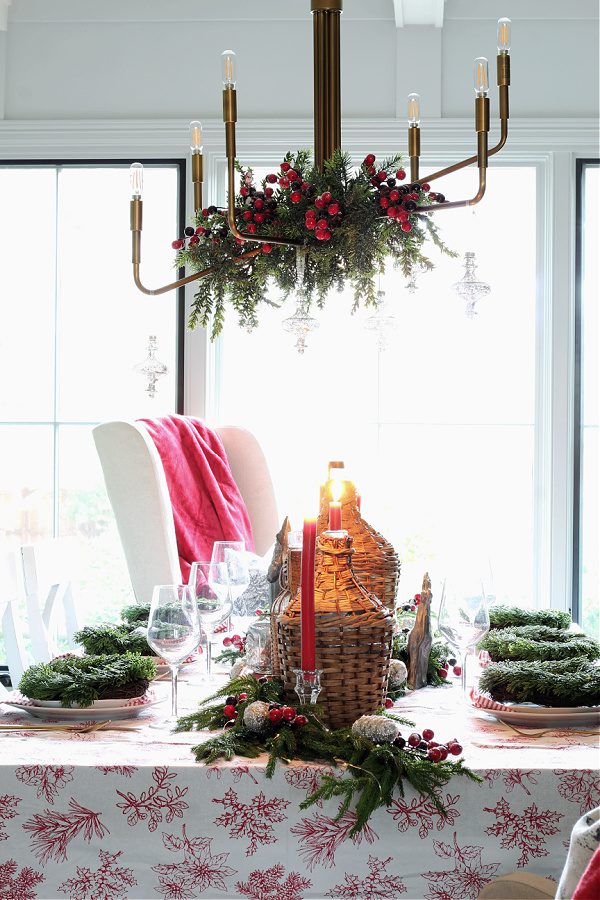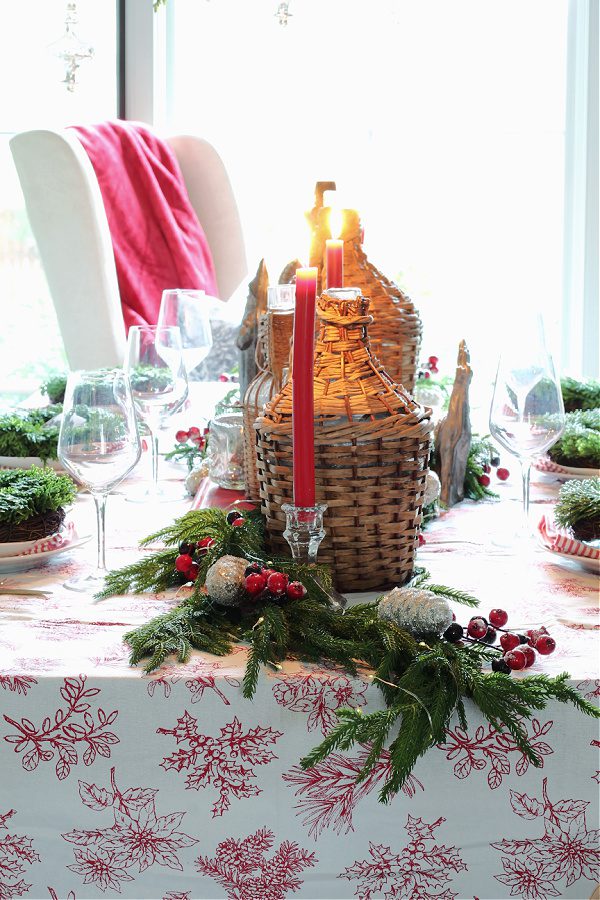 It feels intimate, looks gorgeous and and perfect for Christmas! I can't wait to celebrate at this table with my family! I also think my mom's red velvet birthday cake for Jesus being enjoyed here! Oh goodness I can't wait for Christmas now!
Get The Look

More Simple Tips For Styling A Gorgeous Christmas Table
Hopefully you were able to find some inspiration and simple tips for styling a gorgeous Christmas table. Thank you so much for hanging out with me today. I hope you will hang out some more and come back for more Christmas inspiration next week!
Now head over to see Michelle of Vintage Home Design's beautiful Christmas tablescape with fresh greenery!
More Christmas Tablescape Ideas From the Supper Club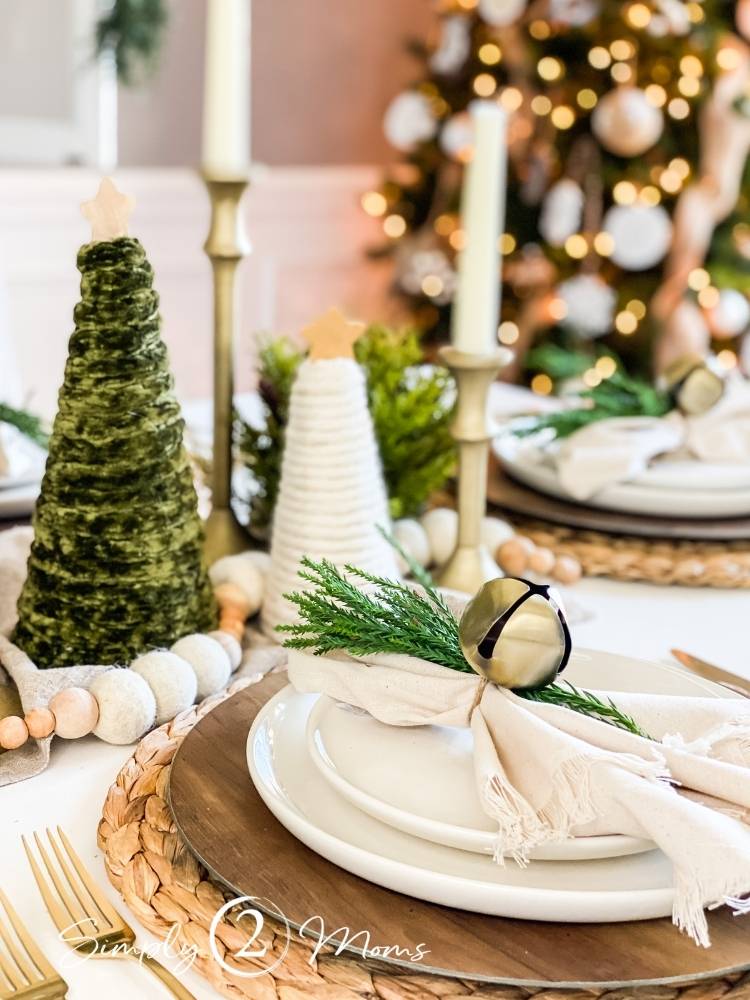 Anne & AnnMarie at Simply2Moms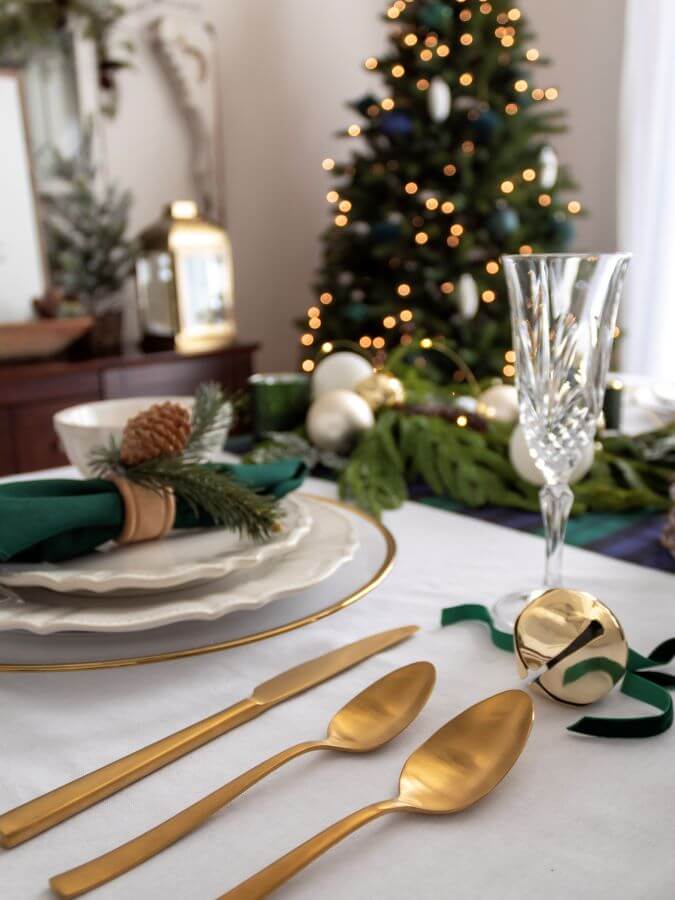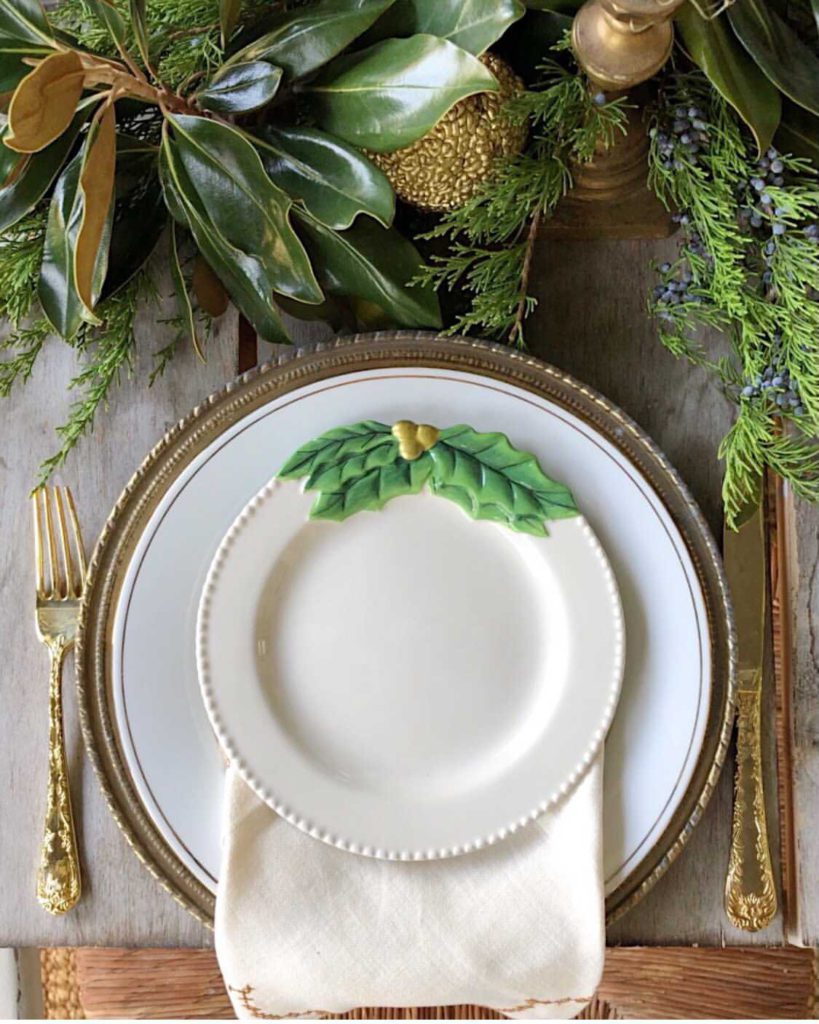 Michelle at Vintage Home Designs
xoxo,
Kelly