The Ultimate Blackstone Gift Guide For Dads
It's June and that means Father's Day is approaching quickly! If there is a dad in your life that loves grilling, outdoor cooking or new ways to cook then you will love the ultimate Blackstone gift guide for dads that I am sharing today!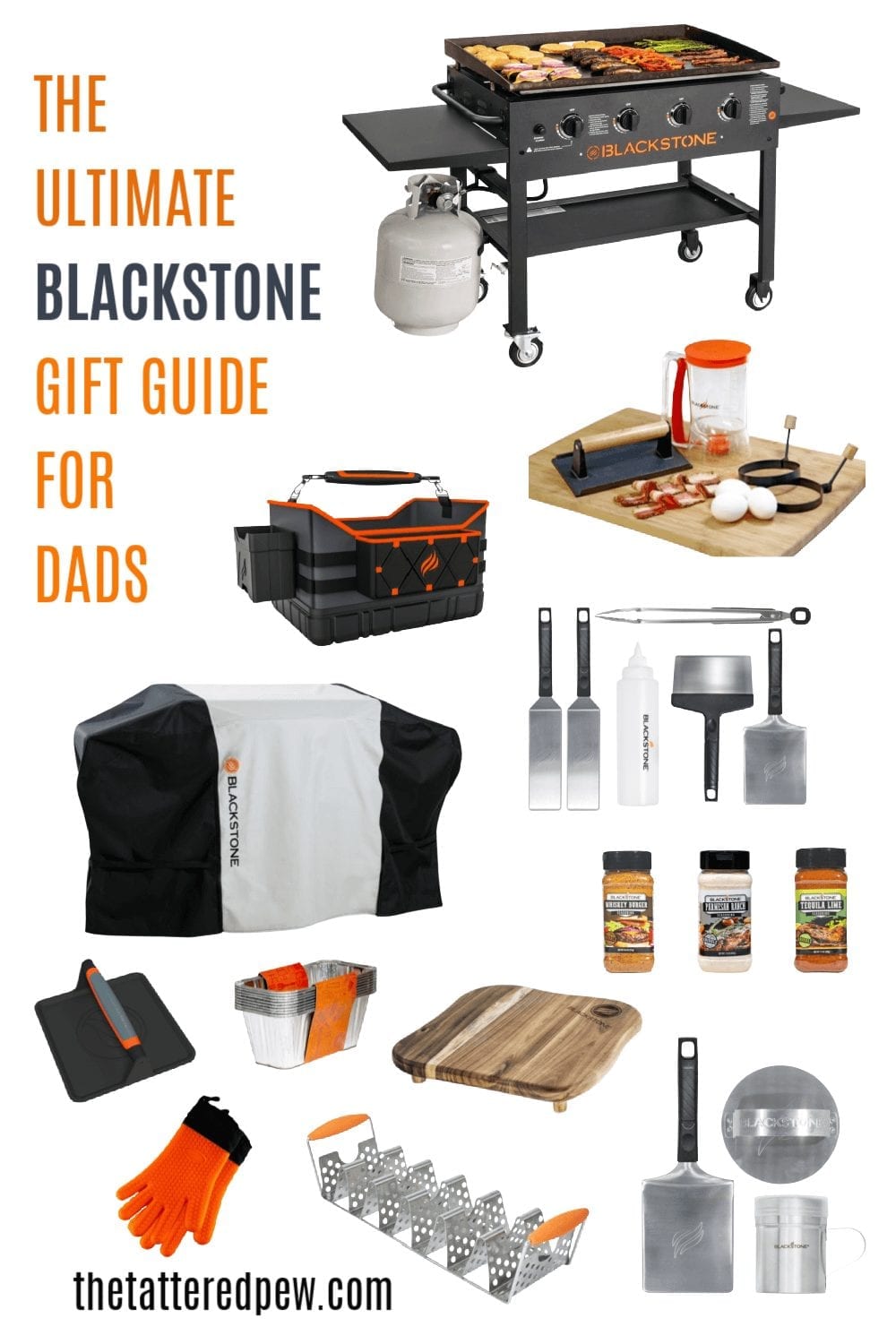 This post contains some affiliate links for your convenience. Click here to read my full disclosure policy.
The Ultimate Blackstone Gift Guide For Dads
Have you heard of the Blackstone griddle? The boys recently got one for Mike as a surprise after he had been talking about one for a long time. And I have to say, it is a game changer when it comes to cooking outside. It's basically like having a hibachi grill or griddle right in your own backyard! The girls jokingly ask him if he plans to throw eggs in the air, catch them and then cook them in the stack of onions like the chefs do at hibachi restaurants.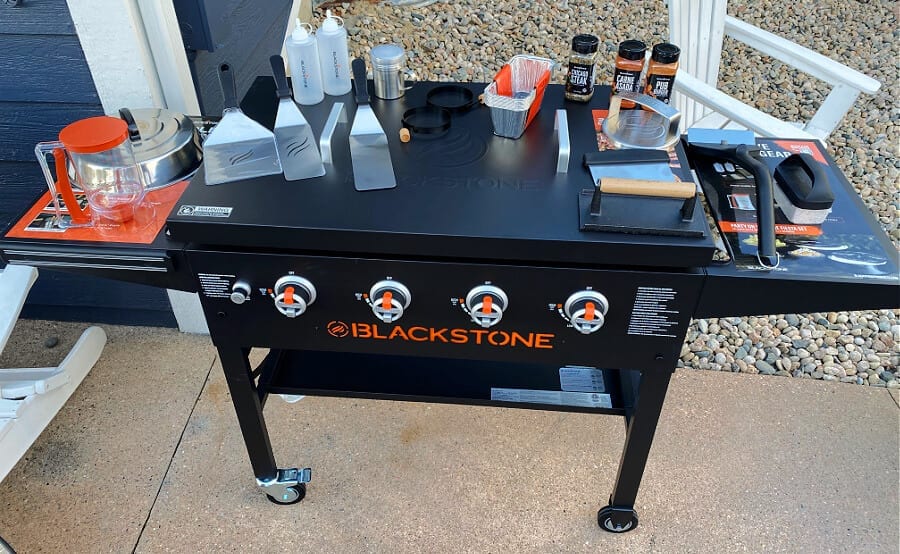 We all had a nice chuckle imagining Mike doing that in our backyard. But in all seriousness… he has cooked us some amazing meals already! I have never had pancakes like the ones he made on the Blackstone and the steamed veggies are to die for. Oh, and I can't forget the steak…oh gosh the steaks are SO good too! Everything just tastes better on the Blackstone. Honestly this gift for Mike has turned into a gift for us as well!
Blackstone Griddle Accessories
So if you are new to the Blackstone life or have wanted to know more or just need to add to your Blackstone accessories…this is the post for you! There are so many awesome accessories that go along with the griddle as well. He have several of them already but I definitely plan to get him a few more. I can't wait to share the ultimate Blackstone gift guide for dads with you all!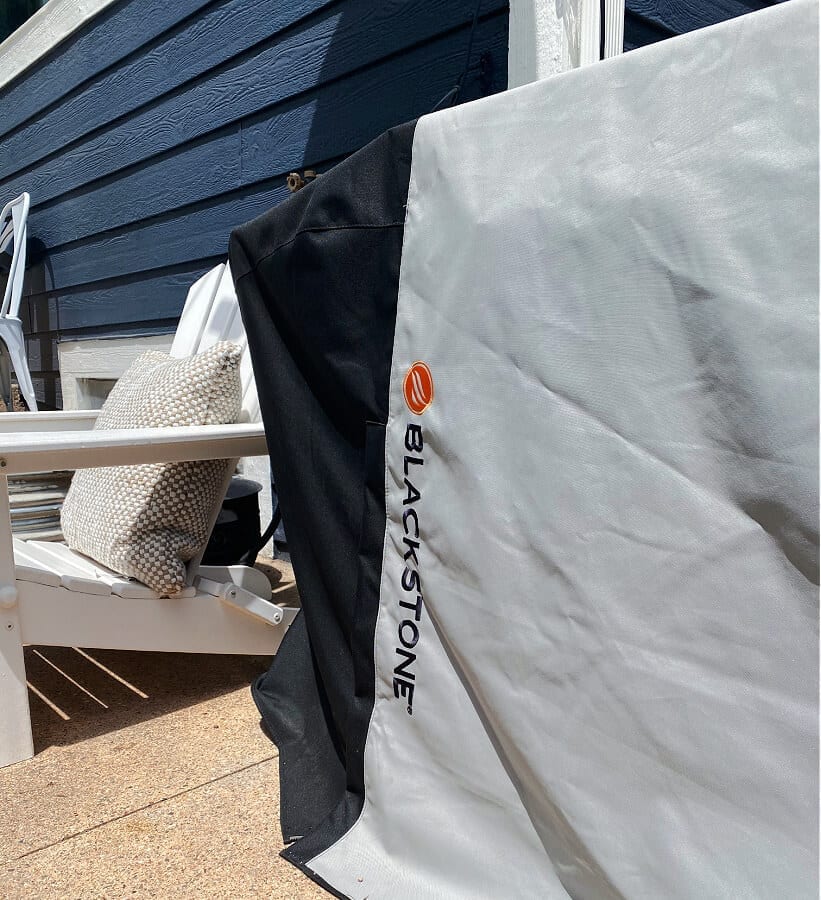 Blackstone Gift Guide For Dads
In the image below I have numbered each Blackstone item I'm sharing. If you scroll down a bit more I talk about which ones we have and which ones we are looking to add to our collection. Have fun browsing and shopping and please let me know if you have any questions!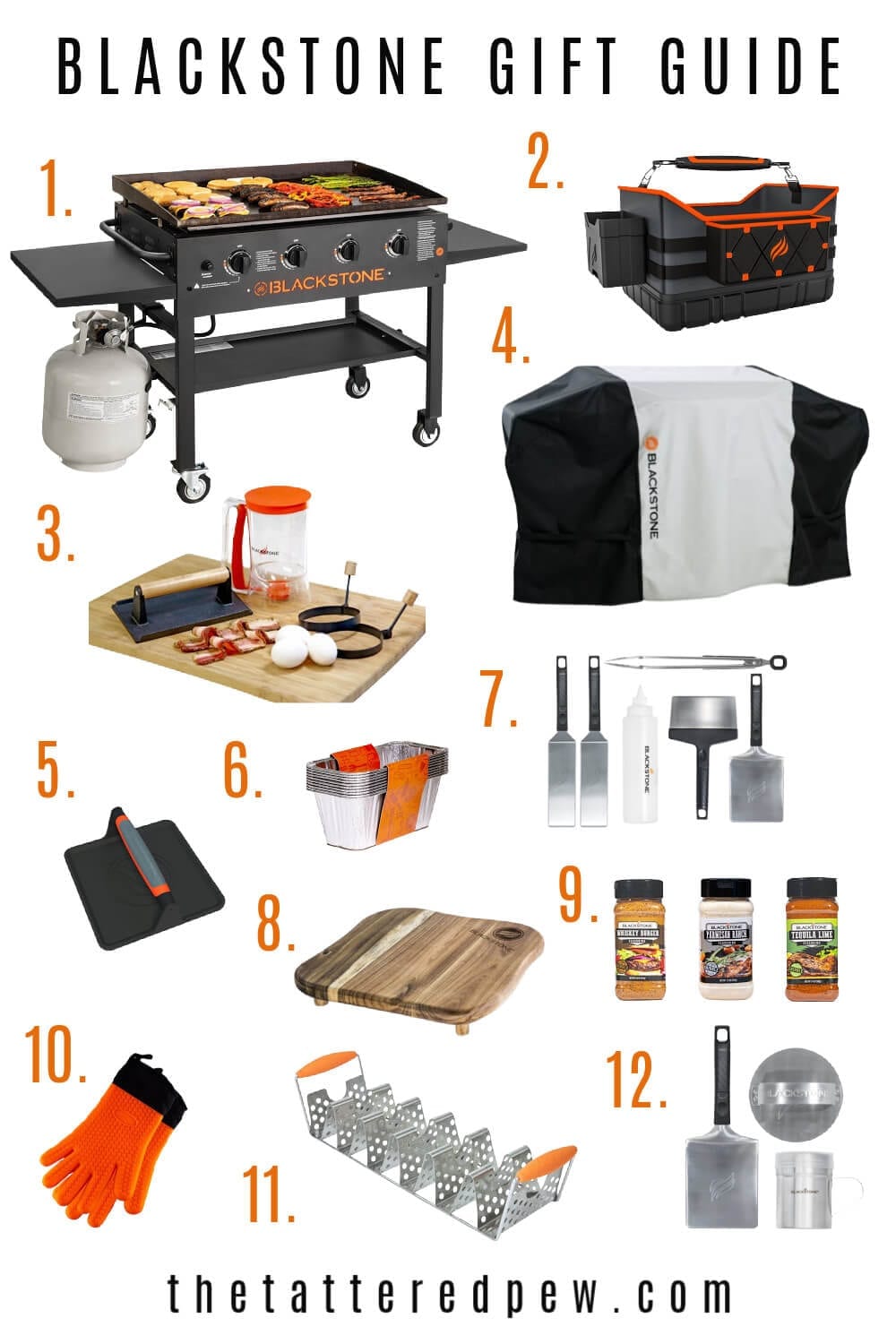 All The Blackstone Details
Blackstone 4 Burner 36″ Griddle Cooking Station: this is the griddle itself! My husband recommends the 36inch as the perfect size. I will link it here from Walmart but make sure to shop around because we have found some fabulous deals all over. 
Blackstone Cook and Carry Griddle Caddy : I plan to get this for my husband this year or possibly this waterproof tub. He currently is holding all of his accessories in a cardboard box. Ha!
Blackstone 4 Piece Breakfast Kit : Remember those pancakes I mentioned? This is the kit we have and love! The pancake dispenser was fun to use and maybe it was the fact that there was bacon grease that the pancakes were cooked in that made them AMAZING!
Blackstone Griddle Cover, 36″ Black and Gray : This is our cover ( a must in Colorado and most places) and we found it at Lowes. They have been hard to find on-line and sometimes sell out quickly. I have linked a few different ones here for you 
Cast Iron Griddle Press : We don't have this one but it would be perfect for cooking steaks!
Blackstone Rear Grease Cup Liner : These are a MUST! We have them and always use them. I could tell you some crazy stories about them filling up but I will spare you the hot and greasy details.
Blackstone Deluxe Stainless Steel 6 Piece Spatula Griddle Set : Mike uses all of these pieces when he cooks. This would be a great starter kit!
Blackstone Acacia Wood Cutting Board : I have my eye on this for cutting up veggies and it can go directly on the griddle! We have also found that using a cover like this steams your veggies to perfection!
Seasonings: Parmesan Ranch, Tequila Lime, and Whiskey Steak . We have a few other seasonings we enjoy but I am excited to have Mike try these as well!
Silicone Griddle Gloves : This griddle gets hot! Gloves are a must and an apron is probably a good idea too. 
Stainless Steel Taco Rack : This just looked cool and we love tacos!
3 Piece Press and Sear Hamburger Must Have Tool Kit : We had burgers once on our Blackstone and they were delicious and these tools were helpful. My husband has found a lot of awesome tutorials for burgers and steaks and anything you can dream of over on YouTube and Tik Tok! Just google Blackstone Tutorials. 
Shop This Post
To shop the Ultimate Blackstone Gift Guide for Dads just CLICK on any image for more information!

Blackstone Griddle Cleaning Tools
The Blackstone Griddle requires some maintenance. We have found this 8 piece griddle cleaning kit and this griddle seasoning and cast iron conditioner to be VERY helpful! My husband has also learned that prepping your griddle before you cook is of utmost importance. He watched several videos before he used his griddle and was very happy that he did!

The Ultimate Blackstone Gift Guide For Dads
Hopefully you found this post helpful and found a few things for that special dad in your life! Did I convince you how magical the Blackstone griddle is? Let me know if you have any questions or tips. Happy Father's Day to all the dads, step-dads, papas, granddads and all other dad figures. You are loved and appreciated!
You can see my last minute Father's Day BBQ ideas here! 
Happy shopping!
XOXO,
Kelly