10 Easy and Fun Fall DIY Ideas
As the vibrant hues of summer slowly (very slowly, because I am still loving summer) give way to the crisp and cozy feel of autumn, there's a certain magic in the air that beckons us to unleash our creative spirits. At The season of falling leaves, pumpkin spice, and snug sweaters is nearly upon us, and what better way to celebrate than by diving into a world of do-it-yourself wonders? Today I am sharing a collection of 10 Easy and fun Fall DIY Ideas that will not only add a touch of warmth and charm to your surroundings but also awaken your inner DIYer.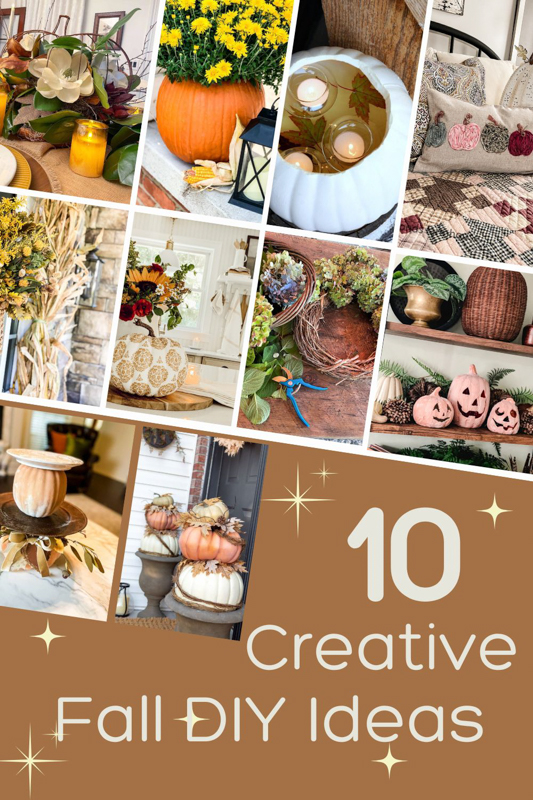 10 Easy and Fun Fall DIY Ideas
Fall will be here before we know if and if you are anything like me then your Pinterest and social feeds are starting to fill up with Fall inspiration. I am still loving summer but have been planning and dreaming of what fall will look like here in our home and guess what? I found some incredible inspiration from a few of my favorite blogging friends and you can find each of them linked below. Now I can't wait to hear what your favorites are! And a huge thank you to Rachel of The Ponds Farmhouse for bringing us all together!
Now let's check out 10 easy and fun Fall DIY ideas!
It's no secret I love pillows. Just ask my husband! So when I saw this no-sew pillow option from Rachel of the Ponds Farmhouse I knew you would like it too. Get ready for budget-friendly, sustainable fall pillow project. If you like unique one-of-a-kind home decor, you will love this cute pumpkin pillow made from scrap fabrics. This no-sew project from Rachel of The Ponds Farmhouse is so easy anyone can do it.
Raise your hand if you love hydrangeas. Me too! Stacy from the blog Bricks 'n Blooms has the easiest and most beautiful hydrangea wreath tutorial I have ever seen. So if you are looking for ways to decorate your home for fall on a dime you should check it out. Wait until you see how easy it is to make this simple hydrangea wreath for free with my good friend Stacy from Bricks 'n Blooms.
Pottery Barn has their Fall catalogue out and the other night I found myself drooling over their terra cotta pumpkins. But I was not drooling over their price. Sound familiar? Enter my friend Jennifer from Cottage on Bunker Hill and her blog post on how to create your own version of the viral Pottery Barn terra cotta pumpkins for a fraction of the price! Follow her step-by-step tutorial to make this popular Fall decoration for your home.
Before you know it it will be mum and pumpkin season. I am so excited! Why not get ready to combine the two?! If you looking for a new way to display your fall mums Kim from Cottage In the Mitten has a fabulous tutorial. Planting a mum in a real pumpkin is a fun and easy way to add a touch of fall to your home. With little care, your mum will thrive all season long.
Wendy from WM Design House shows you how to create a beautiful fall centerpiece using a Dollar Tree pumpkin wreath, some cinnamon, floral foam, moss, faux magnolias and fresh leaves. It's a great way to add some autumnal charm to your home for a fraction of the cost of store-bought decorations.
If you love projects that involve paint, reimagining items and hot glue then you will love this one from Amy of Amy Sadler Designs! Put a new spin on an old favorite, using pumpkins and other affordable items to make a beautiful tiered tray! A fun craft to get those Fall decorating juices flowing.
This easy and fun Fall DIY idea is my own! If you are looking for a quick and thrifty Fall craft project I have you covered! This DIY faux pumpkin with floating votives is an easy and inexpensive way to spice up your indoor our outdoor spaces this fall. Simply find a carve-able faux pumpkin, add water, leaves and floating votives and you have a super EASY DIY project.
You know I love anything to do with baskets and Fall is the perfect time of year to get creative and spruce up your home with seasonal decor. AnnMarie and Anne from Simply2Moms show you exactly how to replicate this gorgeous look for your own front door. Follow these simple steps to assemble a beautiful autumn-inspired door basket.
Lately I have been in love with decoupage and how it can transform items so easily. SO when I saw that Heidi of Eleanor Rose Home was sharing a Fall decoupaged pumpkin I was so excited to check it out! She shares how to transform plain pumpkins into vibrant fall masterpieces using the art of decoupage with her step by step guide on how to decoupage pumpkins with paper napkins for stunning, personalized autumn decor.
Are you looking for an easy idea to dress up your front porch this fall? Well get ready to be wowed by Jen from Midwest Life And Style's fabulous fall idea! These DIY pumpkin topiaries are simple to make and a fall craft that will last for years to come. Don't they look so darling on her porch! I can't wait to try these!
More Easy and Fun Fall Inspiration
I have a TON more inspiration here on the blog if you are looking for your early Fall fix you should stop by. You can see it all linked HERE!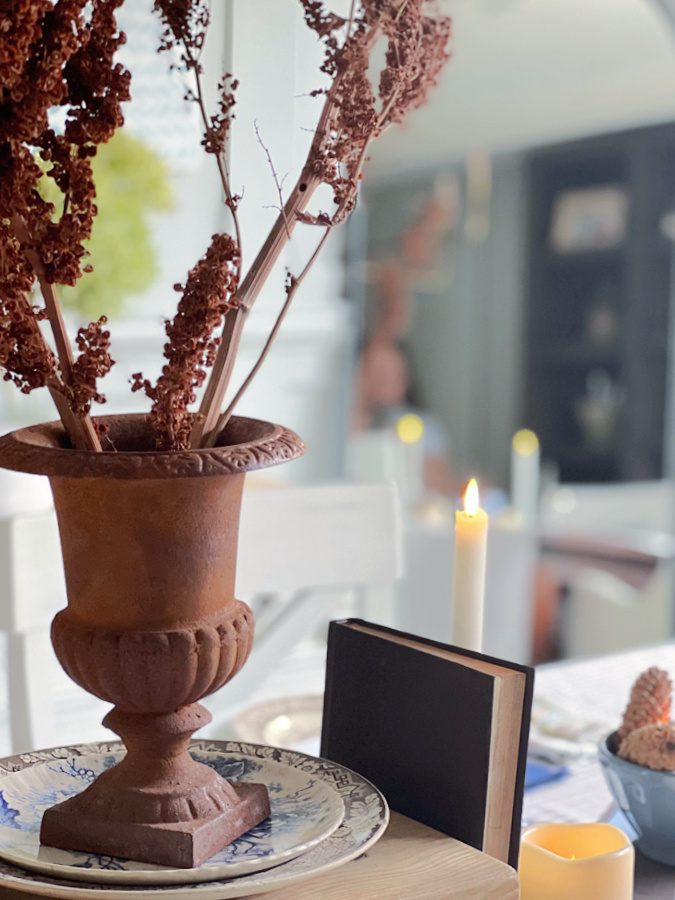 10 Easy and Fun Fall DIY Ideas
Well there you have it, 10 easy and fun Fall ideas for you to try! I know Fall is still far away but it never hurts to start prepping and planning early, right? So which project from the group above did you like the most? I am excited to try several of them out.
I'd love to have you hang out with me some more! Feel free to follow along with me on any of the platforms linked below.
LTK | Facebook | Instagram | Pinterest | Amazon
xoxo,
Kelly