How to Recover a Bench and Add a Skirt Without Sewing
Lately I have been obsessed with no sew projects. After making the girls no sew bed skirts and no sew drop cloth curtains I had some left over drop cloth and started searching for more projects around the house. Lucky for me a bench we have… started calling my name! I decided I would use the extra drop cloth fabric I had to recover the bench, and while I was at it, add a skirt to it…of course all without sewing!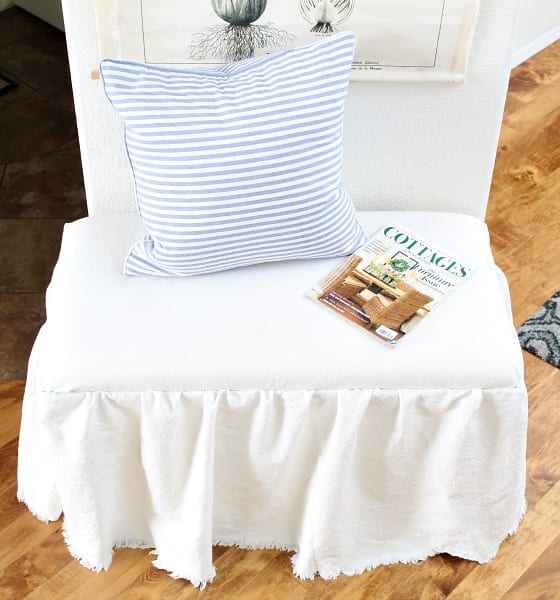 How to Recover a Bench and Add a Skirt Without Sewing
*affiliate links included.
Let me start by saying this might have been one of my quickest DIY projects yet. That is if you already have your drop cloth fabric ready to go. I ordered this drop cloth since it is 100% cotton and used this bleaching method by Farm House on Boone to get mine as white as possible.
How to Add a Skirt Without Sewing
Now that your bench top is covered you may want to add a skirt. This metal look was a bid too modern for me and adding a simple "pinch pleat" skirt gave me that European Farmhouse look I love. Here is how I did it in less than 5 minutes and with no sewing!
Drape your fabric around your frame to see what length you want and to see if you have enough. I had one long piece left and some scraps. I was able to piece them together with no sewing to cover three sides and some of the back. * I didn't need all 4 sides since my bench is against a wall.
Gather and pinch the fabric all the way around to add the pinch pleat look for this no sewing needed bench skirt. * I loved the frayed edge which happened from washing my drop cloth and chose to leave those on the bottom of my skirt.
Finally, replace the lid back over the skirted fabric. The recovered top will hold the skirt in place and this is why you don't need any sewing! The weight of the top will hold it down.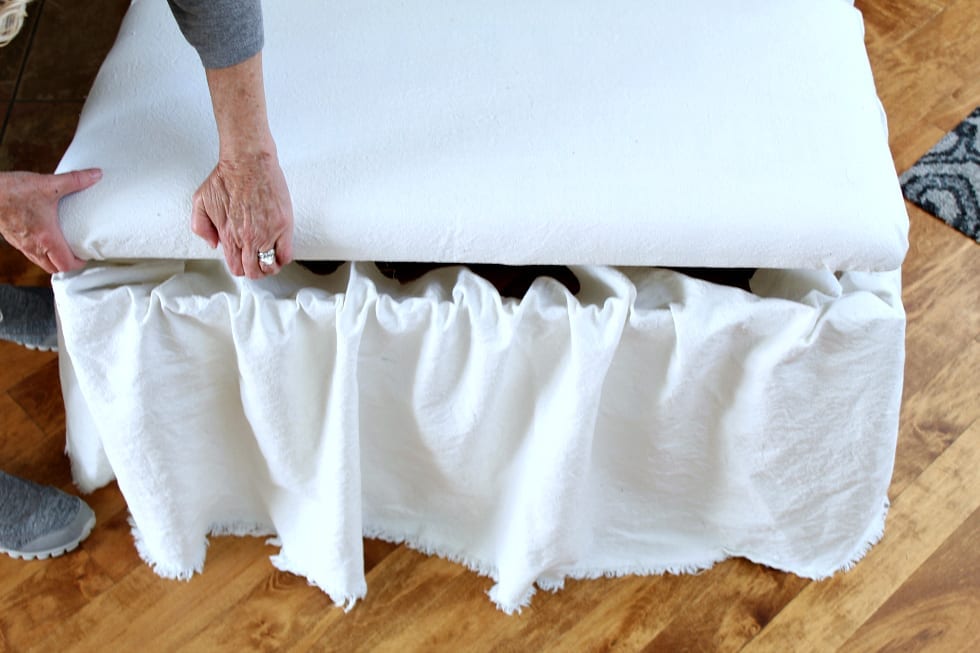 No Sew Magic
I'm sure you can tell that I am loving this no sew method. Who would have thought I could recover a bench and add a skirt to it all without sewing!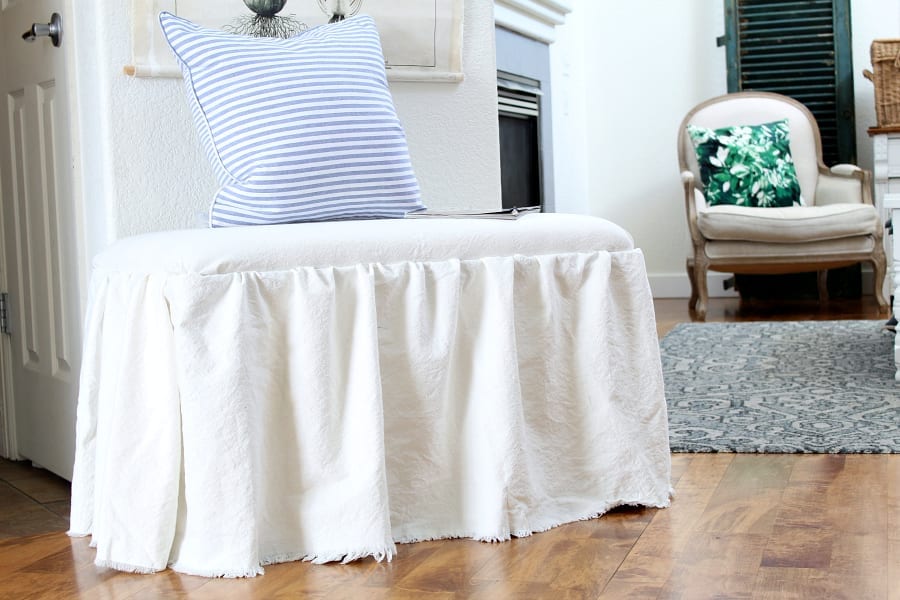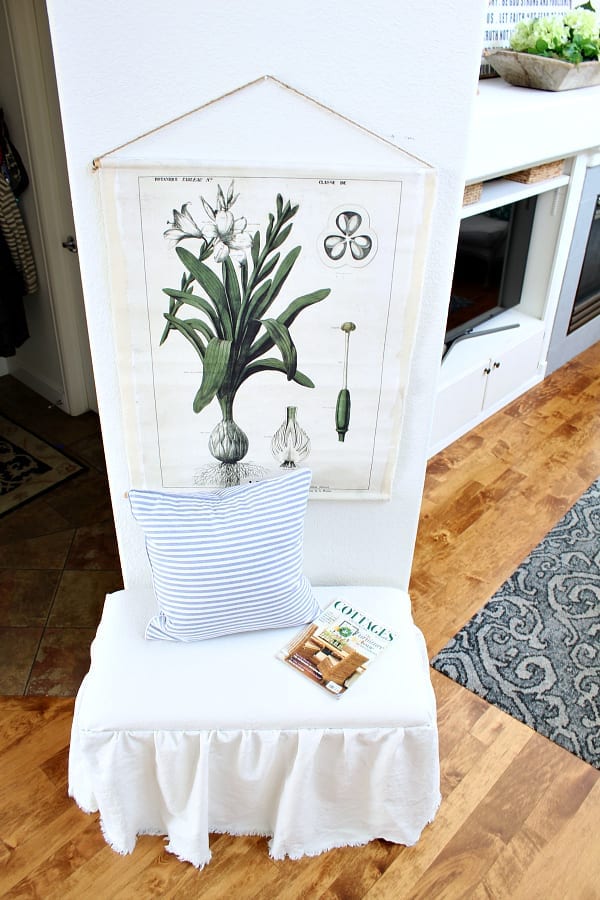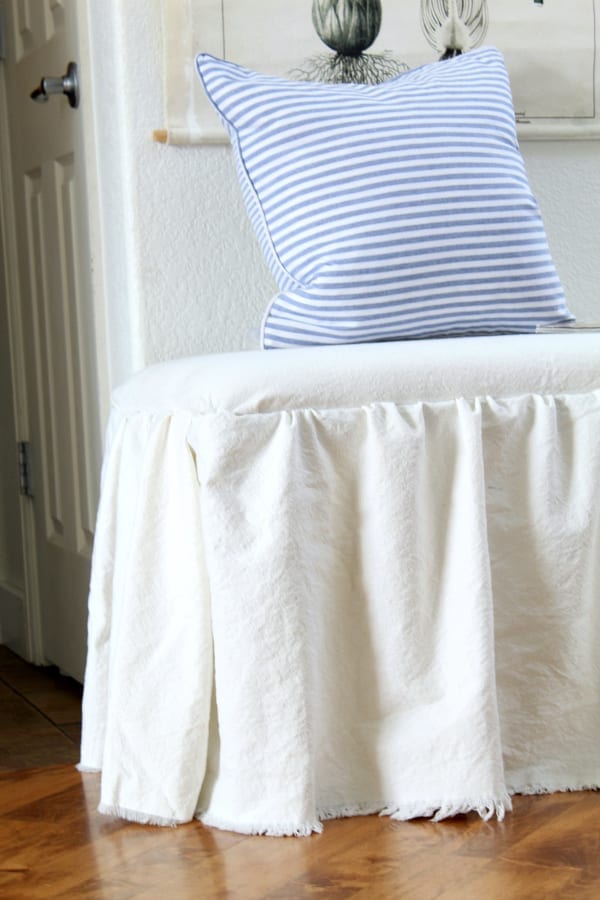 What do you think? Have you tried any no-sew or drop cloth projects? Here are a few other no-sew projects I have done with drop cloths as well.
xoxo,
Kelly
Like this post? Save it for later!