DIY Faux Pumpkin With Floating Votives
Looking for a quick and thrifty Fall craft project? This DIY faux pumpkin with floating votives is an easy and inexpensive way to spice up your indoor our outdoor spaces this fall.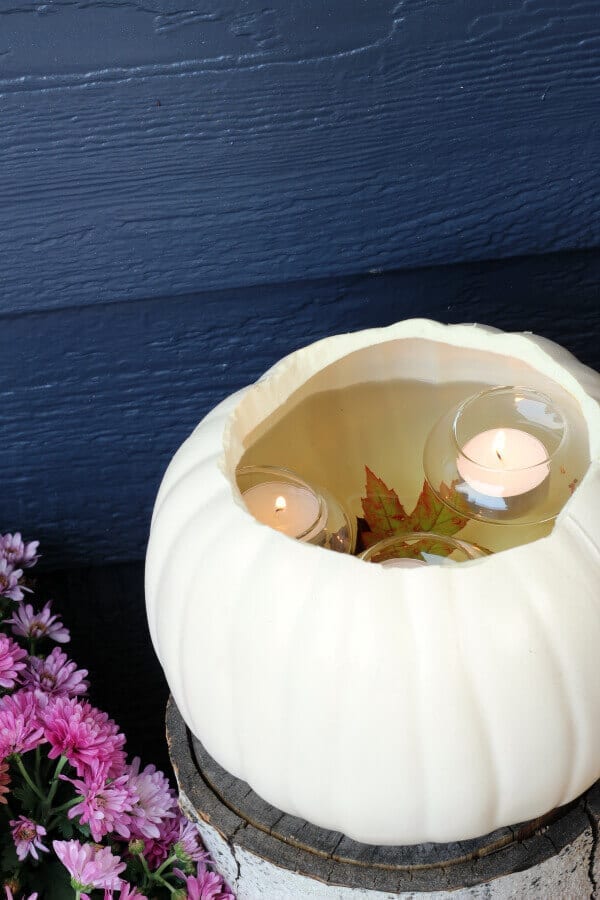 DIY Faux Pumpkin With Floating Votives
When it comes to Fall decor I love getting a bit crafty! But during this time of year I always have two requirements. First, the project must be quick because this is my busiest time at school and home. Second, it must be thrifty, because I need to save for Christmas and because saving money on decor always makes me happy!
I am happy to say that this project meets both.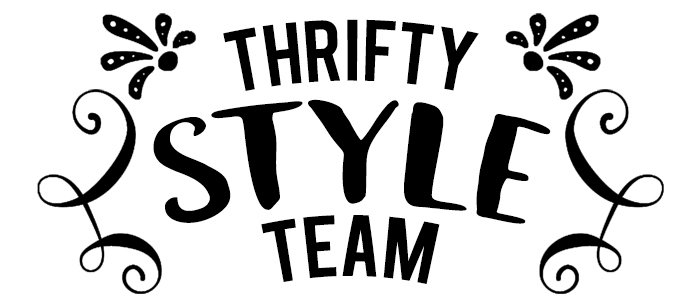 Which is just in time for this month's edition of the Thrifty Style Team hosted by Julie over at Redhead Can Decorate! The Thrifty Style Team is a group of very talented bloggers who get together once a month to bring you DIY projects and decor inspiration that won't break the bank!
And this month I am sharing my DIY faux pumpkin with floating votives. Get ready to be excited by this fabulous DIY because not only is it beautiful, but it might take you less than 10 minutes to make!
I swear!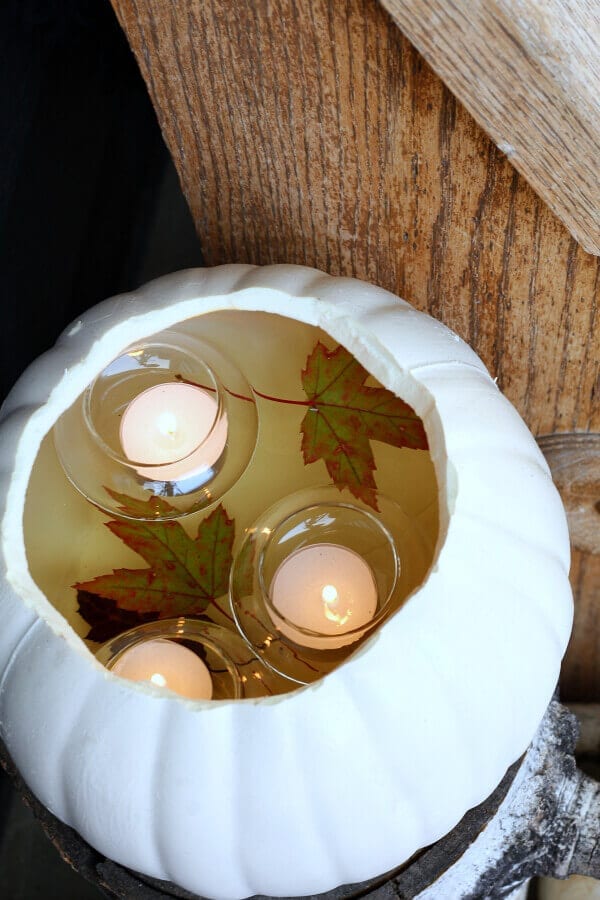 How To Make A Faux Pumpkin With Floating Votives
Friends this craft requires you starting at the one and only, Hobby Lobby. I went a few weekends ago for a fun and quick jaunt through the aisles, you know, just for a little me time and happened upon one of my now favorite projects!
While there I spotted one of their white "crafting" pumpkins and picked it up. I noticed immediately that it was hollow and wondered if it would look cool on my porch with some leaves and floating candles in it.
The answer was yes. YES!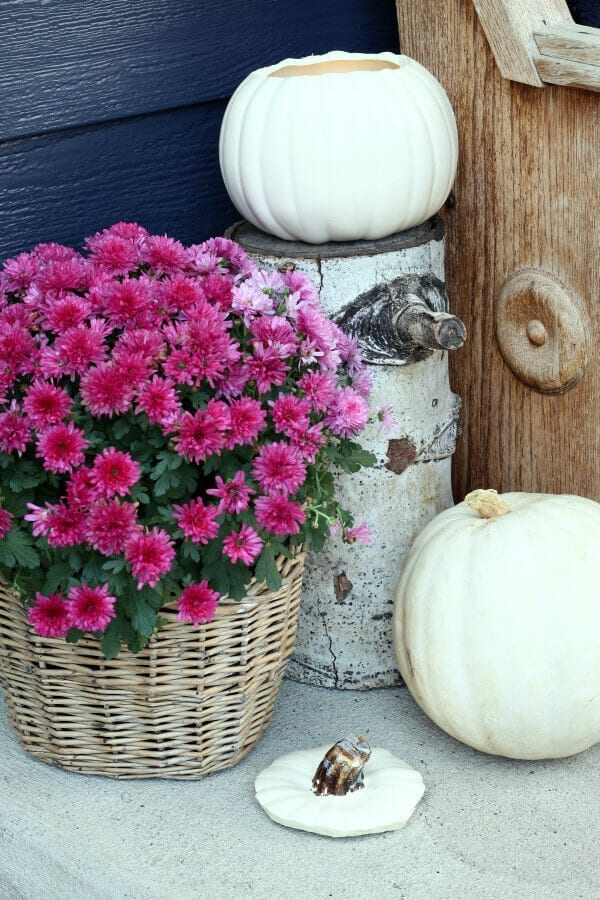 What You Need
Here is what you will need to create one for yourself!
A faux crafting pumpkin ( I found mine at Hobby lobby for 50% off making it $12)
sharpie
utility knife or kitchen knife
votives or battery operated votives for safety 🙂
floating glass tealight holders (Hobby Lobby for only $4 with their 40% off coupon)
leaves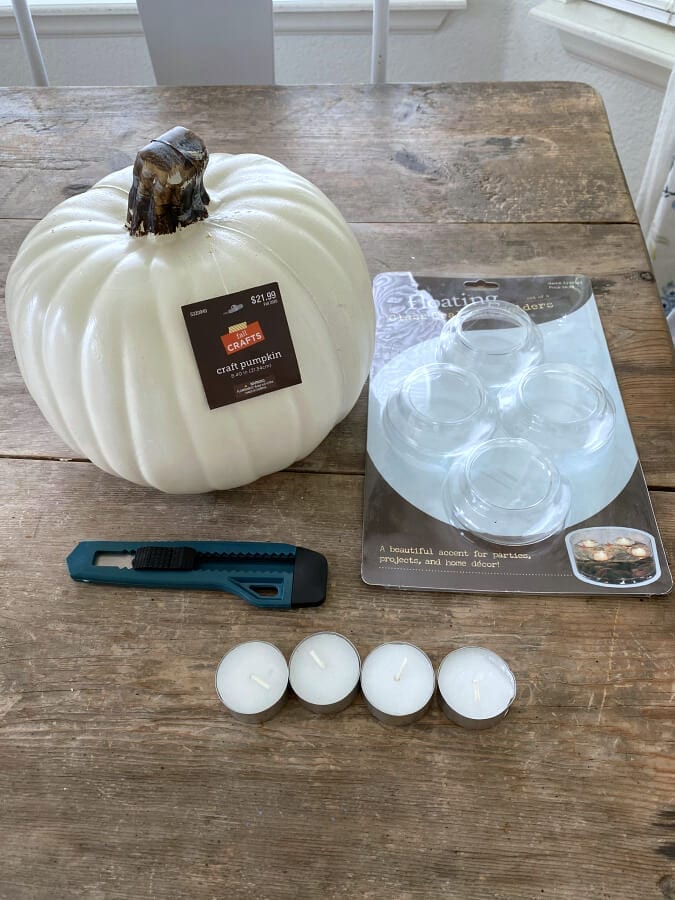 These floating glass tealight holders are so cool and could be used with battery operated lights as well! Especially if you plan to leave your pumpkin unattended. They add that extra special touch and have a curved top and are very deep so that the flames sty low and away from your pumpkin.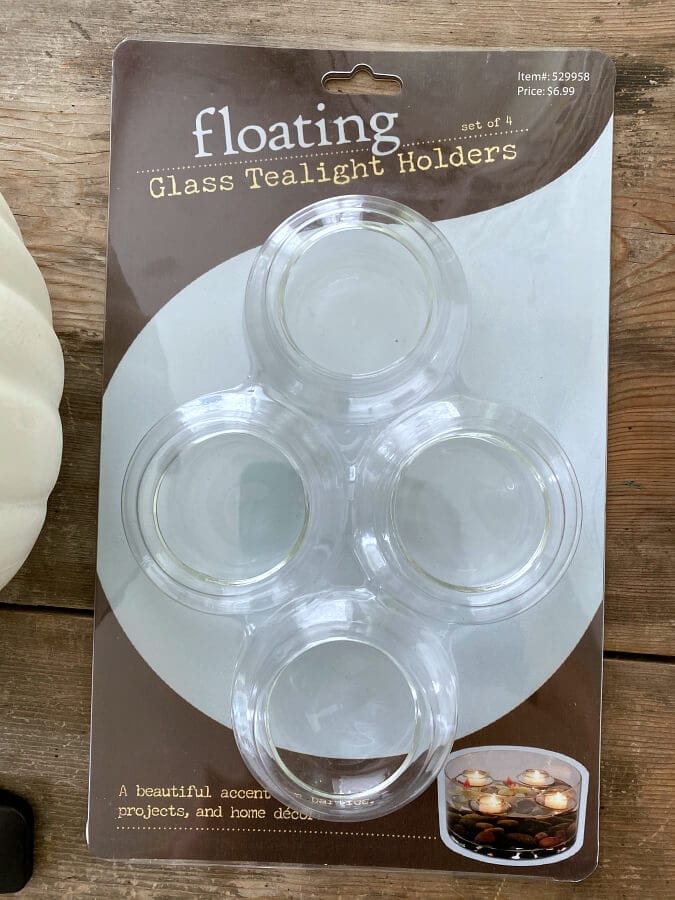 Putting It All Together
First use a sharpie or pencil to draw a line around the top of your pumpkin.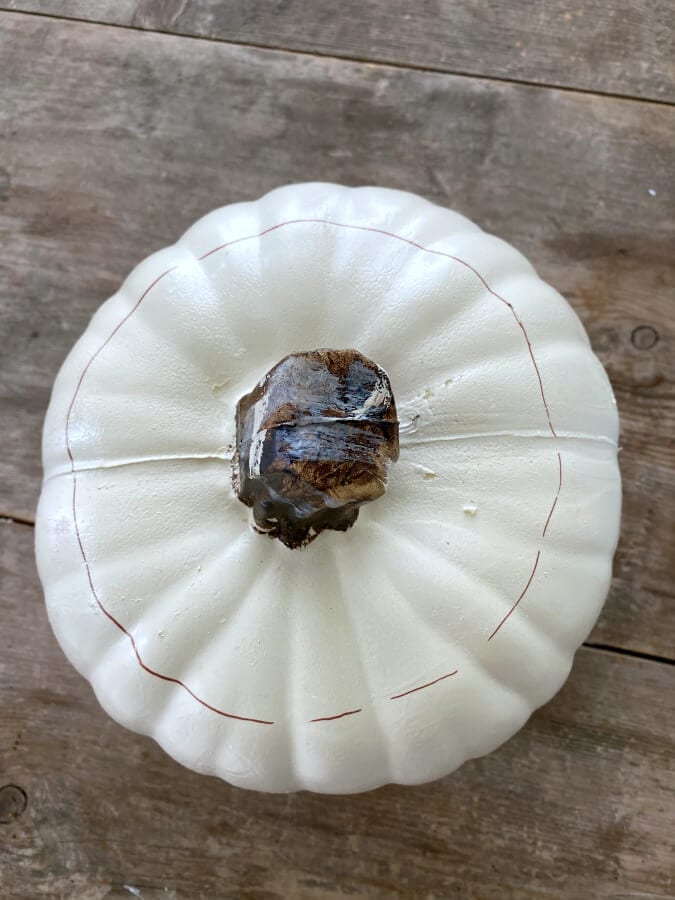 Next, use a utility knife or any serrated kitchen knife to cut the top to create a removeable lid.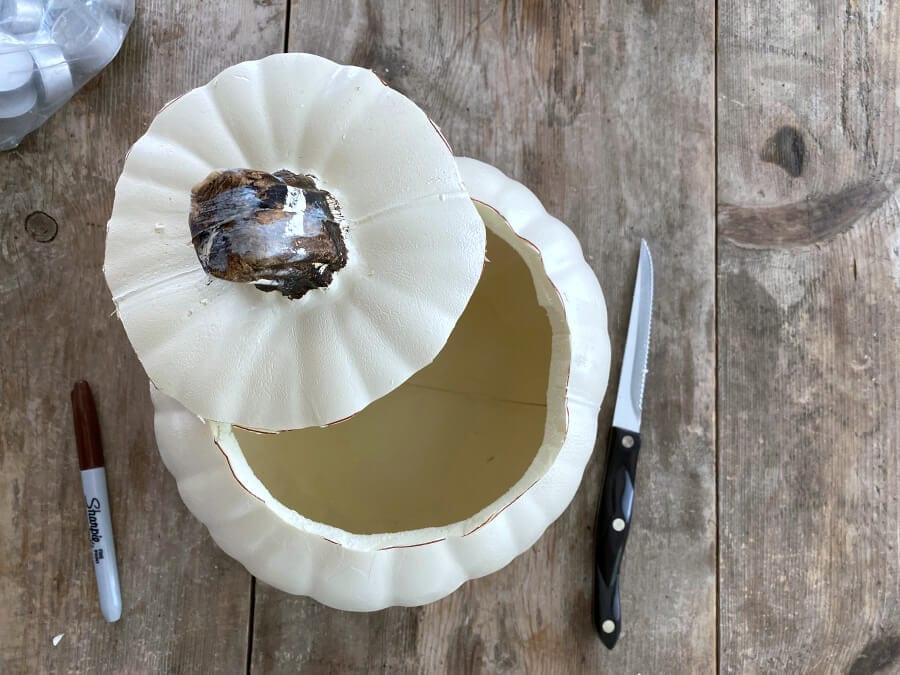 Then, add your water…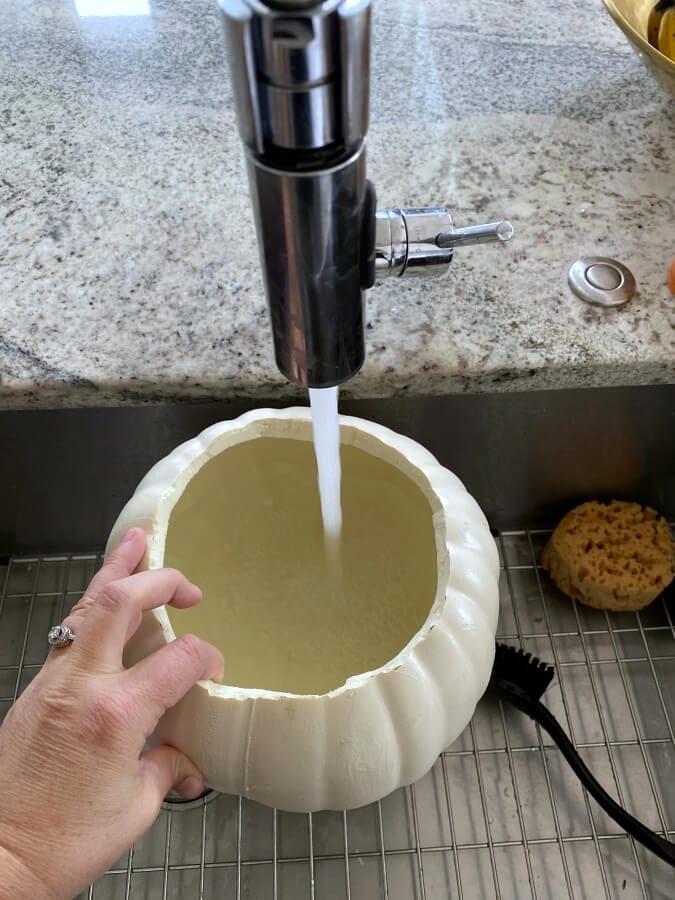 And finally, add your votives to the glass holders and sprinkle in some Fall leaves from your yard!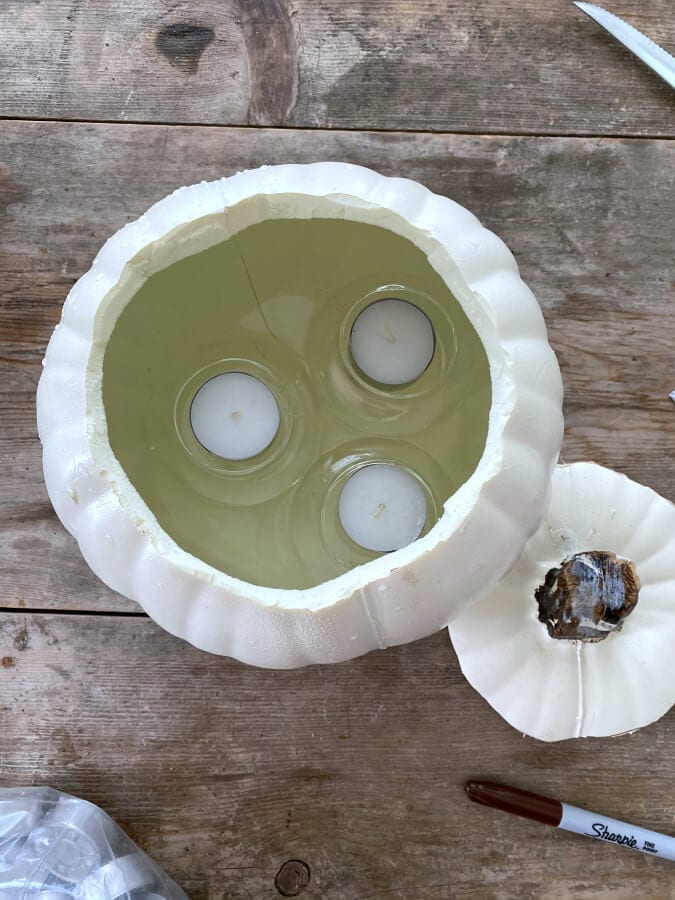 Isn't this just the cutest little DIY ever? I was so excited to style it on our porch!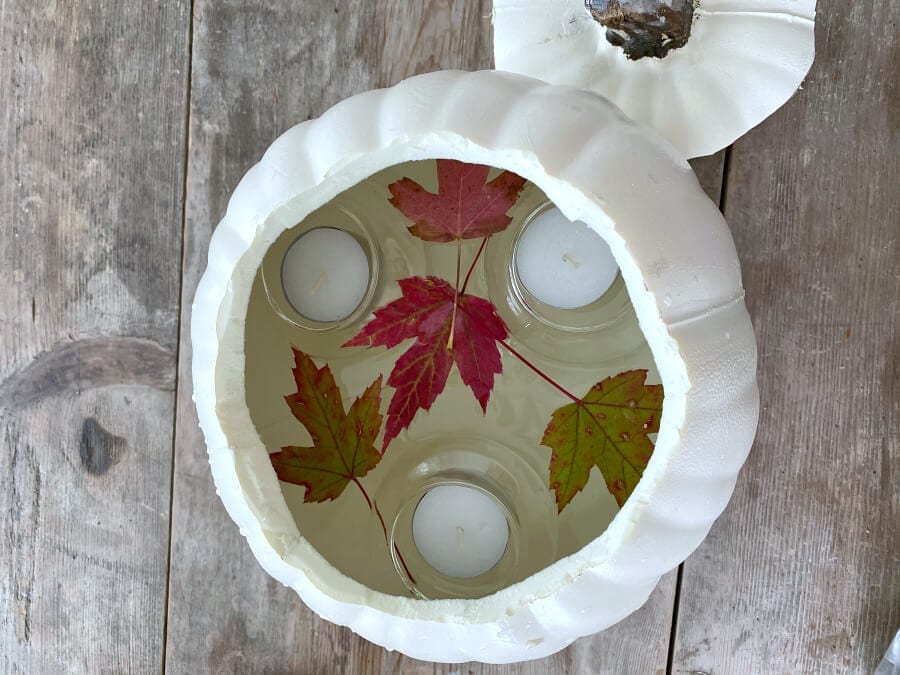 Styling My DIY Faux Pumpkin With Floating Votives
Last week I shared our pink and purple Fall porch and this darling pumpkin with floating votives was featured at the end of my beloved pew. I placed it on a wood pedestal for all to see.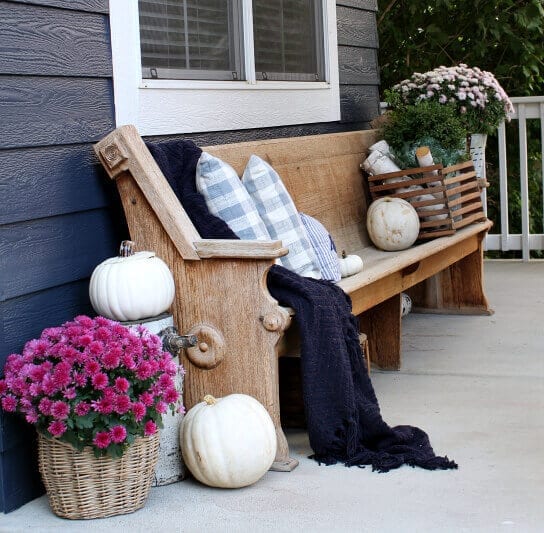 I did get several questions about it from visitors inquiring why the lid was removable. It was fun taking the lid off and showing it to my friends and family. They all thought it was pretty cool.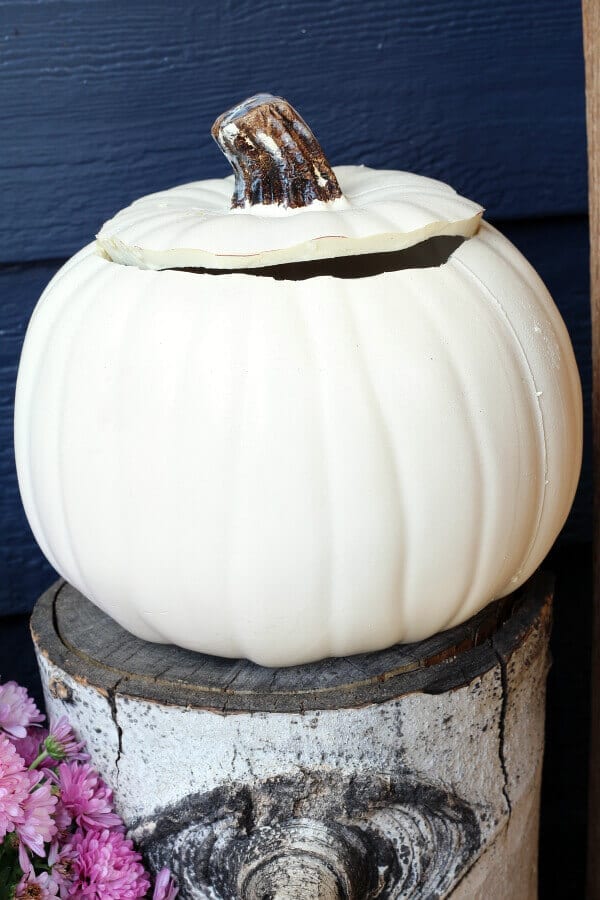 And they thought it was even cooler that it only took me 10 minutes to make and cost under $15!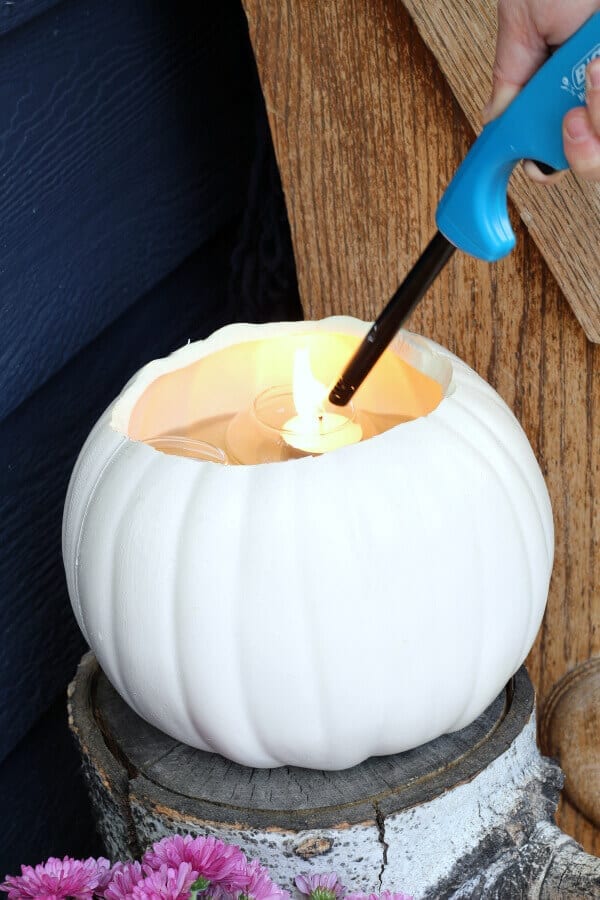 Now all I can think about is how cool it would be to have about 20 of these DIY faux pumpkins with floating votives lining a table or outdoor stairs? Wouldn't that be magical? A girl can dream.
What thrifty Fall crafts have you been up to lately?
XOXO,
Kelly
Make sure to visit  the Thrifty Style Team posts below too!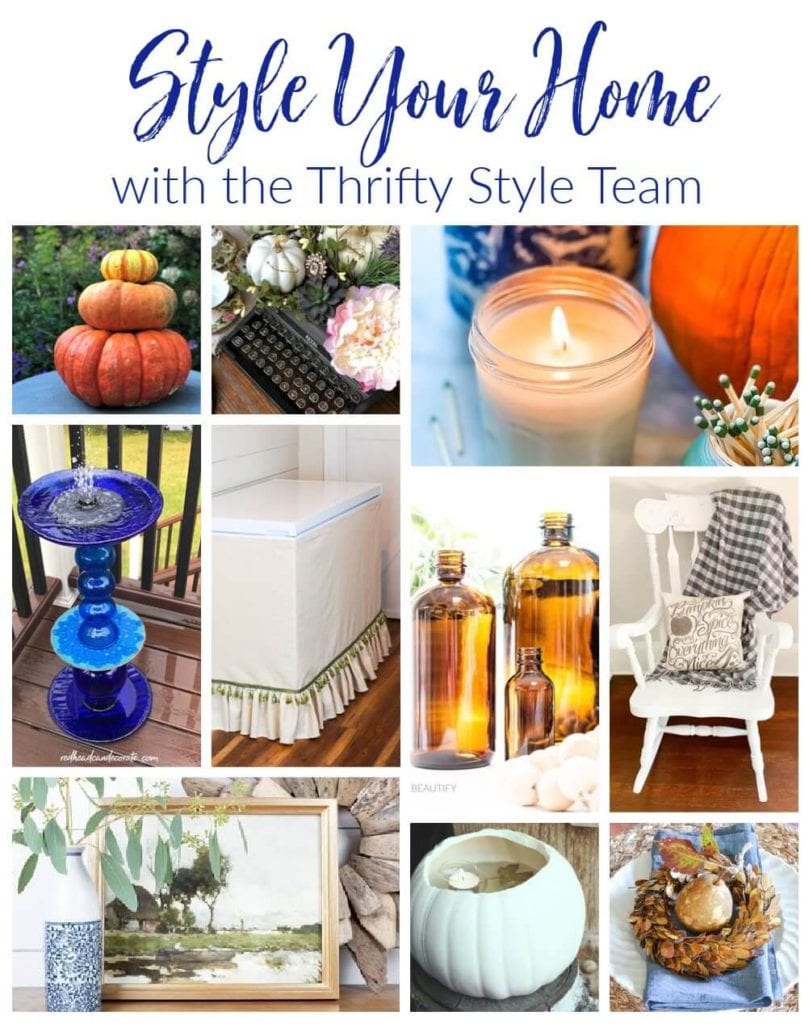 Did you like this post? PIN it for later!