How To Paint An Accent Wall In Your Home Office
This post is sponsored by KILZ® Brand but the content and opinions expressed here are my own. Thank you for supporting the brands I love that make The Tattered Pew possible!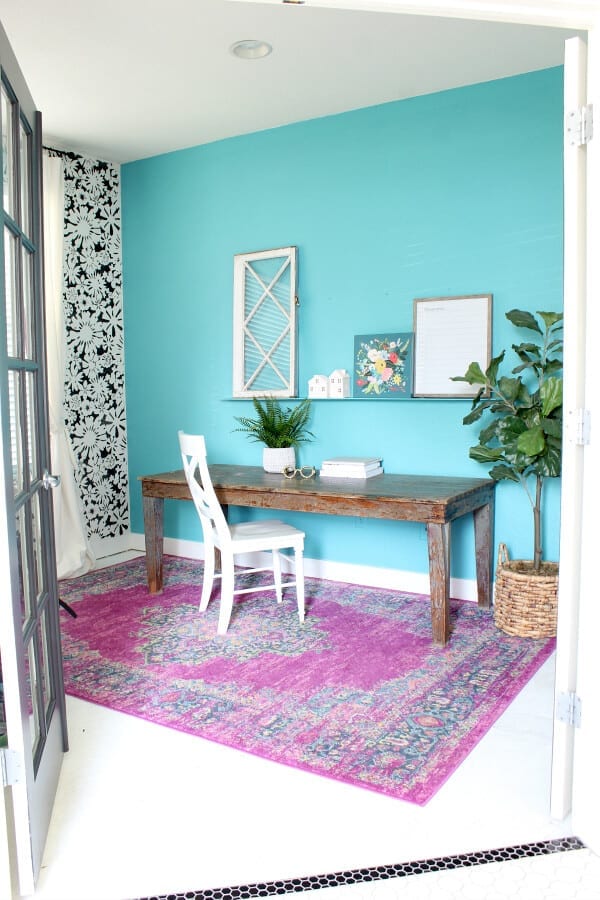 How To Paint An Accent Wall In Your Home Office
Remote learning has been the buzz word around our house lately. With three kids currently at home doing school virtually we had to make some decisions about where each of their spaces would be. Our 11 year old daughter has claimed our main floor office as her space. So we decided to paint an accent wall in our home office to give her a fun and fresh new space to get her excited about her learning.

If you have followed me for a while now you know my number one go to for creating a new feel in an old space is always paint! And I love to go bold whenever I have the chance.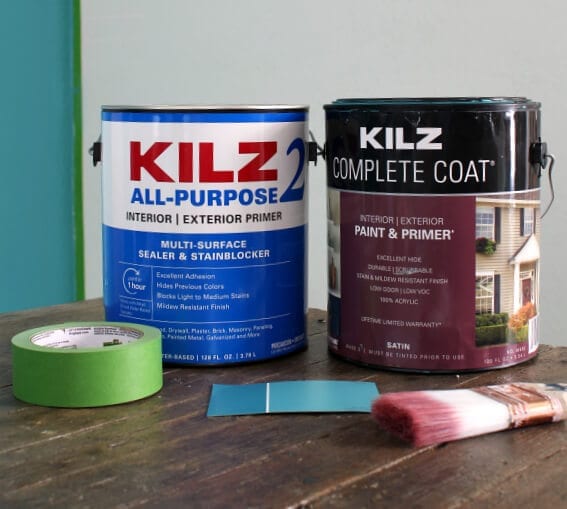 My mom and I like to say that the power of paint can be magical. So when KILZ reached out about joining their #accentwallchallenge I was all in!

I love KILZ and have used their primer throughout my entire home for years. It's amazing! I was even more excited to try their KILZ Complete Coat® Paint. The KILZ Brand is known and trusted by DIYers and professionals alike.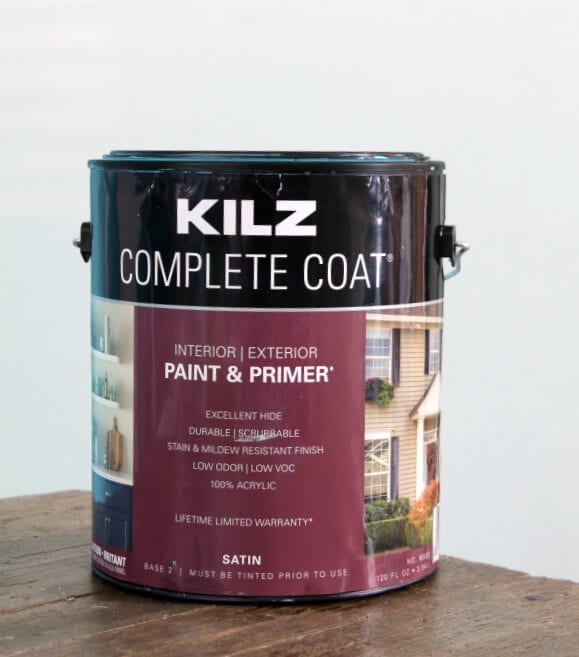 Which Wall Do You Paint For The Accent Wall
We knew what room we wanted to paint but we weren't sure what wall. I don't know about you but one of the biggest questions I usually have when it comes to painting an accent wall is which wall should I paint? The answer is you want to paint the wall that has your largest piece of furniture, artwork, or large/focal piece that you want to highlight in your room.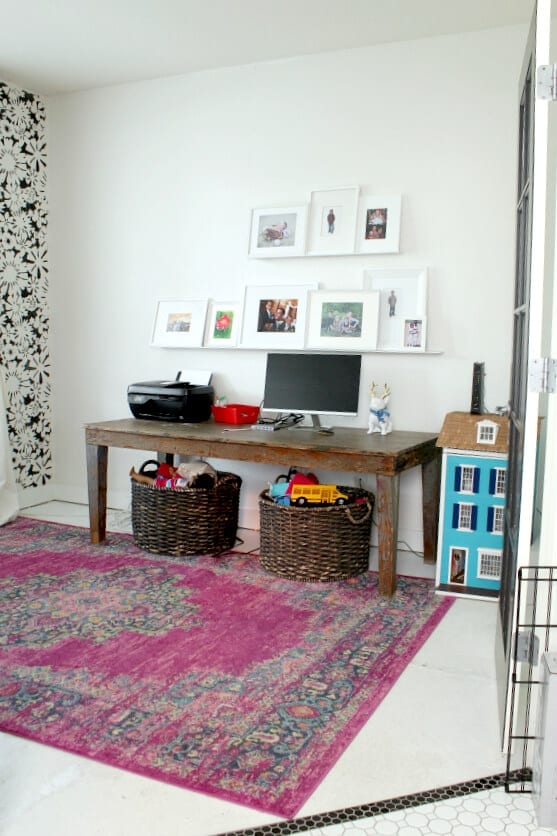 Since we have converted our former playroom into our new home office I considered a few things when deciding which wall to paint. For us the desk and desk placement was very important. So we decided to choose the wall with the large table/desk as our accent wall. The BEFORE picture you see above and below was ok, just not special. It needed something more.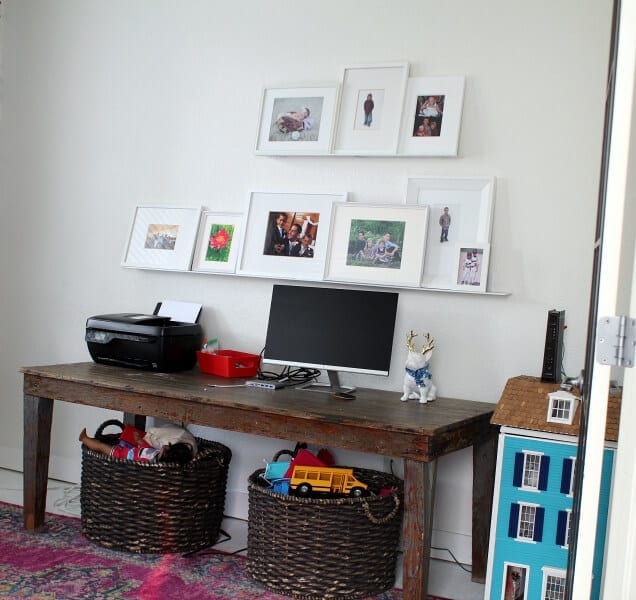 How Do You Choose An Accent Wall Color
Next came the fun part…choosing our color. KILZ has so many amazing paint options but we fell in love with the KILZ Complete Coat Paint line from Walmart. Mostly because it has a low VOC, a scrubbable finish and won't fade leaving me confident in the fact that we could go bold and it would be ok!

I wanted something timeless and she had her heart set on a fun turquoise color and after looking at all of the options we had a hard time narrowing it down. But I reminded myself that this was a special space for her.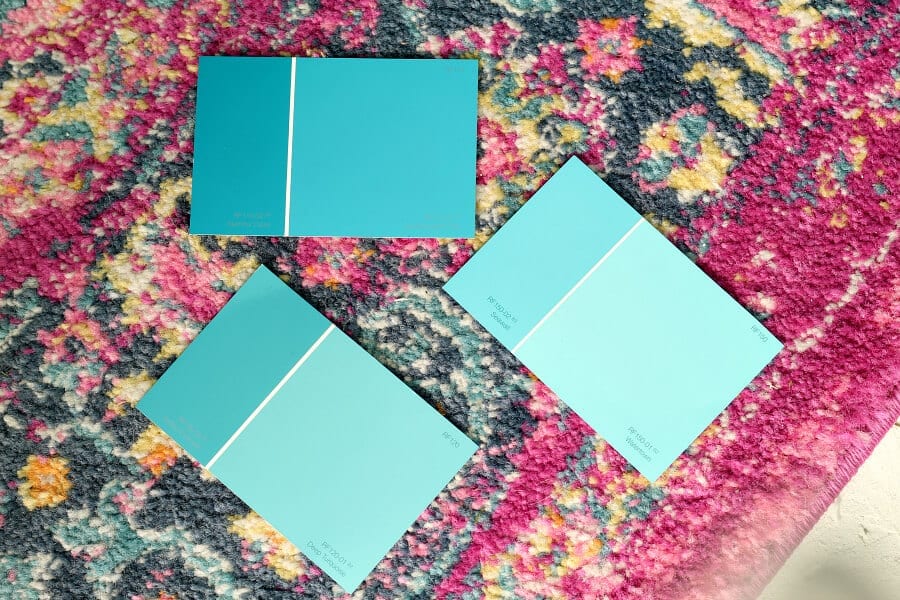 Ultimately, we picked KILZ Complete Coat Paint in Deep Turquoise because it was voted on as our family favorite, and we loved that it was close to the turquoise blue in our current rug in that space.

My advice when deciding on how to choose an accent wall color is to go bold and to pull or use a color that can already be found somewhere in your space! Also, choose a color that will make you and your 11 year old happy. Wink Wink.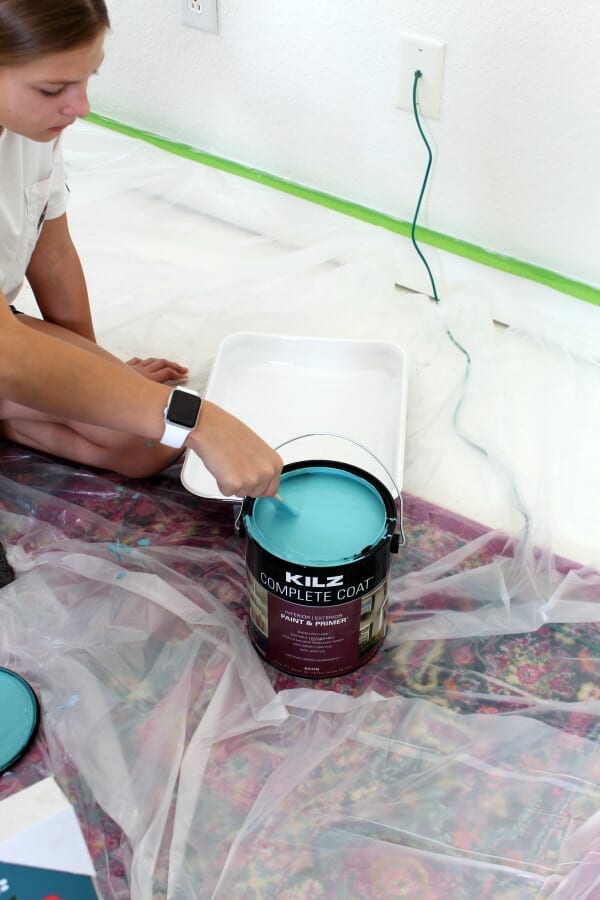 What Supplies Do You Need To Paint An Accent Wall
Once we had our color picked we headed to Walmart to have them mix it up for us. We picked up the KILZ 2® ALL-PURPOSE Primer and got to work. Painting our accent wall was quick, easy and fun! Here is everything we used to paint our home office accent wall.

KILZ Complete Coat in Deep Turquoise

tape
drop cloth
ladder
roller/paint tray
edging tool
When Do I Need To Use Primer Before I Paint A Wall
I don't know about you but when I start a project I want it to be done right and I usually want it to be quick. That's why KILZ 2 ALL-PURPOSE Primer has always been my go to. It dries super quick, has a low odor and blocks all the stains. But the best part is that it lessens the number of coats of paint that are required which in turn always saves time.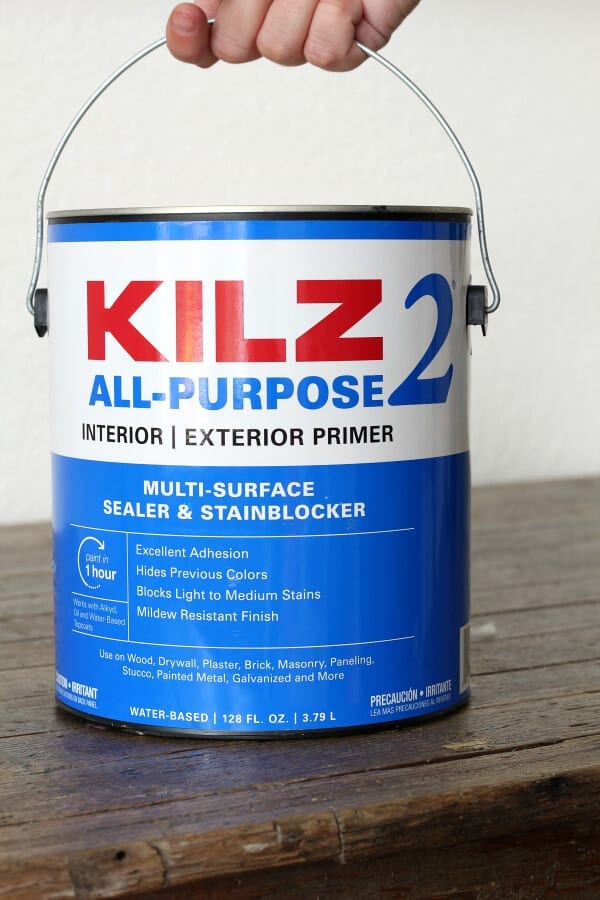 This project was no different, KILZ 2 ALL-PURPOSE Primer was my saving grace. We taped the wall and decided to leave one of the picture ledges up. Then we quickly added the primer to our wall and the ledges. It dried so quickly (in just one hour) that before we knew it we were ready to paint. Grace was so excited and quickly started painting her office accent wall!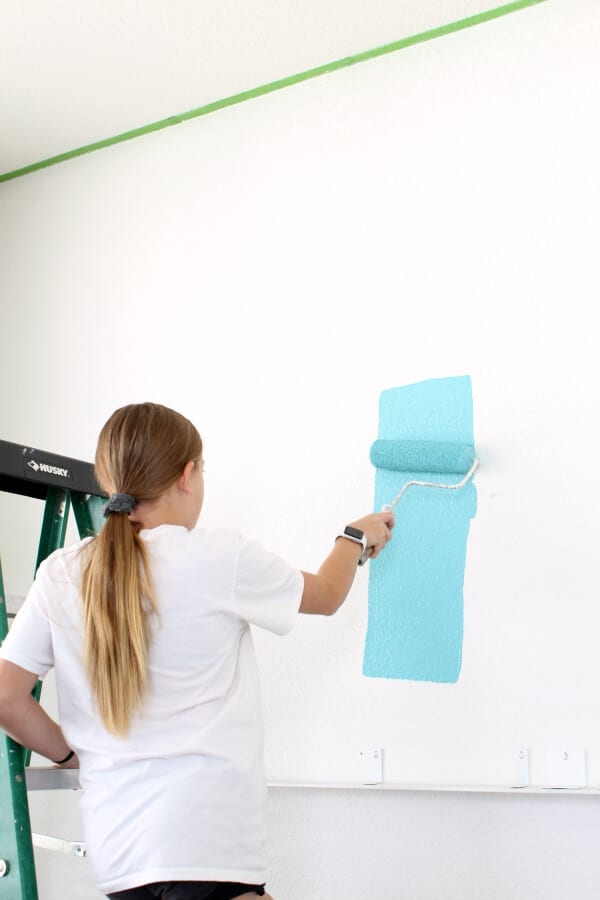 I have been loving all of the tone on tone walls I have seen lately so we decided to go ahead and paint our white metal ledges like I mentioned above. It was a good thing we used the KILZ 2 ALL-PURPOSE Primer also on the ledges since it's perfect for most surfaces including painted metal!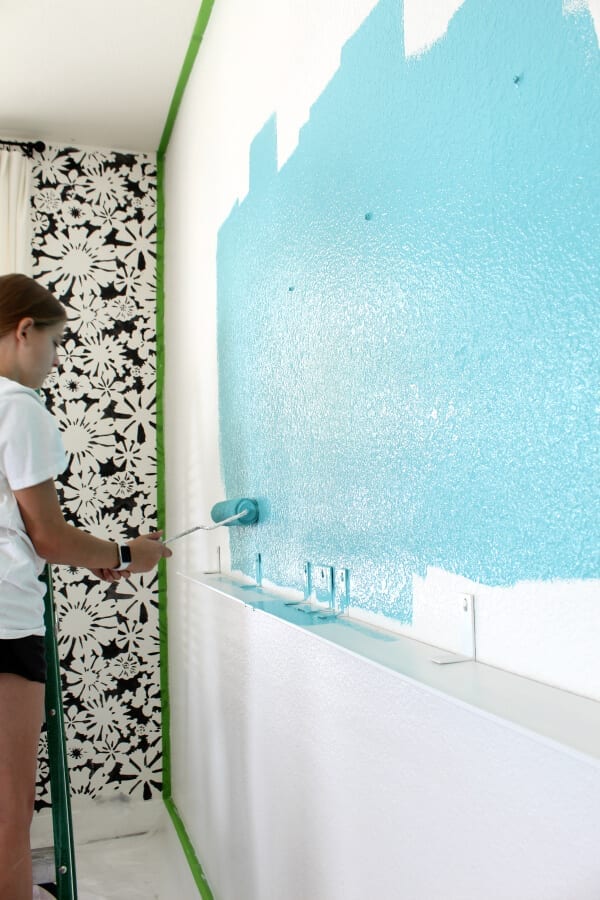 How Many Coats Did It Take
The Deep Turquoise color went on like a dream and was instantly gorgeous! I was impressed by the coverage of the paint and almost only did one coat. We probably could have but there were a few areas that we went lighter on so we ended up doing two coats just to be safe. I owe this to our primer coat for sure! Such great quality.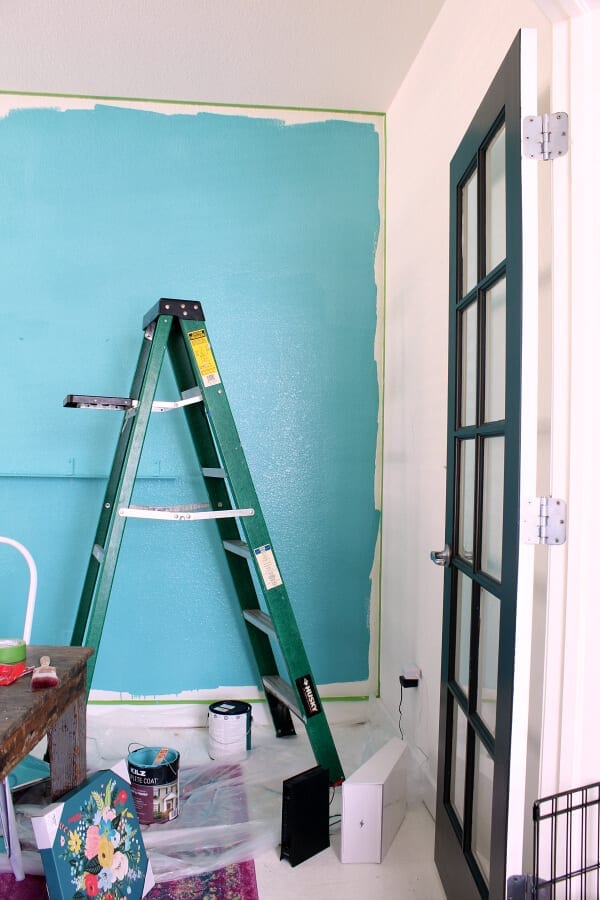 After the first coat I used my favorite edging tool and it looked amazing! I'm a messy painter as you can see so thank goodness for drop cloths.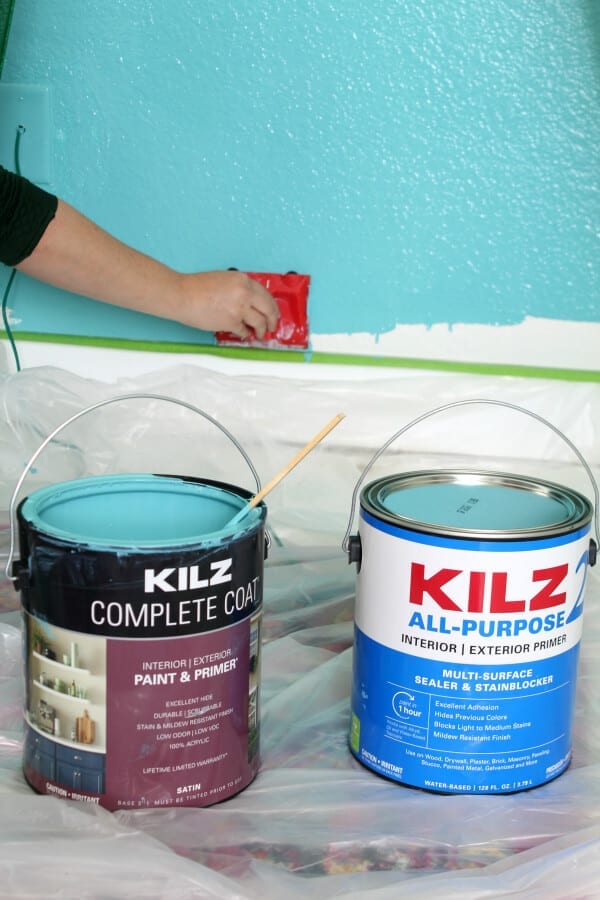 The first coat made us both so happy. It's such a bold and beautiful color. The color looked like it was made to match our rug!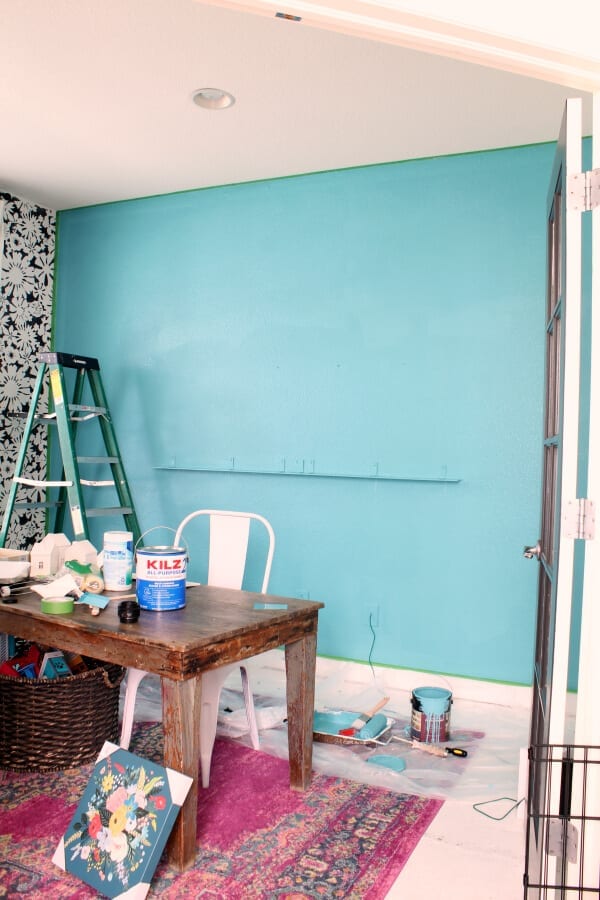 We were all so happy with our choice and I might have even done my little happy dance!
The Finishing Touches
The first coat was dry in less than two hours so we quickly got to work adding the second coat of paint. Not going to lie, we were both pretty surprised at how fast this was all coming together. Once we removed the tape it took everything within me not to move all the furniture back in and style it. Ha! We decided to let it cure before I got to decorating it.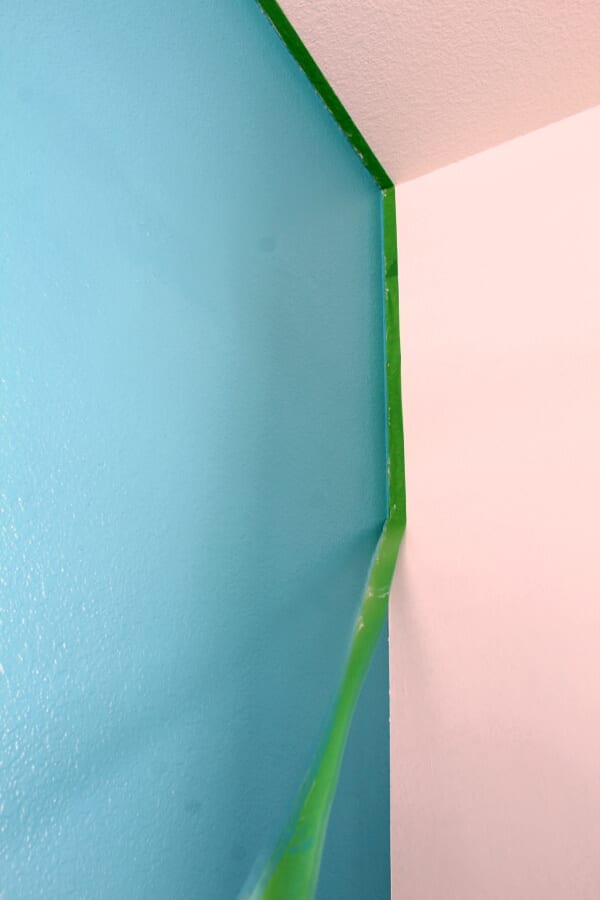 Styling Our New Home Office Accent Wall
Once the wall was dry we started clearing out the mess and cleaning up. It was late afternoon but there was still plenty of light. Putting it together made us love it even more. Like I always say, the power of paint is magical and once again it did it's magic!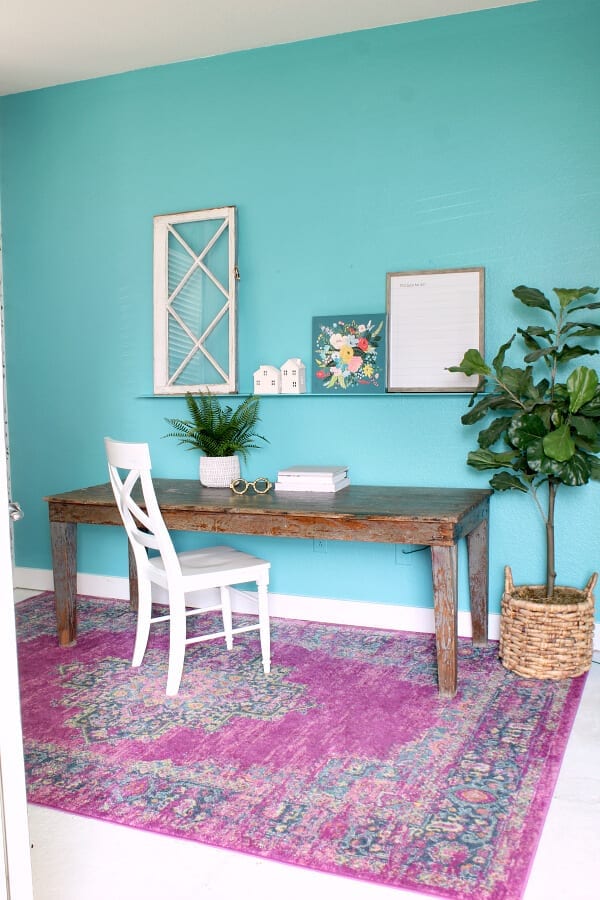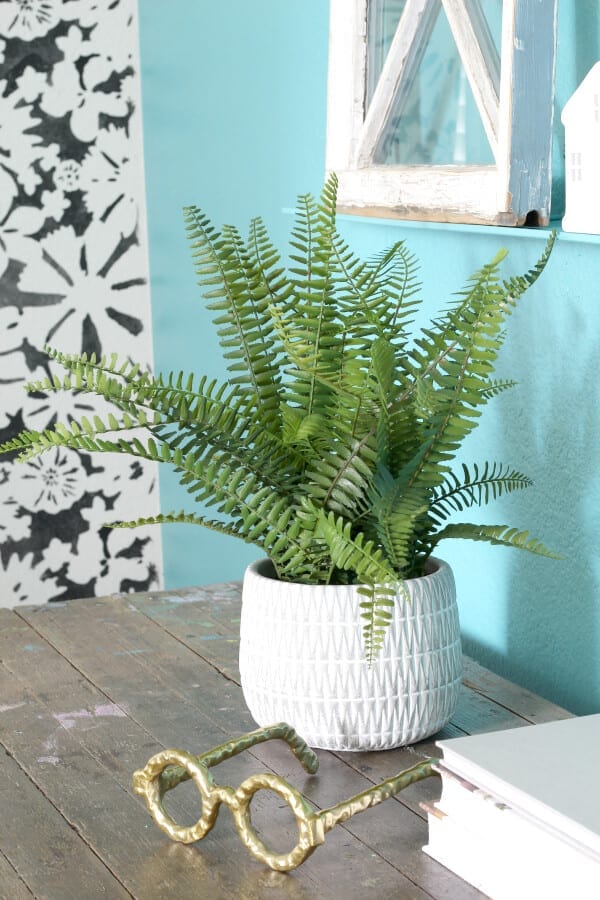 I love all of the little accessories and so does Grace! Seeing her smile was all I needed to know that we had made the right choice by painting this accent wall.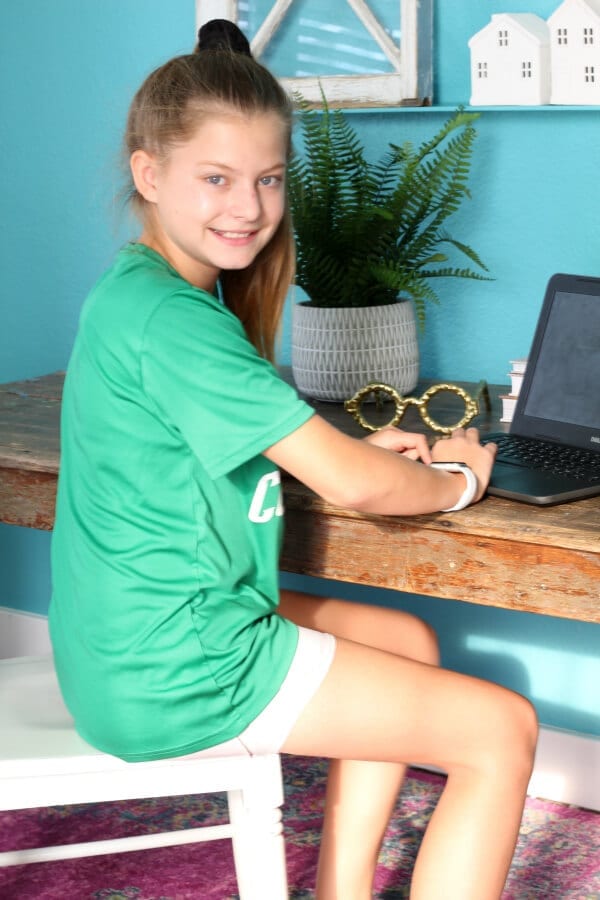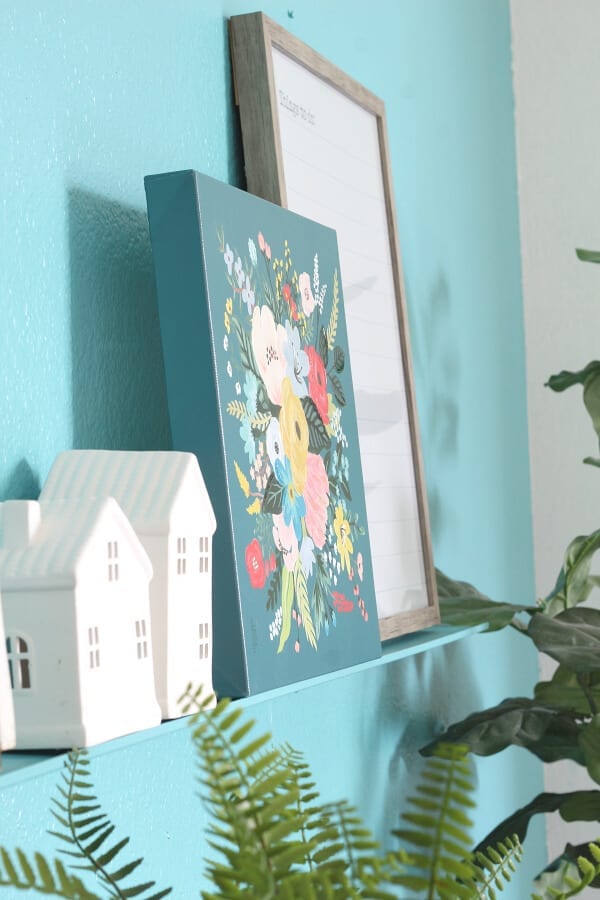 One more side by side BEFORE and AFTER of our freshly painted accent wall!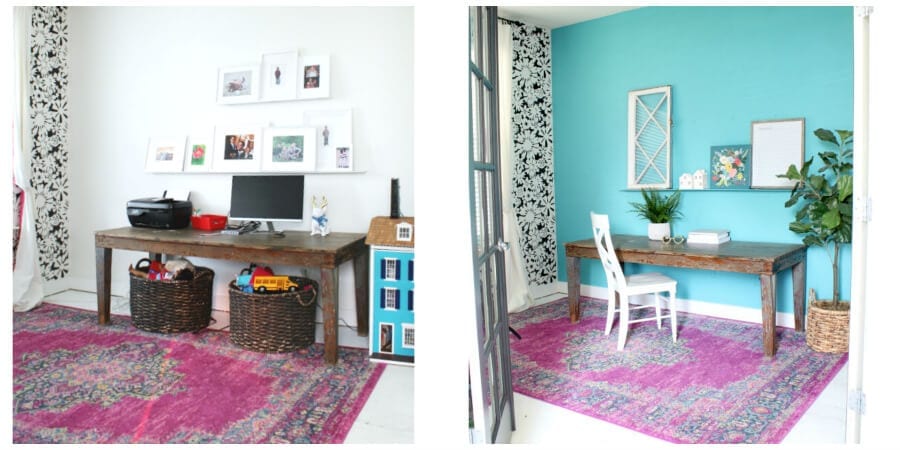 KILZ Accent Wall Challenge Complete
Can you believe how quickly we were able to transform this room with this stunning Deep Turquoise accent wall? We had a blast with the KILZ #accentwallchallenge. I hope I helped with some good tips on how to paint an accent wall in your home office! I 'll be sharing over on Instagram and Facebook too. If you decide to join the challenge just make sure to use the following…#accentwallchallenge and tag @KILZ !

XOXO,
Kelly
Did you like this post? PIN it for later!