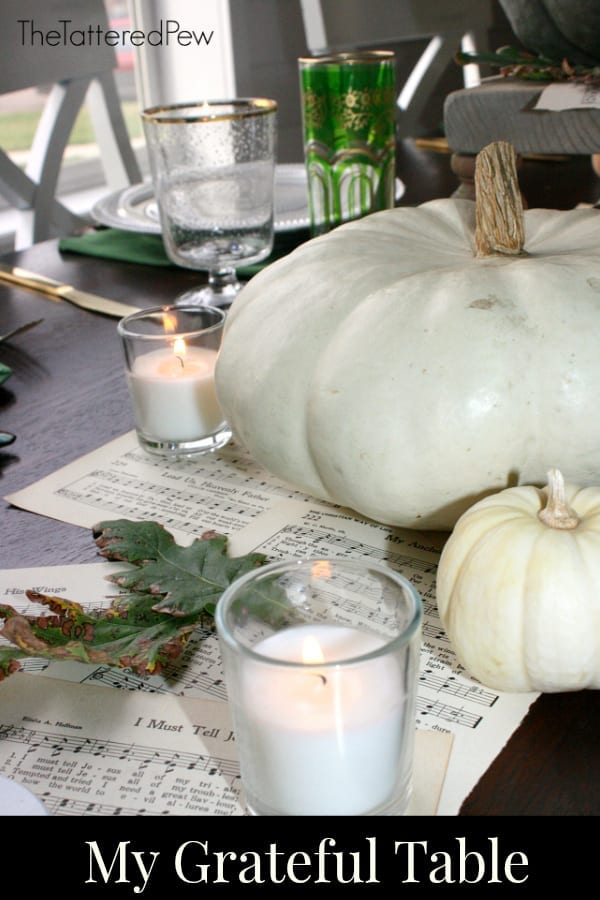 Hi friends and happy November! I have once again teamed up with some fabulous bloggers to share our latest take on Thanksgiving tablescapes! So make sure to stop by each blog in our Grateful Table Blog Hop by clicking on the links at the bottom of my post!
I absolutely love Thanksgiving and this time of the year.  One of my favorite things to do is to create a tablescape for my family. Earlier this fall I shared an affordable fresh fall tablescape that I created in our kitchen, and this time I have moved into our dining room. The idea for this grateful table started forming in my head months ago. I knew I wanted to incorporate hymns and pumpkins in some way and the idea of old hymns as a table runner intrigued me.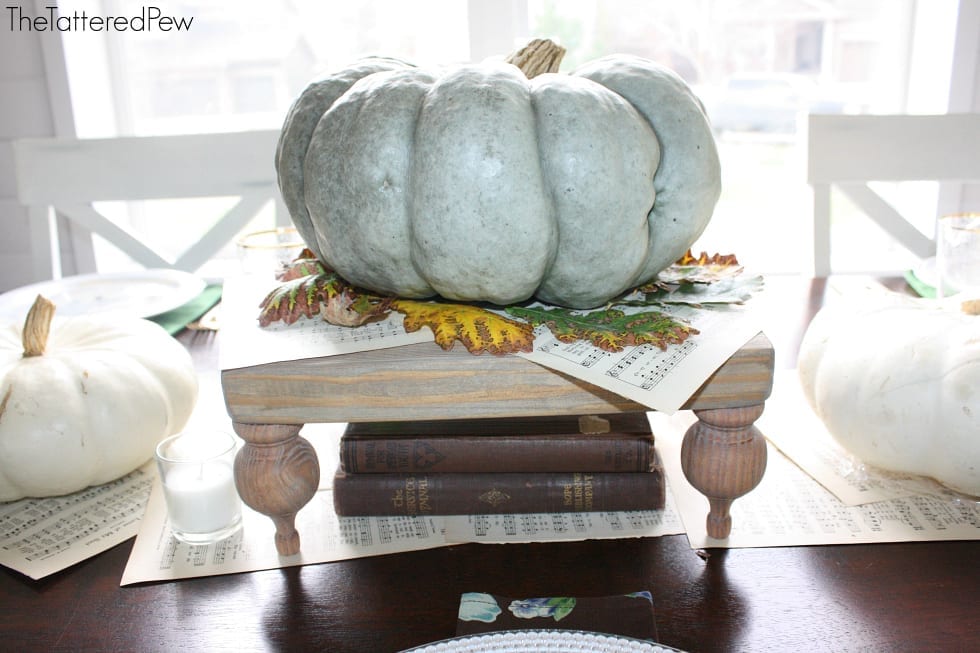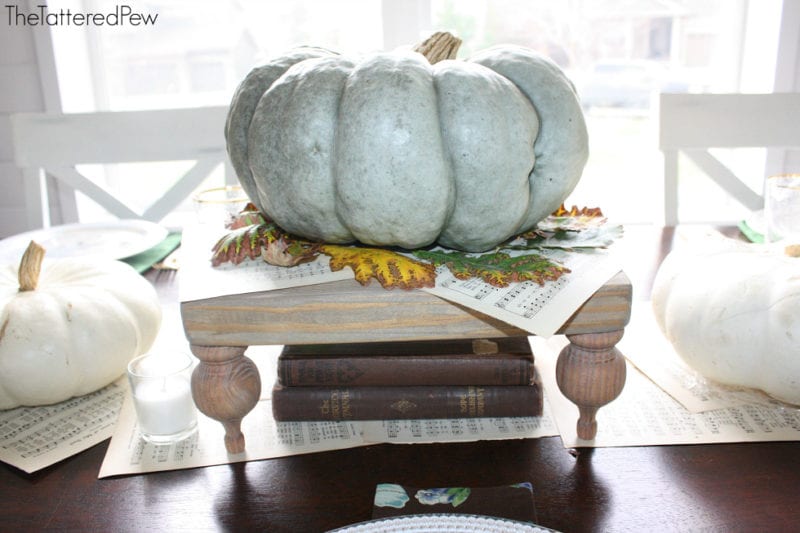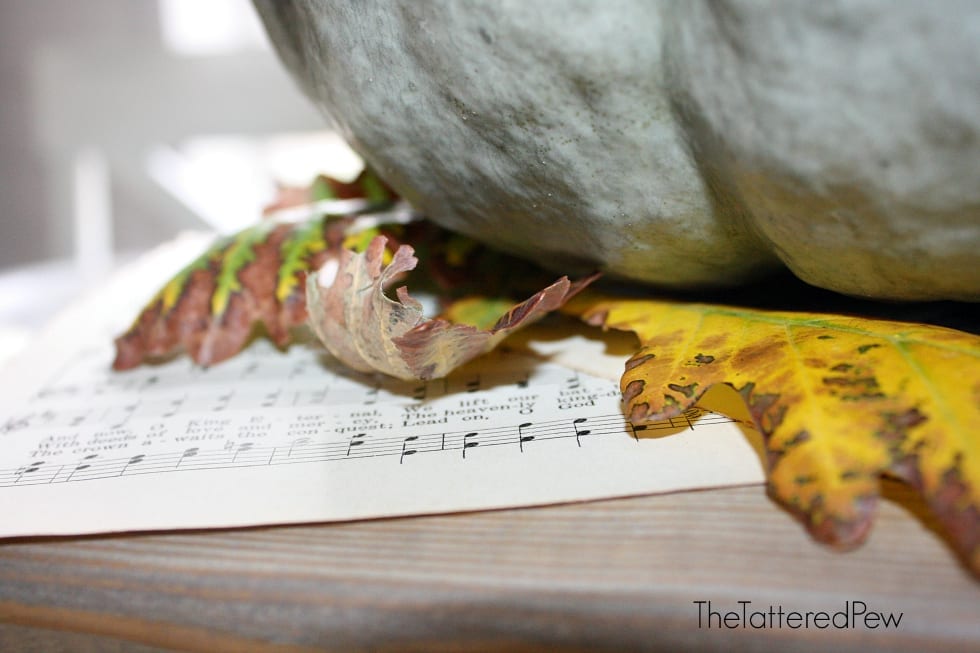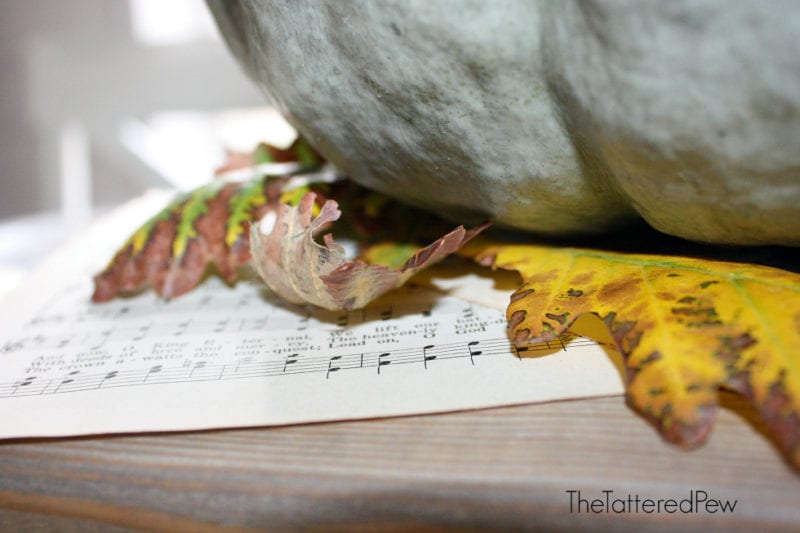 I have a small collection of old hymnals that I love and I figured a few missing pages would be perfectly fine. So I searched for some of my favorite songs and started tearing them out. From here I layered them along the center of our table as well as on top of my gorgeous wood tray from The Gulley Farmhouse. I love the simplicity and the symbolism that each special hymn represents.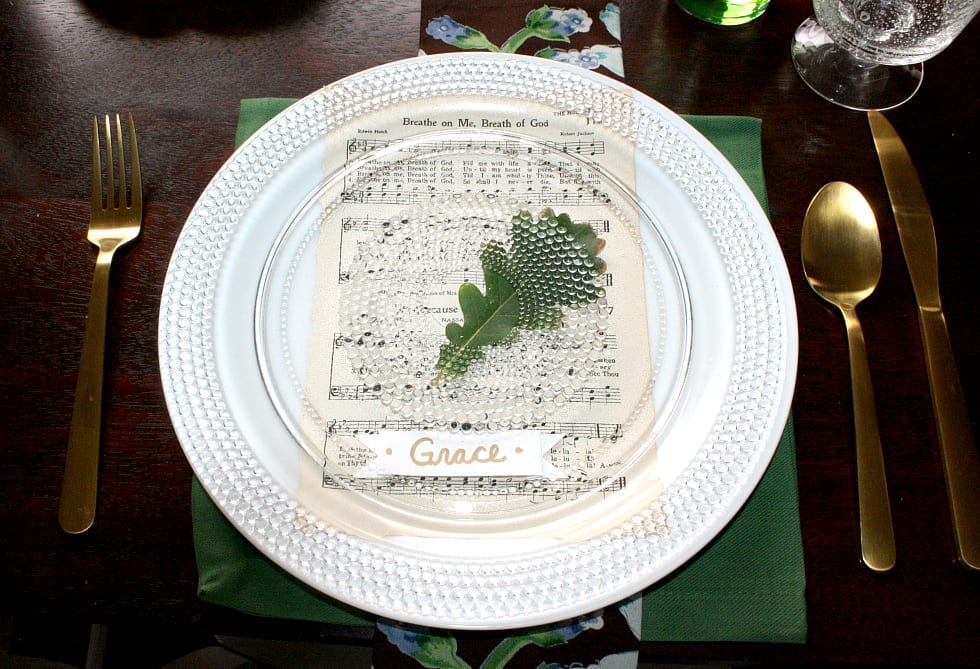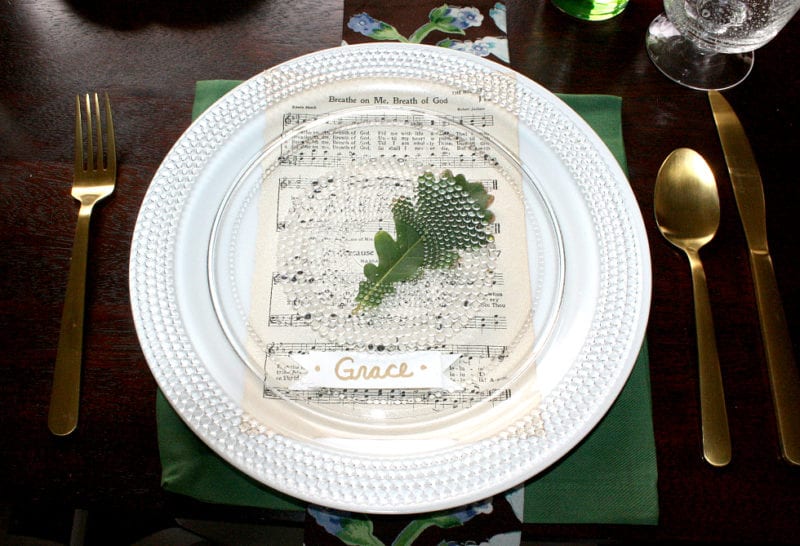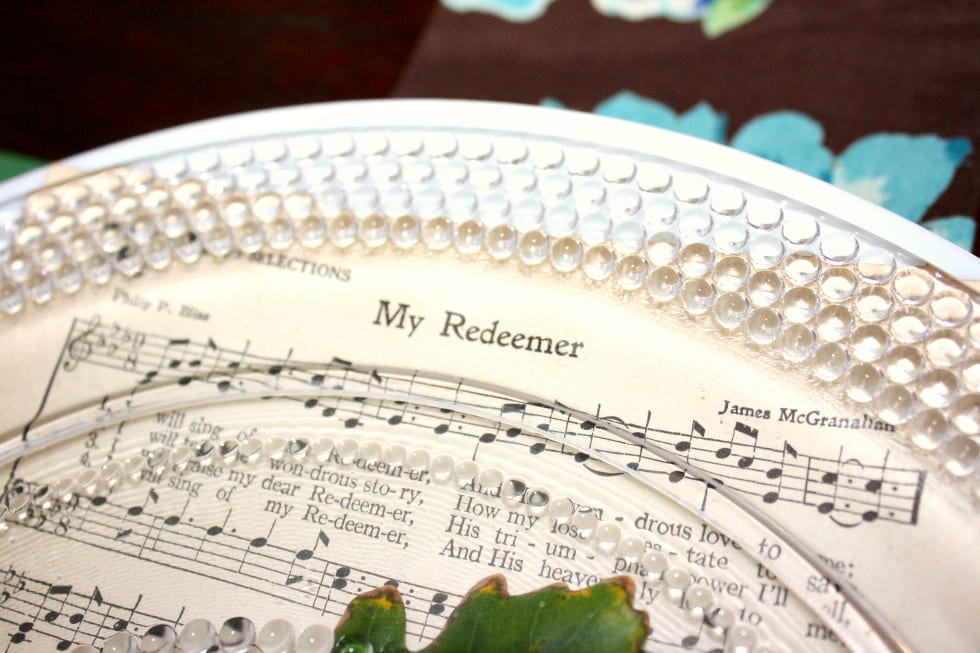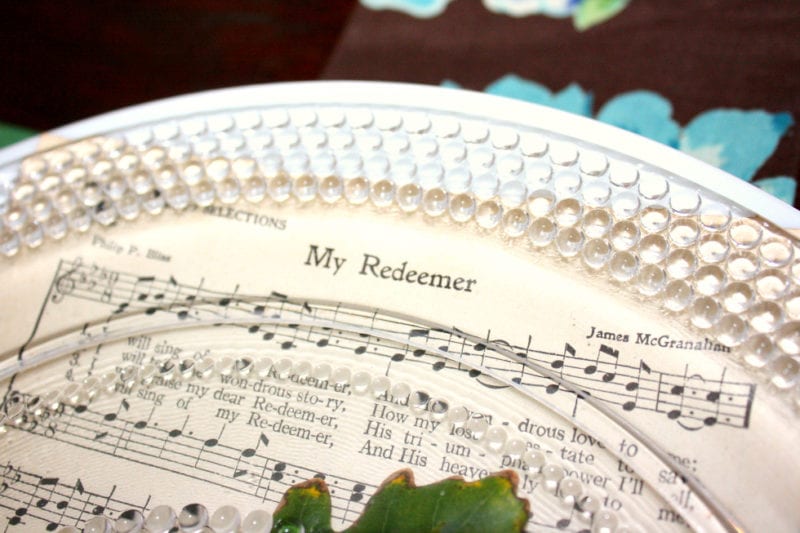 I loved the look of the hymns so much that I layered them in between my white dinner plates and our clear dinner plates. They were missing some color so I was inspired by the leaves outside and their changing and vibrant colors. The best part was that my mom helped me collect them! Once I placed them under the plates, I knew I had found the perfect combination. I added simple little white name cards that I found in the Target dollar bins and wrote our names in gold Sharpie.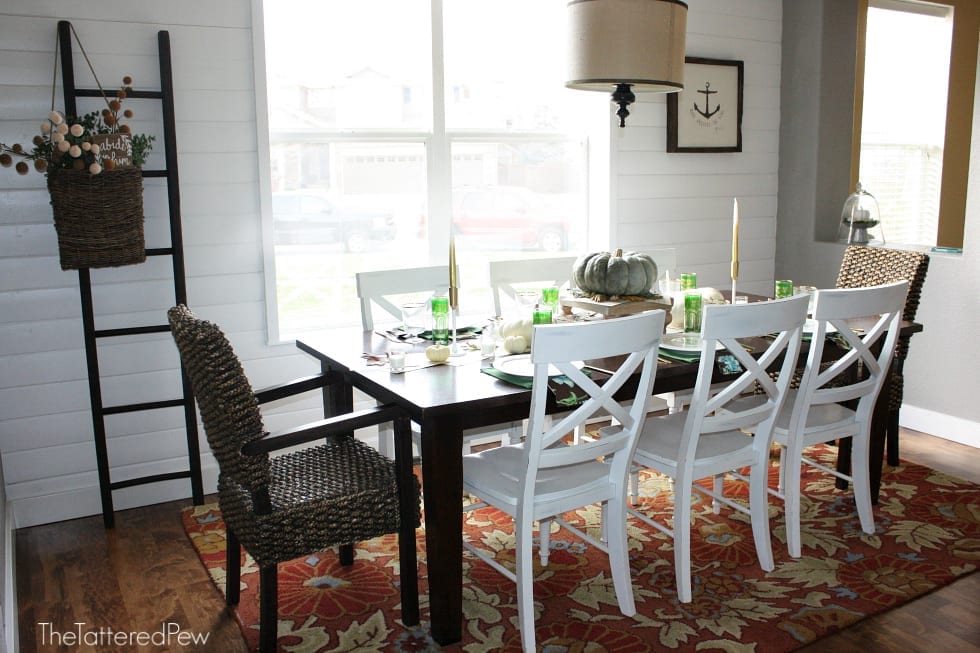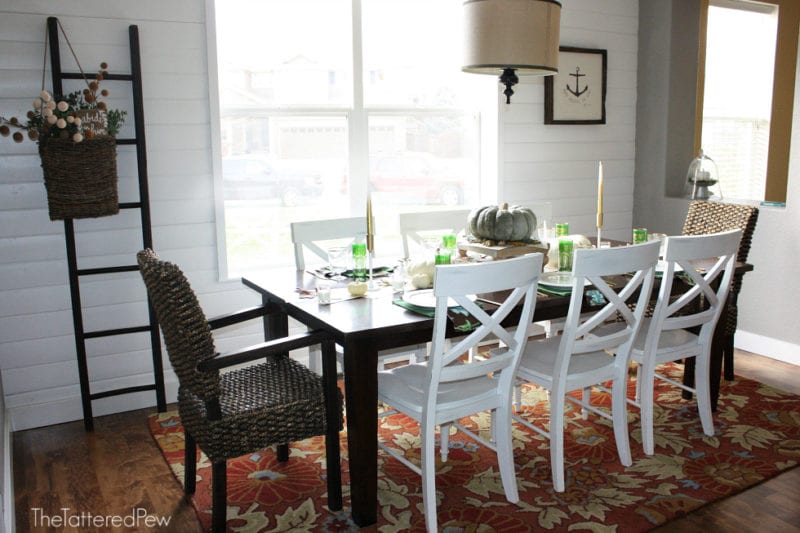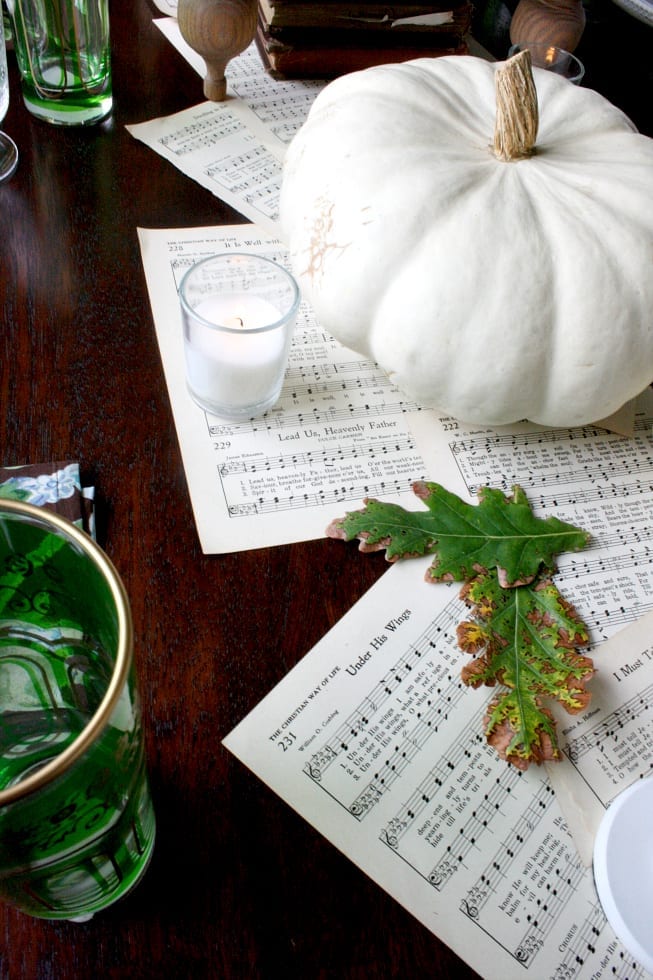 From here I added small white votive candles from Target and scattered more leaves and pumpkins down the center of the table.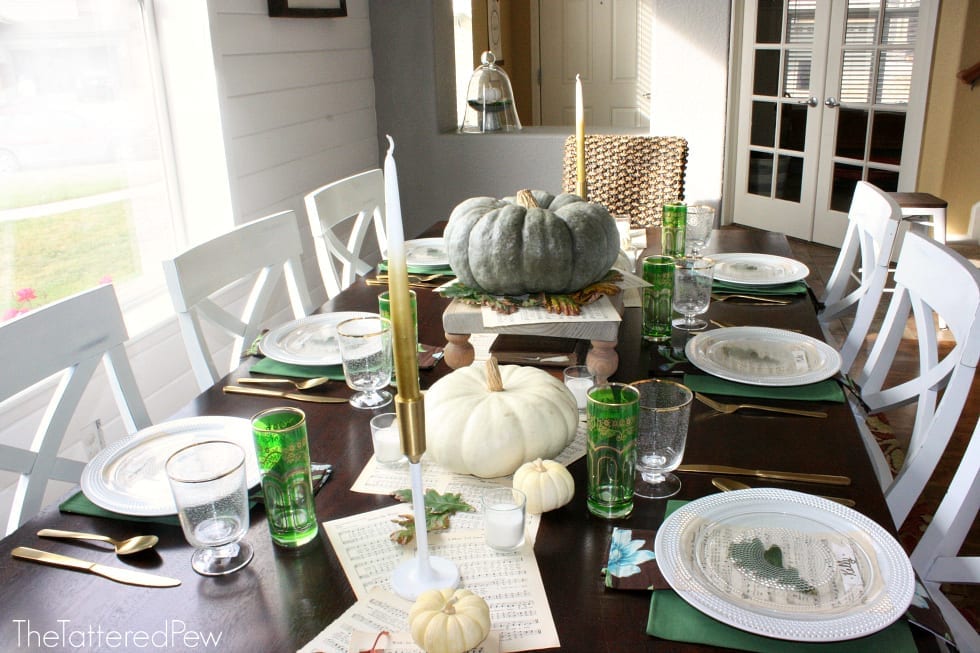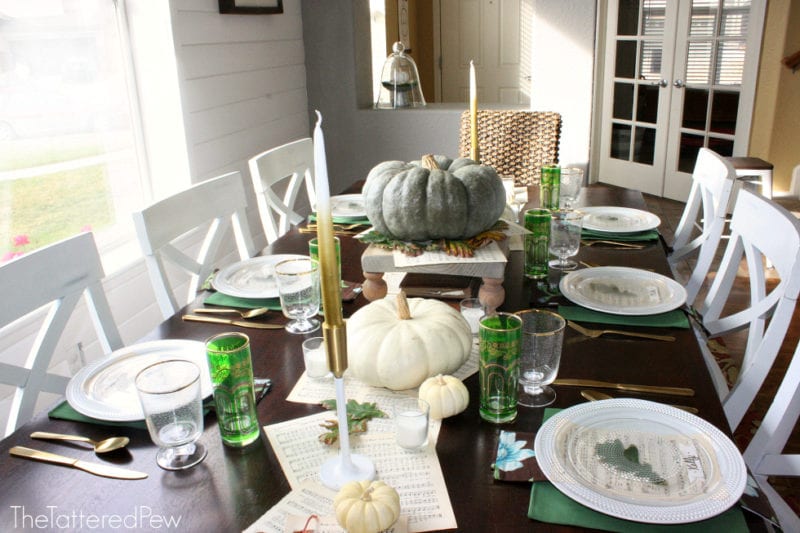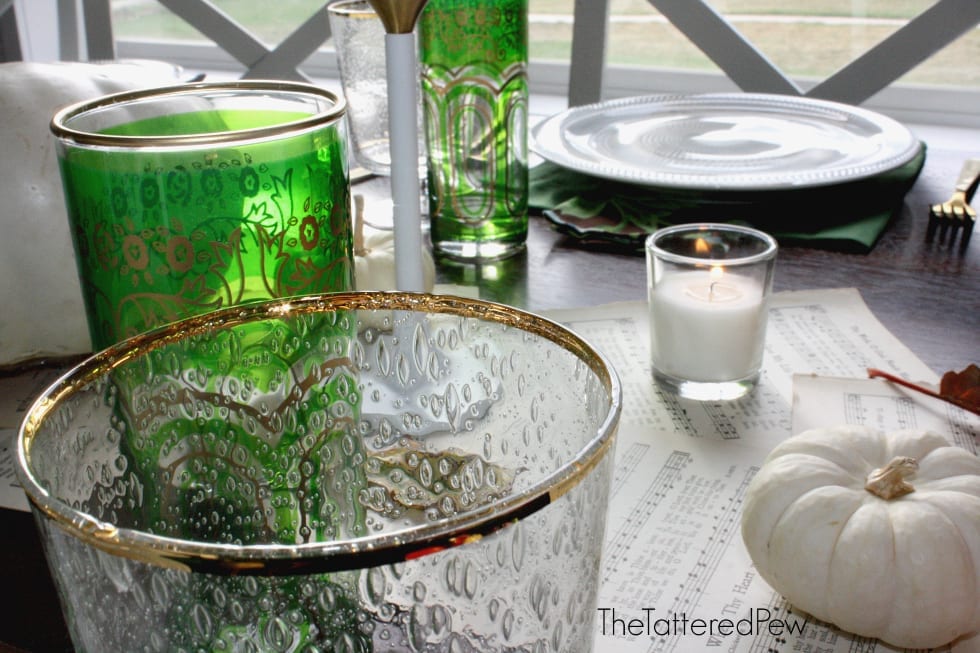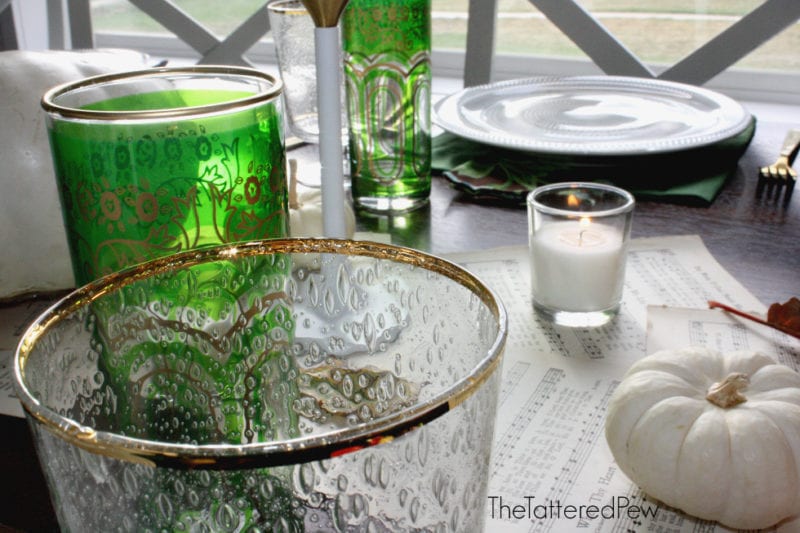 I loved finding both sets of these glasses at World Market. The bubble glasses with the gold rims bring a touch of class to the table while the tall green and gold glasses add a touch of whimsy! The white and gold candle stick holders and the white and gold tapers (which add great height) are also from World Market. The gold place settings can be found at Target.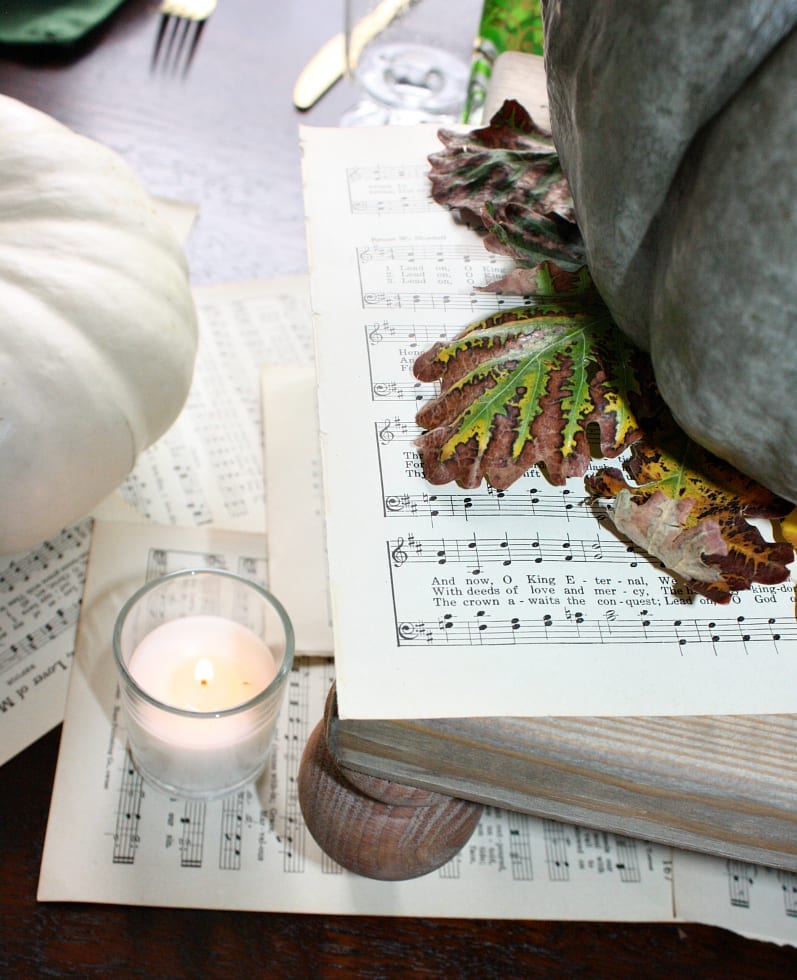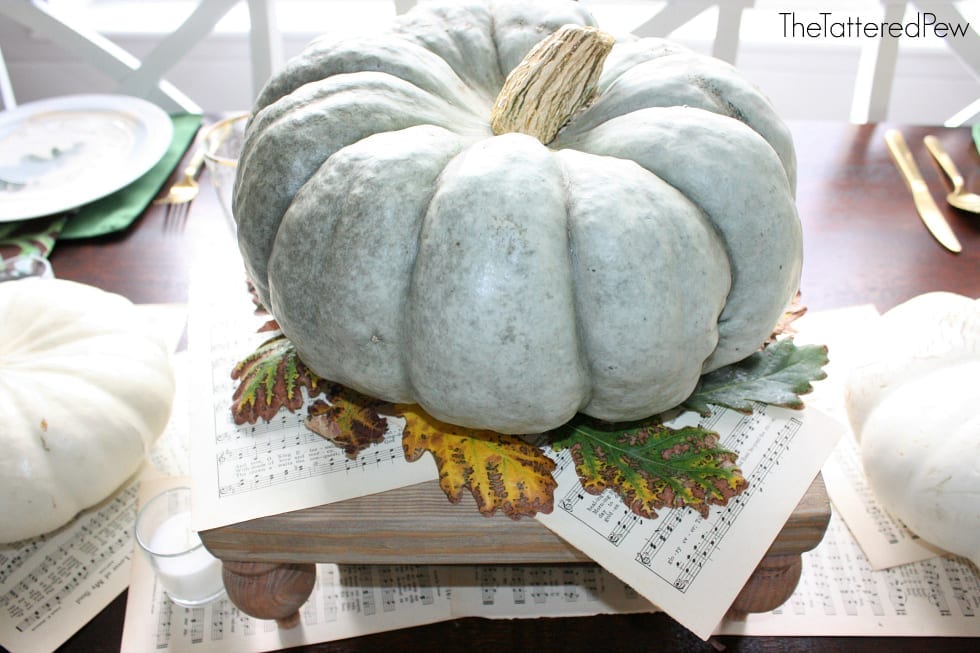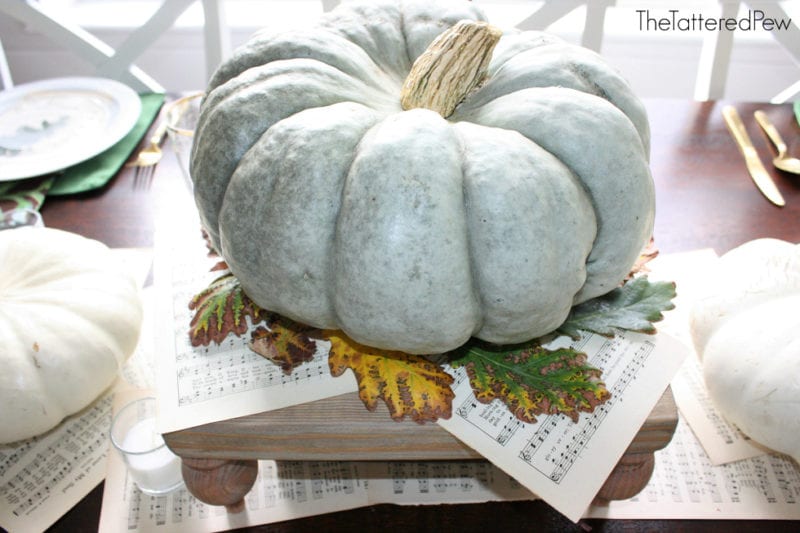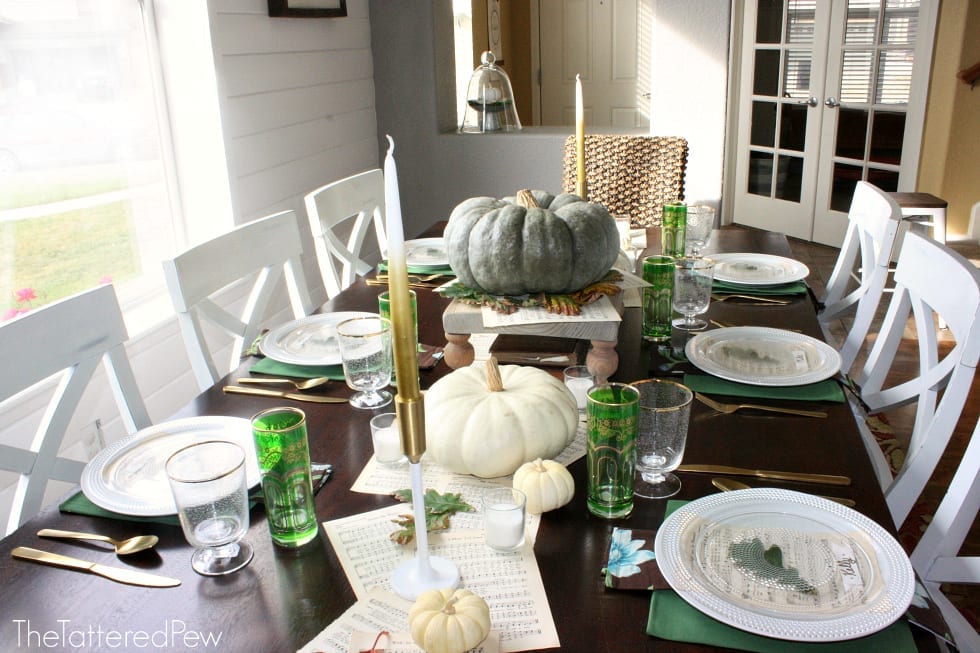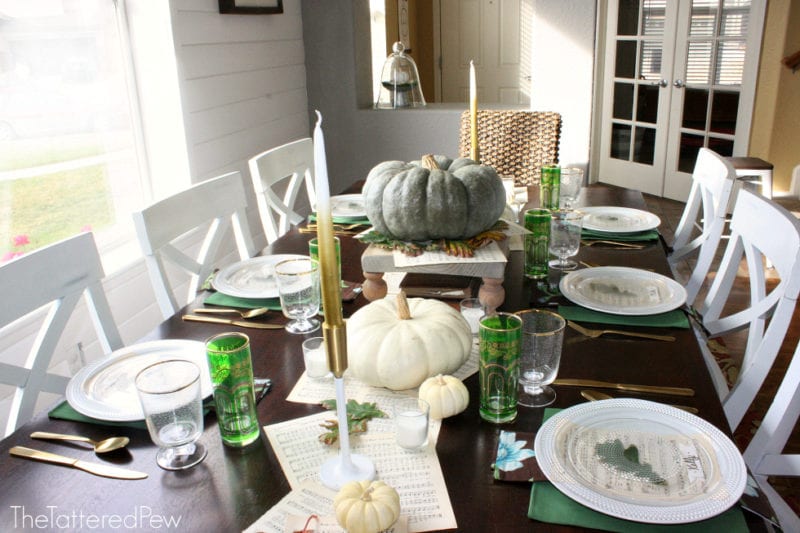 Under each plate I placed a dark green dinner napkin which I folded into a square shape.  Then I placed my brown, green and blue April Cornell napkins that I found at Marshalls on top of the green napkins. I folded the April Cornell napkins into a skinny rectangular shape so they would hang over the edge of the table. They also added a fun touch of color.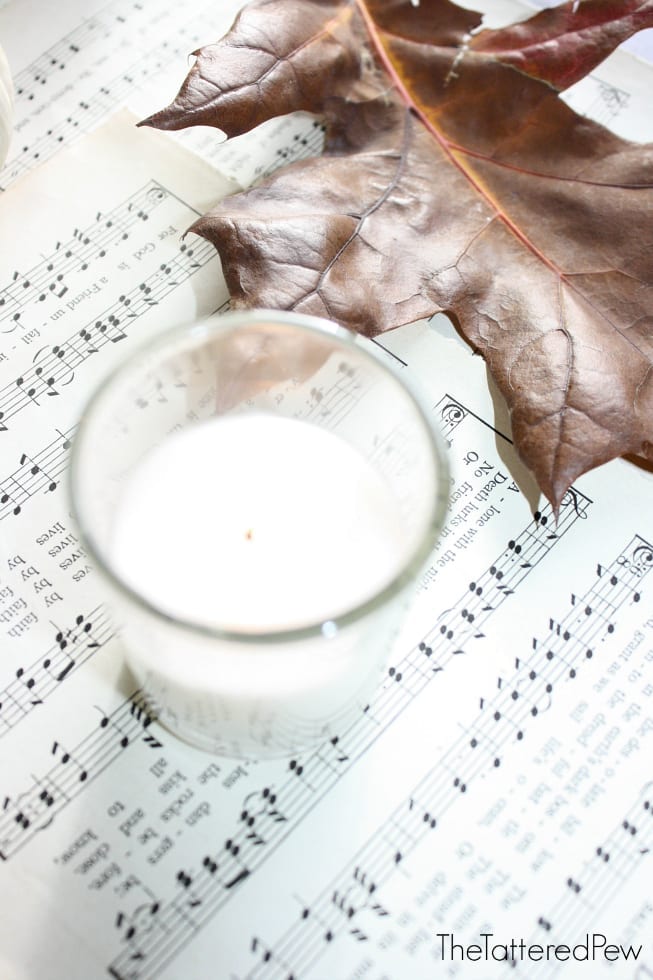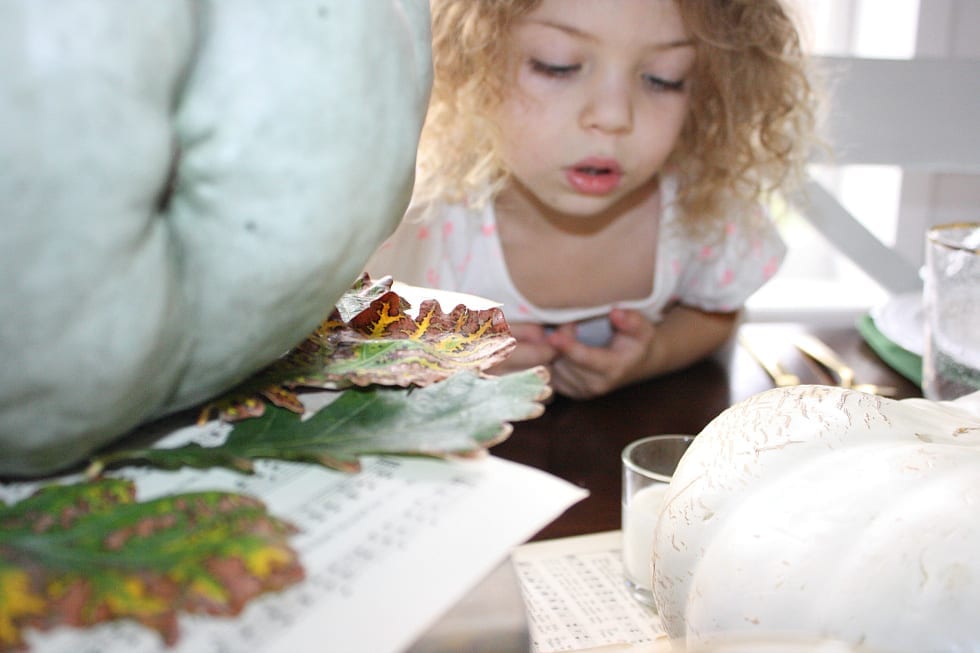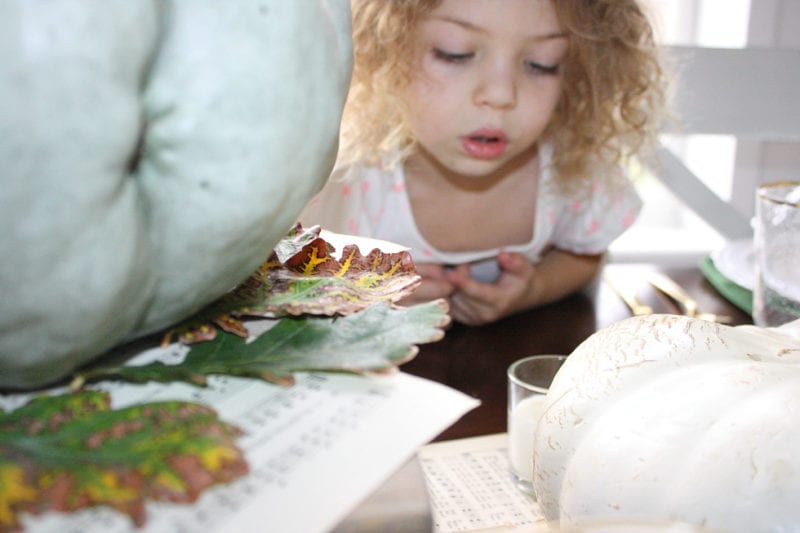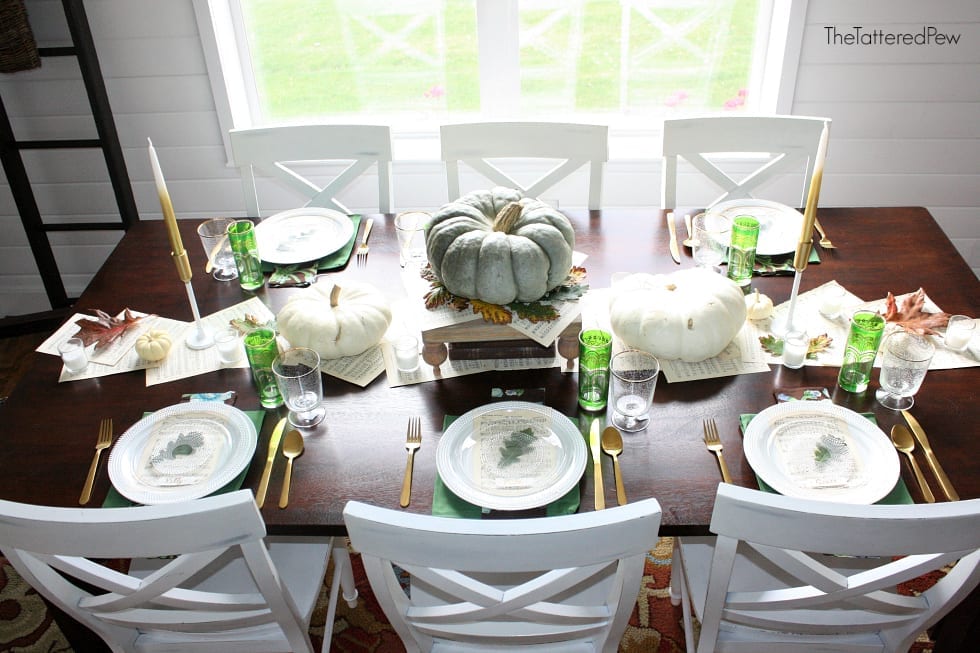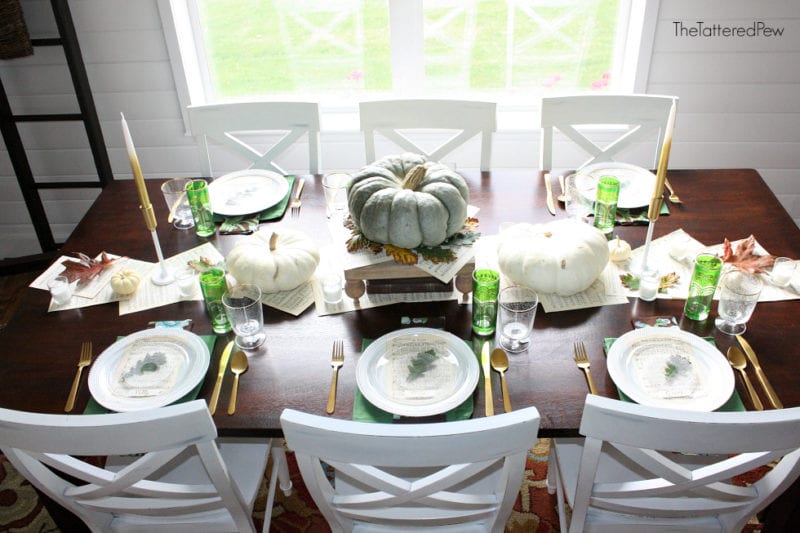 I am surprised at how much I am loving this neutral tablescape. The best part is that it can be easily transformed into a more traditional Thanksgiving color scheme with a few small changes. Change out the white pumpkins for orange ones, the green napkins for orange and simply remove the green glasses.
For now I am loving the completed look and can't wait to enjoy it with my family this coming Thanksgiving. I hope you found some inspiration today and that you and your family have a blessed Thanksgiving.
                                                                                                                                                     Kelly
DON'T FORGET TO CHECK OUT THESE TALENTED LADIES' TABLES AS WELL FOR MORE GRATEFUL TABLE INSPIRATION!!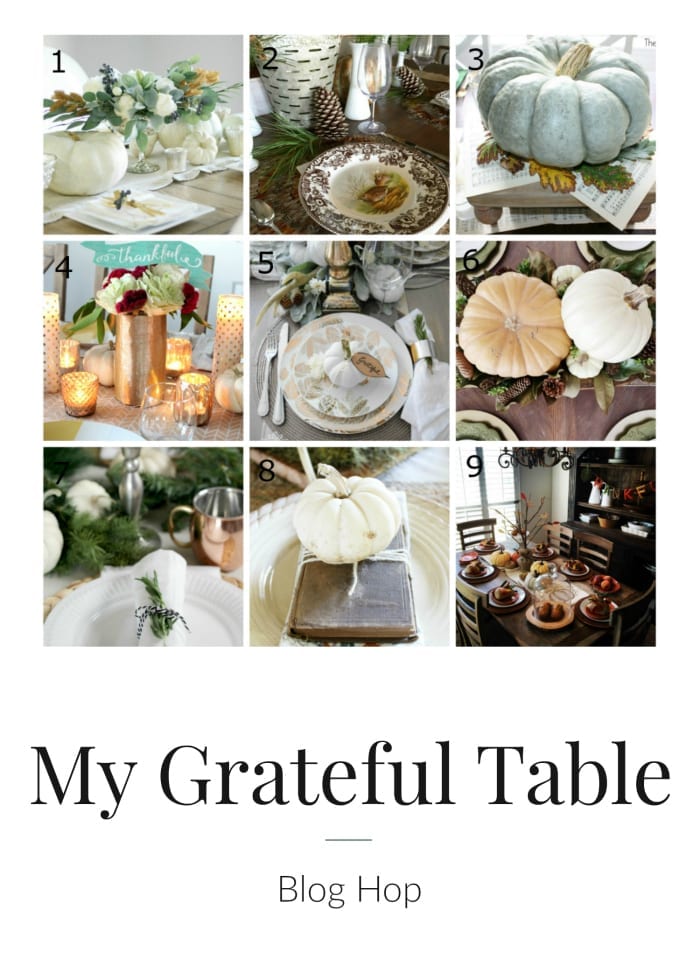 | 1. RACHEL ELIZABETH CREATES  | 2. INTERIOR SWAG   | 4. TONALITY DESIGNS  | 5. FIX IT CHICK |
| 6. BE STILL BLOGS  | 7. THE HOMEMAKING MOMMA  | 8. A BLUE NEST  | 9. THE GRIMES LIFE |