The Perfect Summer Patio in 3 Easy Steps
Hi friends, I hope you are enjoying your summer! If you read my last post about the DIY citronella candles, I told you that I would be sharing our patio! Well, our back patio is finally done and just in time for the 4th of July! I am SO excited to share how to get the perfect summer patio in 3 easy steps!!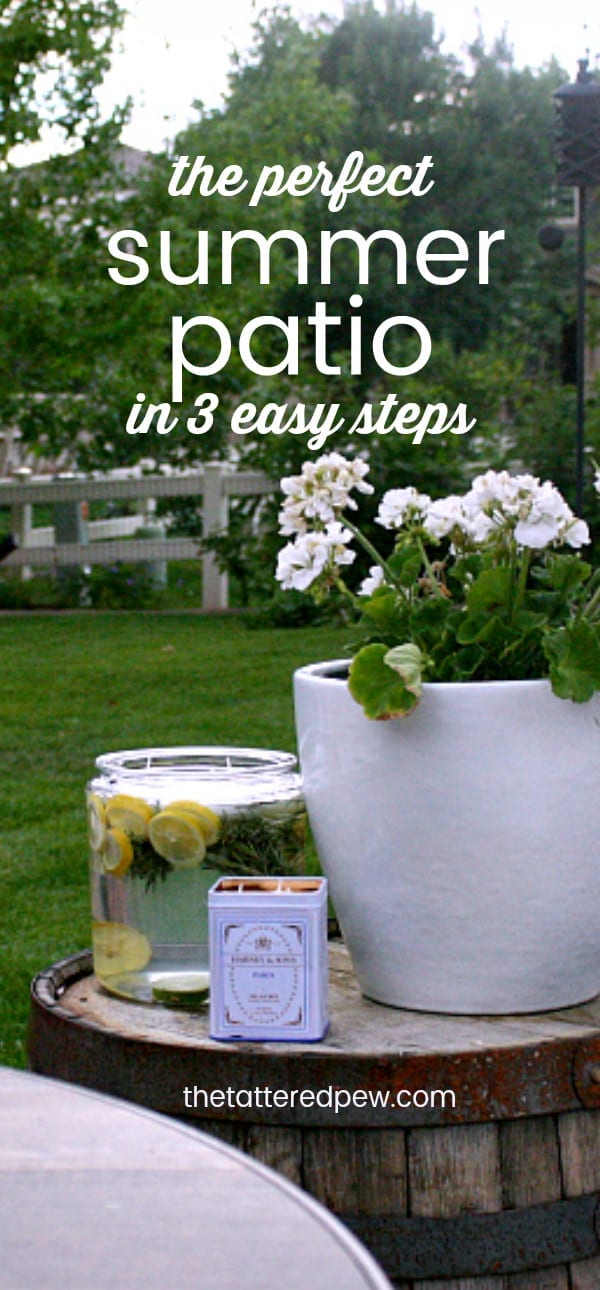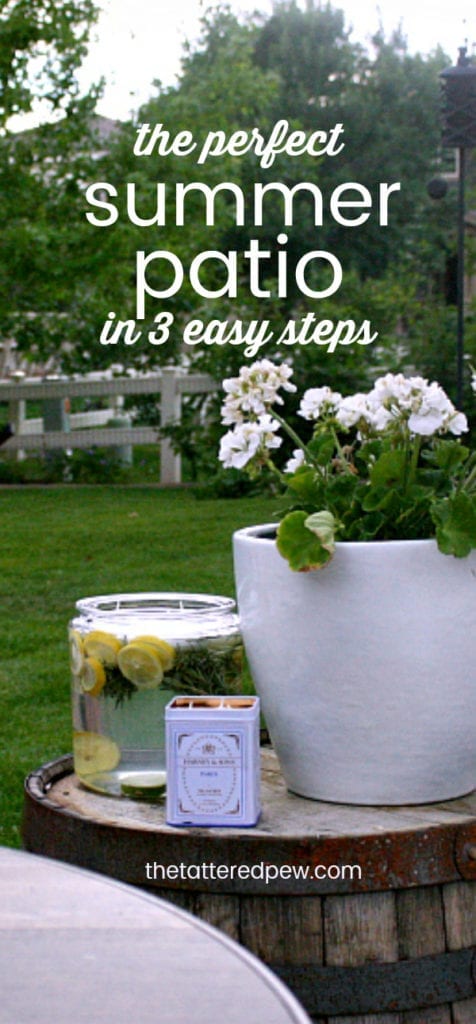 *This post contains affiliate links.
The Perfect Summer Patio in 3 Easy Steps
So are you ready to find out how to get the perfect summer patio in 3 easy steps? I don't know about you, but being a busy mom of four kiddos I need all the "easy" decor ideas I can get! Hopefully you can use the tips below to help you create your own perfect patio space.
Seating
I always start with the big pieces first. This may seem like common sense and really it is. However, I want to focus on finding the right kind of seating for you and your family. As you may know we have a family of six. So finding enough seating for all of us as well as guests (which we love having) was a bit tricky. I started with what I loved, adirondack chairs. It's always important to start with what you love. So ask yourself, am I looking for a certain style? Or is it more comfort I crave? Or is it based on the space you have? For me it was style first 😉 and space second.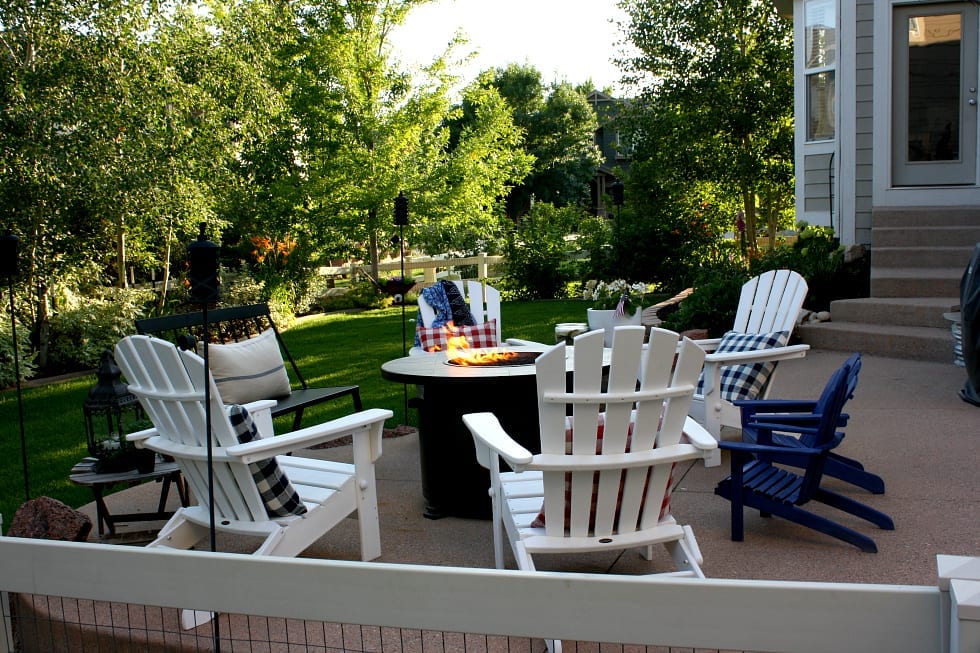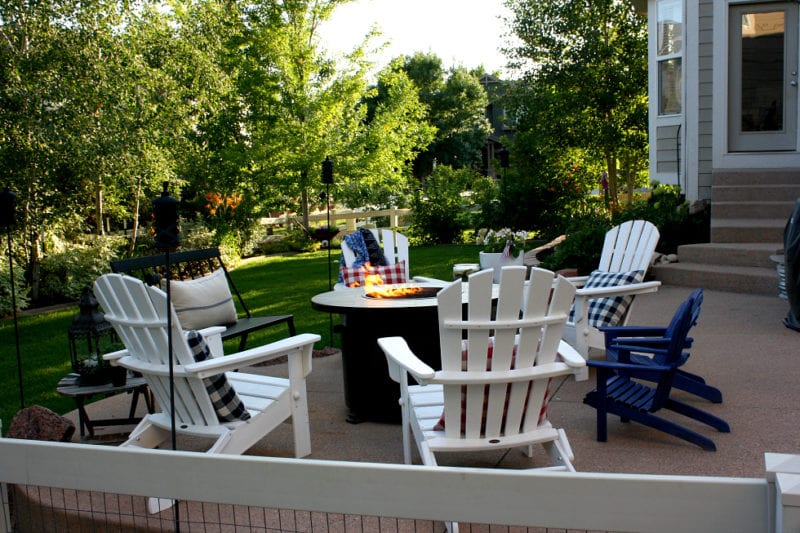 Luckily comfort was automatically included. We chose these white Polywood adirondack chairs from Target. I LOVED them and so did my husband. We decided to invest in 4. They are all weather chairs which is perfect for Colorado and our lifestyle (I leave them out ALL winter). This is our second summer with them and they are still like new.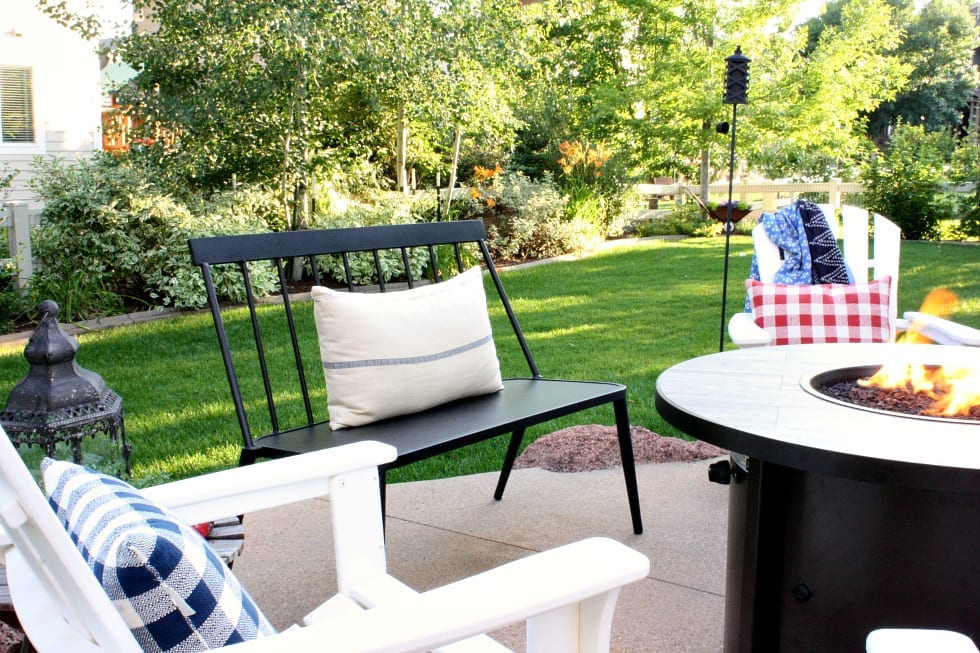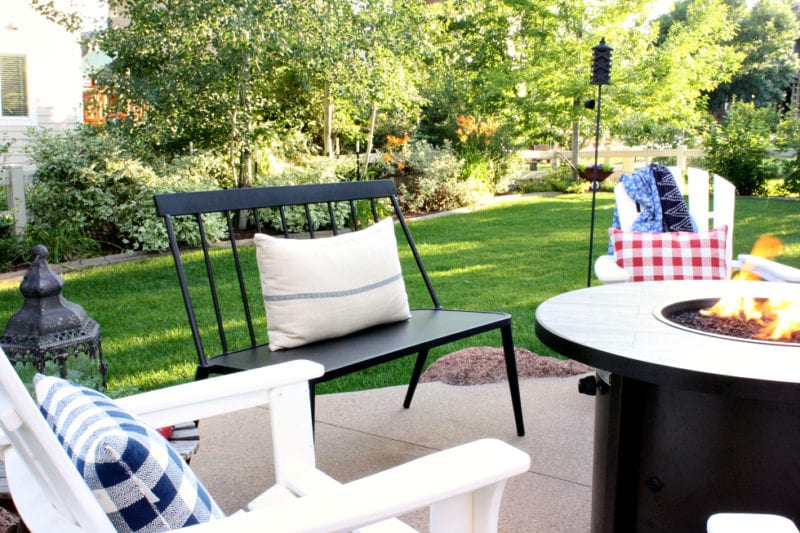 We decided that 6 adirondack chairs would be too much, so this summer we added a black outdoor bench from Target! (It is no longer on-line and can only be found in stores) It seats two comfortably and adds a bit of modern farmhouse to the coastal style adirondack chairs. I like to say my style is coastal cottage farmhouse, so for me this is the perfect blend of both!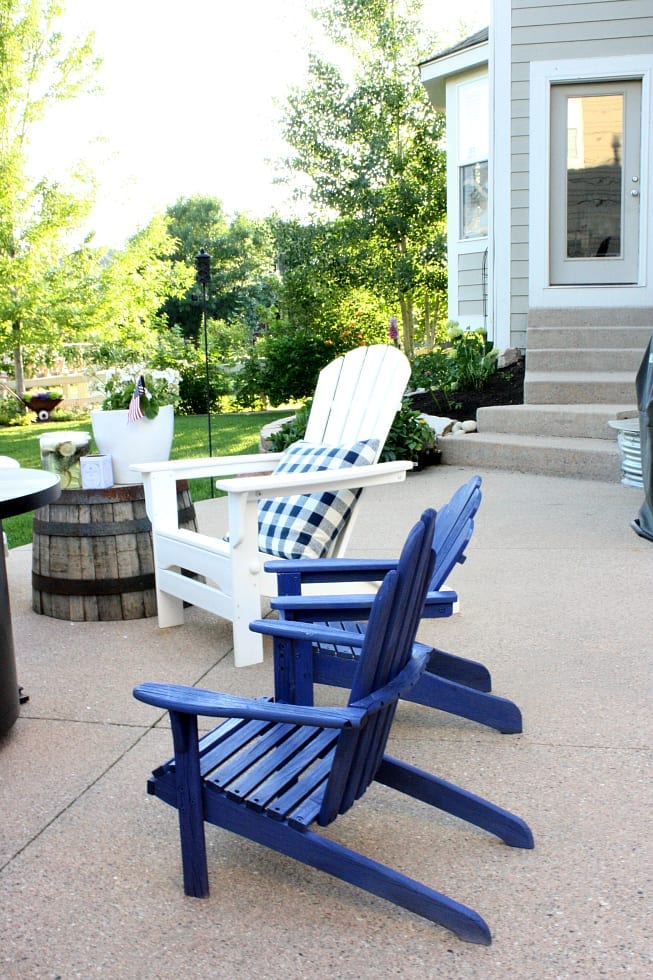 The two tiny adirondack chairs I found last summer at a garage sale and a flea market. I spray painted them blue for a fun pop of color! So now we have plenty of seating! Our little ones also love having seats of their own.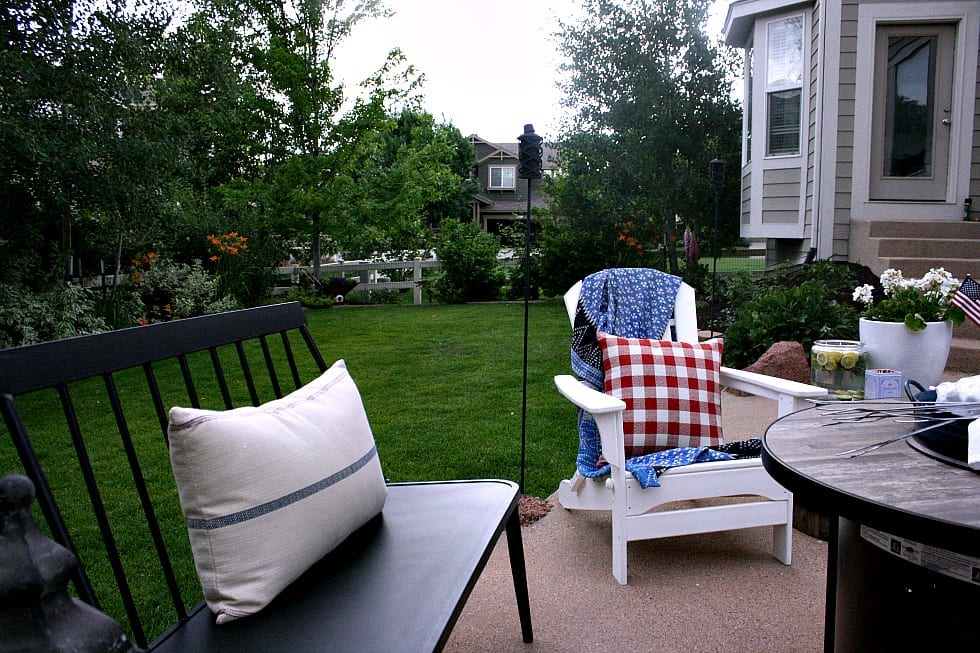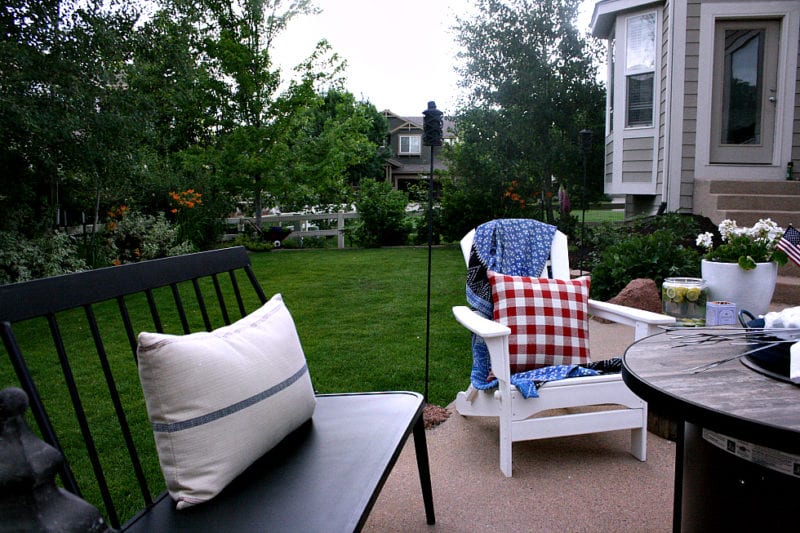 Focal Point
Its always good to have something for your seating to be around or look at. It can be a dining table, coffee table, fireplace, fire pit, plants, etc. For us the focal point was our fire pit. Our patio is round so we went with a round fire pit. We bought it locally at Outpost Sunsport when they were having a phenomenal early summer sale. It uses a propane tank and we use it ALL the time! We love having s'mores as a family and we love that our older kids want to hang out here with their friends.
Accessories
This is the part that is really fun! I started with finding a color scheme that both my husband and I loved. He loves red and I like blue so we went with…red, white and blue! The pillows are from Pottery Barn and they are outdoor pillows. I love the buffalo check ones and the long grain sack look-a-like pillow on the bench. I must give my husband credit because he picked out all the pillows! He has such a great eye and the minute he showed them to me in the Pottery Barn catalog, I was sold! Even better was that they were on sale! Love him so!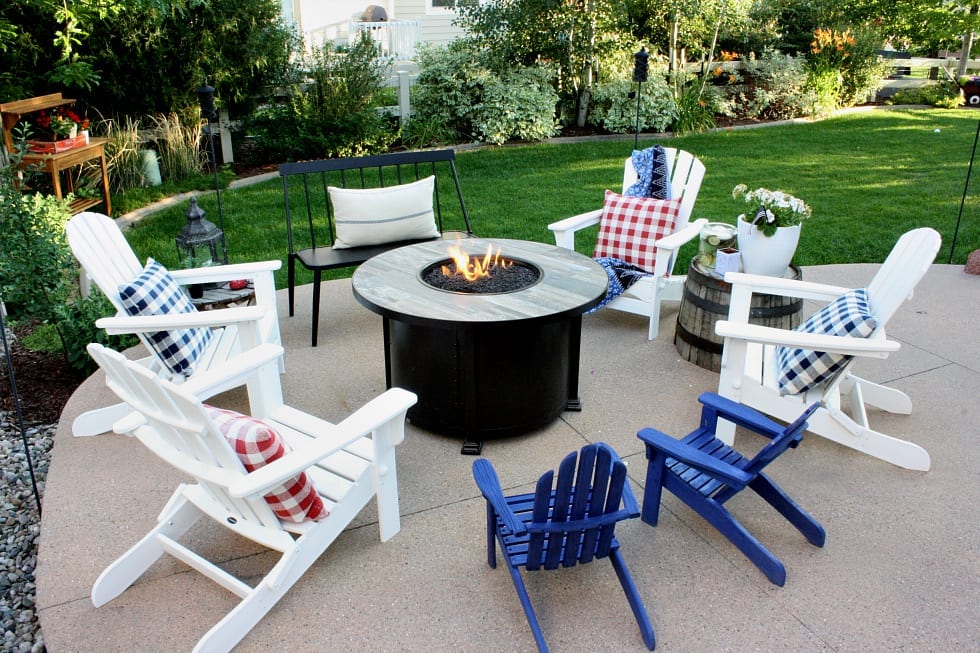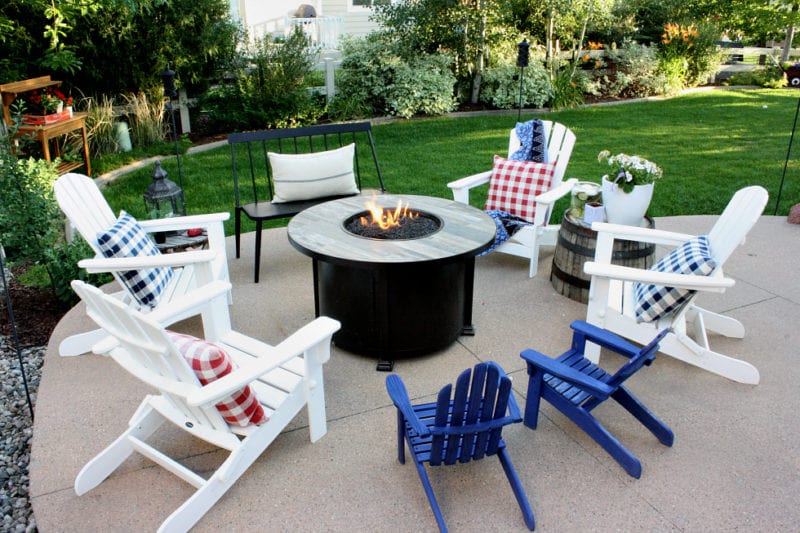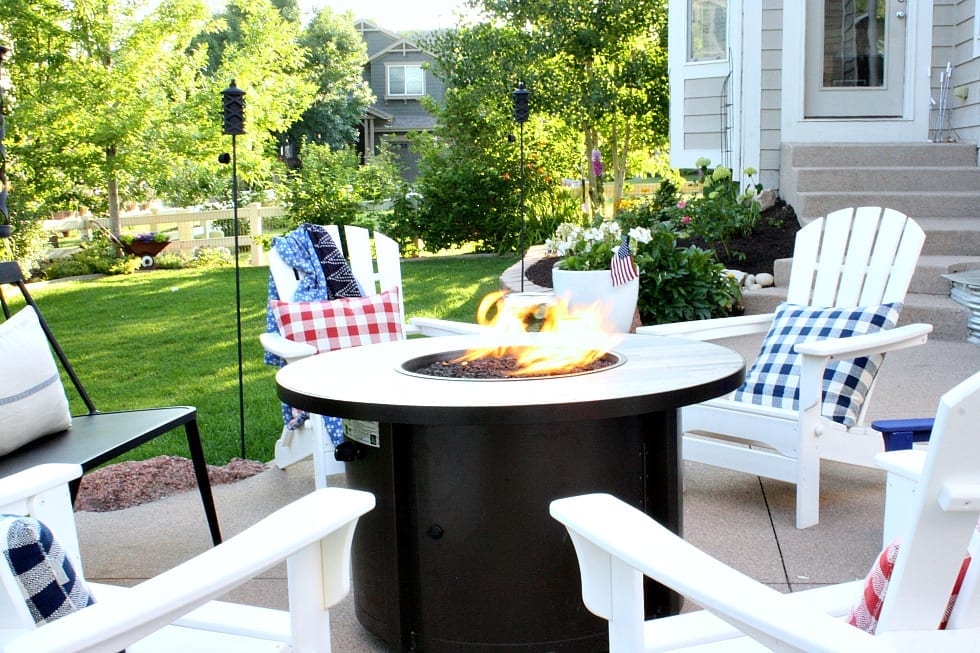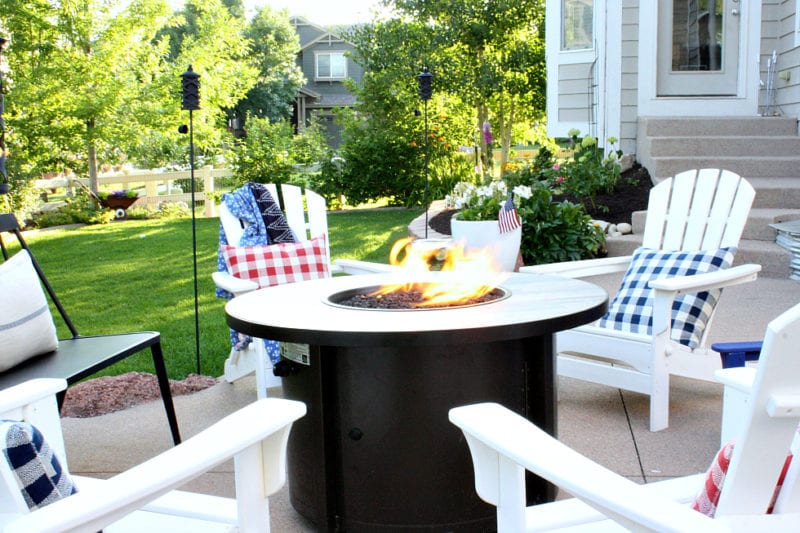 Next, I shopped the house for other accessories to add. If there was a fourth step in creating the perfect summer patio it would be to…
Shop Your Own Home
It saves money…need I say more?? This black lantern was inside by our couch so I brought it out to add another touch of black along with the bench. Then I placed this cute little faux plant next to it to add color. That sweet ladybug my youngest daughter made at school.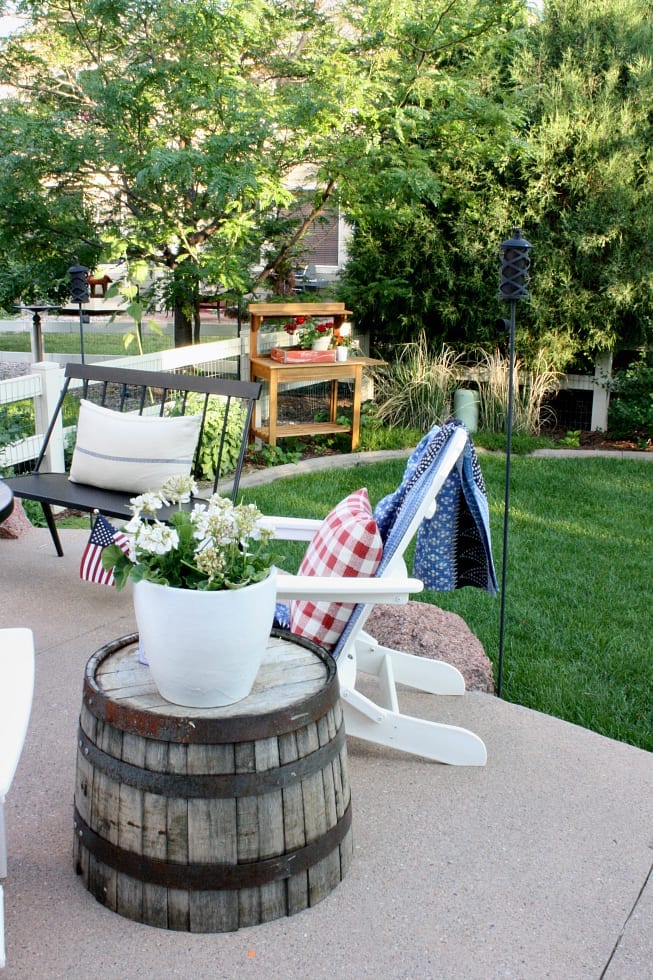 The gorgeous blue blanket I purchased from our church through the U Count Campaign which aids in stopping human trafficking. Click HERE to read all about it and to shop while supporting an amazing cause! I love the pattern and the fact that I can throw it in the wash and it comes out perfect every time. So having it outside for cooler evenings is totally fine. The old whiskey barrel we turned over to use as a table rather than a planter. We purchased it from Lowe's earlier this summer!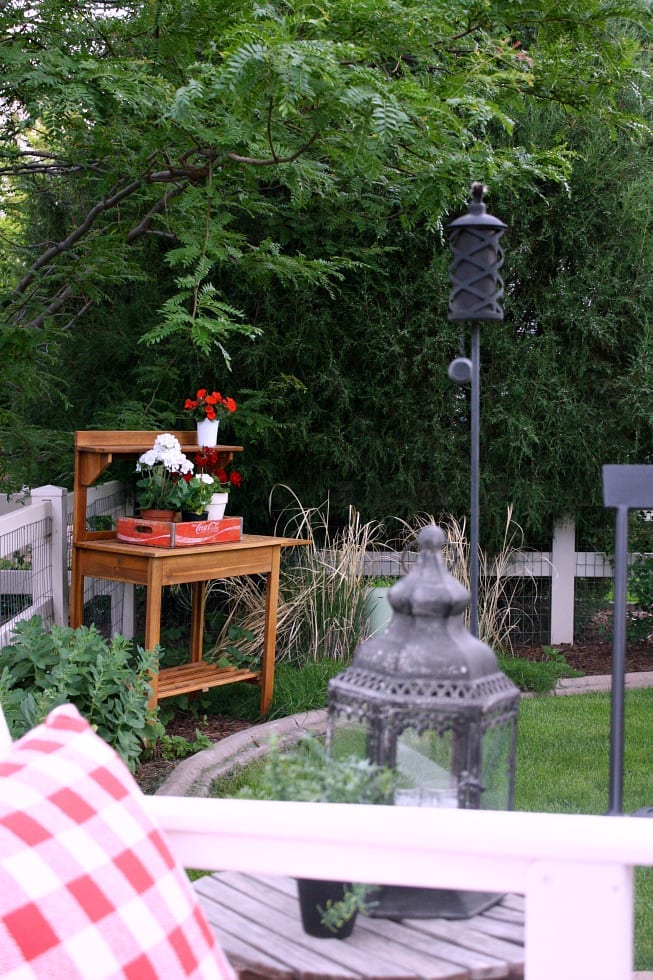 The potting table you see in the background was my Mother's Day gift! My husband and kids picked up for me at World Market and I love it! I added an old Coca-Cola crate with flowers on it to pull out some more red and white.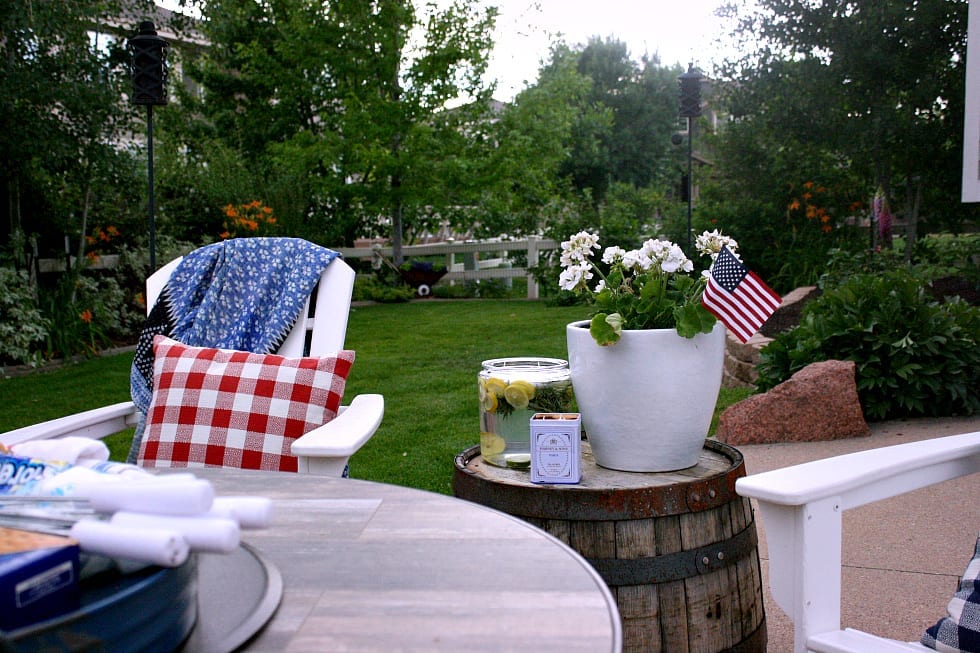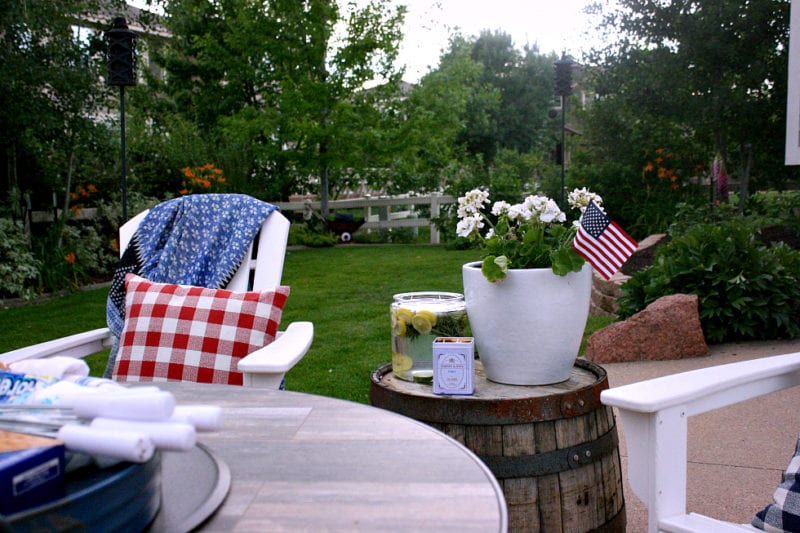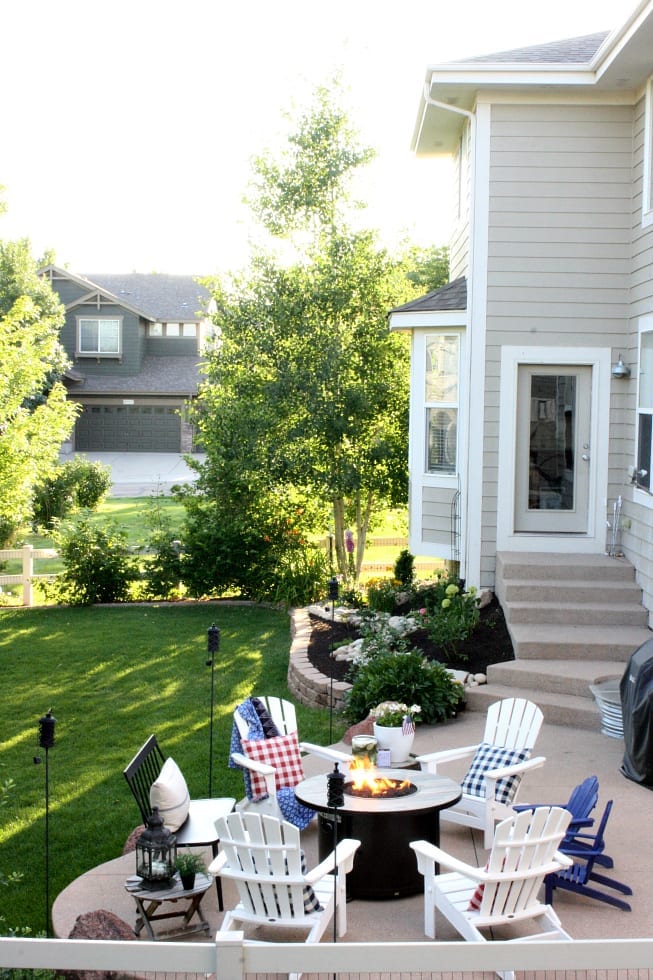 So there you have it, my formula for the perfect patio in three (kind of 4) easy steps! Now all that's needed is to have some friends over for some s'mores by the fire! So hurry on over!
I hope you all have a wonderful Fourth Of July celebrating our country's freedom with your family and friends. As always, I love your comments and would love to know what you think of our patio!
XOXO,
Kelly
***Also sharing and linking up over at Finding Silver Pennies and Little Farmstead!