A Fall Evening In The Garden
Come join me for a fall evening in the garden!
Today I am joining some blogging friends for a Fall Garden Blog Hop hosted by my good friend Stacy Ling of Bricks N' Blooms who is the queen of gardening. I was honored to be included in this fabulous group of bloggers who are showing off their fabulous Fall gardens. I promise you will want to tour these lovely outdoor spaces so make sure to scroll to the end for each of their links.
First up on the hop is my dear friend Cecilia, of My Thrift Store Addiction. You will love her thrifty Fall garden decor!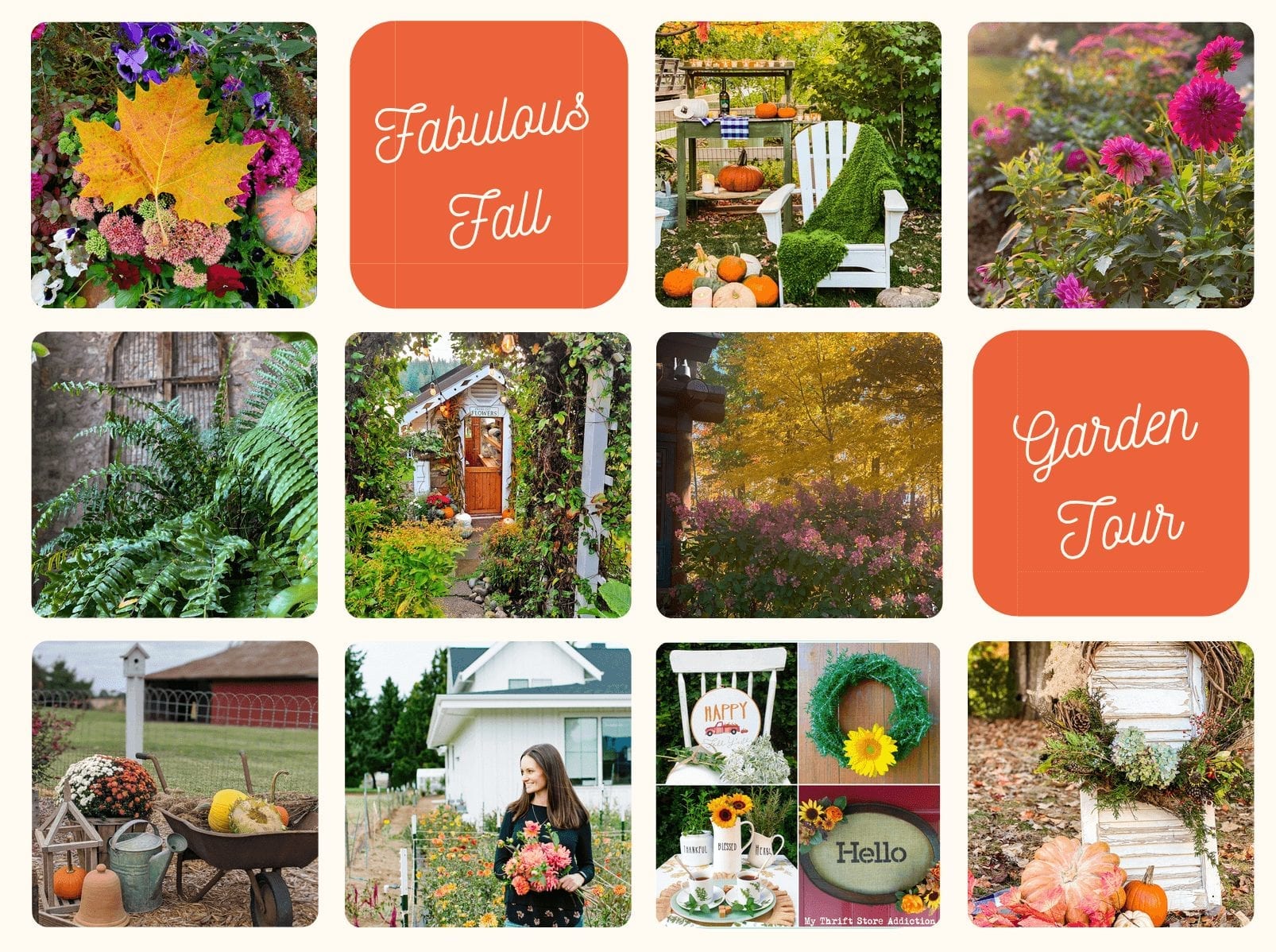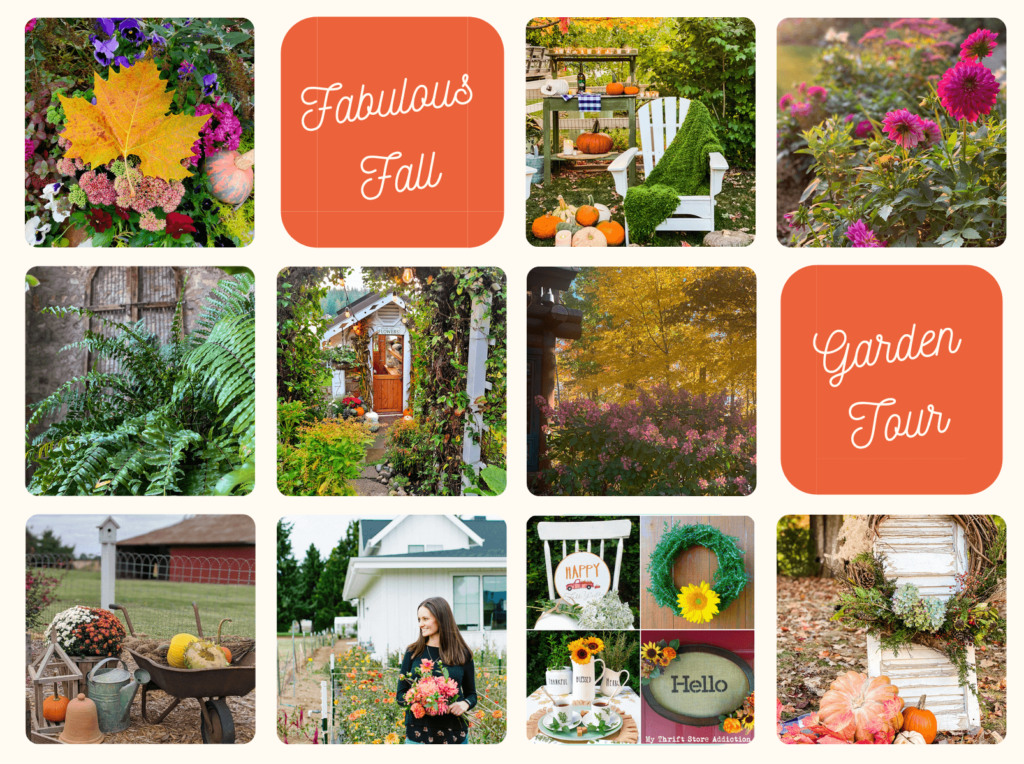 A Fall Evening In The Garden
If you are new here welcome to our lovely backyard! I'm Kelly the gal behind The Tattered Pew. I'm a regular 'ol hot mess mama and wife who needs coffee and Jesus daily…and lately wine too! If you are a returning reader, welcome back and thanks for hanging out with me.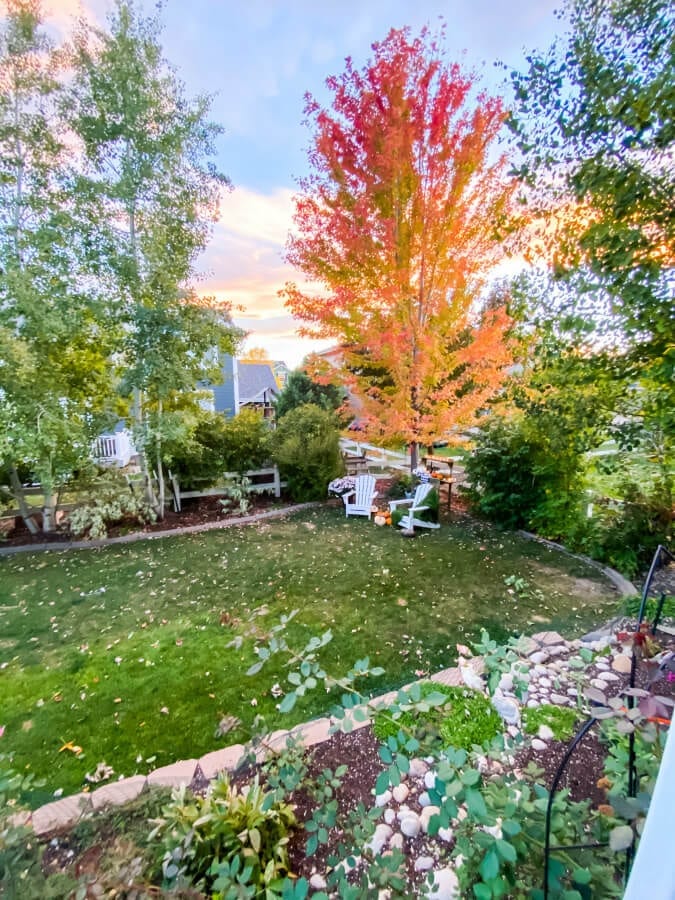 I think you will enjoy how Fall is currently showing off here in Colorado! Especially in our backyard.

The Story Behind The Evening
We are all friends here so I feel like I can be honest. Life has just been a bit tougher lately for me. I'm not looking for sympathy just being honest.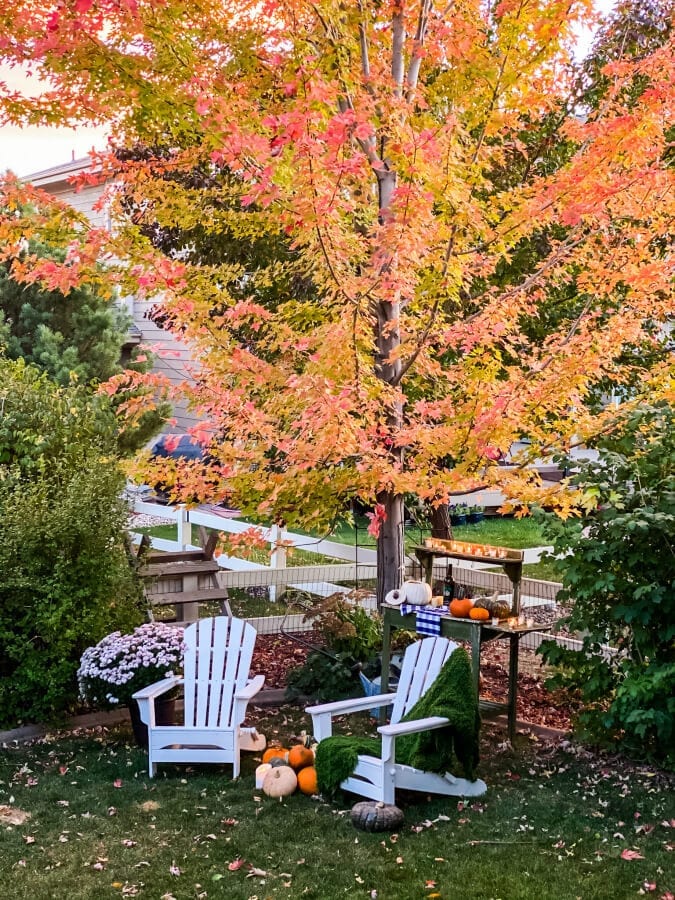 I know I'm not the only one and that most of you can relate. This pandemic is taking it's toll on so many and in so many different ways.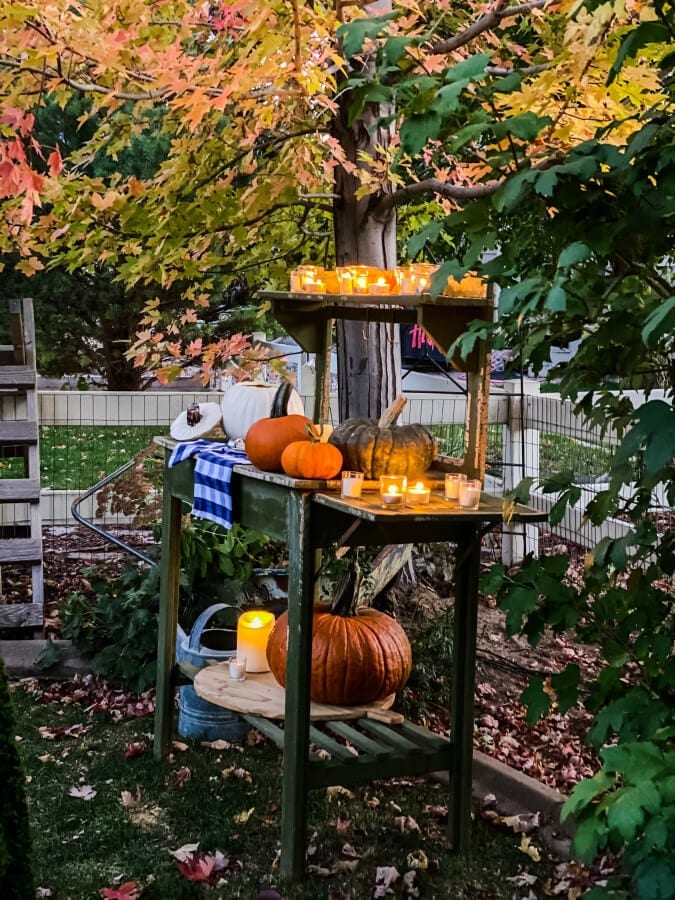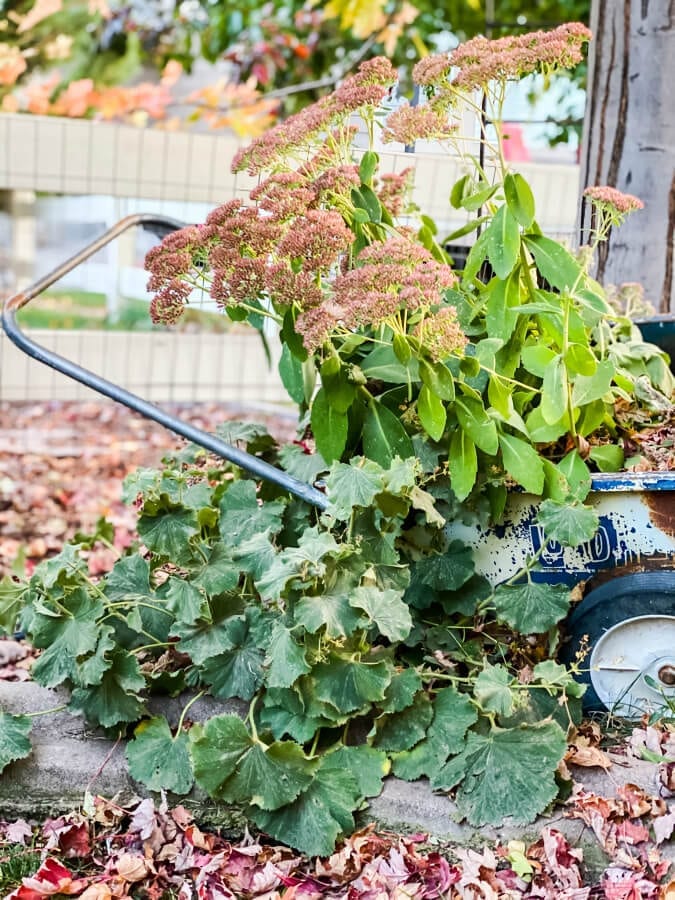 Mostly it's been tough for me personally because I am back to in person teaching hybrid style in a kindergarten classroom. I feel like I am a brand new teacher even though I have been teaching for almost 18 years! I'm often exhausted when I get home and I am still working even when I get home. My brain will not shut off and I've just been well, stressed. Hence, I have neglected some very important things in my life.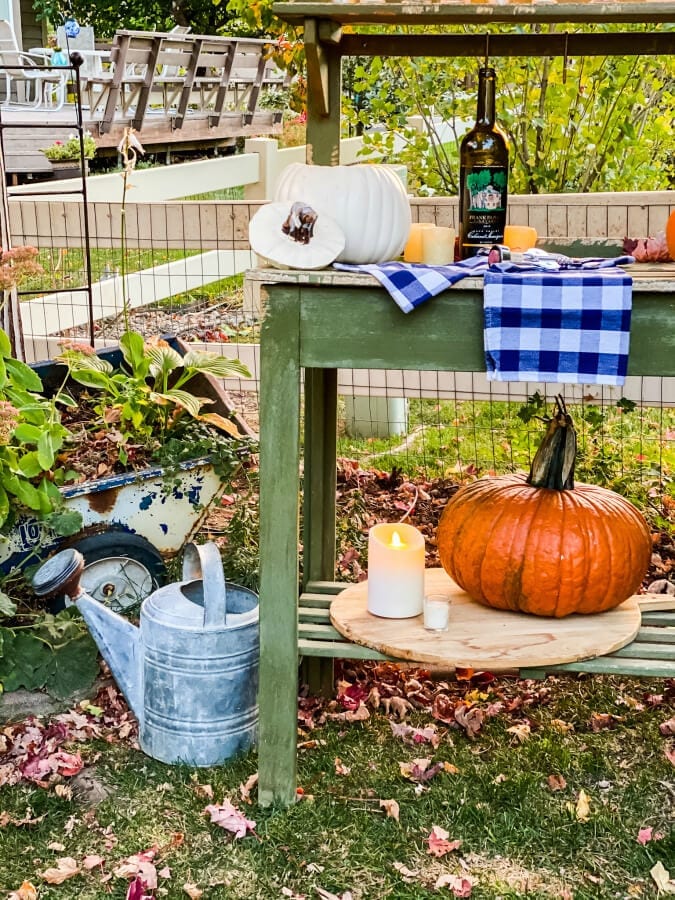 Mostly my amazing husband.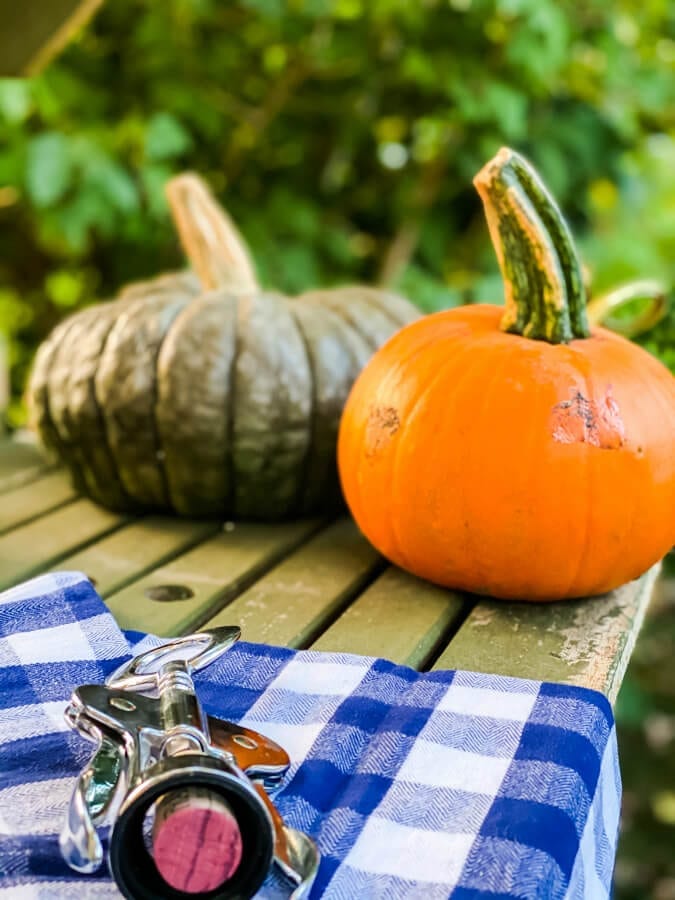 Luckily he understands and is incredible and has been helping in all of the areas around our home. (honestly he always helps but even more so lately) He has been working from home to help our kids with remote learning. He has cooked or planned dinner on most nights, done tons of loads of laundry, drove the soccer carpool, and so many other things that have taken the load off of me as I transition into this new style of teaching.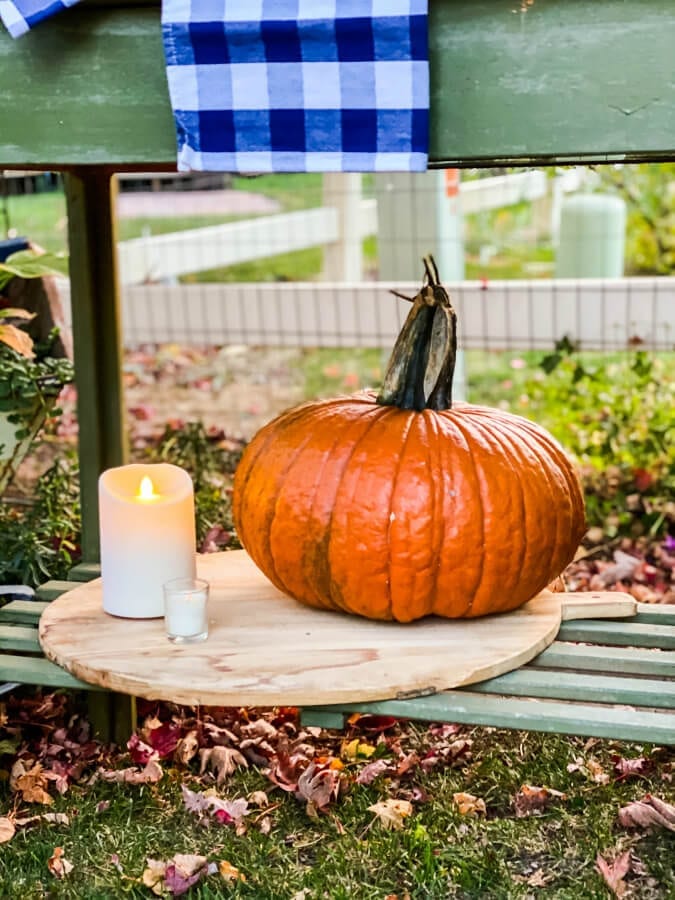 Hands down he is my angel and best friend and I wanted to surprise him with a little thank you!
So I decided to do something about it. I set up a little date evening for us out in our backyard. We needed some alone time together. A garden date if you will!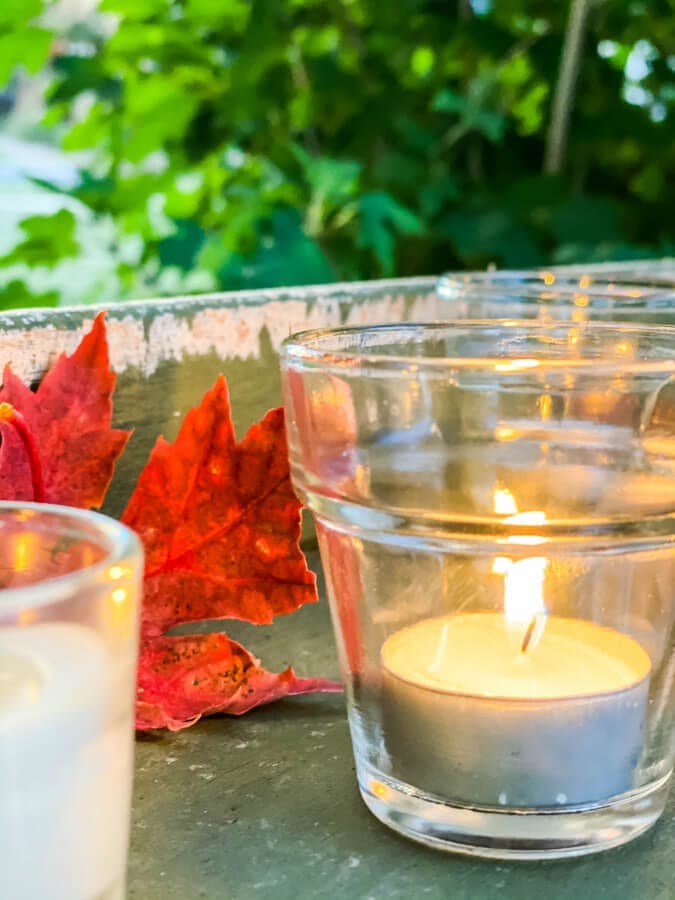 So I decided to use my painted potting bench as a table and gathered up our favorite Frank Family wine, put together a charcuterie board and grabbed all the candles I could find! I wanted him to know that I love him and that I was thankful for him.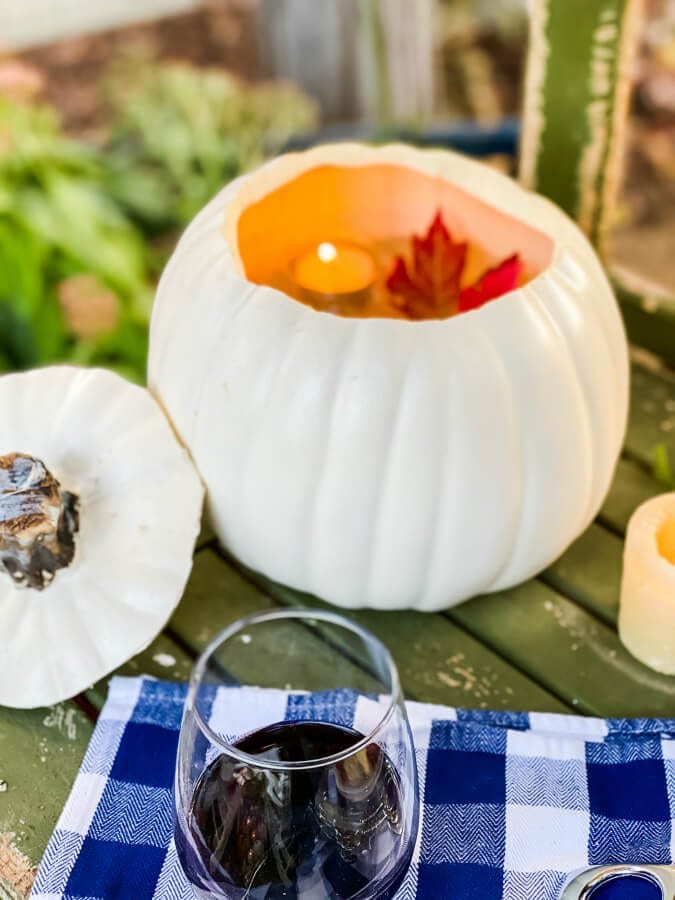 Not surprisingly I even hauled my DIY faux pumpkin with floating votives out back as well all the pumpkins from our front porch. It was a labor of love! 🙂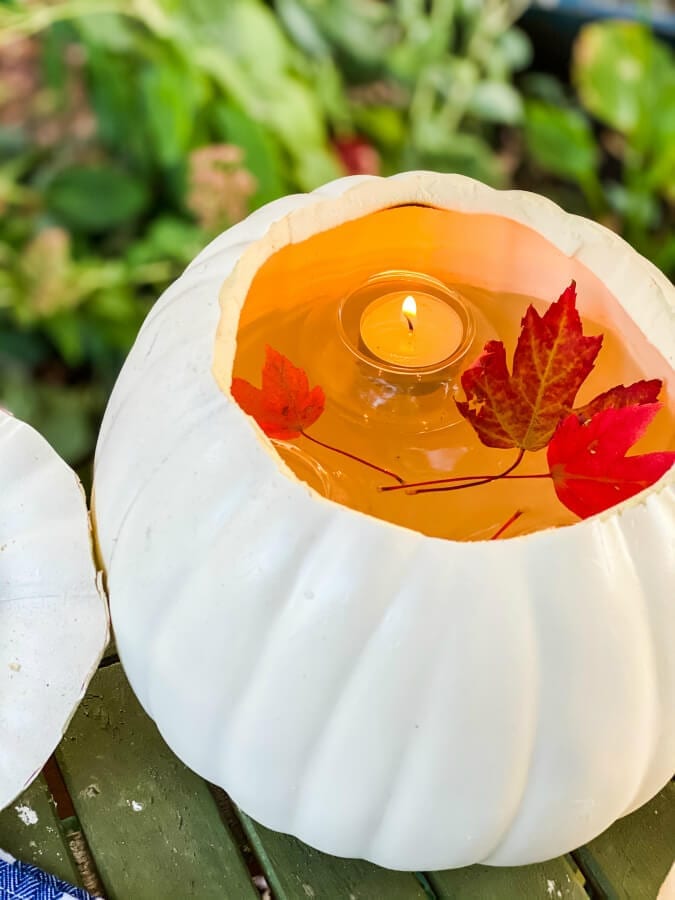 We needed some alone time to just chat and not worry about the to-do list and I wanted it to be special. The leaves have been showing off big time so I knew this was the perfect corner of our garden.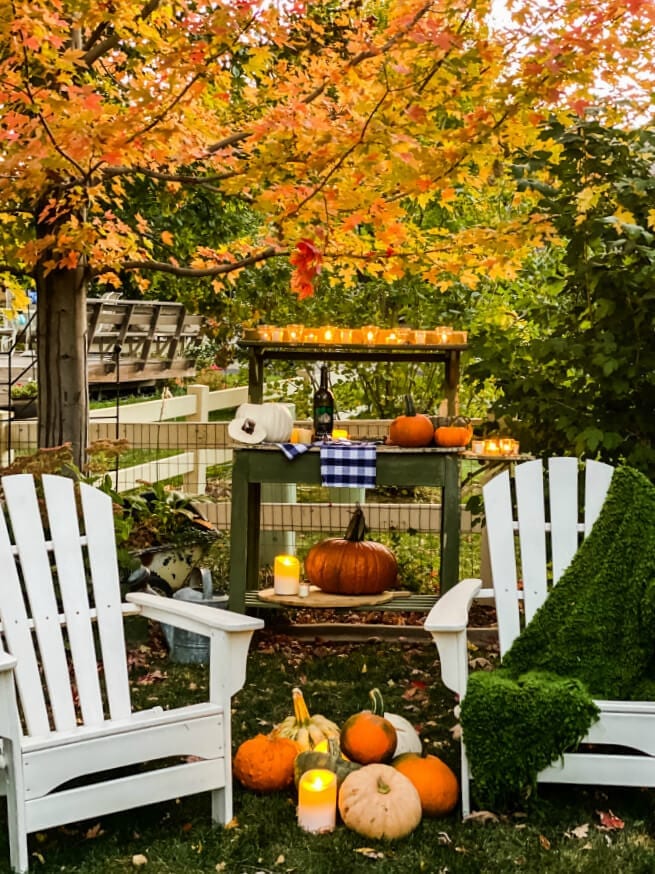 Once the sun started going down I have to say it was quite magical and surprisingly not chilly! The perfect Fall evening.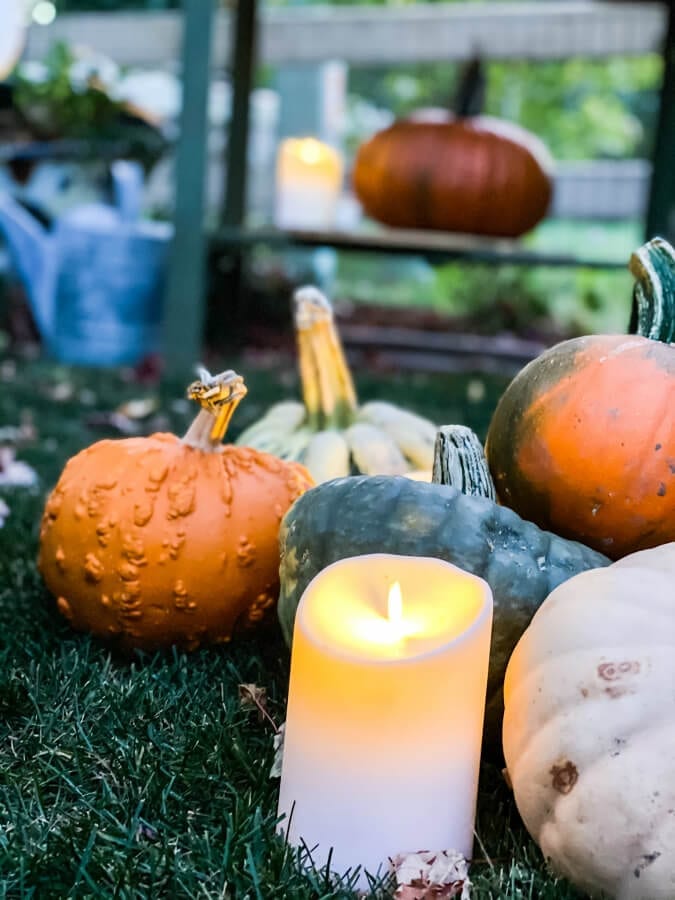 We chatted and listened to each other and he loved this fun little surprise. Our own private little date in the backyard.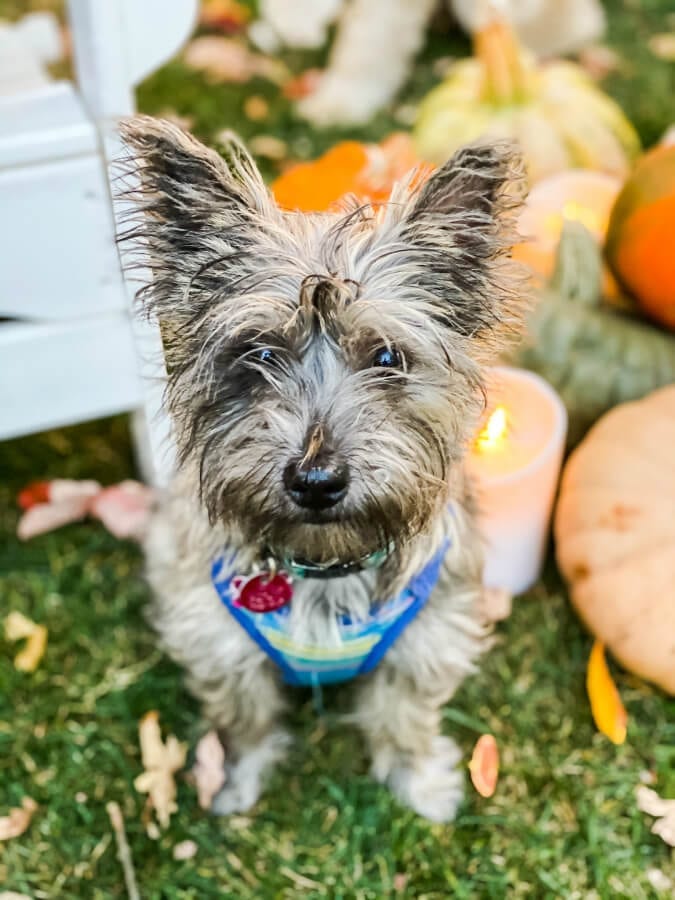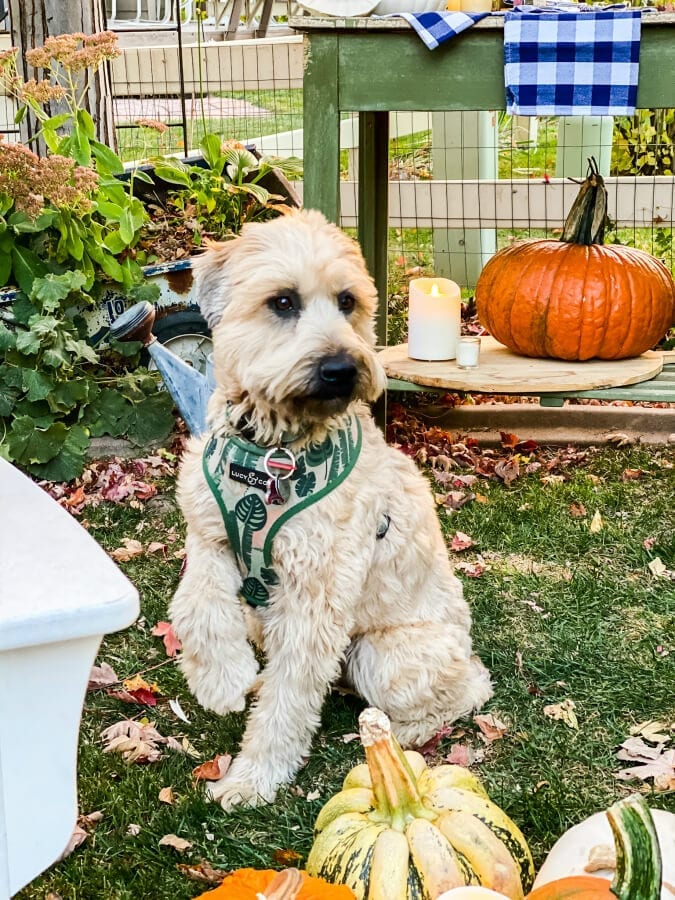 Oh, and the dogs came too.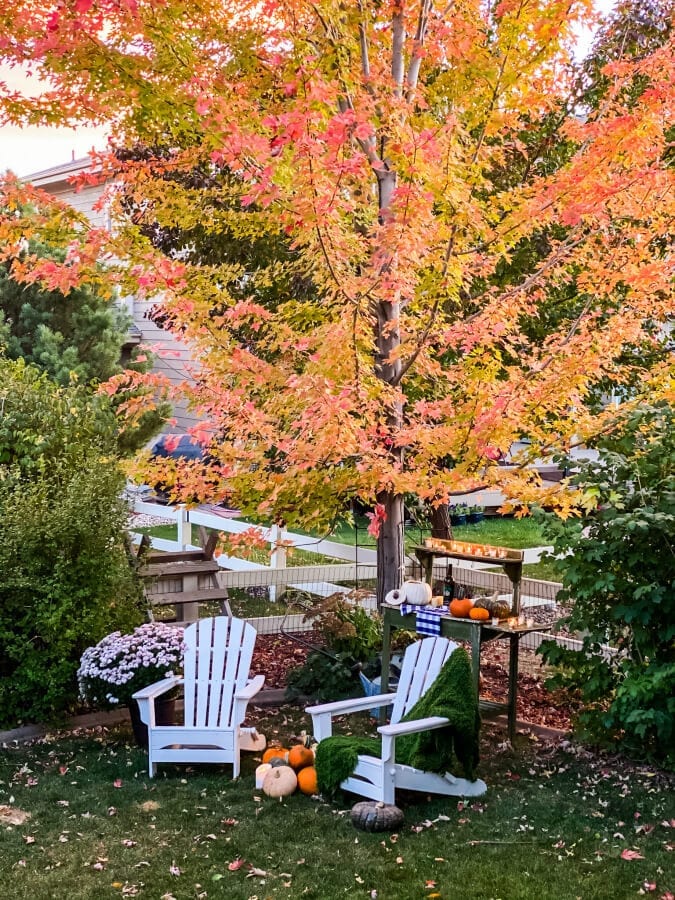 I love that it wasn't hard to find a little spot for us outback to enjoy some time together. The kids were inside enjoying homemade mini pizzas and all was right in our world…even if it was just for a few moments.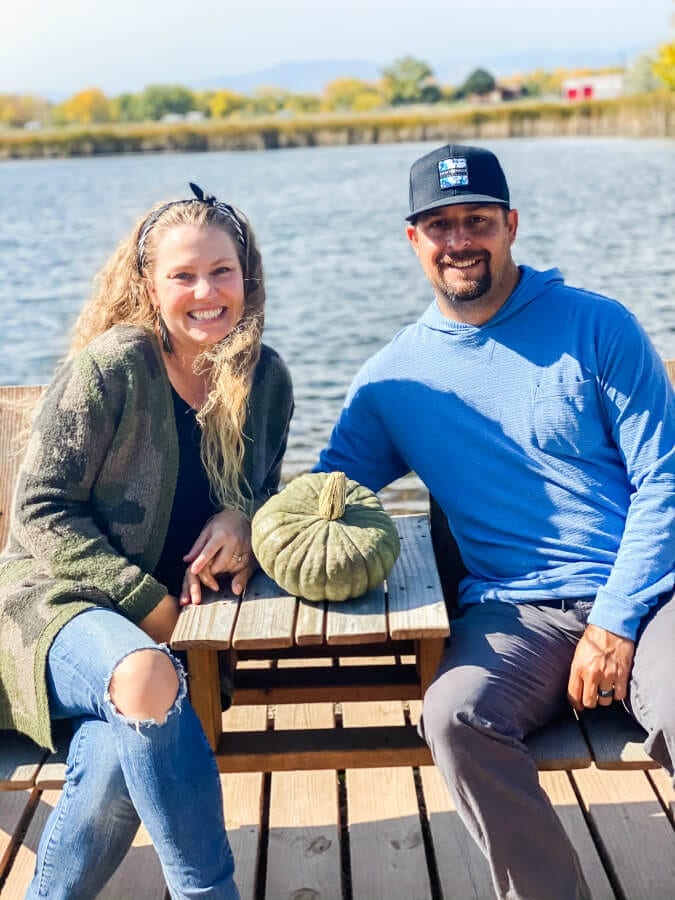 Our Fall Evening In The Garden Date
Thanks for stopping by to take a peek at a Fall evening in the garden! I would love to know your favorite at home date set up…just leave me a comment below!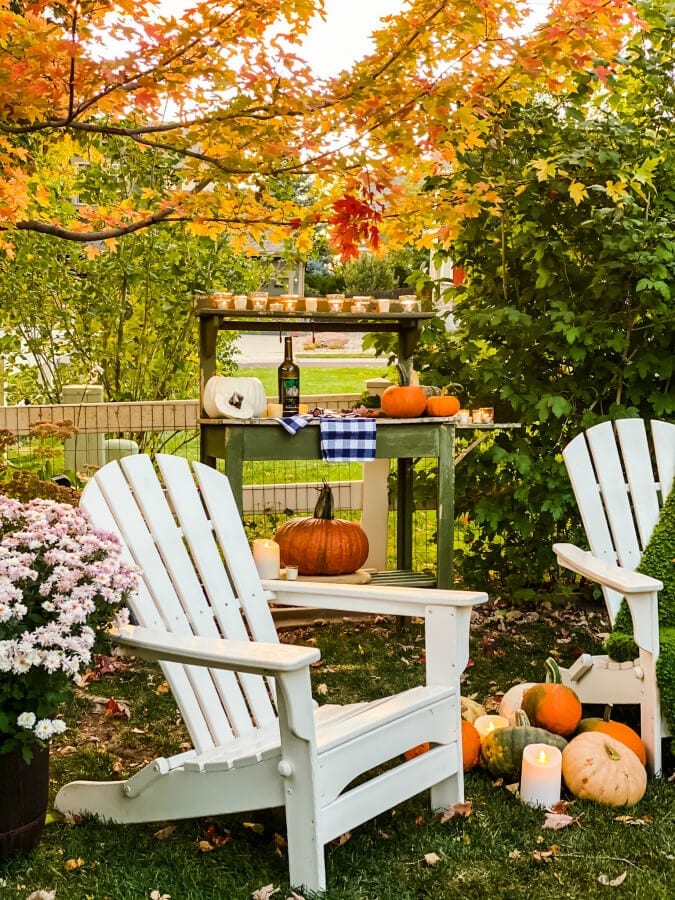 Next stop on the hop is Jennifer, of Cottage On Bunker Hill! Then make sure to scroll down to visit each blogger joining the hop for even more Fall garden inspiration.
XOXO,
Kelly
Did you like this post? PIN it for later!