5 Simple Ways to Add Color to Your Fall Decor
Now that it is September and Fall is just around the corner, I am getting excited for the changing of the seasons. However, I am not quite ready to be done with my zinnias (and luckily they last until the end of October). So this year I decided to incorporate them into my Fall home tour. This year's tour is all about simple ways to add color to your Fall decor!
*As an Amazon Associate, I earn from qualifying purchases. This post contains other affiliate links too for your convenience. Click here to read my full disclosure policy.
Bloggers' Best Fall Home Tours
But before we get into my tour, I want to let you know about this weeklong Bloggers' Best Fall Home Tour series that I am hosting! Do you love gathering inspiration for your Fall decor? Then this is your week!
Each season I gather together several top home decor bloggers who love sharing their homes with you. Every day this week 6 new bloggers will share their Fall tours on each of their blogs, so make sure to stop by all week long and you can find their links at the end of this post!
If you are coming over from my friend Cecilia, of My Thrift Store Addiction and her tour, welcome! Wasn't her tour so fun?
Fall Home Tour Part 1
Now let's pop over to my tour where I will be sharing our entry, family room and dining room! I had a lot of fun adding and keeping color in most of my fall decor. More and more I have found myself drawn to the pinks, blushes and jewel tones that I tend to find in my zinnias so I used those as inspiration!
(You can see last year's fall tour here and here!)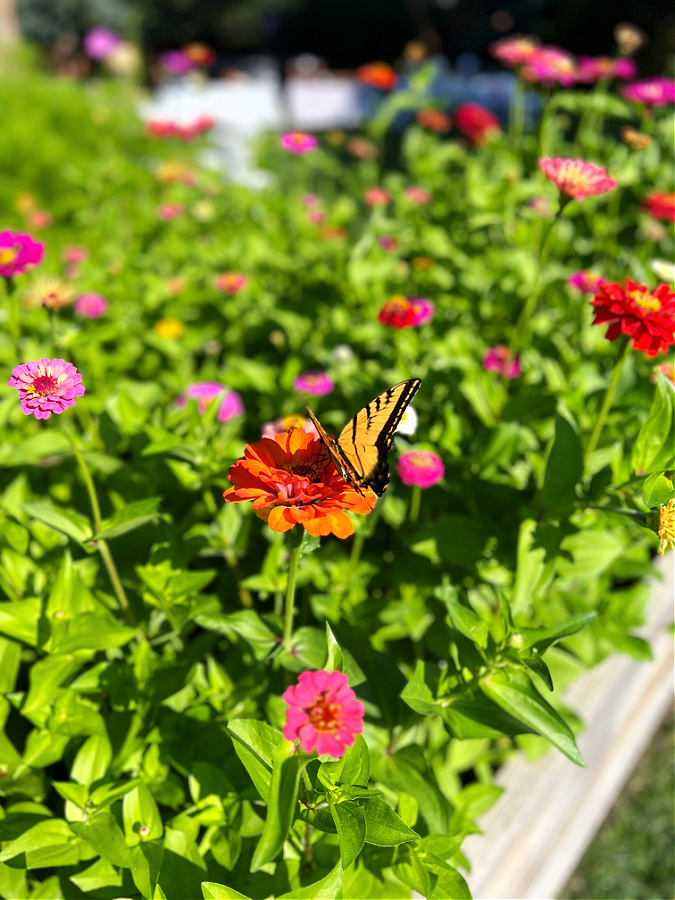 5 Simple Ways to Add Color to Your Fall Decor
Let's Start in our entry! This is where my beloved "first" pew lives and greets all who enter. My favorite color is blue and luckily we have a lot of it in our home, between the wood work and my decor.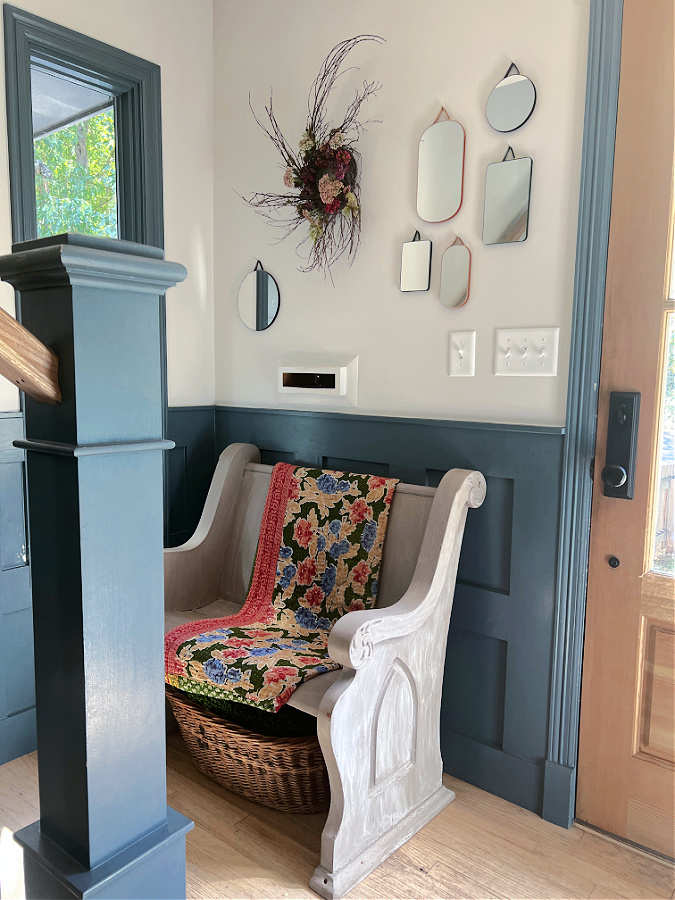 On my sweet little pew I draped a block print kantha quilt that I've had for awhile and added my DIY dried zinnia wreath that I just made above her and mixed it in with my mirrors. The wreath added the perfect amount of color to this space along with the throw!
And did you notice the rug? That was a flea market find and I love the color it adds!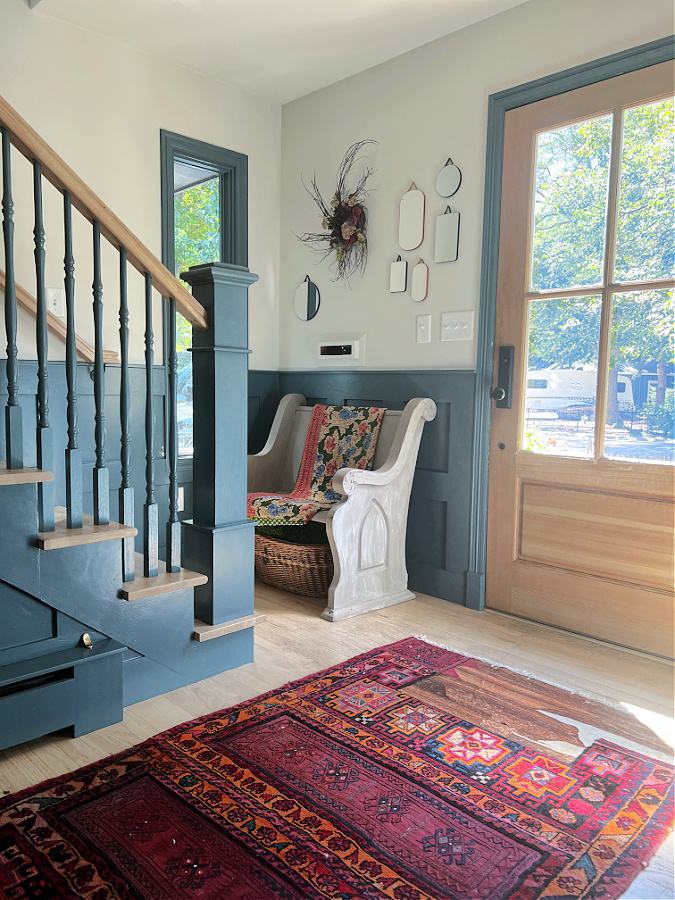 Now let's work our way through my home and into some other spaces on our first floor and see how I had fun adding color for fall.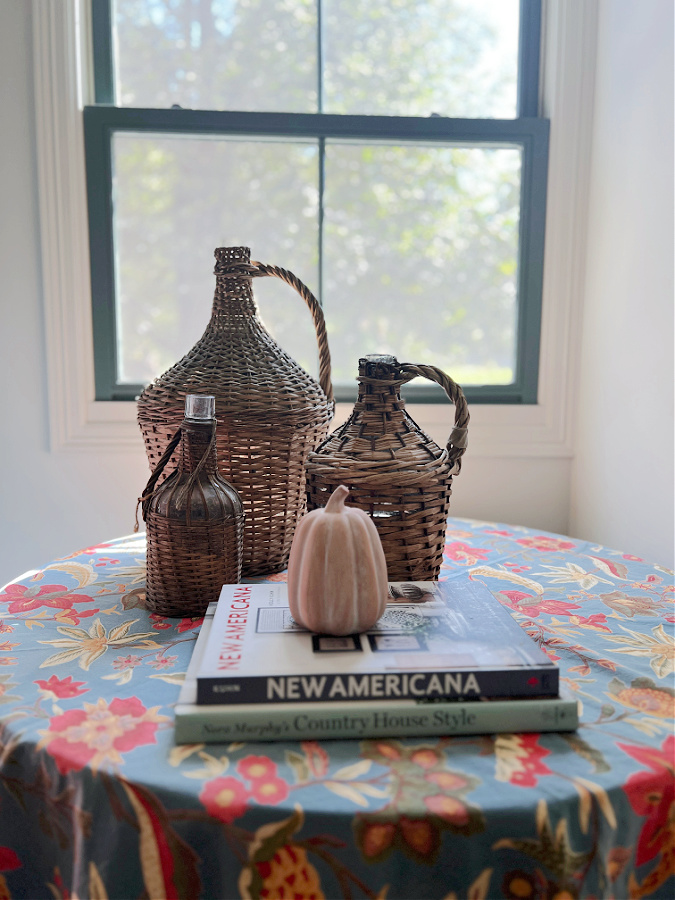 1. Vibrant Artwork
Incorporating colorful artwork into your Fall decor is a fantastic way to bring life and energy into your space. Consider investing in paintings or prints that feature rich autumn hues like deep reds, golden yellows, and rustic oranges and my favorite, pinks.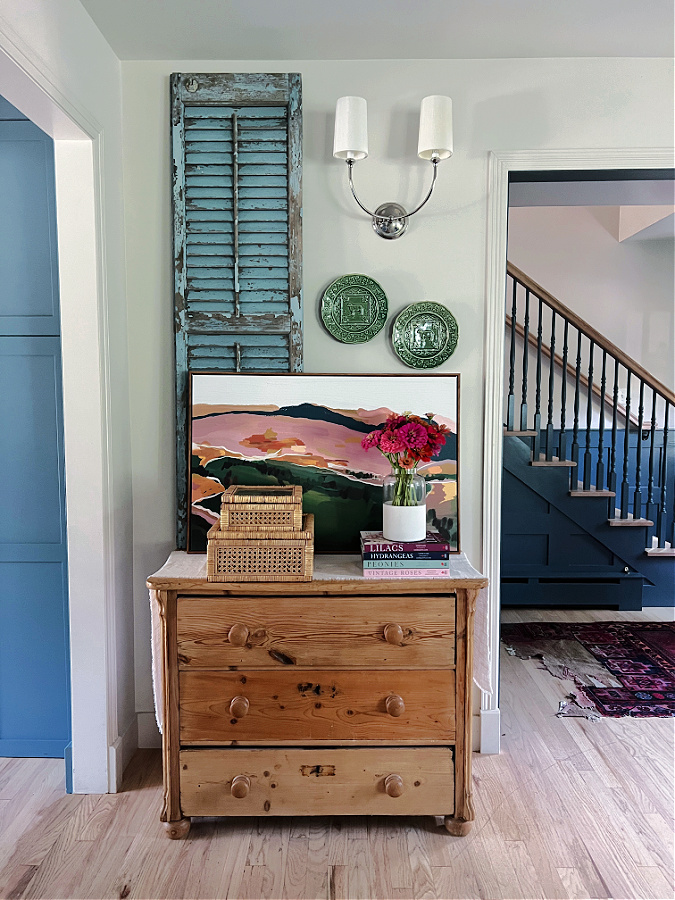 Hang or prop these pieces strategically in your living room, dining area, or even the entryway like I did to create a striking focal point that instantly elevates the ambiance.
This colorful landscape print you see in the photos below is a new favorite and I adore the colors! Would you use pinks in your fall decor?
2. Fresh Floral Arrangements
Flowers aren't just for spring and summer; they can be a delightful addition to your Fall decor too.
Opt for blooms like hydrangeas, zinnias, sunflowers, dahlias, and chrysanthemums in warm, autumnal shades. Place them in decorative vases or rustic containers and position them on your dining table, mantel, or as a centerpiece for a cozy and inviting atmosphere.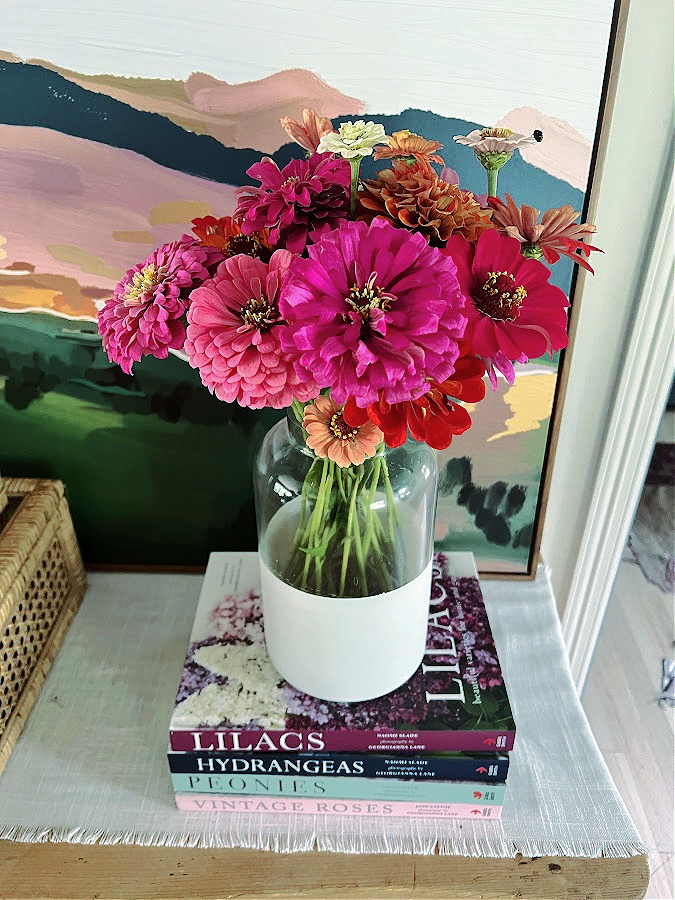 My zinnias match the colors in my print along with the stack of books. And the mums you see in the blue and white bowl below pull out the pinks and purples as well!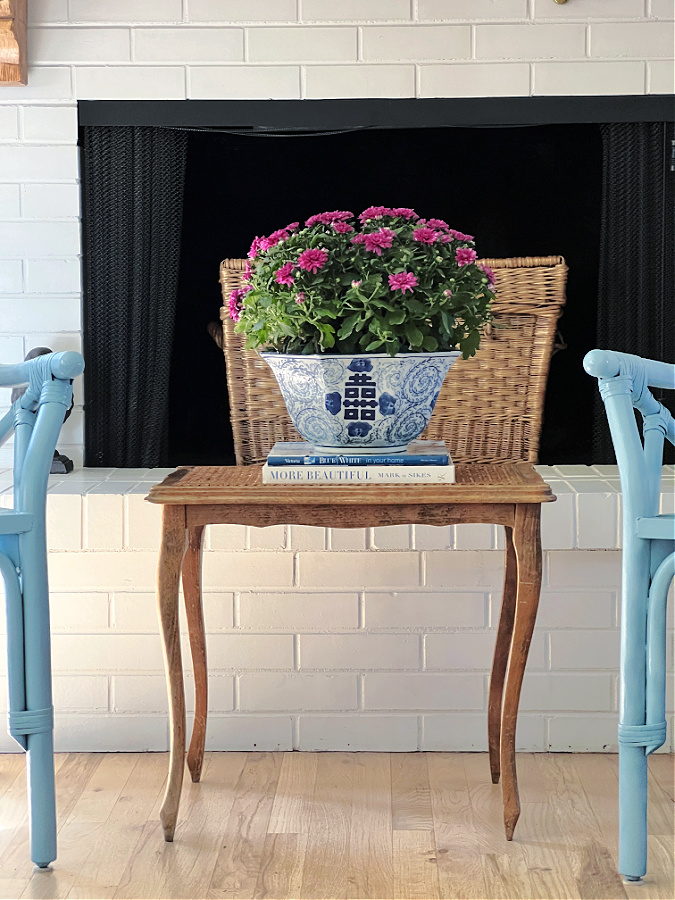 I also tucked some smaller mums into the basket on top of my favorite green dresser along with pinecones and sea shells. It was fun walking around our family room and adding pops of color in various spaces with flowers!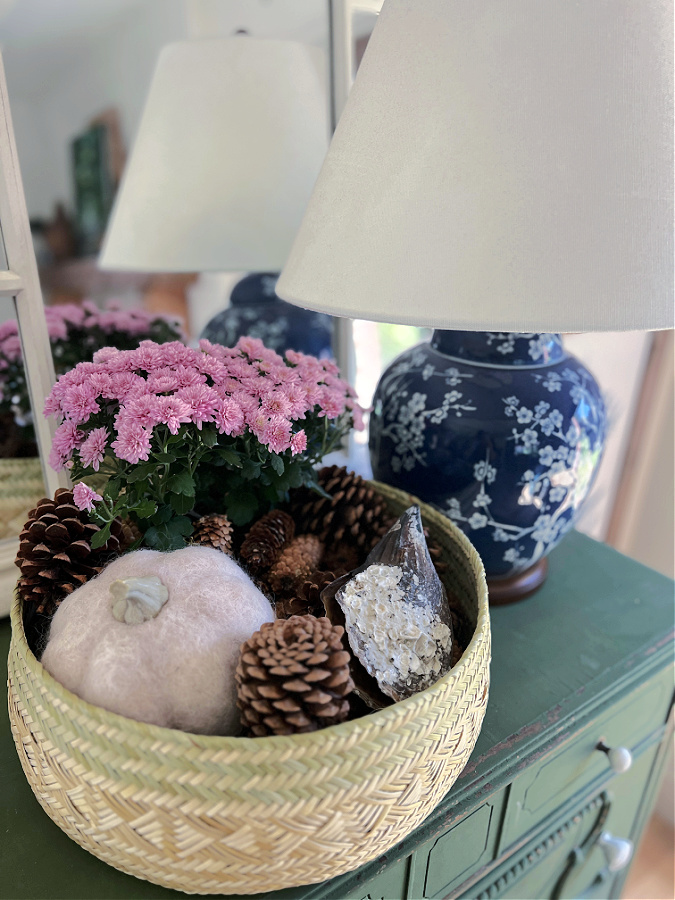 3. Colorful Pillows and Throws
Swap out your existing throw pillows and blankets for ones in Fall-inspired colors and patterns. Deep burgundies, forest greens, and earthy browns can instantly transform the look and feel of your living room or bedroom. And are the usual fall colors, but I used some dusty pinks and blues along with blue plaids!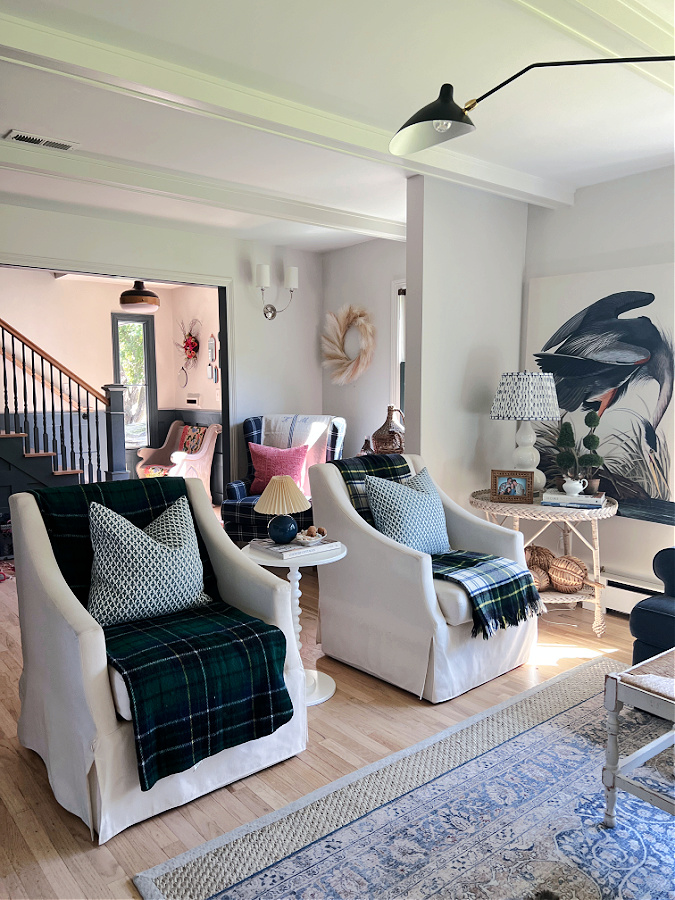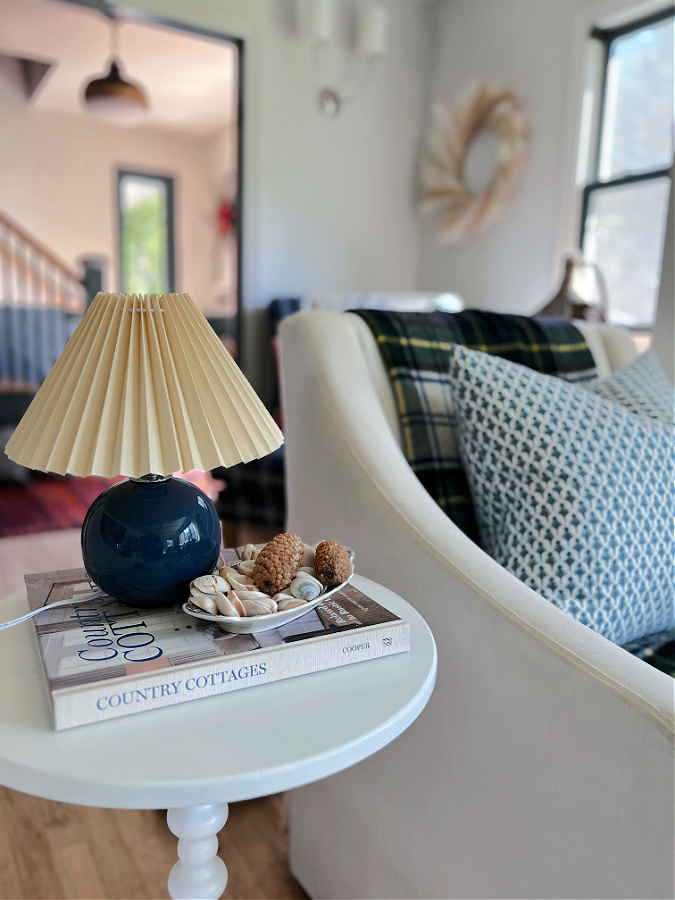 Mix and match textures and sizes for a visually appealing and comfortable space.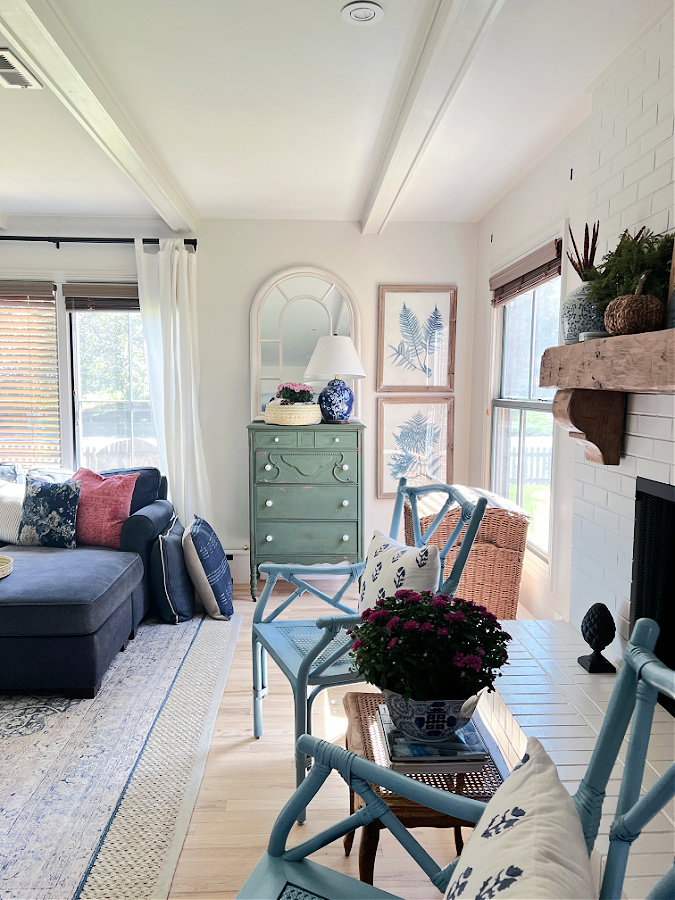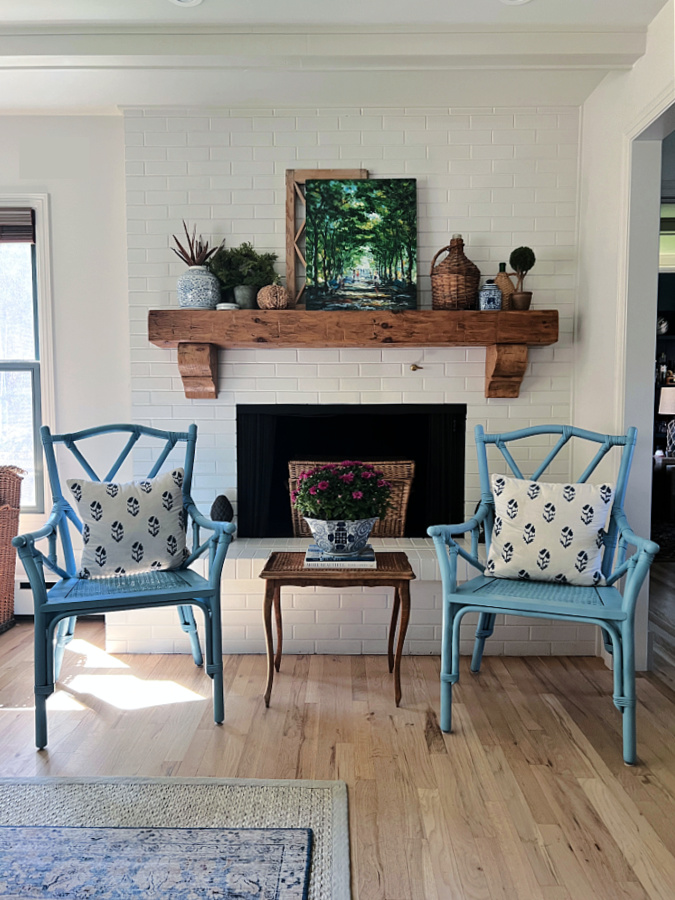 4. Colorful Accessories
Don't forget the power of small decorative items like plates, vases, ginger jars, natural items and decorative pumpkins.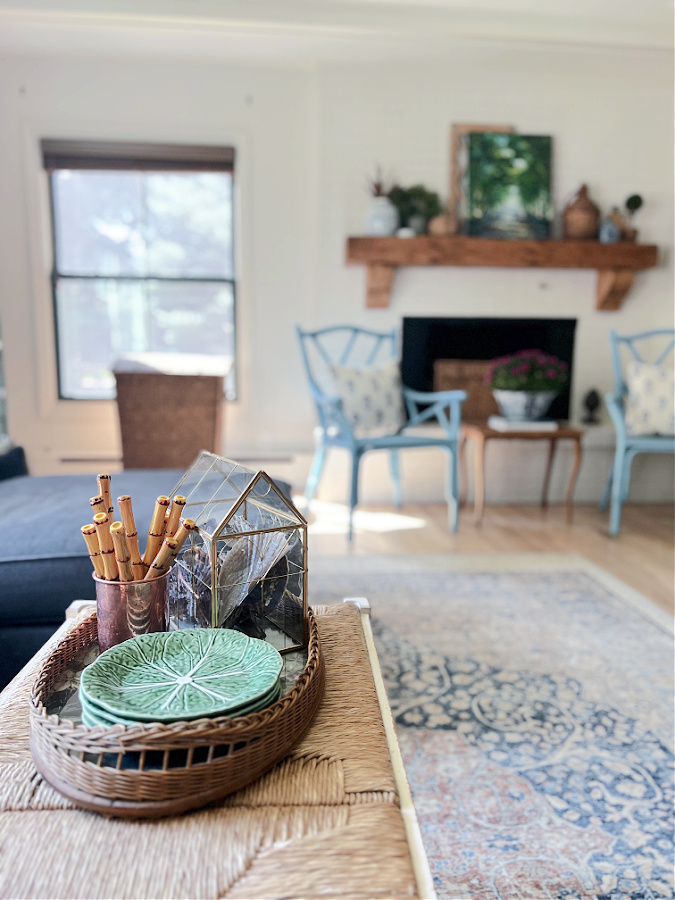 Choose these accessories in shades that resonate with the Fall season, like pinks, mustard yellow, green or rich copper. Scatter them strategically throughout your home on shelves, coffee tables, or window sills for an effortless burst of color and style.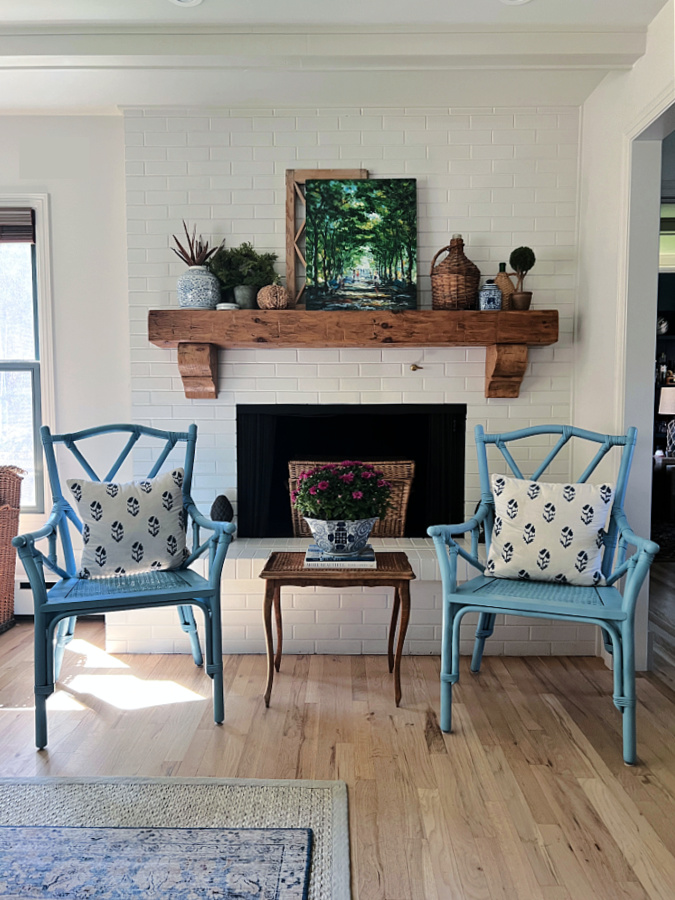 On our mantel in our family room I popped blue in my chairs, pillows and ginger jars. I pulled out some texture and born tones in my wicker demijohns, basket and other small objects. The greens were easy and showed up in the art and greenery.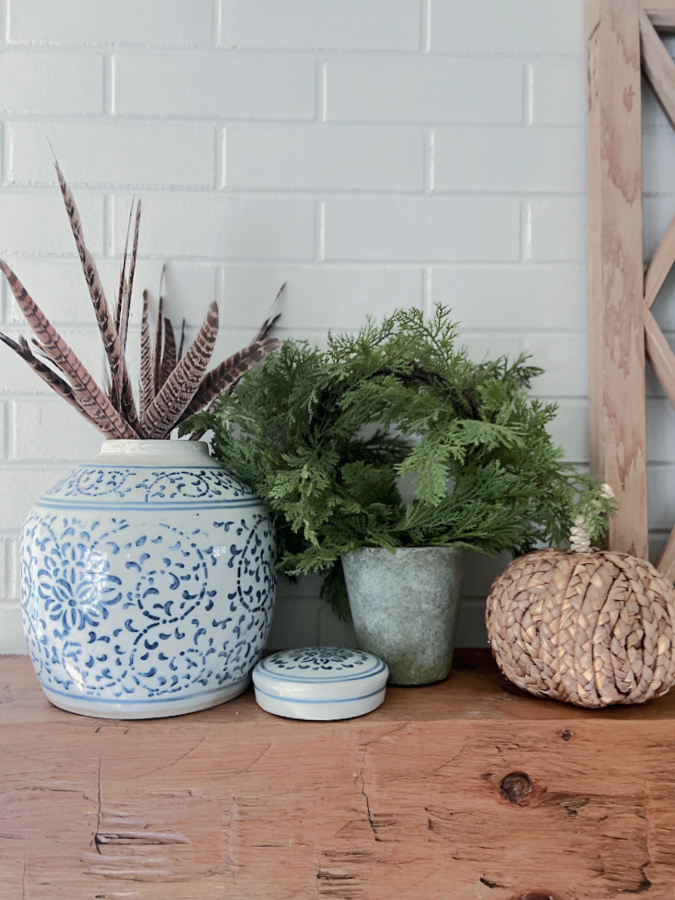 A few natural pumpkins made their way into my Fall decor as well!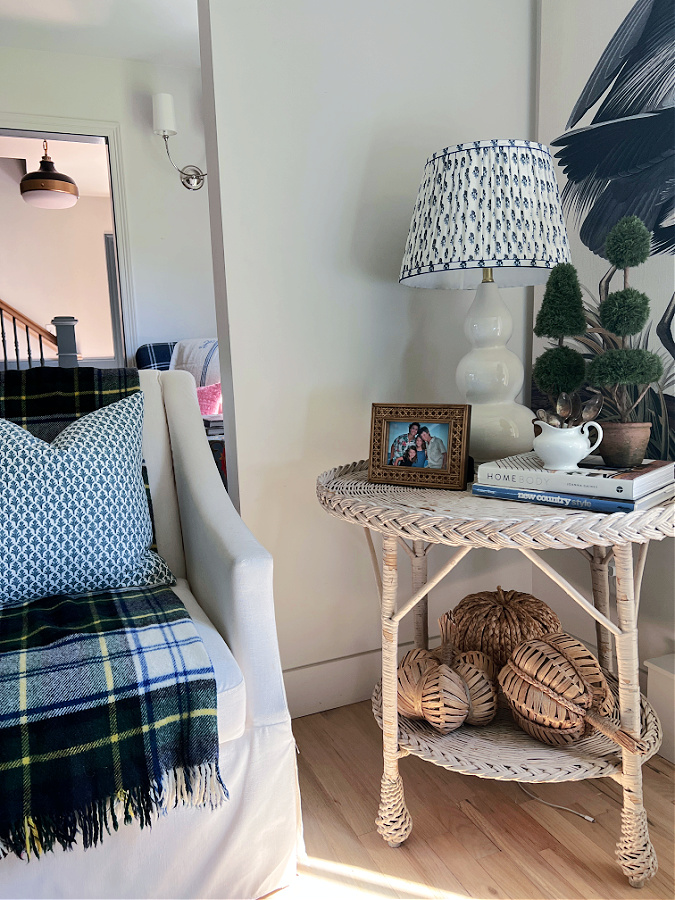 5. Seasonal Table Settings
Add a pop of color to your dining experience by setting a vibrant Fall-themed table. Incorporate colorful table linens, such as orange or deep plum tablecloths or napkins. Consider using decorative autumn-themed dinnerware like plates and bowls adorned with leaves, pumpkins, or acorns to create a festive and inviting atmosphere for your meals.
I used a gingham (paper) table runner and placed a large dough bowl in the center of the table and filled it with colorful and meaningful items.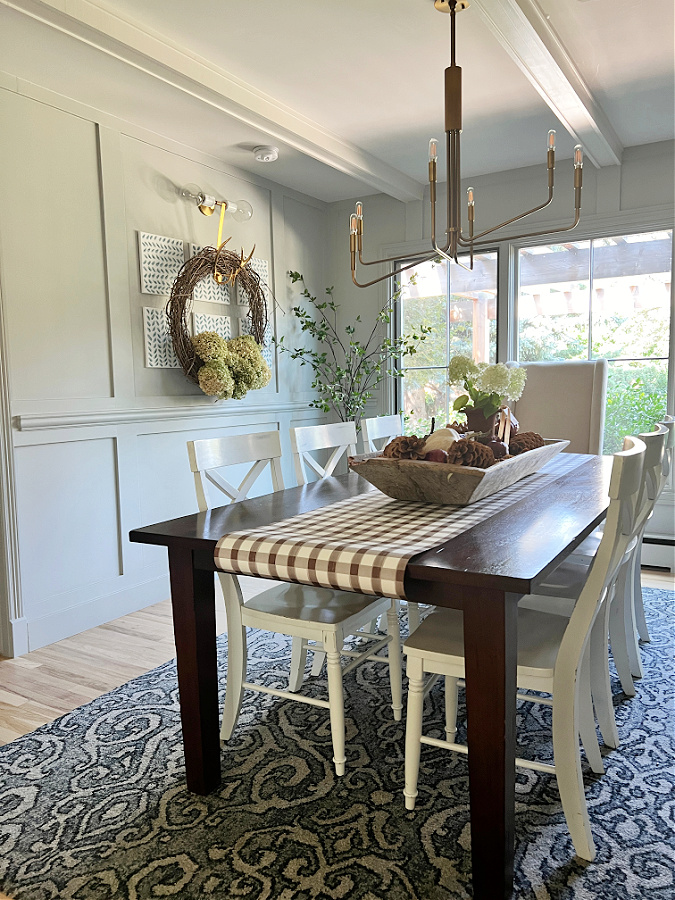 The dough bowl has several sizes of pinecones, a few faux pumpkins, fried pomegranates and limelight hydrangeas.
You might also notice a stack of brown transferware plates, flower frogs and a special olive wood cross, some sea shells. All collections that when paired together say Fall!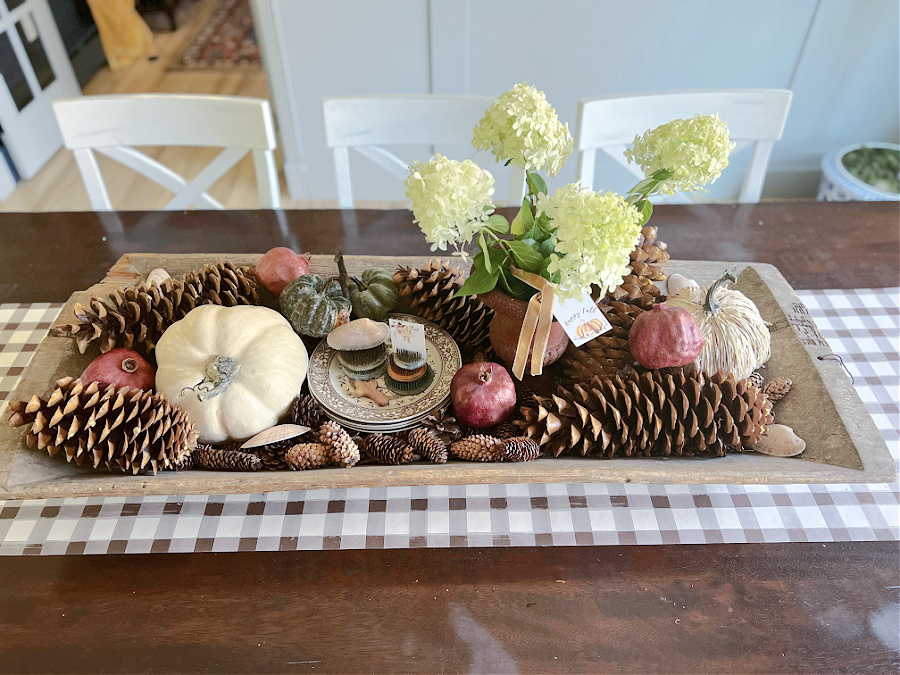 Our dining room is in the middle of a transformation so I kept things simple.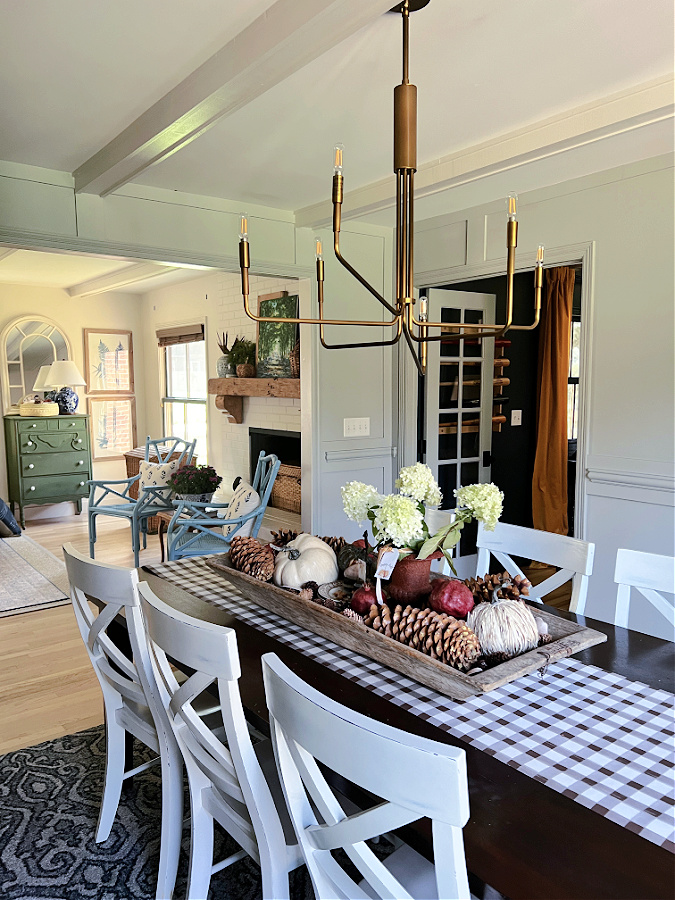 This large wreath needed some fall elements so I added dried hydrangeas to the bottom only. I love the statement it makes!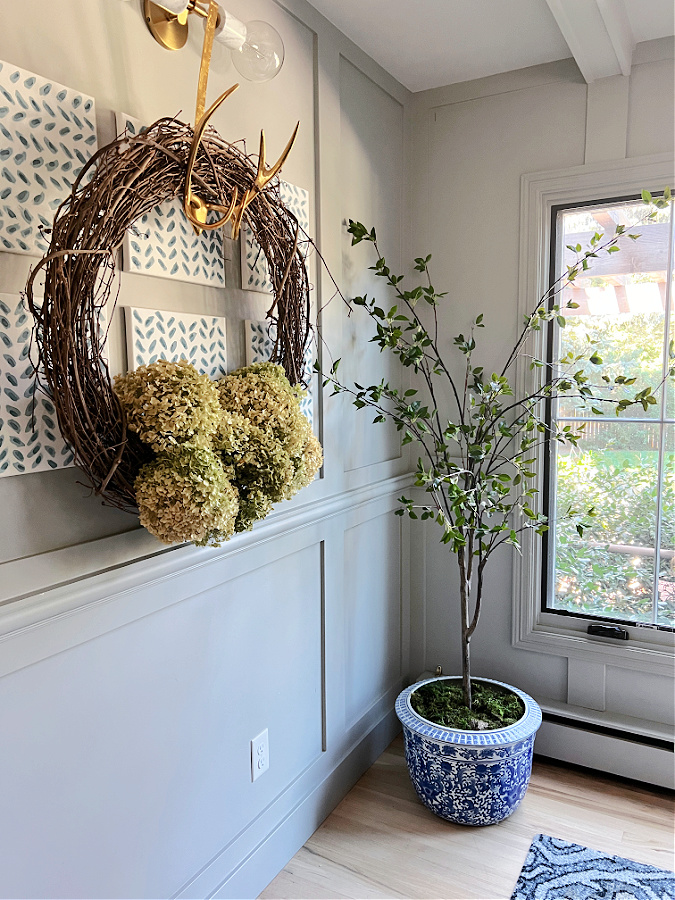 And that's it for today's tour. I hope to share our fall kitchen and bedrooms with you real soon!
Simple Ways to Add Color to Your Fall Decor
Enhancing your Fall decor with vibrant colors doesn't have to be a daunting task. By using these Simple Ways to Add Color to Your Fall Decor, you can transform your living space into a warm and inviting haven that celebrates the beauty of the season.
Whether through artwork, fresh flowers, colorful accessories, or creative DIY projects, the possibilities are endless. So, embrace the rich and earthy tones of Autumn, infuse your home with warmth, and let the colors of Fall wrap you in a cozy embrace as you savor this special time of year. And don't forget to have fun doing it!
Now make sure to stop by my lovely friend Yvonne from StoneGable and her gorgeous Fall decor tour! Then head to the blogs linked below for even more cozy Fall decor!
Shop Our Fall Home

Bloggers' Best Fall Home Tours
This week I am joining some of my blogging friends for the Bloggers' Best Fall Home Tours. Thirty talented and creative women will be opening their homes up for you to tour all week long. You can visit each Fall home tour by clicking the links below.
Monday's Tours

The Tattered Pew // StoneGable // My Wee Abode
Cottage On Bunker Hill // Bricks n' Blooms // My Thrift Store Addiction
Tuesday's Tours

She Gave It A Go // Midwest Life and Style // Open Doors Open Hearts
Peacock Ridge Farm // Cottage In The Mitten
Wednesday's Tours

White Lilac Farmhouse // Shiplap and Shells // The Ponds Farmhouse
WM Design House // DIY Beautify // This Is Simplicite
Thursday's Tours

Eleanor Rose Home // Robyn's French Nest // Worthing Court
Southern Home and Hospitality // Amy Sadler Designs // Our Crafty Mom
Friday's Tours

White Arrows Home // A Life Unfolding // County Road 407
Thistle Key Lane // Pasha Is Home // My Family Thyme
I'd love to have you hang out with me some more! Feel free to follow along with me on any of the platforms linked below.
LTK | Facebook | Instagram | Pinterest | Amazon
xoxo,
Kelly
Did you like this post? PIN it for later!