Colorful Mother's Day Table Settings and Gift Ideas
Mother's Day is just about here and today I am sharing a round up of colorful Mother's Day table settings and gift ideas. I'm hoping to give you some inspiration for that special mom in your life!
Colorful Mother's Day Table Settings and Gift Ideas
Mother's Day is a very special time and of course we all know moms love to be thought of and celebrated! One way our family usually celebrates is to have a special meal together. We love setting a pretty table and we also like to give thoughtful gifts.
I had so much fun looking at pretty tables to share with you all, I know shocking right?! And then I had fun searching for unique gift ideas that you can make at home. My hope is that you will love these ideas as much as I do!
Pretty Table Settings
Let's start with some pretty table inspiration that will have you excited to set your table for that special mom you love!
Robyn, from the blog Robyn's French Nest, has a knack for gorgeous tablescapes. She created this lovely peach themed brunch table setting that would be amazing for Mother's Day!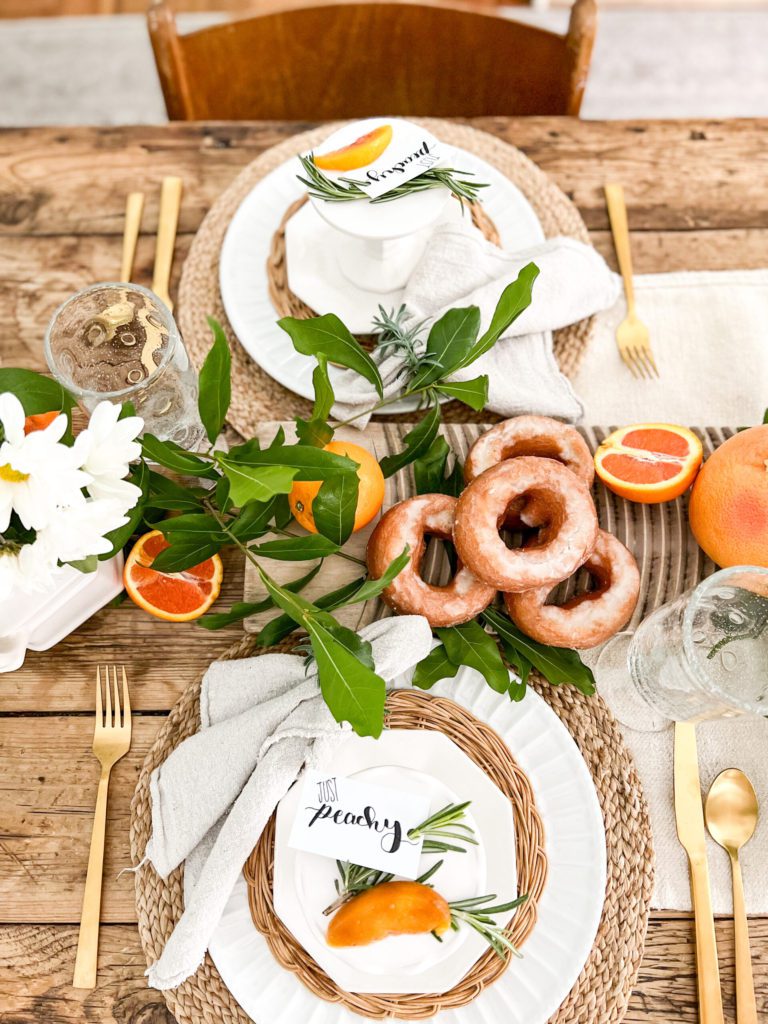 Every single detail of this table from the place settings, to the place cards has love written all over them. I love how she has a neutral table with pops of peach and greens.
And the flowers! Can we talk about these lovely flowers in that beautiful rattan vase? Love!
You can see more of this tablescape here!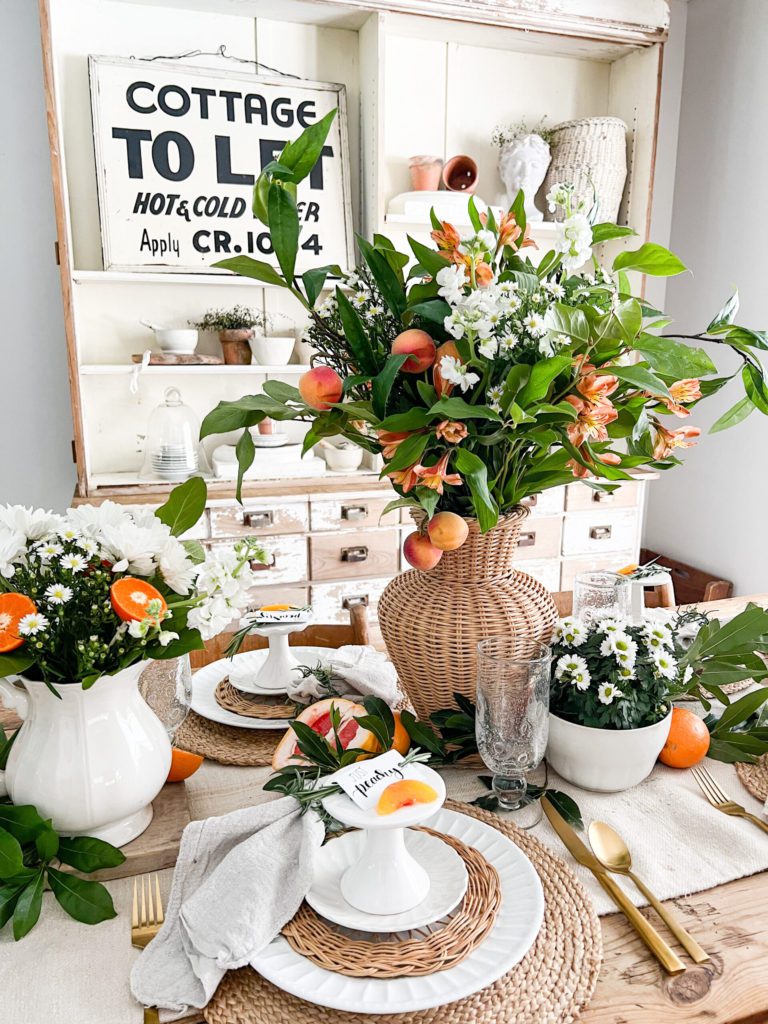 The moment I saw this elegant Spring high tea party from Jen at Midwest Life and Style I was so excited. My family loves tea parties and I am always looking for fun new and creatives was to set our table for a tea party! Wouldn't this be perfect for Mother's Day?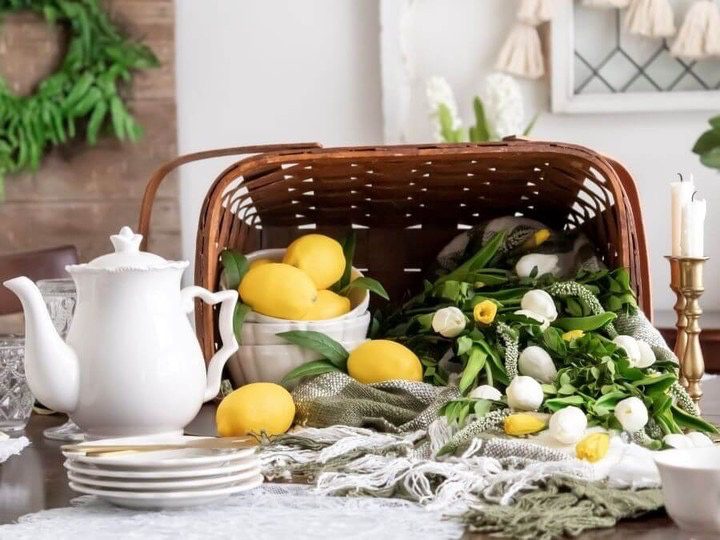 Jen's use of layers, texture, lemons and stunning faux flowers gives me all the feels.
Did you notice the basket being used as a centerpiece? What a fun idea! If you know me I love baskets so I will be trying this idea at our next tea party.
So well done and doable too! See more of this lovely table setting here!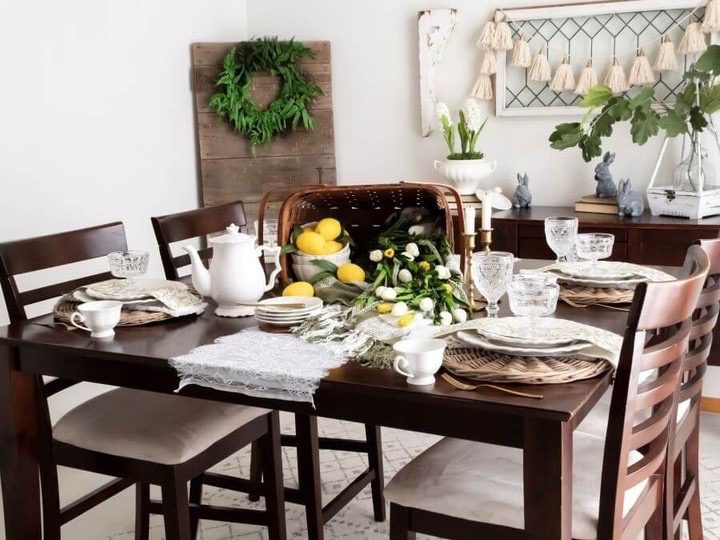 How could you not love this simple centerpiece idea for a party or Mother's Day table from my friend KariAnne of Thistlewood Farms! If you need and want a striking flower arrangement that is both simple and special, this is perfect for you!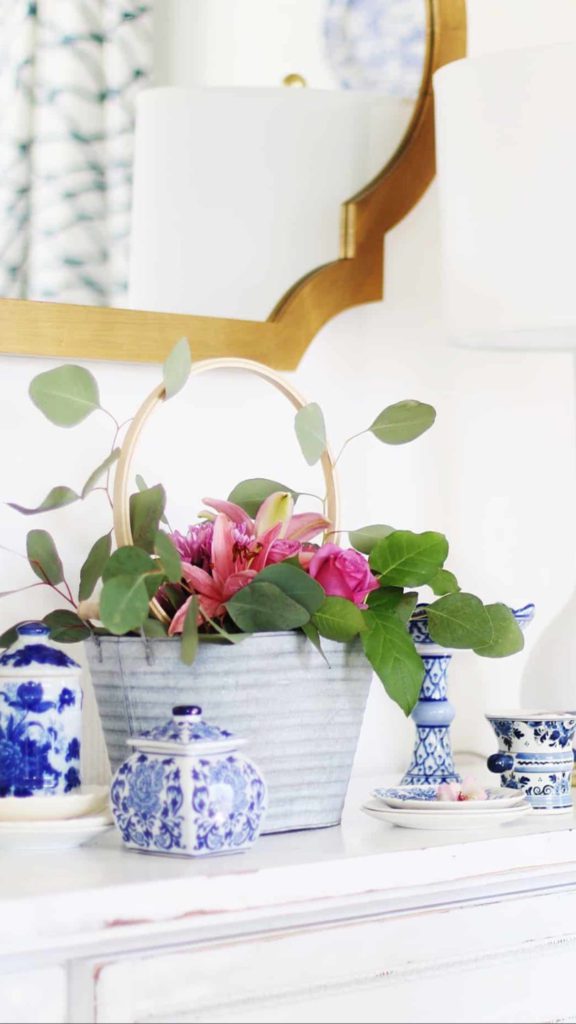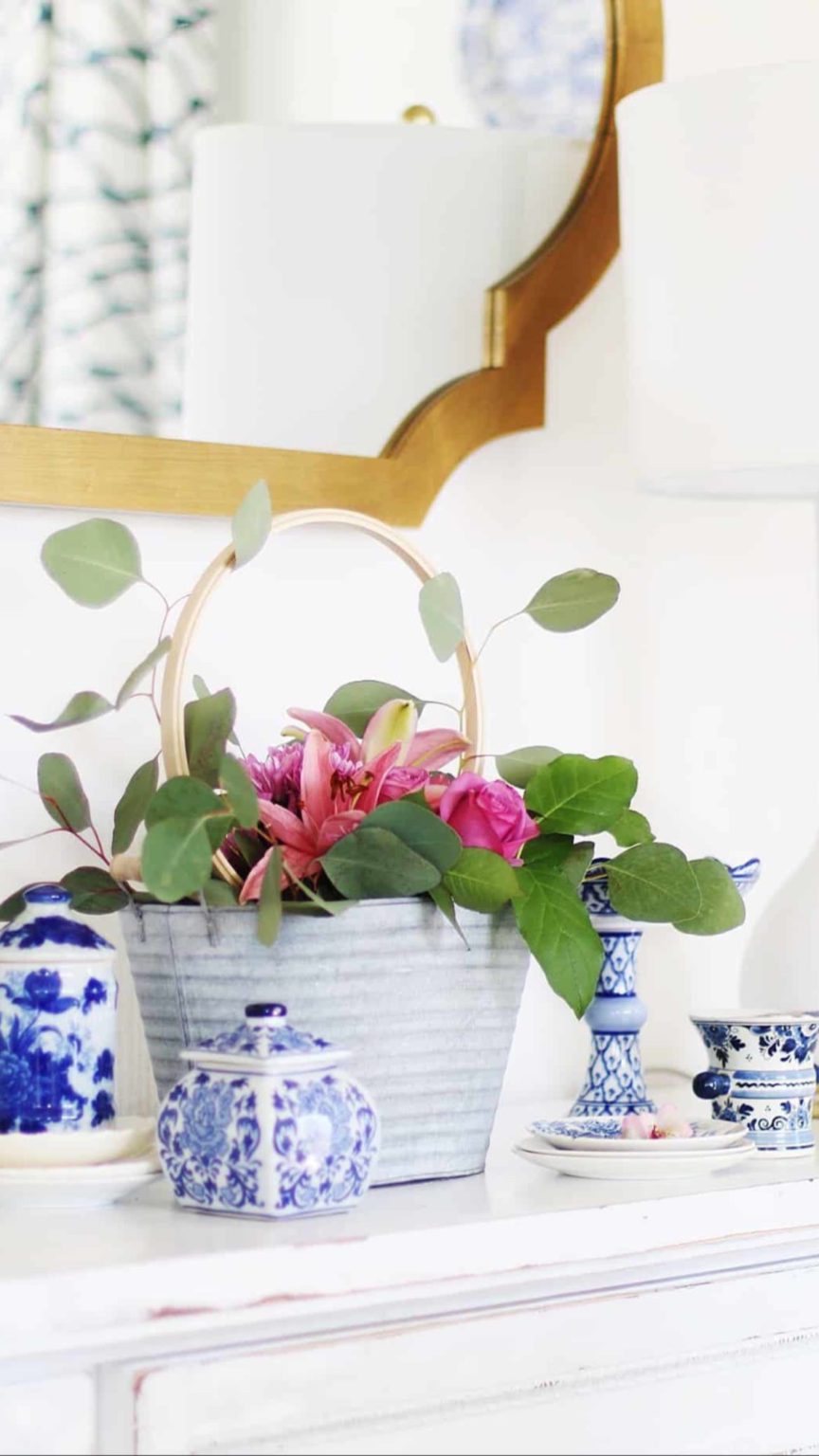 I love how the pretty colorful flowers pop against the greenery! And did you notice that darling embroidery hoop in the middle of the arrangement? Isn't it such a fun way to jazz up the arrangement? It makes it almost look like a topiary! So creative!
Finally the galvanized bucket adds some color and texture and a not to a more casual elegance. I would place bets that any mom would be happy to have such a beautiful display! See more of this centerpiece and tutorial here!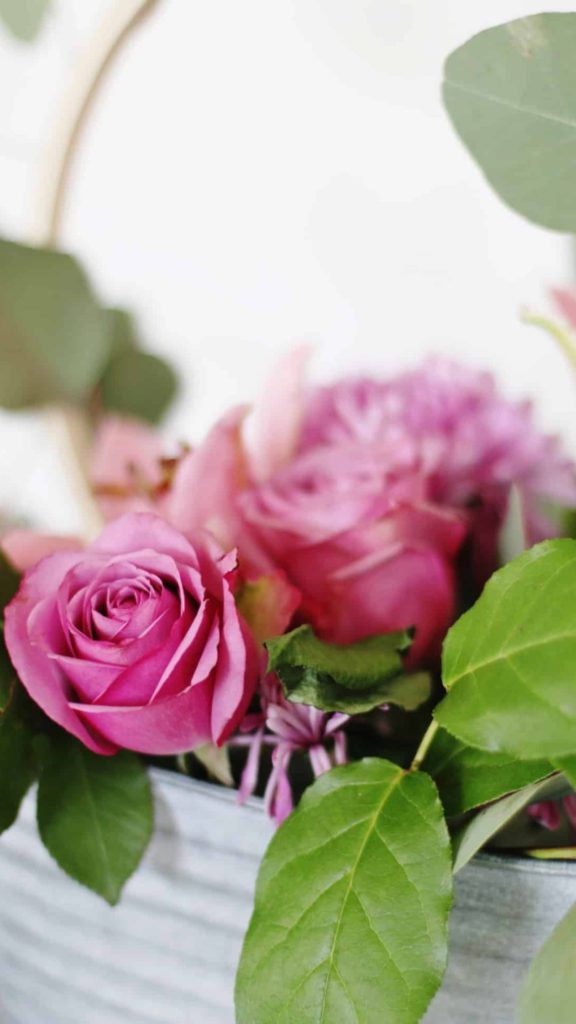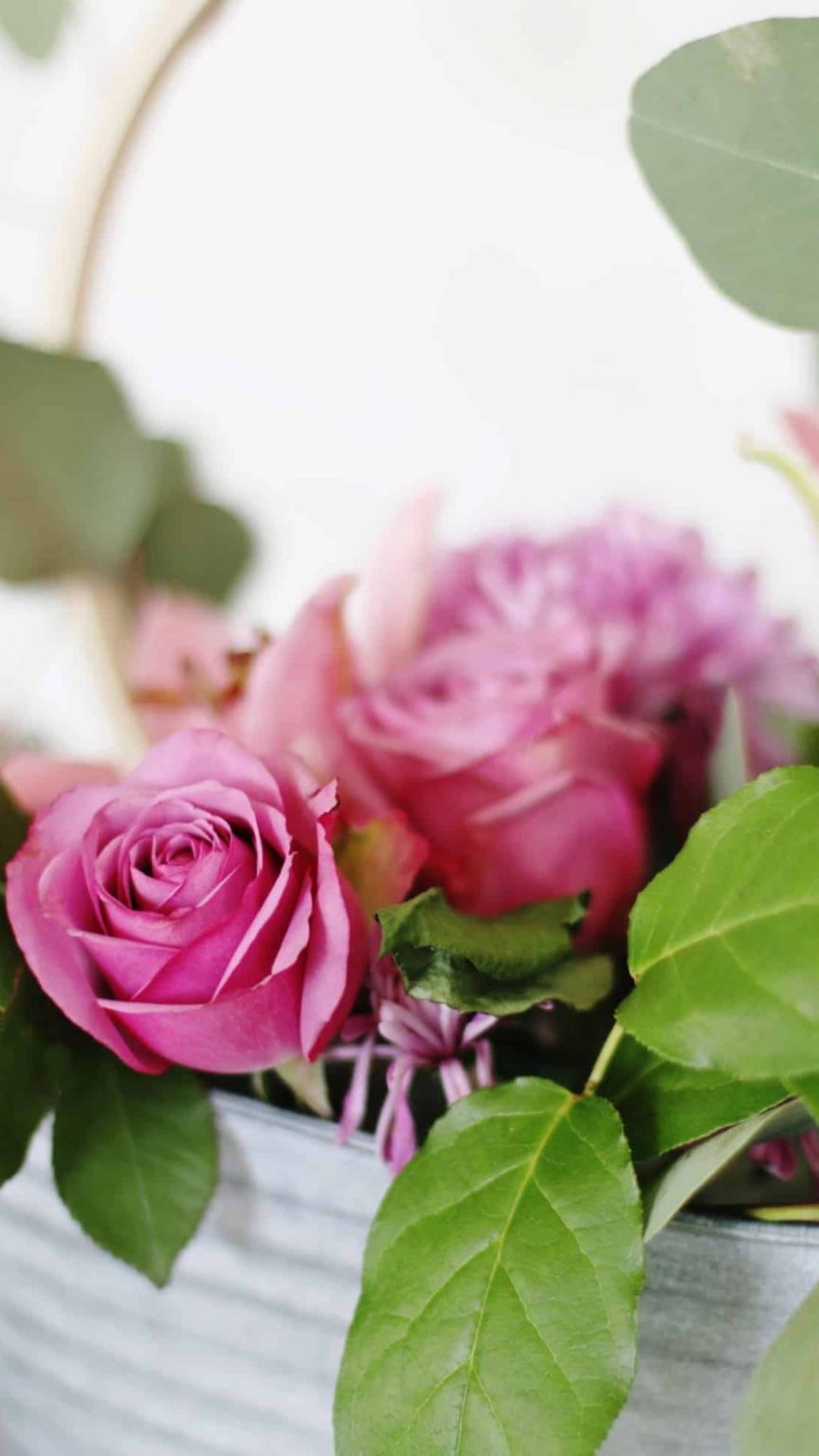 This blue and yellow Mother's Day brunch décor table setting belongs to me! You all know I love me some blue and white and so when my friend Melissa brought me some yellow tulips I knew they would be stunning in the center of my table!
I had fun collecting all of my blue and white ginger jars and even a few from my mom to scatter around the table.
And did you notice the tablecloth?
Well guess what…it's an old vintage quilt! She looks perfect with the yellow tulips doesn't she? This was a special Mother's Day table and if you want to see more of it you can visit the full post here.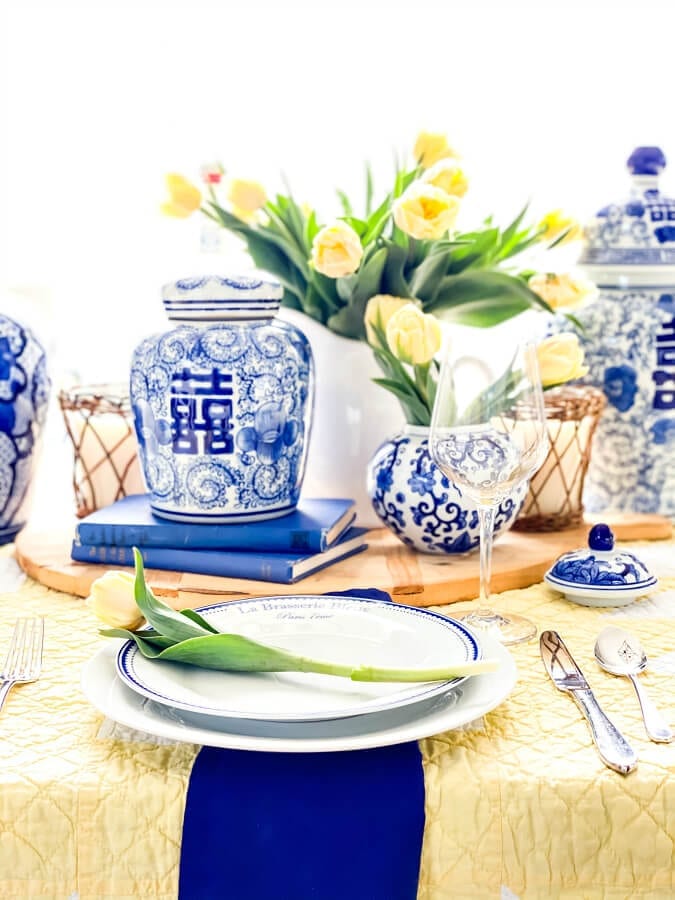 Colorful Mother's Day Gift Ideas
Now for a few colorful Mother's Day gift ideas that are handmade! These next two ideas I fell in love with because they were both unique in their own way.
If you love a good gift basket then this post from Jen at tatertots & jello on Mother's Day gift Basket ideas will be right up your alley! She has included printable gift tags as well as the recipe to a DIY limoncello sugar scrub.
What mom wouldn't want to be pampered with a basket full of your favorites and spa goodies?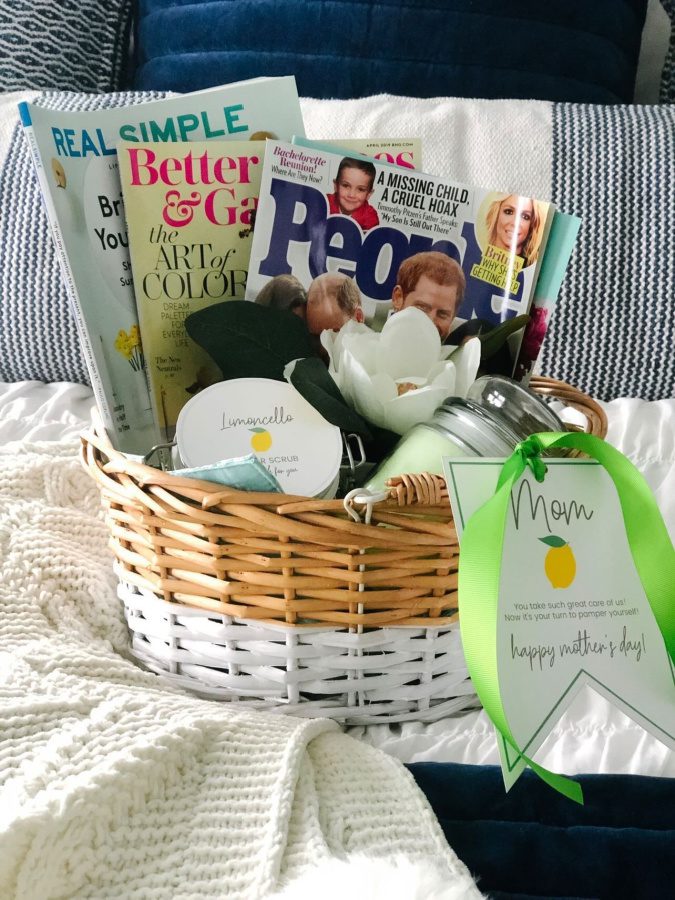 I love how Jen's post breaks down all of the ideas for the perfect Mother's Day gift basket.
Plus, I am a sucker for pretty and free printables. I mean who isn't?!
I think I might just try making her limoncello sugar scrub for my own mom. We are both fans of anything limoncello! You can read more of this beautiful gift basket post from Jen in more detail here!
This final Mother's Day gift idea is homemade bath bombs with a vintage twist ! Emily from the blog My Weathered Home shows you how easy it is to make bath bombs at home.
Her step by step direction have me wanting to give these a try and share them on not only Mother's Day but maybe teacher appreciation, Christmas and other holidays as well! I swear I can already smell them!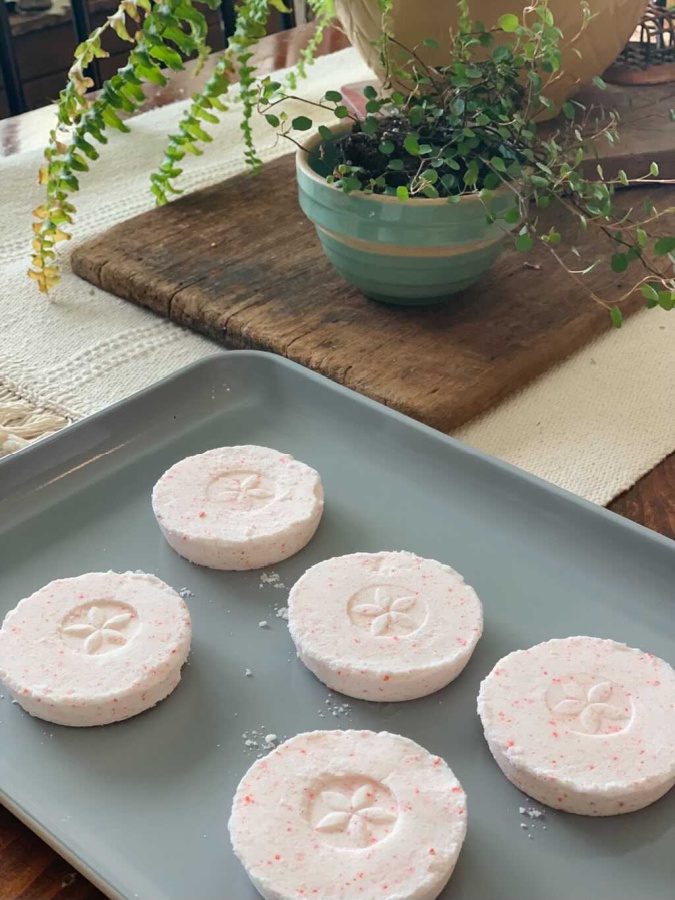 Emily added some vintage flair by stamping her bath bombs with a vintage butter mold!
Ok, how cool is that?
Not only is she creative but she has made her gift special and custom. I love these and can't wait to try this idea.
To read her full tutorial and to learn how to make these yourself, visit her full post HERE!
Colorful Mother's Day Table Settings and Gift Ideas
My hope is that a few of these Mother's Day table settings and gift ideas have inspired you to bring some color and love to you this upcoming special holiday. Whether it be your mom, step-mom or motherly figure in your life being able to shower them with thoughtful gifts and special memories is always the best!
How are you celebrating this weekend?
xoxo,
Kelly