Blue and Yellow Mother's Day Brunch Decor
Make your Mother's Day one to remember with this beautiful blue and yellow brunch decor featuring stunning fresh tulips!
Blue and Yellow Mother's Day Brunch Decor
With Mother's Day quickly approaching, and me needing to exercise my decorating muscles, I decided to create a new tablescape! It all started when my friend Melissa of Blooming Betties, dropped off some gorgeous yellow tulips on my porch. The minute I saw them I knew they would be beautiful mixed with blues and whites! I was right, and this might just be my all time favorite tablescape to date and perfect for any spring or Mother's Day brunch!
*This post contains some affiliate links for your convenience. Click here to read my full disclosure policy.
I'm so glad you have stopped by today! If this is your first time visiting welcome, I am Kelly from Colorado. This blog is all about DIY and home decor for real people. I'm a wife, mom and kindergarten teacher who loves to decorate! Today I am joining some blogging friends for a Mother's Day Brunch Ideas blog hop hosted by Mansa, of This Is Simplicite. If you are coming over from Brittany of Vintage Society Co, welcome! Don't her French crepes look amazing? I will be passing her recipe on to my husband and kids to add to my Mother's Day menu!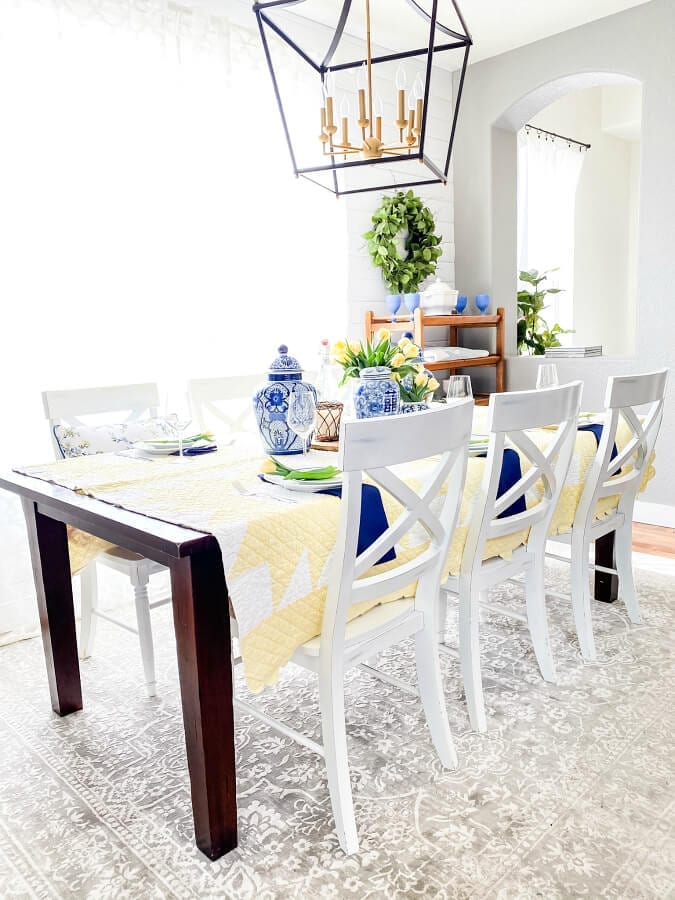 Setting The Table
I love creating beautiful tables for celebrations or parties! This is where I get to mix and match and use pops of color how ever I want! There is something so enjoyable about shopping your home and creating a beautiful setting in such a short amount of time.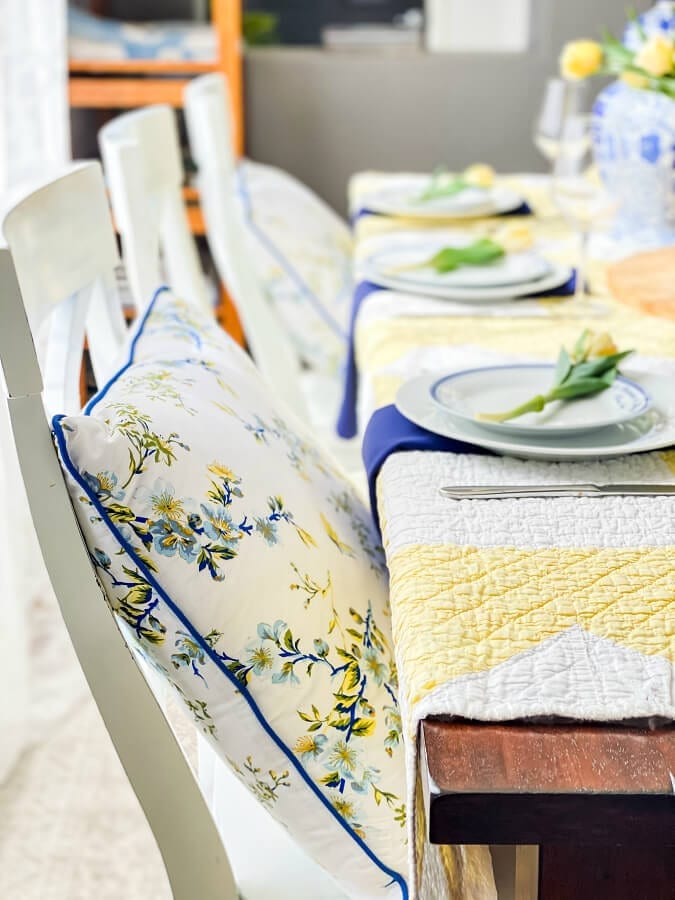 Blue and Yellow Brunch Decor
When creating a tablescape I always like to start with the base. In this case I used a gorgeous vintage yellow and white quilt of my mom's. I was nervous that it would take away from the yellow tulips but I was wrong…the moment I placed it on the table I knew it complimented them perfectly. I love how unexpected it is!
TIP: Don't be afraid to try something other than your normal tablecloth. Some ideas I've used before include quilts, bedspreads, blankets, craft paper, etc.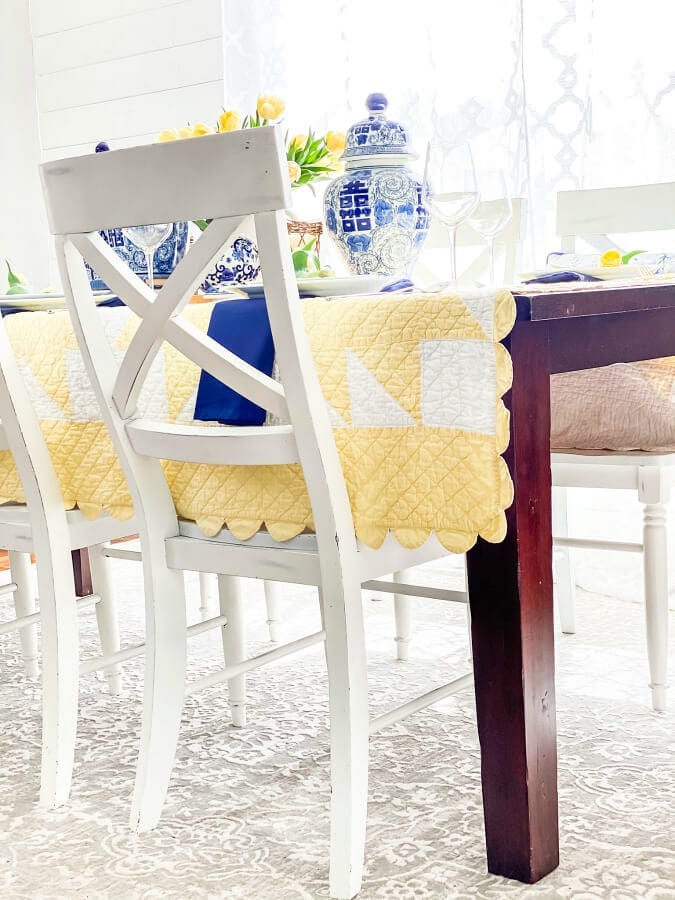 Aren't the scallops so sweet?
The floral pillows were found at Marshall's and are from April Cornell! I love how they pull out all of the colors on the table.
Shop The Post

The Centerpiece
For me creating the centerpiece is where I get to play with adding decor to my table! I mentioned this above but shopping your home is one of my favorite ways to save money. Since we are sheltering in place this was a perfect option while running out to buy new things to decorate with was not. Luckily, I also have a nice mother who is willing to drop off a few items for me to use as well!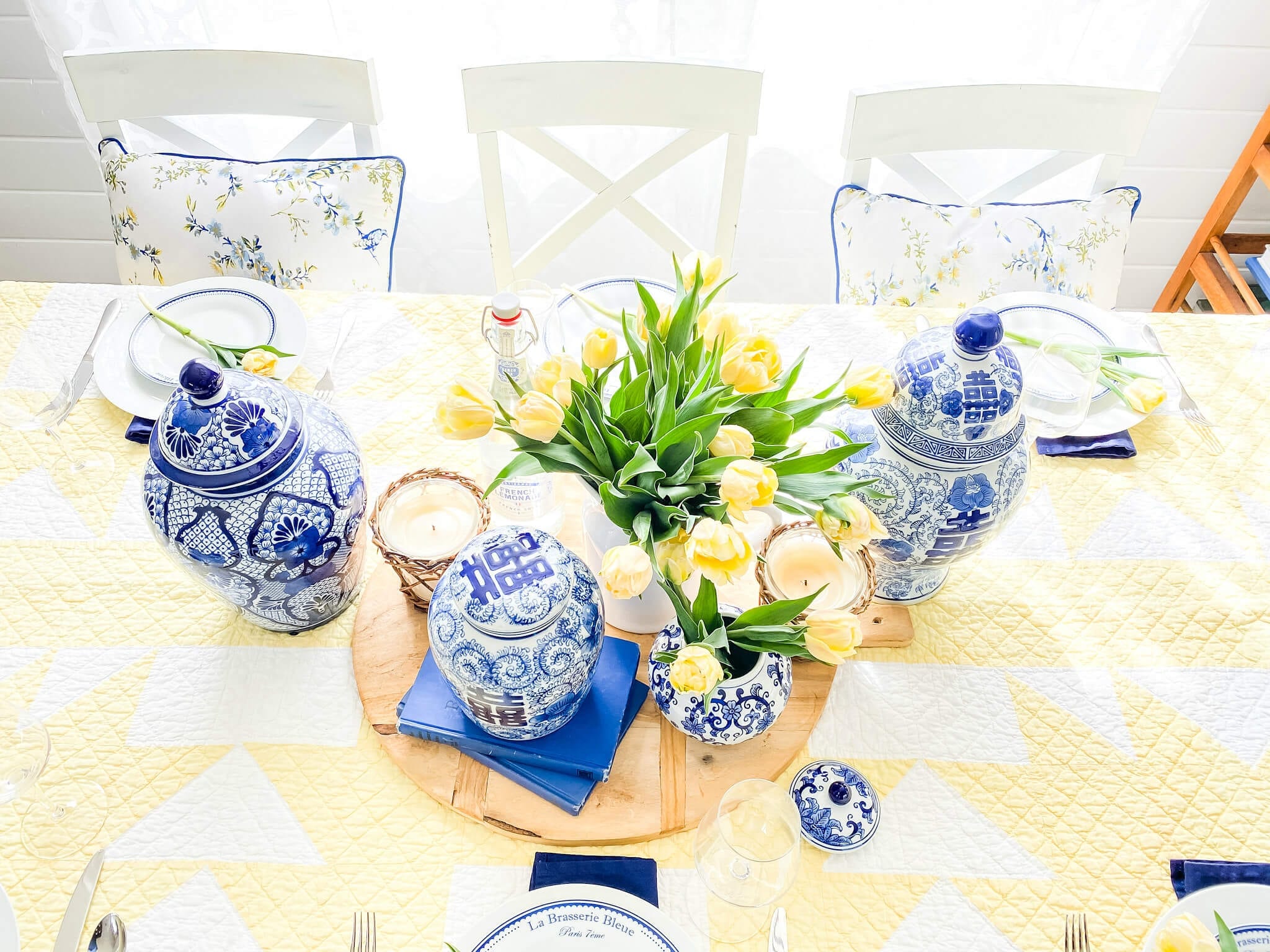 Why is it that flowers always make everything better? A good starting point for any centerpiece is always flowers. The more colorful the better! These yellow beauties from Blooming Betties are real. But, I have been known to use faux flowers on occasion and always love how they look. Don't be afraid to mix it up or even combine real with faux.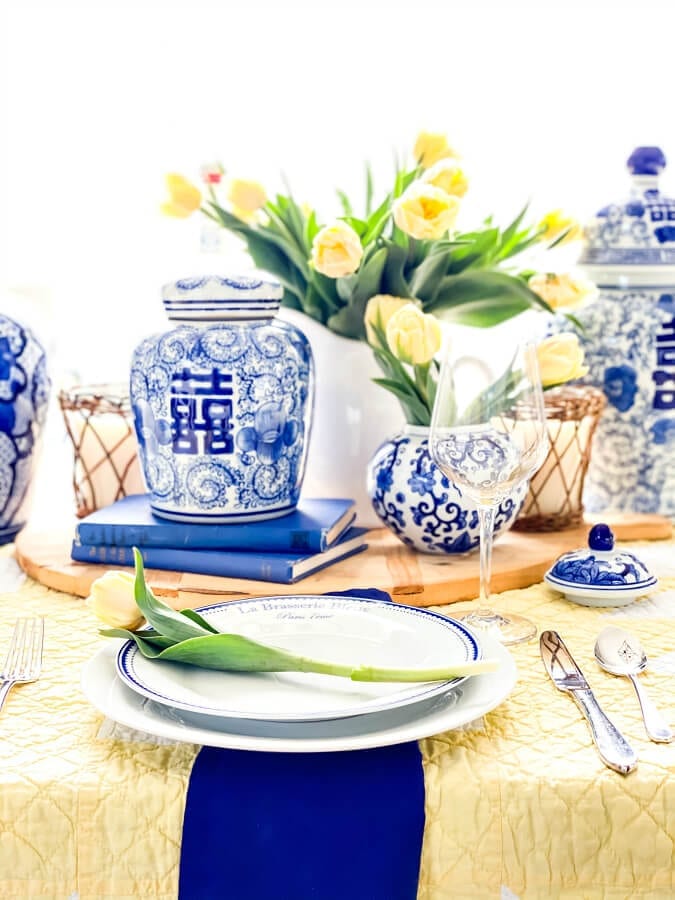 I started building my centerpiece with the tulips in the white vase and then added the variety of ginger jars. The little blue and white jar I scored at Hobby Lobby on clearance. Adding three tulips to it draws your eye to all the details! The wicker candle holders are my mom's and add that perfect touch of pattern and texture that this table needed.
TIP: Visit my Mother's Day gift ideas post to see how you can add Blooming Betties flower subscription as a gift to yourself, or that special mom in your life!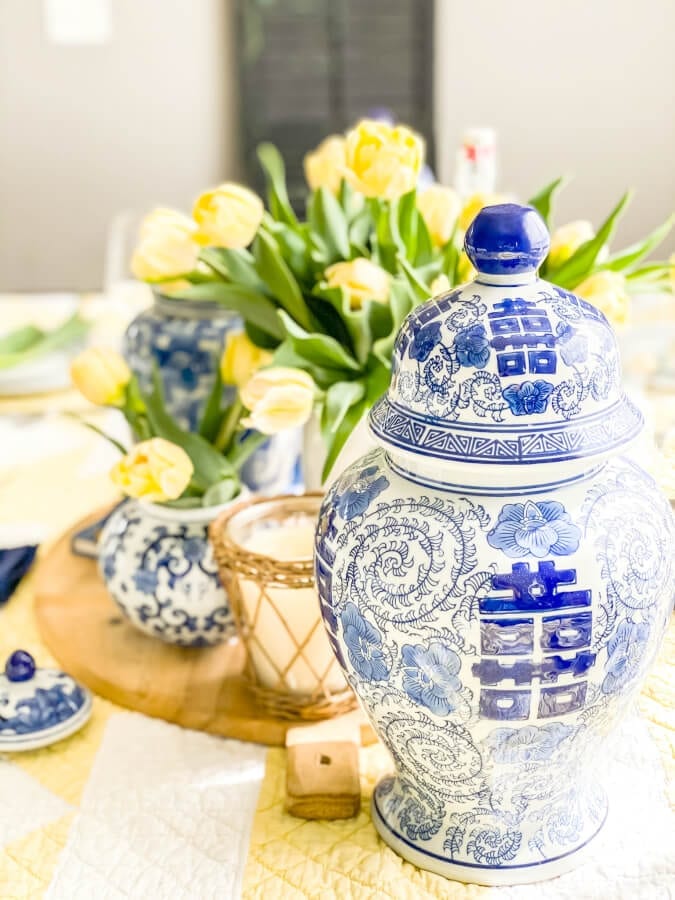 Flowers and Plates and Books
All the little details from the flowers, to the plates to the blue books tie in the colors for this pretty table. They add that special thoughtful touch. My wood bread board serves as a great base and adds that natural element and adds a casual yet classy touch to the table.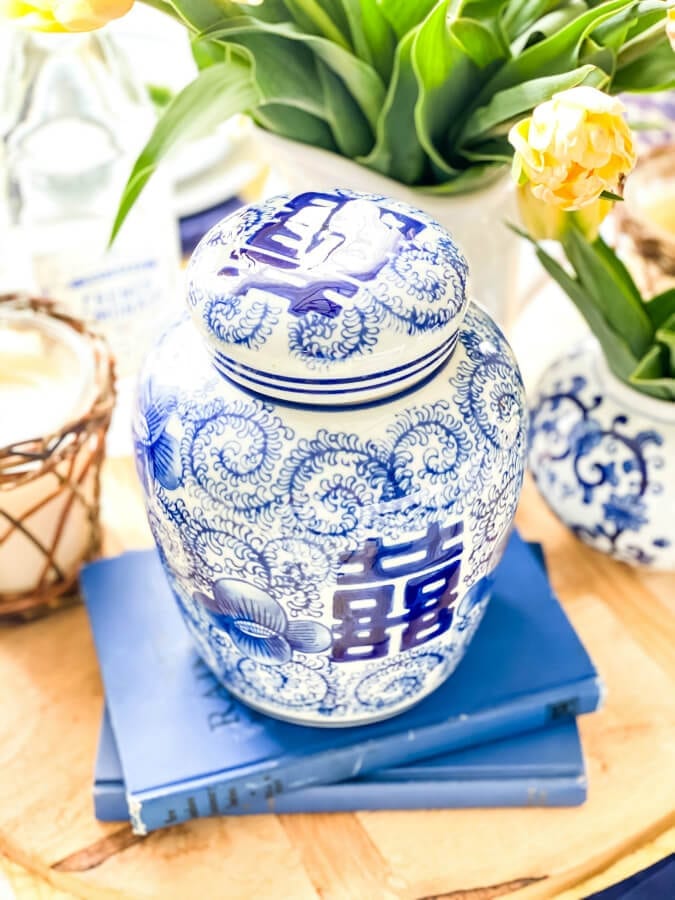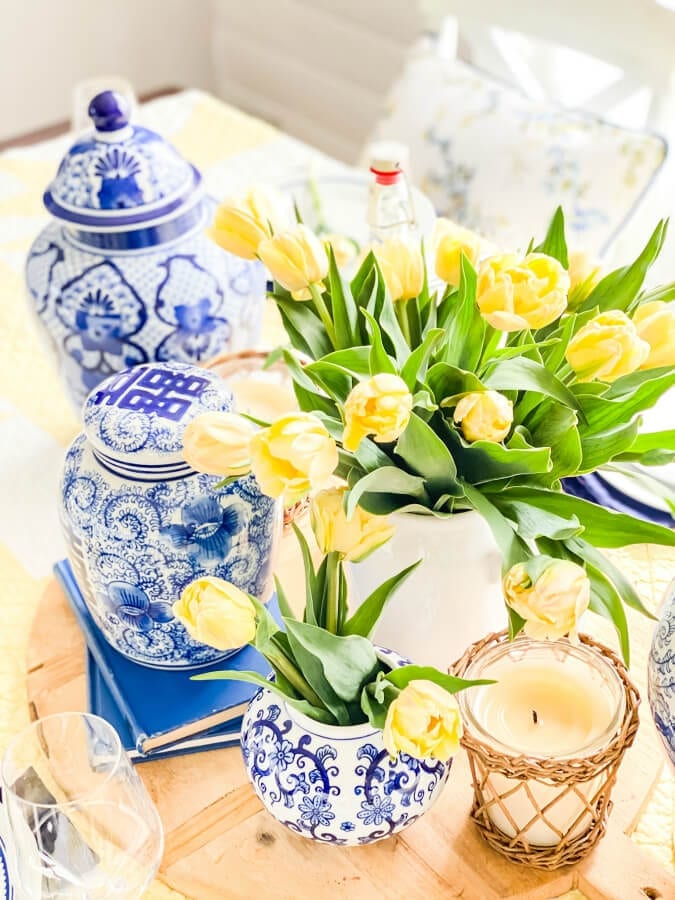 Mother's Day Brunch Decor
Thanks for stopping by today. I hope you enjoyed my blue and yellow Mother's Day brunch decor. As a mom, step-mom and daughter, I know things will look and feel a bit different than usual this Mother's Day due to our present circumstances. My goal is to still make this day special and celebrate those I love even if it is from afar. If you enjoyed visiting today I would love for you to subscribe and come say hi over on Instagram, Pinterest and Facebook!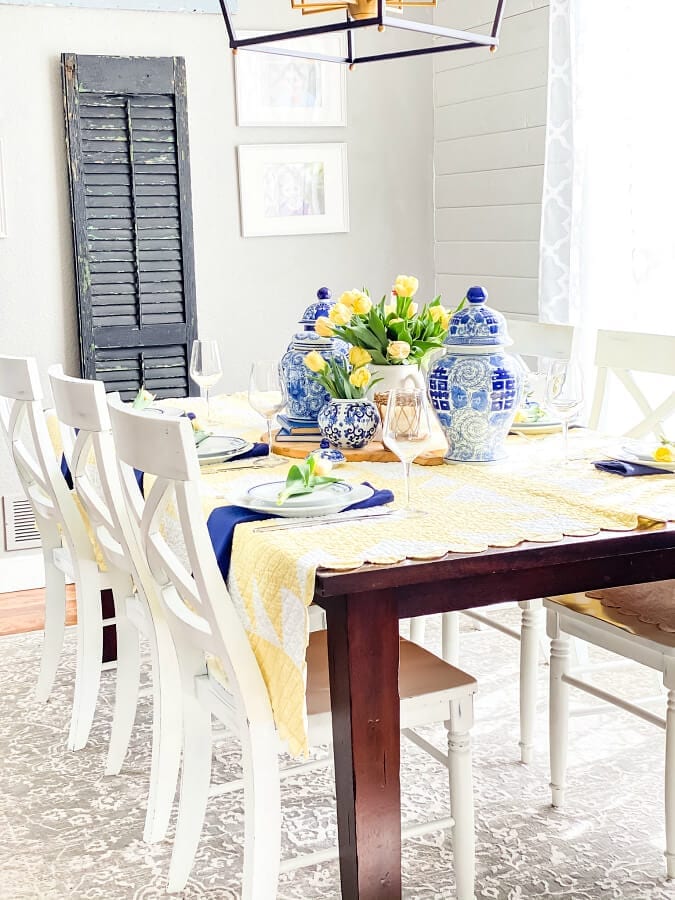 Next up on the blog hop is Lucy, from Craftberry Bush. Make sure you stop by and see her fabulous mimosa gift basket! It is stunning and just perfect for Mother's Day. Then scroll down to see who else is sharing with me today as well.
To all my mama friends, my prayer is that you will feel loved, celebrated and special this Mother's Day!
xoxo,
Kelly
Make sure to also visit the other ladies sharing with me today…


Did you like this post? PIN it for later!