6 Festive and Stunning Christmas Tablescape Ideas
Who is getting ready to host family or friends this holiday season? Have you given your table any thought? With Christmas just being a little under 2 weeks away I am preparing to host our family on Christmas day and gathering inspiration. Of course I thought you might need some too! So today I am sharing 6 festive and stunning Christmas tablescape ideas that inspired me this year.
6 Festive and Stunning Christmas Tablescape Ideas
Each Christmas we host both sides of our families on Christmas day for lunch. With so many of us getting together, we keep it very simple and I serve taco soup. Despite being very casual it is actually one of my very favorite Christmas traditions. And even though our menu is not fancy I still like to set a pretty table. So I am constantly looking for inspiration.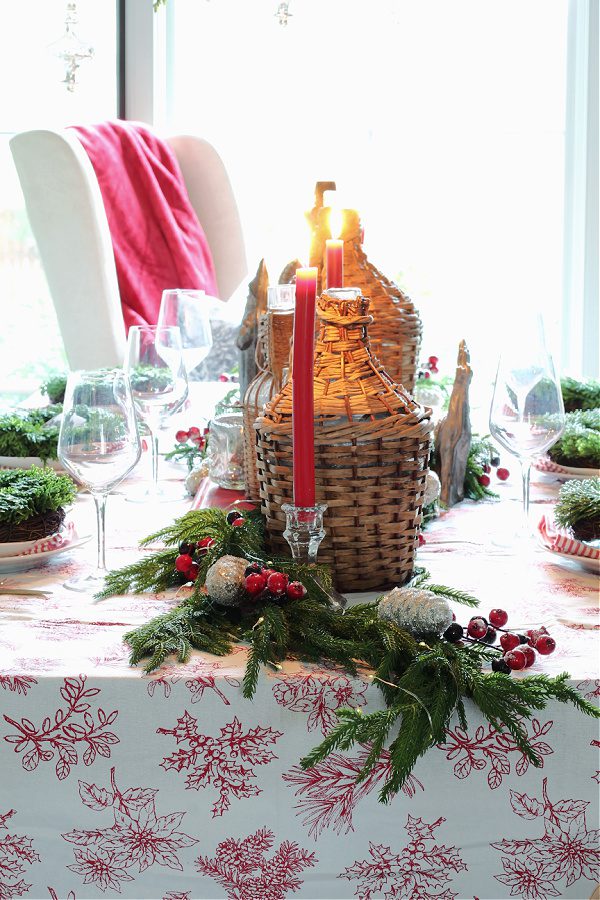 Below you will see what I came up with for this year in our new dining room. It turned out better than I had hoped!
I have also been doing some browsing over on Pinterest, Instagram and other blogs. I love to be inspired and to think outside of the box and I can't wait to show you what I found. Each of the different Christmas tables shared below will do just that, inspire you hopefully in one way or another!
I have listed them out in no particular order and can't wait to see what you think!
The first table I am sharing is actually my own. Would you believe that this is the only Christmas table that I have ever formally set and shared here on the blog? It kind of surprised me too! I was looking back at older posts to share and the only other Christmas tablescape I have shared was a kids table. All that to say I had a lot of fun putting this table together. I stuck with a traditional color pallet and added pops of of color with greenery and mercury glass accents. But my favorite part is the tablecloth! You can see more of my table here!
This elegant tablescape is from Robyn's French Nest. Robyn is the tablescape queen and in this post she breaks down how to set your table in 3 easy steps. I am in love with her greenery and touches of brass. Don't you just love her vintage horns? Her cozy and collected elements make this table perfect for Christmas and is full of so many great ideas that I can't wait to try! You can see more of her table here.
Jen from Midwest Life and Style sets a beautiful Christmas table! She had me at blue, green and of course plaid! Since Jen is an event planner she has all the secrets to setting the perfect table and I always find inspiration galore on her blog! When you visit her post and take in all of her thoughtful details don't forget to look up…above her table she has created a magical eye catching detail that you have to see for yourself! You an see more of Jen's table here.
4. Holiday Dining-Simple Christmas
Sarah from Dreaming Of Homemaking just moved into a new home and it has been fun to see her add her stamp to it! Her simple Christmas dining room is classy and timeless. I love how she added the hanging stars and has a Christmas tree in her dining room. So many fun details from the place setting to the greenery, but her Christmas tree and large o holy night sign are my favorite parts! You can see more of Sarah's table here.
I have this thing for black accents and Carissa of the blog Bless This Nest does it so well. I love the black plates she used and her open shelving has me swooning too! One great takeaway from this gorgeous Christmas table is how the wreath on the window plays off of the garland on the table. They compliment each other so well and I have to say I am totally digging her full garland. This casual Christmas table setting is so lovely! You can see more of Carissa's table here.
Leanna shares how to mix plaid, gold, velvet and of course some twinkle on her romantic Christmas table! Her table is full of tradition and her use of hymns on her layered plates (love the plaid ones) is such a sweet touch. Don't you just love her use of texture too? From the greenery to the chunky knit throw to the fabric she used for the runner…it's all so beautifully pieced together. And I spy another Christmas tree! I'm thinking I need one in our dining room next year. You can see more of Leanna's table here.
Festive and Stunning Christmas Tablescape Ideas
I swear I could look at Christmas inspiration all year long and actually, if I'm being honest I really do! Ha! If you follow me on Pinterest you know it's true. 🙂 After checking out the 6 tables above I would love to know which one or ones you are loving? Any particular details you are being drawn to? Please share your thoughts with me in the comment section below!
I want to wish you and yours a very Merry Christmas and happy table planning friends!
xoxo,
Kelly