How To Make A Flower Arrangement In A Basket
Learn how easy it is to make a flower arrangement in a basket! Plus learn my secret tip for making it last longer.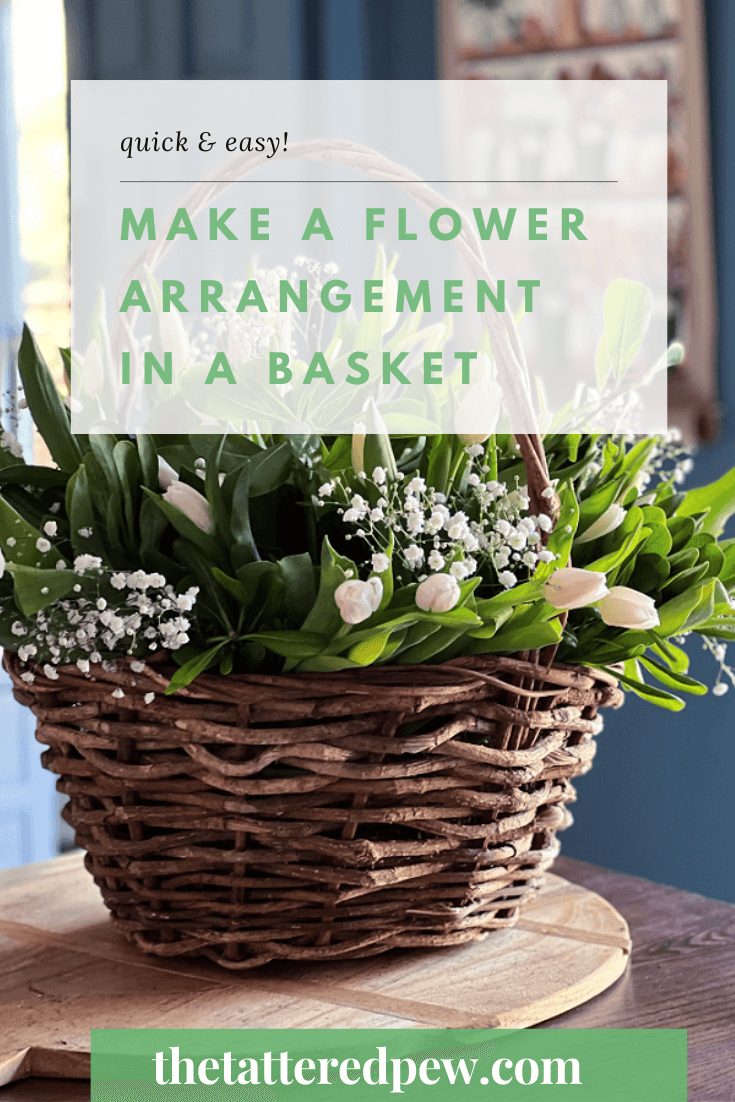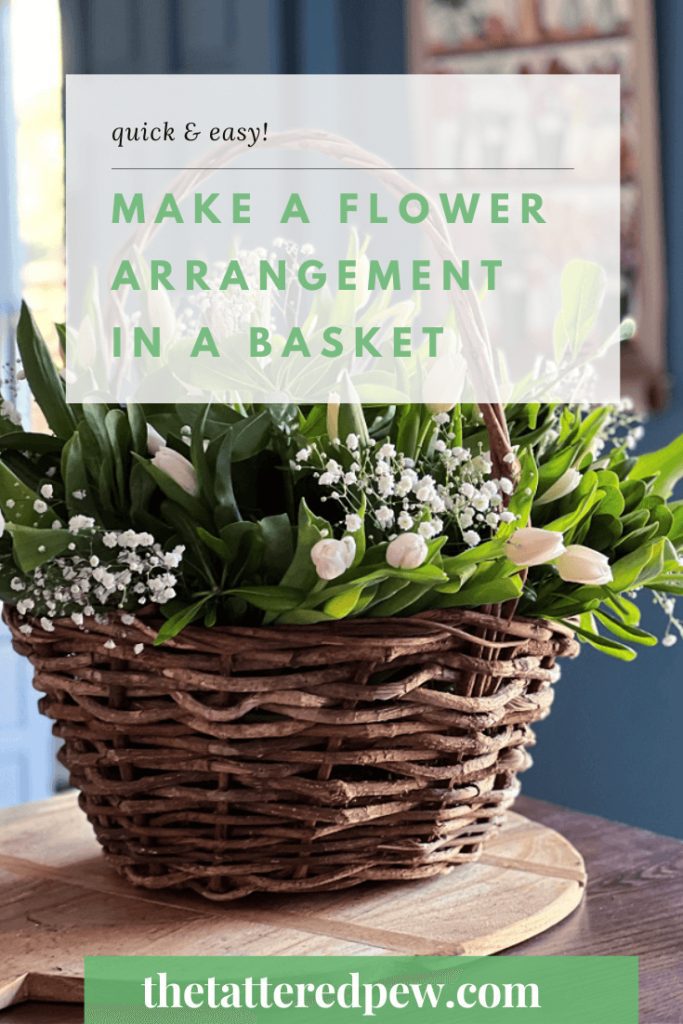 This post contains some affiliate links for your convenience. Click here to read my full disclosure policy.
Get Ready For Some Spring Décor Inspiration
Today I am joining some lovely friends for a Spring Décor Inspiration blog hop hosted by Pasha of Pasha Is Home.
If you are hopping over from my talented friend Kristen of White Arrows Home, Welcome! Didn't you just love her Spring decorating ideas with thrifted milk glass?
I'm Kelly and I'm so glad you are here to hang out with me. I have a very simple DIY that will have your family and friends asking if you are a professional flower arranger!
How To Make A Flower Arrangement In A Basket
Friends this is hands down one of the easiest flower arrangements that I have ever put together! And it might also be the prettiest. (I promise I'm usually humble!)
And it all starts with the flowers.
My number one tip is to source cheap flowers. And my go to spot is always Trader Joe's or my own yard!
And to make your arrangement look more professional I always suggest sticking with a monochromatic color scheme of flowers. They can be a variety but they should all coordinate! (all pinks, all yellows, all purples, etc.)
I went for all white flowers with pops of greenery. These gorgeous creamy white tulips from Trader Joe's were calling my name!
Find Your Basket or Container
Once you have your flowers selected then you will want to find your container. This is what makes your arrangement special! I found this huge basket at a flea market last Spring and have always wanted to put flowers in it.
BONUS: By selecting a basket for your flower arrangement you will be able to easily move your arrangement from place to place!
How Do You Display Flowers In A Basket
So many people were wondering the best way to display flowers in a basket. The easiest way I have found is to set a bowl in the bottom of the basket.
This bowl will hold the water and the flowers so your basket will not get ruined. Plus, most baskets won't hold water obviously, so the bowl is the perfect option if your basket is round.
Your flowers will flop in a bowl unless you use the criss-cross tape method. This supports the stems and helps your flowers look visually proportioned in your vessel and allows the display to work.
After you have the tape on and bowl in place add your water before you add your flowers.
How Do You Make A Simple Flower Arrangement
Start with your base layer of tulips and greenery and build from there.
Make sure to cut off a few inches off your flower stems at a 45 degree angle. This will allow your flowers to soak up more water as well as help them fit in your container!
You can see in the picture above and below that the first layer of tulips and greenery simply lay on the basket. This will give the arrangement a fuller look as you work your way up and in.
Next, I grabbed 3 stems and poked them in to each space. This allowed them to fill the space and stand up in the squares created by the tape!
I would do tulips and then greenery and finally add the baby's breath in last to fill in the gaps. I repeated this until my basket was full and I was out of flowers.
Make sure to spin you basket around to see it from every angle so you can fill in any gaps!
Remember, there really is no wrong or right way to add your flowers. Take your time, have fun and enjoy the process. This should be fun and something you feel proud of when you have finished. If it's not, start over and try again!
Basket Flower Arrangement Ideas
There are so many great flower arrangement ideas and I am always looking for new and unique ways to display flowers around my home and if you know me you know I love baskets. Here are some other ideas for flower arrangements in baskets:
Try adding flowers to a hanging basket on your wall.
Grab an old picnic basket and fill it with vases of flowers.
Find mini little baskets and fill them with flowers and set them at an individual place settings at your table.
Fill a rattan basket/bag with flowers and hang it on a wall or door like I did in our bedroom.
Look for unique baskets at flea markets, thrift stores, garage sales or Etsy!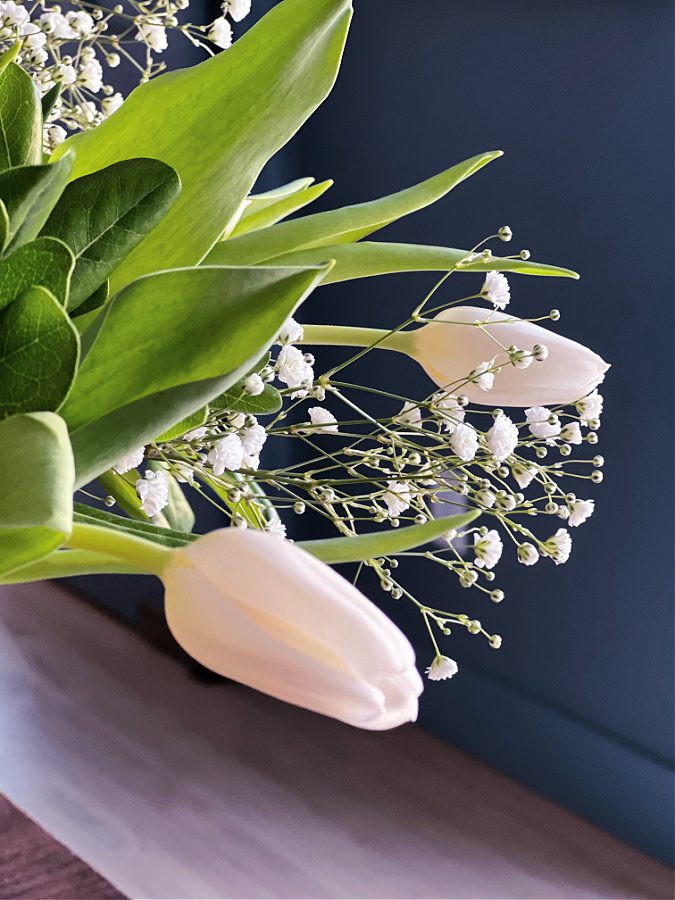 How Do You Keep Flowers Fresh In A Basket
Now that you have your gorgeous flower arrangement completed you will want to keep it fresh!
I have a little secret that I always add to my tulips. Want to know what it is?
It's a penny!
Yep! They say the copper in the penny is a fungicide and kills bacteria that grows in the flowers or water and can shorten the life of your stems. The copper prevents the bacteria and helps the tulips last longer.
Some people think it helps the tulips from drooping but I'm not convinced! Really they just need more water as they are thirsty.
Of course you must make sure to add fresh water daily.
Displaying Your Flowers
Now comes the fun part! Carry your basket of flowers to where you plan to display them. I plopped mine down right in the center of our dinng room table and it instantly made them whole room light up!
This centerpiece will be one your family and friends talk about and one you can be proud of!
Isn't she lovely? I'm obsessed and think I might try a different color and different combo of flowers next, but in the same basket of course!
Shop My Tablescape
Faux Tulips (across plate)
Mini Charcuterie boards from Target Dollar Spot or here
Green runner from Target last year
A Flower Arrangement In A Basket
So are you ready to make your very own flower arrangement in a basket? I can't wait to see what you create. Please share your beautiful creations with me via email, over on Instagram or even on Facebook! I would love to share them. And as always, thanks for hanging out with me!
Now make sure to continue the Spring Décor fun by hopping on over to Anne and AnnMarie of Simply2Moms who are sharing how to decorate with faux greenery for Spring!
I'd love to have you hang out with me some more! Feel free to follow along with me on any of the platforms linked below.
LTK | Facebook | Instagram | Pinterest | Amazon
xoxo,
Kelly
Spring Decor Inspiration
How to Do a Spring Kitchen Refresh // Pasha is Home
How To Make A Fern Wreath for Springtime // Midwest Life and Style
How to Set a Simple Spring Table // Cali Girl in a Southern World
Spring Decorating with Thrifted Milk Glass // White Arrows Home
How To Make A Flower Arrangement In a Basket // The Tattered Pew
19 Simple Ways to Decorate with Faux Greenery this Spring // Simply 2 Moms
How to Make Beautiful Artificial Floral Arrangements Step-by-Step // Open Doors Open Hearts
A Few Easy Ways To Add Cheerful Spring Decor // Cottage in the Mitten
Spring Dining Room Tablescape // Tater Tots & Jello
Perk up Your Porch : Simple Spring Flower Arrangements in Baskets // Old Barn Company
Farmhouse Spring Home Decor Ideas // She Gave It A Go
Easy Ways to Add Fresh Flowers to your Spring Decor // A Life Unfolding