5 Affordable Ways To Give Your Bedroom a Spring Refresh
Today I am joining the Celebrating Spring Blog Hop hosted by Leen of Sand Dollar Lane and I am sharing a tour of our master bedroom. I'm so glad you are here! As I show you around our bedroom I will also be sharing 5 affordable ways to give your bedroom a Spring refresh.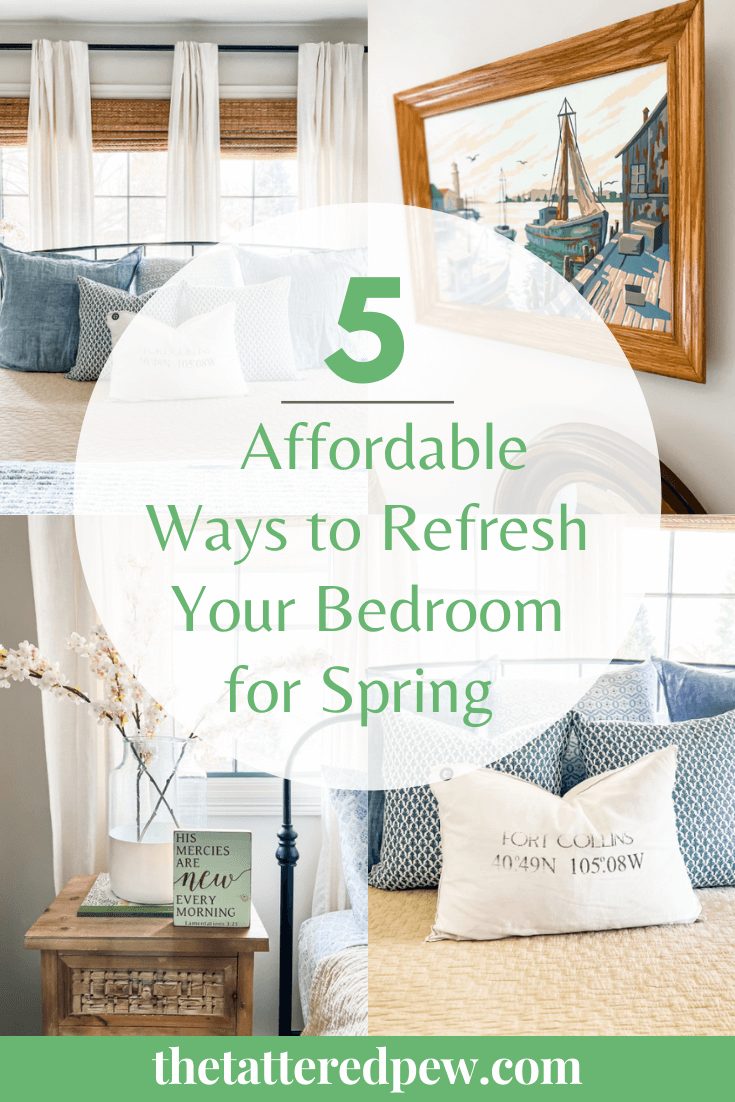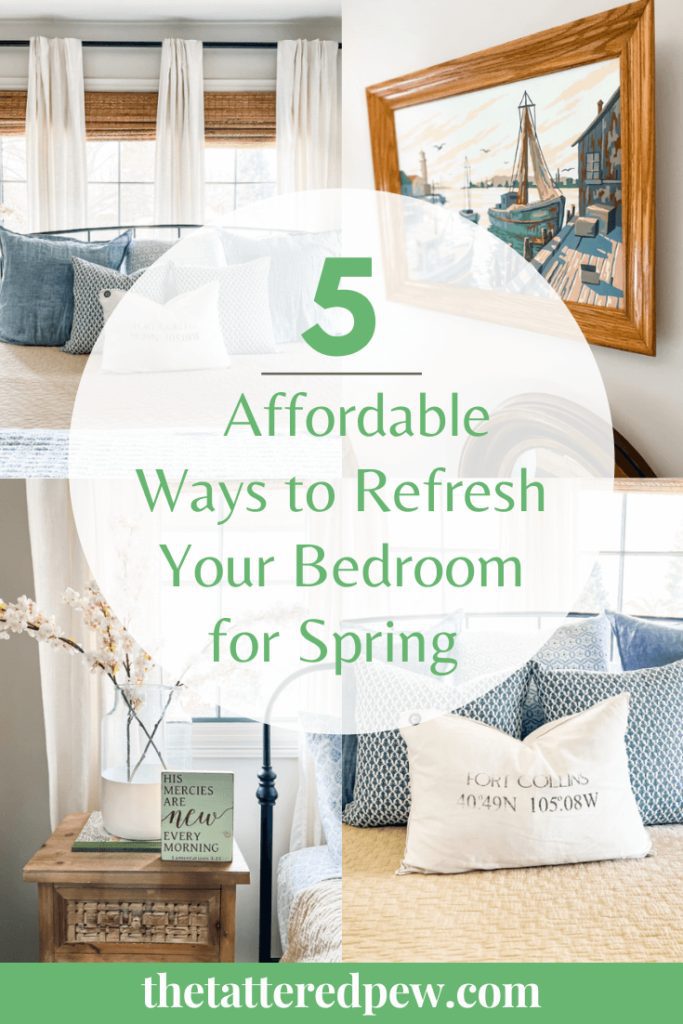 This post contains some affiliate links for your convenience. Click here to read my full disclosure policy.
Celebrating Spring Blog Hop
If you are visiting from Suzy of Worthing Court and her beautiful blue and white Spring décor, welcome! I'm Kelly and I recently moved into this home and I am having so much fun decorating it for each season. Last week I shared part 1 of my Spring Tour and would love for you to stop by after this tour!
Oh, and you can find 8 other beautiful Spring tours listed at the end of mine. So grab your favorite drink and have some fun scrolling today. Please let me know if you have any questions!
5 Affordable Ways to Give Your Bedroom a Spring Refresh
Each season I love to change up the spaces in my home. I am constantly asked how I keep it affordable. Today I want to share how to refresh a bedroom on a budget while keeping it pretty and stylish.
Come on in and take a peek at our Spring master bedroom refresh.
1.Affordable Faux Flowers
My number one go to for adding affordable Spring décor is to use faux flowers. Faux flowers these days have come so far from the ugly plastic ones you may remember seeing at your grandmas house growing up.
Some of these flowers are so realistic they have you doing a double take!
In our Spring bedroom refresh I snagged these gorgeous white cherry blossoms from Amazon and placed them in a large vase on my bedside table.
They are even more beautiful in person by the way!
I'm thinking I want to get another bunch to use in other areas around our home too. I also have my eyes on these white peonies and white poppies. So realistic looking!
I also added some light pink peonies that I have had for years from Pier One to the basket hanging on the bathroom door.
When in doubt add color and visual interest with seasonal faux flowers. They will always make you smile and they will always brighten up any space.
2. Affordable Artwork
The walls in our bedroom have been bare for so long because I think it takes time to curate a space. Art is a fantastic way to add personality and interest in your bedroom. I am constantly hunting for affordable art that stands out.
Places to find affordable art:
flea markets
estate sales
garage sales
digital downloads ( shophomerevivals.com )
Home Goods
thrift Shops
This is my husband's side of the bed and I decided this paint by numbers from our previous master bedroom would fit this space nicely. I found it at a flea market for $20. The little round mirror is from an estate sale and was very affordable too. ( I can't remember exactly how much.)
3. Refresh Your Bedding For Spring
One easy way I love to refresh our bedroom is by changing up the bedding. We recently bought some new sheets from Costco for $15 and we love them. They remind me of the patterns I have seen on Serena and Lily which are over $300!
I kept the pillows the same except I swapped out our two brown pillows and added the white one in front and the pattern one in the middle back. The two blue pattern ones in front are my favorite and made by my favorite pillow gal over on Etsy! The chambray duvet and pillow shams I have had from Lands End for a long time and the tan coverlet was gifted to me by my mom. You find similar ones here and here.
I also draped a blue and white block print quilt at the end of the bed for another layer ( I found it at Home goods). Other than that I have had everything for awhile now. Sometimes it's jus the little changes that add up to make a big statement.
4. Evaluate Your Furniture
Lately I have had great success shopping in consignment shops and on Facebook Marketplace. I found this black IKEA metal bed on Marketplace and snatched it up. It was a fraction of the price!
The only other furniture we have in our room are our bedside tables. I hunted everywhere for ones that were tall enough and finally found these at the At Home Store. They were affordable, stylish and tall enough!
Shopping second hand is a great way to refresh any space on a budget. Plus, it adds character when you find pieces that not everybody has. Being able to mix old and new furniture and décor gives you a curated feel that says home.
5. Shop Your Home
My final favorite way to refresh your bedroom on a budget is to shop your home. I found this light green wooden Bible verse sign for my bedside and brought it up from the basement. I love the reminder it offers every morning!
You will also notice that I use a lot of books, pillows and hats for décor too, all items from around our home. If they have the colors you are looking for bring them to your space and try them out. You never know! Honestly, nothing is safe when it comes to shopping my own home and I love having unexpected items show up in new spaces..
Affordable Ways to Give Your Bedroom a Spring Refresh
That concludes the tour of our master bedroom. Hopefully you found my 5 affordable ways to give your bedroom a spring refresh helpful! I sure am happy with the way it turned out. I live a good budget friendly glow up and this one is making me smile.
At the end of the day if the space makes you feel at home then you have accomplished your goal! If you liked hanging out with me today I would love for you to subscribe to my blog so we can hang out some more!
Now make sure to hop on over to my good friend Jennifer of Noting Grace to check out her sunroom decorated for spring!
Then scroll down for the other talented ladies sharing with me today!
xoxo,
Kelly
Celebrating Spring Home Tours

Sand Dollar Lane // Postcards From The Ridge // Worthing Court // The Tattered Pew // Noting Grace
---

2 Bees in a Pod // DIY Beautify // Cottage in the Mitten // Southern Home and Hospitality
Sonya Burgess // Thistlekey Lane // Dabbling and Decorating // Aratari at Home

Songbird // Southern Crush Home // Simply 2 Moms // Our Crafty Mom

Zucchini Sisters // Amy Sadler Designs // Bluesky at Home // My Family Thyme