The Secret Tip for Drying Hydrangeas
Want your hydrangeas to last longer? Why not try drying them to use in your decor! Learn my no-fail secret tip for drying your hydrangeas! Follow my step by step directions and you will enjoy your hydrangeas long after they are done blooming!
The Secret Tip for Drying Hydrangeas
It's no secret that I love hydrangeas; specifically Annabelle hydrangeas. I adore their beautiful and large white blooms. I also enjoy how they go from green to white, to green again out in my garden. They do amazing here in Colorado and I always look forward to them every summer! With my love of hydrangeas I would be silly not to share with you all how much I love decorating with them, along with my secret tip to drying them perfectly!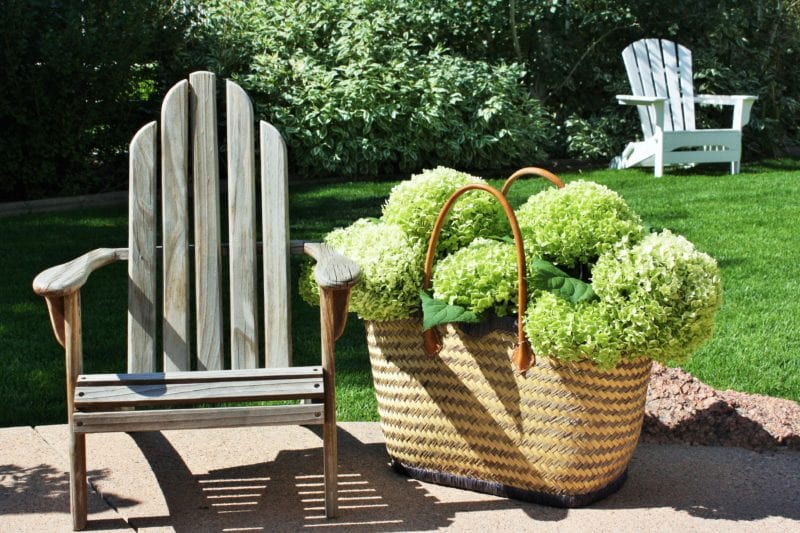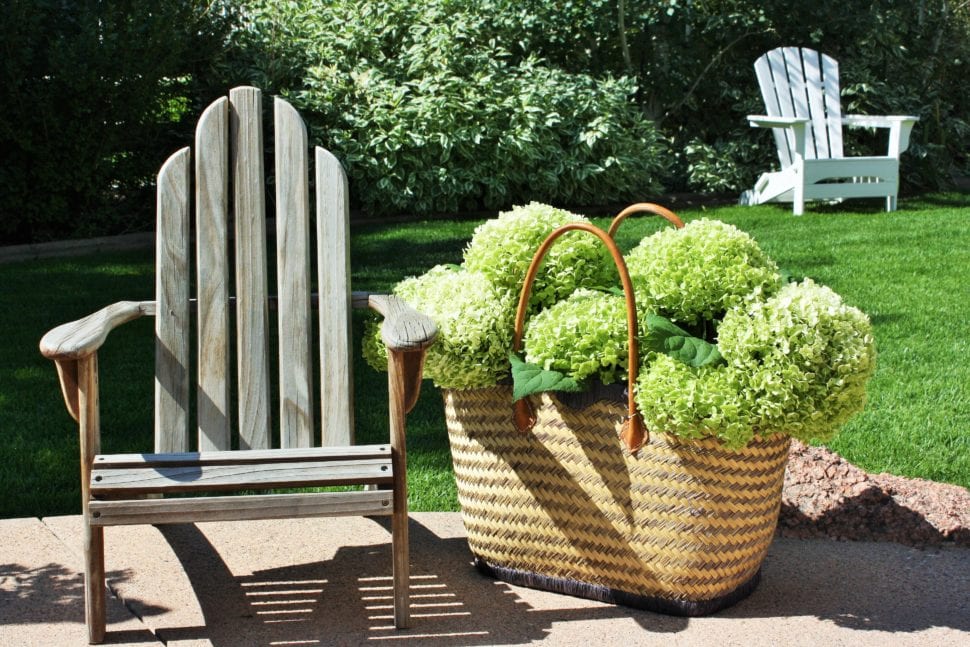 If you love flowers, beautiful decorating and staying on a budget when doing so, then you will fall in love with dried flowers like I have!
Tips For Drying Hydrangeas
My love of flowers and gardening comes from my grandmother and my mother and I have learned so much from these amazing women in my life.  One such tip is how to dry hydrangeas so you can use them long after their season in the garden is over. Last fall they were gorgoeus in my kitchen!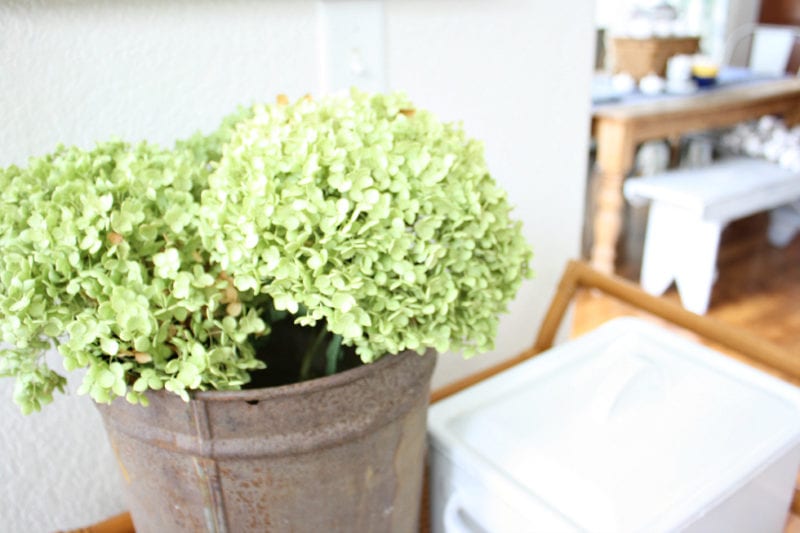 Are you curious about the secret?
Drying hydrangeas is not hard at all. It's actually quite simple.  First, you want to make sure you cut the hydrangeas when they are full and ready. This is the most important tip!
But you might be asking, how do I know if they are ready?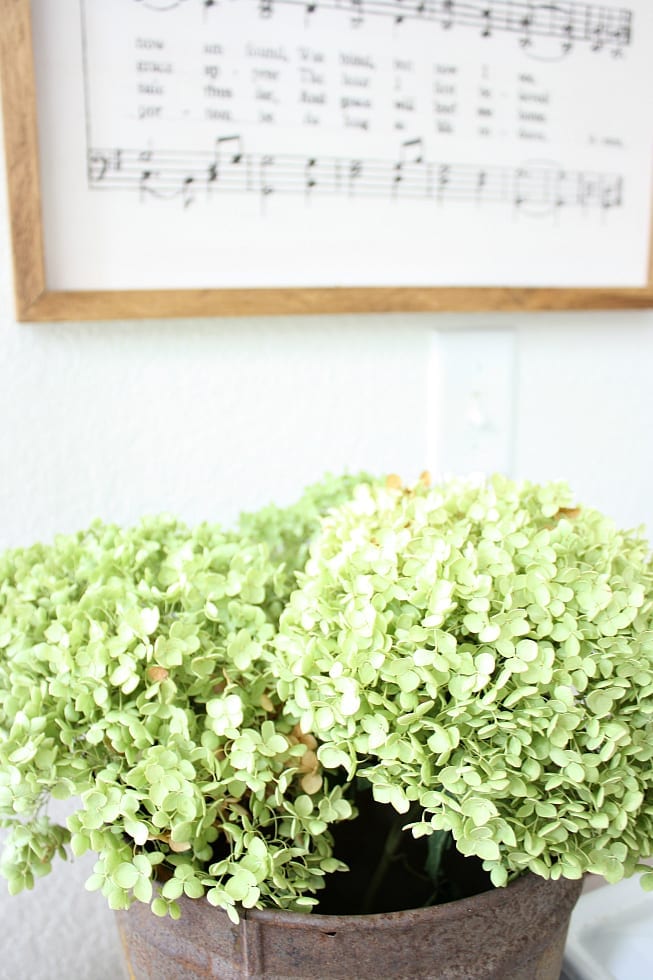 How To Know When to Cut Your Hydrangeas
This is the critical part. If you cut them too soon they will still be holding too much water and shrivel up rather than dry beautifully. The prime time to cut, specifically Annabelle hydrangeas, is when they turn from white to bright green.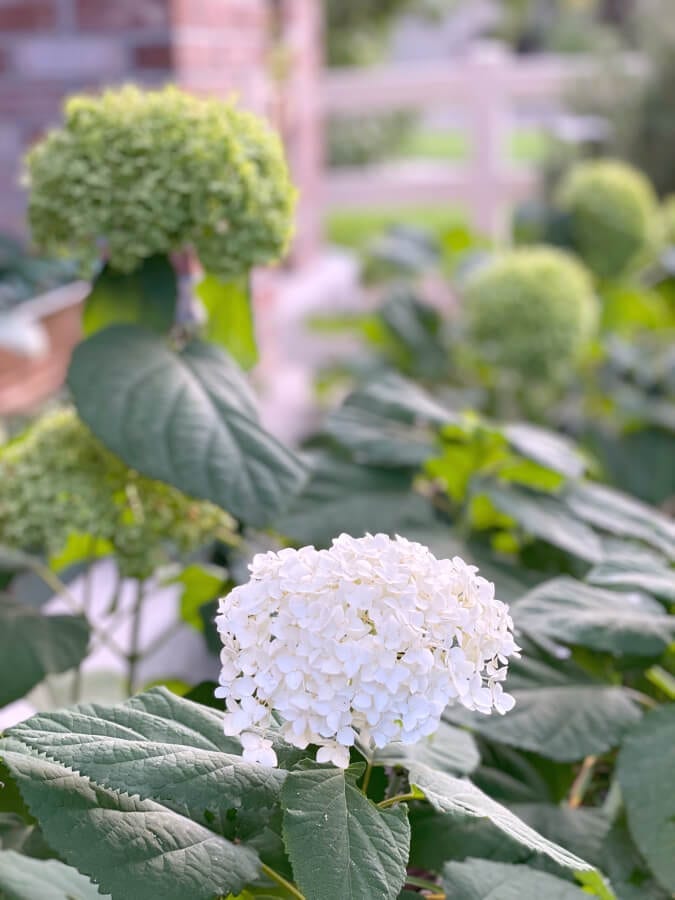 Did you catch that important tip for drying hydrangeas? They must be green!! Don't be fooled by these beautiful flowers becasue when they first bloom they are green. It's the green after the white that you need to pay attention to. This means they are at the end of their season and depending on where you live, this happens in late August -October.
 My number one rule is if they are white, it is too early!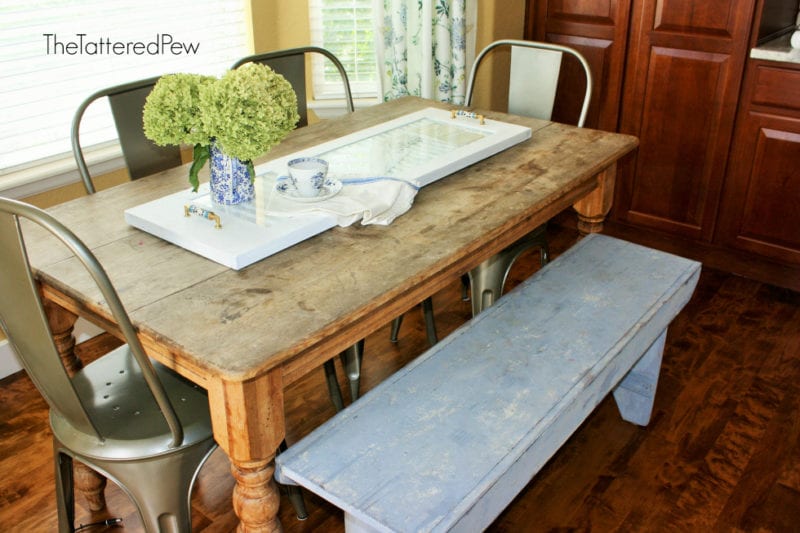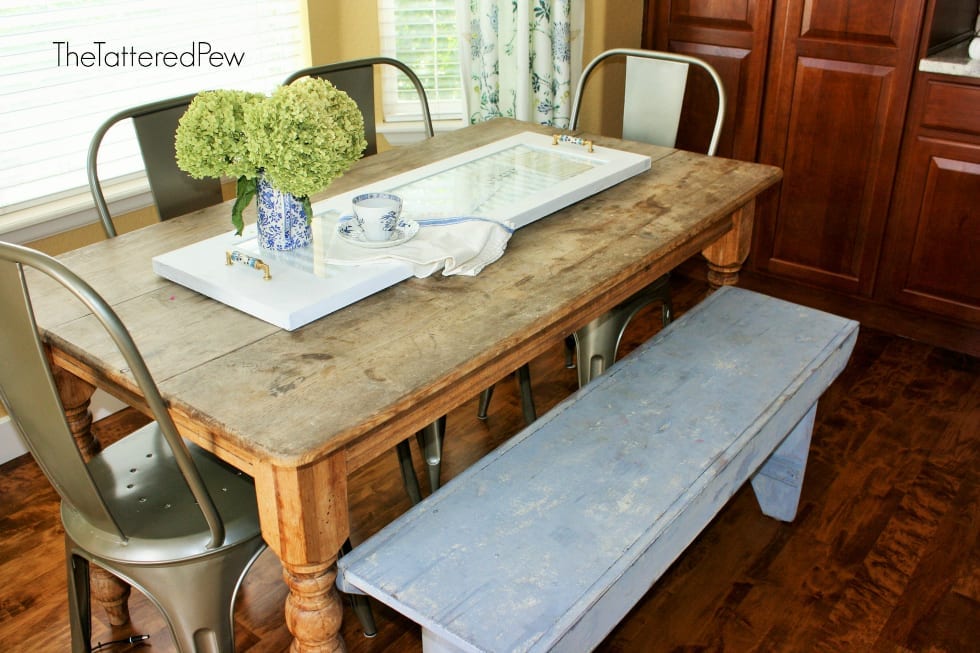 Once you have cut them make sure to strip all leaves from the stems and also leave the stems long for easy handling and arranging. It is best to keep them out of direct sunlight while they are drying.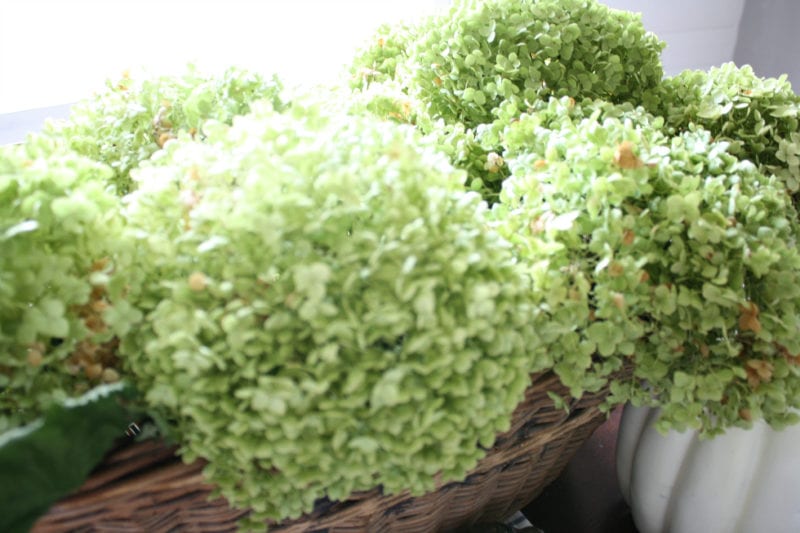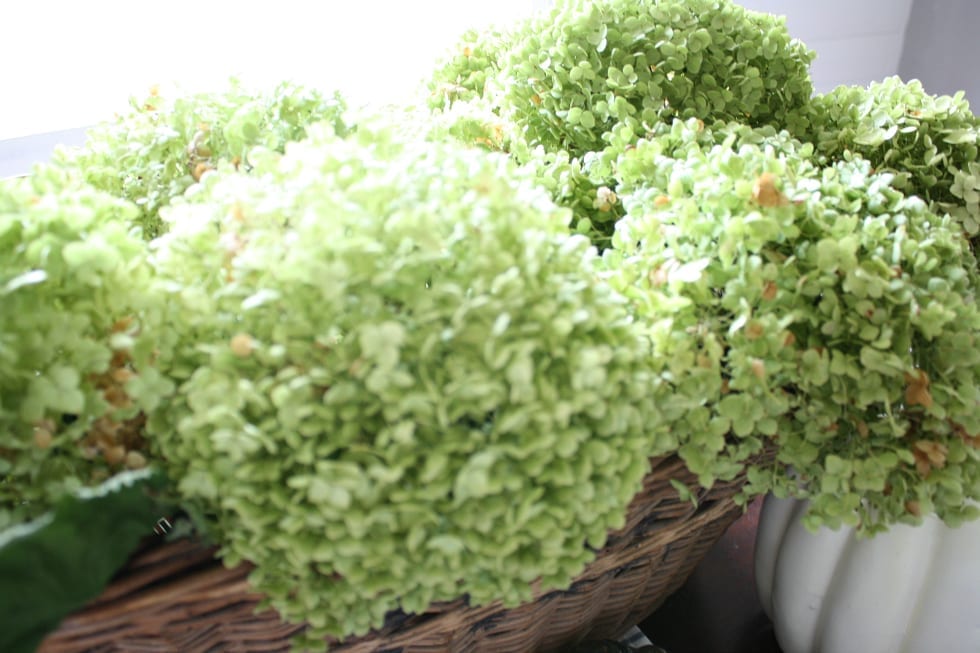 You have two options for drying them:
1. You can place them in vases with about 4 inches of water and then let the water naturally evaporate. (This method seems to allow the bright green color of the petals to last longer.)
2. You can also just leave them out of water and they will naturally dry themselves without any work from you!
Mine are currently drying in this gorgeous large French basket.
Also, feel free to snip the little brown petals off if you like!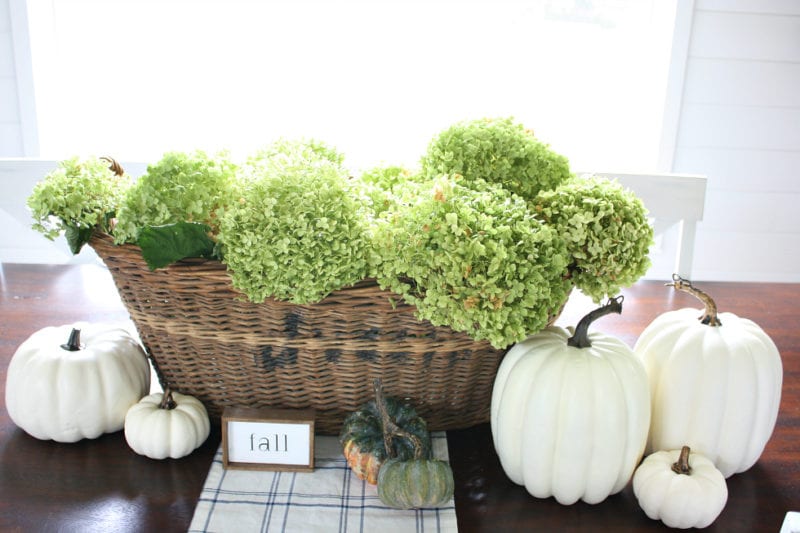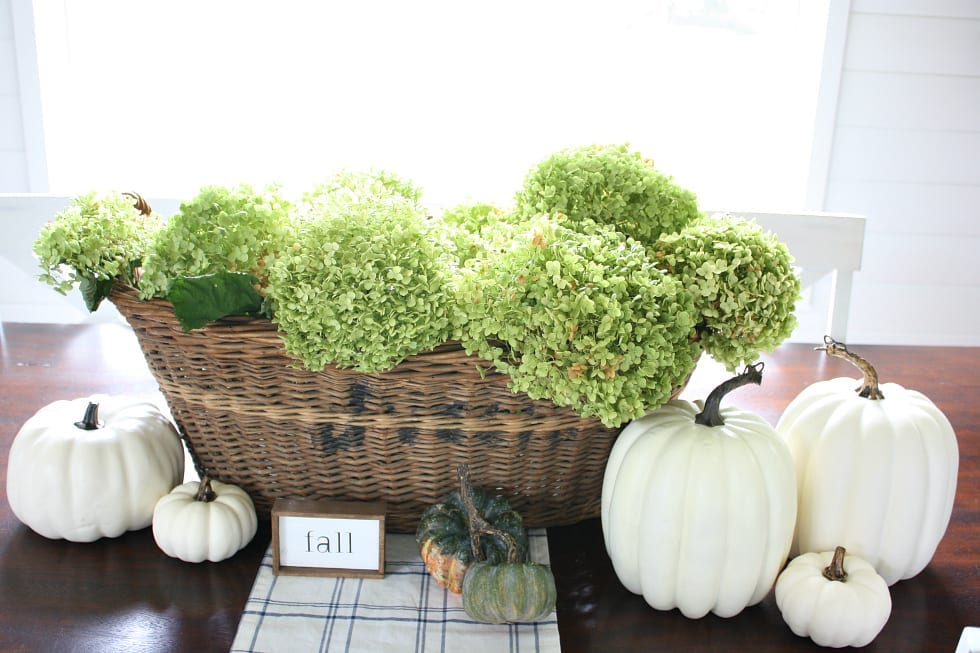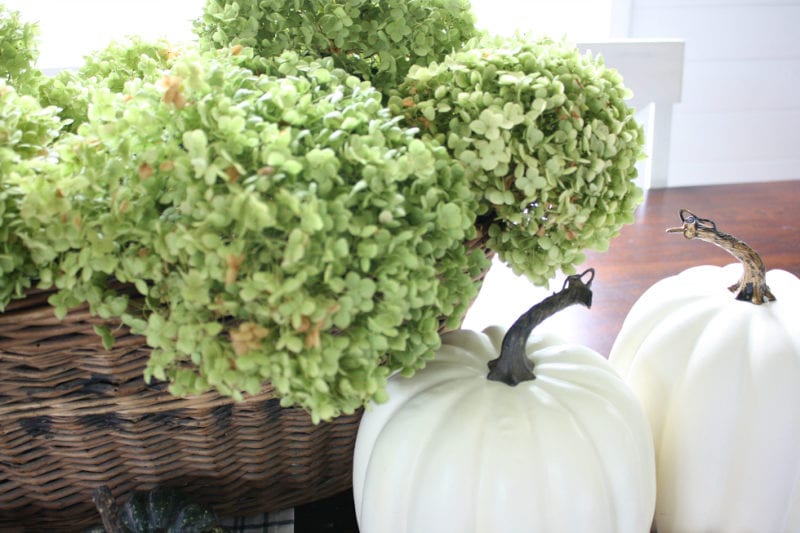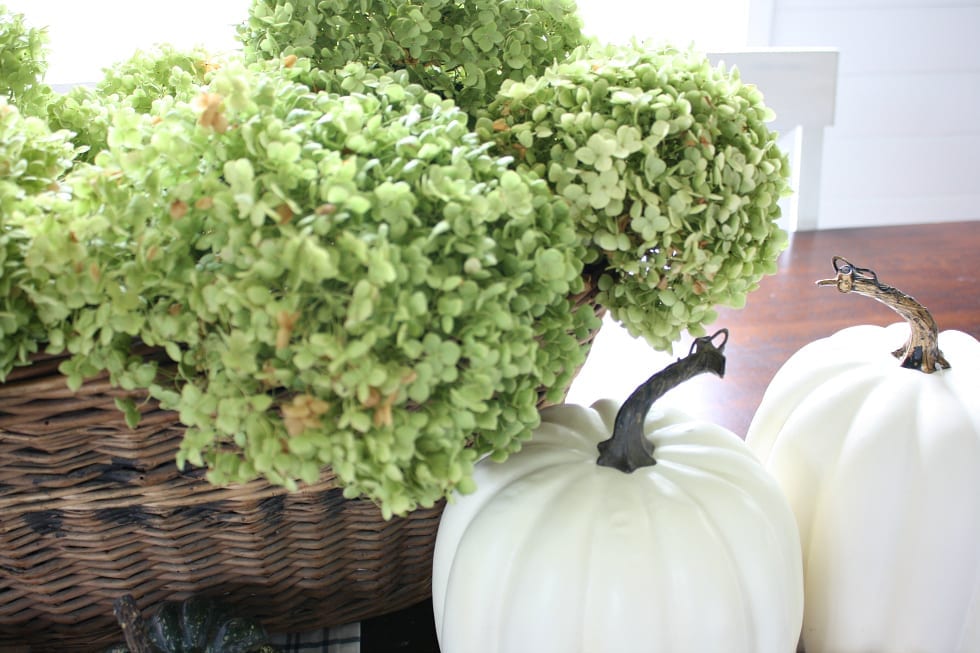 That's it!  Simple drying tips, right?!  Now they are ready to use around your home for any season you see fit.  I love them in the spring and the fall. You can visit here to see how I used them in my summer wreath!
Hydrangeas
This is just one of the many reasons why I love these flowers.  Their ability to dry on their own and serve as decor throughout the different seasons long after their blooming season is over is hard to beat!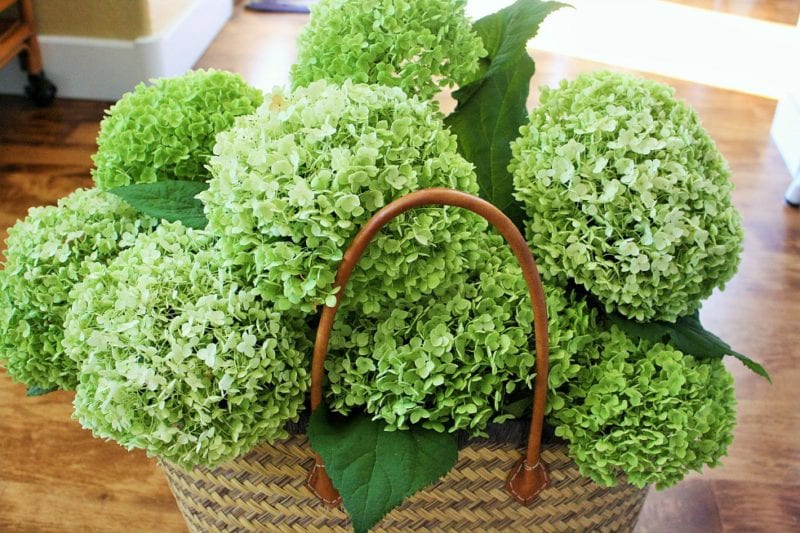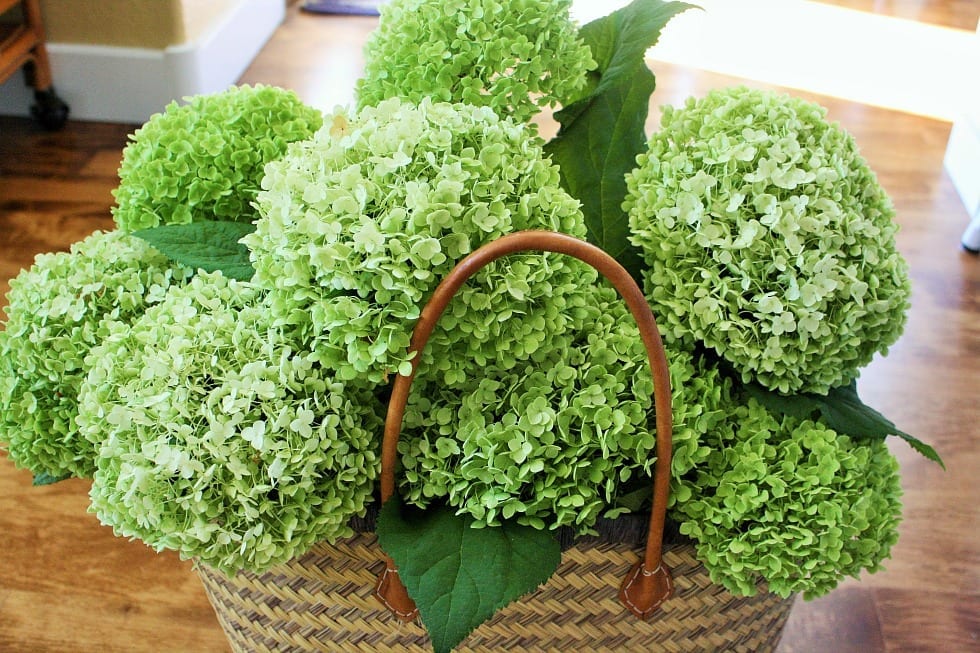 Does This Work For Colored Hydrangeas?
Yes, this same tip works for colored hydrangeas but with a few differences. For blue, pink or purple hydrangeas you don't want them to dry out on their bush or wait for them to lose their color. Instead check them midway through their bloom time and see if they have a slight papery feel. If so then this is the time to cut them and start the drying process. You want them to have some color….it may be slightly faded but that is okay! Then just follow the same steps I shared above and you will have beautiful dried colors!
How Long Do Dried Hydrangeas Last?
You may be wondering how long your dried hydrangeas will last. Just for reference I have had the same bunch I dried for about two years. They are still doing great! The only difference is that their bright green color has faded a bit. This doesn't bother me at all, in fact I love the muted color especially in the Fall. I do suggest that you keep them out of direct sunlight as this will help decrease their fade time!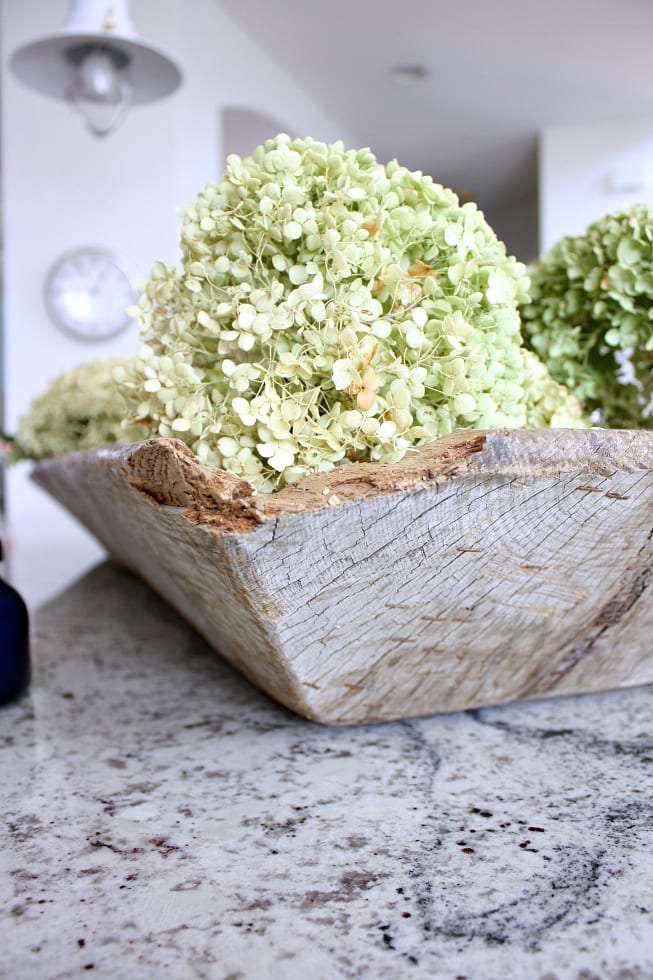 The Secret Tip for Drying Hydrangeas
I hope you found this secret tip for drying hydrangeas helpful!  If you have any other tips and tricks to share with me or questions please leave them in the comments below!  Also, if you want to see how else I have been using dried hydrangeas in my decor, you can visit me over on Instagram where I share pictures more often!
Other Hydrangea Posts You May Like
Tips and Tricks for Long Lasting Cut Hydrangeas
How to Create a Low Hydrangea Centerpiece
Have a lovely week my friends! Do you use dried flowers in your decor?
XOXO,
Kelly
Did you like this post? PIN it for later!