My Favorite Resources and Bible Verses for Uncertain Times
These past few weeks have been absolutely crazy! Just like many of you we had to cancel our spring break trip, prepare for homeschooling, stay home and make many other adjustments because of Covid-19. But during this time I am choosing to cling to my faith, look for joy in the little things (like more family time) and count my many blessings. Honestly, if it wasn't for my faith I don't know how I would be surviving these difficult times. Sometimes just taking a few moments of quiet time and prayer is just what my anxious heart needs. I thought I would share my favorite resources and Bible verses for uncertain times with you all in case it might be just what you need too.
*This post contains some affiliate links for your convenience. Click here to read my full disclosure policy.
My Favorite Resources and Bible Verses for Uncertain Times
"Don't be afraid, for I am with you. Don't be discouraged for I am your God.I will strengthen you and help you.I will hold you up with my right hand, " Isaiah 41:10
Top Ten Bible Verses for Anxiety or Uncertain Times
Here is a list of Bible verses that have been comforting me during these last few weeks. I hope they will bring you some comfort too.
Philippians 4:6 (actually the entire chapter is amazing and my go to!)
2 Corinthians 12:9 His grace is all you need!
Philippians 4:19 He supplies all of your needs!
Ephesians 2:4 God loves you and is rich in mercy!
Isaiah 41:10 God will help you and he will strengthen you!
Deuteronomy 31:6 He will never leave you!
2 Timothy 1:7 He has given you His spirit of love, power and sound mind!
John 3:16 He offers us eternal life!
I would love for you to share with me the verses that you have been clinging to as well! Leave them in the comments below my post if you have time.
My Favorite Bibles
Just the other day I shared over on Facebook a picture (also shown above) of how I was listening to our church service on-line and I had my Bible open in the picture. I had several people ask me about it so I rounded up my favorites for you below. You can click on the pictures (my affiliate links) as well as scroll through to see the Bibles I have and love!

Free Bible Verse Printable
To hopefully put a little smile on your face I have created this FREE floral Bible verse printable for you to download today to display around your home. The verse, Philippians 4:6, is one of my favorites! It's a great one to memorize and that constant reminder to pray instead of worry! Click here to get your printable PDF version.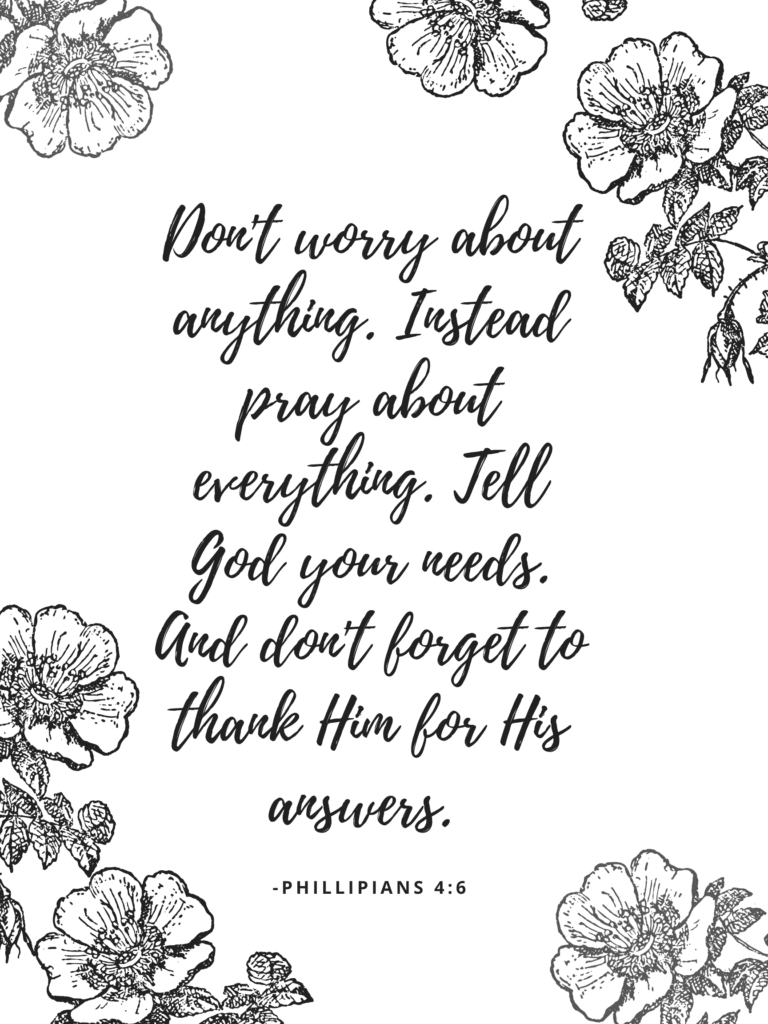 Christian Music That I Love
For me music is calming. Just like reading His word… music is also a way for me to worship the Lord and connect with Him on a deeper level. Lately I have had Lauren Daigle and Hillsong UNITED on repeat. My all time favorite song of Lauren's is First on her Zion CD, and my all time favorite song of Hillsong's is Oceans (Where Feet May Fail).

Finding Hope In Times of Trouble
I'm hoping some of these resources I have shared today have resonated with you. My prayer is that you stay healthy, count your blessings and remember that there is a God who loves every single fiber of you! Please know if you need a friend to chat with, I am here!
xoxo,
Kelly