Our New Mattress: A Nectar Mattress Review
A Nectar Mattress Review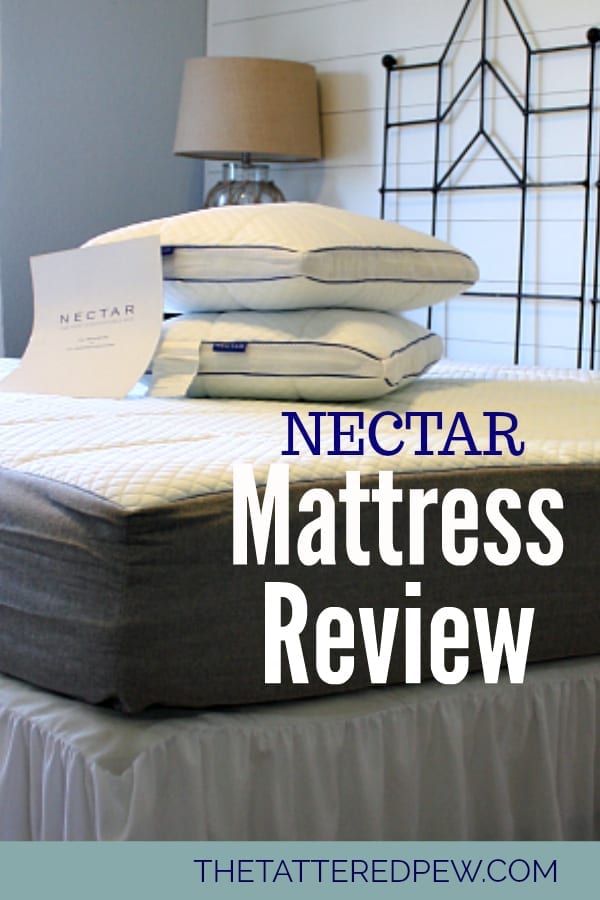 This post is sponsored by Nectar Sleep, but all opinions in this review are my own. This post also contains affiliate links and you can read my full disclosure here.
My husband and I have been sleeping on the same mattress for the past 10 years and we were beginning to think about looking for a new one when I was presented the opportunity by Nectar to review their mattress. The deal was they would send me one of their mattresses in exchange for an honest review. Of course I jumped at the chance and then instantly got nervous!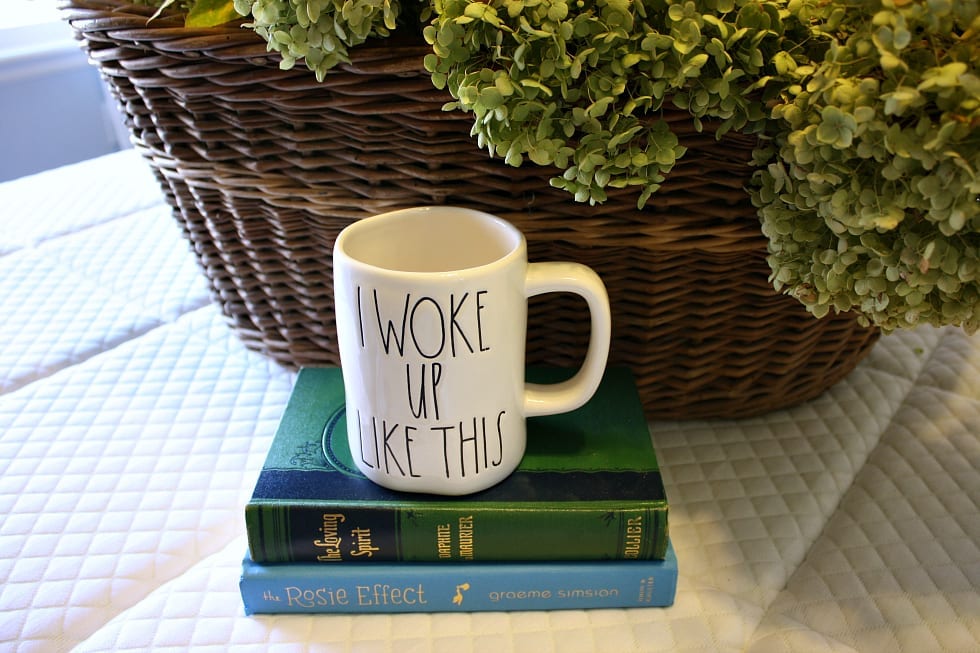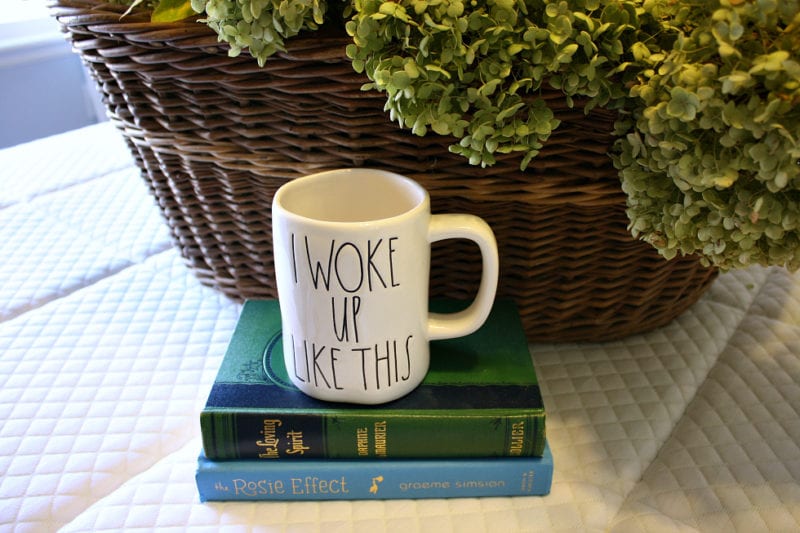 Mattress Delivery?
Would they really be "sending" little old me a mattress and right to my front door?! And would it be a decent mattress since it comes to your door in a bag and therefore you can't try it out first?! Or would it be worth it or even comfortable? I had so many questions and honestly, I was a bit skeptical!
The answer to all my questions above was YES! I will spend some time answering those questions below and giving you my honest thoughts and opinions. But first, I want you to check out this quick 3 minute video on the entire delivery and opening of the Nectar mattress.
The Video With all the Details
The Arrival
So Nectar did send me a king size mattress and it came directly to our front door…delivered by FedEx (God bless that delivery man because the bag was heavy and huge!). I'm still trying to wrap my brain around the fact that this mattress comes straight to your front door. But I have to say, it truly was a convenience that this busy mama is very thankful for. It saved my husband and I so much time!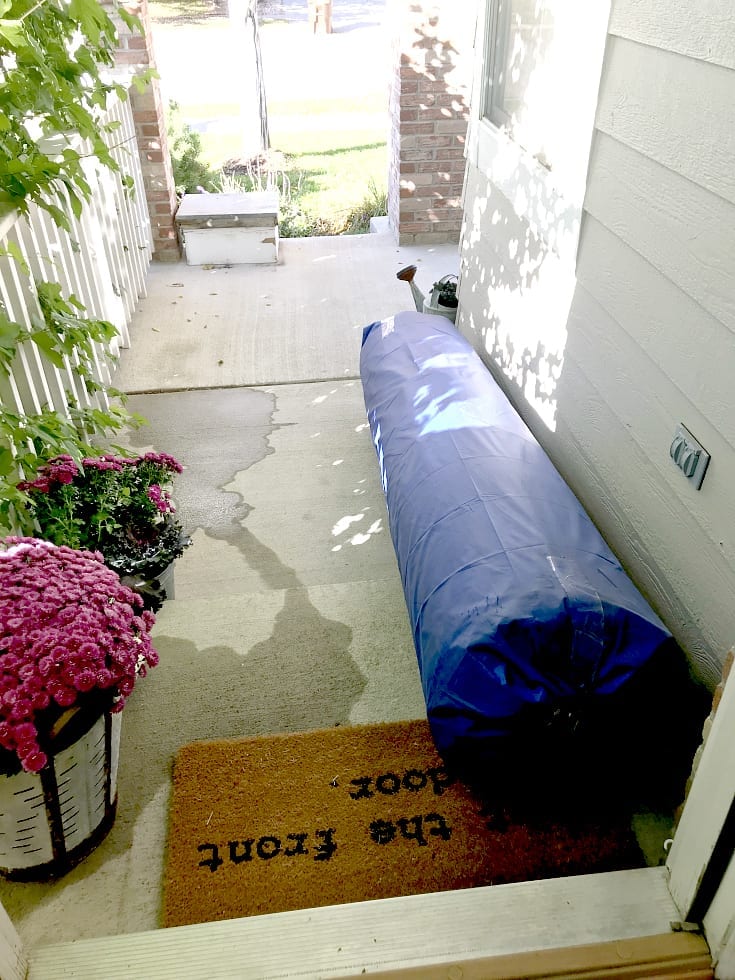 The Un-Bagging and Set Up
I hauled the beast inside our door on my own, and I instantly knew I would need some help getting it upstairs to our bedroom. After a bit of research on their website I found out that the king size bed weighs 89 pounds. No wonder I couldn't drag it up the stairs myself…you should have seen me try, it was comical! If you watched the video above you saw that my husband and two teenage boys were able to get it up to our room with no issues.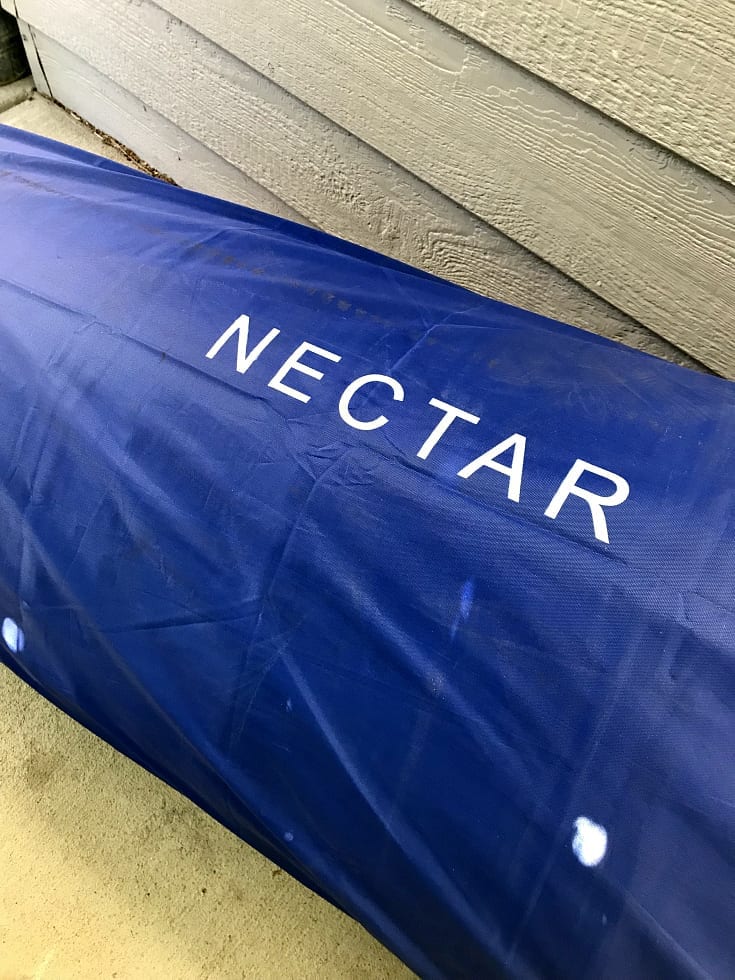 All On My Own
Once in our room, my husband and I removed our current mattress and I decided that I wanted to try to set up the new Nectar one all on my own. And guess what? I did it and in less than 15 minutes! I was pretty proud of myself too.
Luckily the Nectar bag the mattress comes in has handles which helped me be able to move it around. I did have to use scissors to remove the large blue packaging that it was enclosed in for shipping. Once I removed it from the bag, I found that they included directions and a little cutting tool to easily open the rest of the packaging. But honestly, it was super easy and the directions were rather simple.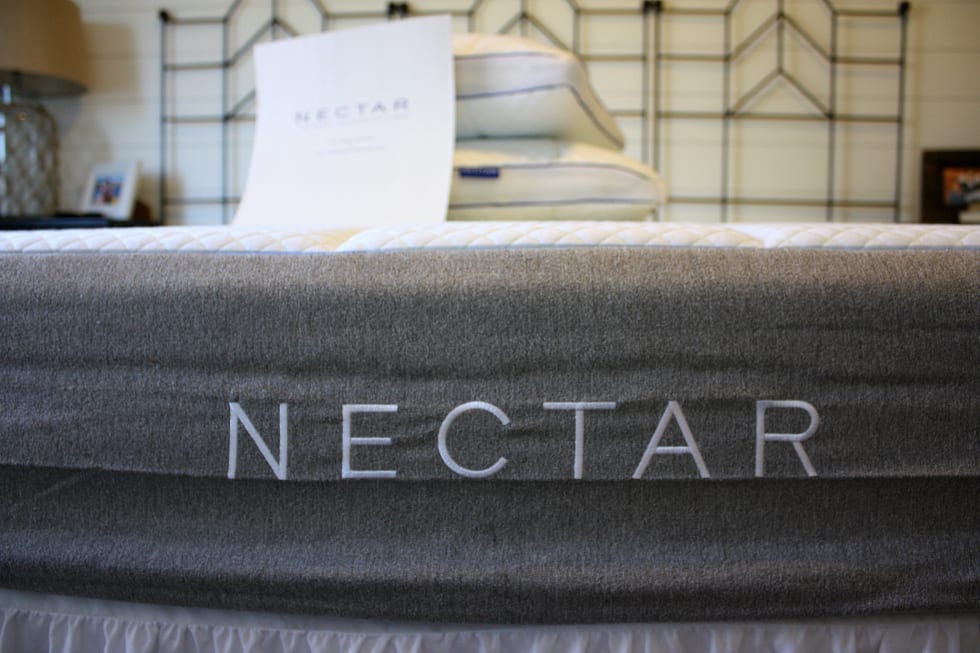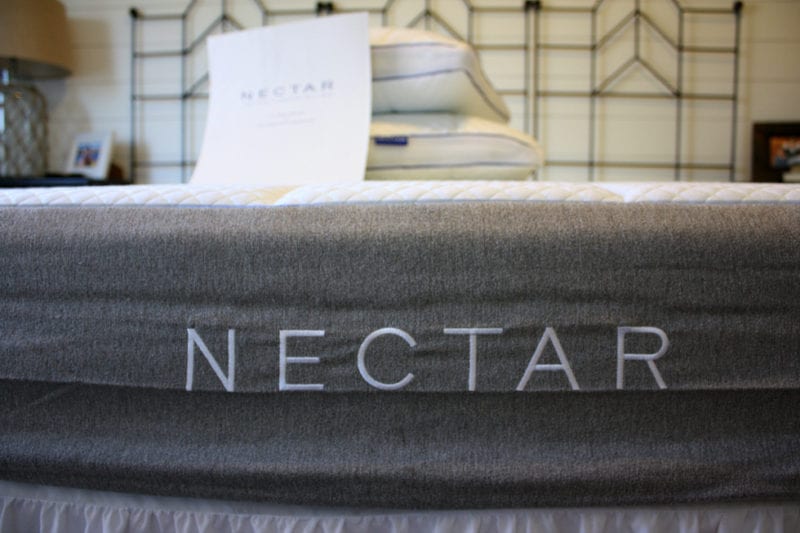 After I was able to unwrap the mattress, I laid it out on our box spring and it unrolled and started expanding. I discovered that they had also included two pillows which was a nice surprise. In the video you can see that I opened it upside down but then was able to flip it over on my own.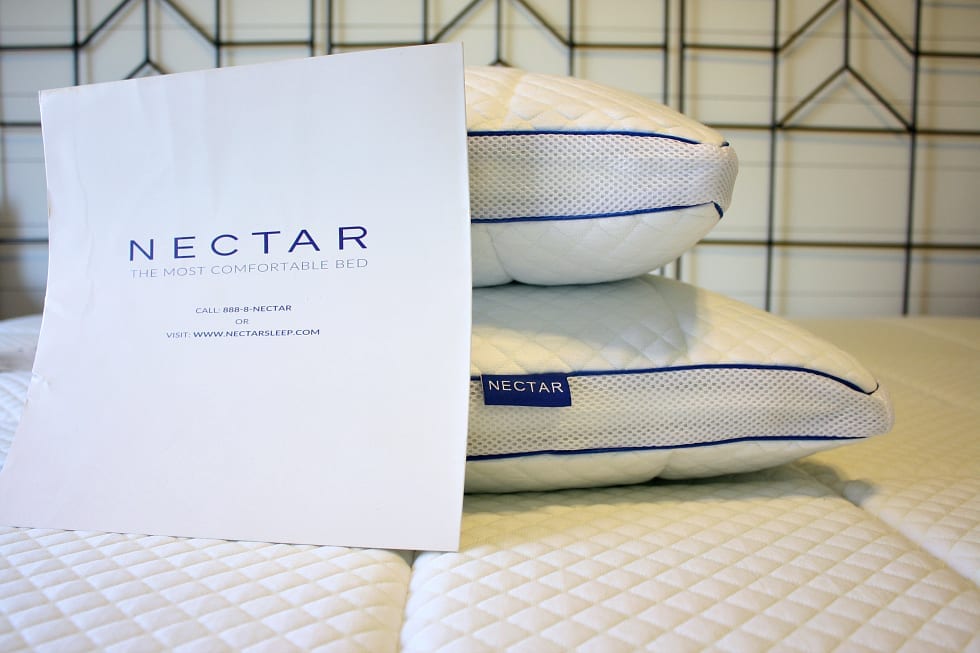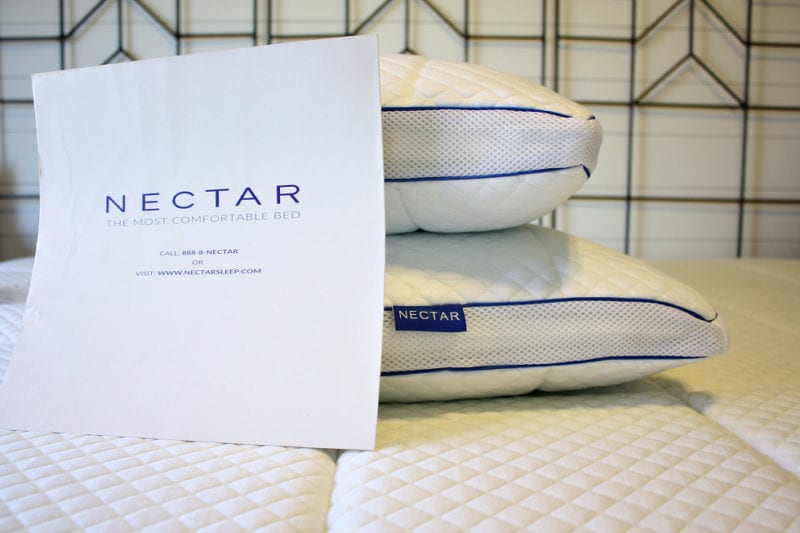 When it was situated we let it expand and rise (11in.) which only took a few hours and even slept on it that night! There was no weird smell which some people had warned me about and the mattress was a big hit instantly! That's all there was to the set up, it was extremely easy and very quick.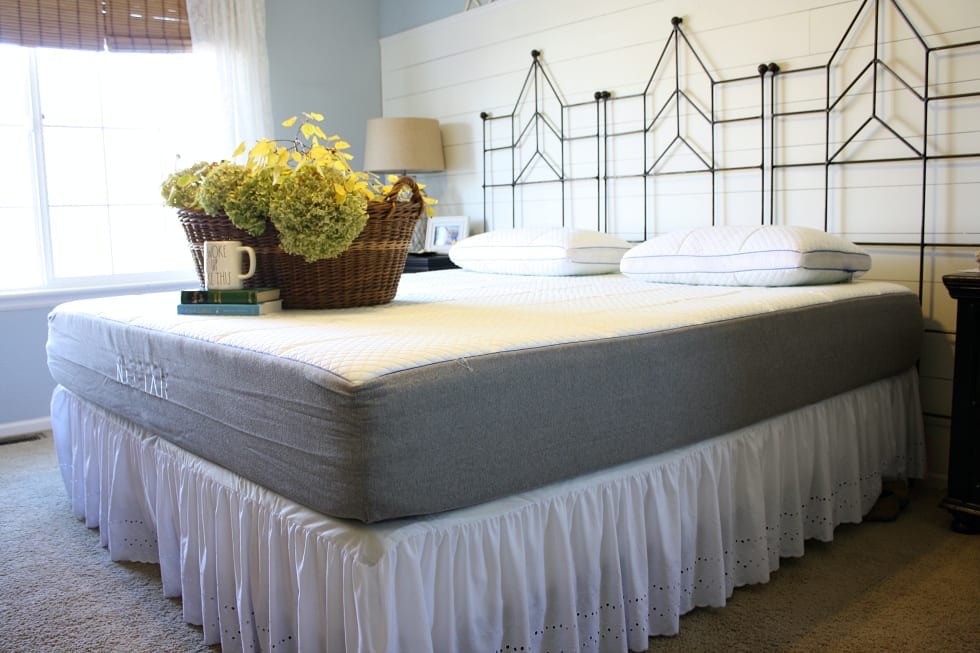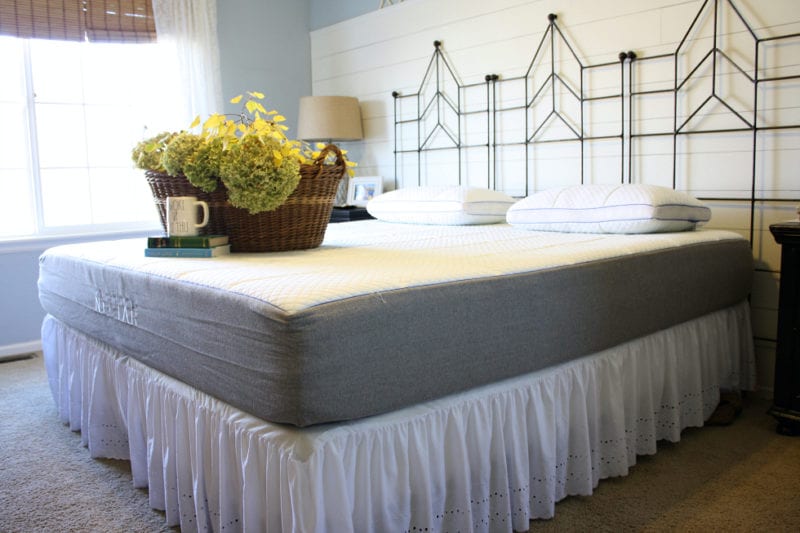 Review.org has published an in-depth review of the NECTAR Mattress that I personally found very helpful. You can read that here: https://review.org/nectar-mattress/. If you would like to learn more about the company and structure behind the popular mattress company NECTAR, check out their review post.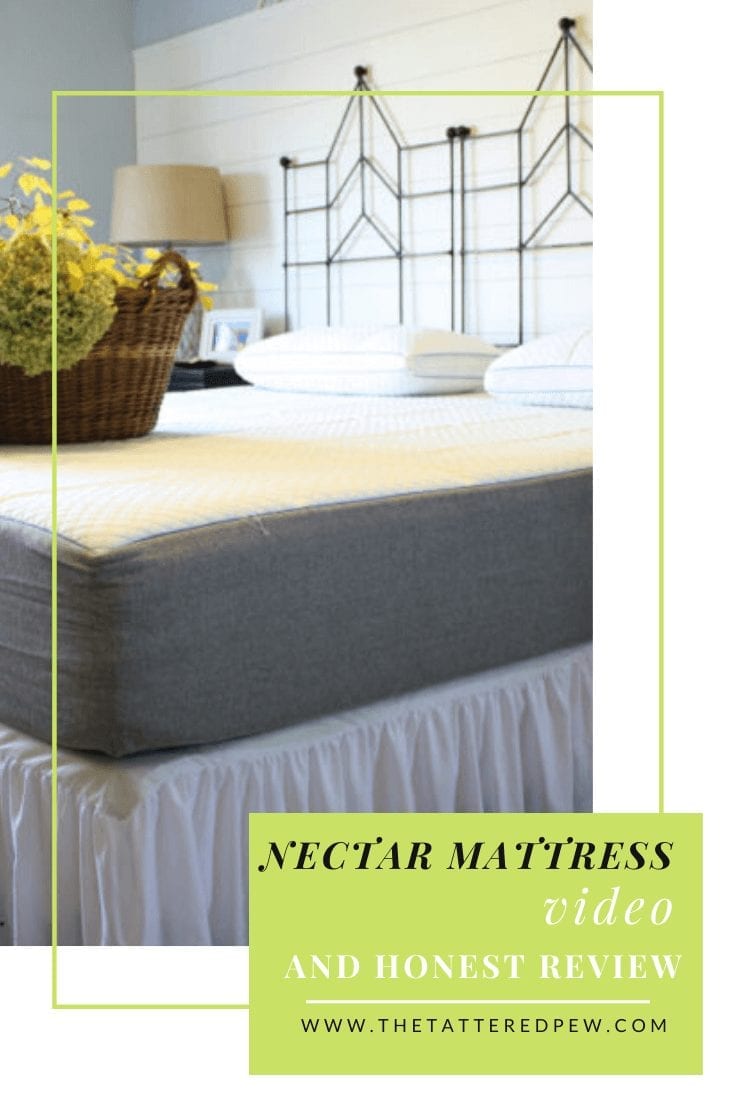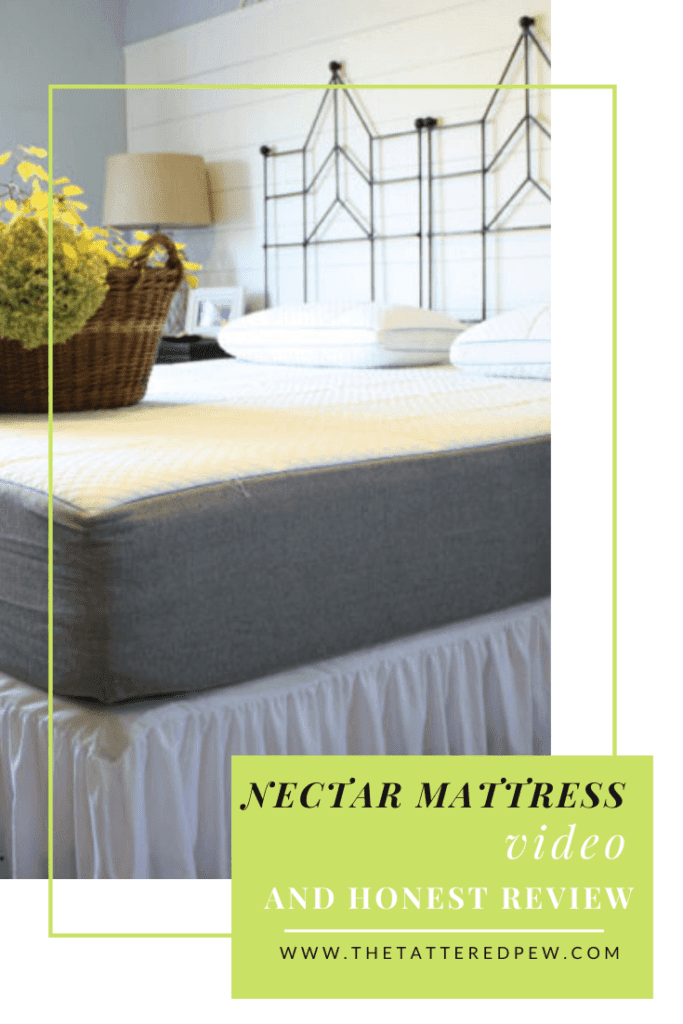 My Nectar Mattress Review
We have had our king size Nectar mattress for almost a month now and I can honestly say both my husband and I love it! Update: after two years we are still loving this mattress! In fact we love it and tell anyone who is looking to check it out! I'm sure he is sick of me asking him every morning, "So, how did you sleep? Are you still liking the mattress? How abut the pillow?" And every morning he replies, "Yep! Still loving it and I slept amazing!" Then I let out a sigh and nod my head and agree with him. I have only had a mattress with springs and never had a memory foam mattress so I didn't even know what to expect. Honestly, I can say that this memory foam mattress is pretty darn amazing! I love that it is not to firm and not to soft and I love how the memory foam pillows are the perfect touch and just the right amount of support. After seeing them I was worried we wouldn't like them because they seem a bit larger than our normal pillows but so far so good! I have even recommended them to my dad who might be the pickiest pillow picker in the world! 😉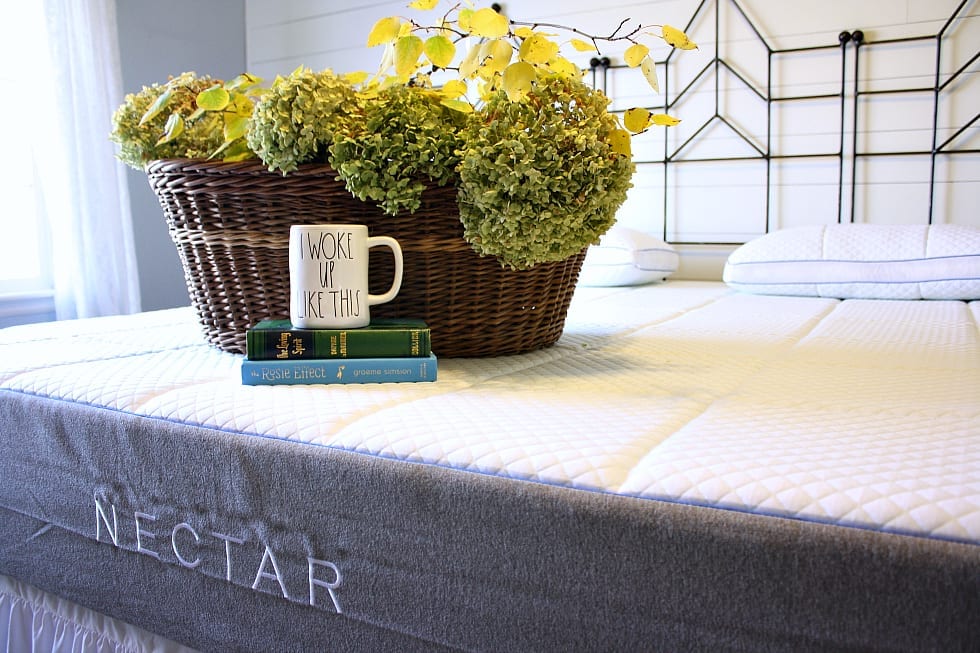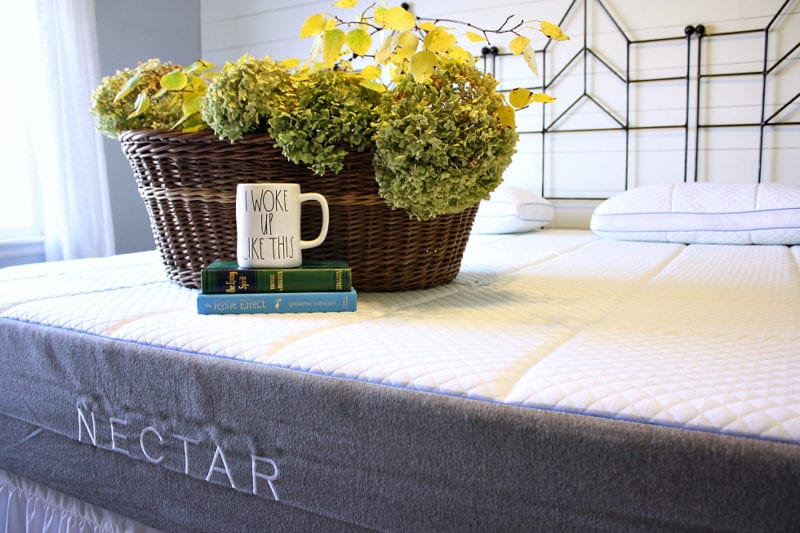 So the question is …Would I recommend this mattress to others and consider purchasing one ever again? I can answer with a resounding yes! We love our Nectar mattress!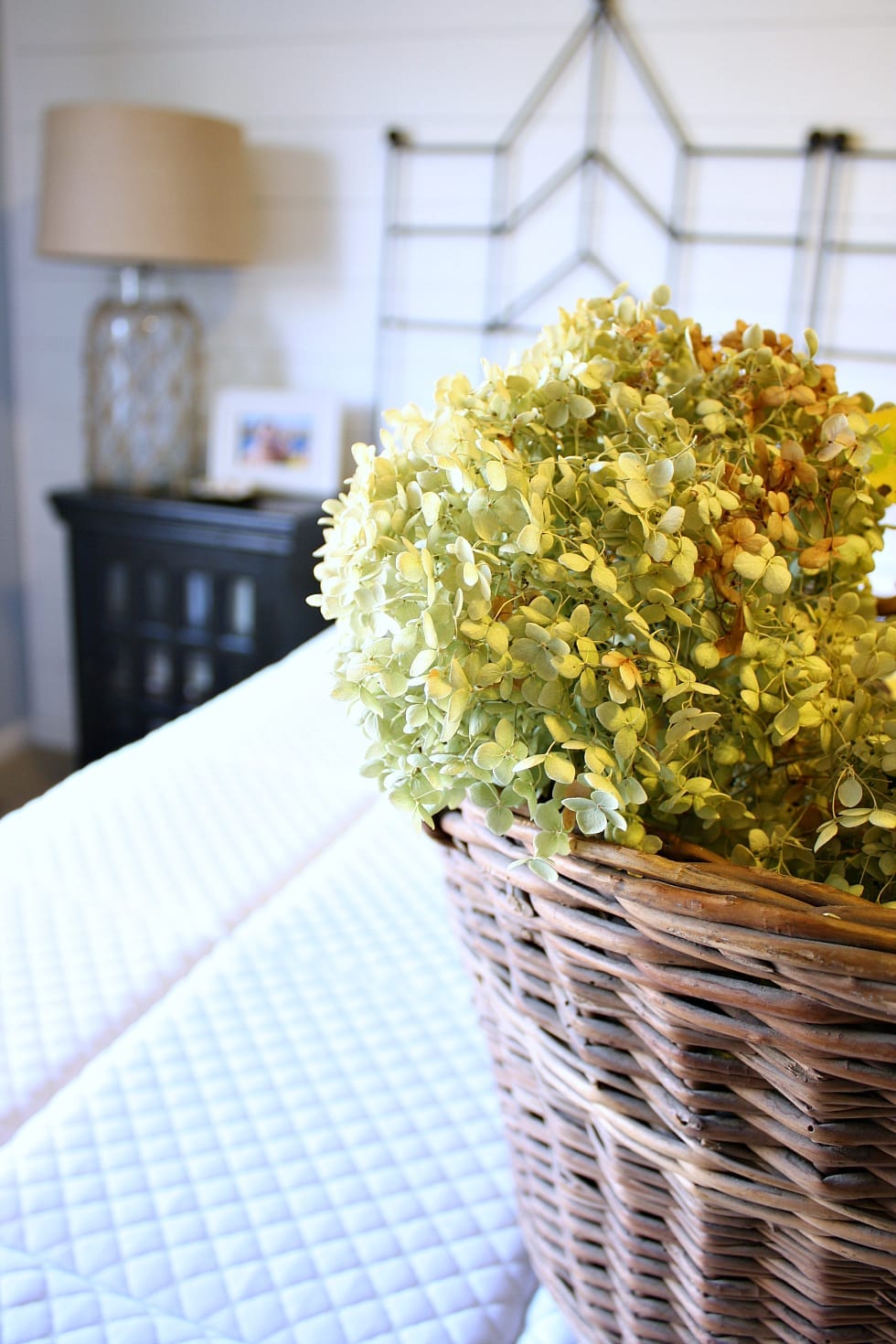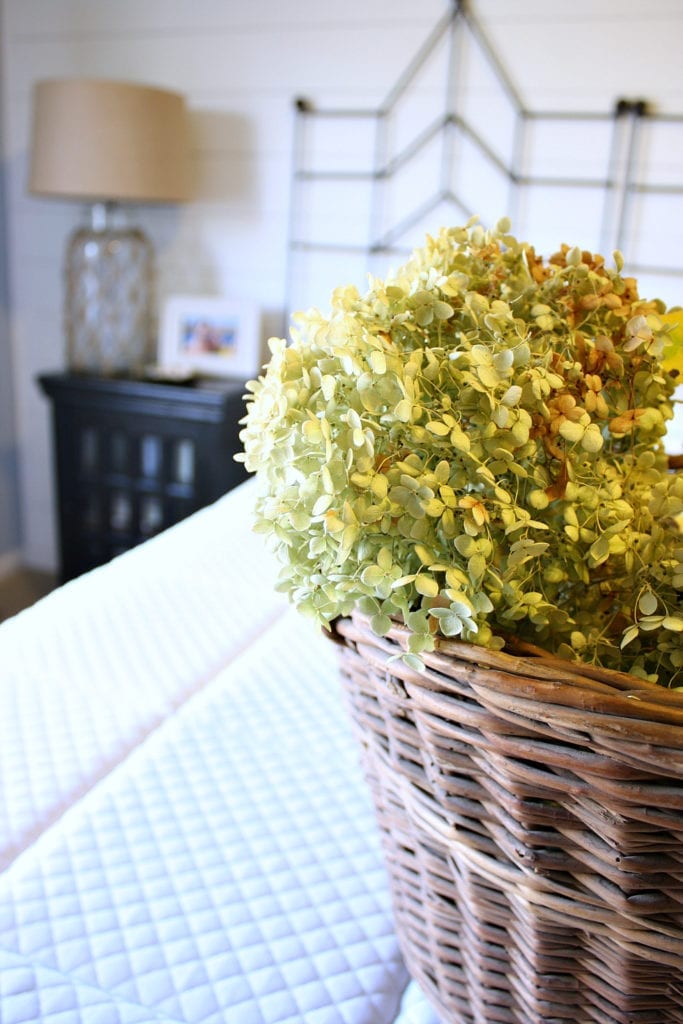 The Details and What Nectar Offers
The Nectar Sleep website was extremely helpful to me when exploring the details on this mattress. So if you are interested you can click here to go directly to their site. I have highlighted their policies below which I feel make them stand out from other home delivery mattress companies.
*Free shipping and returns
*365 Night Home Trial
*Forever Warranty
*Price point is ($400-$900)
*Naturally resistant to bed bugs
Overall the Nectar mattress has been a win-win for our family. I have a feeling we will add more Nectar mattresses to our home and that we will be happy for a long time…more like, FOREVER!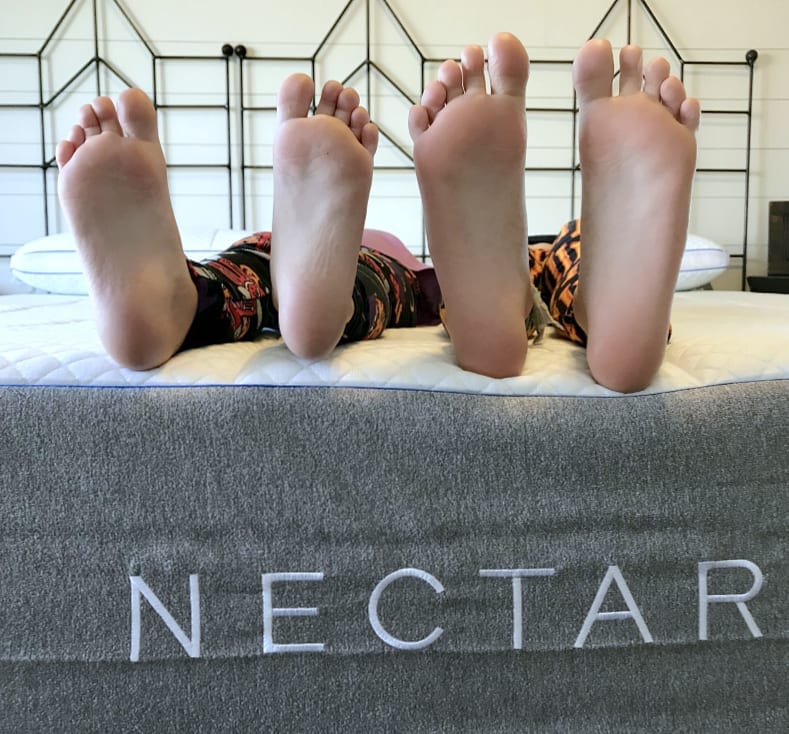 If you have any questions for me about our Nectar mattress review or the process of delivery or set-up, please ask me in the comments below! Also, don't forget to watch my video above as it show you every little detail! Now I am off to take a nap!
xoxo,
Kelly