Master Bedroom Essentials: $100 Room Challenge
I hope you all had a wonderful Fourth of July!  We have a lot going on in July, but when I found out about the $100 Room Challenge hosted by Erin over at Lemons, Lavender, and Laundry,  I decided heck, why not add one more thing to my already full plate.  Several other bloggers have already joined and as you know I have a thing for decorating and re-decorating!  Plus, I have a bit of a competitive side (which if you know me at all shouldn't be a surprise) and I wanted to prove (mostly to myself) that I could redo a room for a mere $100 and have it look Pinterest worthy at the same time.  So I have decided to tackle our master bedroom. I hope you will join me these next three weeks of July as I embark on this fun challenge!
*This post contains affiliate links.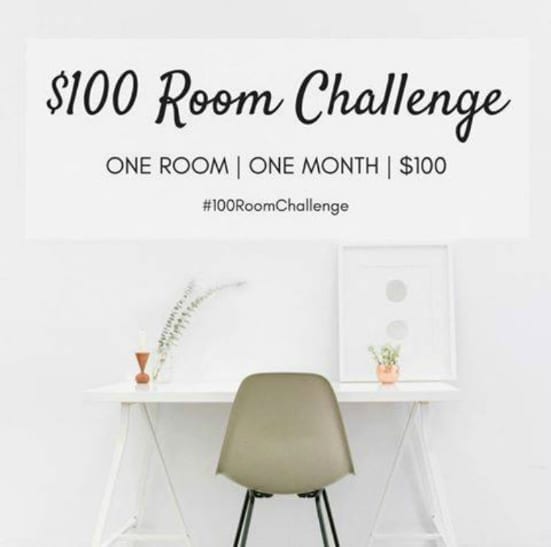 (You can read all about the challenge HERE)
Here are a few before pictures of our master bedroom, the room I hope to transform. Sorry for the picture quality and the messy room, just trying to keep it real. These are obviously not staged! It's fine now but a bit cluttered (my side of the bed) and I have yet to hang much on the walls. It just needs to be finished and it definitely needs some character. That's doable, right?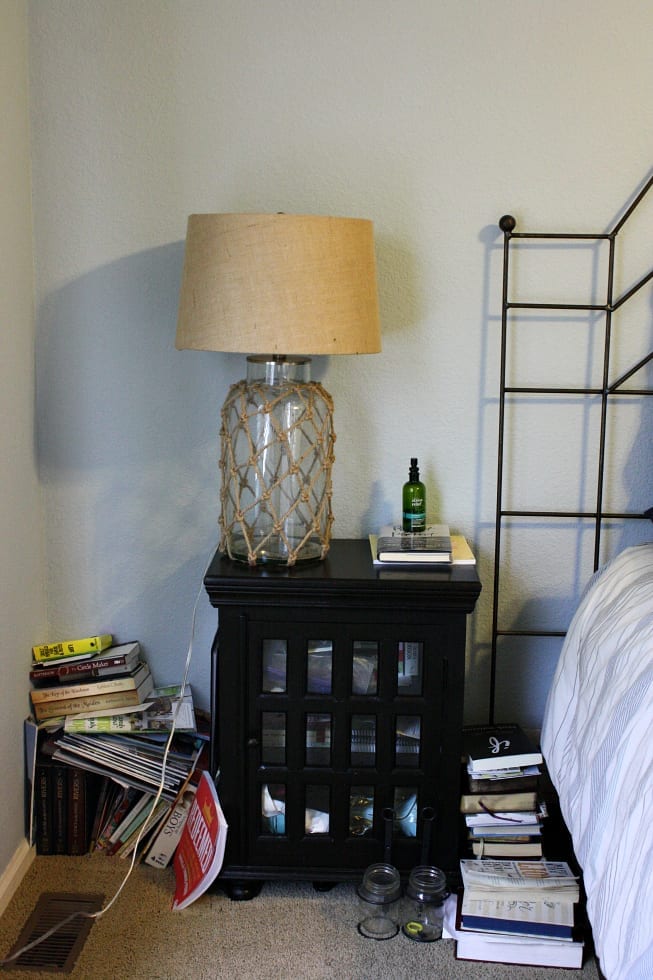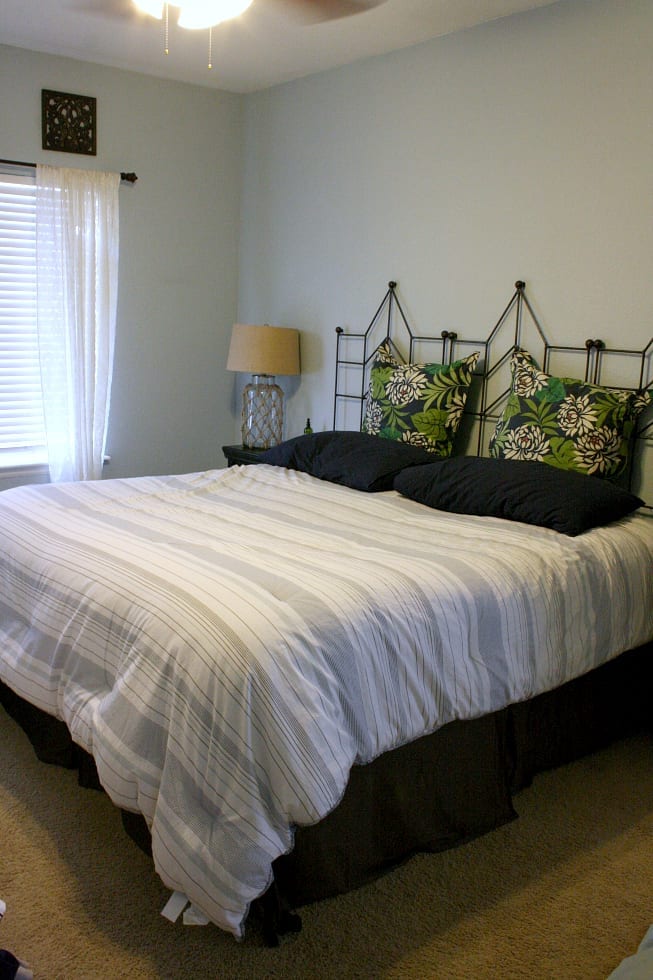 My dream master bedroom would have coastal, cottage, and farmhouse touches. So I started by searching for inspiration in my favorite spot, Pinterest!  After finding an overwhelming amount of inspiration, I knew I needed a plan to help narrow things down and figure out if spending a mere $100 is even possible!
Master Bedroom Essentials
A plan always makes things easier. As does a list. Organization is always good, right?  So below I have listed my Master Bedroom Essentials in hopes that if you plan to embark on a makeover or remodel yourself, these tips will help you formulate a plan of your own!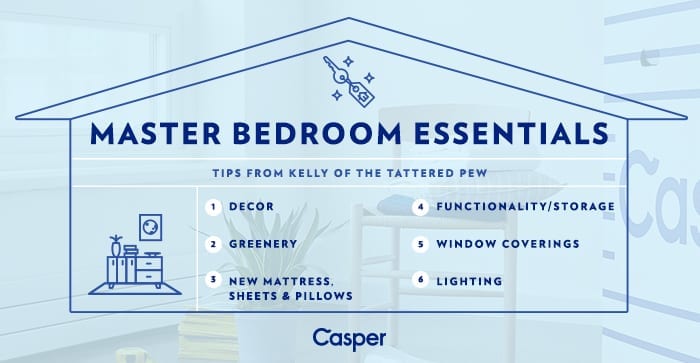 Decor.
This will obviously be the fun part for me! Maybe I will get lucky and be able to shop not only our home but my mom and sister's homes as well! 🙂 I have some ideas but I will save those for my next post!
Greenery.
I love adding pops of color through either real or faux plants.  I'm hoping to get some palm fronds or plants to add to our bedroom.  I loved the ones below!  Or you just might see my favorite topiaries appear again! 😉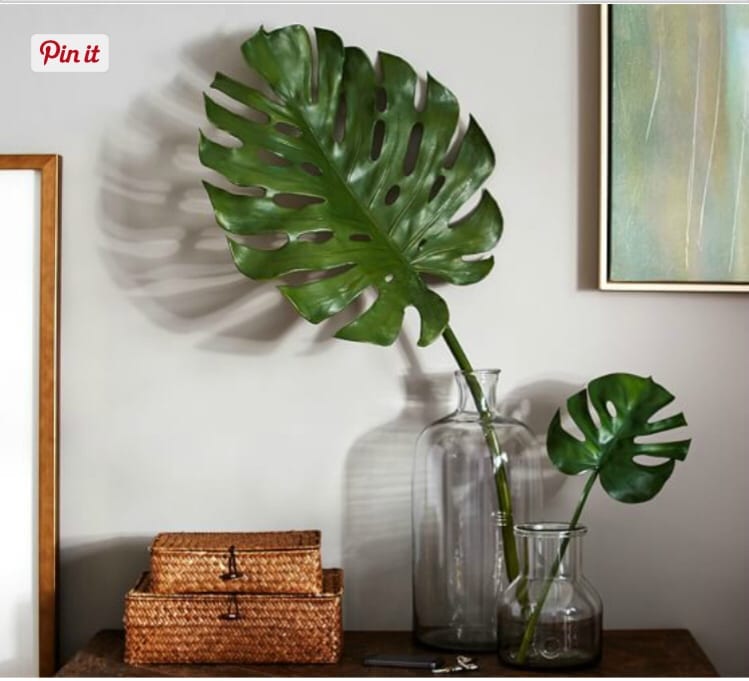 Source: Pottery Barn
New Mattress, Sheets, and Pillows.
Of course we would LOVE to get a new mattress since we have had ours for 10 years now, but that is definitely not in the budget since I only have $100 to spend.  So I will keep dreaming.  Luckily we did get some new sheets last month that I found on clearance from Target.  They are all white and since I bought them BEFORE the challenge, I will not be counting them towards the budget. 😉 I think I will just use our current bedding since we really like it.
That leaves pillows. Don't laugh, but I have currently been without a pillow for about 6 months now. I have been sleeping on one of the decorative ones we use to make our bed. I just can't seem to find one that I like and it honestly hasn't been a priority. I know, I'm crazy. But I have had my eye on this amazing Casper pillow that my beloved Target carries. Hmmmm. We will see if it is in the budget. Because we all know that a good pillow is essential.
Source: CASPER
You can take a peek at the details of this pillow by clicking here!
Storage and Functionality.
We currently have our TV sitting on a side table next to our armoire. My goal is to somehow fit the TV into our armoire and eliminate the extra table.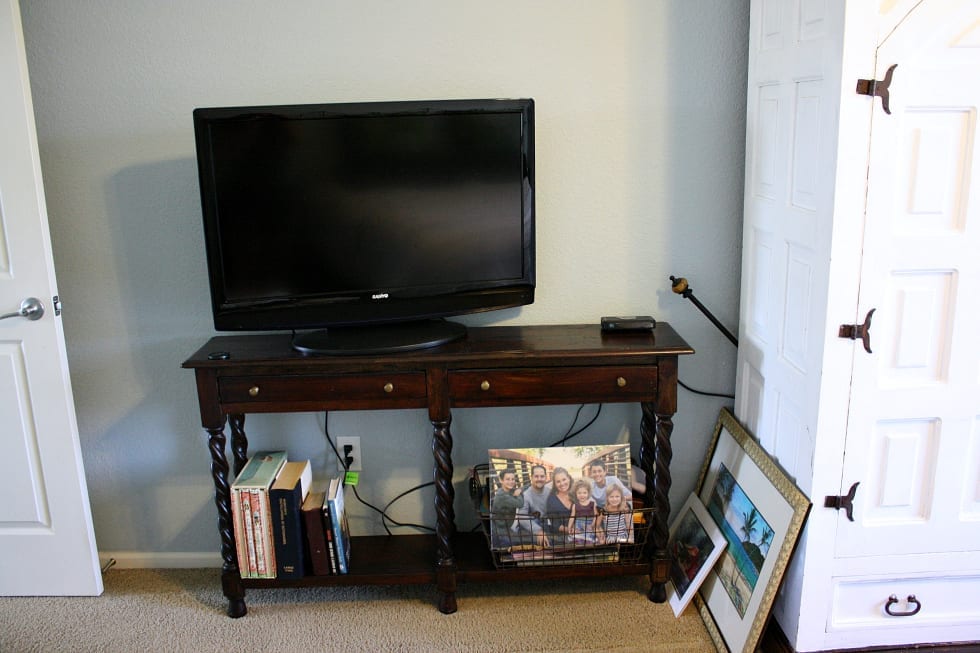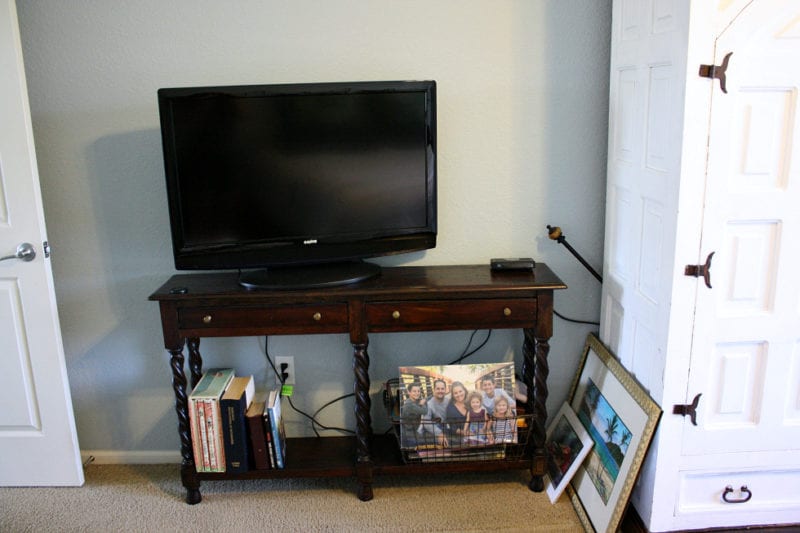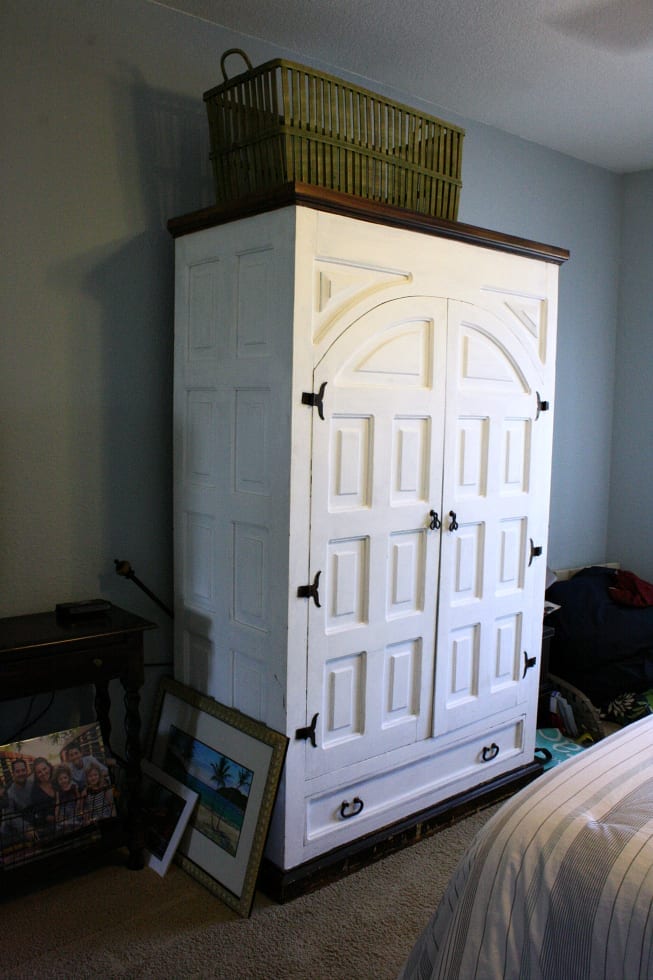 The picture below gives me hope! We shall see.
Source: Pottery Barn
Window Coverings.
My plan is to make drop cloth curtains like the inspiration picture below. I loved how easy the drop cloth was to work with when I made the bed skirts for our girls' room. You can check them out by clicking here! Plus they involve no sewing and that's my favorite kind of DIY.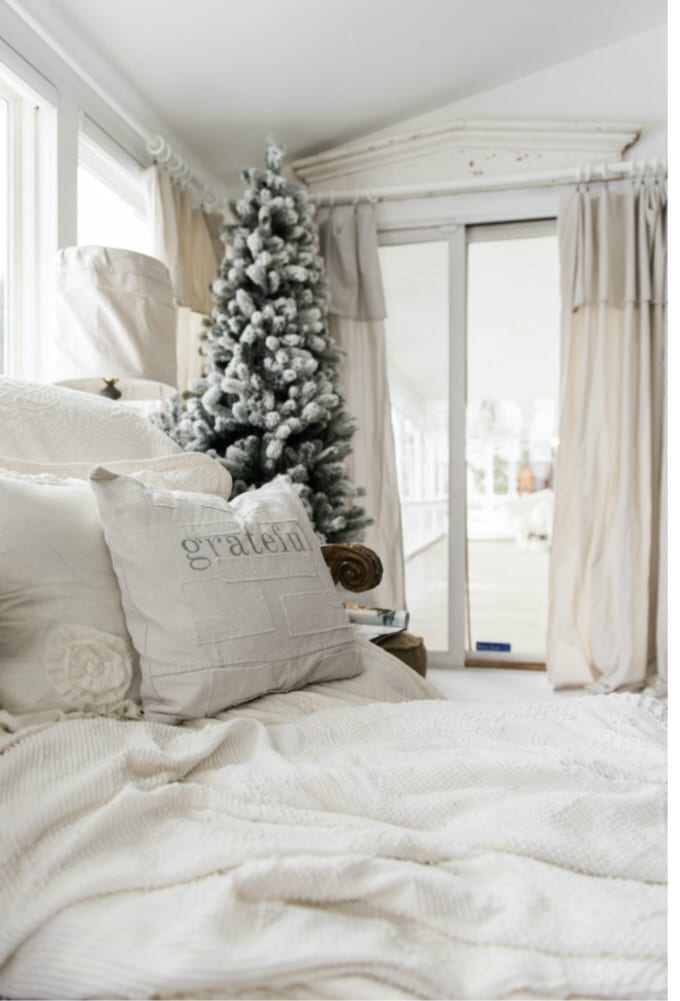 Source: Liz Marie Blog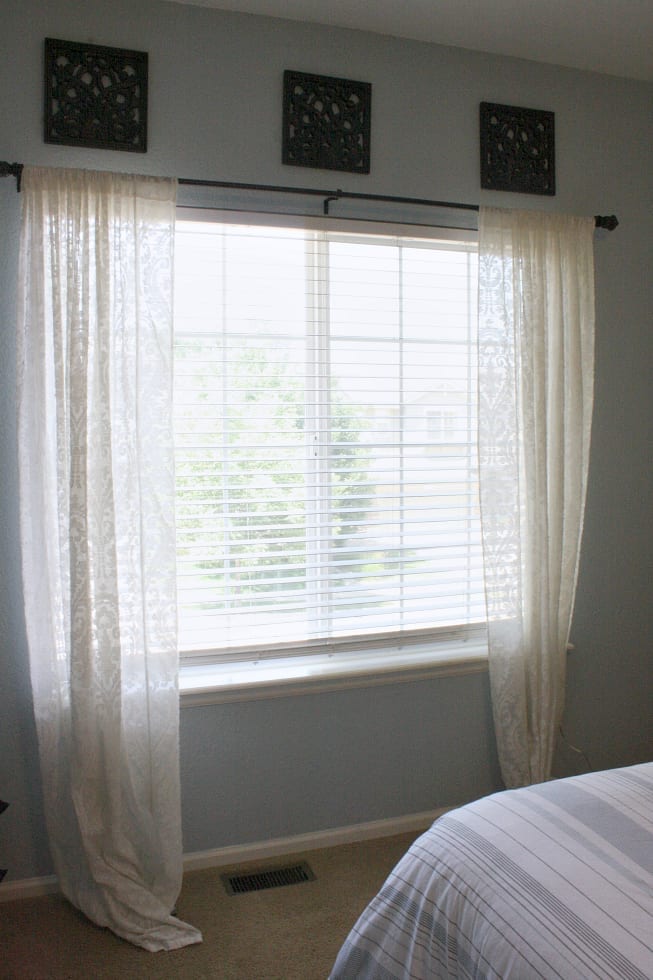 Lighting.
This is always important when planning a room. Luckily I really like the lamps we already have so now I just need to figure out if we need a standing lamp in the corner. I would love to add a chandelier where our ceiling fan currently is but that is just not practical since we use the fan just about every night!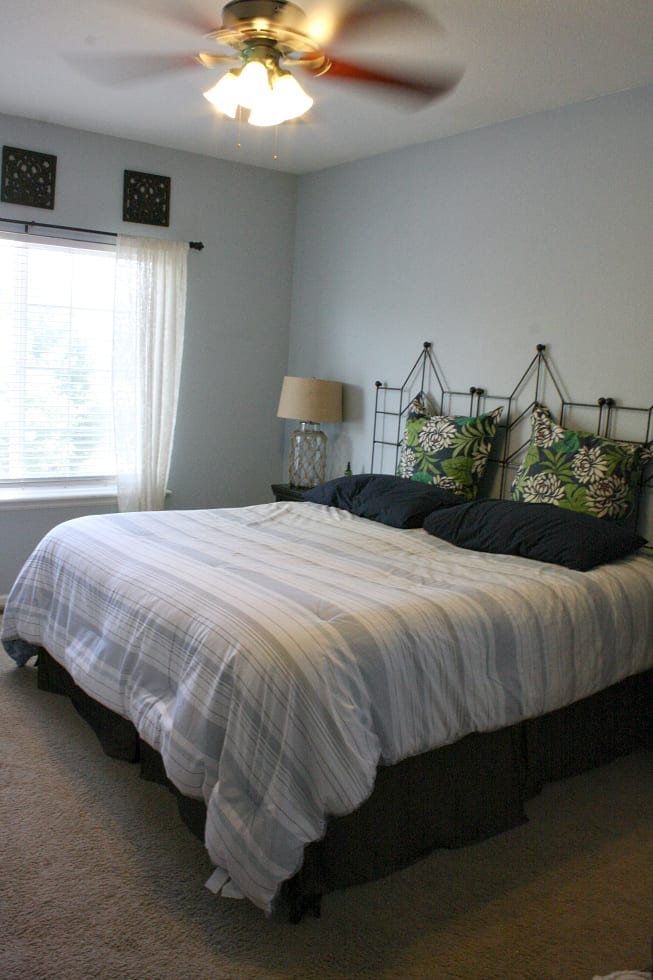 The picture below is the look and feel of what I want in the end. Now I have to see if I can make this all happen for only $100. I am starting to think I might be a bit crazy! Ha ha! Well, wish me luck and let me know if you have any tips or suggestions that might help me in this crazy fun process!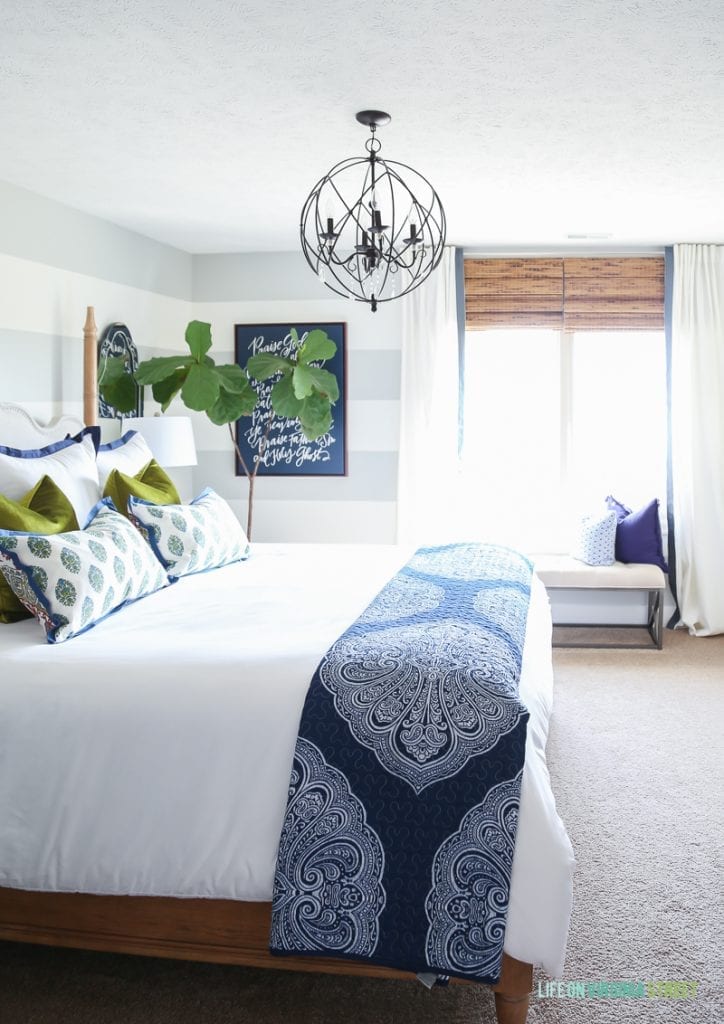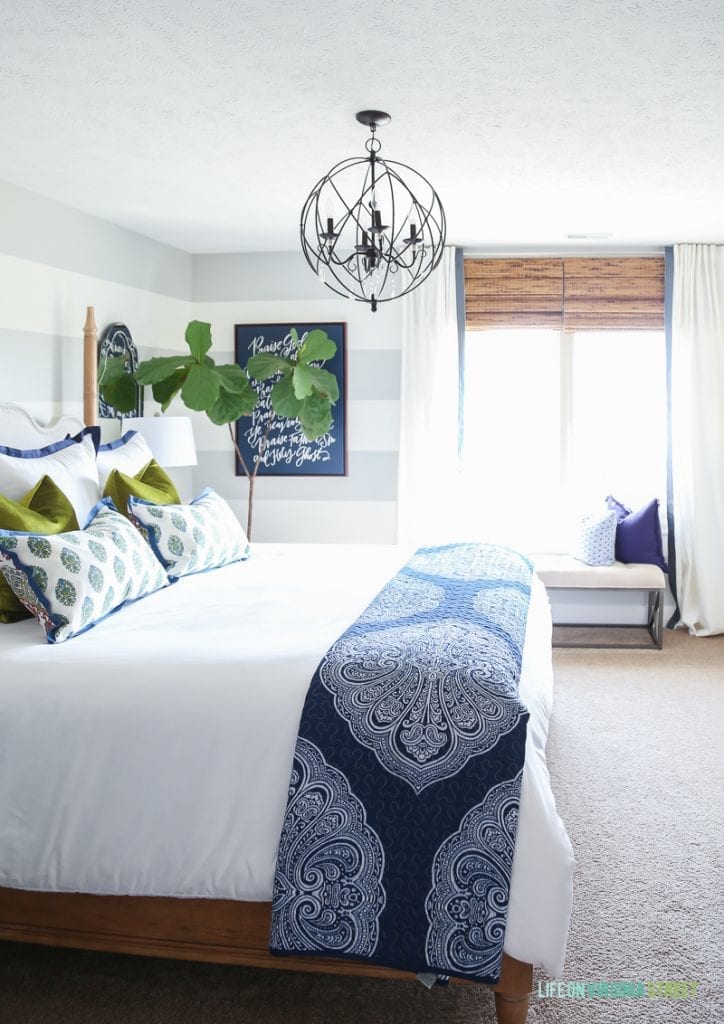 Source: Life on Virginia Street
Well there you have it, my plan and the master bedroom essentials to help me achieve my goal. I will also be sharing over on Instagram and Facebook if you want to see more pictures! I hope you will follow along with me these next few weeks and make sure to look for my next post sometime next week to see if I have made any progress or changed things up!
xoxo,
Kelly
/Week 1 / Week 2 / Week 3 / Week 4 /
Click on some of the pictures below to see other bloggers taking on this same challenge!