Natural and Simple Decorating Ideas for Fall
One of my favorite seasons to decorate for is Fall. Mostly because I am all about the effortless Fall decor that takes no time or money and is still stylish. Let's chat about some natural and simple decorating ideas for Fall that you can incorporate into your home today!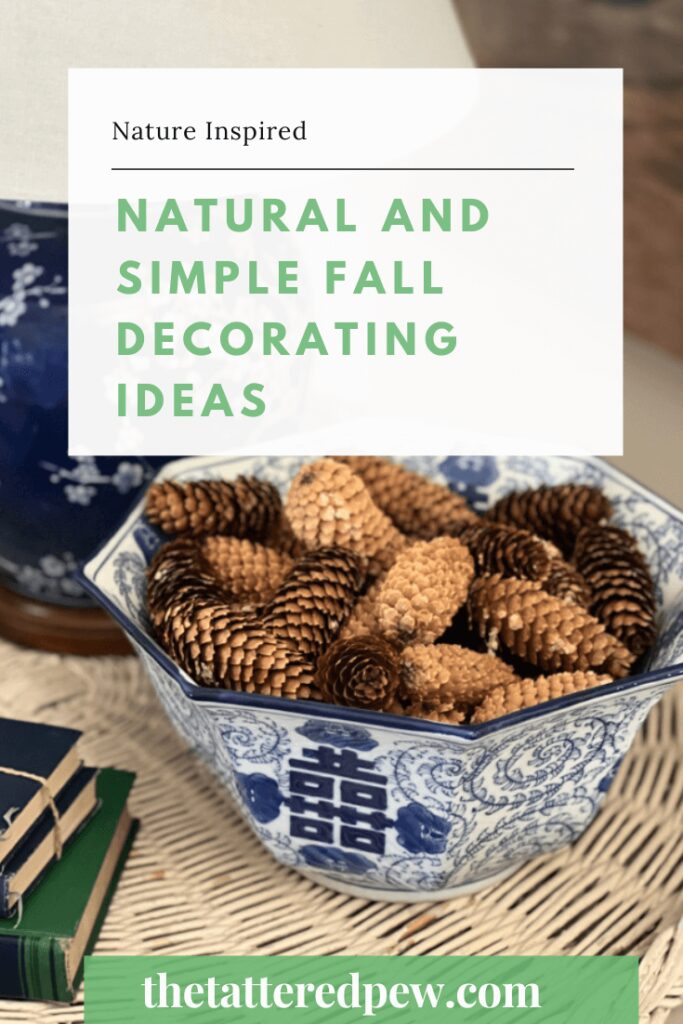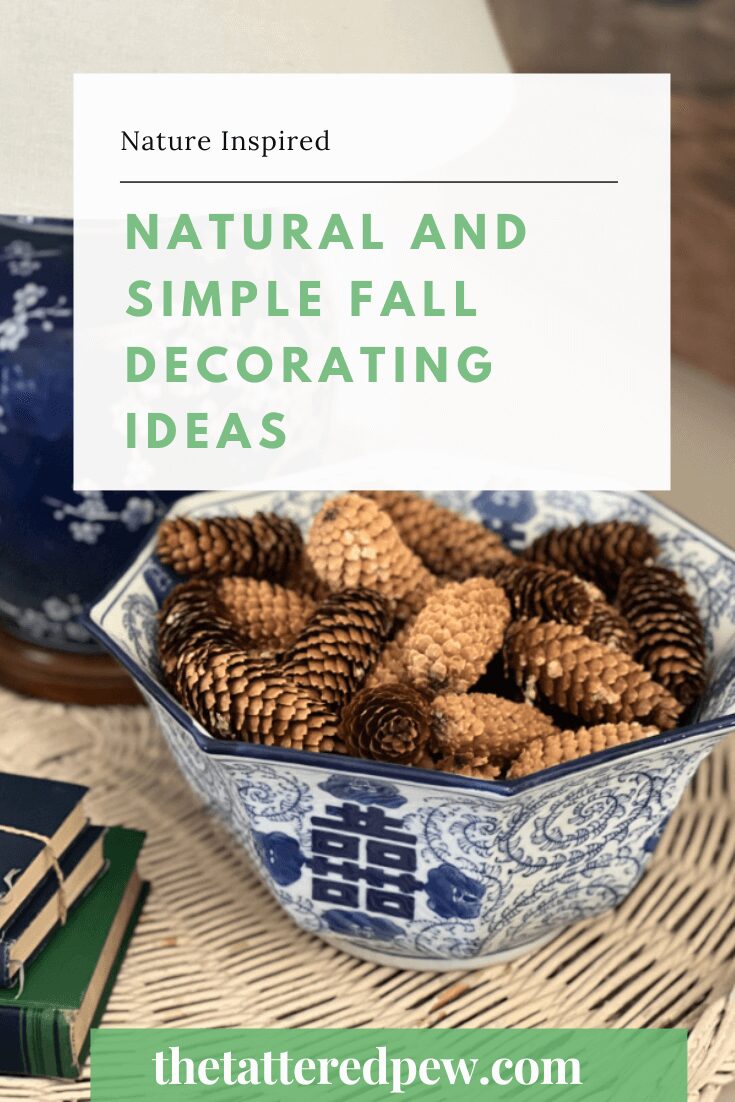 *As an Amazon Associate, I earn from qualifying purchases. This post contains other affiliate links too for your convenience. Click here to read my full disclosure policy.
What Is the Easiest Way to Decorate for Fall?
One of the easiest ways to decorate for Fall is to let the outdoors guide you. Why not be influenced with what nature has to offer. Nothing inspires me more that the colors of Fall and the changing leaves and foliage.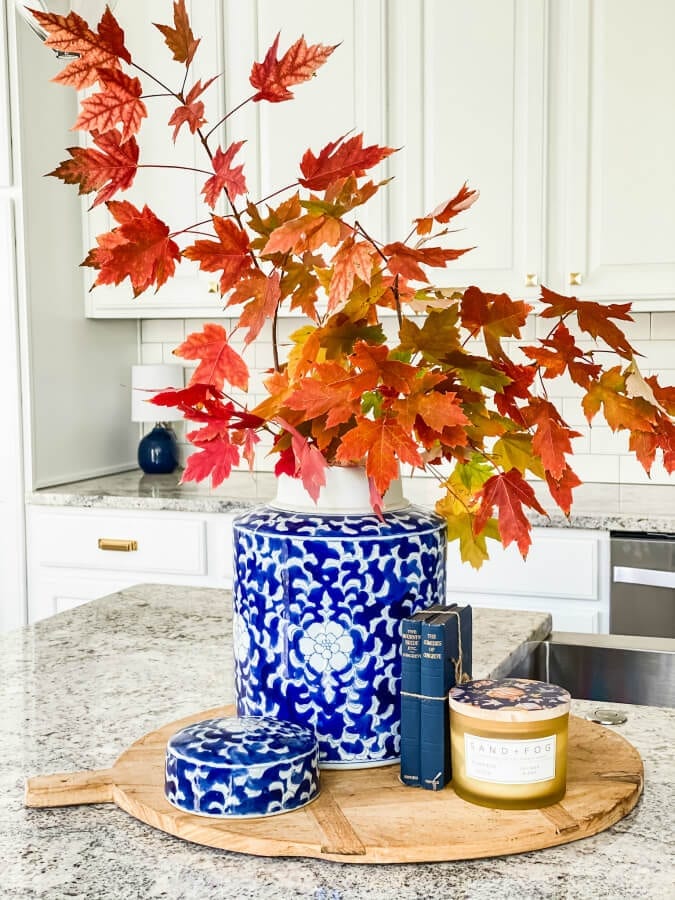 Do what makes you and your home happy. For me that includes lots of natural and simple items like pine cones, flowers, dried flowers and natural elements.
Easy decorating ideas don't involve running to the store and can be added to what you already have. Let's chat about a few ways I put this into action myself.
How Can I Decorate for Fall With No Money?
This is often a very common question when it comes time to decorate for Fall. Most people want to know how to do it with out spending any money.
I hear you!
Staying on a budget is important to me and home decor can often add up very quickly, especially when you tend to switch things out seasonally like I do.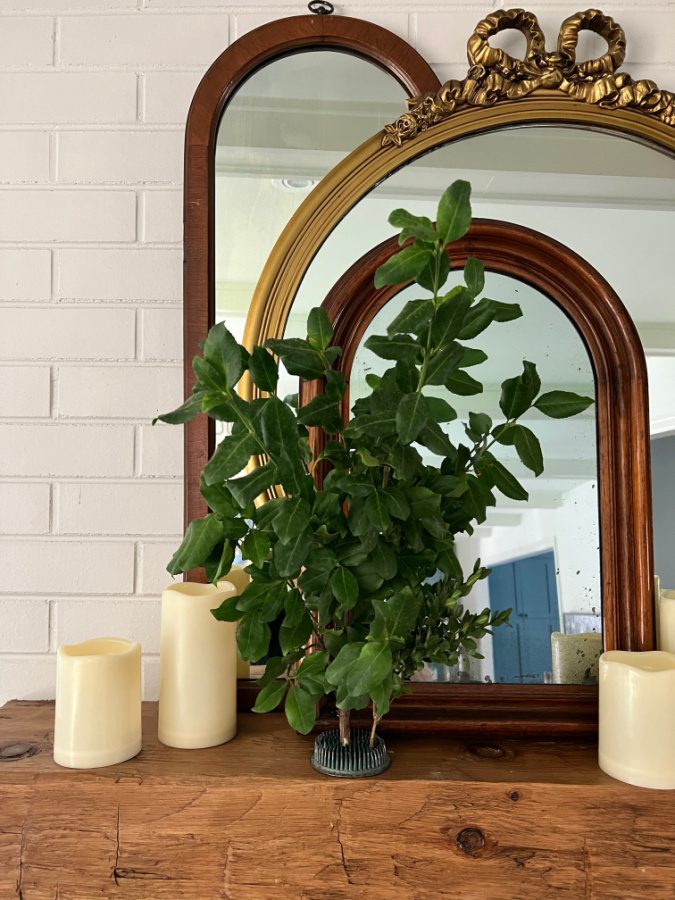 Well, I have good news! You most definitely can decorate for Fall with no money. The best way to spend no money is to head out to your yard, garden, or take a walk in your neighborhood. Scope out plants, flowers, or trees that catch your interest. Bringing the outdoors in is one of the most simple ways you can decorate for Fall.
Using natural decor is generally affordable if not free, especially as you use items from your own home or garden.
Minimalist Fall Decorations
Another way to save money while decorating for Fall is to have a minimalist approach when it comes to decorating for Fall.
I used to be the gal who would haul out four ( or more) tubs of Fall decor from the basement and go all out in my home. Sometimes I wish I could still do that but life has gotten a bit busier and now I am craving quick and simple fall decor that looks good. I still wouldn't classify myself as a minimalist but I'm working on it! ( If you see my husband feel free to pass this on to him. Ha!)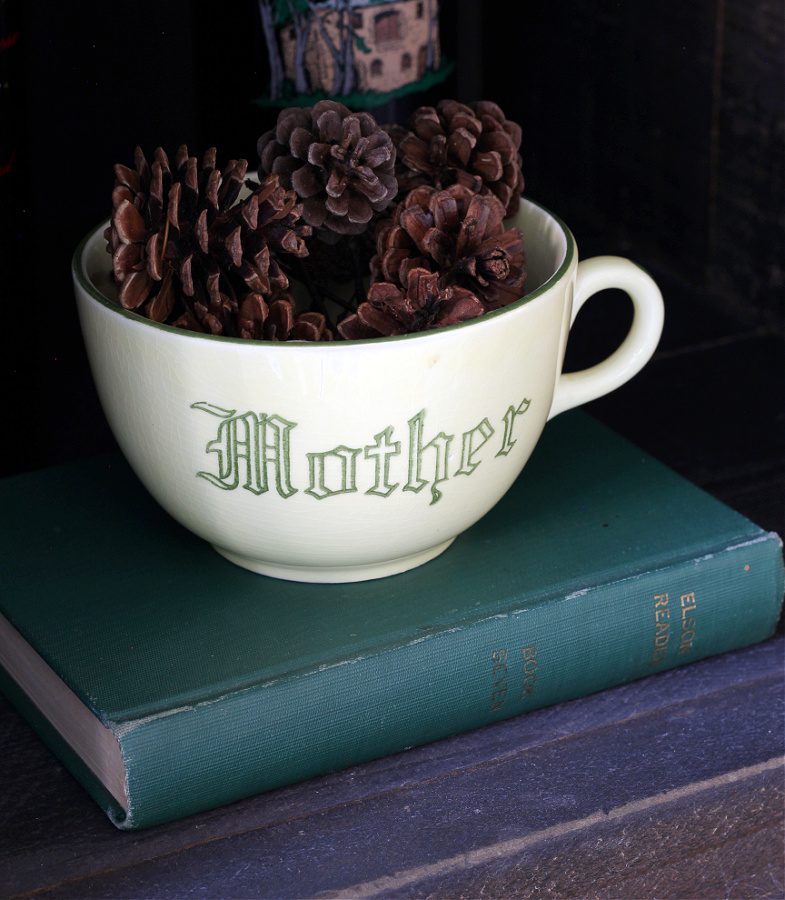 These days I am all about filling up pretty bowls with pine cones and using mostly natural decor. Do I still have a few plastic or rattan pumpkins? You bet I do but I have decided to not let them overtake all my spaces. The less equals more approach has really helped free up not only the clutter in our home but the clutter in my head. Well, at least some of it.
For me this looks like dried hydrangeas, tree branches and pine cones, everywhere. I do bring up the blankets and change out the pillows too.
I know minimalist decor isn't for everyone and for every season. But remember this whole decorating and making our houses into homes needs to bring us joy. So don't worry about what others say if you like it do it.
Fall Decorating With Natural Materials
This Fall I challenged myself to decorate with more natural materials and elements. So when I brought this up to my mom she suggested why not bring in my Fall colored zinnias?
I loved this idea and we headed out to my raised garden beds full of colorful zinnias. We kept them long , leggy and organic feeling. They ended up in a variety of vases on our hearth and in Mike's office. I love how unexpected they are in their height. They really make a statement and I love how different they look from the normal simple arrangements I usually do. GO big or go home, right?!
Dried flower arrangements can also be found throughout our home and you know I LOVE drying my Annabelle hydrangeas. I love them brown or green and they last for years. This year I am also excited to add a few limelight hydrangea stems as well.
What are your favorite dried or fresh flowers to use in your home and decor?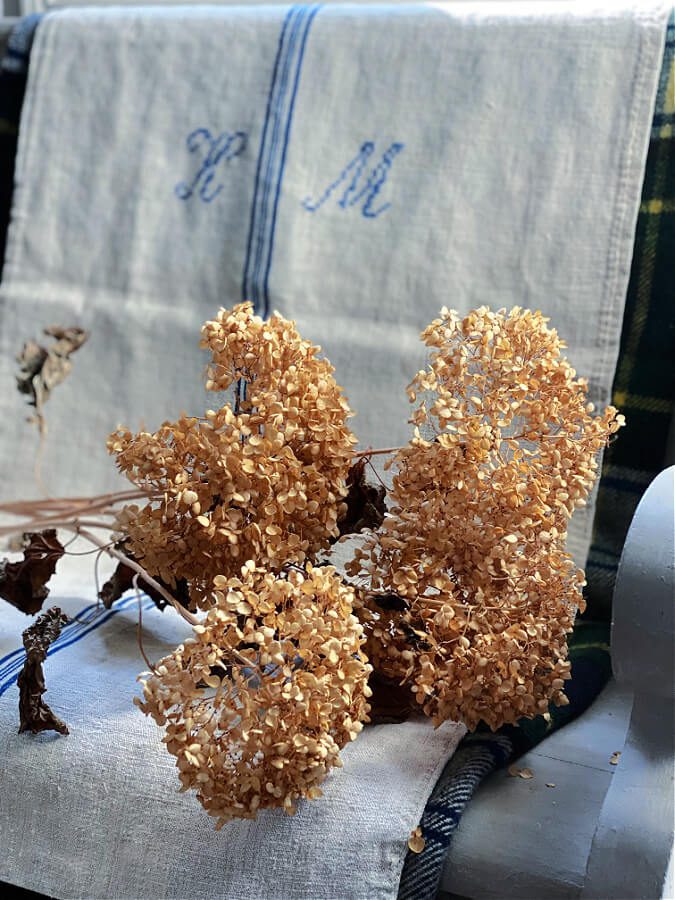 Effortless Fall Decor from Nature
Ok did I have you at effortless? Fall can be a busy time around the home. There is back to school, sports are ramping up and everything just seems to be busier. Personally I want my home to feel cozy and ready for Fall but I also don't want it to take a lot of effort.
I save my effort for Christmas decor. HA!
So my number one go to for effortless Fall decor it to use branches.
Yep you read that right. Tree branches!
I love to literally snip them from a variety of trees in our yard and throw them in a vase. The bigger and more unusual the vase the better.
Tips for Using Branches in Your Decor
The bigger the branch the better, oversized is in style!
Add a small amount of water in the bottom of the vase and let it evaporate (this will help the branch dry wonderfully).
Stick with one or two branches from the same tree.
Don't be afraid to stick a vase inside of a basket or unusual container to help hold and support your branches.
Simple Fall Decor
Other ways to add effortless and simple Autumn/ Fall decor would include stacking logs (for Fall I love white birch or aspen logs), piles of pine cones, natural wreaths, buying inexpensive mums at Costco, flowers or greens from the yard and even weeds that have fall colors.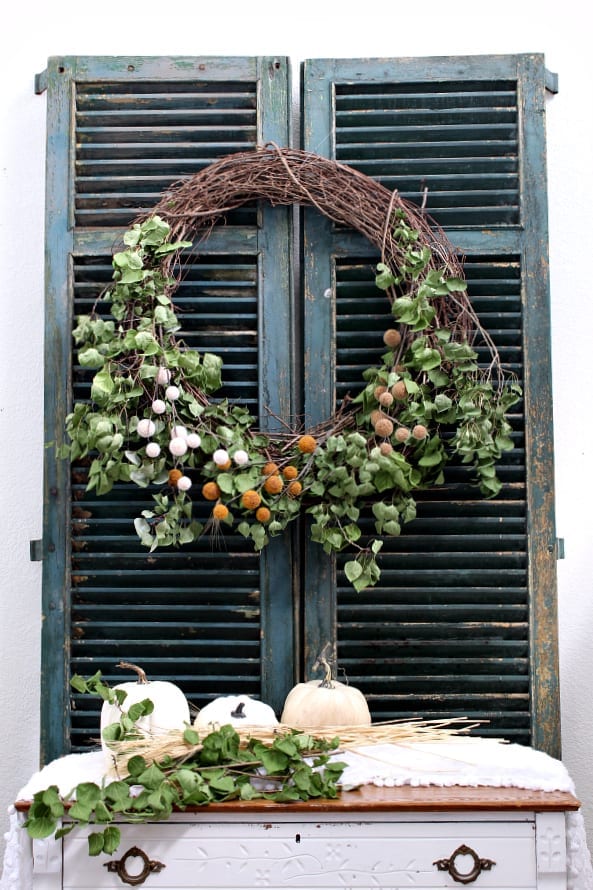 And for those of you in big cities or apartments I found some gorgeous dried pampas grass bundles that I literally bought on Amazon for $22 and threw in a brown pottery mug. Instant, simple and effortless Fall decorations in minutes.
Foraged Fall Decor
My number one foraged fall decor item is always pine cones. Did you know that baking your pine cones can help? I didn't know this until my mom told me and I did a bit of research. You can see how to prepare your pine cones for crafts and decor here.
This Fall I used them on our Fall tablescape, in bowls, in baskets and I plan to make some fun garland with them and possibly some sea shells.
My second favorite foraged Fall decor is actually weeds. I know, I know this sounds crazy but seriously, some of the weeds I have seen while out on walks or driving around town have caught my eye. Mostly because of their gorgeous colors. Just ask my husband or kids, I have pulled over and cut weeds from the side of the road.
And they just might be my favorite foraged finds if I am being honest. Have you ever done this or am I the only crazy one?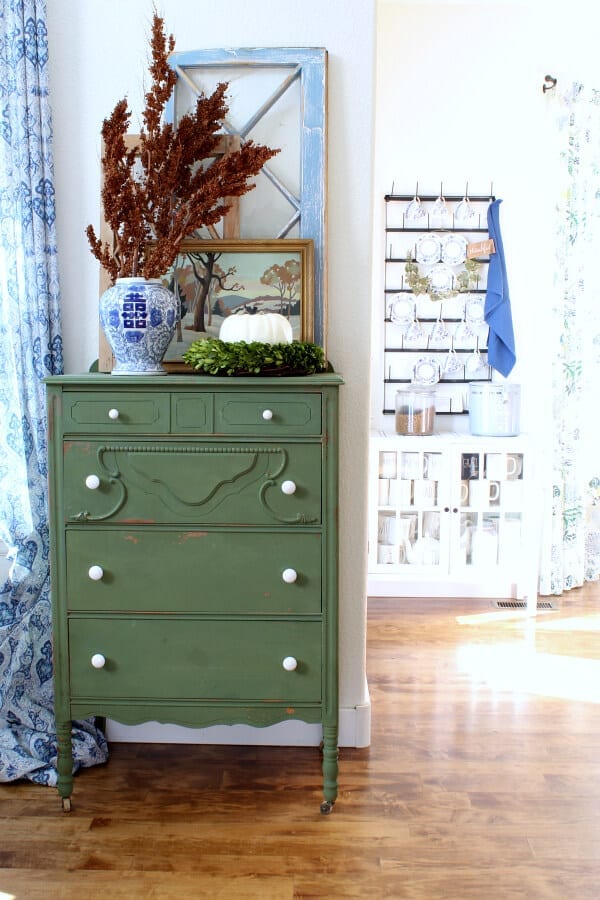 I also used some of these weeds over our range hood in the kitchen for some color and texture! All I did was secure this roadside weed to this basket tray with floral wire. Foraged fall decor can be stylish too, it's all in the texture!
Natural and Simple Decorating Ideas for Fall
Ok so I have convinced you yet that it is possible to use natural and simple decorating ideas for your Fall decor and still be stylish? I can't wait to show you how it all came together in our home. Over the next two weeks I will be sharing our Fall Home Tour. So make sure to subscribe if you want to see more!
How are you using simple and natural decor this Fall?
I'd love to have you hang out with me some more! Feel free to follow along with me on any of the platforms linked below.
LTK | Facebook | Instagram | Pinterest | Amazon
xoxo,
Kelly
Did you like this post? PIN it for later!