Tuesdays With Tracy: Shortcuts and Simplicity
Hello friends! I am so happy to be joining you again on Kelly's blog. First of all, thanks so much for all the great comments on my first visit to The Tattered Pew last month. I feel like I have made new friends and connected with long time friends too.
*As an Amazon Associate, I earn from qualifying purchases. This post contains other affiliate links too for your convenience. Click here to read my full disclosure policy.
Tuesdays With Tracy: Shortcuts and Simplicity
This month you will see how I like shortcuts and keeping things relatively simple. Here's an early morning view from my window that includes one of my home decor simple shortcuts.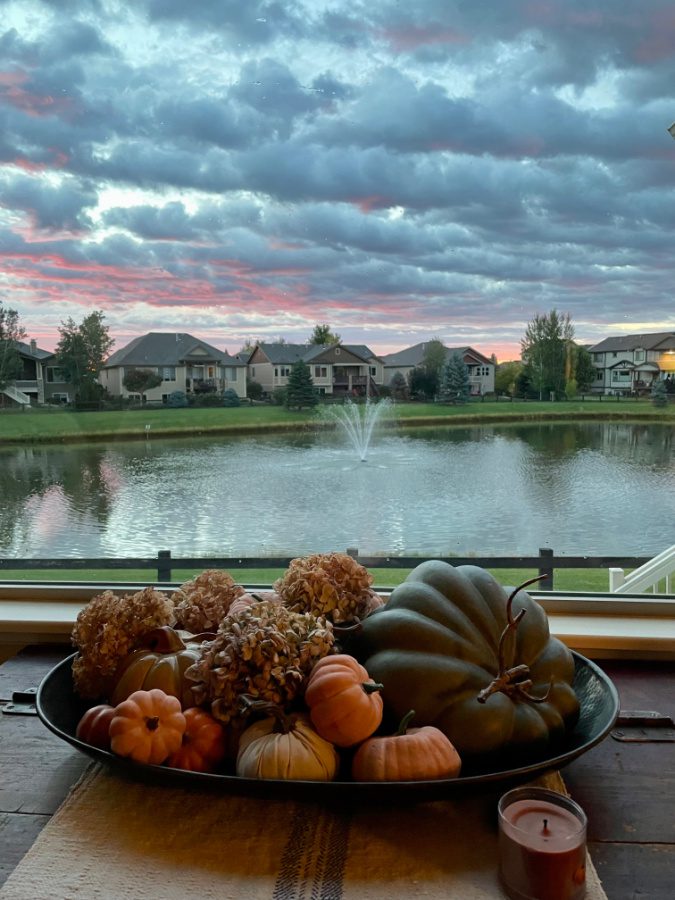 But before we get to that, did you see the one-day makeover Kelly posted of Grace's bedroom? That was so much fun and involved a lot of happy dances by Kelly and me as the room came together. My two daughters and I, along with my sister and her daughter, inherited a desire to creatively nest in our homes from my mom. I remember my mom doing the happy dance when home projects were finished, and now we keep the tradition going.
Shortcuts and Simplicity
Ok, let's get to the "Shortcuts and Simplicity", specifically in my home decor. I realized as I was putting away my summer decor at the end of August that I had been following a pattern for the last couple of years. I tend to decorate with bowls and trays. Well there's nothing new about that… but I wrap them up and store them on shelves in the basement.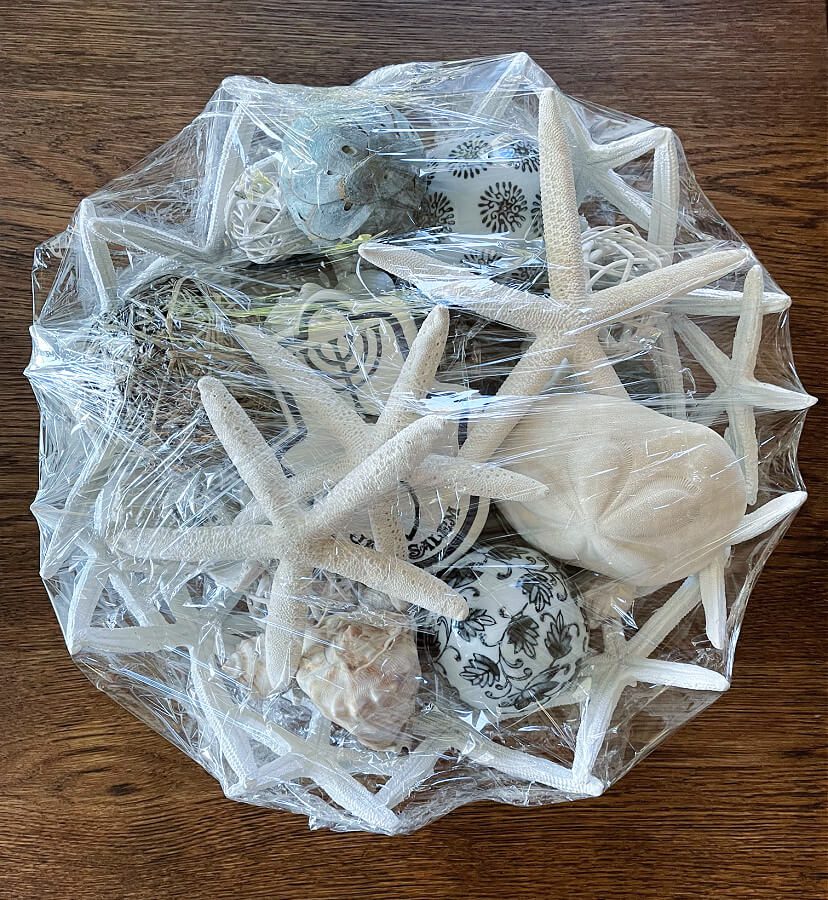 Yup, I'm a shrink wrap, plastic wrap, home decor specialist. I actually inherited that from my mom too. She would plastic wrap all her seasonal crystal serve ware so she didn't have to wash it.
So I put the wrapped summer items on the shelf, and pulled this out, unwrapped it, and put it in our entryway.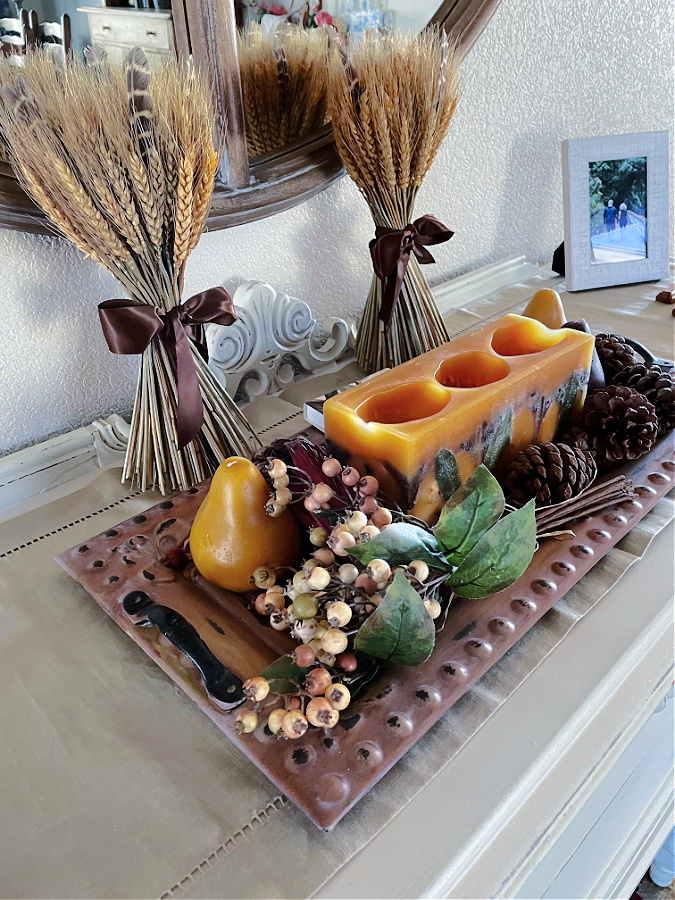 How simple was that?! That is a tray with a Rosy Rings candle, some pear candles, pine cones, and faux berries on it. The Rosy Rings candle has lasted several years. I just love the look of the pear candles so I haven't burned them, which is silly because they are a popular item that is still available.
Shop My Tray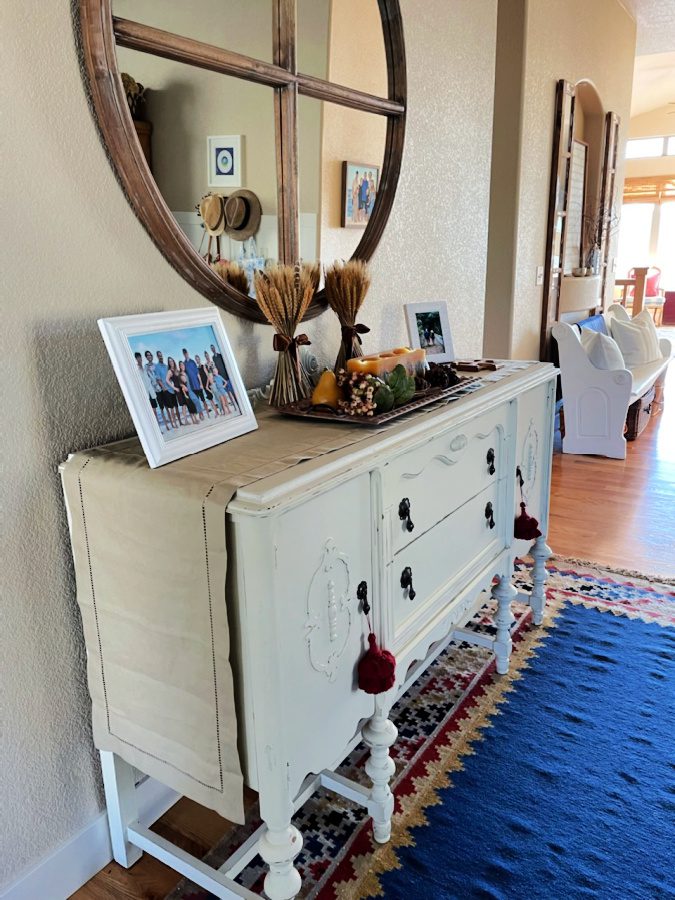 Simple Tray Ideas
I also pulled this tray off the shelf and it is sitting in front of our living room window. In this case I didn't plastic wrap it because of the dried hydrangeas. I simply covered it with an old pillowcase. I found the tray on sale at Pottery Barn about five years ago and to my surprise, it is still available. It is just filled with a variety of faux pumpkins and dried hydrangeas from my yard. How simple is that?!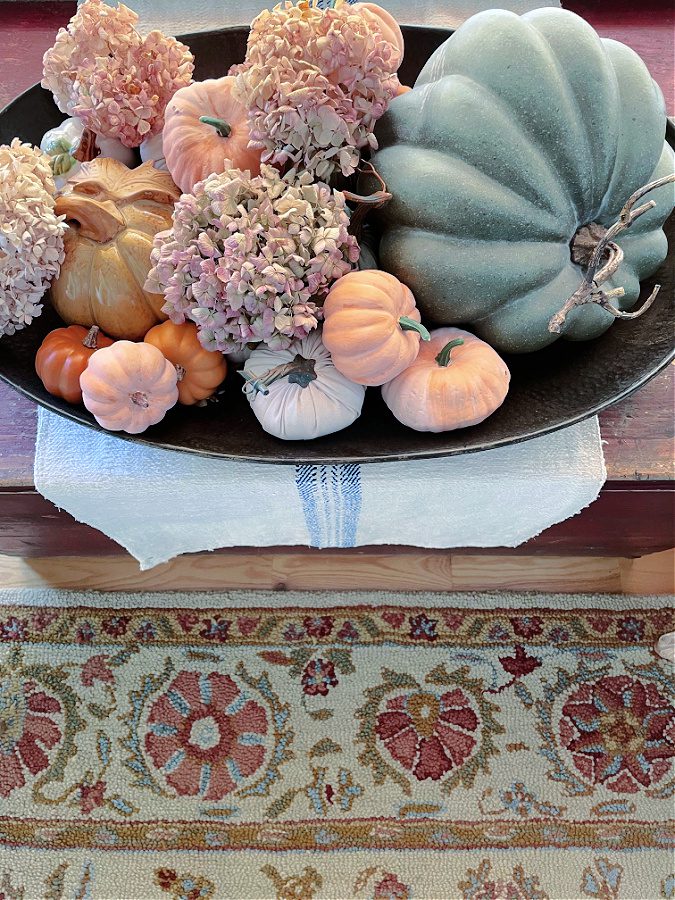 Fashion Shortcuts and Simplicity
OK, so let's talk fashion "Shortcuts and Simplicity"
One item I always have in my closet is a white blouse. This is another thing I inherited from my mom. She was a bit like Katherine Hepburn and would wear men's white button up shirts. My mom would buy hers at Sears because they had permanent press wash and dry shirts.
Something about me…I DO NOT IRON except in extreme emergencies! Ha! So the shirts below are what's in my closet. They are from the No Iron Collection at Chico's. This collection seems to have a good following so they usually have the white shirt as well as other colors rotated in. I watch for them to go on sale and then snap them up when I need a new one.
Shop shirt here! (Image source: Chicos)
I've gotten lots of compliments on the one below. I also have it in a blue stripe pattern. And if you sign up for the Chico's emails you get 20% off. Both of these shirts come in petite.
Kelly's girls were over for dinner this week and one of them mentioned "preppy". We discussed what style elements they thought would be in that category and how the younger generation sees it. The girls classified me in the "coastal grandma" category in clothing which I consider to be a complement.
What is something you like to always have in your closet?
Shop shirt here! (Image source: Chicos)
Vintage Finds
My house is sprinkled with vintage and flea market finds. I will try to feature one each month. Below is an early morning capture of an old antique frame I picked up years ago at a flea market in a Denver park.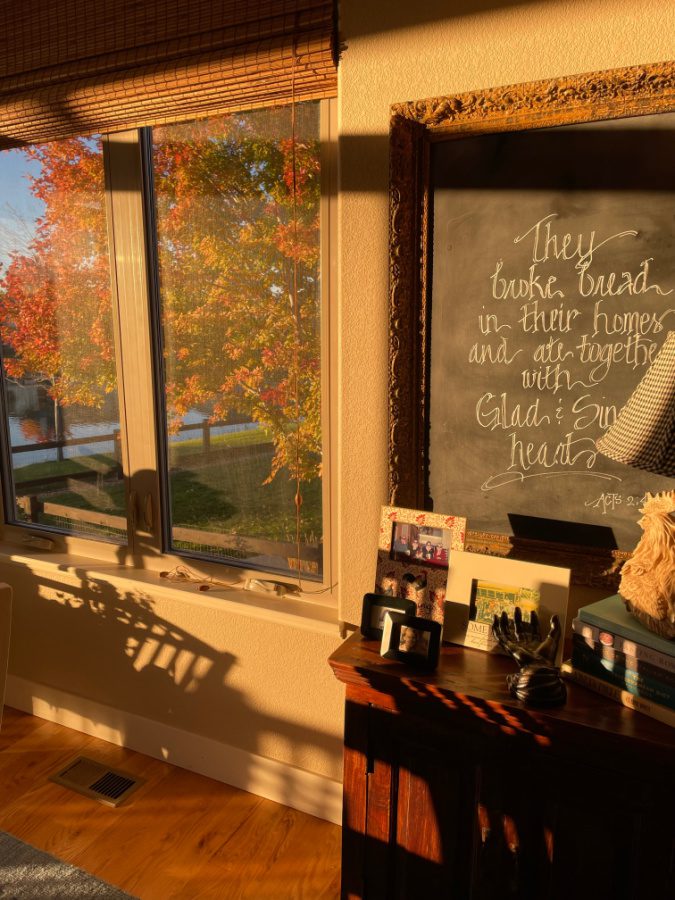 I love the chippy details as you can see in the closeup. I went to Home Depot and had a piece of thin wood cut to fit, and made it into a chalk board. I have a dear friend who is an artist and she kindly wrote the verse for me.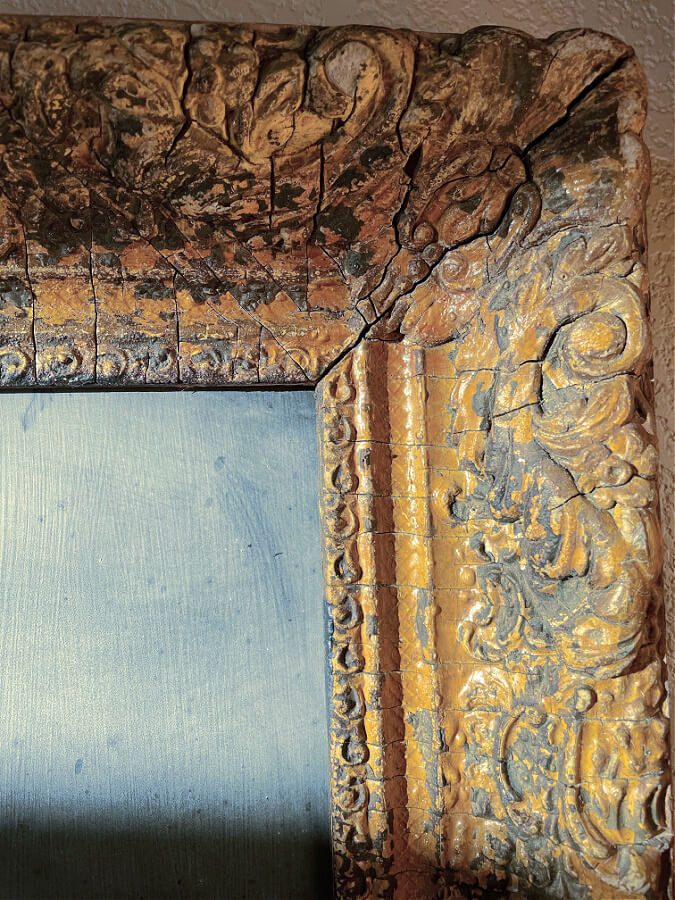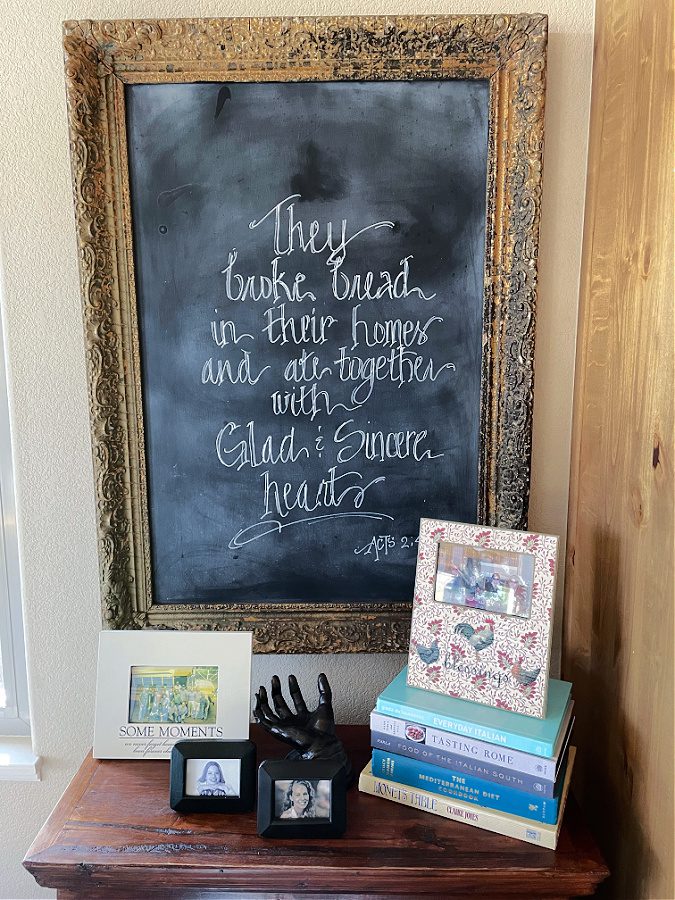 Shortcuts and Simplicity
I realize just how much I inherited from my mom. Oh, I have a few things from her home, but I'm talking about a timeless legacy of faith and family. There was a big hole in our family when she went home to heaven. But how fun is it that our family shares her faith and enjoyment of life. We happy dance, shrink wrap our home decor, and do things with shortcuts and simplicity… and lots of laughter.
I've enjoyed being with you this Tuesday, and as my mom used to say, God willing and the creek don't rise, I'll see you in November!
xoxo,
Tracy