Decorating with Vintage Flower Frogs
Decorating with vintage flower frogs is a great way to add a touch of personality to your home. These charming little frogs have been used for centuries to hold flowers in place, and they make a beautiful addition to any room. There are many different styles and designs of vintage flower frogs available, so you can find the perfect one for your home. Whether you're looking for something traditional or whimsical, there's sure to be a frog that will fit your style. So add some personality to your décor with these adorable little frogs!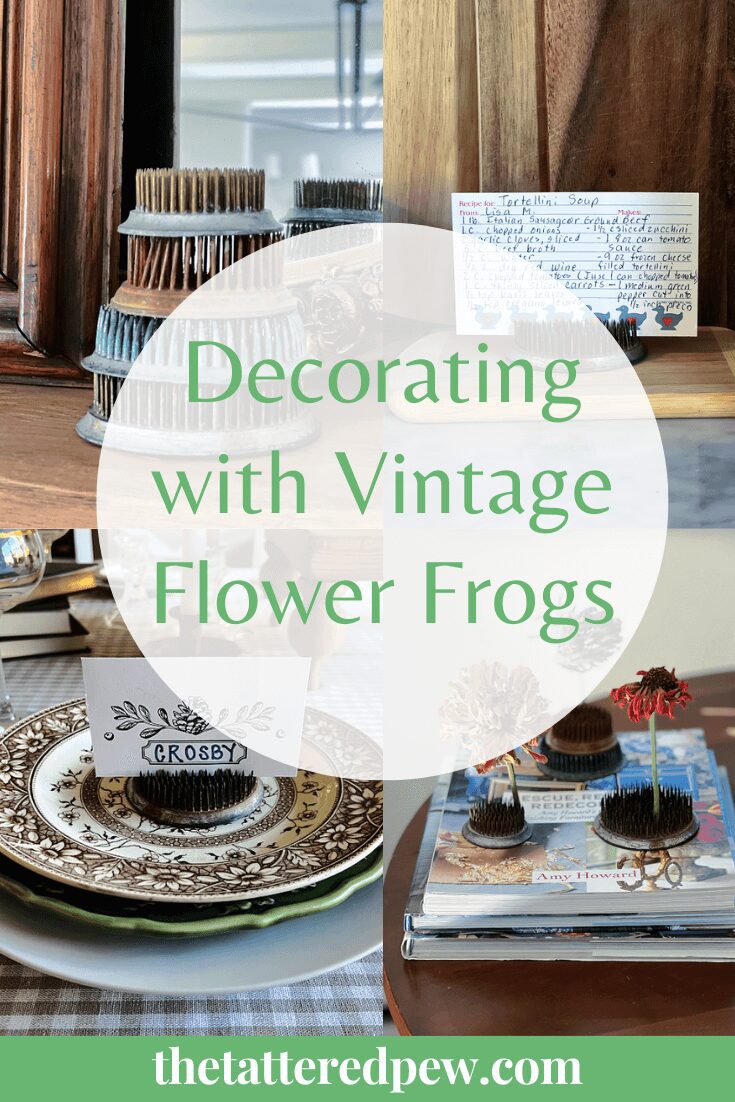 *As an Amazon Associate, I earn from qualifying purchases. This post contains other affiliate links too for your convenience. Click here to read my full disclosure policy.
Today I am joining the ladies from Thrifting With The Gals! If you are coming over from Rachel at The Ponds Farmhouse and her post about Christmas at The French Farmers Wife, welcome! You can visit the rest of the gals, Robyn's French Nest, Dabbling and Decorating and White Arrows Home's post at the end of mine.
While out thrifting recently I found some vintage flower frogs to add to my collection. After sharing them over on Instagram and Facebook I had several people reach out to me and ask about them. So today is the day!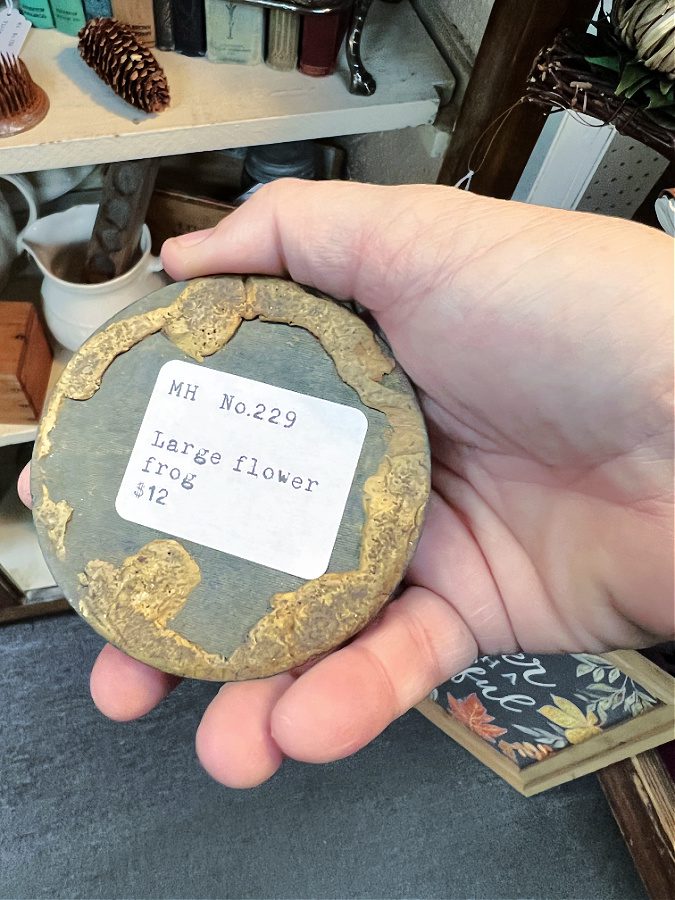 What is a Vintage Flower Frog?
First before I get in to how I have been decorating with vintage flower frogs let me answer the question a few of you might have, what even is a vintage flower frog?
A flower frog is a tool that florists have used for years to hold flowers and their stems in place. They were designed to sit in the bottoms of bowls, planters or vases filled with water. A flower frog helps keep flower arrangements upright and arranged how you want. They are a very helpful tool especially if you love creating flower arrangements!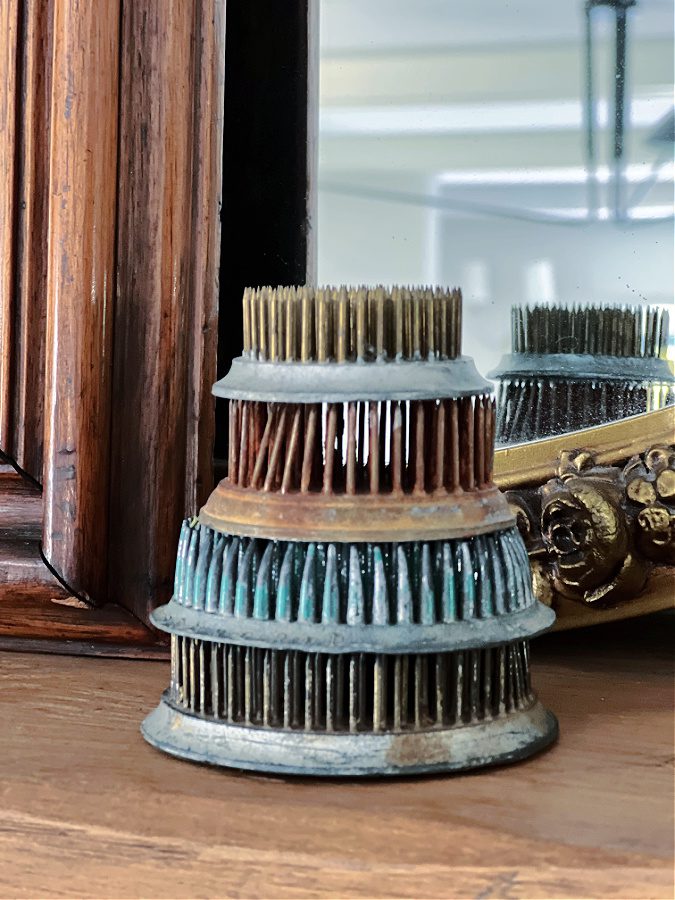 My favorite variety to collect are the metal vintage flower frogs. Let's take a peek!
Decorating With Vintage Frogs
Oh goodness do I love decorating with vintage flowers frogs! I'm sure you have figured out by now that I don't just use these little beauties for flower arrangements. I love to use them all over our home and in unexpected ways and places.
If you saw my post recently about natural and simple decorating ideas for fall, then you saw that I used flower frogs on our mantel to hold some greenery. This simple tool has so many uses and I love taking an item and giving it new life in a use other than what it was intended for.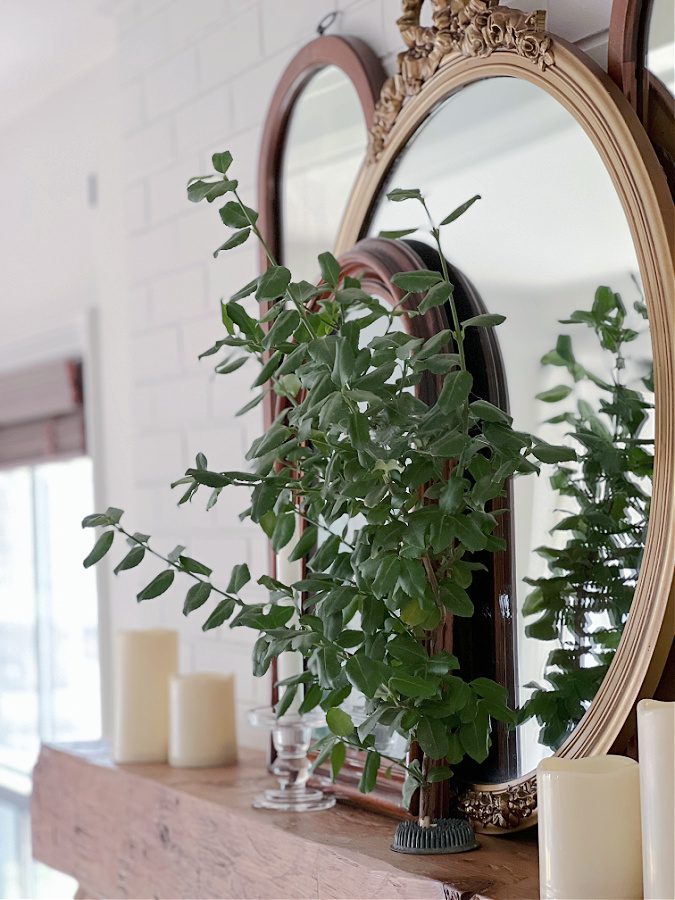 You can also find these little guys scattered around my home as decorative accents. Over on a table in our entry that I have books piled on I gathered a few flower frogs in varying sizes and stuck some of my dried zinnias on them. It was unexpected and yet so beautiful in it's simplicity.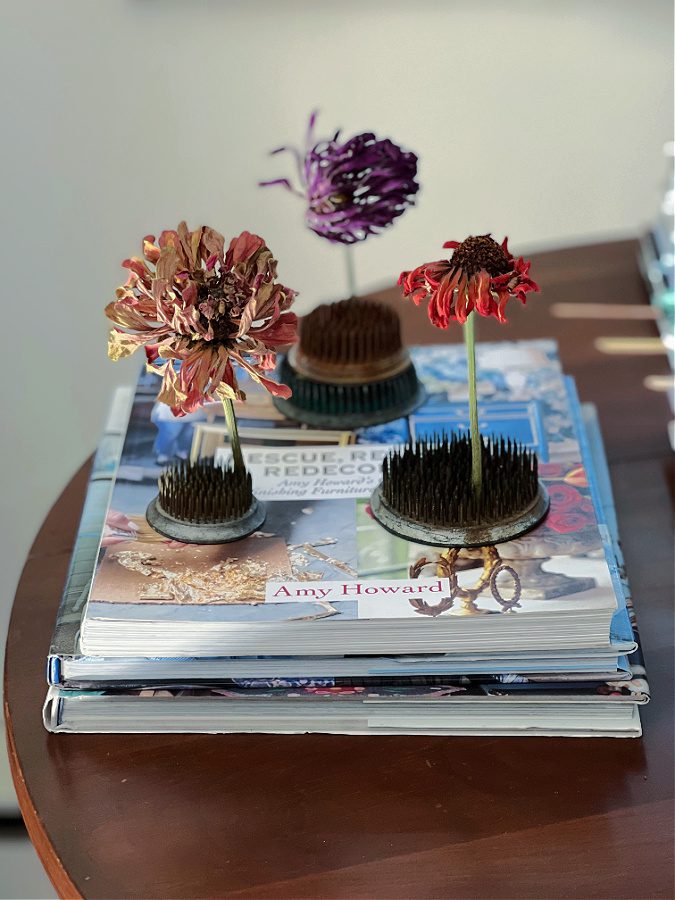 I also added some of my live zinnias to a few vintage flower frogs as well. I set them in the terrarium below and the bowl below. See more about my zinnias HERE!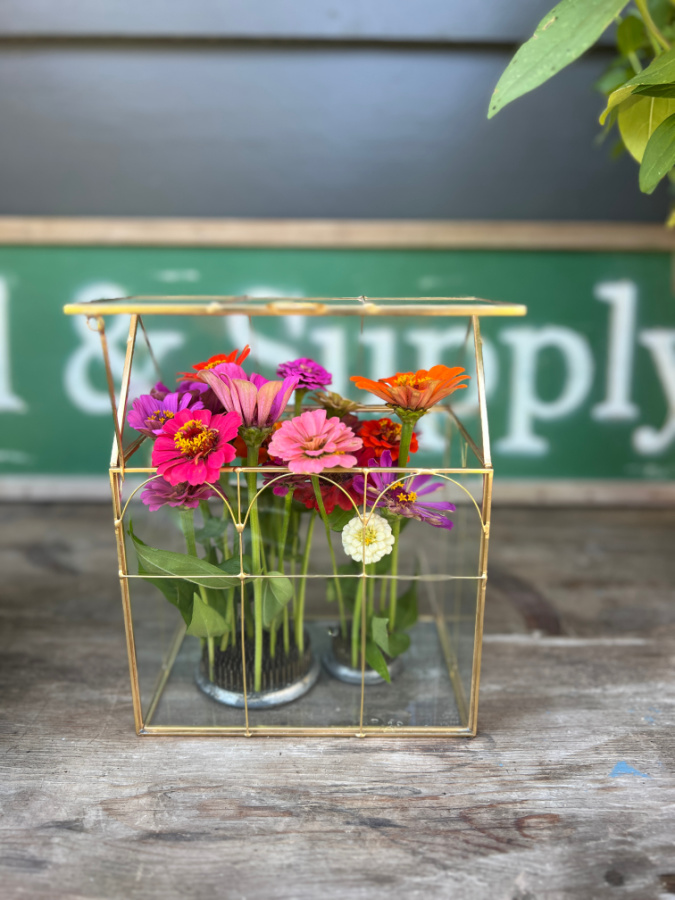 In the past I have used them at Christmas and Easter to hold up vintage postcards or even art prints. They make the perfect stand! How cute do they look on my table as place card holders?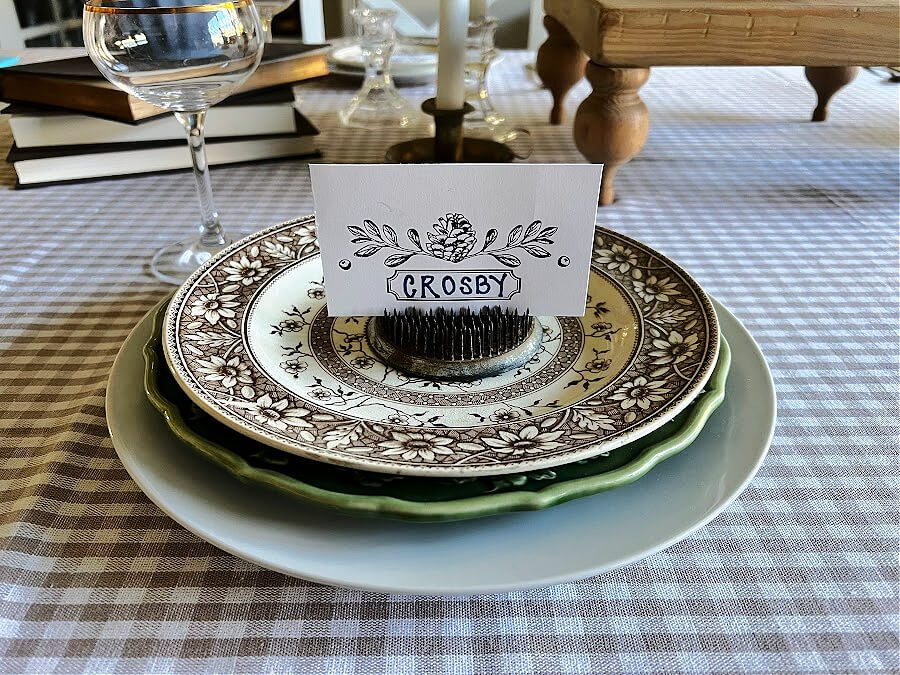 How to Use Vintage Flower Frogs
There are many types of uses for vintage flower frogs! Here are just a few uses and decorating ideas for the metal variety (which I have an affinity for)!
To hold a flower arrangement in place.
To hold a recipe card on a counter.
Prop up some art in the metal flower frogs.
Add some greenery to display around your home.
Stack a bunch from largest to smallest to create a tree like form. (Love this at Christmas!)
Use them on a table to hold up a place setting card.
Stick a photo in one to display in your home.
Gather your collection in a decorative bowl and set it out as decoration.
Be creative! How would you use a vintage flower frog?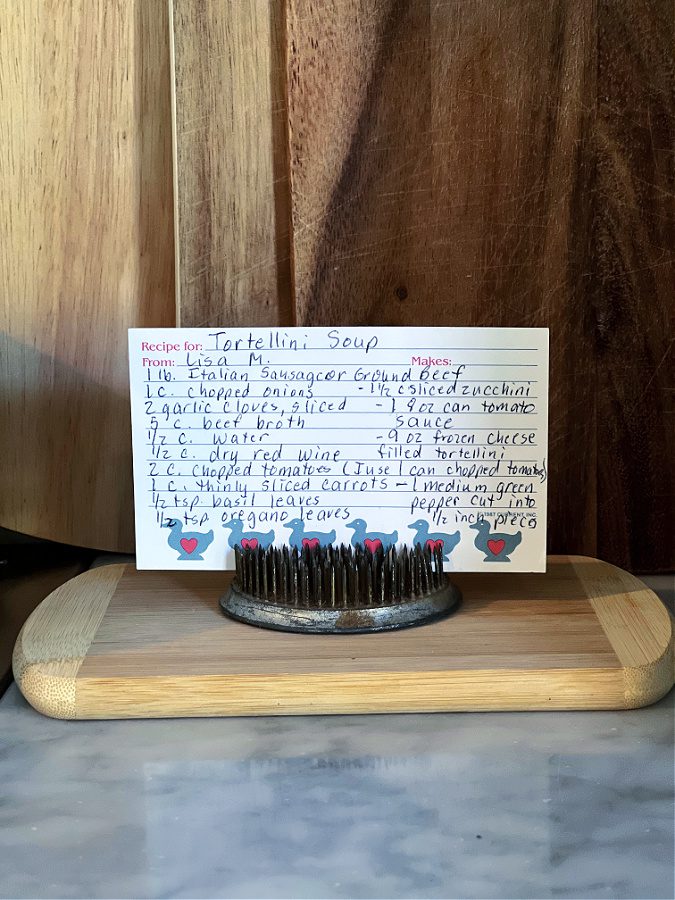 What Types of Vintage Frogs Are There?
Vintage flower frogs – also called floral arranging frogs – were used to hold flowers in place. Flower frogs typically have a series of holes or depressions in which stems can be inserted. The metal ones have spikes on them which are used to hold up the stems of flowers or branches.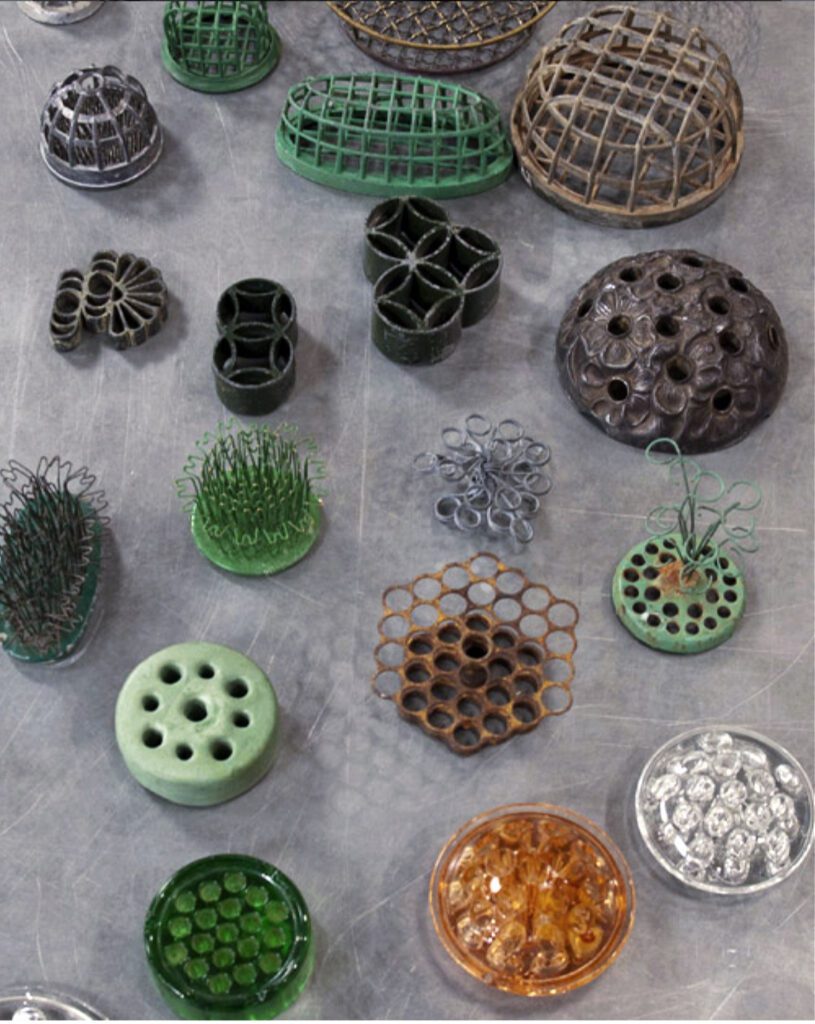 Vintage flower frogs can be made from a variety of materials, including glass, metal, ceramic, and even wood. Some vintage flower frogs are very rare and valuable, while others can be found relatively easily and inexpensively. Whether you're a serious collector or simply looking for a unique way to display your flowers or decor, vintage flower frogs make an excellent addition to any household.
Where Can I Find or Buy Vintage Flower Frogs?
The thrill of the hunt is what I enjoy most when looking for flower frogs. I typically hunt or thrift for the metal variety. These collectibles tend to range anywhere from $8-$25. But some of the rare ones can go for way more than that. That's why I tend to stick with the metal variety.
Have you ever seen a flower frog before? They are quite charming, aren't they? But watch out they are sharp little buggers!
These vintage decorating accessories can be used in all sorts of ways to add personality and interest to your home. You can find them at flea markets, estate sales, or even online like on Etsy.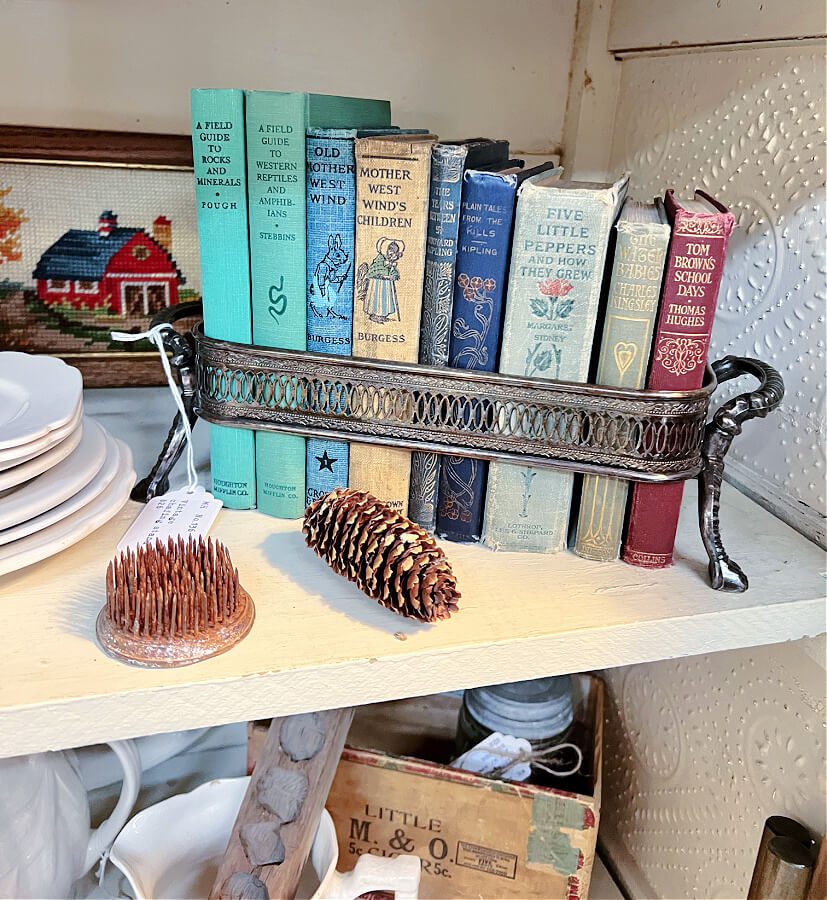 If you don't have any luck finding them in your area, there are plenty of places to buy them online. But another trick I like to use is asking friends and family who live in different areas than myself to help me hunt for them. ( I have done this with pews too!) Sometimes other people have better luck when you feel like you have exhausted all of your outlets. Plus, its fun to offer to help them hunt for what they are searching for too! A win win, right?
Flower frogs come in all shapes and sizes, so it's easy to find the perfect one for your needs. I prefer the metal ones but often see a variety when I am out looking. I love using them in simple arrangements like this one here. What about you? How would you use a flower frog in your decor?
Shop New and Vintage Flower Frogs
Below I have rounded up some flower frogs that you can shop online. Just scroll through and tap the picture of the ones that catch your eye! Some are vintage and some are new. Make sure to pay attention to the listing!

Why Do People Collect Vintage Flower Frogs?
Collecting vintage flower frogs is just a fun way to add a piece of the past into your decor. I love having pieces in my home that tell a story or spark conversation. And these little guys often do because a lot of people have never seen them!
Whether you're looking to add a touch of vintage flair to your décor or are simply on the hunt for a unique and stylish way to display your flowers, vintage flower frogs make the perfect choice!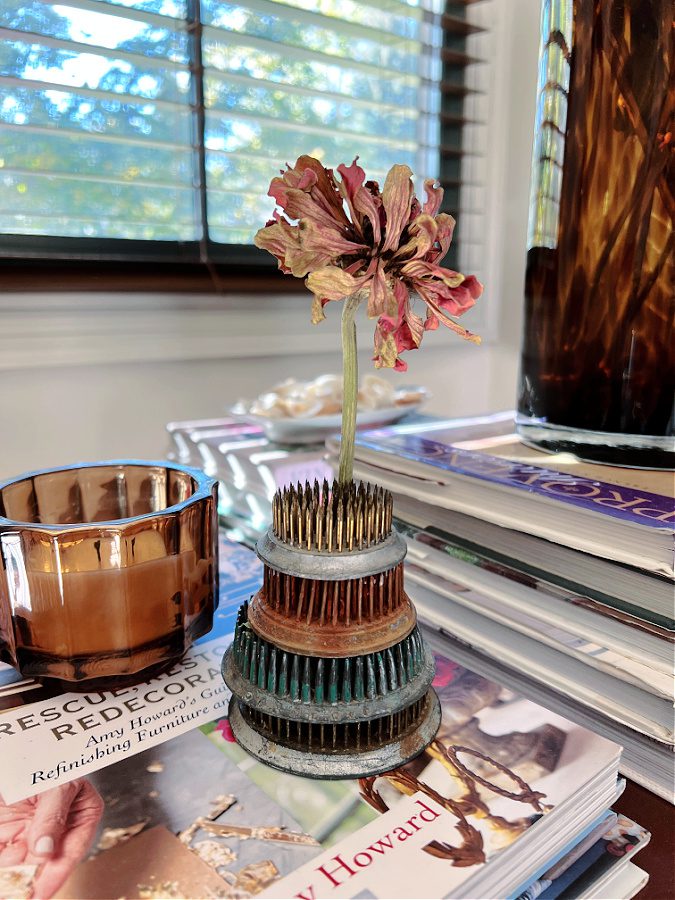 These charming little pieces come in all shapes and sizes, and can be easily incorporated into just about any style of home décor. Plus, they add a bit of nature's beauty to any setting. And I have heard that some of the rare vintage ones can be worth quite a bit of money! So if you're looking for a creative way to dress up your space, take a look at these beautiful vintage flower frogs!
Decorating With Vintage Flower Frogs
Vintage flower frogs are the perfect way to add a touch of personality to your decor. They come in all shapes and sizes, and can be found online or at flea markets and antique stores. Use them to hold flowers in an arrangement, or place them on a shelf as a unique decoration. Have a convinced you yet that you need some in your life? How would you use a vintage flower frog in your next decorating project? Leave me a comment below!
Now make sure to head over to Ann from Dabbling and Decorating to see her post on irresistible antique bargain finds! Then click on each picture linked below to visit the rest of the Thrifting with The Gals team!
I'd love to have you hang out with me some more! Feel free to follow along with me on any of the platforms linked below.
LTK | Facebook | Instagram | Pinterest | Amazon
xoxo,
Kelly
Did you like this post? PIN it for later!