Beachy Teen Girl Bedroom Ideas On a Budget
Post updated: 10/6/22
My mom and I just finished a beach themed bedroom for my teenager, Grace! Her room has taken a back seat for about a year now and it was finally time to show it some love. Check out these beachy teen girl bedroom ideas on a budget and I'll be sharing how affordable bedroom decor is actually attainable with just a little creativity!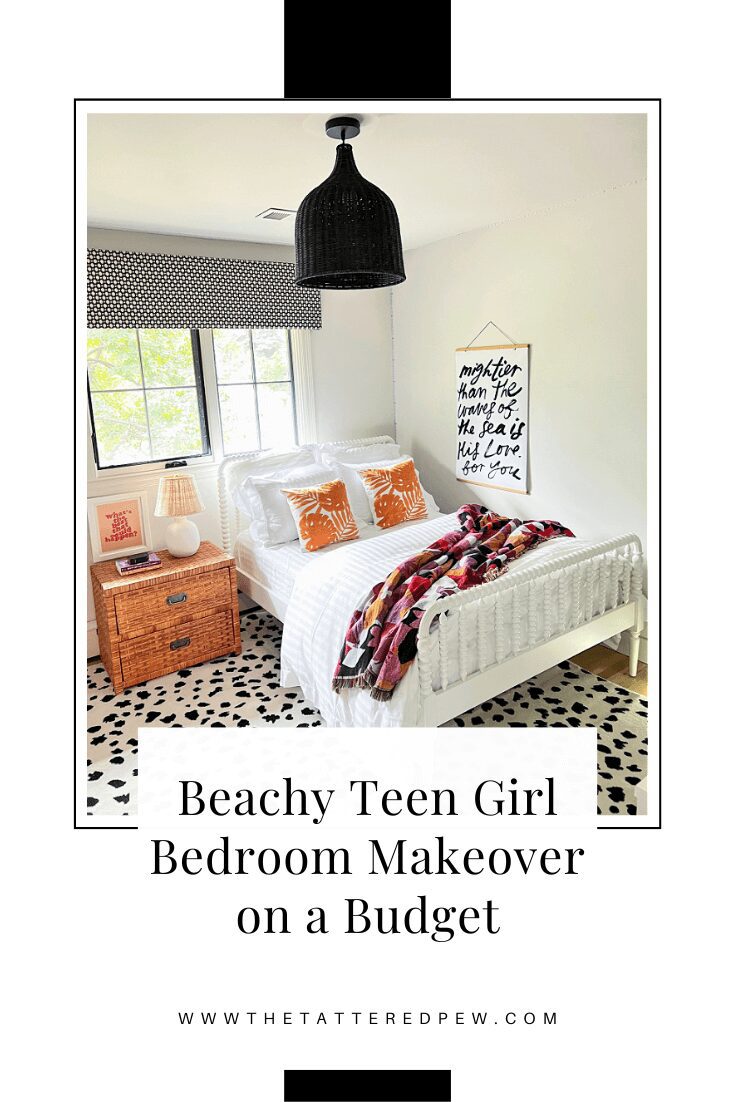 *As an Amazon Associate, I earn from qualifying purchases. This post contains other affiliate links too for your convenience. Click here to read my full disclosure policy.
Beachy Teen Girl Bedroom Ideas On a Budget
I don't know about you but I love a good makeover and I love a good budget friendly one too. Today I am sharing our plans for Grace's beachy room makeover as well as the final outcome. You won't believe the before and after!
Grace's room is the first room you see when you head up our stairs. It's not very big but she chose it because it does have a small walk in closet. Small being the key word.
Before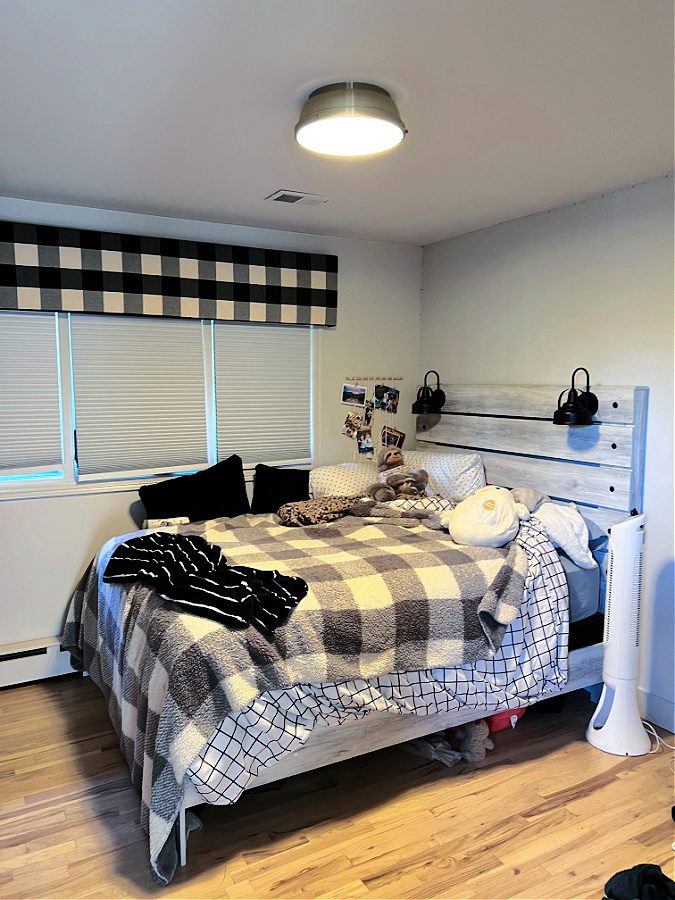 Grace is 13 and she is very into sports, shoes and the beach! A great combo if you ask me. Her favorite color is orange and she also loves black accents in her room. Coming up with a beach themed bedroom for a teenage girl may sound hard but it's really not!
Create a Beach Themed Bedroom for Teenager Mood Board
So I took this all to heart when I made her this mood board for her room makeover.
I spent a lot of hours on Pinterest saving inspiration bedroom pics and pulled little bits from each one. Then I made the mood board, with help from my mom who sourced a ton of the items for me and we came up with a room design that I thought she would love, and even better, last her for the long haul. The bed you see pictured we already have in the guest room. And the dresser she already has in her room so that is one way we are keeping this budget friendly!
It helped having the bed as a starting point!
She was very hesitant to let me help her design her room. However, she was constantly asking me to help her find a new bed and searching on Pinterest for beach bedroom ideas for teenage girls. ( A girl after my own heart!) So I just went with what I knew she loved and crossed my fingers she would like the plan!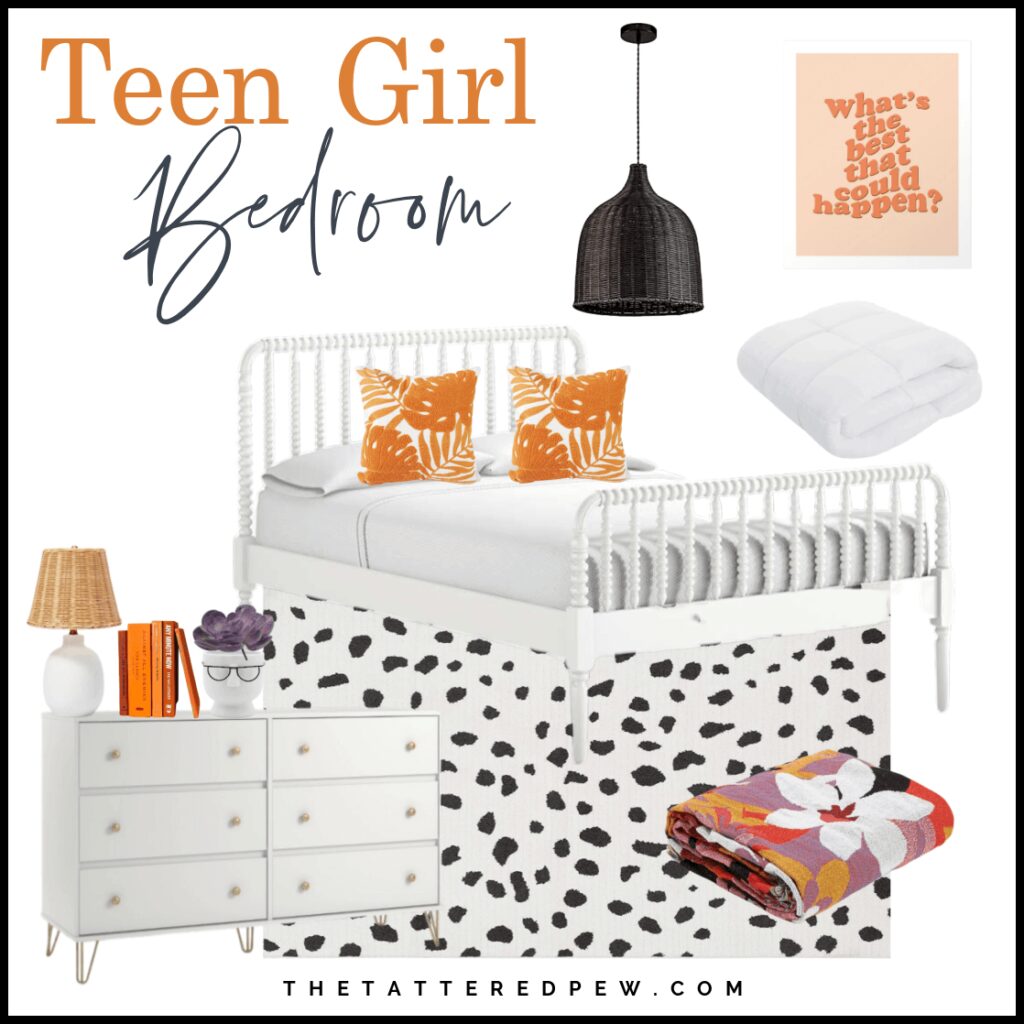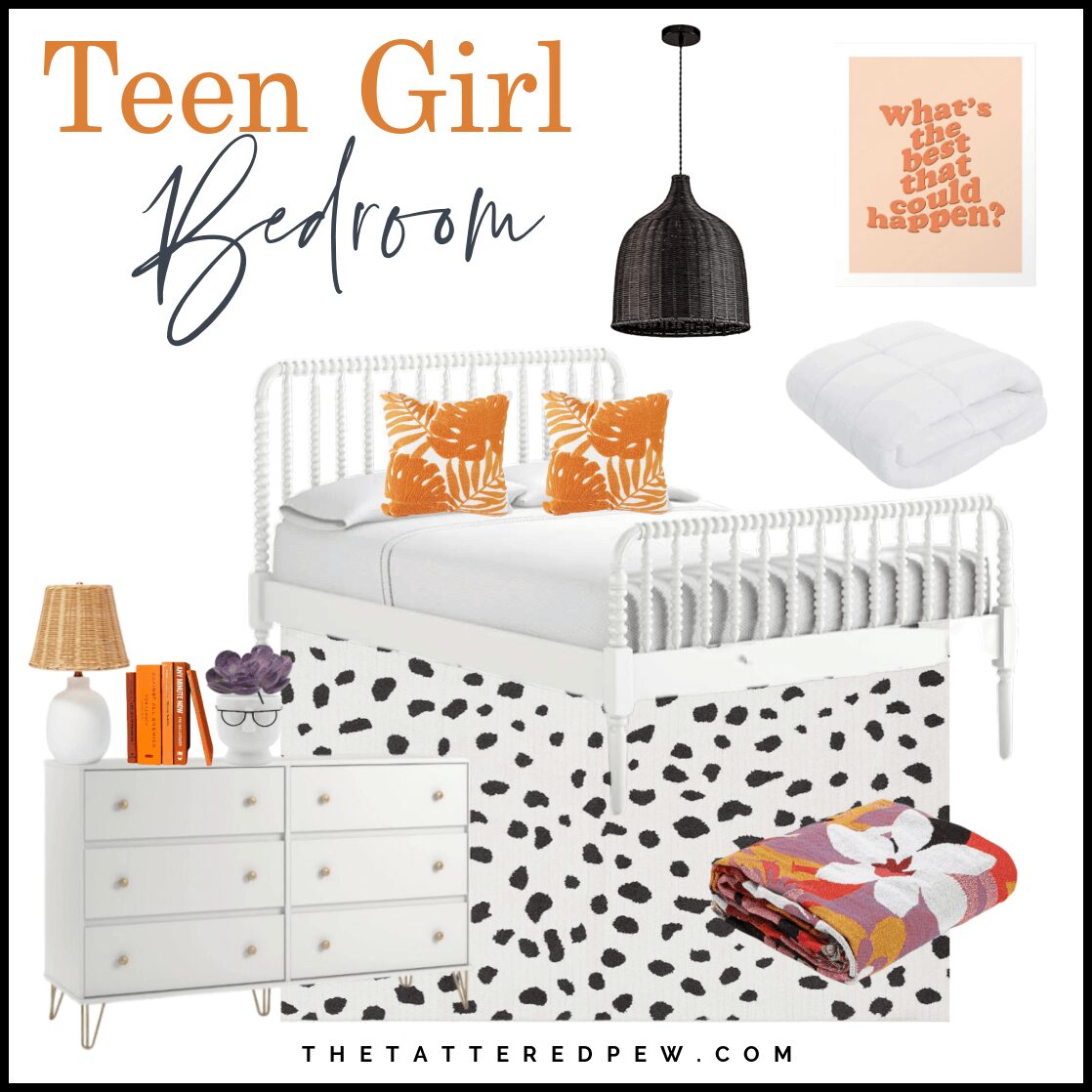 SOURCES: White Jenny Lind Bed // Black Pendant // Dalmatian Print Rug // Floral Throw Blanket // Dresser // Bedside Lamp // Orange Books // Orange Pillows // Alternative Down Comforter // Planter with Glasses // Purple Succulent // What's the Best That Could Happen Print //
I showed it to her and guess what, she loved it! I mean she is 13 so of course there might have been a few eye rolls but overall she was smitten by the bedroom mood board, especially the orange.
So I took that as a win and started ordering the items we needed! I decided to keep the time frame a surprise from her and I am so glad that I did. This took the pressure off me and gave me time to prepare.
Beachy Style Bedroom
Let me start by saying that this entire beachy style bedroom makeover would not have even been possible without the help of my talented mother!
We completely surprised her one afternoon after school with her beachy styled bedroom and she was shocked! (You can see the entire surprise saved over in my Instagram highlights!) She knew we had the plan since I had shown her the mood board, but wasn't sure if or when I could really pull it off.
This made it even better. My mom helped me bring it to life and for that both Grace and I will be forever thankful!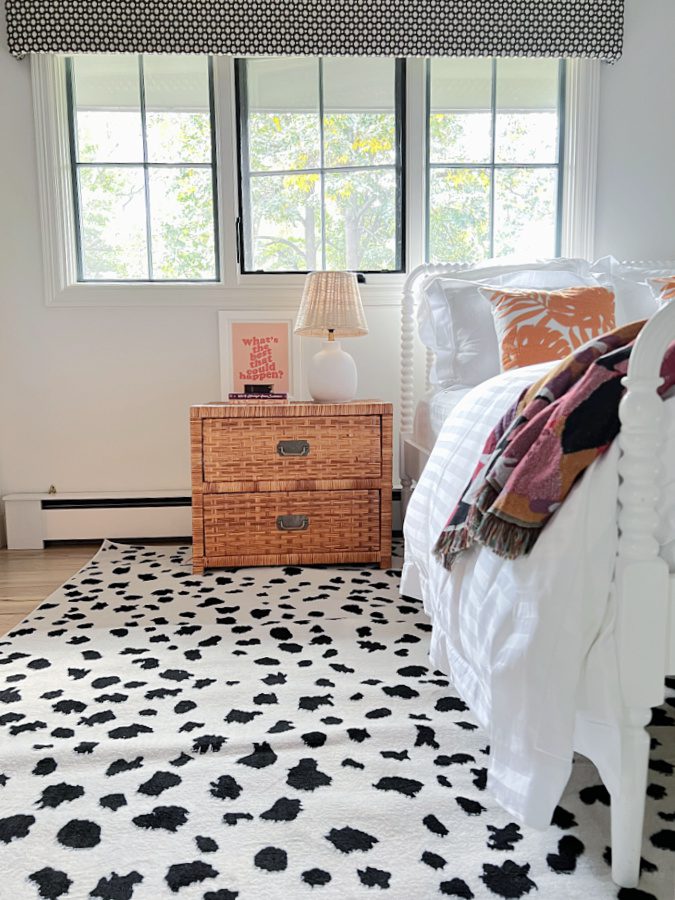 This beach themed bedroom for a teenager turned out way better than I could have ever expected! Below is a selfie we all took after she saw the room for the first time. It was a day I know we all will forever cherish.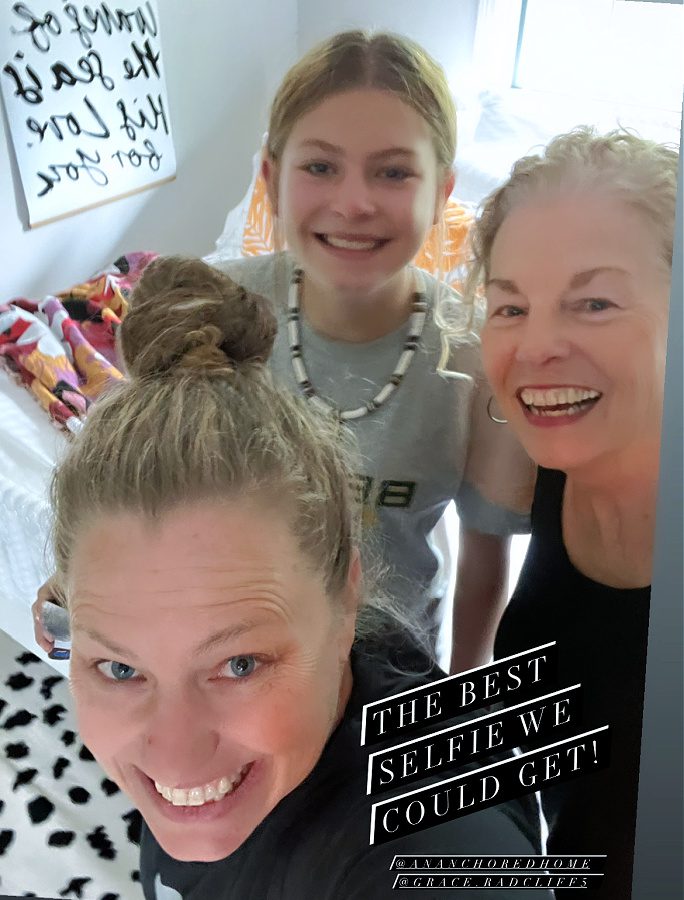 Beachy Elements and the Base of the Room
Now for the details!
The base of the room was already white. We left the white walls , white dresser and added all white bedding. The black and white valance you see in the picture of her bedroom before was switched out for a smaller patterned one that I grabbed out of the guest room so it cost me nothing!
One of my favorite ways to find affordable bedroom decor is to shop my own home. Moving furniture around gives it new life and save you money. Just a little budget friendly tip!
Using affordable bedroom decor as well as the dresser, the valance, the bed and nightstand that we already had helped keep this makeover affordable!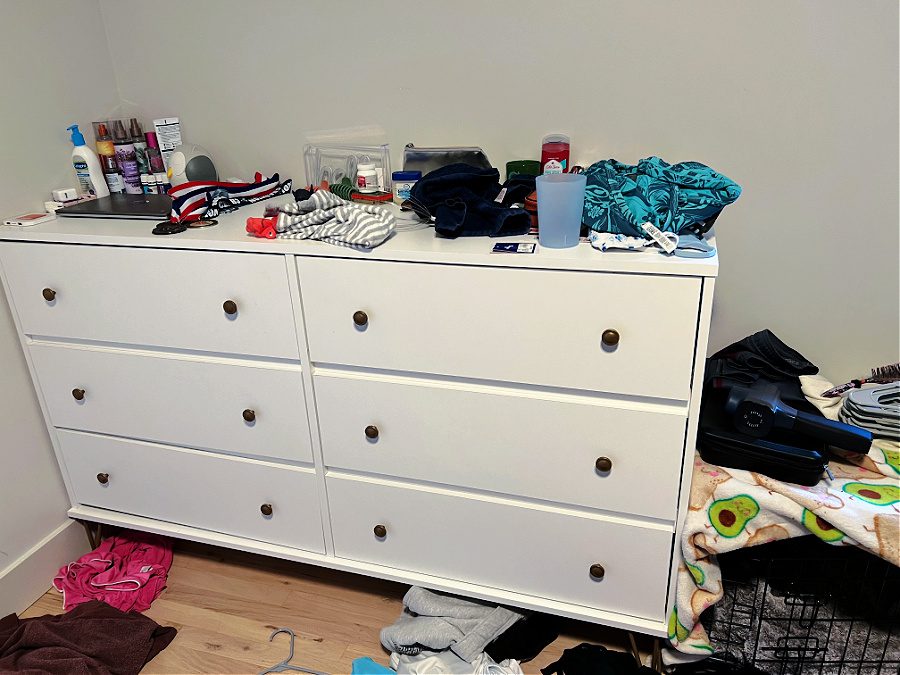 Once my mom and I got this mess cleaned up we were able to style this area with fun beachy themed items in the colors that she loved.
We added black and white storage boxes on top of her dresser. We found them at HomeGoods for $30 total to hold her miscellaneous items. I love that they discreetly added another pattern to the mix!
Then we added some greenery with a faux plant I already had in the cute head planter my mom got as a gift her from Marshalls. Finished off with 3 small orange candles.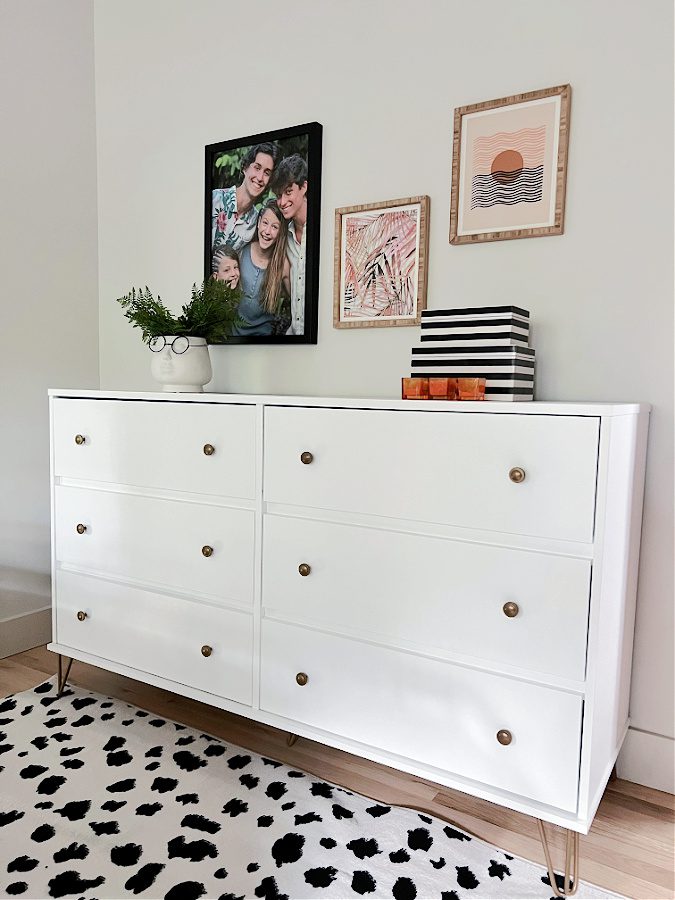 The beachy themed teenage bedroom artwork you see above the dresser, I found at a local shop here in town called IVY! But you can also shop them here as well. And she is real close with her siblings so we added a picture of the four of them from our trip to Mexico. This adds that personal touch that so many teens crave in their rooms.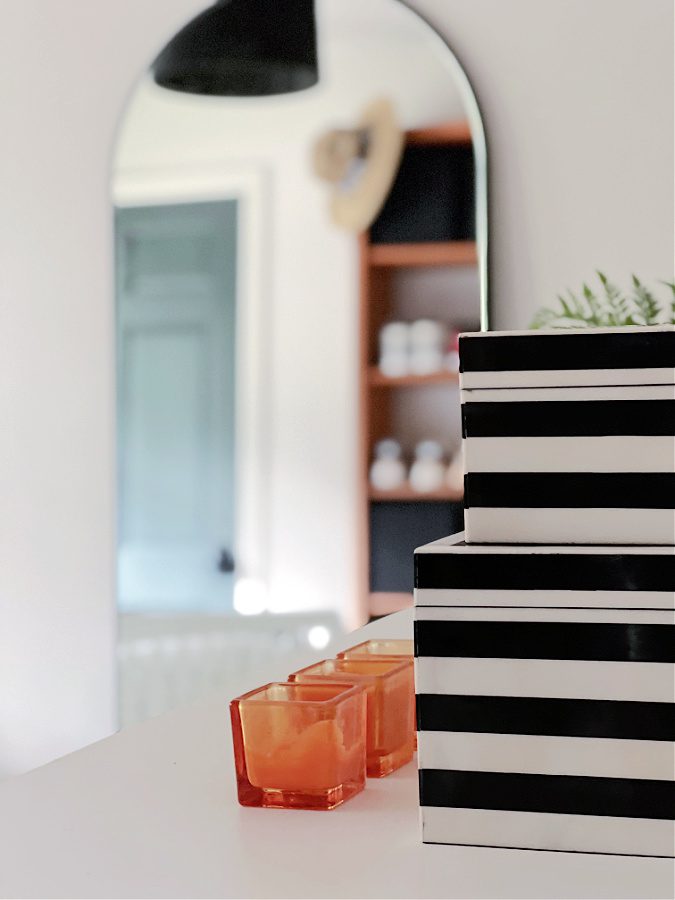 I love the simplicity and so does she. It feels so much more calming. Plus, can you believe we found beach bedroom art in her favorite color orange? Love it!
Shop the Beachy Style Bedroom

All About Those Shoes
The previous owners left the original bookcases in each of the bedrooms of our home and I love the character they add. However, it did leave us with one less wall to work with in her bedroom. So we had to get creative.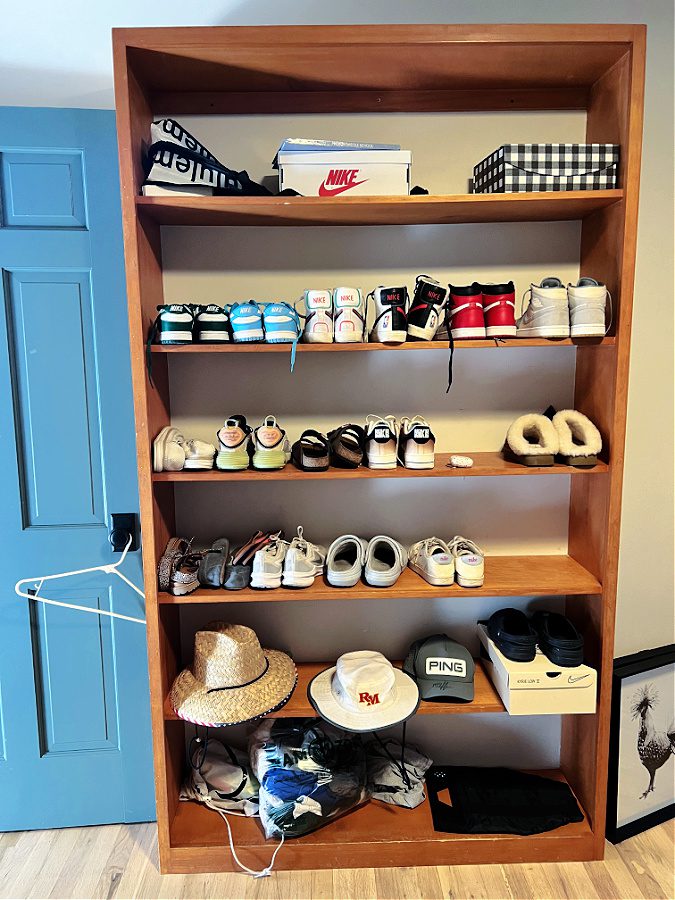 Grace stores her beloved shoes on the shelves and loves them there. So we consolidated them to two shelves and added these black cube organizers from Walmart to hide the remaining clutter and clutter from her dresser. They make the shoes pop and she is thrilled that we kept them a focal point. This look might not be overly beachy but it's perfect for this teenage girl bedroom!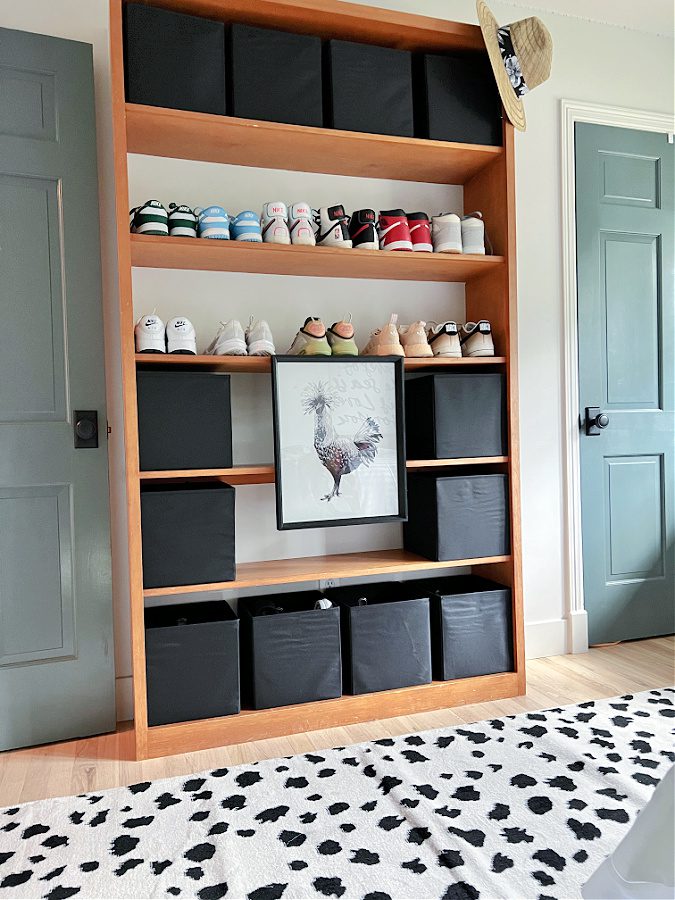 And the chicken art? Well she found this at Target years ago because she loves chickens and she loved the print. I was finally able to incorporate it in her new beachy style bedroom.
It made her giggle and I love that.
I think what truly helped her love this room is that we were thinking about her wants and needs the entire time we were putting it together.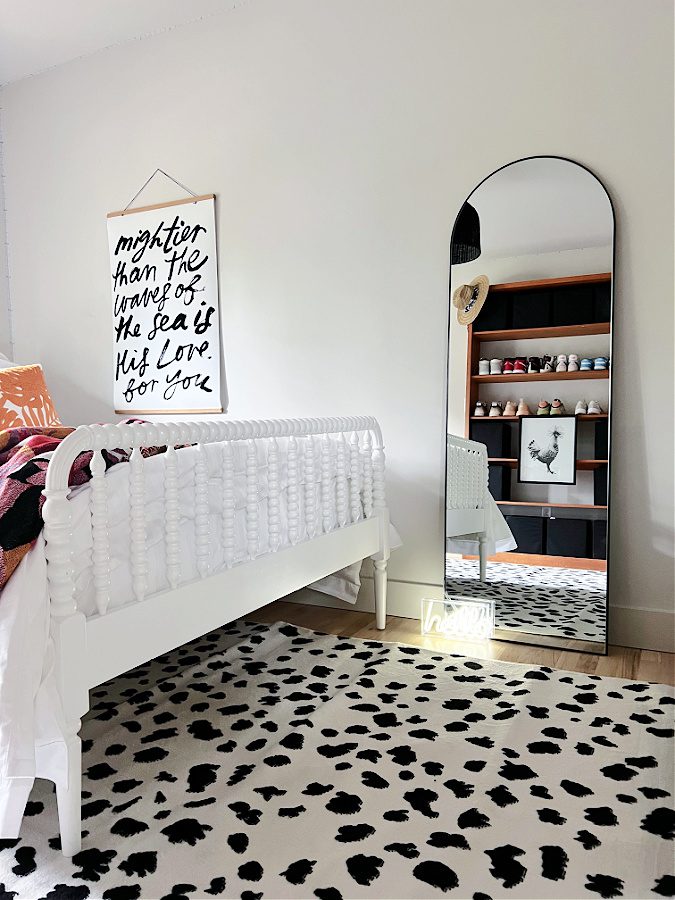 Beachy Style Bedroom
A few more of the details might help you if you are planning a beach themed bedroom for a teenager. To add a beachy feel we included beach textures like the bamboo dresser, small bedside lamp and the black woven pendant.
My Mom and I replaced the original light fixture on our own with this black one and it was instant beachy love. I promise if I can do it you can do it too. Feel free to read my beginners guide to changing your own light fixtures to get you started!
The quality of the fixture itself is top notch. I really was impressed!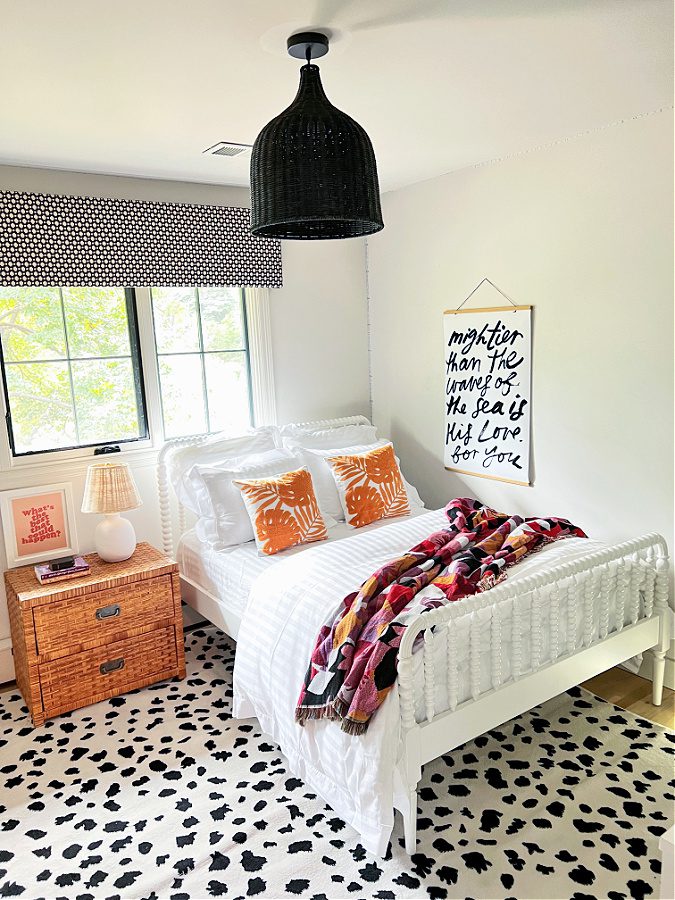 Oh and this rug! How could I forget this beauty. The large print brings some fun touches to the room and adds a new pattern. Although it's not overall beachy it is very teen girl friendly and my daughter LOVES it! It softens up the space. The best part is if she tires of it we can easily remove it…but I don't think she will!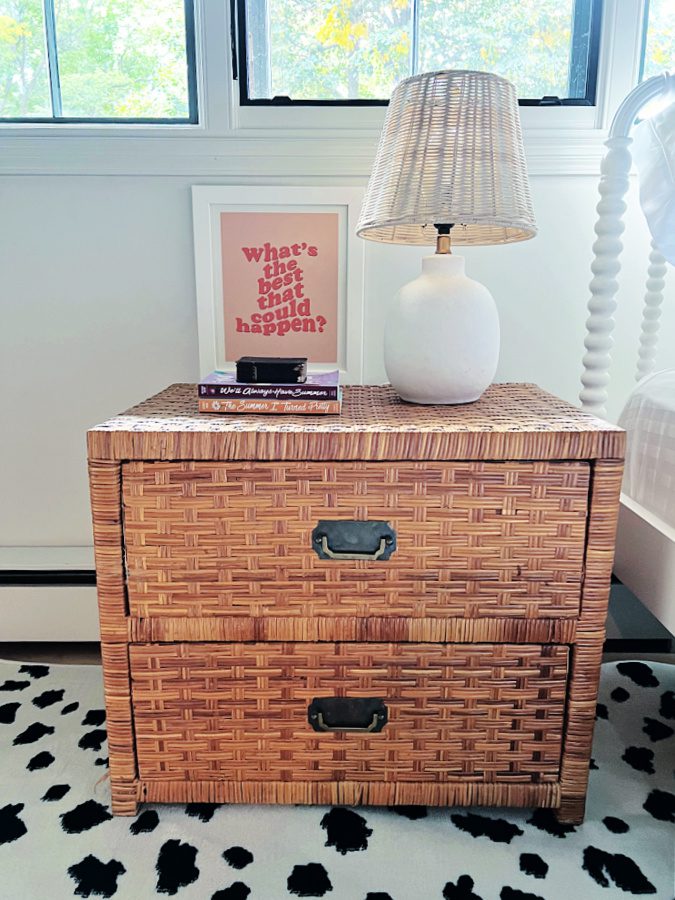 Beachy Teen Girl Art
The black and white script poster is front and center on the wall and came with the wooden hanging parts! The large scale of it fills the wall nicely.
It was so easy to hang. It gives a subtle nod to the beach and ocean with the waves reference. I love it because it is a daily reminder for my teen that she is loved and loved by Jesus!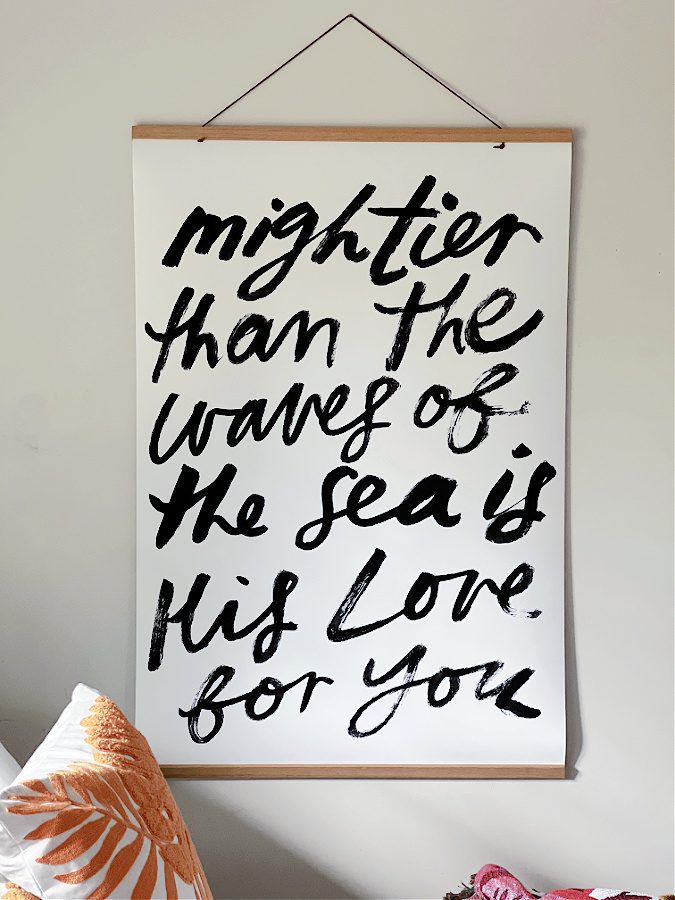 And do you peep those gorgeous orange palm leaf pillows on her bed? I love their beachy feel and so does she. Why is it that teens love bright colors? I think its because they bring joy and just make you happy when you see them!
We found them on Amazon and they were only $13! They have the high end look and feel that make them room look like it cost more.
Beachy Bedroom Ideas for Teenage Girl
Finally, lets chat about the bed and the bedding! This gorgeous Jenny Lind style bed I found over on Facebook Marketplace for a steal! (You can still find it for sale HERE!)It has been in our guest bedroom not being used unless we had guests.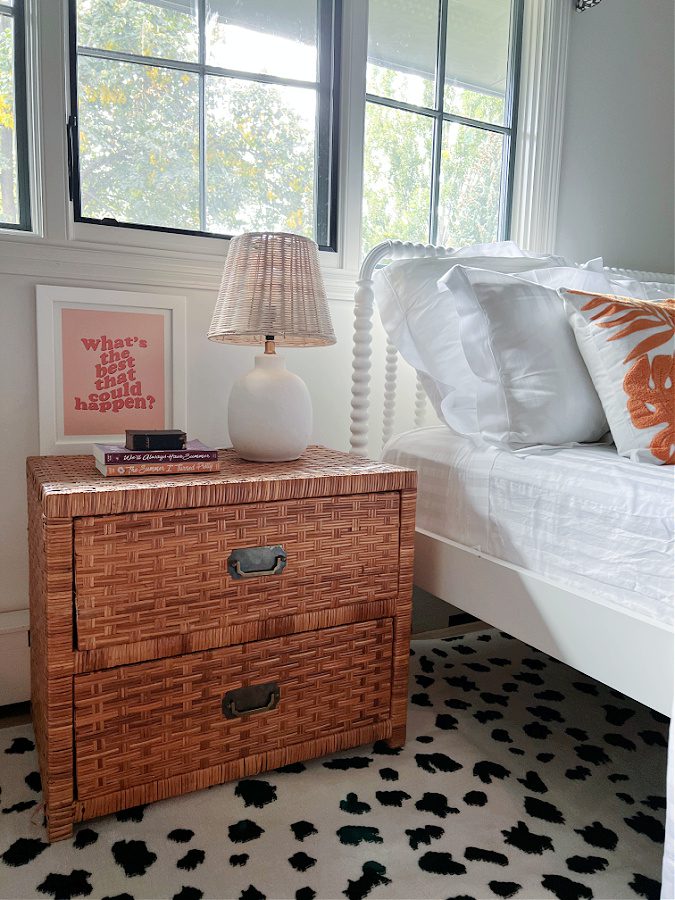 When I first mentioned the idea of using the bed in her room makeover she wanted noting to do with it. How is this bed beachy or coastal mom? I explained that because it was all white it would be fine as long as we used beachy bedding. So after our chat and after her seeing it in the mood board above, she decided to just let me do what I thought was best.
Smart girl, because I feel like this room would not be as special as it is without it.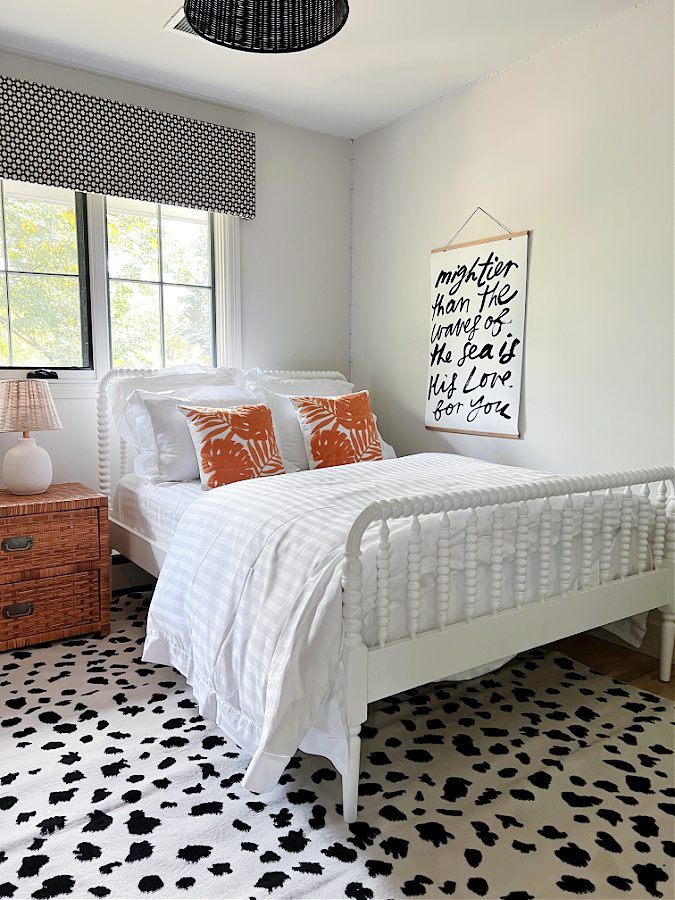 We went with all white bedding so it would be easy to wash and change out! Plus it gives off beachy vibes, right? Especially with those bright orange palm leaf pillow covers and the colorful throw we added to the foot of the bed. Her bed is teenage girl friendly and easy to make!
The best part though was seeing her beautiful smile and knowing how much she loves it. She must have told me thank you a million times and that made my mama heart so happy!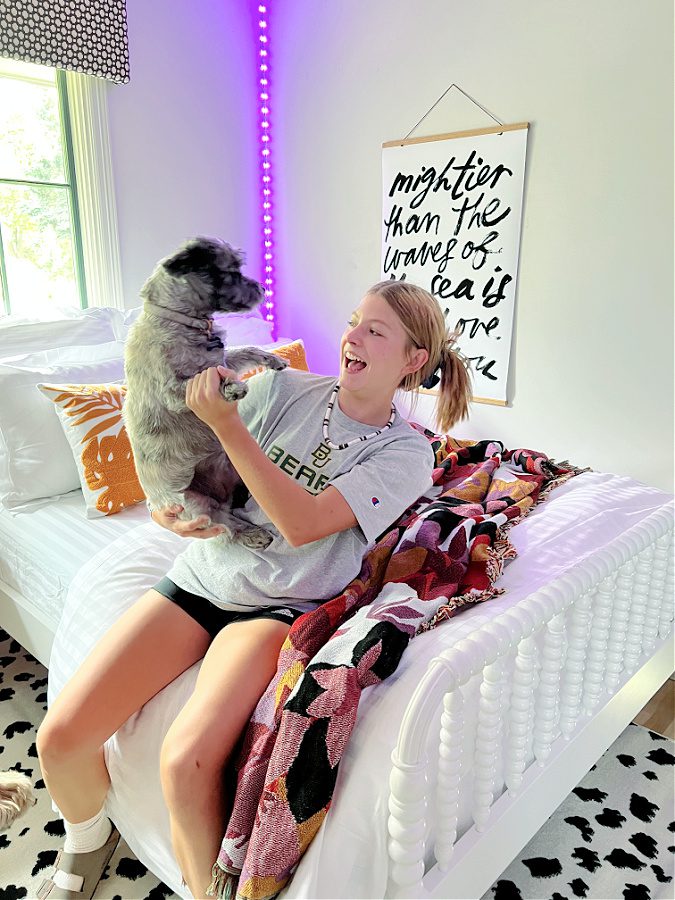 Budget Bedroom Ideas and The Total
My goal for this room was to keep it budget friendly while making it look high end. This is how I made that happen.
The total estimate for this room was $900 total! I kept it under $1,000 and that was my goal. Mission accomplished on this beachy teenage girl bedroom makeover!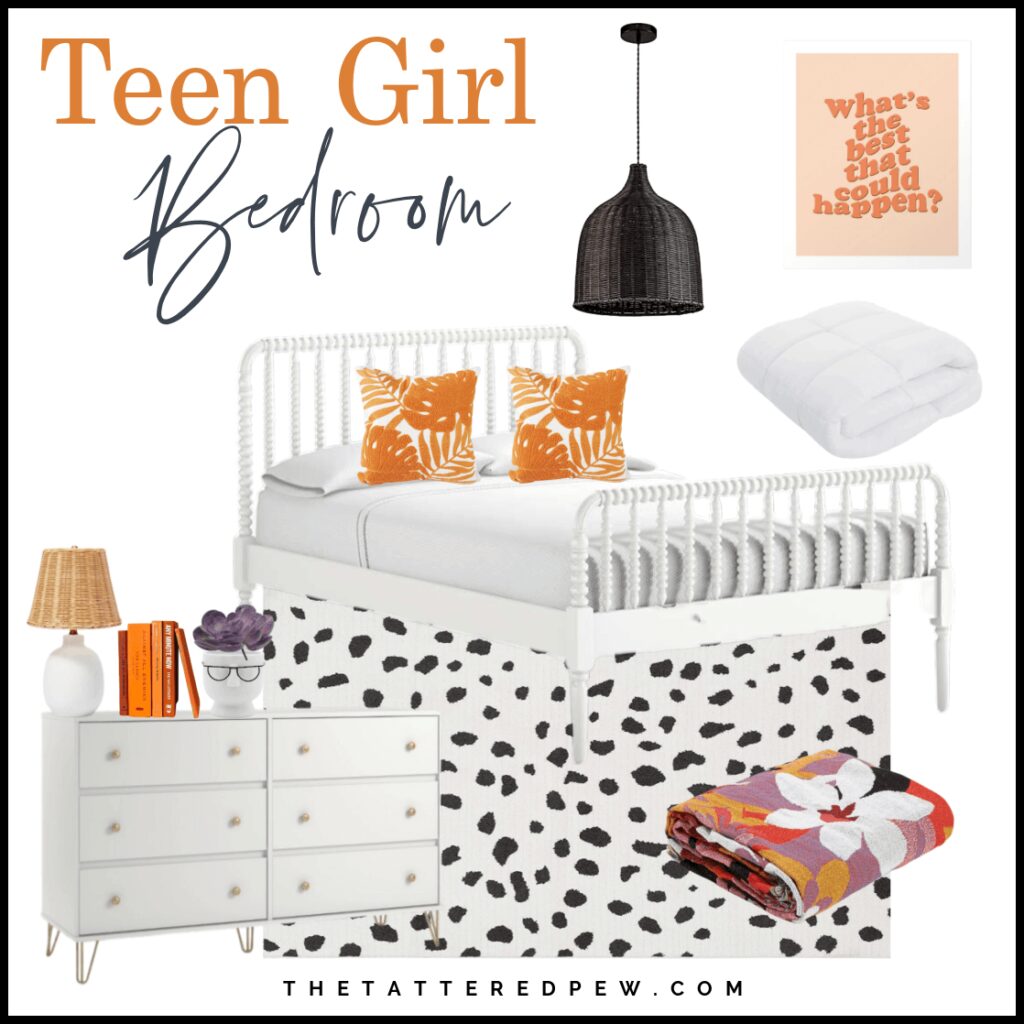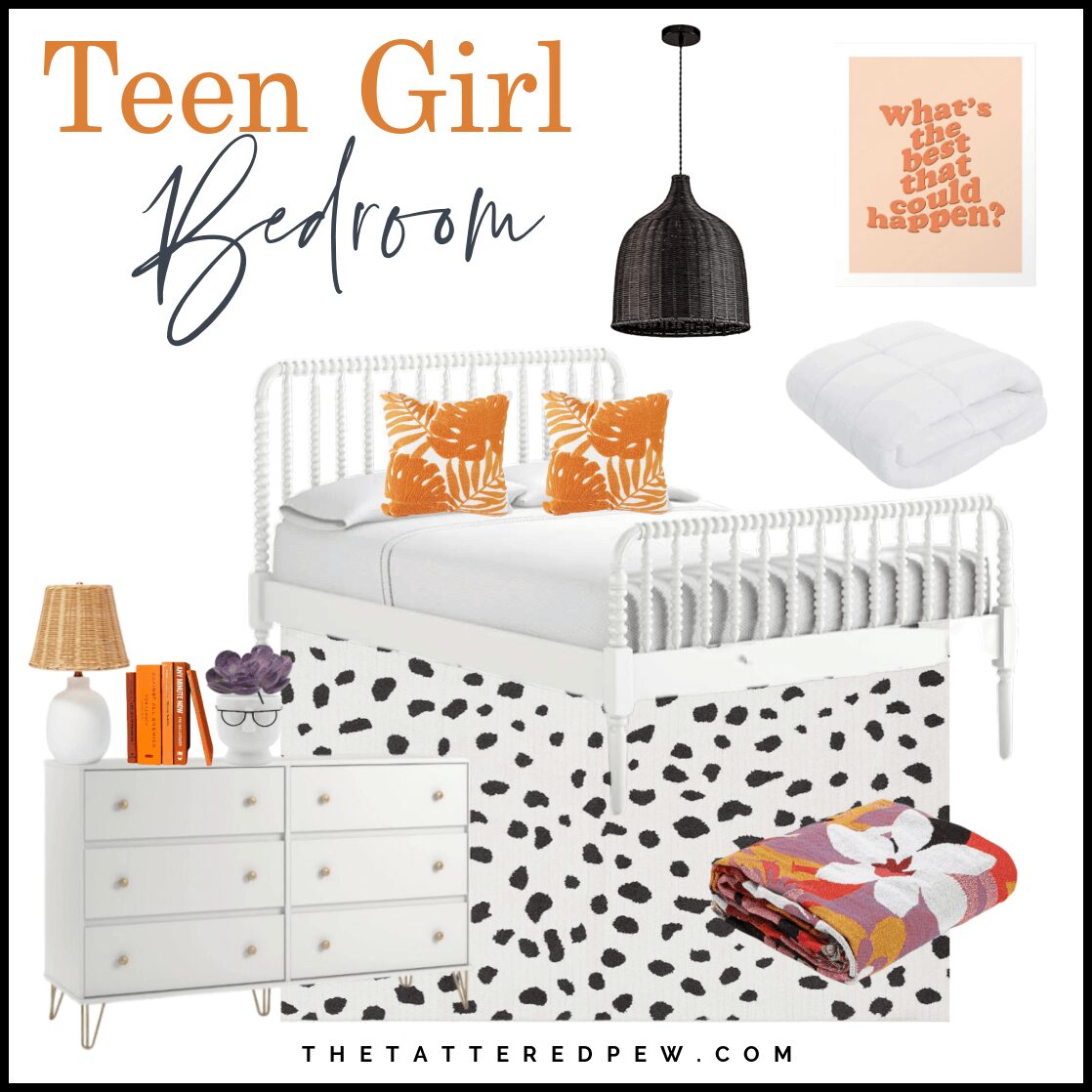 Beachy Teen Girl Bedroom Ideas On a Budget
Hopefully these beachy teen girl bedroom ideas on a budget have inspired you to try a makeover yourself or for a special teen in your life ! I can't wait for Grace to enjoy it over the years. IF you have any questions please leave them for me in the comments below and I will do my best to answer them!
xoxo,
Kelly
Did you like this post? PIN it for later!