Beachy Teen Girl Bedroom Ideas On a Budget
A teen girl bedroom makeover is in the works for our Gracie girl! Her room has taken a back seat for about a year now and finally it is time to show it some love. Check out these beachy teen girl bedroom ideas on a budget.
Beachy Teen Girl Bedroom Ideas On a Budget
I don't know about you but I love a good makeover and I love a good budget friendly one too. Today I am sharing our plans for Grace's beachy room makeover and a peek behind the scenes of what we are planning.
Grace's room is the first room you see when you head up our stairs. It's not very big but she chose it because it does have a small walk in closet. Small being the key word.
Grace is 13 and she is very into sports, shoes and the beach! A great combo if you ask me. Her favorite color is orange and she also loves black accents in her room.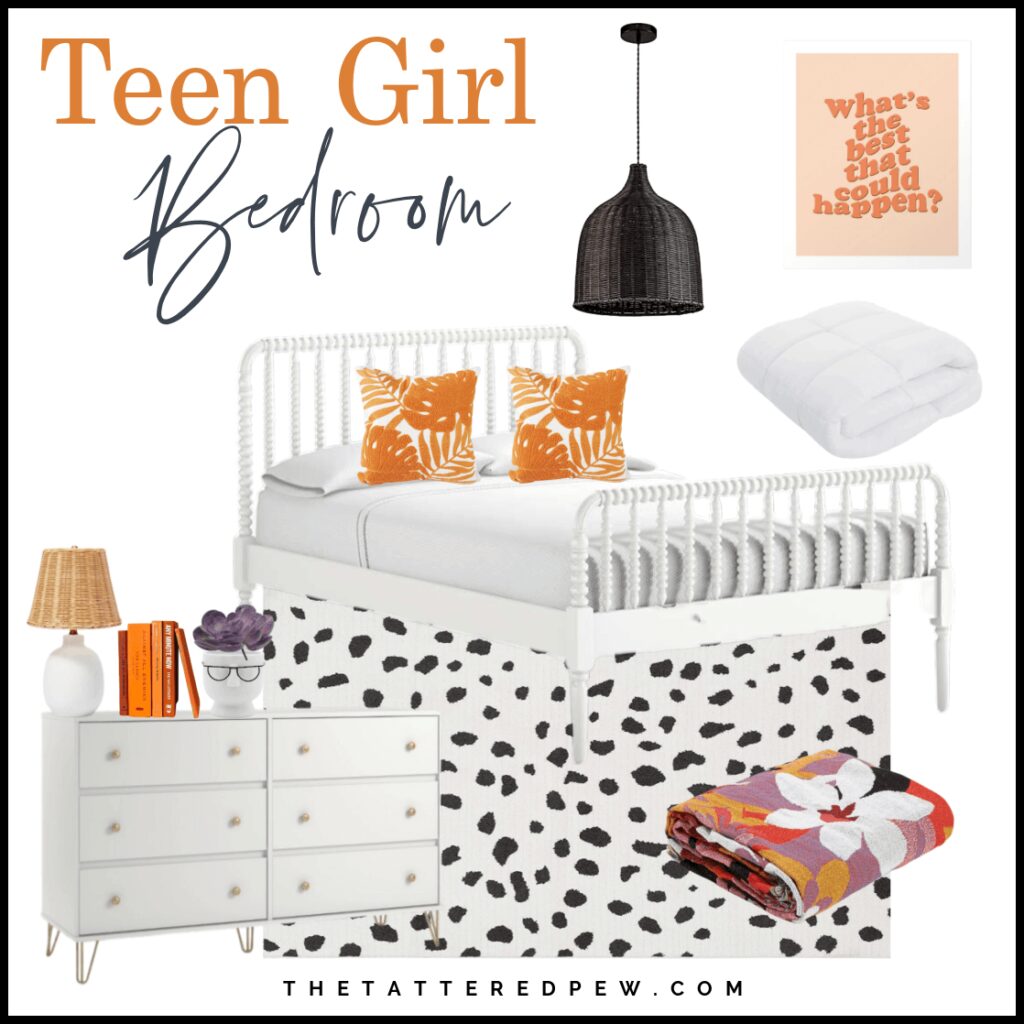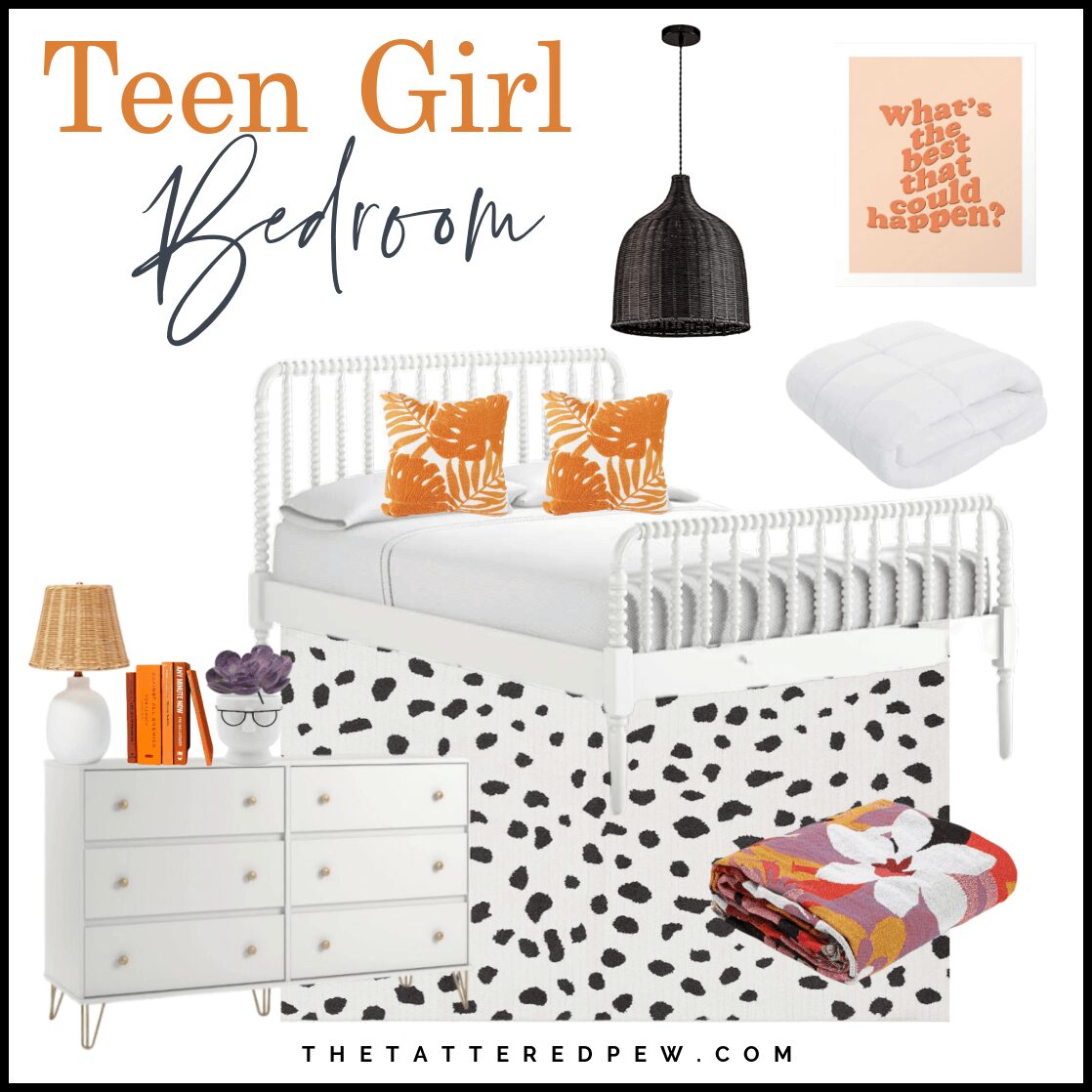 *As an Amazon Associate, I earn from qualifying purchases. This post contains other affiliate links too for your convenience. Click here to read my full disclosure policy.
So I took this all to heart when I made her this mood board for her room makeover. I decided it was best for me to create it and see what she thought because she is very much like me, visual! I spent a lot of hours on Pinterest saving inspiration bedroom pics and pulled little bits from each one.
And guess what, she loved it…mostly. I mean she is 13 so of course there might have been a few eye rolls but overall she really likes the whole concept, especially the orange.
So I took that as a win! And we are going to go for it!
Shop the Mood Board

The Story Behind the Bed Choice
Like I mentioned above this room design has been a year in the making. I was working on Crosby's room right before we moved. You can see her mood board here!
When we moved into this home last August Grace needed a new bed and we let her pick it out.
I was all about giving her choices and options and tried to steer here in the right direction but in the end we were rushed with school starting for the both of us (she didn't want to sleep on the floor) and she chose a bed that was way too big (queen) for her smallish room and wasn't well made. It took her about 2 months of sleeping in it to realize she didn't like the bed or the feel of it in her space.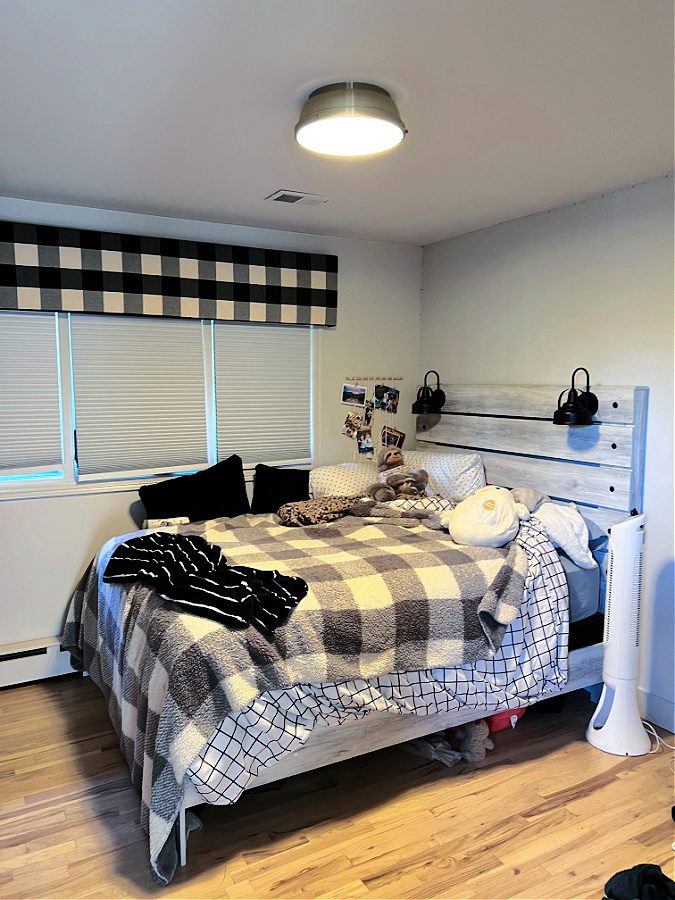 I didn't say a word to her about me not liking it either until she said it first! Ha! She kept talking about how she liked the feel of the bed in our guest room. You can see that bed here and in the picture below. The main difference is it is a full sized bed and her current one is a queen.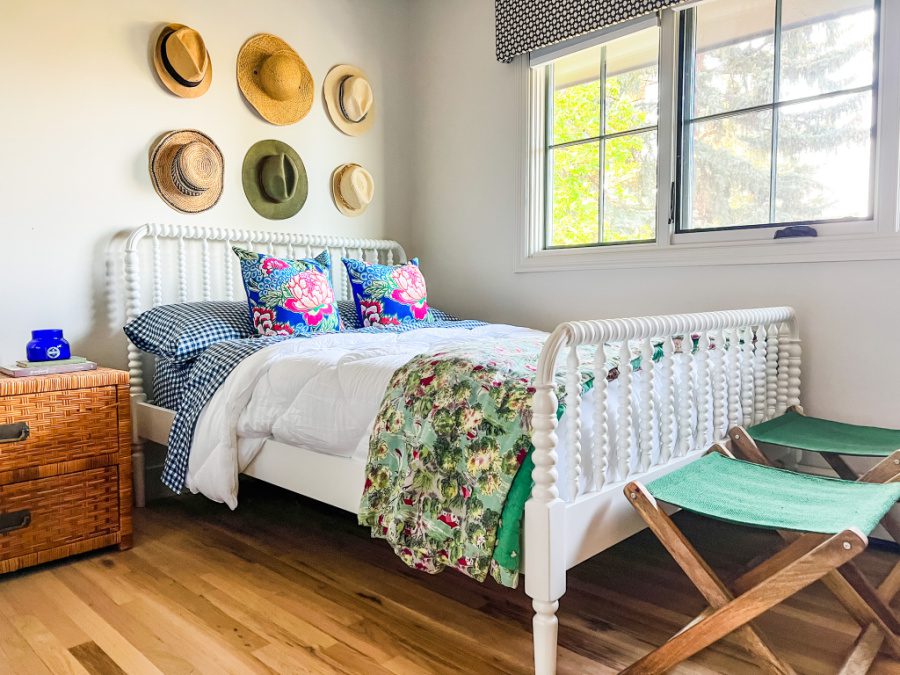 She also was very hesitant to let me help her design her room. However she was constantly asking me to help her find a new bed and searching on Pinterest for beachy bedroom ideas. ( A girl after my own heart!)
So I just made the mood board, with help from my mom who sourced a ton of the items for me and we came up with a room design that I think she will love, and even better, will last her for the long haul.
Beachy Elements and the Base of the Room
The base of the room is going to be white. We plan to have white walls, white curtains, and all white bedding. The black and white valance you see in the picture of her bed above may or may not stay. I plan to add curtains behind it either way.
We already have her white dresser too.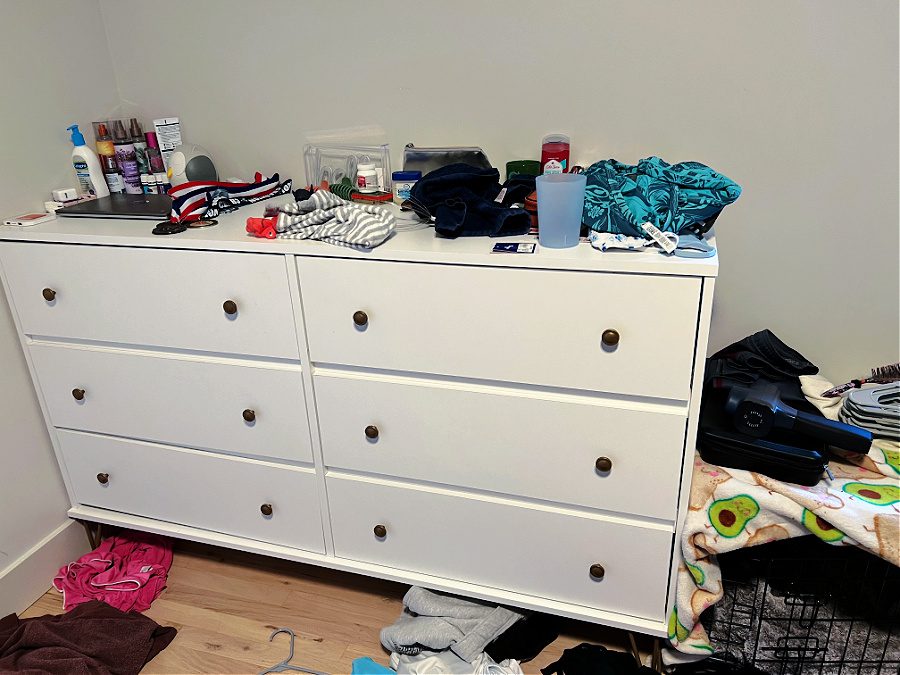 Then we will pop the color in pillows and art and accessories. That way it will be easy to change if she ever decides she isn't in to orange anymore.
Because honestly, I'm sure that will happen!
We will add beachy elements with her lighting. Like this awesome and huge black rattan pendant and her bedside lamp from Target that we already own!
All About Those Shoes
The previous owners left the original bookcases in each of the bedrooms and I love the character they add. However, it does leave us with one less wall to work with. So we have to get creative.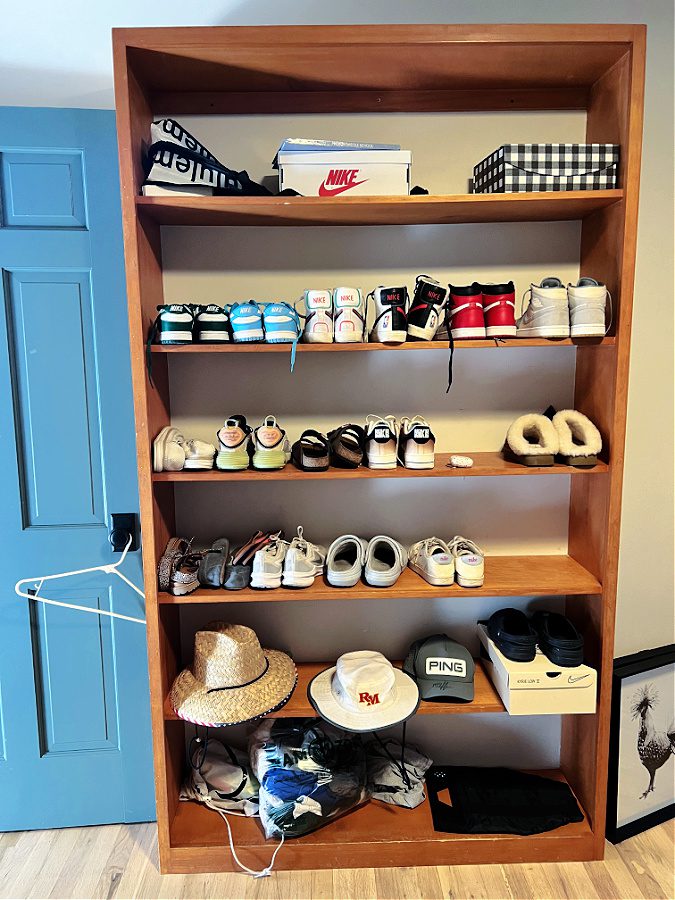 Grace currently has her shoes on the shelves and loves them. So I plan to leave a few rows of shoes (which she will love) and then possibly add these black baskets from Walmart on the other shelves to hide her junk.
Budget Bedroom Ideas
My goal for this room was to keep it budget friendly while making it look high end. This is how I plan to make that happen.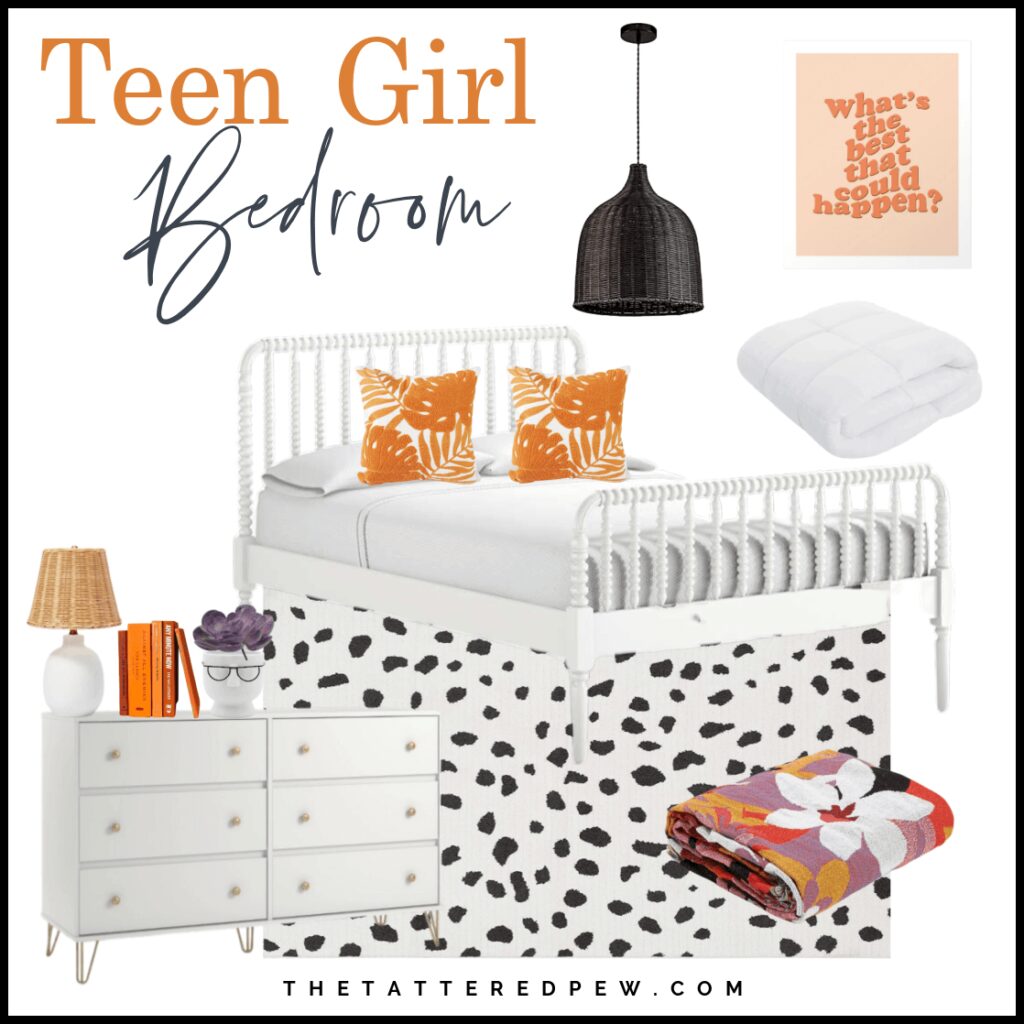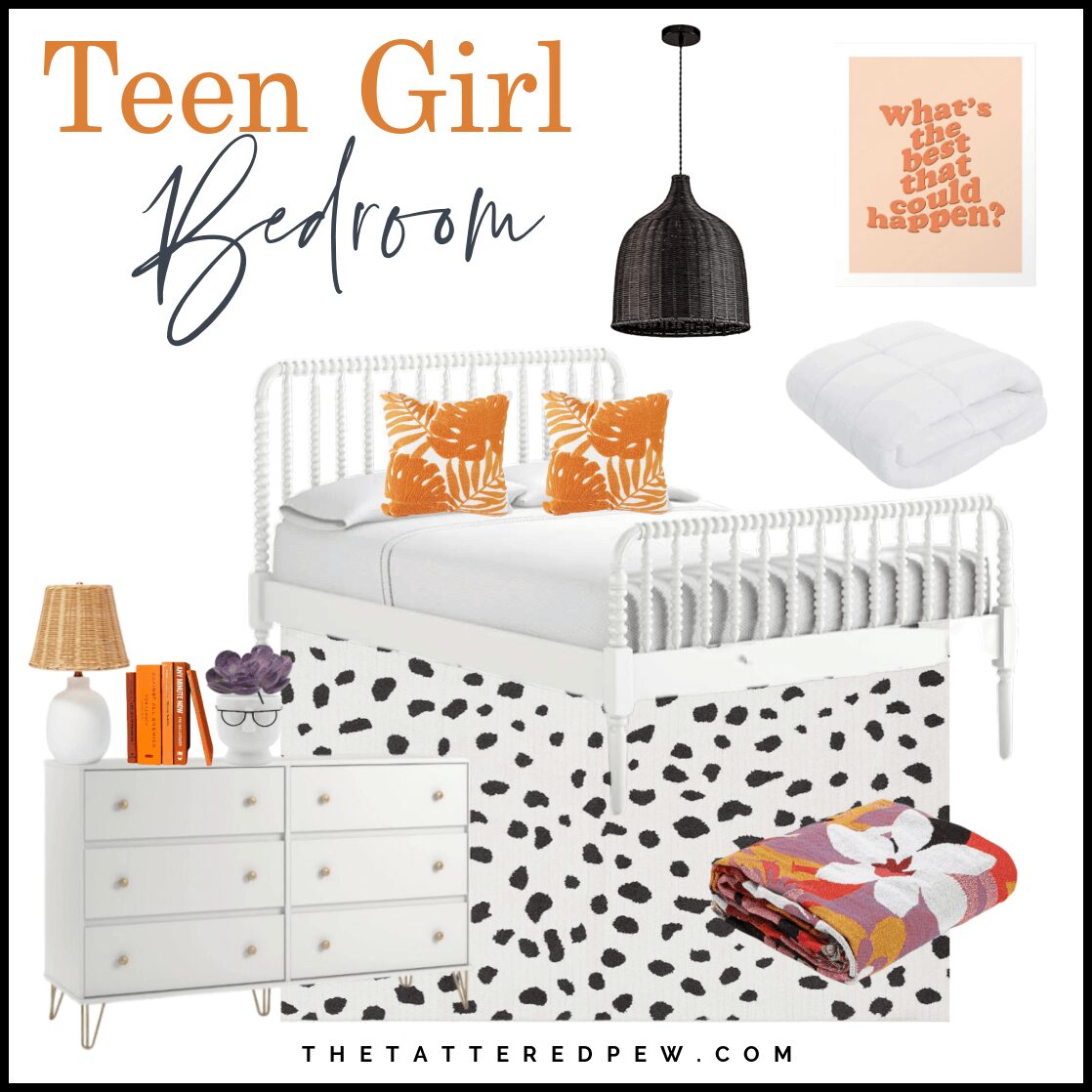 SOURCES: White Jenny Lind Bed // Black Pendant // Dalmatian Print Rug // Floral Throw Blanket // Dresser // Bedside Lamp // Orange Books // Orange Pillows // Alternative Down Comforter // Planter with Glasses // Purple Succulent // What's the Best That Could Happen Print //
Using a lot of what we already have is going to help keep this makeover very budget friendly! I also did a lot of shopping (and so did my mom) on-line sourcing the best items for the best prices. Amazon and Walmart were huge for this.
My goal is to stay under $1,000 dollars. I will have to let you know if that happens.
Beachy Teen Girl Bedroom Ideas On a Budget
These beachy teen girl bedroom ideas on a budget are getting me so excited! I can't wait to see this space come alive for Grace. I will be sharing live updates over on Instagram if you want to follow along!
xoxo,
Kelly