Tuesdays With Tracy: Traditions, a DIY and a Recipe
Hello friends, Kelly's mom here for my monthly Tuesdays with Tracy. If you're new to the blog, welcome! I have been throwing my two cents worth of ideas around with Kelly a lot. So much so that the family now refers to me as "the intern". Ha! This month, welcome to Christmas in my home.
If you have missed any of the other Tuesdays with Tracy posts, you can see those here!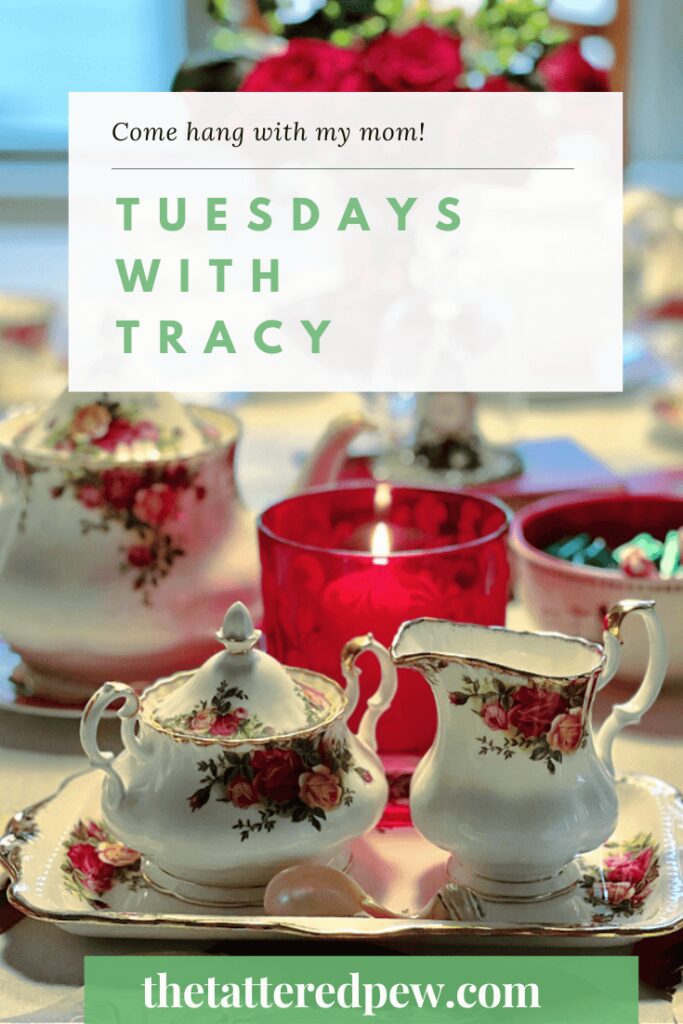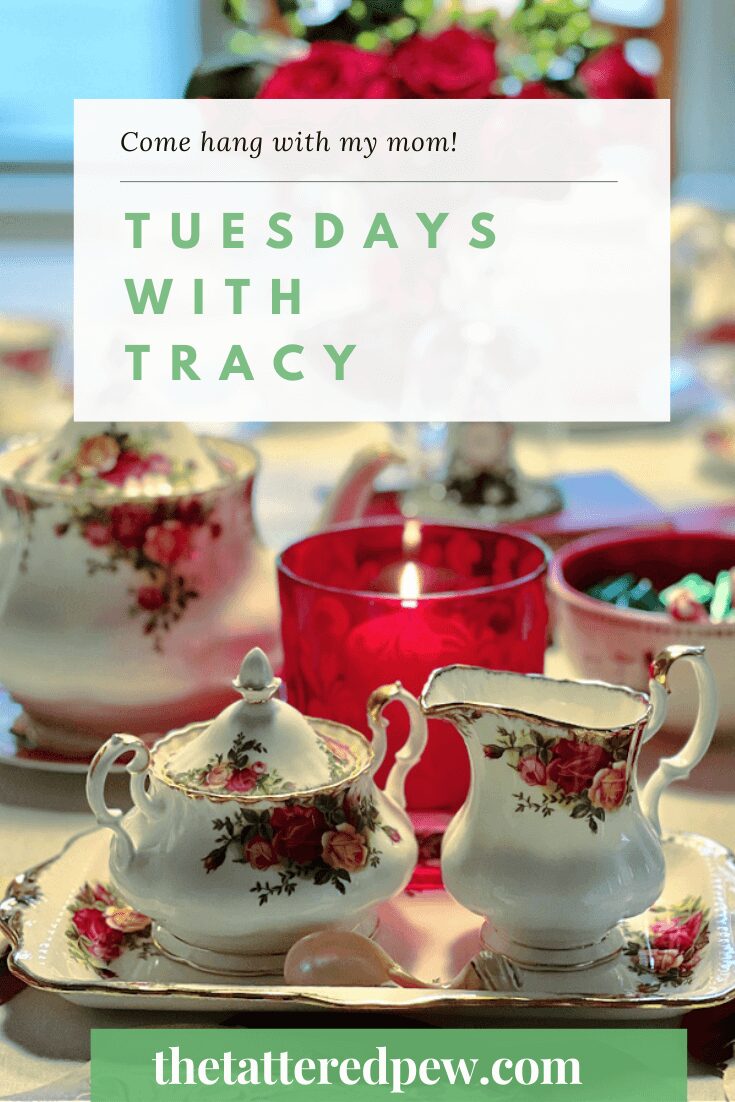 *As an Amazon Associate, I earn from qualifying purchases. This post contains other affiliate links too for your convenience. Click here to read my full disclosure policy.
Traditions, a DIY, and a Recipe
My sister Pam often comes for Thanksgiving, so I love to have my Christmas decorations up before she comes. I put a little tree in her bedroom as well as a collection of Lladro angels that belonged to our sweet mother.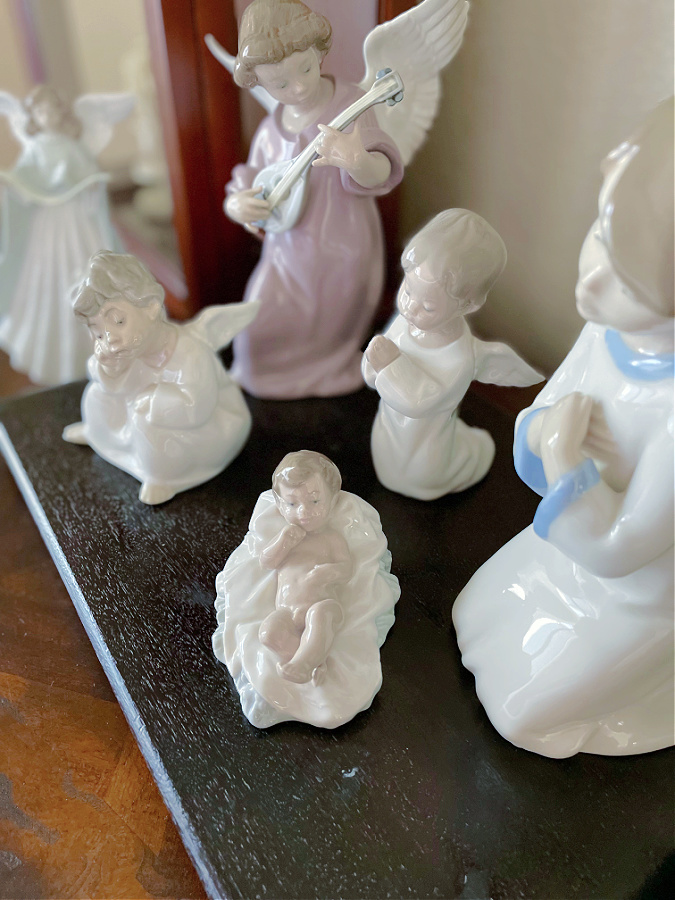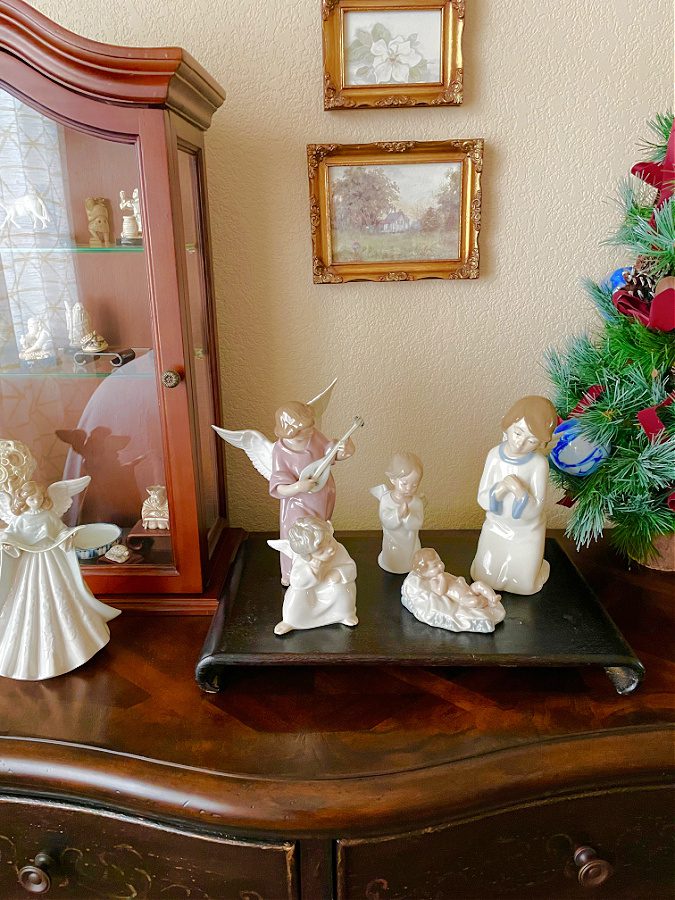 Tea Party Traditions
Being the mom of Kelly and her sister Lindsey has been such a blessing. Having family tea parties has been a long-time tradition with us. Sometimes we have visited tea rooms in various cities and more often we have them in our homes. One of my fondest memories was when Kelly, Lindsey, and I had afternoon tea at the Peabody Hotel in Memphis while staying there for a bowl game. It's in the lobby with a fountain and they roll out a red carpet for their resident ducks to go from the fountain to the elevator, to their nests on the top floor.
I have collected teapots and teacups for years, and also received them as gifts. I have even bought extra suitcases to bring them home from England. And yes, I'm married to a wonderful man who will drive all over Stoke on Trent in England looking for an affordable suitcase so I can bring the goods home! Lucky & blessed am I that he enjoys afternoon tea and loves being with his girls at tea time.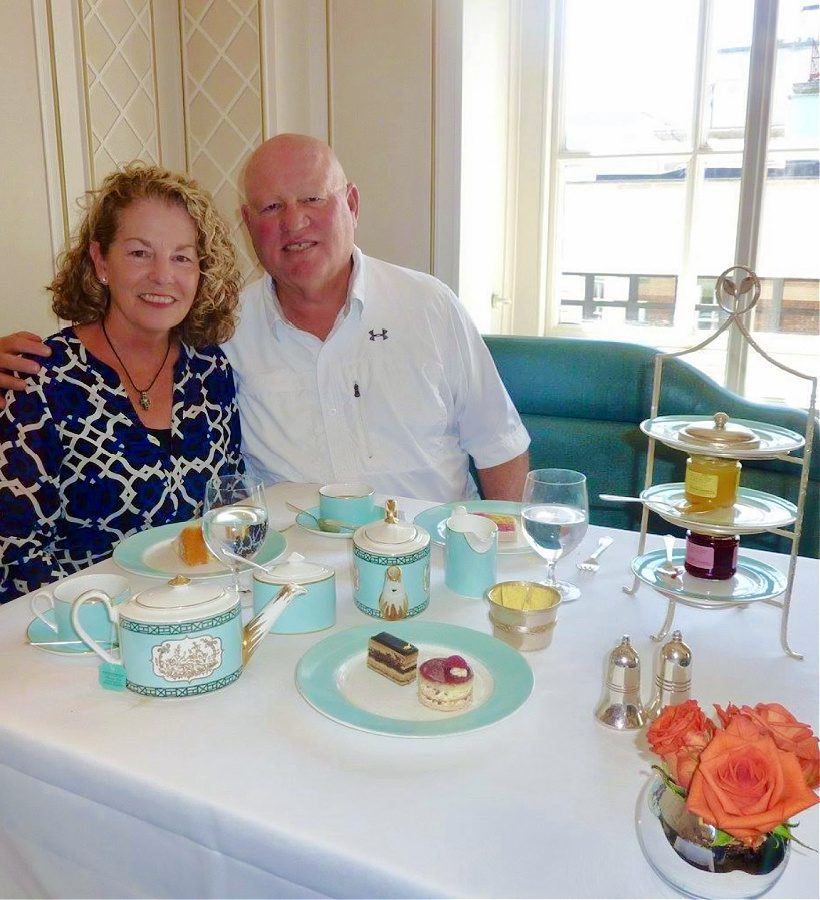 A Christmas Tea Party
So, what would be the table theme, and what tea ware should I use this year for our Christmas tea party? I knew I wanted whimsy, and I knew I wanted red & green to bounce off the Santa paper placemats. That was my starting point.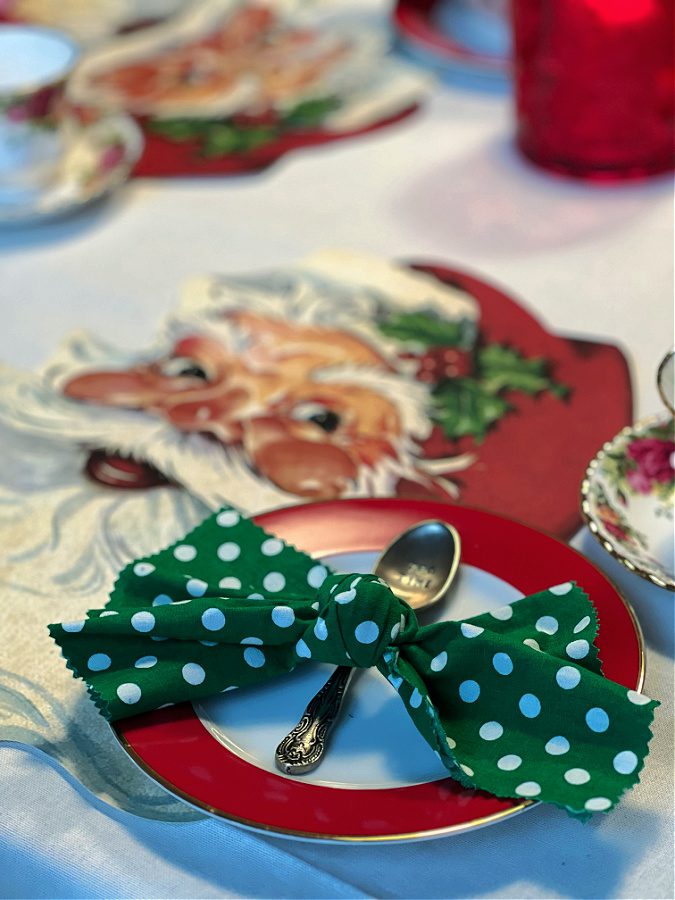 I decided on a little DIY for the napkins. I picked up four small packages of Waverly Inspirations precut fabric. My sewing machine is on the blink, so I used pinking shears to cut each one-yard piece into four napkins. You could also just tear the fabric and have a frayed look that I love.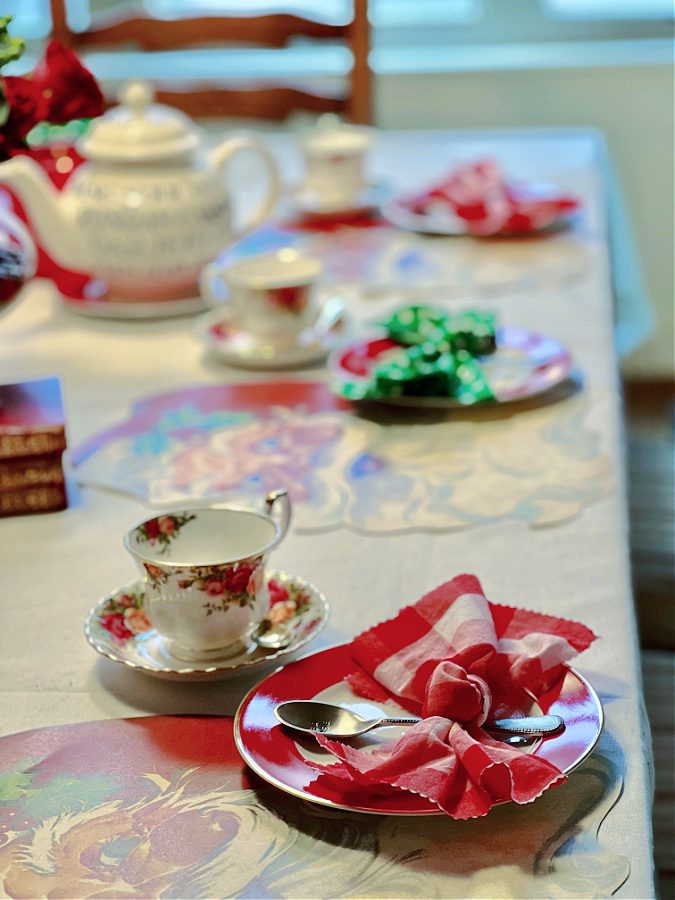 The day before our tea party I put my sister to work. I put everything on the dining room table and said "create your magic". She and I love doing projects at each other's houses and generally enjoy similar decorating. I was cutting out the napkins and arranging the flowers while she set the table. And boy did she set a charming tea party table!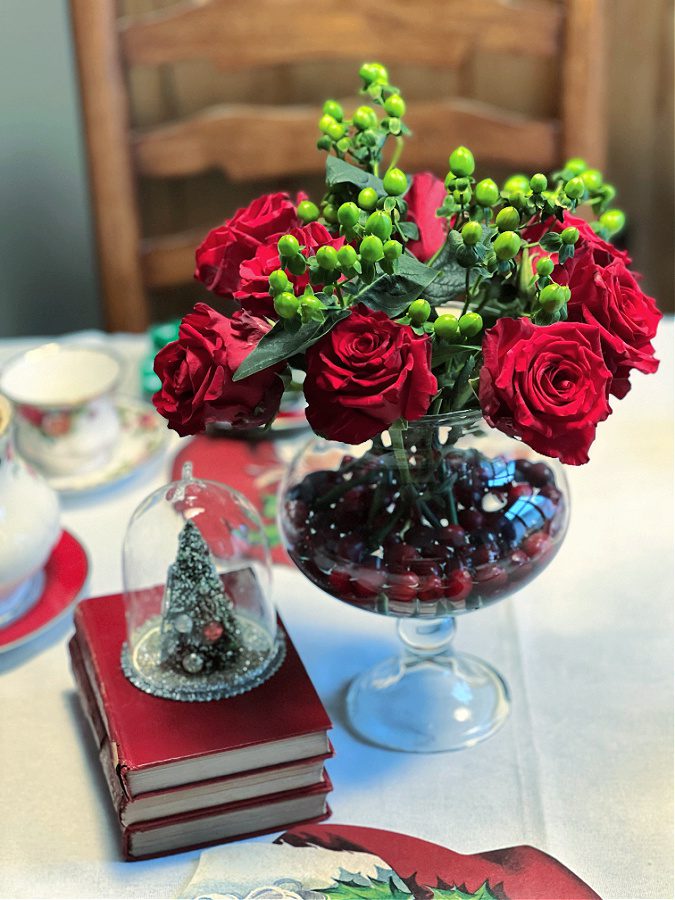 The Tea Party Menu
Cranberry Simple Scones
Clotted Cream
Strawberry Jam
Bundtinis
Peppermint Pretzel Crisps
Andes Mints
Peppermint Sticks
Harney & Sons Paris Tea (our family favorite)
The morning of the tea party I made scones. Most of us love scones with clotted cream and jam.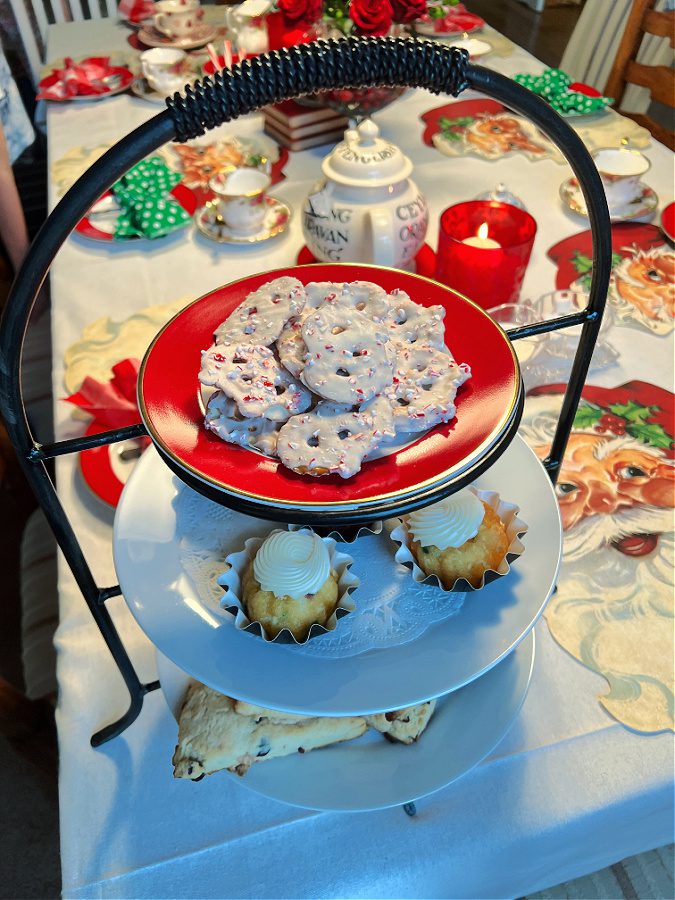 My dear friend Maggi, who lives in California, made this recipe for me on one of our visits.
Simple Scones Recipe
2 Cups all-purpose flour
⅓ Cup sugar
1 tsp baking powder
¼ tsp baking soda
½ tsp salt
8 Tblsp unsalted butter, frozen
½ Cup cranberries or raisins
½ Cup sour cream
1 large egg
Preheat the oven to 400 degrees.
In a medium bowl, mix dry ingredients. Grate butter into flour mixture on the large holes of a grater; use your fingers to work in butter (mixture should resemble coarse meal, then stir in raisins.
In a small bowl, whisk sour cream and egg until smooth.
Using a fork, stir sour cream mixture into flour mixture until large dough clumps form. Use your hands to press the dough against the bowl into a ball. (The dough will be sticky in places, and there may not seem to be enough liquid at first, but as you press, the dough will come together.)
Place on a lightly floured surface and pat into a 7-8 inch circle, about ¾ inch thick. Sprinkle 1 tsp of sugar. Use a sharp knife to cut into 8 triangles; place on a cookie sheet lined with parchment paper, about 1 inch apart. Bake until golden, about 15-17 minutes. Cool for 5 minutes and serve warm or at room temperature. (Recipe by USA Weekend columnist Pam Anderson, posted on Allrecipes.com)
I hope you enjoyed the tea party. This is now one of my favorite photos of my sister Pam, Lindsey, Kelly, and me.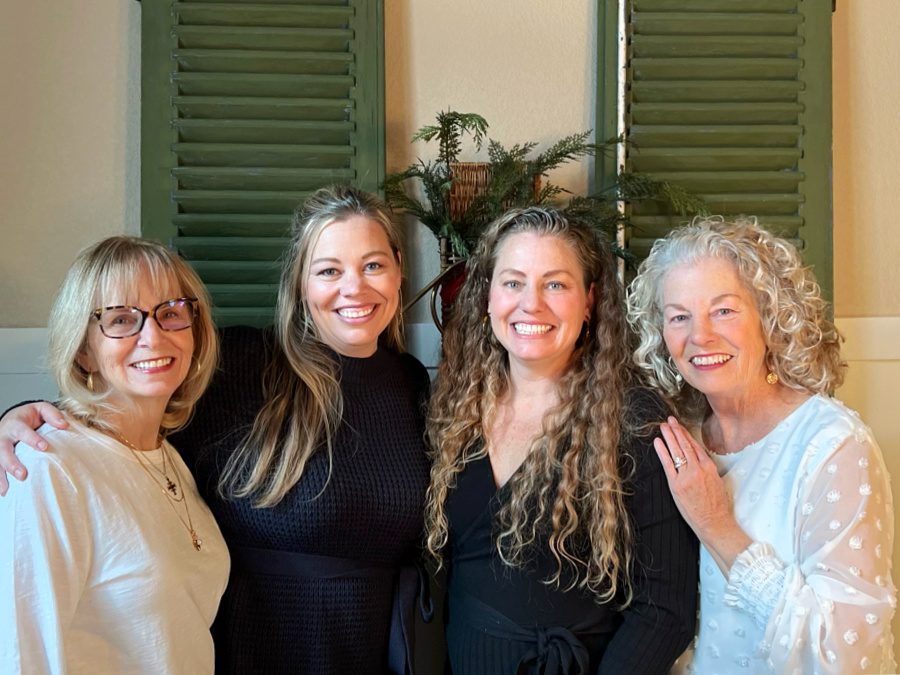 Shop Our Home

A little glimpse of Christmas in our home…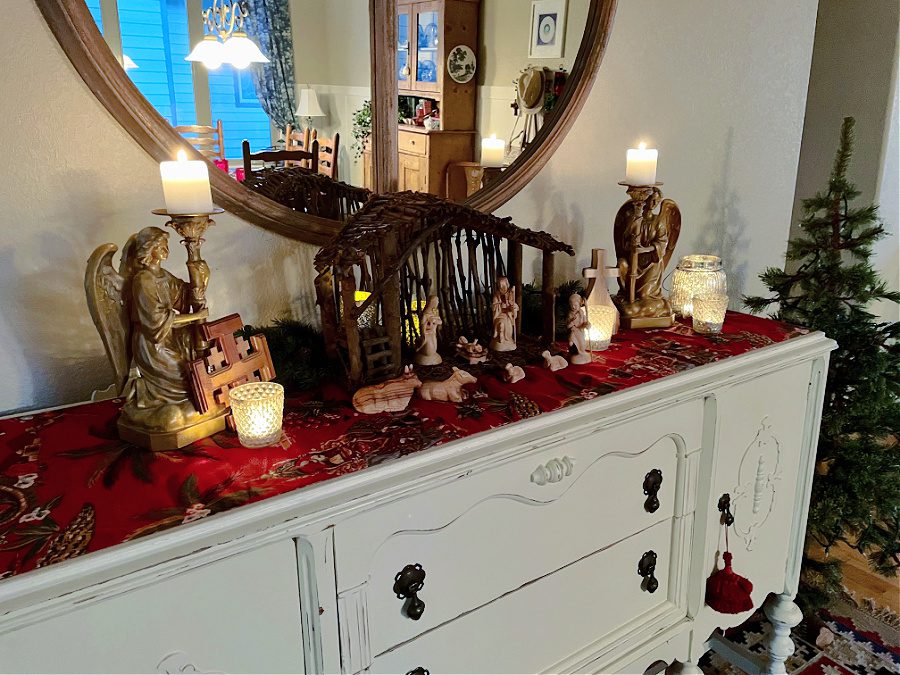 I am so grateful you have joined me this December for Tuesdays with Tracy. The holidays can be full of joy, but also full of pain. Many of us are struggling with loss. The loss of loved ones, health, finances, or even life as we wish it would be. I personally am praying for dear ones who are experiencing this. I will be praying for you to experience the hope that Christmas brings. Perhaps that can be in new traditions, and even new recipes and DIY's. From where does your hope come? From my heart to yours, this is my prayer for you:
May the God of hope
Fill you with all joy and peace as you trust in Him
So that you will overflow with hope
Through the power of the Holy Spirit.
(The Bible)
Merry Christmas!
Tracy