Monday Must Haves for your Hot Cocoa Bar
Welcome to this week's Monday Must Haves, where I share a collection of things that have caught my eye lately. Everything from home to beauty to clothing. Plus, each week I will be featuring a small shop for you to check out. Nothing is off limits!
This week is all about the hot cocoa bar essentials and hot cocoa bar ideas!
*As an Amazon Associate, I earn from qualifying purchases. This post contains other affiliate links too for your convenience. Click here to read my full disclosure policy.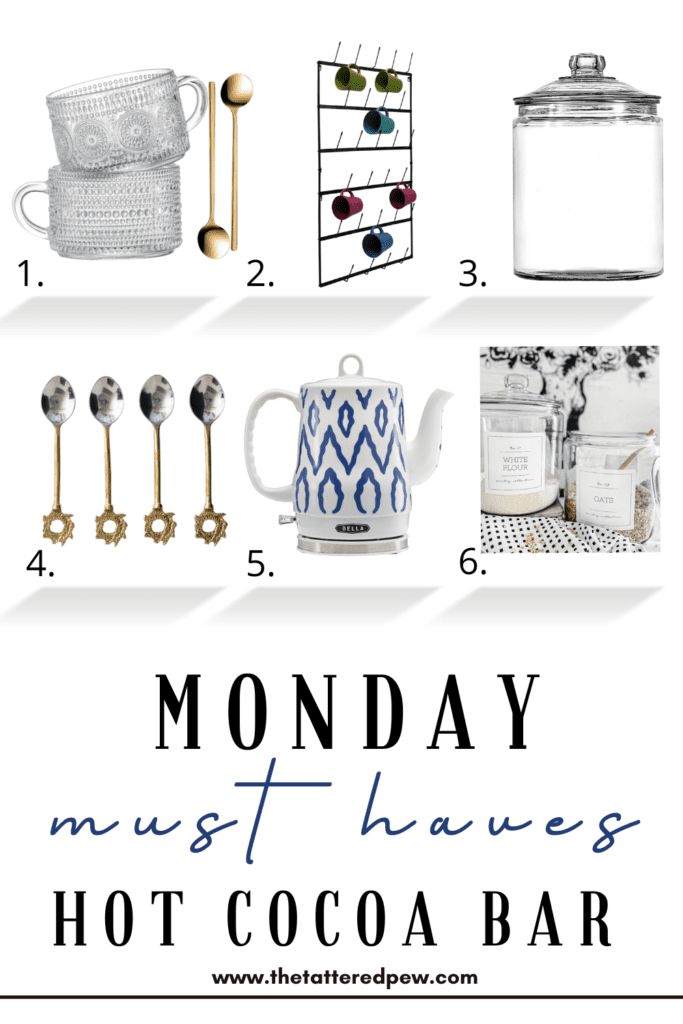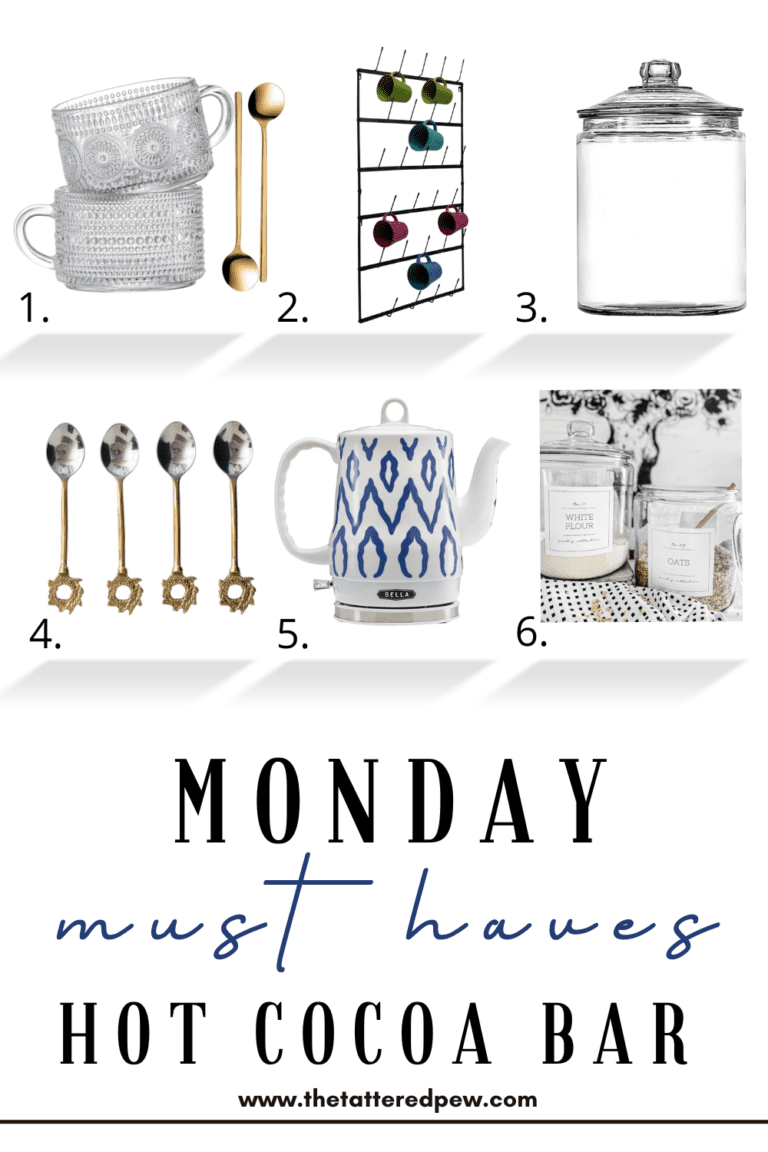 1 // 2 // 3 // 4 // 5 // 6
Monday Must Haves for your Hot Cocoa Bar
The first Monday must have I am sharing today are these textured vintage looking clear mugs. These would be perfect for hot cocoa, coffee, tea or maybe even a pretty parfait! I love the look of them ( each mug is a different pattern) and I also love that they come with a gold spoon for stirring. These are pretty enough to display and would also make a lovely gift! If you are looking for this type of mug but in a different color there are several options!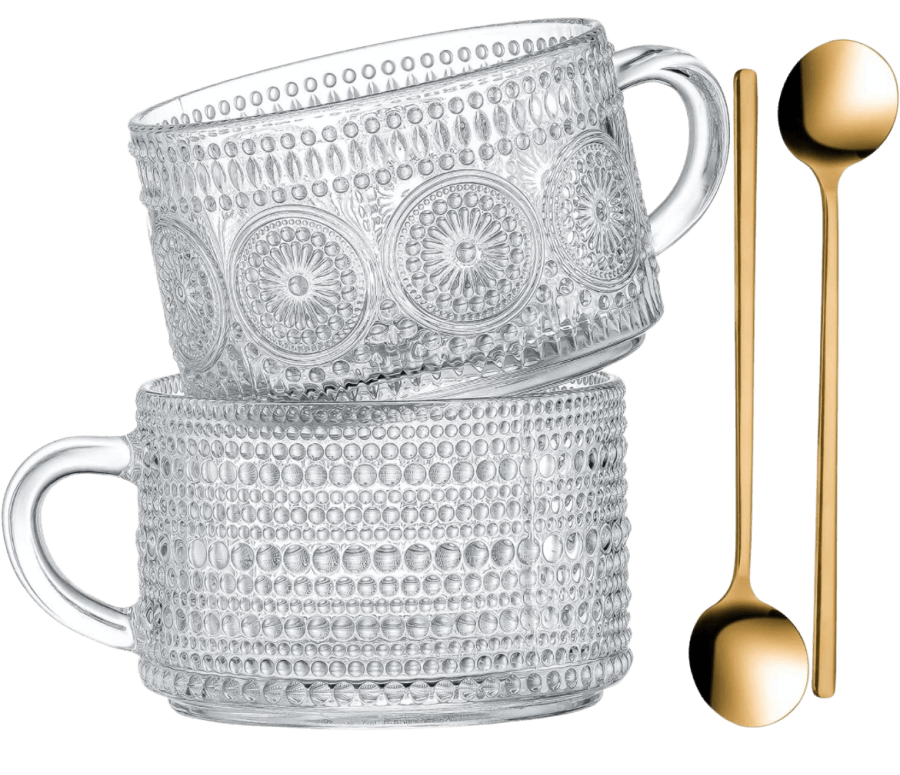 2. Have you seen these mug racks before? We have this metal mug rack and it comes in very handy for all of our mugs. It is so much fun to change out and decorate seasonally too. Having one of these located next to or above your hot cocoa bar can be a game changer. We love ours and I can't recommend it above. You can see ours in this post!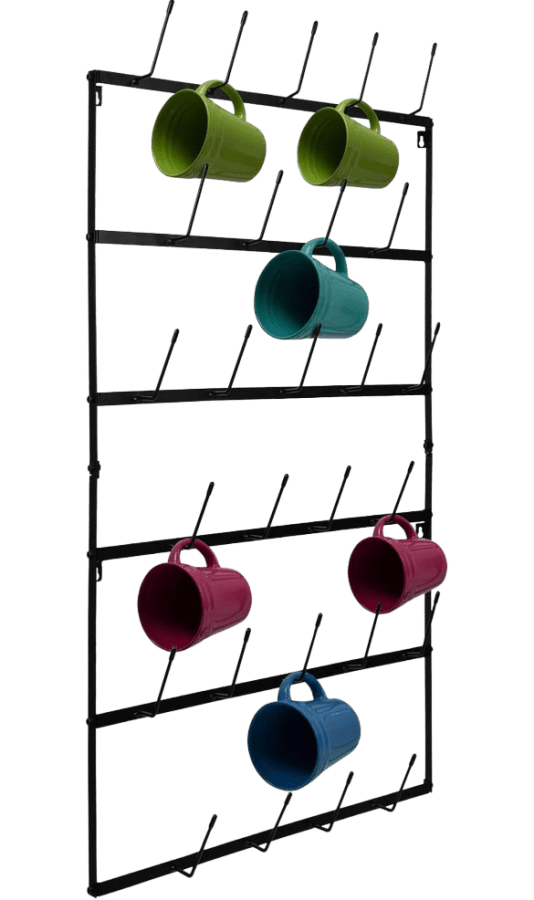 3. This hocking jar is a must have for so much more that just your hot cocoa bar! I have several of these glass lidded jars in multiple sizes and use them all over our home. We have hot cocoa and marshmallows in two of them, and if you were around for Halloween you might remember my haunted house in this very jar! I have used them in my pantry and even used them to hold hair accessories and crafts for the girls. Oh gosh and I almost forgot I have one full of vintage ornaments that I display at Christmas. It is on my green dresser this year! They are even dishwasher safe. What would you use one for?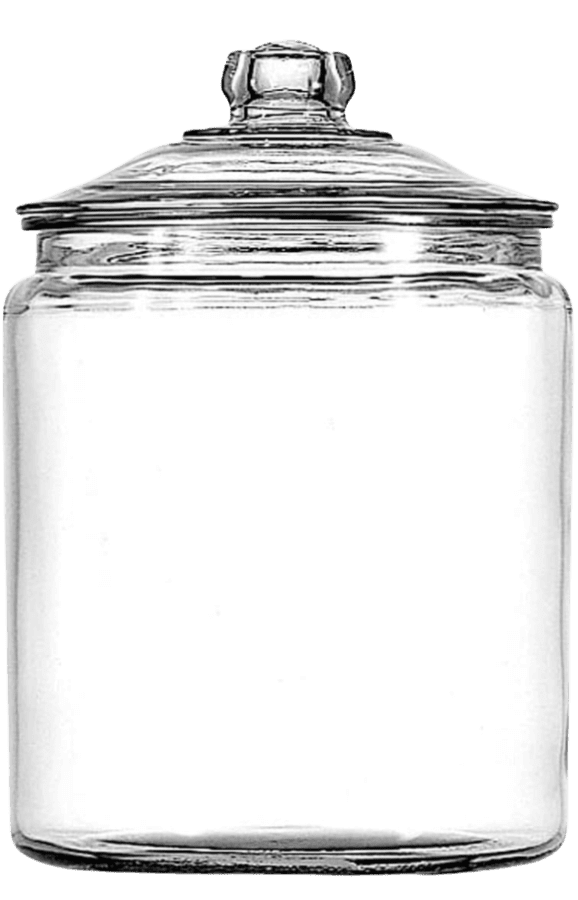 4. One of my favorite brands on Amazon is the Creative-Co-Op. They have some of the best decor and it is always top quality. So when I saw these stainless steel coffee spoons with wreaths on the end of them I was smitten and determined to give them a go! Not only would they be good for coffee but for hot cocoa and tea too. Aren't they just lovely looking? There are also spoons in this collection with stars and reindeer handles. How cute, right?! Not only would these be great to have on hand at home but I think these would make a great gift attached to a jar of my mom's hot chocolate recipe!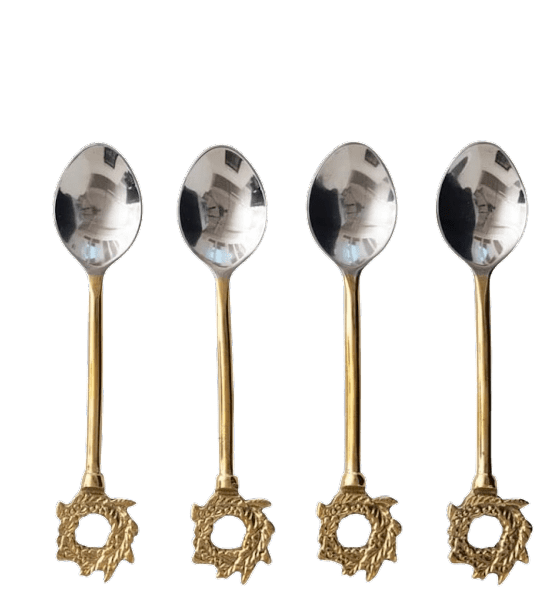 5. How beautiful is this BELLA electric tea kettle? This beauty has been on my wish list for a long time now ( my mom's too) and I finally ordered it! It has over 10,000 top rated reviews and an automatic shut off and detachable base. It's perfect for tea and hot cocoa and I can't wait to put it to good use!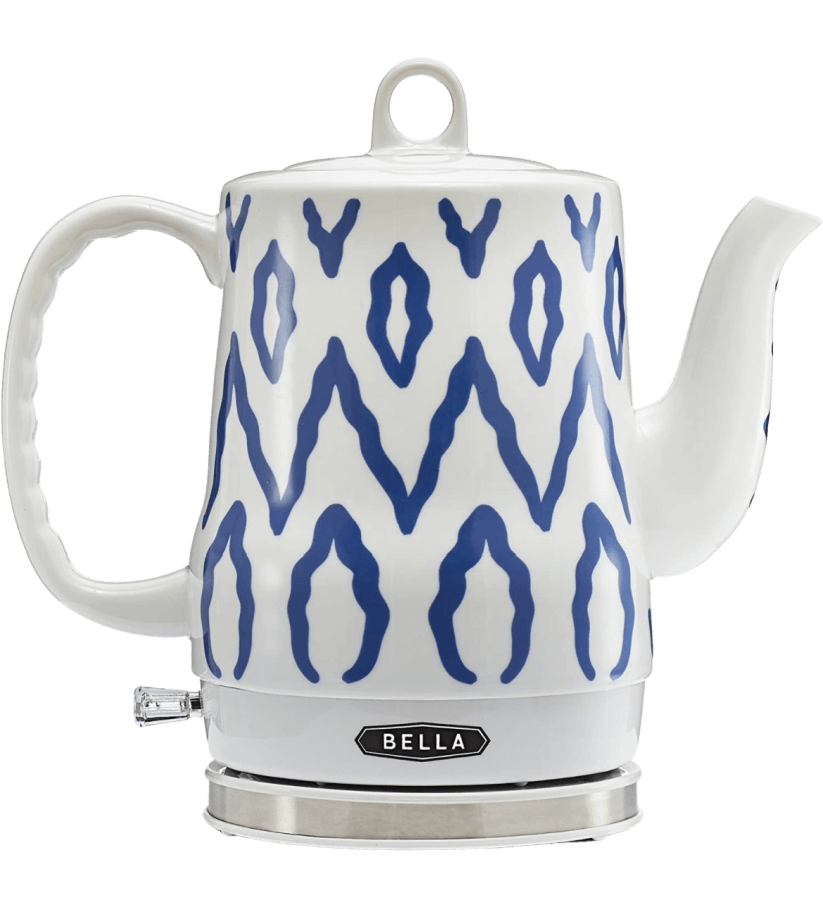 6. SMALL SHOP SPOTLIGHT: This week I want to share the small shop NEATDEZIGN and their customizable pantry labels! I ordered these labels for my hot cocoa and marshmallow lidded jars that I keep in our butlers pantry. I found this shop over on Instagram after several other friends raved about it. They were all spot on… these labels are beautiful, so well made and shipped quickly via her ETSY shop! The owner Veronika was very easy to work with and offered custom labels! She has so many options and they are all so classy. Use these to make your pantry goals come true!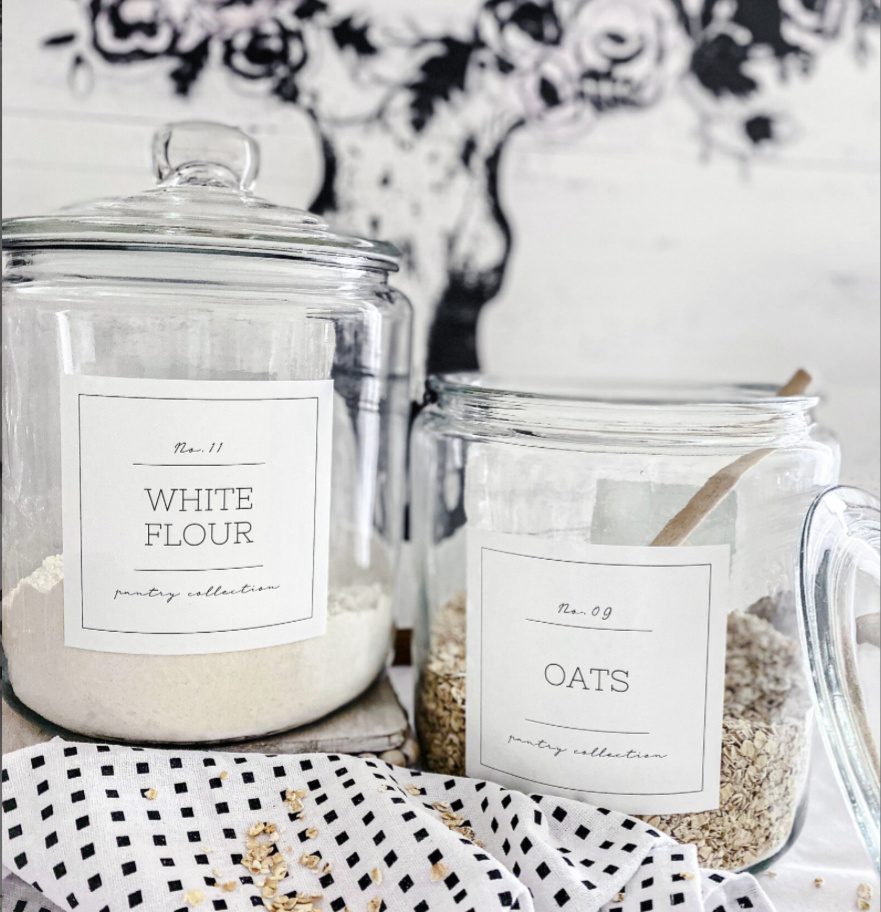 More Hot Cocoa Bar Inspiration
You Are Invited!
You are invited to come hang out with my mom and I LIVE over on my Amazon livestream this coming Thursday! (12/8 at 10 am MST. and again at 7pm MST.)
We will be sharing hot cocoa bar essentials (some of the ones shown above), styling, gifts and more! Plus, my mom will be mixing up her homemade recipe as well.
You can join us by clicking this link HERE. ( It will show if we are LIVE in red on the screen in the left hand corner. I will send a reminder again via email on Thursday morning. Plus you can always watch the replays! We hope you can join and come chat with us.
You can see all previous Monday Must Haves here!
I'd love to have you hang out with me some more. Feel free to follow along with me on any of the platforms linked below.
LTK | Facebook | Instagram | Pinterest | Amazon
xoxo,
Kelly