5 Fall Must Haves for Your Porch
Fall is here in Colorado and I am in heaven! The colors all around us are just beautiful and the weather is starting to cool down. That can mean only one thing…it's time to decorate the porch for Fall! I am excited to share with you my 5 Fall must haves for your porch!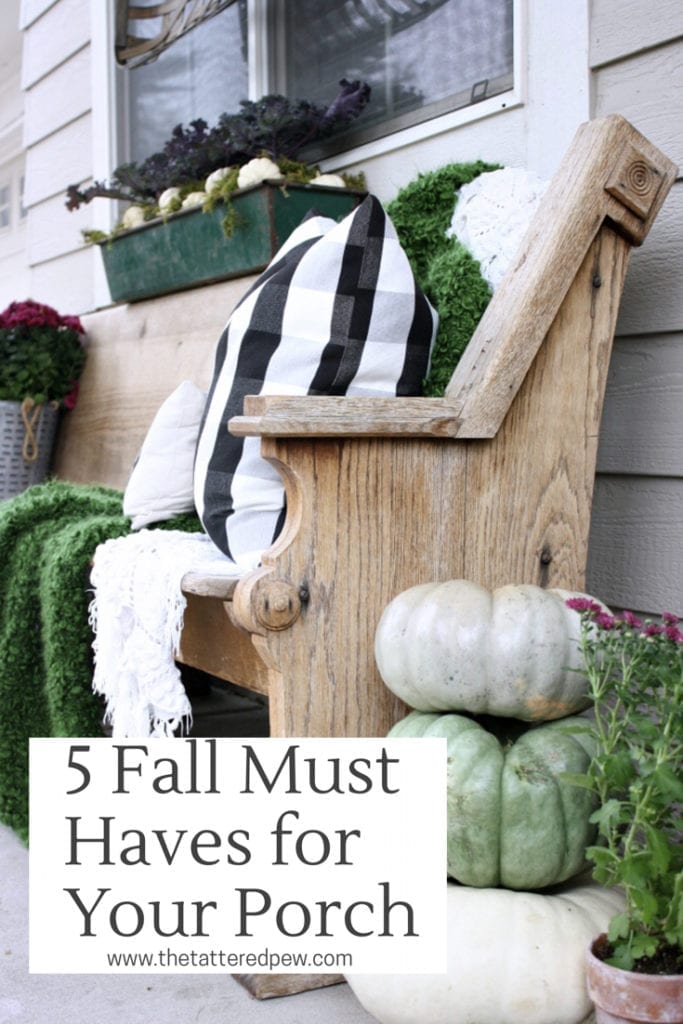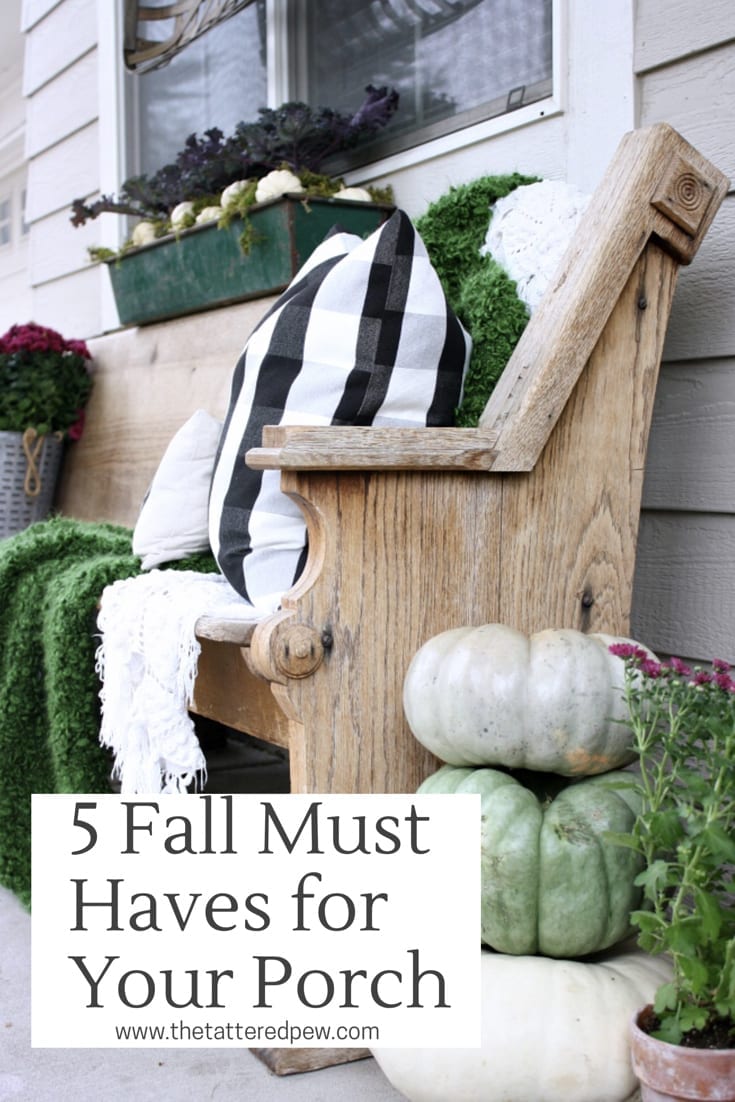 Today I am joining a talented group of ladies for a Fall Rustic Porch Tour hosted by Dawn over at Creative Cain Cabin . You can find each of the amazing porches from the tour linked at the end of my post.
Welcome to Our Porch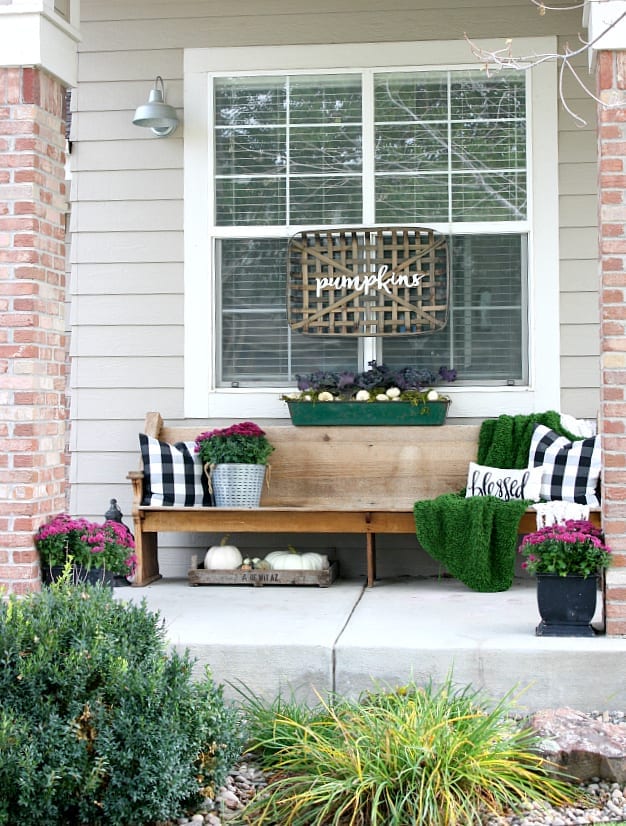 I had a lot of fun gathering items for our fall porch and I could barely wait to add Fall touches to our pew, Ms. Fanny! Below are my must haves for the perfect Fall porch!
Flowers
Flowers! This is a no brainer for me and probably my favorite part of decorating our porch no matter the season.  I used purple mums and kale to bring some fun color to our porch this year.  I was worried that the purple wouldn't  look very "fallish" but once I added the pumpkins I instantly fell in love!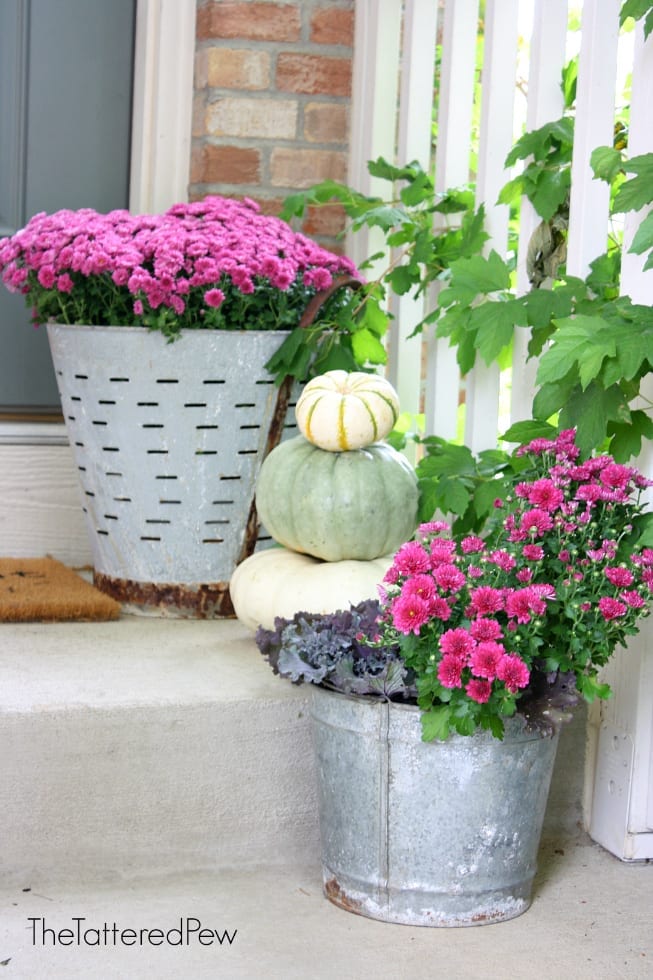 These mums are labeled "hearty" but I swear I can never keep them alive longer than two weeks. So I asked my friends over on my Instagram account for any tips and tricks on mum care and learned so much!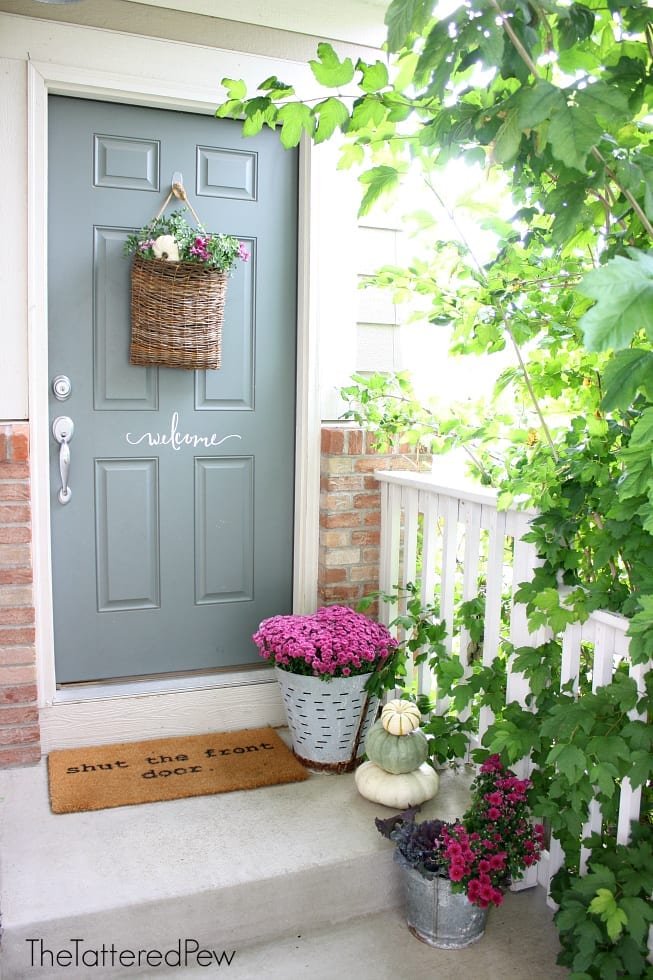 I learned to never water mums on the flower itself but instead to pour the water in the side of the pot by the stem or at the base of the plant. Another great tip was too pinch off dead blooms (dead head) and to replant them in your yard since they are perennials.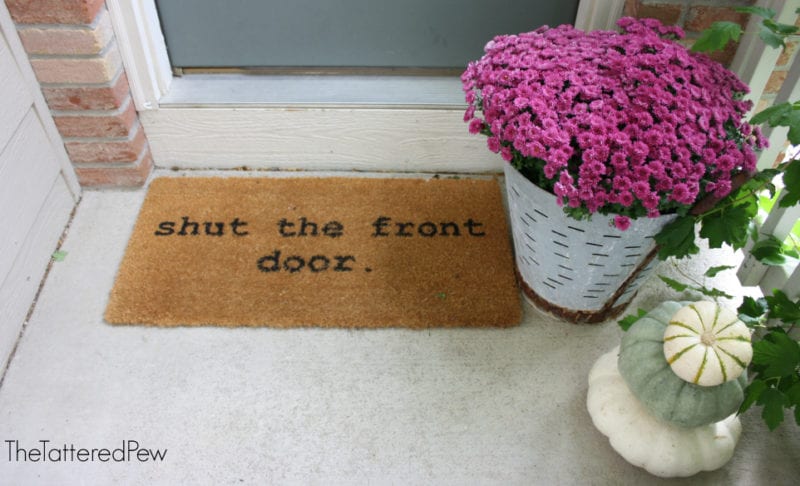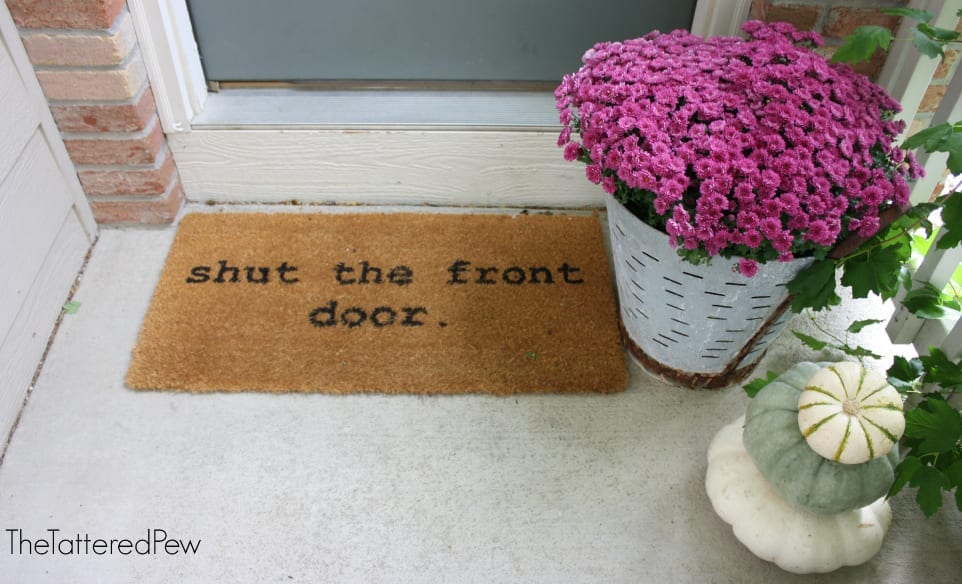 I am hoping these tips and tricks work and that next Fall you will see some beautiful mums growing in my garden!
Pumpkins
Fall equals pumpkins and my motto is you can never have too many! I used both fresh and faux pumpkins on our porch and stuck to greens, grays and whites this year. I found these beauties for $7 each at our local Trader Joe's.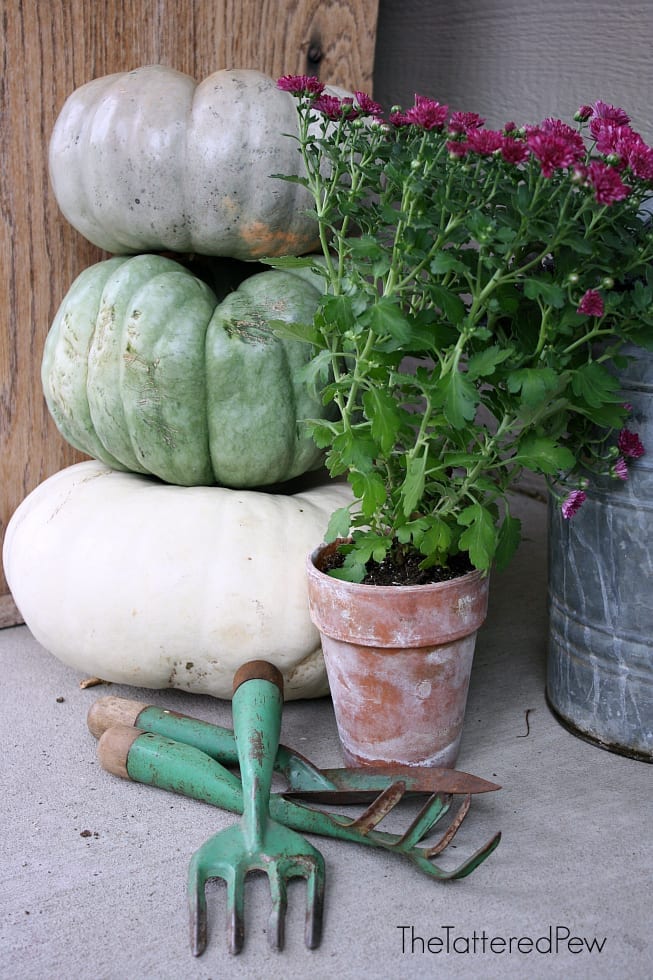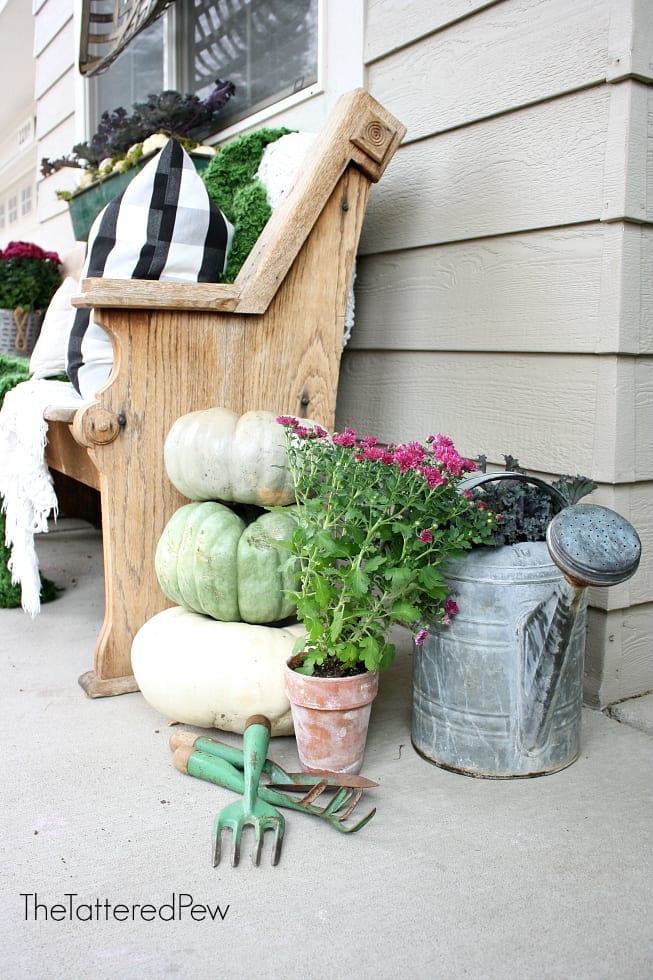 The tiny little white baby boos in my green metal planter were only 69 cents each! So naturally I bought a ridiculous amount.  Once again the hubs just laughed and rolled his eyes at me and I batted my eyes at him and replied, "It's for the blog honey!" He can't resist me! 😉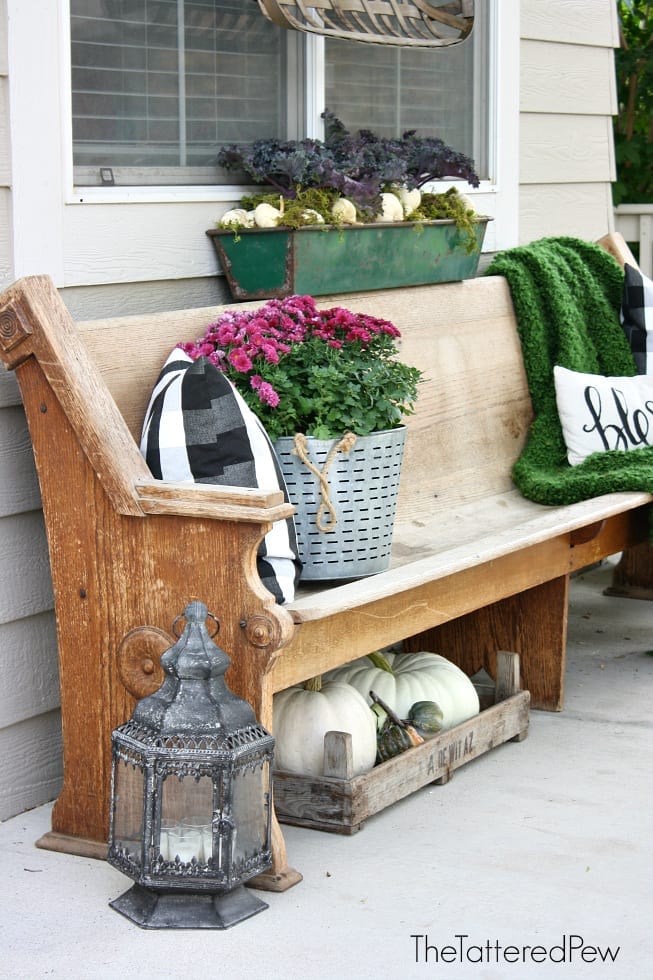 A Focal Point
A focal point is a must! Our focal point is our lovely pew, Ms. Fanny. You can read all about how I found her in my post A Pew for our Porch. I love to decorate her and with this being her first Fall as part of our family, I went all out!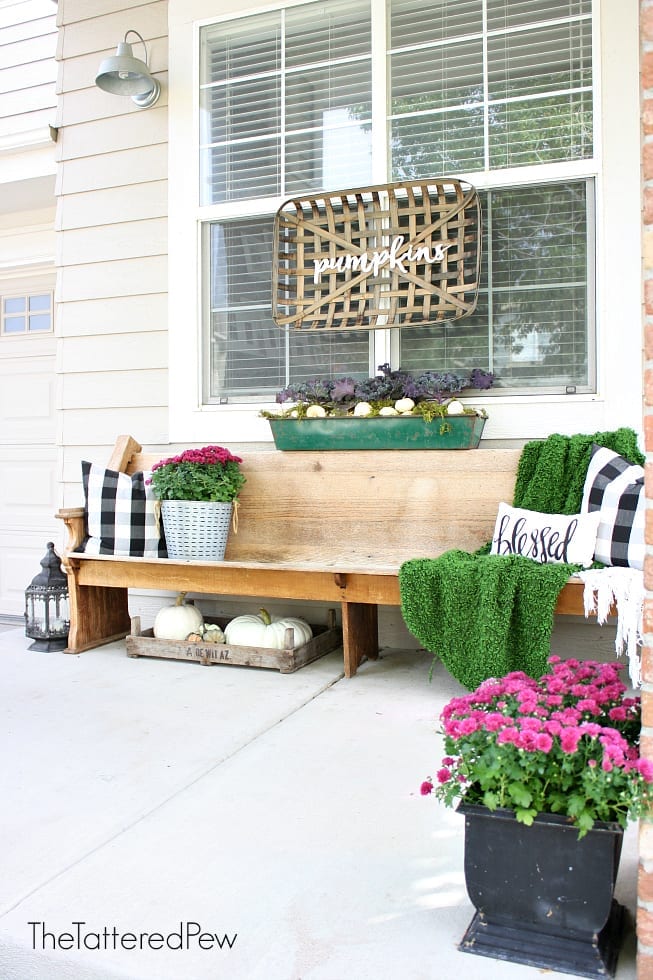 Accessories
As far as accessories go this is where you can have fun and make your porch your own! I love my black and white buffalo check pillows from Hobby Lobby so I kept them on the pew along with the "Blessed" pillow my sister made me. I added the green IKEA throw for a punch of color.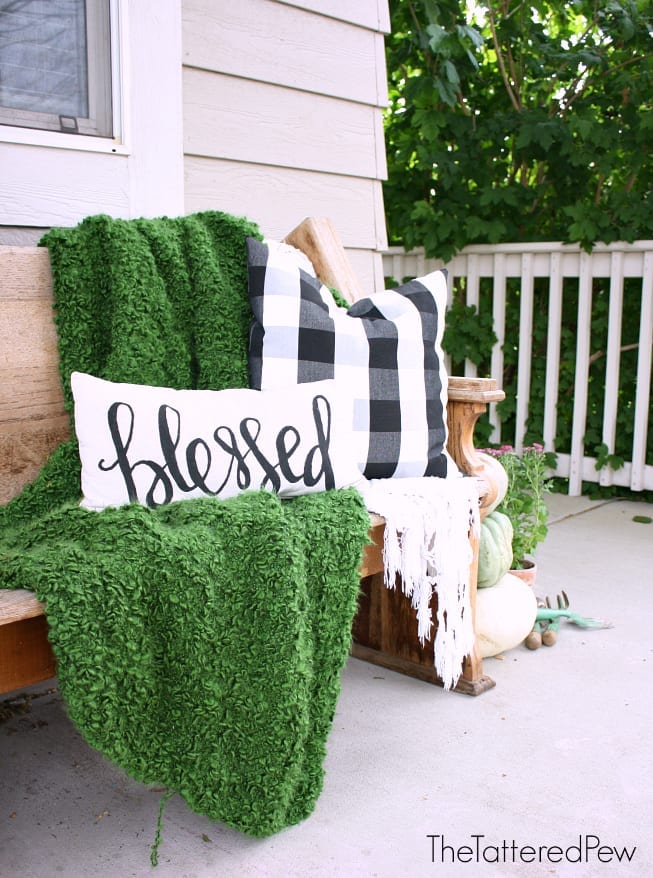 Once I had Ms. Fanny looking good, I felt like the space above her was missing something.  So I brought out my tobacco basket from Knapsack and used some fishing line to tie on my white metal pumpkin sign from The Simply Inspired Shop.  It was the finishing touch!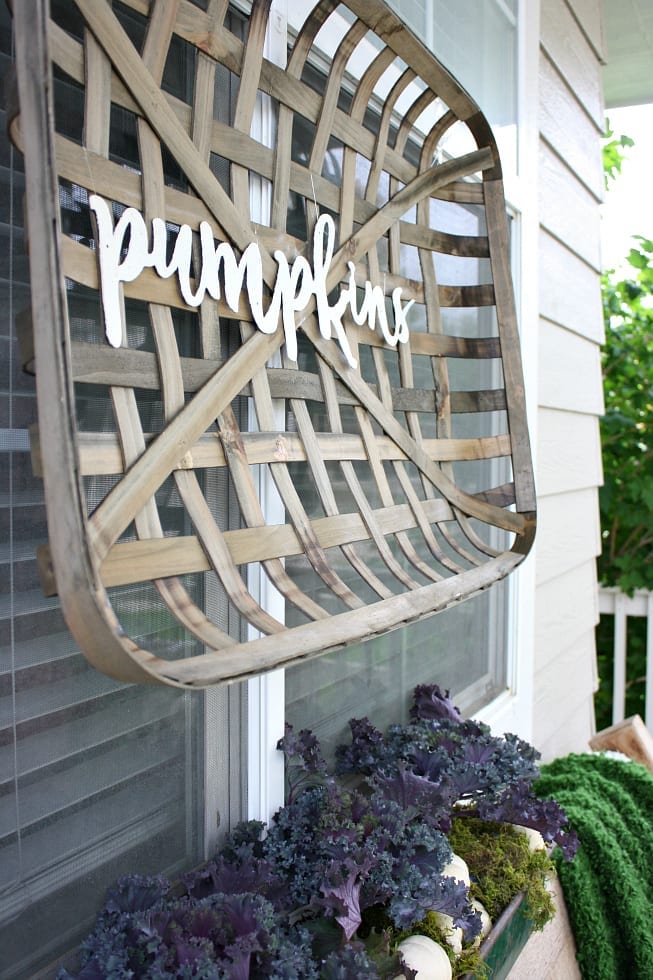 Do you see that darling black lantern below? It was on my back patio and I grabbed it since it worked with the black in my pillows and flower pots. Then I grabbed my vintage tulip tray and placed it under the pew and plopped in some more pumpkins.  You should have seen me walking all over our house inside and out looking for accessories to add. It was really fun and really inexpensive! 🙂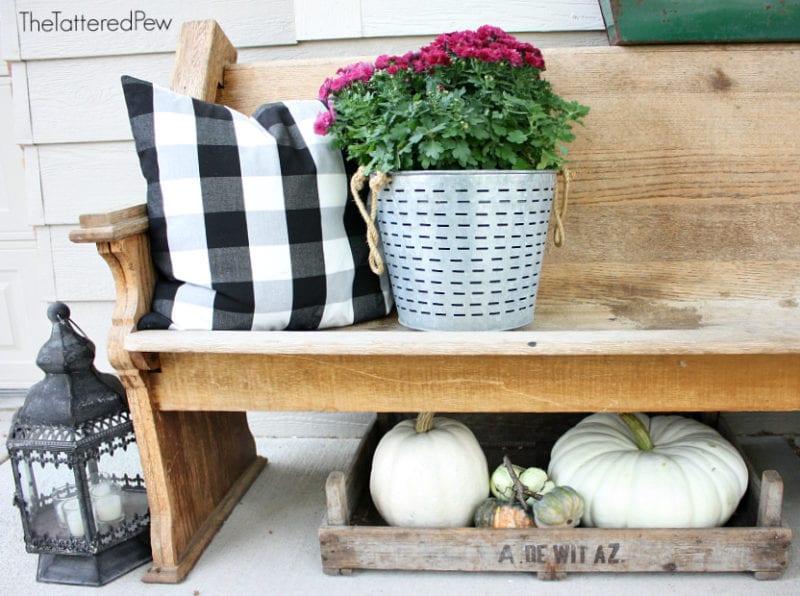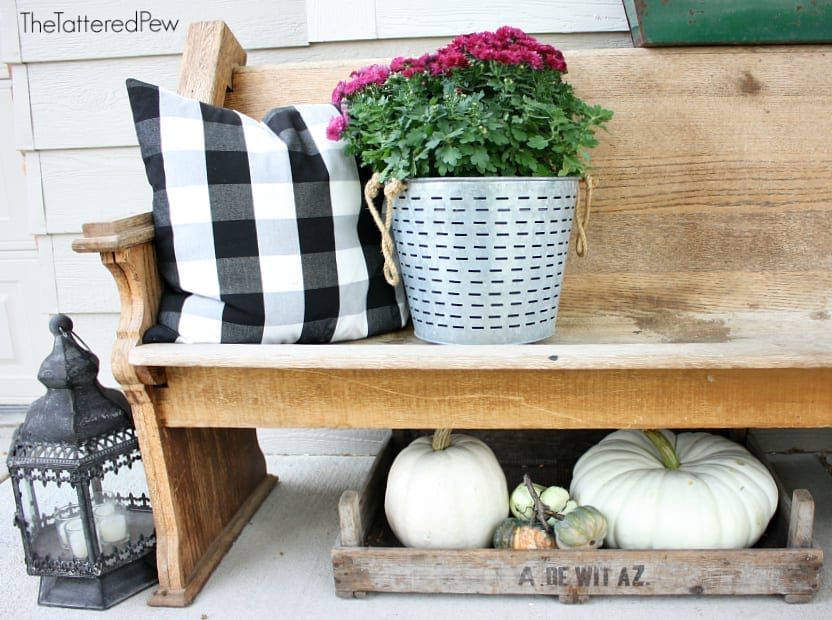 Containers
Finally, the last must have is containers, pots or planters. This part was fun because I was able to collect a few olive buckets, old black metal planters and some pots that I had laying around our yard or garage. But my favorite planter that I used on our fall porch is the long, green, old and rusty rectangular planter I set on the back of our pew Ms. Fanny.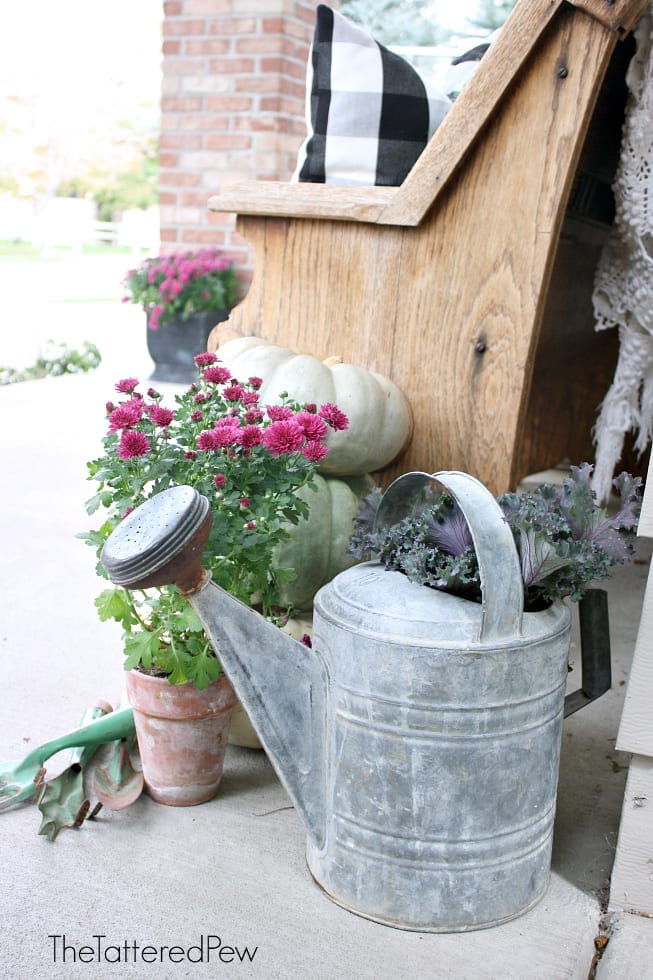 Did you notice the kale I placed in my old watering can?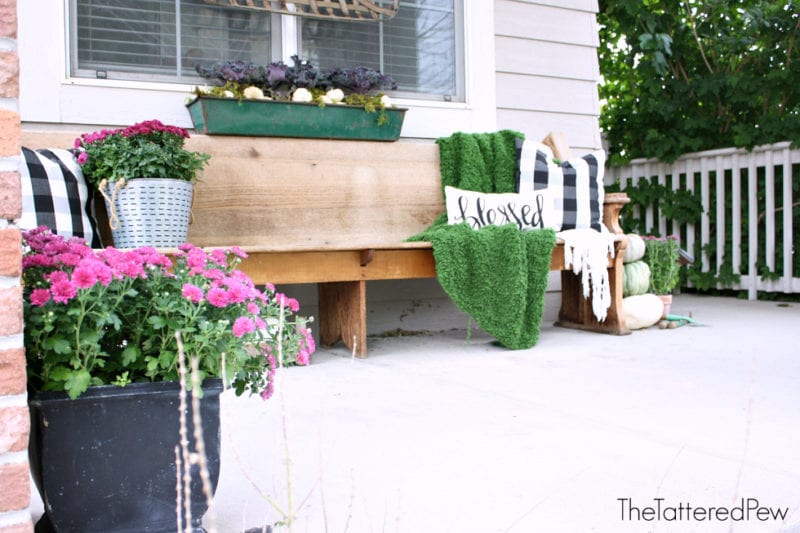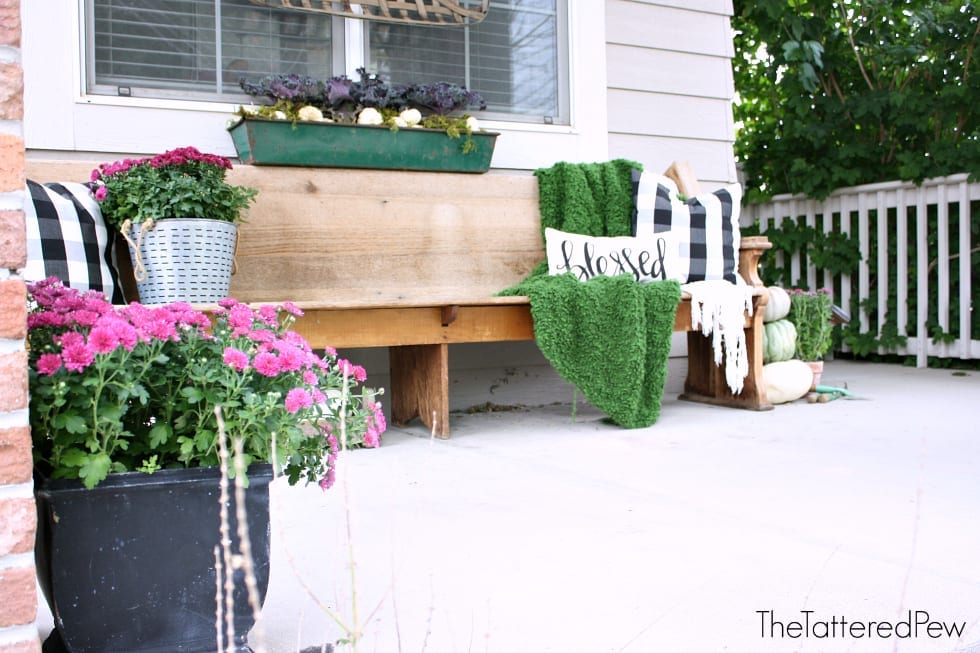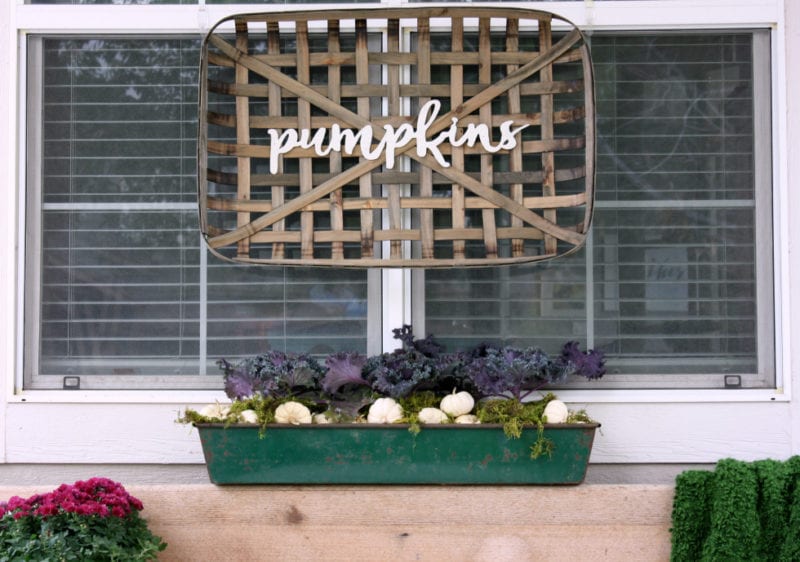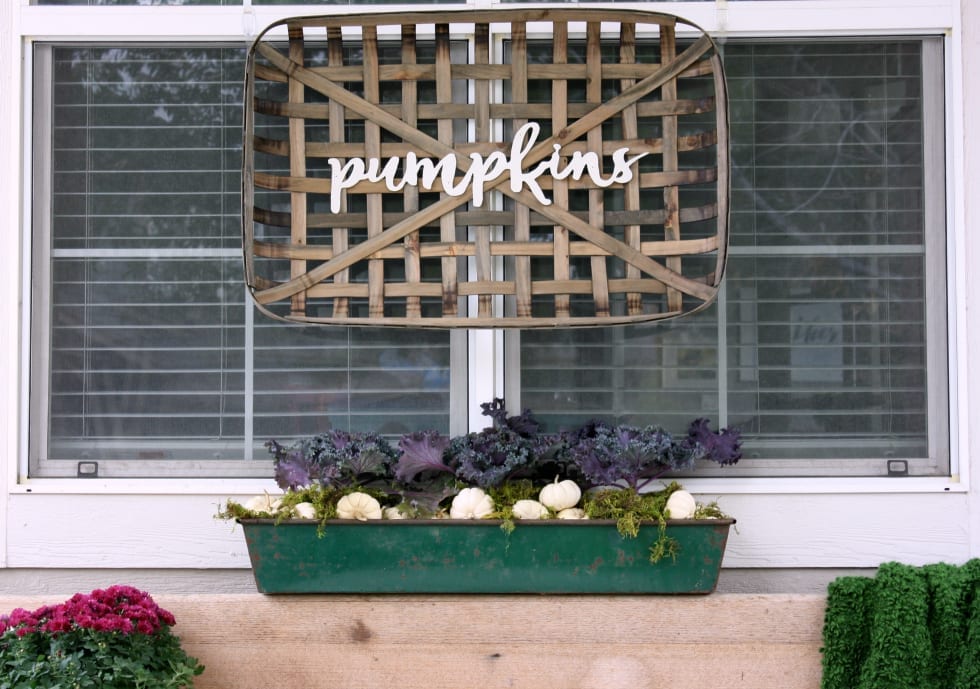 I hope to have a fun DIY tutorial up on the blog soon all about how to create a simple Fall centerpiece/planter (like the one above) that can be used indoor or out!
That's it for our fall porch tour! What did you think about the 5 must haves I suggested? Do you agree or think I left anything out? Let me know in the comments below!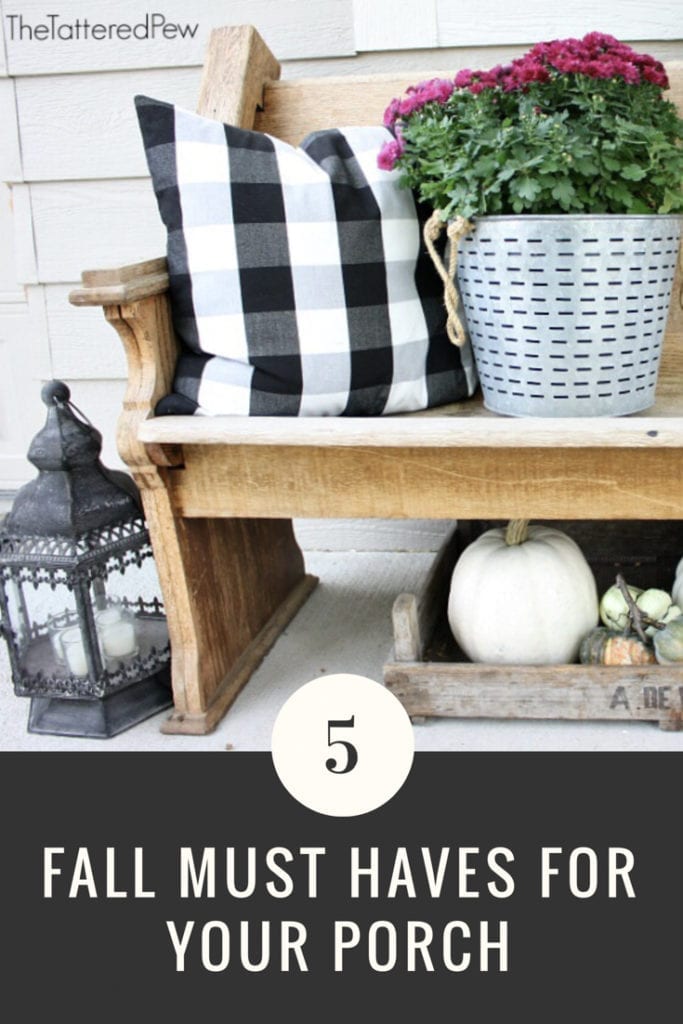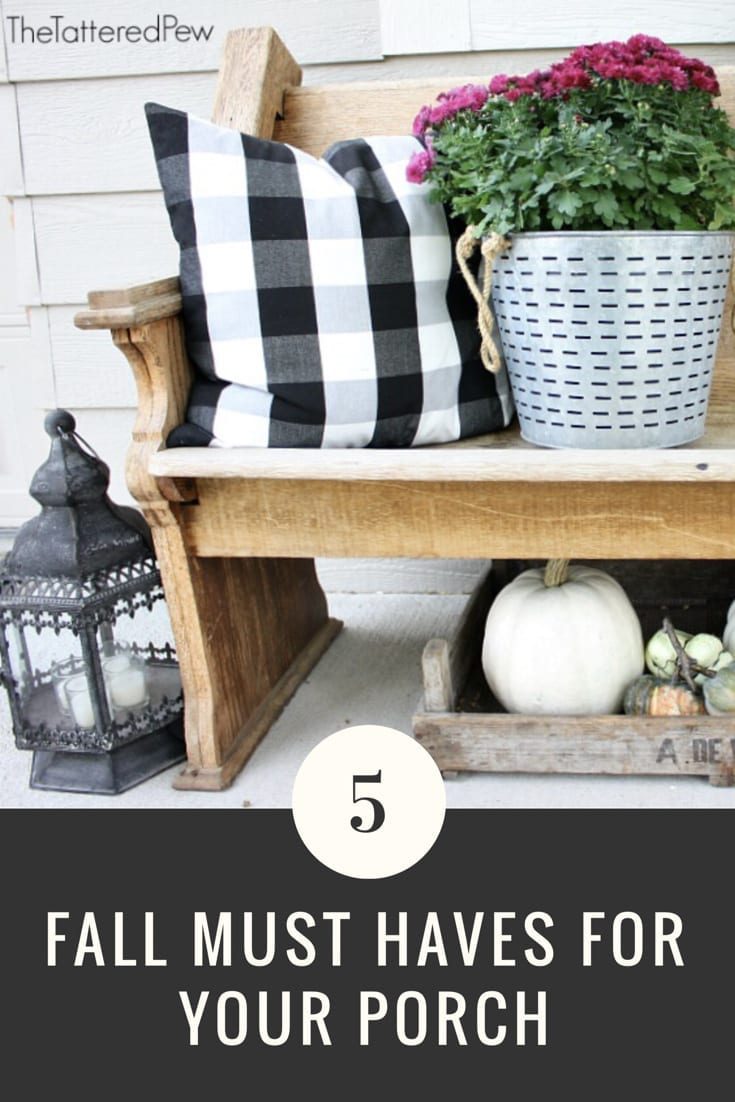 Thanks for stopping by and taking a peek at Ms. Fanny all dressed up for her first Fall appearance! I know there are a lot of wonderful blogs out there and I want you to know that I appreciate you taking the time to read mine!
xoxo,
Kelly
Don't forget to check out the other bloggers on the Rustic Fall Porch Tour listed below!
Sunday
Monday
 Linking up over at Finding Silver Pennies!