How To Decorate Your Front Steps For Fall
I am always up for a challenge and my latest one was figuring out how to decorate our front steps for Fall!
Our new house doesn't have a porch, instead it has two gorgeous stone steps. So I had to get a bit creative with my outdoor Fall decor this year.
And I wasn't the least bit upset about it.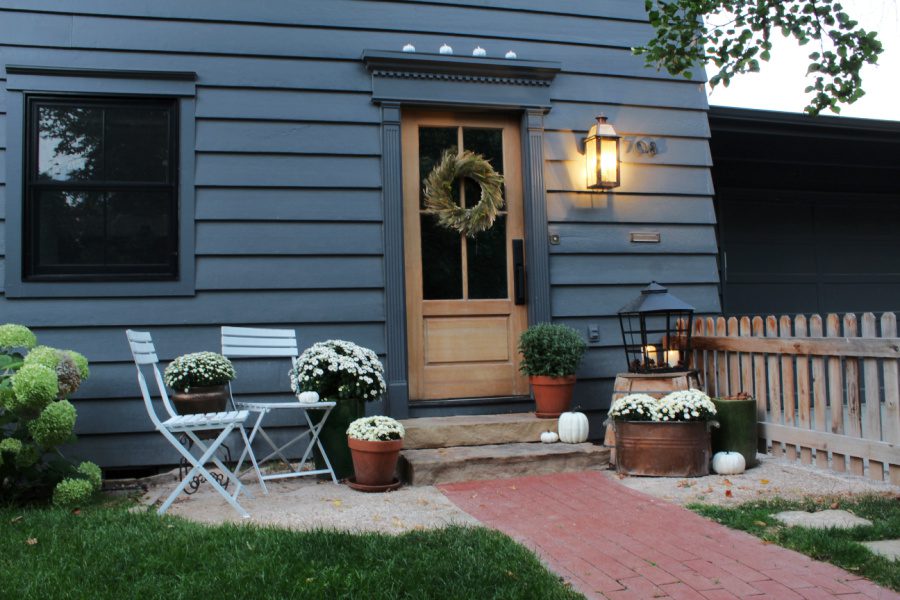 Ready For Fall Home Tour
Hi, I'm Kelly! Today I am thrilled to be joining Vicki and Jenn from 2 Bees in A Pod who are hosting the Ready For Fall Home Tour! I love Fall home tour season and this group of ladies has some gorgeous inspiration for you today. If you are coming over from Christy of Our Southern Home and her gorgeous kitchen, welcome! I adore her style! My hope is that I can share a bit of my own Fall style with you all and that you and I can hang out some more!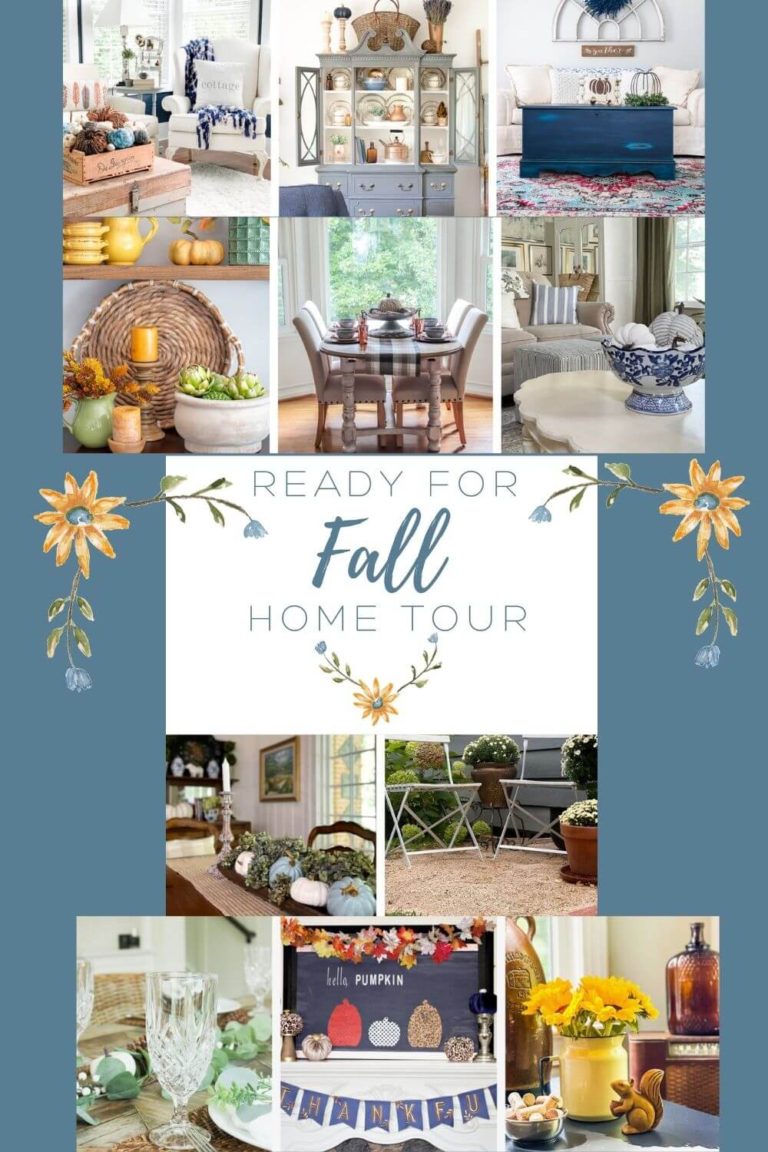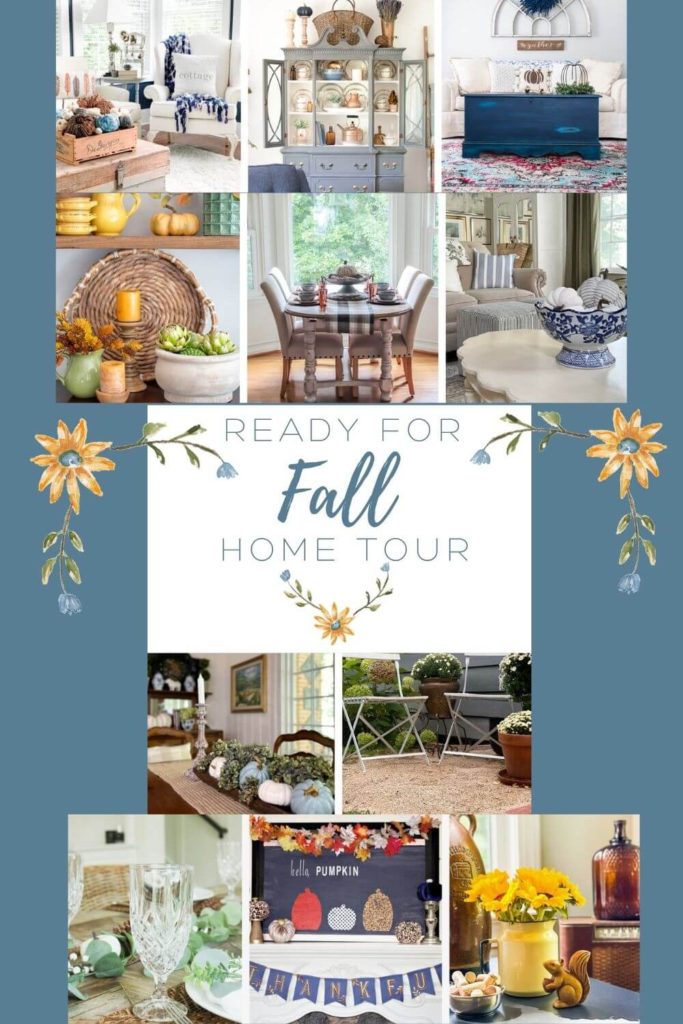 How To Decorate Your Front Steps For Fall
Our front yard and front door are what initially drew me to this house. I adore the charm and character and the moody feel that our Peppercorn paint color exudes. It has a modern, colonial, salt box vibe that I wanted to play into for Fall decor this year and I quite honestly have been dreaming and scheming of what to do for quite awhile now.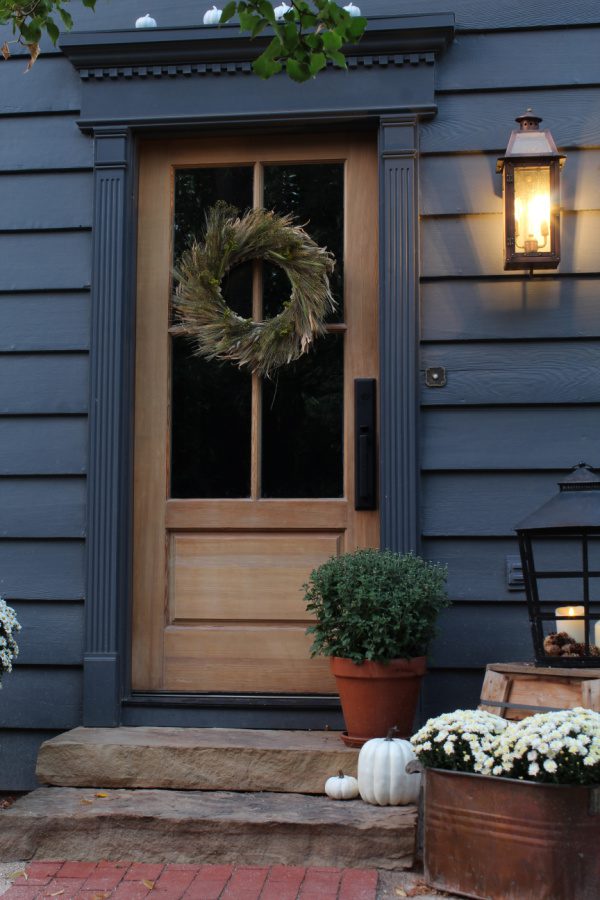 Here is a peek into my thought process
1. Designate Your Space
Outdoor Fall decorating ideas don't need to be complicated and you don't need to worry if your outdoor space is small. When it comes to figuring out how to decorate your steps for Fall my first piece of advice is to think beyond the steps.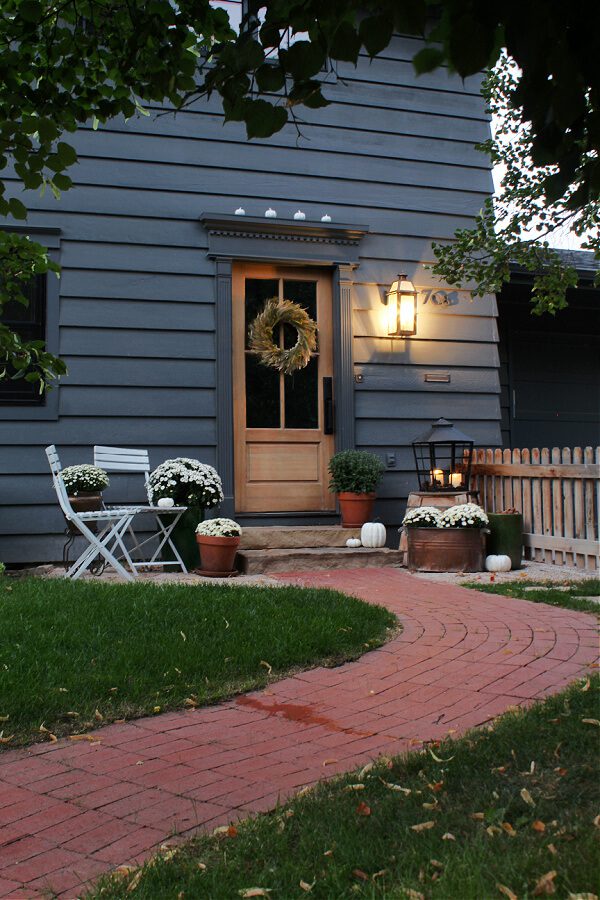 Not only did I go up, (see the pumpkins above our door), but I went out too!
I decided to create two separate spaces on each side of the steps. One is a seating area and one is more of a decorative area. This enables me to do more than just decorate the two steps. I chose to keep the steps simple with two faux pumpkins on the lower stair and one , yet to bloom mum on the top stair.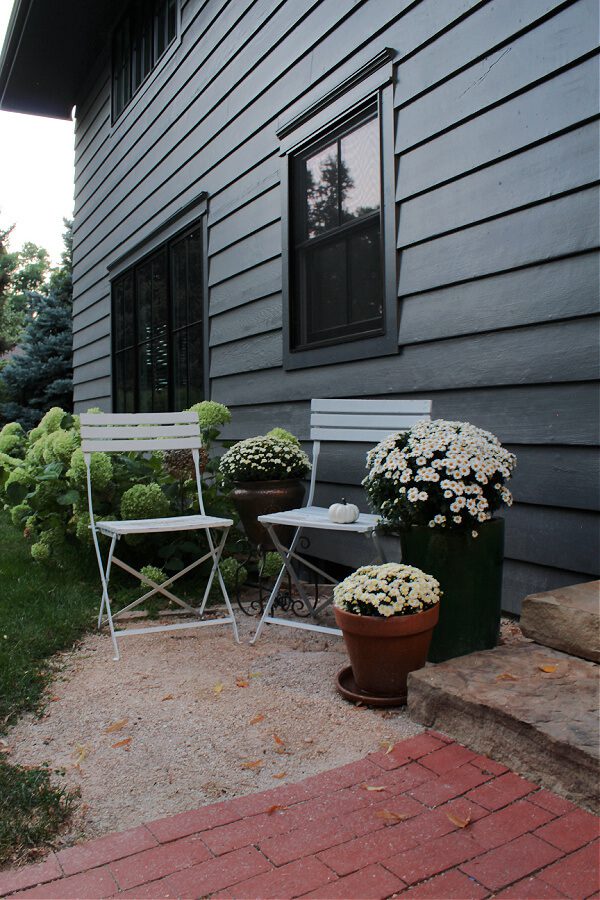 This let my door shine and allowed for more space for decorating.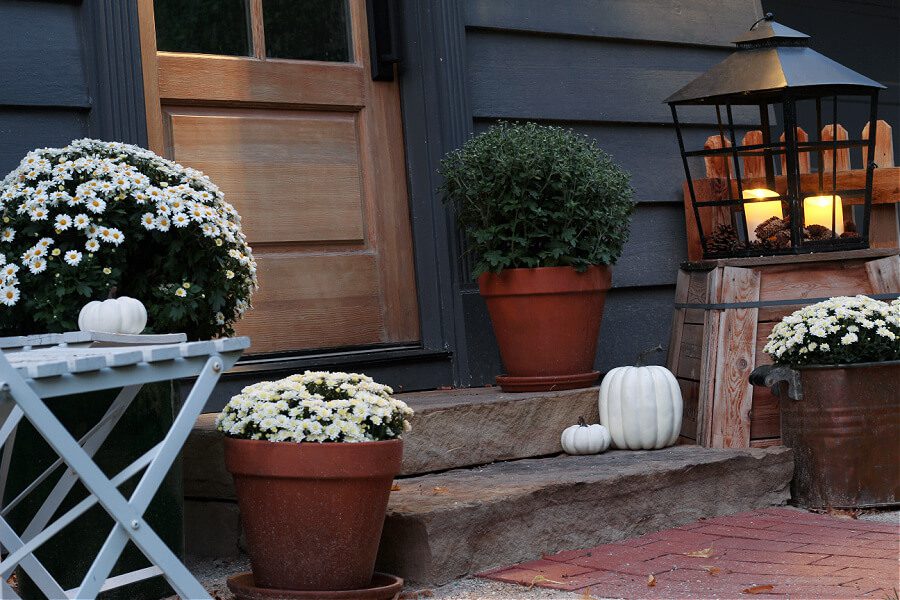 The seating area is curtesy of my mother. She brought over her darling white bistro chairs for me to use since she knew I was looking for contrast for my Fall outdoor decorating. And goodness gracious was I glad she did! Isn't this little seating area just the cutest? It's not huge but the impact sure is!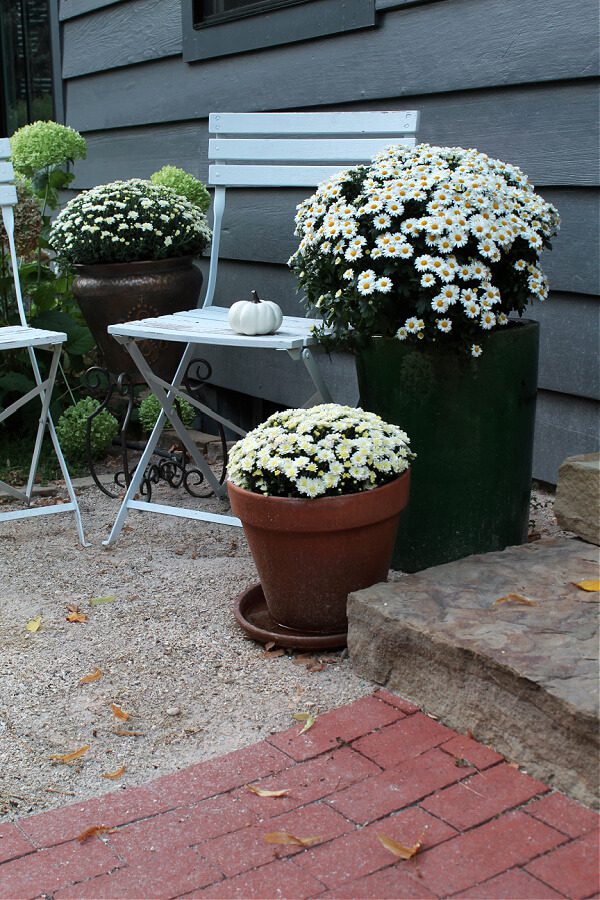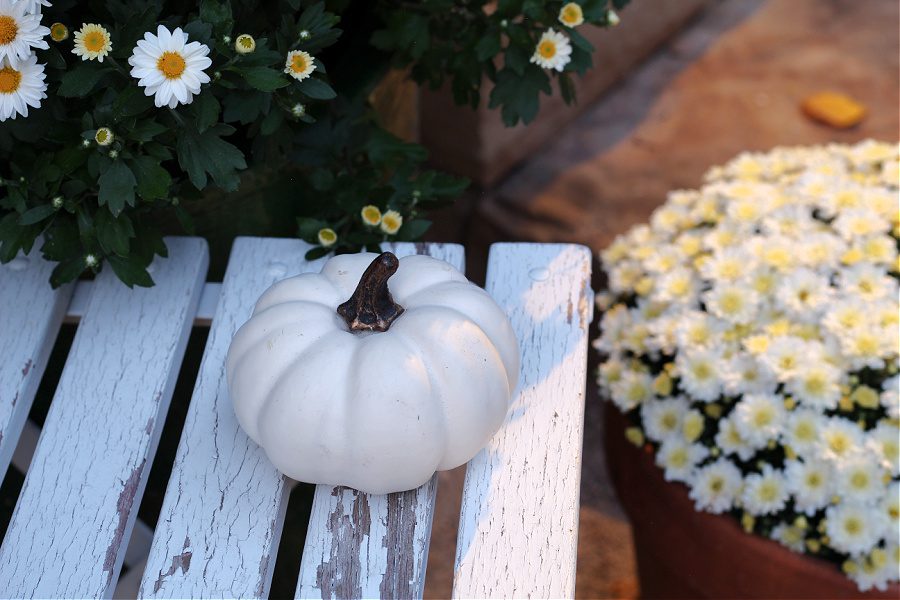 2.Choose Your Color Scheme
When it comes to decorating your steps or your porch for Fall, a color scheme can be very helpful. I wanted to add some high contrast elements with our dark house so I chose all white mums and all white pumpkins. The monochromatic looks gives me all the feels!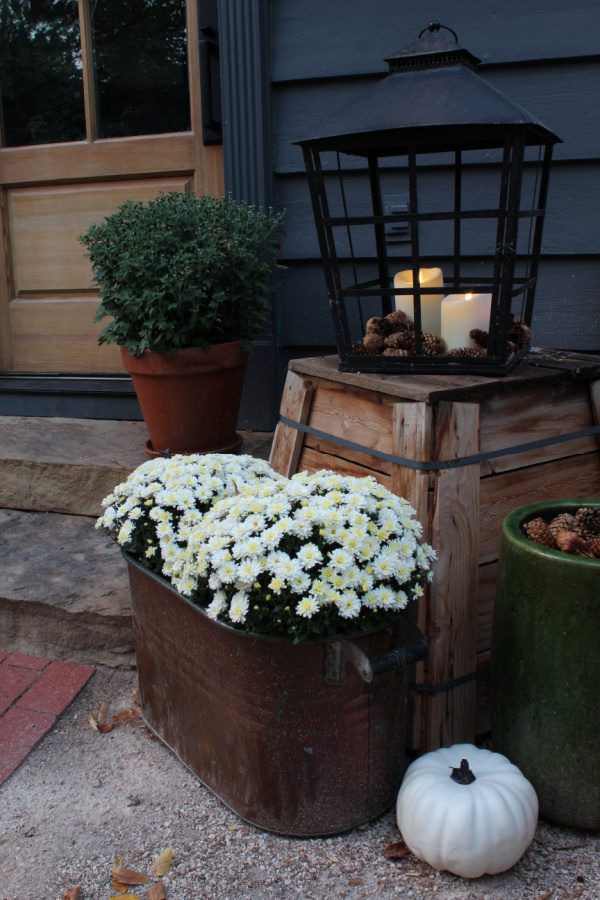 Plus, the mixture of terracotta pots, green pots, wood and copper pots adds the extra color that gives your eye more to look at than just the white flowers and pumpkins.
Also, did you notice that our outdoor light, mail slot and doorbell are all copper? You can see them a bit better in my front yard tour if you are curious. Funny enough I didn't notice this until a week after we moved in. Ha! But once I did I knew that copper needed to play a large role in my fall steps this year.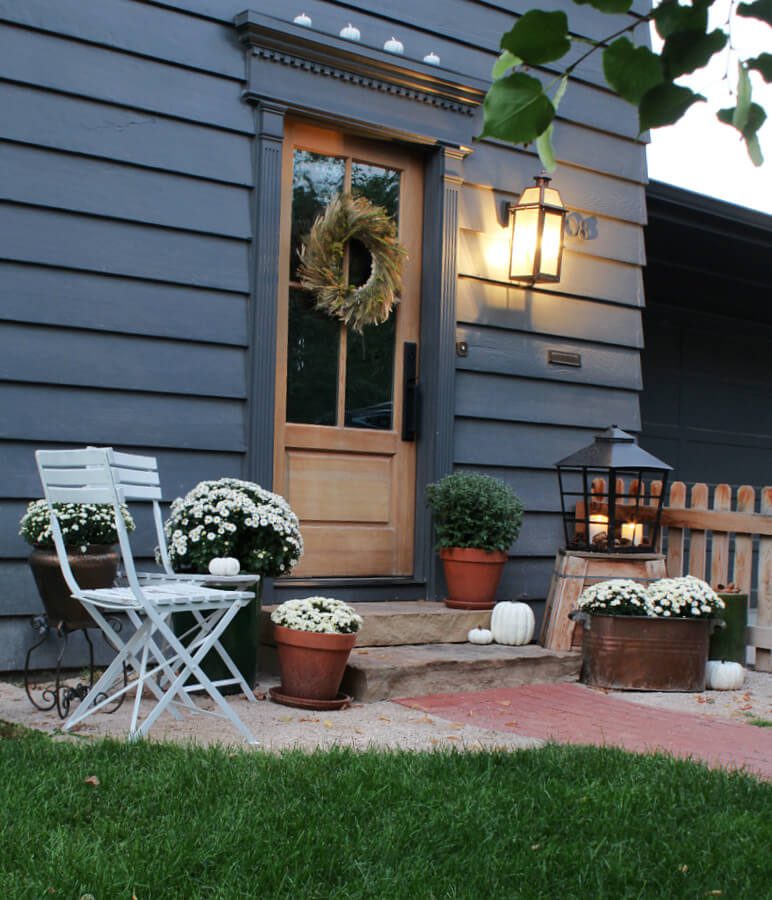 Of course I shared this with my mom and she was gracious enough to let me borrow her copper flower pot and stand. It looks beautiful between her white bistro chairs doesn't it?
I also had an old copper boiler pot that I haven't used in years and I brought that out. I'm thinking I might DIY some copper lanterns too. Because have you seen the price of copper anything lately? Yikes it's crazy expensive and this mama just bought a new house which means she is on a budget!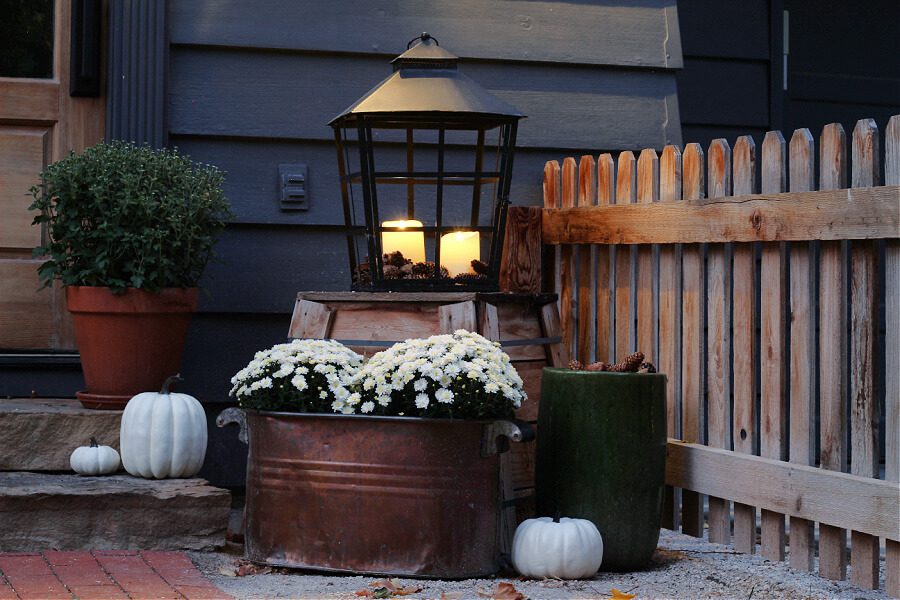 Anyways, I am loving the moody and romantic feel of our Fall steps! It has a mixture of modern and traditional that I adore.
Shop This Post

3. Incorporate Natural Elements
I absolutely LOVE using natural elements for Fall decor! My number one go to for my outdoor Fall decor is always pinecones. Luckily, here in our new backyard we have several mature pine trees that drop a ton of pinecones. So all I had to do was gather some up and that was a huge win for keeping my Fall outdoor space budget friendly.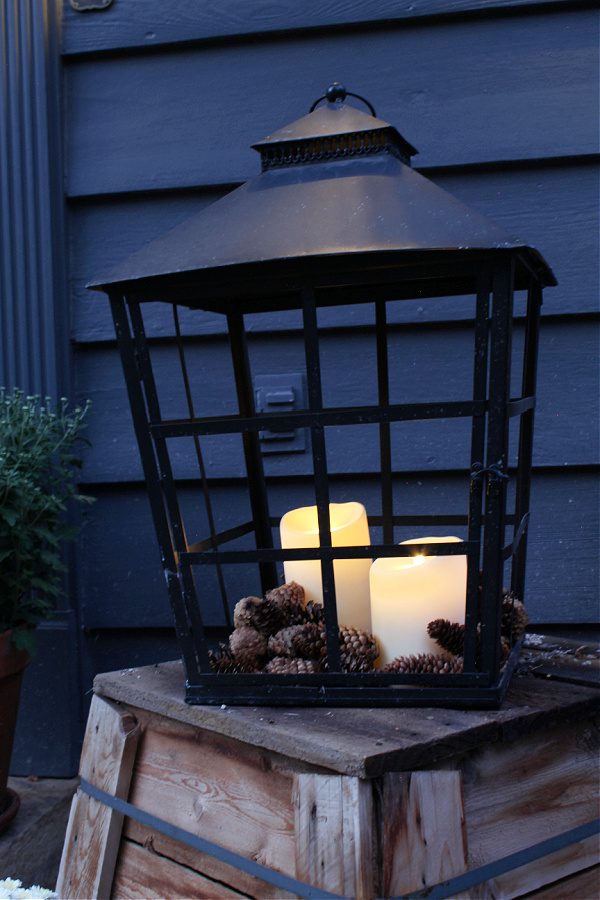 I filled the large black lantern base with pinecones as well as one of my flower pots. Simple touches like these can sometimes make the largest impact!
For the wreath on our door I used the same dried floral wreath I created last year. I love DIY Fall decorations for outdoors! Do you remember my sweater flower pot covers?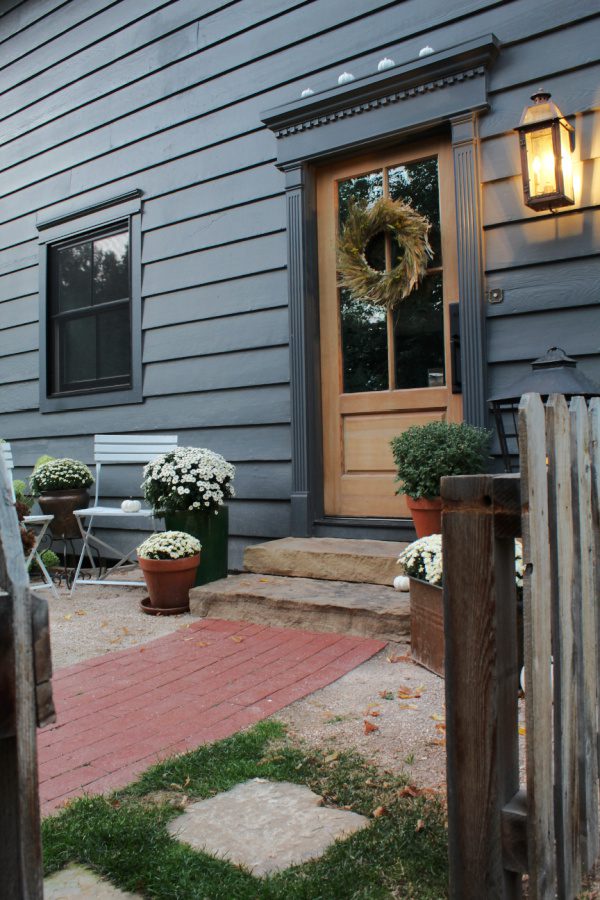 Hanging a wreath on your door brings your eye up and adds a bit of the natural Fall feel to our gorgeous wooden door.
4. Stick To Your Budget
When it comes to seasonal decor I will be the first to admit that I have way too much! I have found that making a point to set a budget for myself before I start decorating helps keep me on track. This also allows for me to get creative once that budget is spent.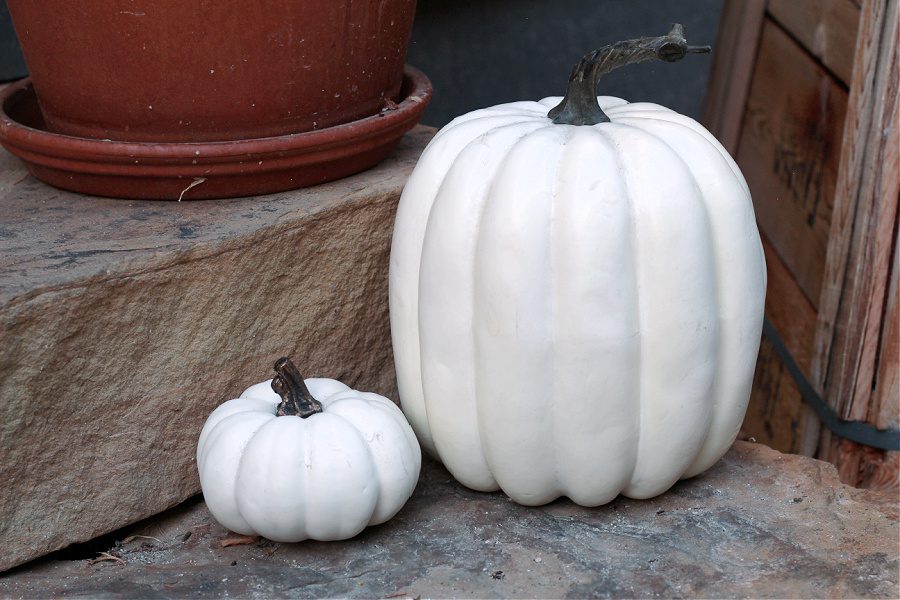 I've been decorating for Fall for many years now and every year I use pumpkins. So the faux pumpkins I used on our steps are ones that I have had for quite some time now. I chose to invest in them and they have served me well year after year. Also, the white mini pumpkins above our door are ceramic and from the Target dollar bins from several years ago as well.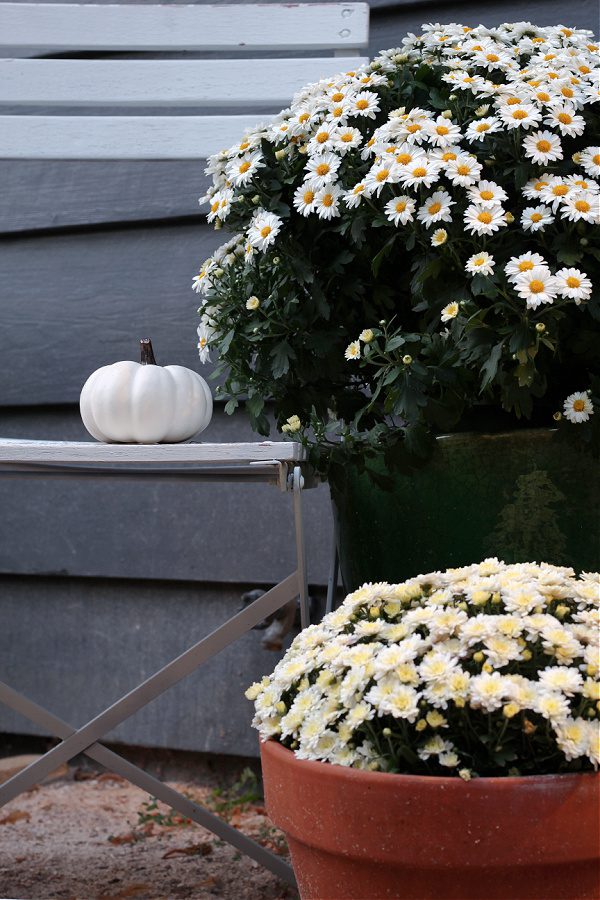 This year my budget was spent on the white mums. I spent a total of $40 dollars thanks to Walmart having their fabulous prices once again. Now my job is to make sure I keep them alive. I have learned that watering them at their base, under the flower canopy, is the preferred method!
5. Shop Your House And Your Mom's
Ok, this one is my saving grace! I am blessed to live near my mom and my sister and we all love to share each other's decor. This helps keep things fresh as well as keeps the budget in check .
My mom, aka decorating buddy, brought over the giant black lantern from her house and my sister has the matching one at her house. They were actually used for my sister's wedding! I love how huge it is and like I mentioned above, she brought over her chairs and copper planter too.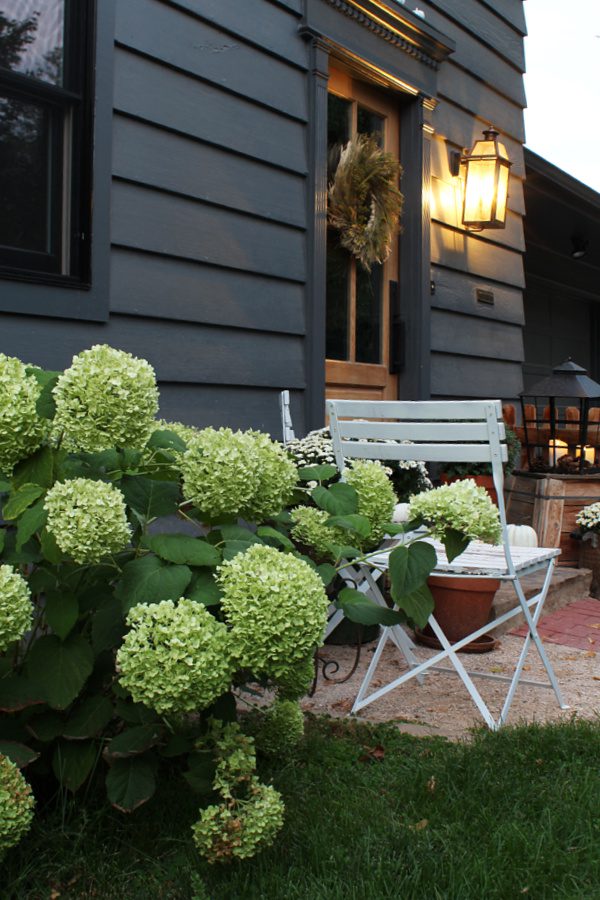 I shopped my house for items like the battery operated candles and the wooden planter I turned over to make into a table. Of course the pumpkins and wreath were other items that I already had on hand!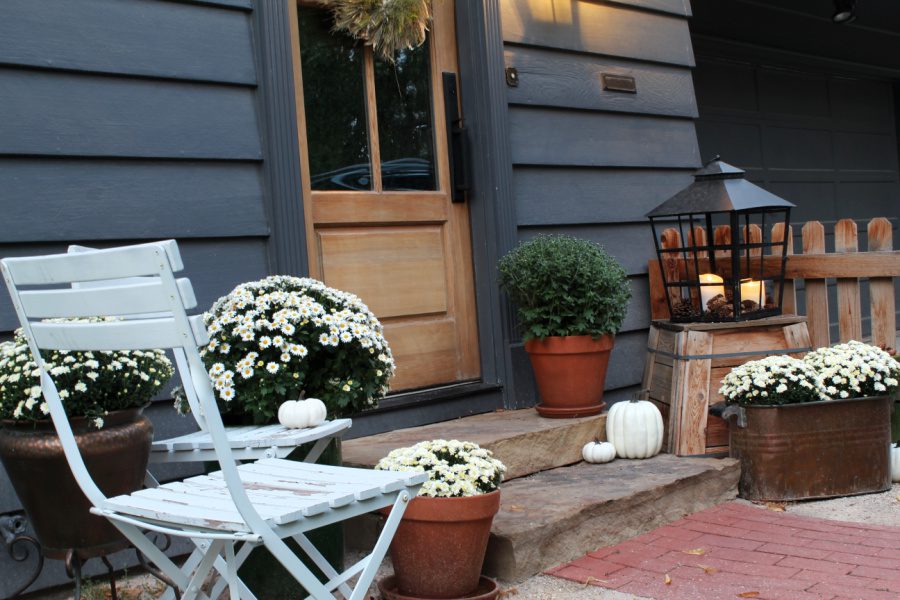 Finally, I couldn't resist adding this darling little pinecone wreath to our wooden gate. I scored it on major sale last year from Target after Christmas. I think it will transition into winter nicely. It gives off a romantic feel that I am loving for Fall this year.
How To Decorate Your Front Steps or Stairs For Fall
So whether you have a small porch, steps or stairs, decorating them for Fall doesn't have to be hard . Hopefully I was able to give you a peek into my thought process on how to decorate your front steps for Fall and give you some ideas for your own spaces. If you enjoyed your time here today I would love for you to subscribe to the blog so we can hang out some more! You can also follow me over on Instagram, Facebook and Pinterest!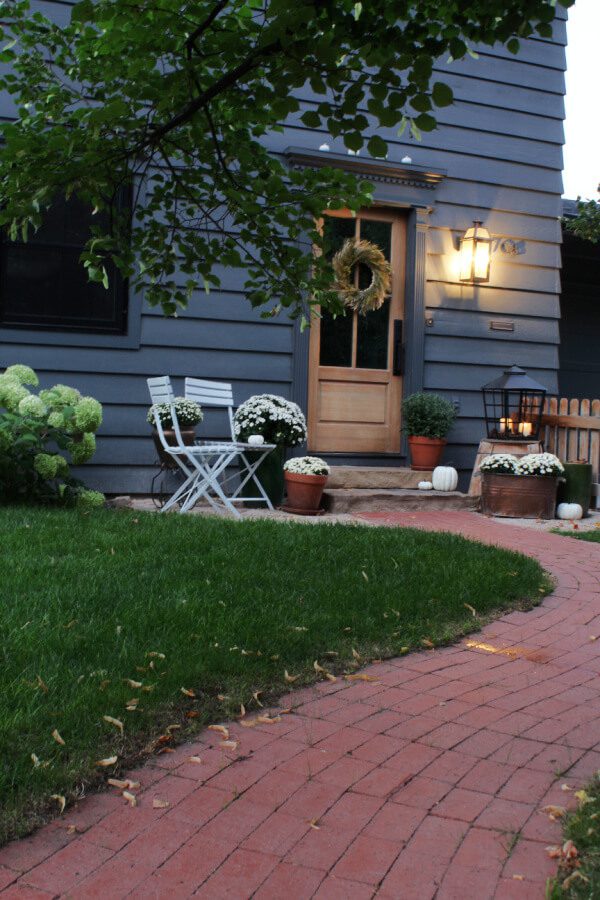 Now make sure to head on over to Maria from Simple Nature Decor. Then scroll down and check out the other lovely Fall tours linked below.
2 Bees in a Pod // Postcards From the Ridge // DIY Beautify

Worthing Court // Noting Grace // White Cottage Home
Our Southern Home // The Tattered Pew
Simple Nature Decor // Our Crafty Mom // Sweet Pea
xoxo,
Kelly
Did you like this post? PIN it for later!