The Best Late Spring to Fall Blooming Flowers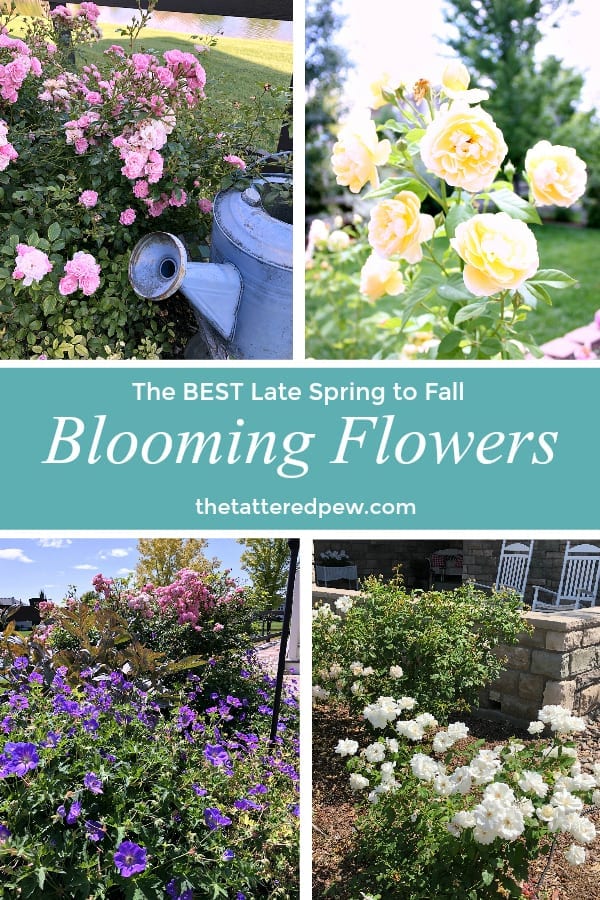 Hi friends can you believe it is almost Fall? If you have followed me here on the blog for awhile you know that I enjoy flowers and my garden. I especially love the ones that continuously bloom and are easy to care for. So today I figured I would share with you some of the best late Spring to fall blooming flowers.
Know Your Zone?
As most of you know I live in Colorado and we are a zone 5/6. So most of the flowers I am sharing are great for my gardening zone but might not be for yours. Some of you may be saying, but Kelly I don't know my zone! Don't fret… I have a way for you to check your zone! It's quite simple you can go to this website and enter your zip code and it will tell you your zone. Pretty awesome, huh?
Also if you are a beginner gardener and need to know where to start I suggest you check out my "beginners guide to planting a flower garden" post that goes into more detail and will walk you through all the steps of planting flowers on your own!
*Disclaimer: I am not a gardening professional. I am just sharing what has worked well for me here in Colorado and my garden. 🙂 I hope it helps! Also, a huge thank you to my mom for sharing some of her pictures with me of her yard. She is my inspiration!
The Best Late Spring to Fall Blooming Flowers
1. Double Knockout Roses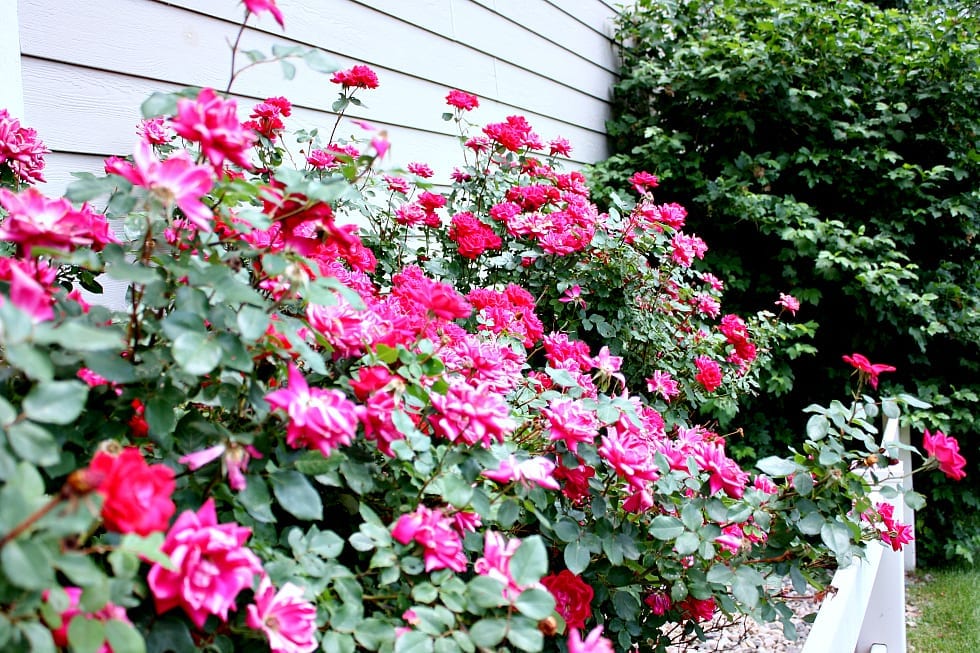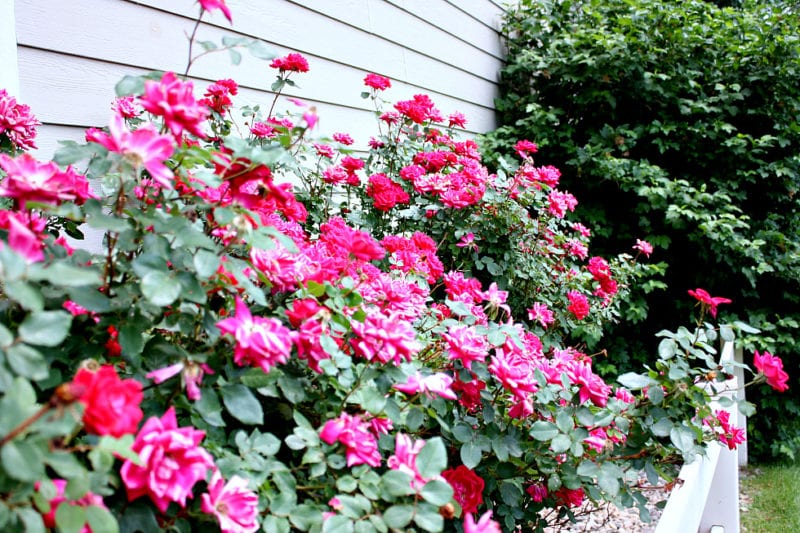 I have had these beauties on the side of my house for years and let me just say that they are hardy and really require little to no effort once they are established. I honestly rarely prune them and have even forgotten to prune them a few times. But no matter what I do or don't do, they definitely come back bigger and better every year. They are constantly in bloom! Great for zones 5-9.
2. Iceberg Roses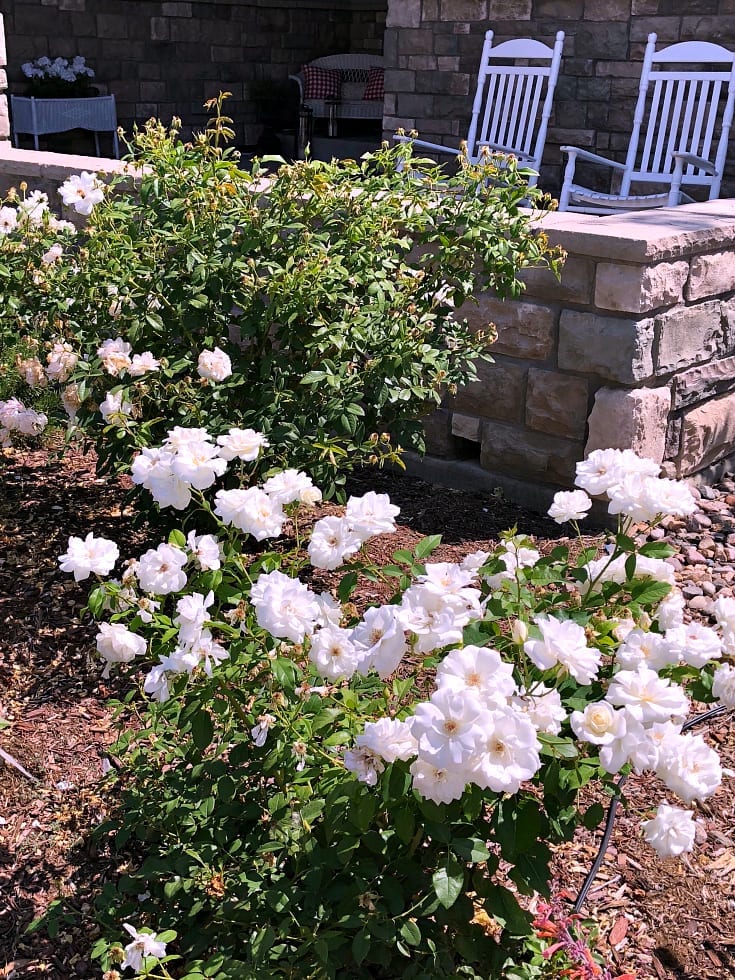 These all white roses are beautiful and delicate. Some people even have an all white garden with these roses and other all white flowers and call it a Moon garden! They are gorgeous and very easy to grow and do best is zones 5-9 and full sun! These pictures are from my mother's yard. I plan to add these to my own next year!
3. Rozanne Hardy Geraniums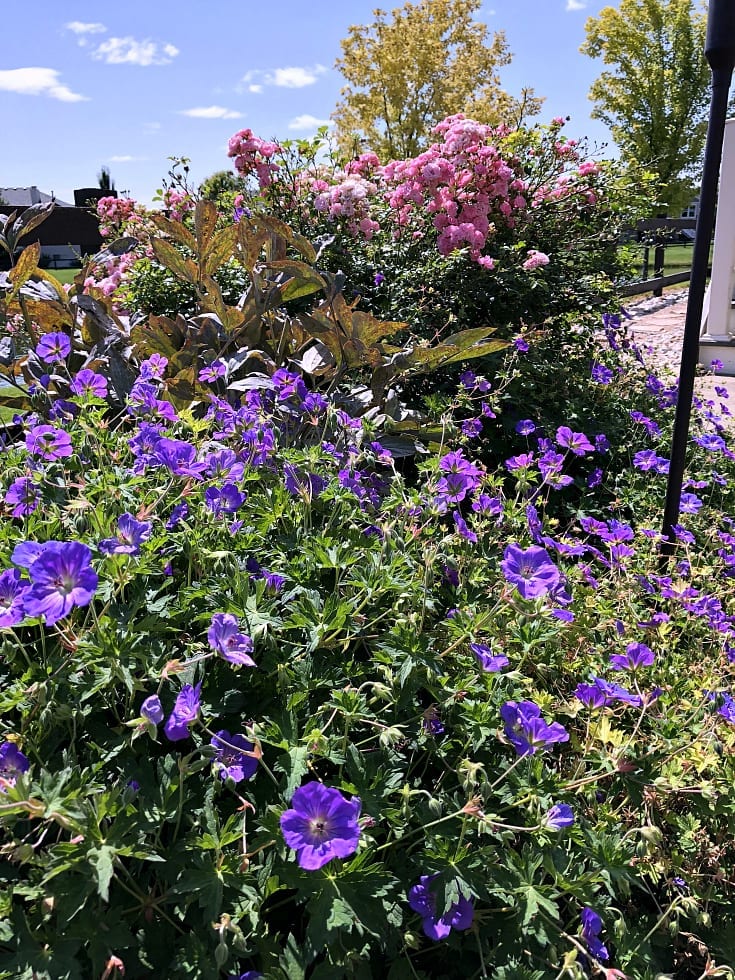 This perennial geranium, is great for zones 5-8 and can be in full sun or even part shade. It's one of my favorites in my yard mostly because of the gorgeous blue color and constant blooms. A major bonus is that it can survive and bloom despite being trampled on by our dog on a regular basis.
4. The Fairy Rose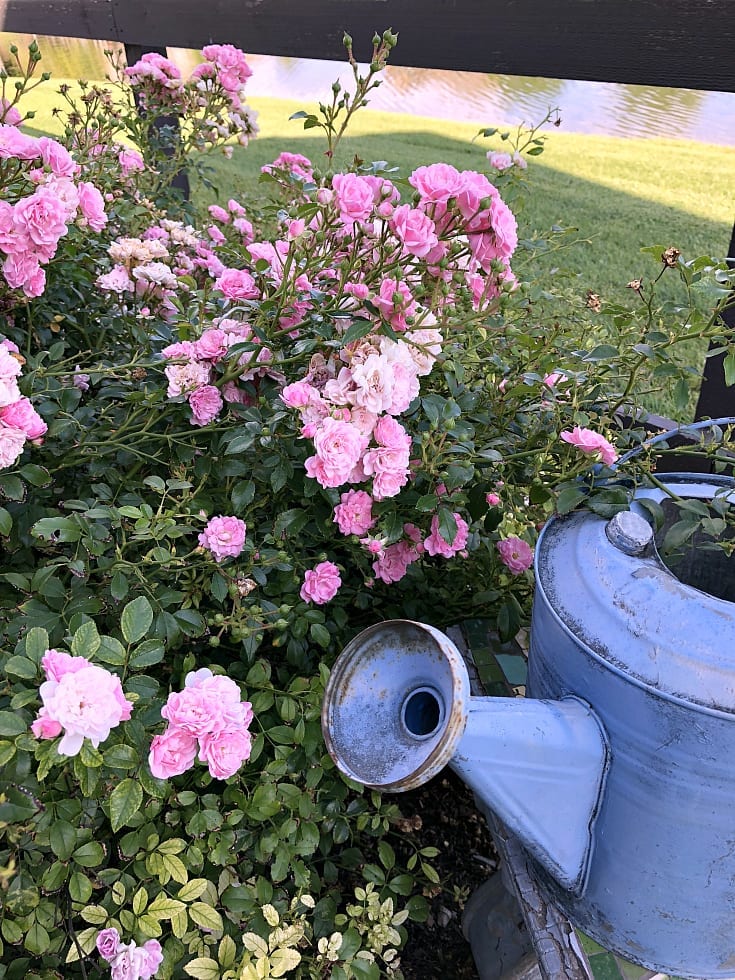 This pink rose bush flowers all summer long with a bonus of heavy blooms in fall! It does best in full sun and zones 5-9 and sometimes 10. This was a favorite of my grandmother's and it is also one of my mom's favorite. I will continue on with the tradition as well and be adding some to our yard next season as well.
5. Sunrise Sunset
These lovely two toned roses are very hardy and do great in zones 4-9. These beauties look amazing when you plant multiples of them close to each other. Their bright pink and yellow/peach centers are some of my favorites to look at. A lovely bush rose great for continuous blooms and color!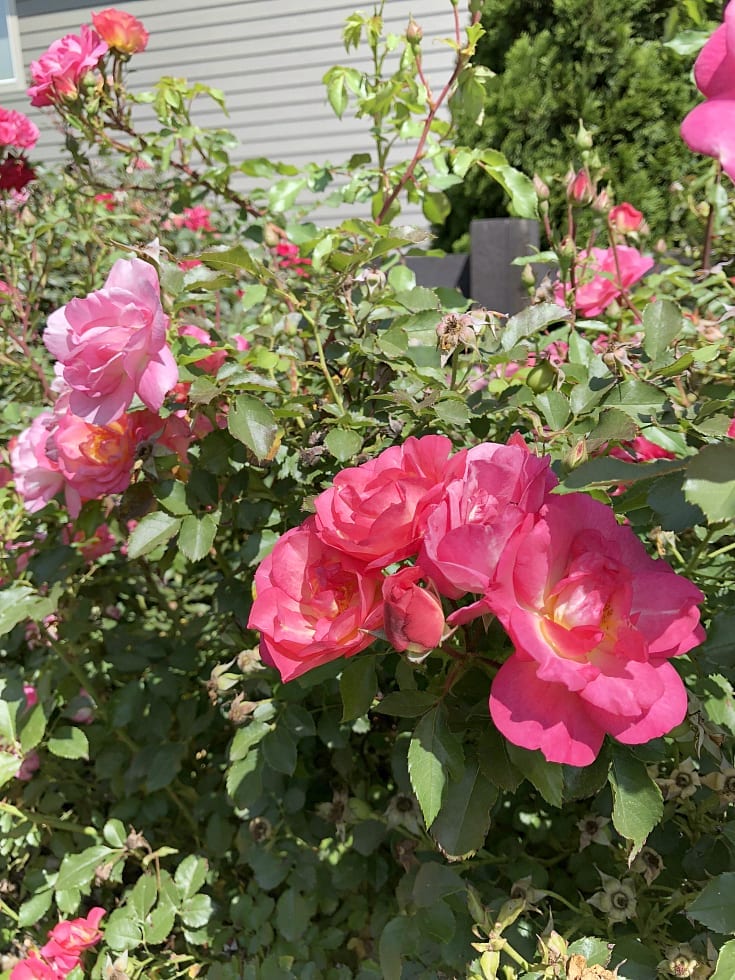 6. David Austin Roses
I currently have three David Austin rose bushes in my yard and they have given me perfect blooms all summer long! I love how their petals are full and that they resemble peonies!
These English roses are very hardy and smell absolutely wonderful. They are also know for being simple to grow roses! These are some of the best late spring to fall blooming flowers. They simply require a  bit of deadheading and they will bloom multiple times into the fall!
7. Sedum "Autumn Joy"
I have fallen in love with sedum in my garden. Mostly because it has such gorgeous texture but also because it is so hardy! I have been able to dig up several clumps of sedum are from my original three plants and transplant them around our yard! They stay green all summer but turn multiple beautiful shades of pink in the fall!
A true autumn superstar, Sedum 'Autumn Joy,' features succulent foliage and captivating flower heads that transition from green to pink and finally to deep coppery-red hues. These late bloomers steal the spotlight in late summer and fall, thriving in well-drained soil and full sun. Sedum 'Autumn Joy' is drought-tolerant and a perfect choice for adding texture and interest to your garden beds.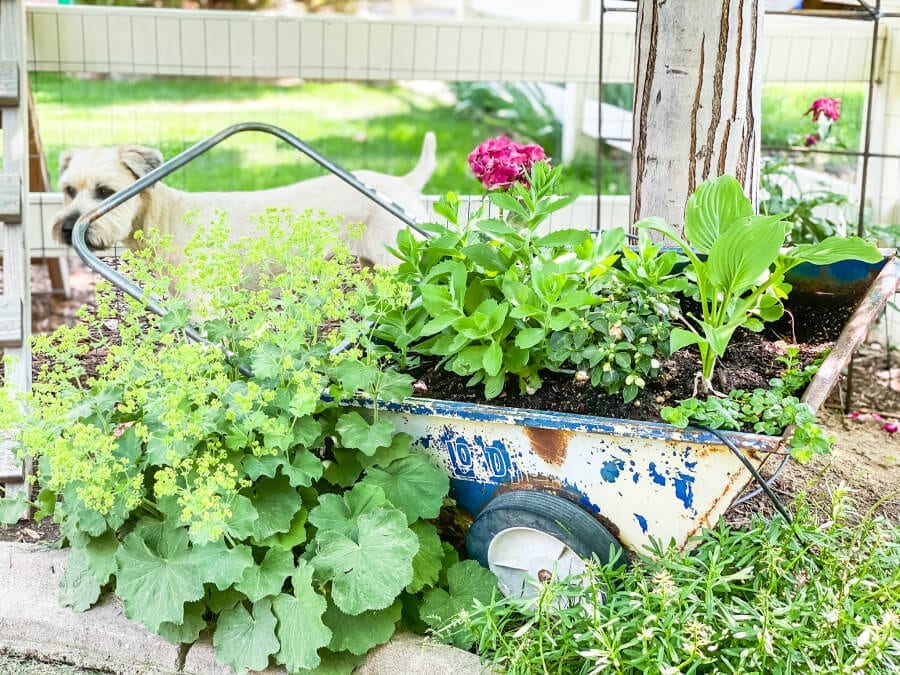 8. Salvia 'May Night'
Looking for an elegant, deep purple addition to your garden? Salvia 'May Night' is a showstopper! With its slender spikes of flowers, this perennial attracts hummingbirds and butterflies from late spring until fall. It thrives in full sun and well-drained soil, making it an excellent choice for borders or container plantings. Prepare to be enchanted by the graceful beauty and pollinator-friendly qualities of this perennial gem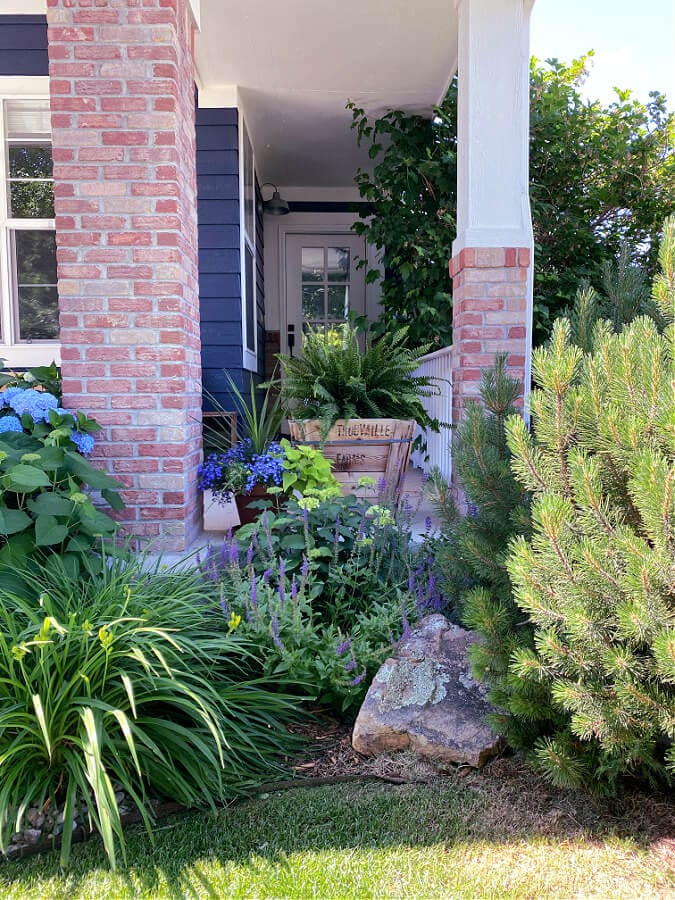 Mums, The Best Fall Flower
Mums aren't Spring to Fall bloomers but I had to include them because they are my favorite Fall flower. The best part is you can keep them on your porch or plant them in your yard! The ones I planted last year (from the grocery store) as well as my mom's are all starting to bloom…just in time!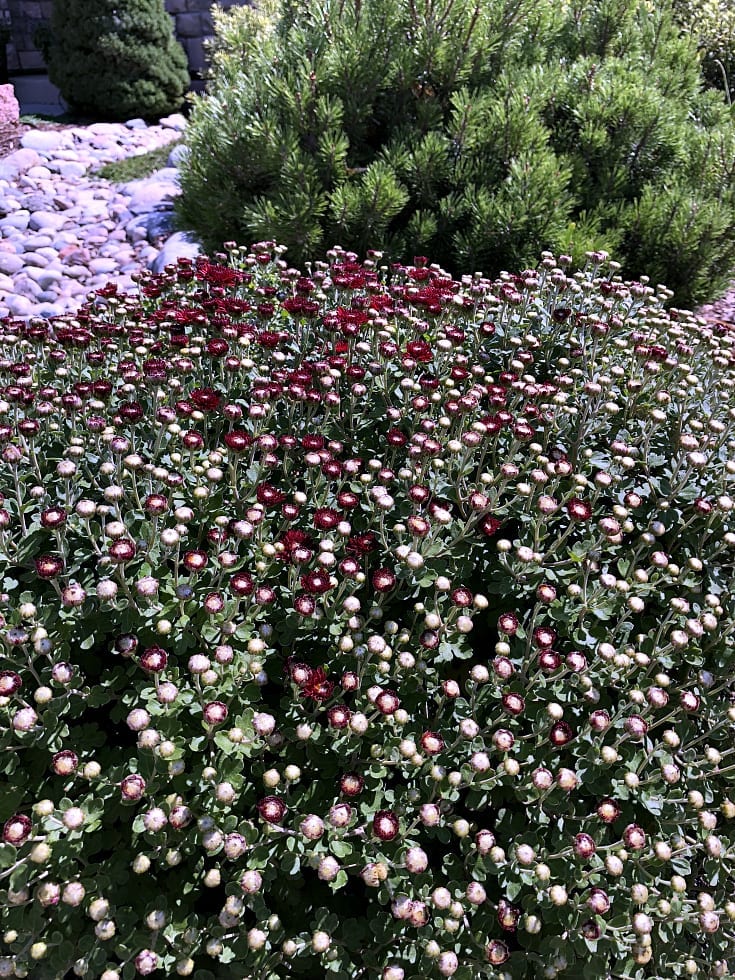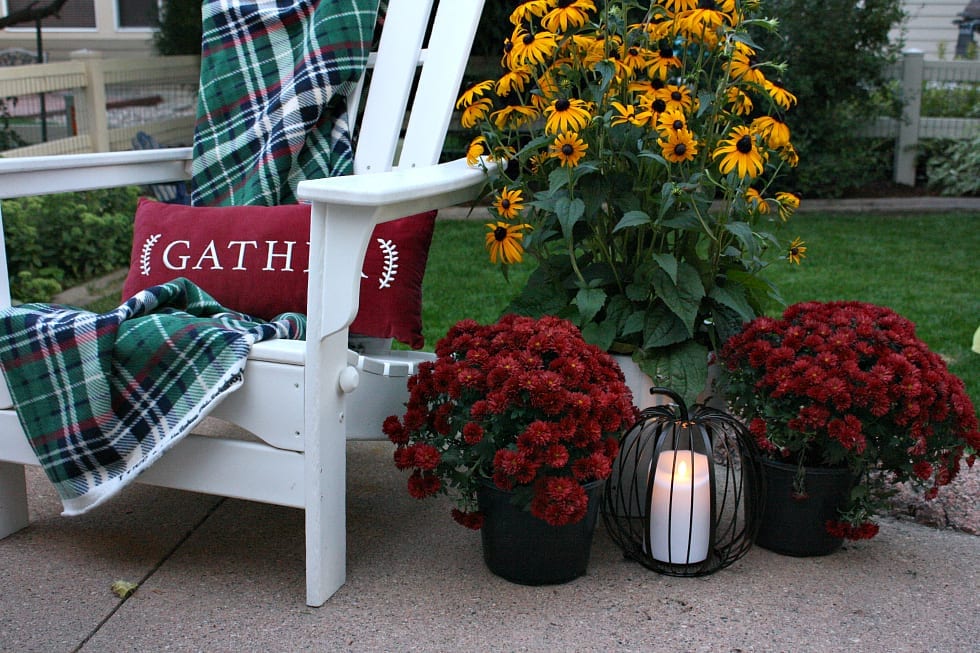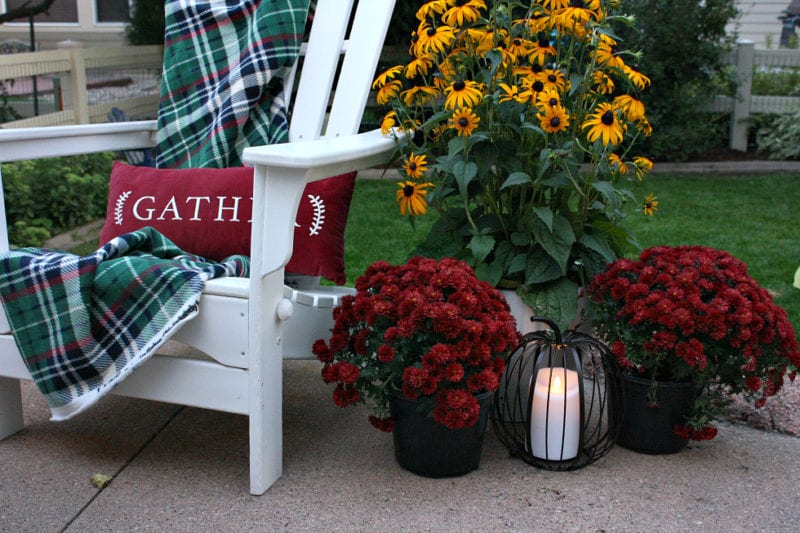 I transplanted a bit of this original bush above into our wheelbarrow planter below!
Movement In Your Garden
By incorporating a variety of these late-season bloomers, you can ensure a continuous display of vibrant petals and alluring fragrances. Don't miss out on the opportunity to attract pollinators, such as butterflies and bees, who bring life and movement to your garden.
Some other Gardening posts you might enjoy:
A Beginners Guide to Planting Flowers
Tips and Tricks for Long Lasting Cut Hydrangeas
The Secret Tip for Drying Hydrangeas
Tips and  Tricks for the Best Peonies
The Lazy Girl's Guide to Growing Colorful Zinnias from Seed
Best Late Spring to Fall Blooming Flowers
As you might have noticed I love flowers and I love gardening! I also love sharing any tips with you all that I have learned along the way. Hopefully today I was able to share some helpful Spring to Fall bloomers with you that get you excited to do some gardening and planting too!
Remember, gardening is a labor of love, and with each carefully chosen flower, you infuse your outdoor space with beauty and joy. So, roll up your sleeves, grab your gardening tools, and embark on this colorful journey, embracing the enchanting world of late spring to fall blooming flowers. Your garden will thank you with a breathtaking display that will leave you and your visitors in awe. Happy gardening!
Do you have a favorite that I left out or possibly one that I included that you love as well? If so let me know in the comments below.
I'd love to have you hang out with me some more! Feel free to follow along with me on any of the platforms linked below.
LTK | Facebook | Instagram | Pinterest | Amazon
xoxo,
Kelly
Pin this for later!