Cozy and Collected Fall Family Room
Can I share a secret with you? I feel like my style is slowly changing and evolving. Today's cozy and collected Fall family room shares some evidence of that. If I'm being honest I don't really like to label my style because it is always evolving. When it comes to decorating I do what I want and what I love.
As I was decorating our family room for Fall I felt and noticed a bit of a shift with some of my choices. My normal "farmhousey" style picks were not what I was gravitating towards this Fall. Let me show you what I mean.
*This post contains affiliate links.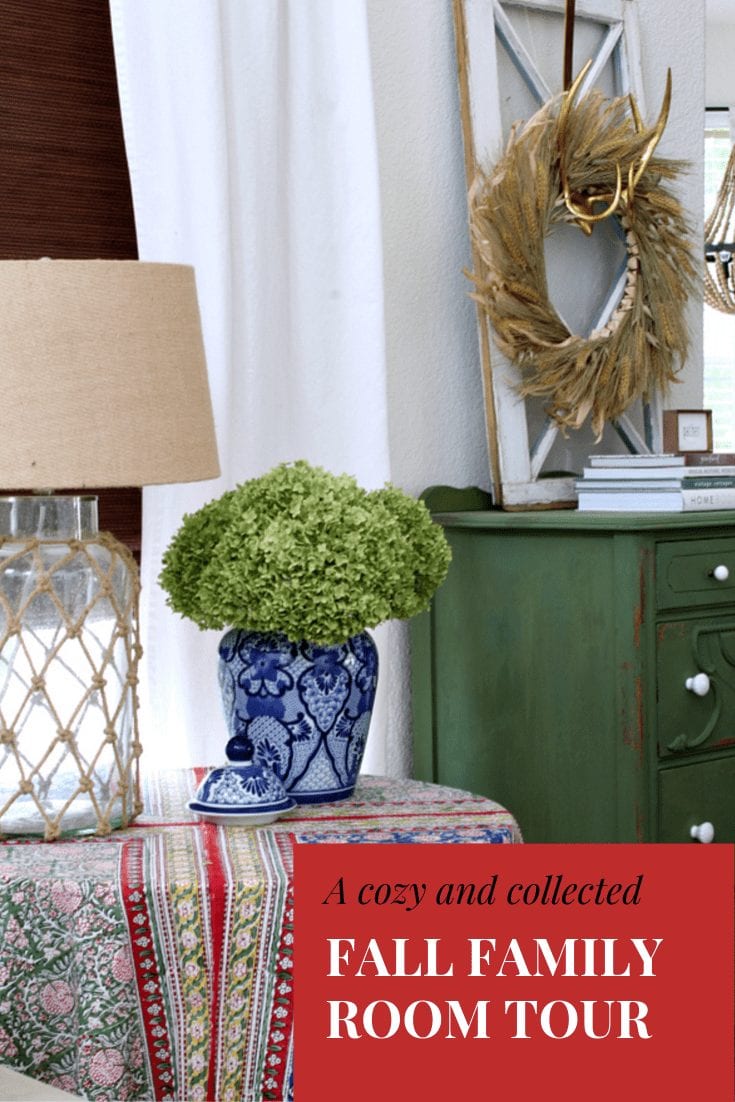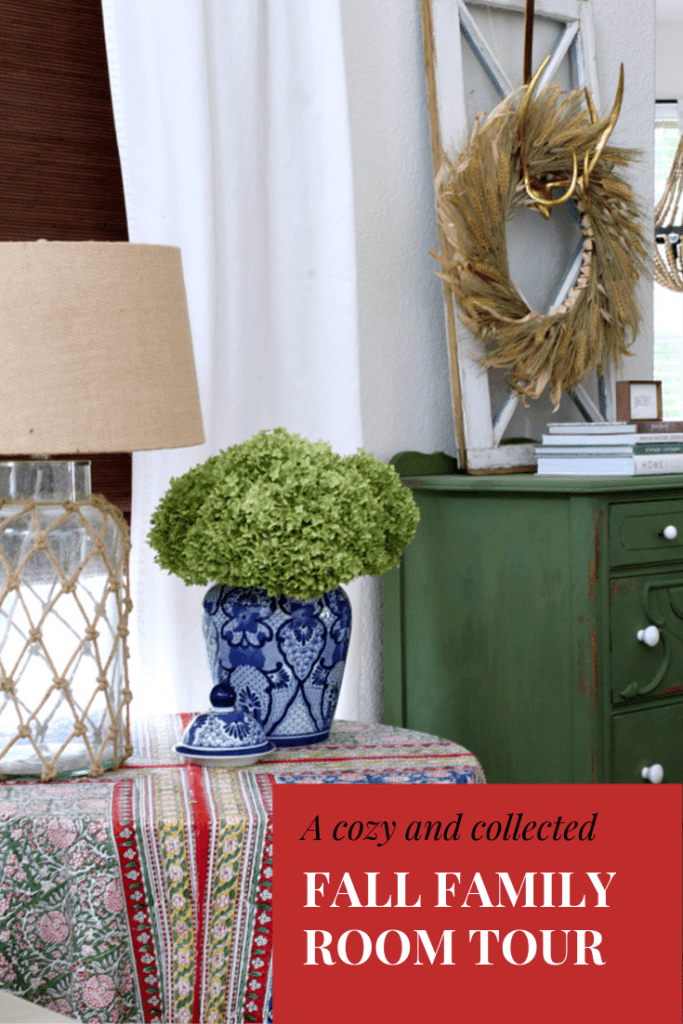 But first, I am honored to be joining Amber of Follow the Yellow Brick Home today for her Embracing Fall Home Tour. If you are coming from Shelley at Calypso In The Country, welcome! Don't you just love her Fall decor?
Cozy and Collected Fall Family Room
Welcome to our cozyand collected family room. This space is the hub of our home and it is constantly changing. Last winter we bought my dream sofa from Pottery Barn . This Fall I made a smaller furniture change with the new round side table that sits beside our sofa.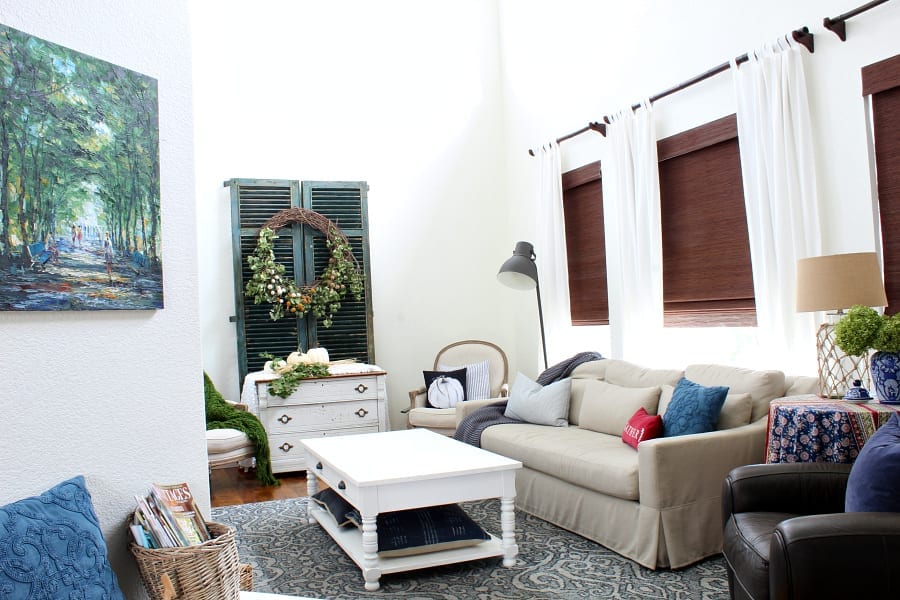 The beautiful floral tablecloth I am borrowing from my mom. Our good family friend Pam Brown, (who happens to read my blog), gave it to her as a gift. Thanks mom and Pam for letting me borrow it! I absolutely love the colors. It was my inspiration for this cozy Fall family room!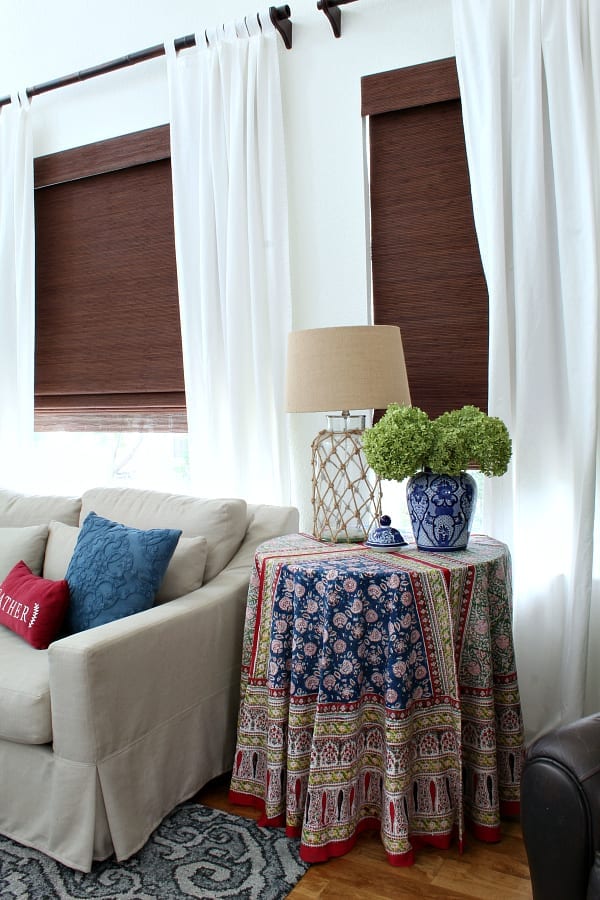 My New Love
It's official, I am turning in to my mom! Ha! I have watched my mom's style evolve over the years and I am following in her footsteps. Which in my opinion is always a good thing! She has had beautiful blue and white ginger jars in her decor since I was a young girl. Well, recently I have found myself drawn to these blue and white jars as well. This beautiful one on my new table is actually hers; i'm just borrowing it and trying it out. I am so thankful she is willing to share her decor with me!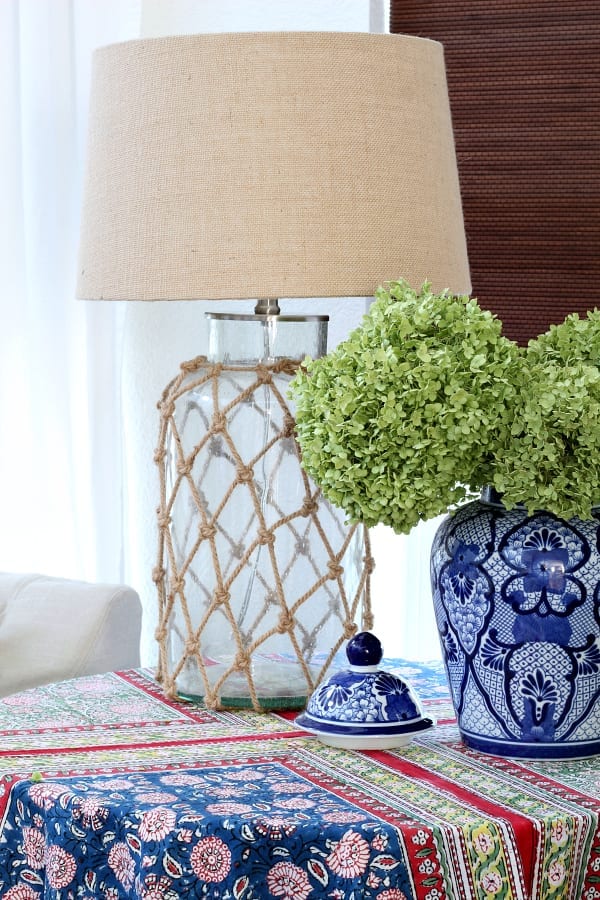 The dried Annabelle hydrangeas are still the perfect shade of green thanks to my secret tip for drying hydrangeas! The lamp was previously in our bedroom and I brought it down to try and loved it on this table. I am always using items from other rooms in my home (or my mom's)! 😉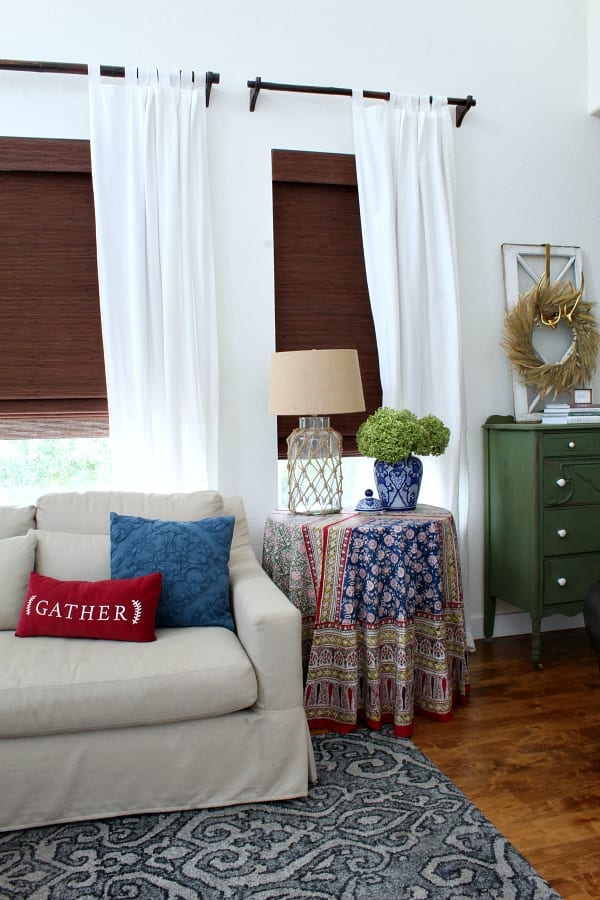 Cozy and Collected
I am having fun mixing colors, patterns and textures. Everything from the jar, to the rug to the tablecloth to even my pillows offer that cozy and collected vibe I am currently digging.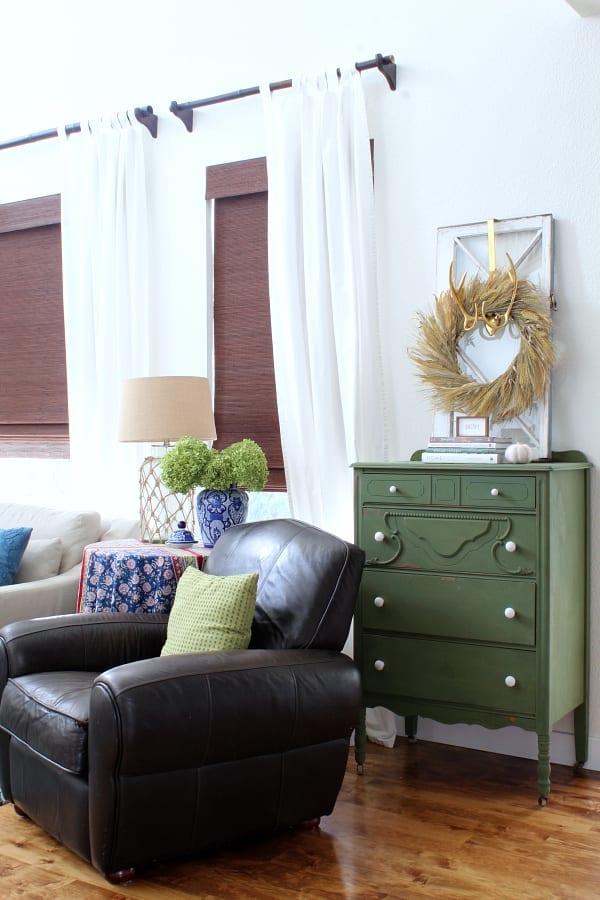 Across the Room
Across the room you can find most of my "collected items" . My awesome vintage green shutters displaying my large DIY farmhouse wreath sit behind my Facebook marketplace dresser that I painted. I am loving my consignment shop Restoration Hardware chairs but I am not really liking the black IKEA lamp or white coffee table any longer. I feel like I want to move towards more of a French/European Farmhouse look rather than a modern farmhouse look. Or honestly just an eclectic mix of what I like.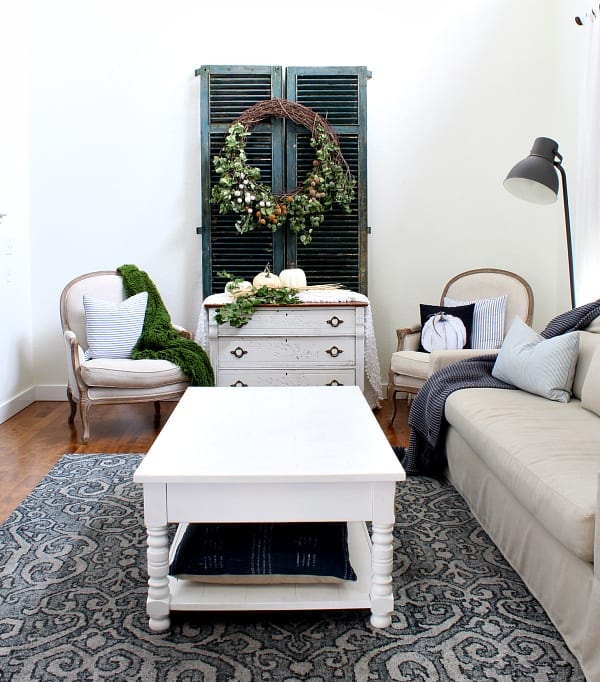 I'm still in love with blues, greens, decorating with baskets and vintage finds. But I'm now on the hunt for some cane or bamboo furniture pieces to add to the mix. Maybe some new kitchen bar stools or dining room chairs? I also have loved the chic chinoserie style lately (like the blue and white jars) and I'm trying to bring bits of it into my decor…slowly! If you are curious what this style is all about you can check out my Chinoserie Chic Pinterest board.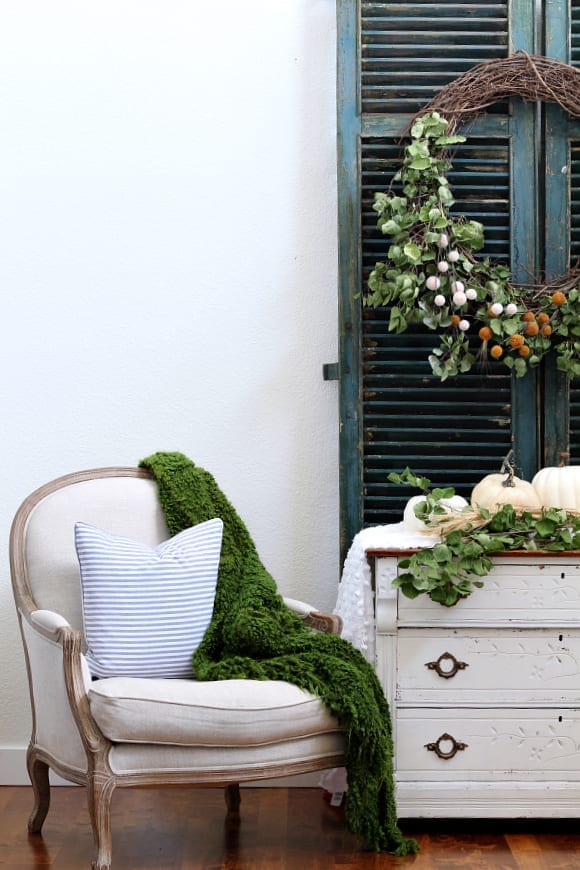 Fall Family Room Style
All in all I'm loving my Fall family room and it's current cozy and collected style. However, there are some changes on my mind and luckily our home and current style lends itself to these changes. Have you ever had a change of heart with your decorating style? I like to think that I am just evolving over the years as I mature and find what I like and items that are timeless rather than what the crowd likes or what is affordable and fills a space. I am working on being more patient and waiting for those just right timeless pieces. At least that's what I tell my husband! hee hee 🙂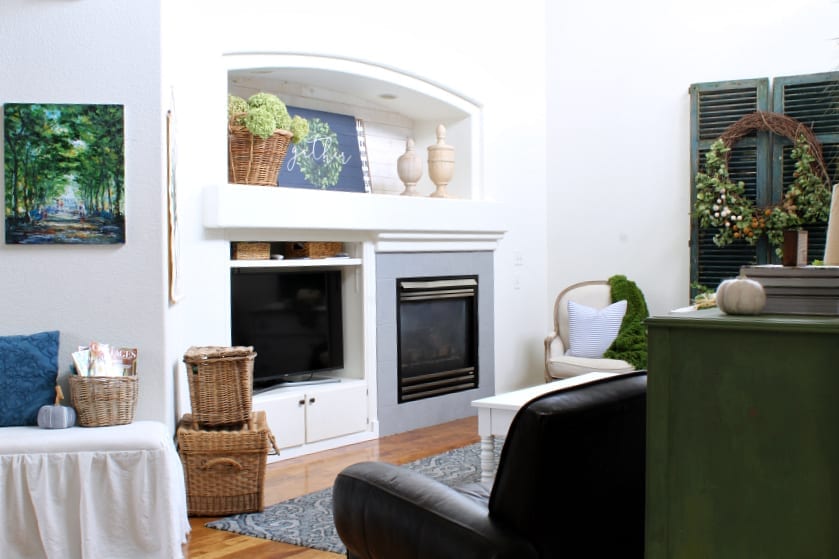 Our niche is always a fun spot to decorate. I never did really like it until we added the Weaber Lumber boards to the back. Now it has some character and the blue gather sign from Hobby Lobby really pops!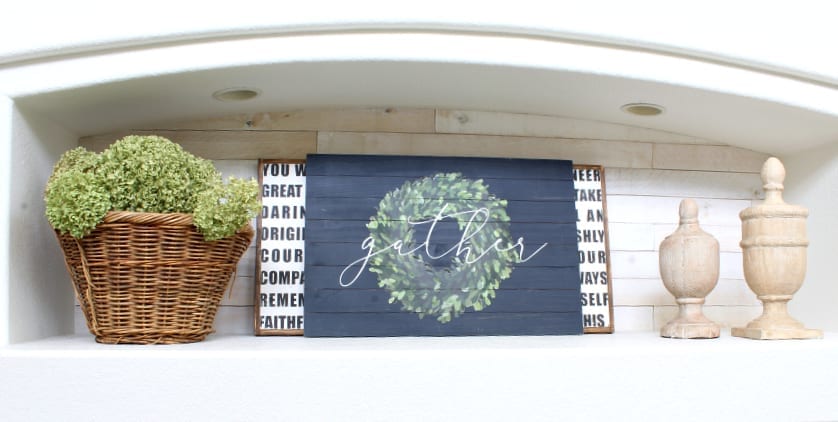 Shop This Post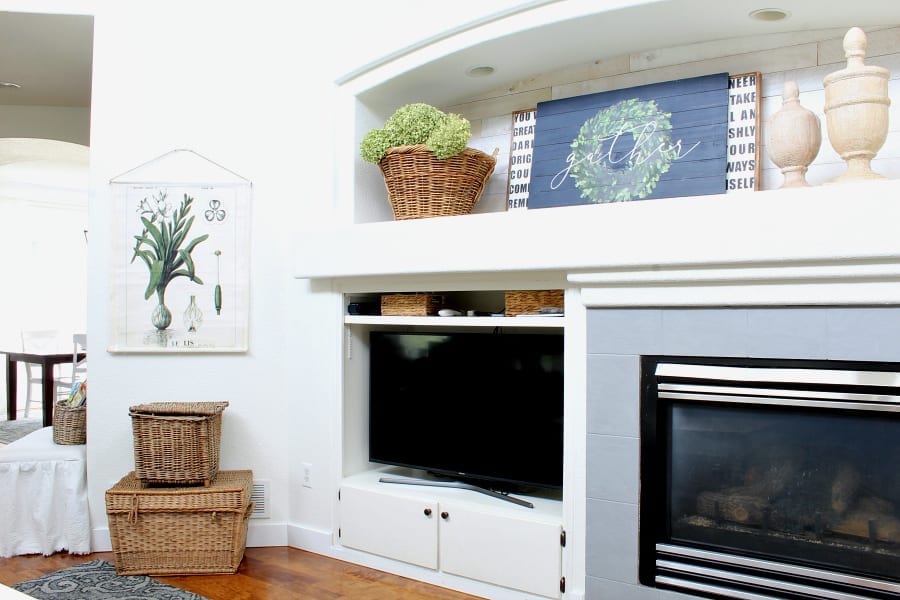 Thank You for Stopping By
I really appreciate you stopping by and listening to me ramble on about my ever changing decor style. Our cozy Fall family room has really come so far and I love that it is always such a great space to switch things up in! Do you have a "style" or you a bit eclectic like me?
Other Posts You May Like
Make sure you stop by Thistle Key Lane next to see her yellow and navy Fall entryway styling! Then head to my other friends linked below.
xoxo,
Kelly
You are invited to the Inlinkz link party!