9 Inexpensive and Simple Fall DIY and Craft Projects
It is still ridiculously hot here in Colorado but I would be lying if I didn't say I am already dreaming of Fall. Now that the kids are heading back to school I am in Fall DIY mode. So today I am sharing 9 inexpensive and simple fall DIY and craft projects for you to check out.
*As an Amazon Associate, I earn from qualifying purchases. This post contains other affiliate links too for your convenience. Click here to read my full disclosure policy.
9 Inexpensive and Simple Fall DIY and Craft Projects
Each year when Fall is near I truly do get excited. My Pinterest boards are full of Fall inspiration and I have been know to buy a pretty mum waaaay too early.
Yes they always die. ugh
I have also created a Fall Decor idea list over on my Amazon storefront. Can you blame me? It's beautiful here in Colorado during the Fall months and I love to decorate!
I also love getting crafty and staying on a budget. So after finding these fabulous projects I thought you might enjoy them as well, so let's get started!
Sweaters and pumpkins could there be a better combo for Fall? Jennifer from tatertots & jello shares her secret tips for making the cutest sweater pumpkins I ever did see!
These simple little Dollar Store pumpkins covered in sweaters are a perfect and inexpensive way to decorate Fall. I have so many ideas in my head for cool sweater patterned pumpkins! You can find this sweet little tutorial over on Jennifer's blog HERE.
Do you love old quilts? It's no secret that I have a small obsession with quilts. I am constantly hunting for them at flea markets and I love that they can be used for Fall decor inside or out based on color. Anything vintage or cozy has my vote.
Sometimes they are in perfect condition and sometimes they are not. This tutorial on how to fix an old patchwork quilt from Lora Bloomquist, Create and Ponder is one I couldn't help but share. It's great even if you are not a big time sewer. See the full post HERE.
The Dollar Store can sometimes feel so overwhelming, so when I found this helpful post on how to transform Dollar Store pumpkins in 5 simple steps I was so thrilled! Anne and AnnMarie from Simply2Moms are the best at making affordable crafts that look high end. They have the best tutorials too.
I love that these burlap wrapped pumpkins are made from materials mostly found in your own home. The carveable pumpkin from the Dollar Store is a bonus. I think this would be fun to make with my kids and I can think of several areas around our home that are in need of a darling pumpkin for Fall! Read their post HERE!
More pumpkins! You know I can't resist pumpkin DIY's whenever Fall rolls around. So after seeing these cute DIY fabric pumpkins from Regina of Saved by Salvage I knew I wanted to include them in this round up. Regina offers so many options for fabrics and stems to use to make these darling pumpkins.
The best part? These pumpkins won't rot and can even be made to match your personal decor. I love how budget friendly they are and doable even for someone like me who isn't great at sewing. Now I'm off to look for some fabric in my stash to make some pumpkins. You can read her full post HERE.
Why not make a FREE wreath this Fall? It's no secret that I LOVE hydrangeas as well a budget friendly DIY. My blogging friend Stacy from Bricks 'n Blooms made the most gorgeous hydrangea wreath for free. Yep you read that right, free!
She walks you through the simple steps for drying your hydrangeas and making this wreath using supplies you already have on hand. I can't wait to try this with my own hydrangea blooms. If you want to check out her full post and beautiful pictures you can visit that post HERE.
If you are looking for a darling way to dress up your table this Fall, look no further! These lovely pumpkin shaped placemats from Wendy of the blog WM Design House, are fun and oh so pretty. Their pumpkin shape and lovely texture make these placemats perfect for your favorite fall events.
They are made of burlap and can be customized using the paint colors of your choice. You can click HERE for the full tutorial if you want to make your own! So excited to give these a try.
Whenever I bring out my Fall decor I always like to include some wheat accents. Jennifer from Cottage on Bunker Hill got real creative and turned her wheat stems into a Fall centerpiece that I adore.
How cute would this be in a vignette on a kitchen counter or even on a mantel?
I have seen centerpieces like this at Home Goods that were a bit too pricey for me so this dupe is not only gorgeous but budget friendly and simple. You can see the full tutorial over on Jennifer's blog by clicking HERE.
If you know me then you know I love any type of project or DIY that involves drop cloths. So when I saw this gorgeous hand painted table runner from Rachel at The Ponds Farmhouse I instantly fell in love!
Rachel shows you how easy it is to hand paint drop cloth and I think it's just perfect for a Fall tablescape. Her simple steps make this project do-able for all levels of crafters.
Plus, the end result is a custom table runner! I can't wait to make one of these for our outdoor table. To see more of the step by step directions and details visit Rachel's post HERE!
This final Fall DIY is my own and one of my favorites!
Whenever I think of Fall I think of copper accents. Copper is not cheap so I started doing some research to find an alternative and inexpensive way to add some copper accents. And copper with a beautiful patina!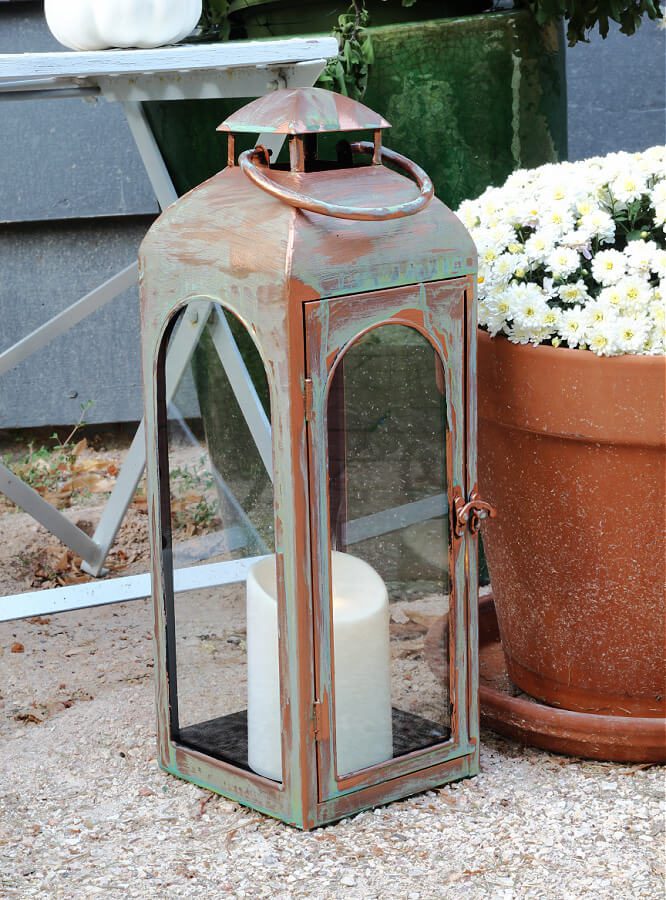 Enter a magic product! There is an actual copper paint , primer and patina kit from Modern Masters: Metal Effects that turns metal or wood objects into copper with a patina. I used on these lanterns from Walmart and instantly became obsessed.
You can find the step by step tutorial by visiting my original blog post here. I promise it's simple actually a lot of fun. If you like science this project is for you!
9 Inexpensive and Simple Fall DIY and Craft Projects
Ok hopefully one of these 9 budget friendly and simple fall DIY projects have inspired you. I can't wait to try a few myself!
And even if you are not fully ready to start thinking about Fall you can always save this post to reference later. Make sure to PIN it to your favorite Fall board over on Pinterest too!
I'd love to have you hang out with me some more! Feel free to follow along with me on any of the platforms linked below.
LTK | Facebook | Instagram | Pinterest | Amazon
xoxo,
Kelly
Did you like this post? PIN it for later!