Mismatched Fall Tablescape Ideas
With Fall here and Thanksgiving approaching I always get excited about setting our dining room table. Over the years I have collected a lot of fun plates, glasses, napkins and tablecloths. I love being able to use what I have and enjoy the challenge of how to put it all together. With so many different options it can be overwhelming to know how to put them together and make it work and look beautiful. I have a few tips and tricks you might just find helpful. I can't wait to share some of my mismatched Fall tablescape ideas with you!
*As an Amazon Associate, I earn from qualifying purchases. This post contains other affiliate links too for your convenience. Click here to read my full disclosure policy.
Today I am joining hostess Carol of Bluesky at Home for her Celebrate the Holidays Thanksgiving blog hop. If you are stopping by from Laura over at Every Day Edits and her simple ideas for a Thanksgiving table, welcome! I just loved her ideas! At the end of my post you will find links to the other ladies also sharing Thanksgiving ideas as well. So make sure to visit those too!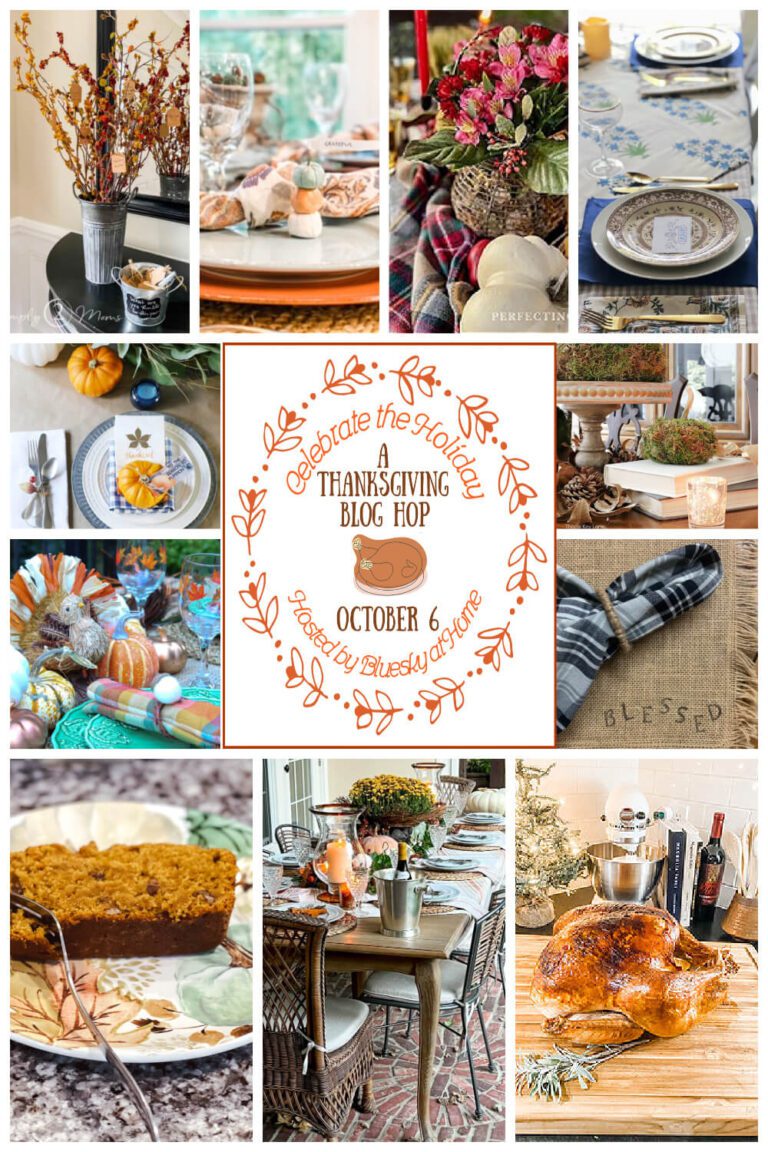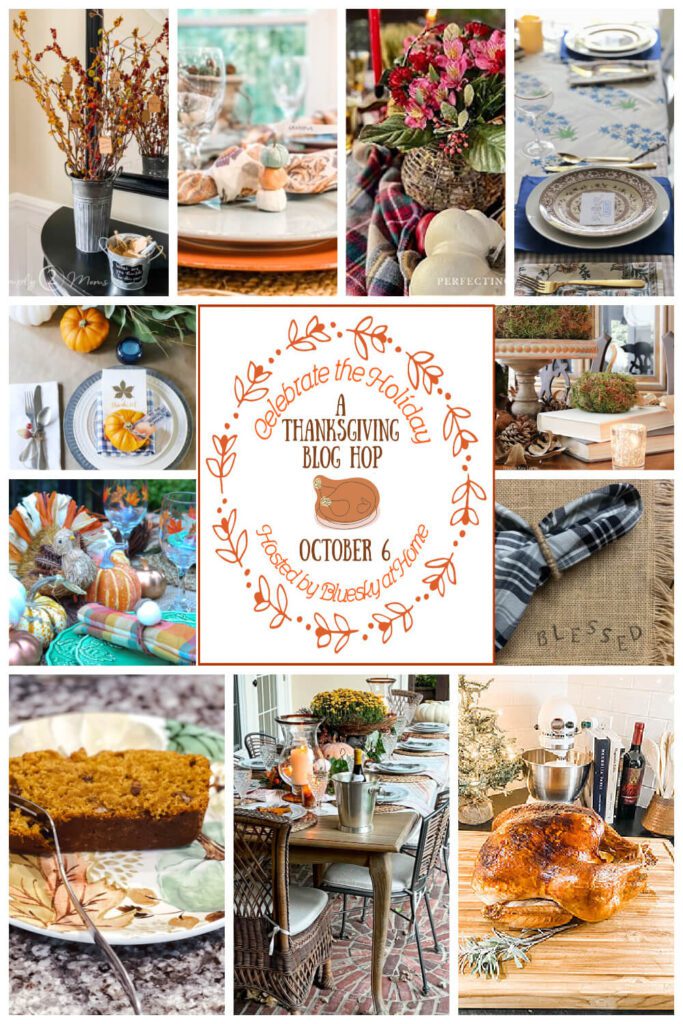 Mismatched Fall Tablescape Ideas
When it comes to putting a tablescape together I am all about mixing and matching those patterns as well as mismatched items! No matter the holiday and no matter the season I thoroughly enjoy layering all the elements of a table.
And get this, would you believe that there is no one formula for mixing and matching patterns? But there are some tips that will helps you make it work and help you find the harmony in putting a mismatched Fall tablescape together!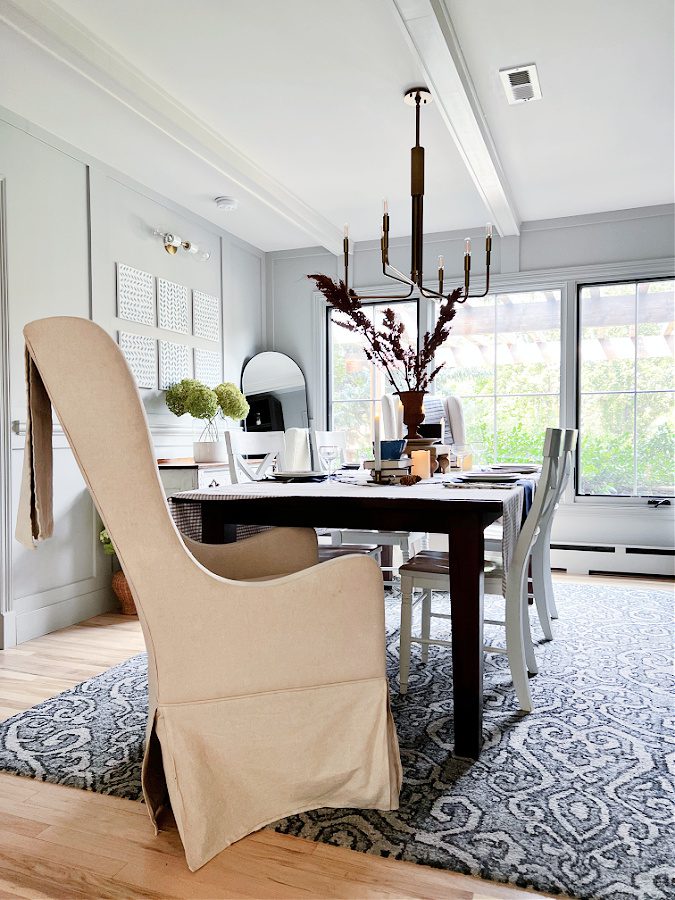 Thanksgiving Table Settings
With Thanksgiving coming up there is no better time to practice mixing and matching patterns on your tables. Thanksgiving table settings don't have to be boring they can be elevated and unique with simply playing with patterns.
In my mind I like to break my table down by certain elements: a color scheme, the table linens, dishes, flatware and glassware.
I also give a lot of my attention to the centerpiece and decor on the table as well. Let's chat about some of thoughts and methods for using what you already have to set a thoughtful and lovely tablescape.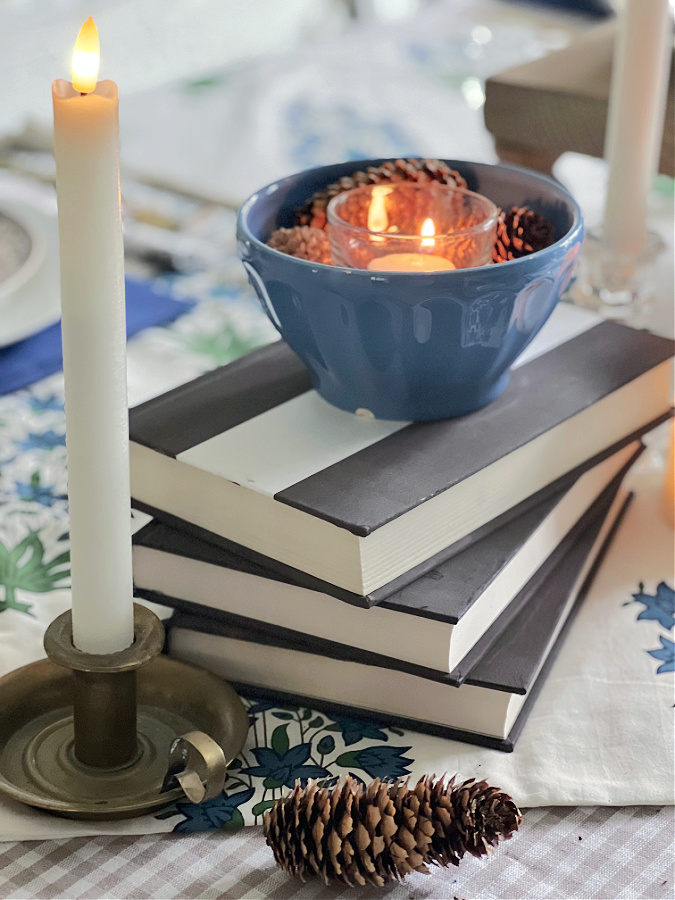 Mismatched Table Settings
This Fall I had fun combining the colors blue and brown as well as a few small guest appearances of green and cream. And as far as patterns and mixing go I pulled in a gingham pattern, floral pattern and block pattern as well as some solids too. For me nothing is off limits!
My first tip is to pick your color scheme and let that guide you! Once you have your colors pull plates. Have fun and layer them. Nothing is off limits as long as you enjoy the end result! I originally had some clear glass hobnail plates and they worked too but didn't show and so there was no point.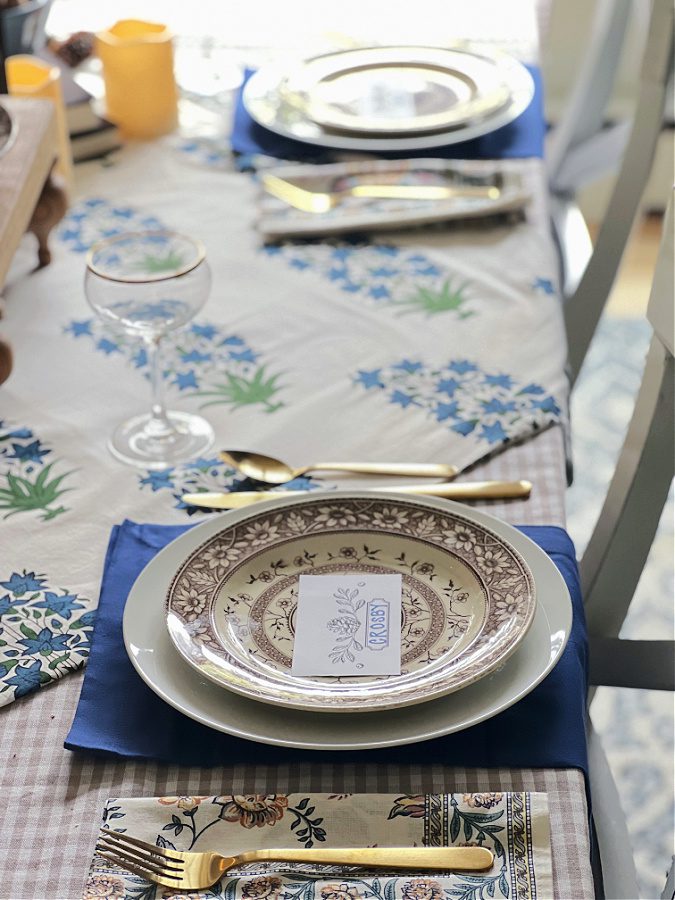 For this Fall tablescape I layered my everyday white plates with some fun brown transferware I picked up last year at the flea markets! And guess what when you use vintage plates that you are collecting based on color they are often times mismatched and this is ok! It's very rare to find a full set of vintage plates.
Do your plate sets have to match is a question I get asked often. No they do not as long as they are in the same family of colors is what I would say! I love mismatched vintage plates because they tell a story on your table.
What Patterns are Best For Mixing and Matching?
Solids
stripes
plaids
checks
florals
damask
ikat
geometric
paisley
toile
animal print
block print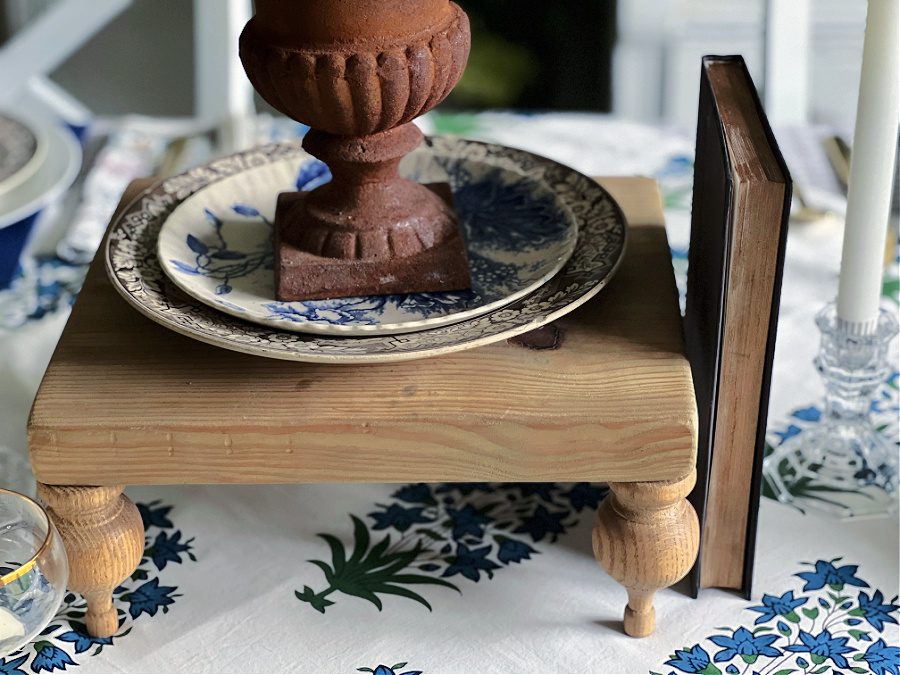 Patterns That Go Together
Now that you have an idea about the different patterns and their names you might be asking what are the patterns that actually go together? This is a great question and can be what trips some people up from mixing and matching patterns.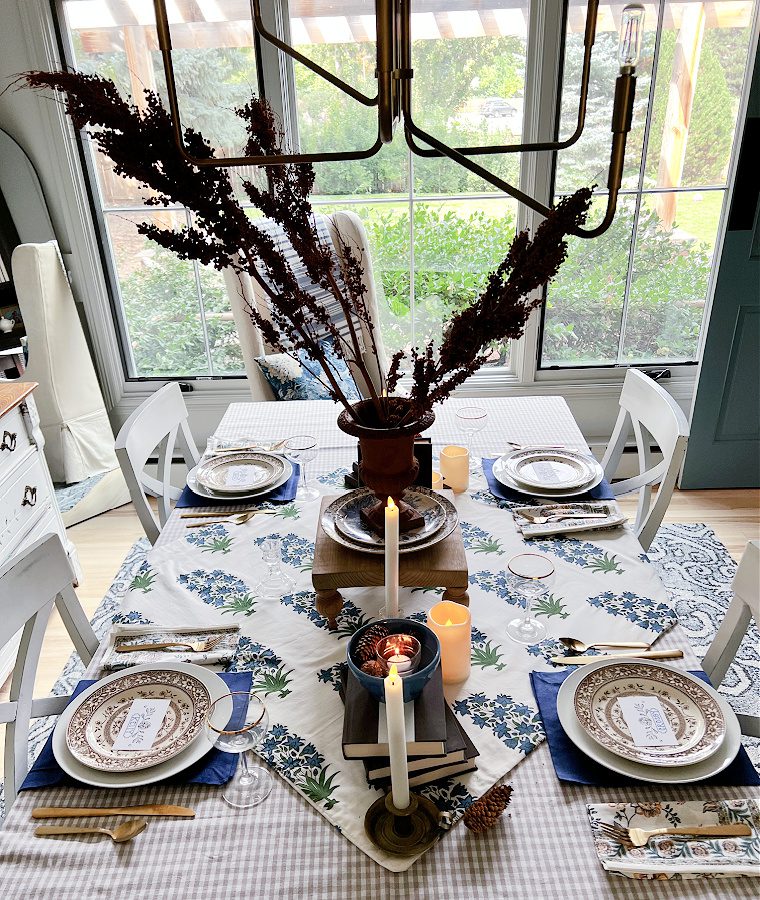 Some fun patterns that go together are stripes, polka dots and florals, herringbone, stripes, paisley and of course mixing plaids and stipes is always a good idea. Just remember to make sure the patterns vary in size and scale. This always helps with pillows too and not just tablescapes.
How Do You Mix Patterns
Mixing or mismatched patterns can feel overwhelming and appear hard but it doesn't have to be! This is a great way to add excitement or a custom feel to your seasonal or everyday tablespaces. And guess what These tips also work for home decor too!
A few tips:
Focus on the colors but play around with the different color hues. Dark brown, light brown, etc.
Pay attention to the scale of your pattern. Use one large scale pattern with varying colors to pull from, one medium scaled pattern and one small scale patterns as accents to tie it all together.
Always try to use one neutral or solid component to a space to help with the calming factor so your eye isn't overwhelmed by too much pattern.
Patterns add personality so a repeated color in just a different pattern will tie it all together and make mixed patterns work.
Patterns need to have one commonality: color and then the type of pattern must be different visually as well as the scale. Think blue stripes, light blue animal print and mixed blue florals! They all have a tone of blue in common but different patterns and scale.
I like to use the rule of three patterns together but rules are made to be broken so if it looks good to you, go with it!
How Do You Mix Casual and Formal Pieces on a Table?
You can definitely have casual and formal patterns but can you mix these two when it comes to setting a table? The short answer is yes, yes you can.
This depends on if it looks good to your eye? If it does, I say leave it!
I mixed casual plates and heirloom china with formal glassware and it looked amazing. I also mixed in dollar store glass candle holders with that same expensive gold rimmed glassware and no one would know the difference!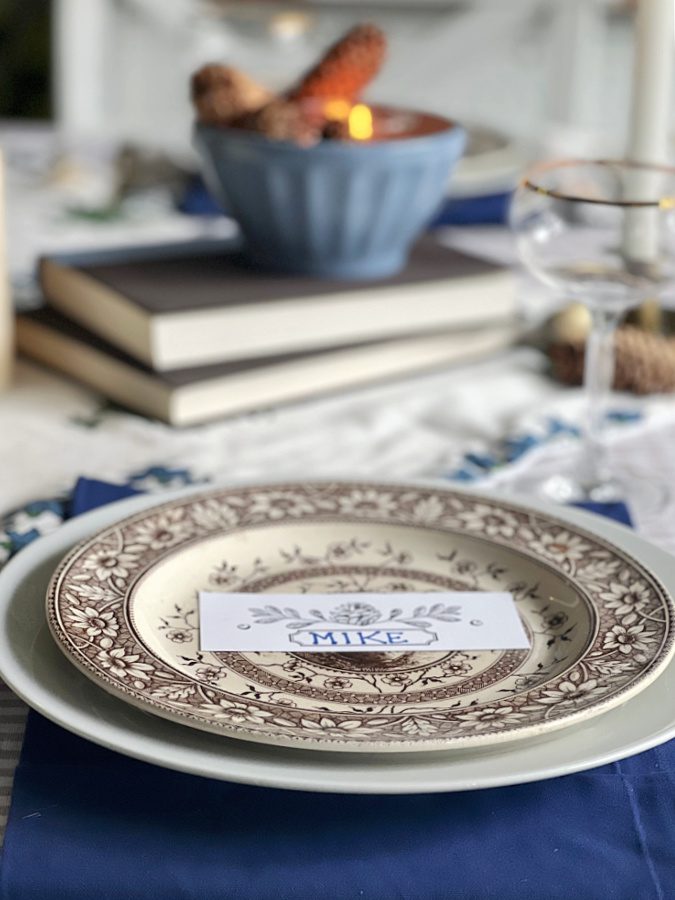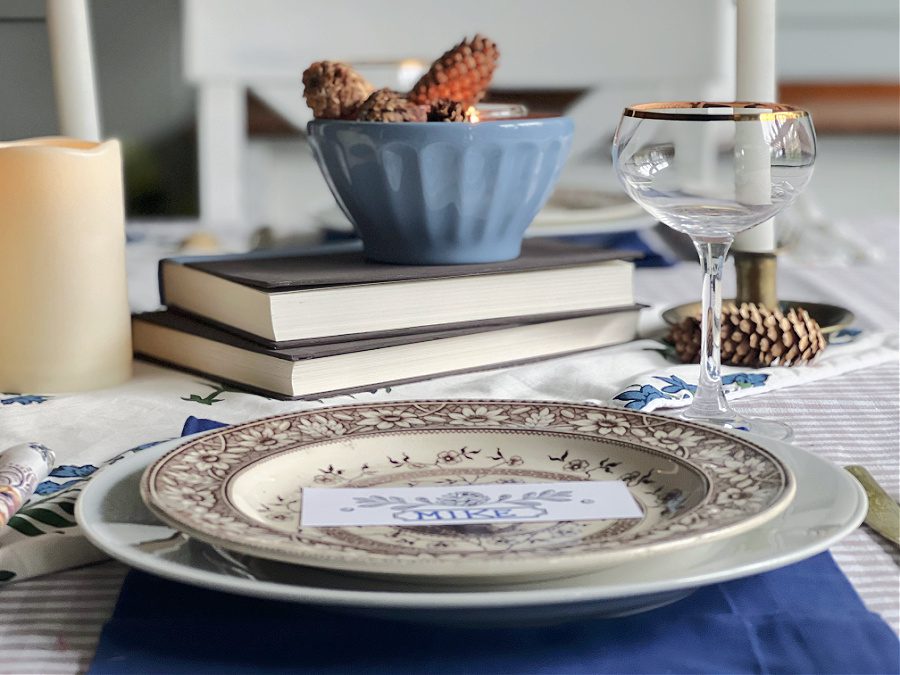 Another great and simple way to mix casual and formal pieces is with your able linens. I have some beautiful old vintage liens that look lovely mixed with my Amazon tablecloth as a base. Just remember to try it out and if it please your eye and fits the theme then don't be afraid to give it a go!
Can You Mix and Match Your Table Linens?
One of the first things I do when I set a table is decide if I am going to use table linens or not. More times than not I opt to use a tablecloth. For more fancy or formal table settings like Thanksgiving or Christmas I like to add cloth napkins too.
But can you mix and match your table linens? Yes you can. This gives it is collected and visually interesting feel. It also helps when the colors in the different patterns compliment each other.
For me my color scheme was blues and browns with some white and greens mixed in. All of these colors go. If I had thrown in a weird hot pink. Most likely it would not go. So I always say trust your gut. If you think it works and looks good, go with it!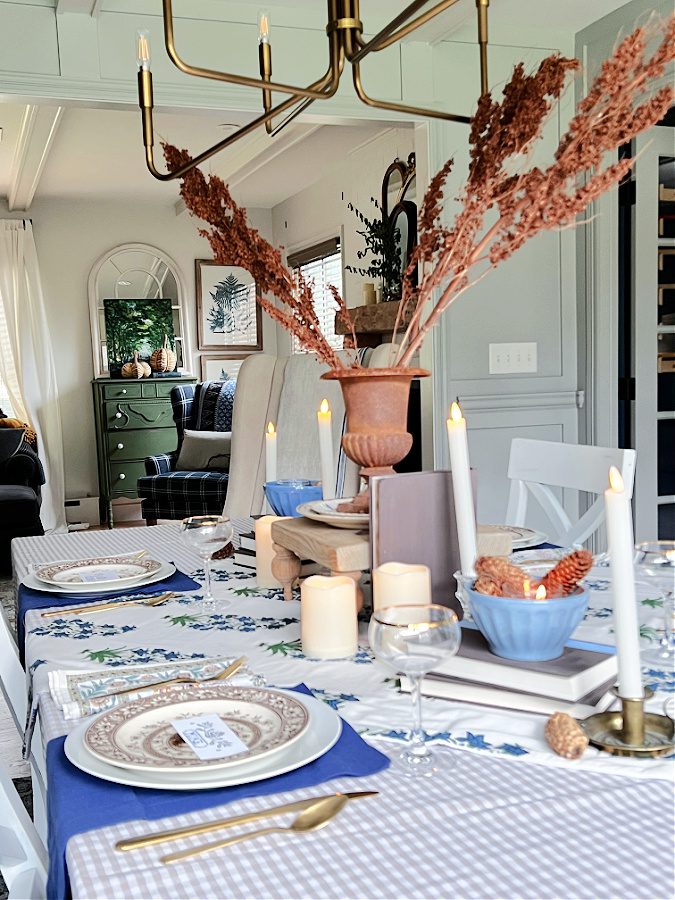 But I don't stop there. There is also potential to layer and layer some more. In the picture below you can see that I layered a smaller square tablecloth over the large light brown gingham one I used as the base. It is slightly off set to add a bit of visual interest on the table.
I also layered my cloth napkins too. One under the plates and one to the side of the plates. The one under the plate is like a placemat substitute! Did you notice the napkins are in a solid and a floral print? The more the merrier!
Can You Mix Vintage and New Dishes On Your Table?
One of my favorite things to do when setting or creating a tablescape is to mix vintage and new dishes together. I talked about this a bit above but I love to collect fun vintage plates while out at the flea markets. I often look for ironstone or transferware plates in blacks, blues, greens or browns. But also red is fun for Christmas too!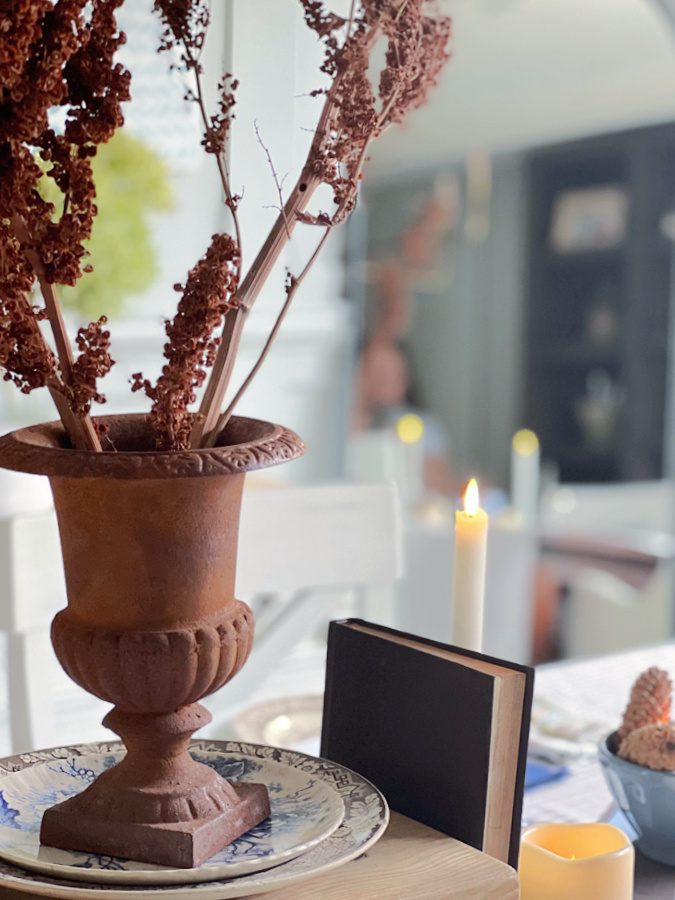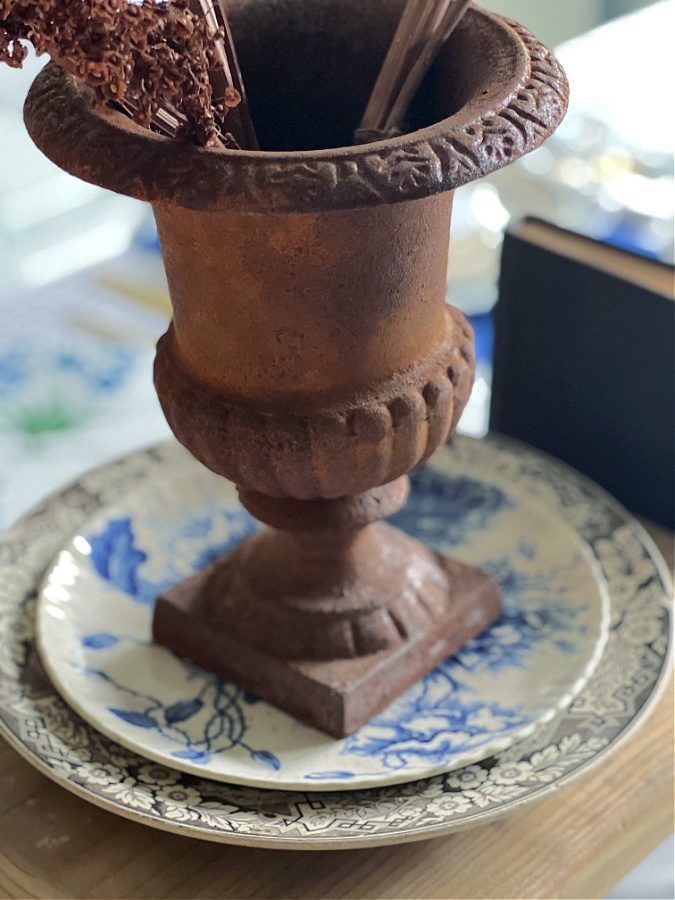 Transferware and ironstone pairs well with everyday plates that are a solid color or clear. I usually opt of whites but that is because that is what it have. These white plates from World Market are my absolute favorites an we use them all of the time!
A fun green plate or bowl would be fun to add as to my Fall tablescape well. I am working on adding more green plates to my collection because I find they are the perfect neutral. I am in love with the green bordallo pinheiro plates and have a few but not enough for a table setting!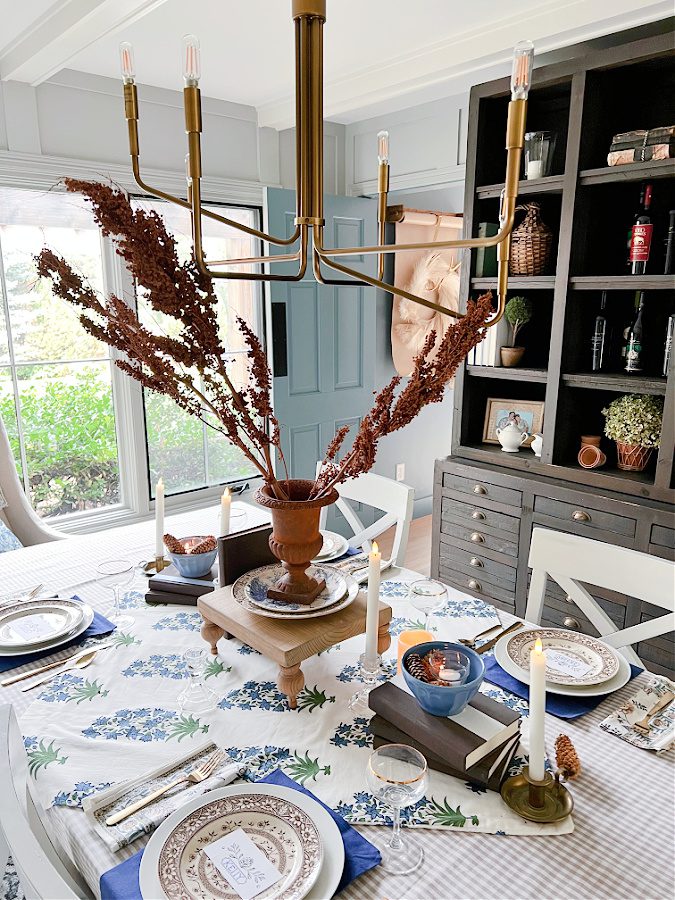 How Do You Mix and Match Dinnerware On a Table?
Here are a few ways to easily mix and match your dinnerware on your table.
Pick your color scheme and use those colors as an anchor and starting point. These should guide you in your selection of table items!
Bring in layers and textures all over the table! ex: Candle holders, the centerpieces, place cards, plates, etc.
Consider the event (fancy or casual).
Don't be afraid to mix up your glassware. Maybe even add two types of glasses!
Use a fun print or pattern to pull it all together. ex: table linens!
Use your everyday flatware or use your fancy flatware.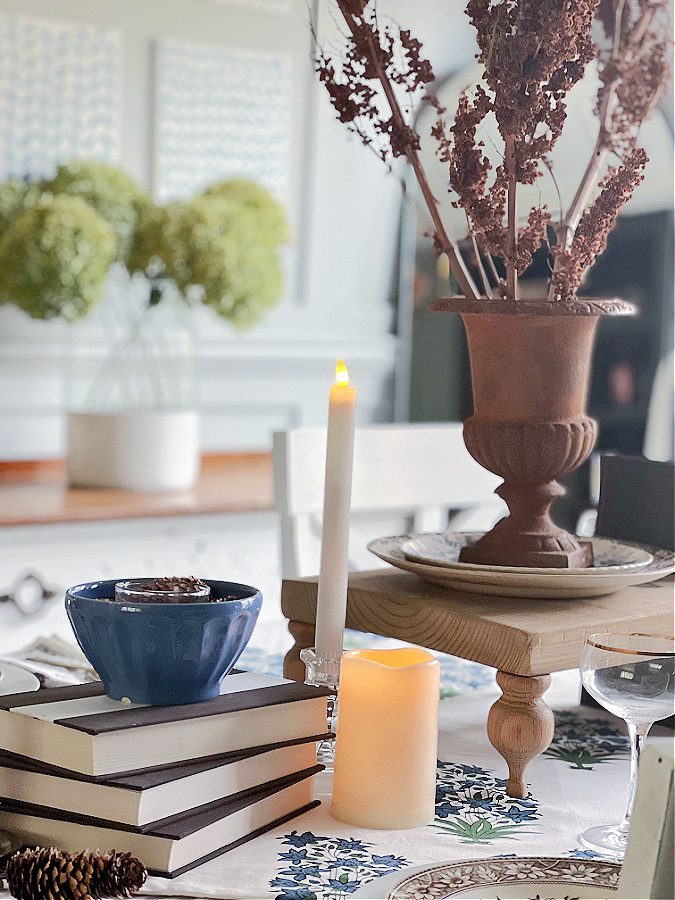 Glassware for Tablescapes
When it comes to adding glassware to your table I sometimes like to add an unexpected or understated element. I don't typically mix and match the actual glasses themselves beacuse this can make the table appear cluttered and that is exactly what we don't want.
For example with this table I kept all the same glassware. Goblets with a fun gold rim!
But I could have also added a fun smaller solid green glass for a water cup option and it would have looked just as nice. Just make sure to at least add the glasses on and you should be good to go!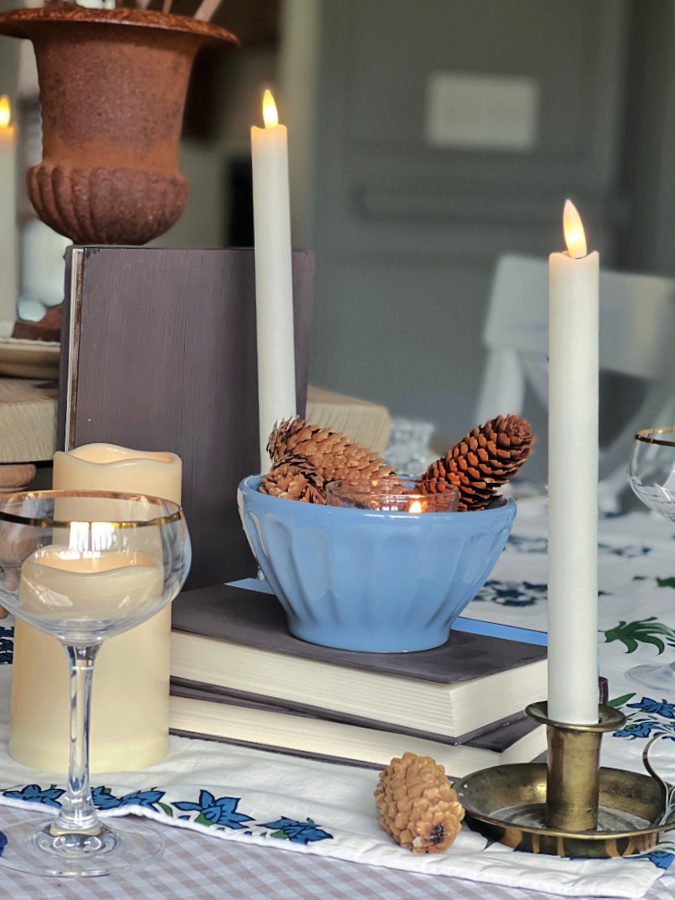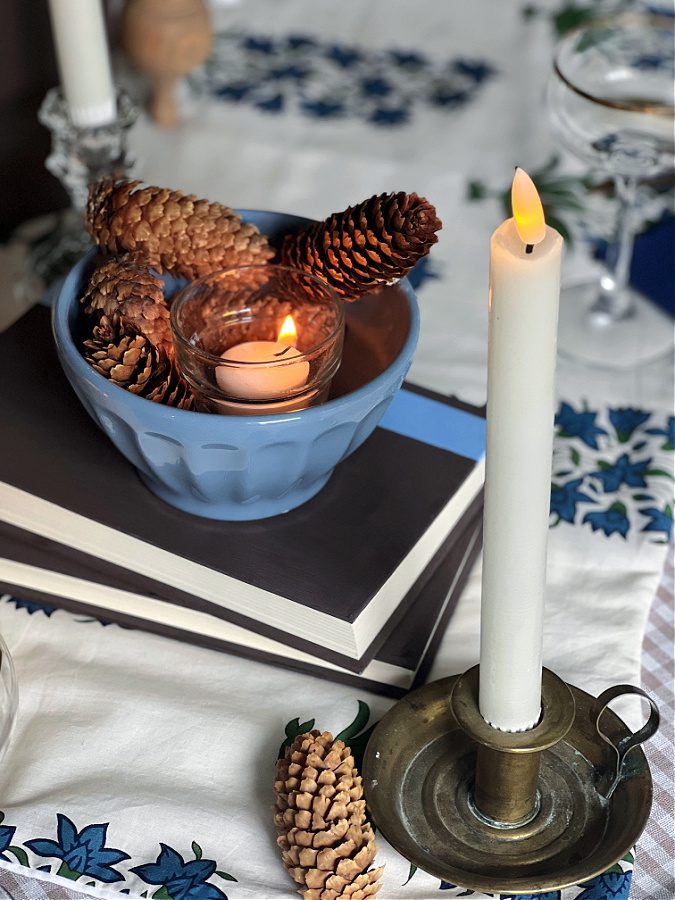 Shop My Table
I have linked as many items as I could that were on my table or in my dining room. If you don't see something you were looking for please leave me a comment in the comment section found at the very end of this page!

Mismatched Fall Tablescape Ideas
If you want to know how to mix and match patterns for a fall tablescape or any table setting for that matter remember this one simple thing, do what makes you happy! Hopefully today you found some mismatched Fall tablescape ideas that were helpful. As long as the color scheme works then the patterns end up not really mattering. This goes for table linens, glassware, glassware and even plates! Now it's time to start planning that Thanksgiving tablescape!
Next on this fun hop is Anne and AnnMarie of Simply2Moms and they are sharing how to make a thankful tree for Thanksgiving! Love this idea.
I'd love to have you hang out with me some more! Feel free to follow along with me on any of the platforms linked below.
LTK | Facebook | Instagram | Pinterest | Amazon
xoxo,
Kelly
More Thanksgiving Ideas
9 Easy Steps to Set a Thanksgiving Table
https://blueskyathome.com/9-easy-steps-to-set-a-thanksgiving-table/
How to Set a Simple Al Fresco Table Brimming with Autumn Ambiance
Simple Ideas for a Thanksgiving Table
How to Mix and Match Patterns for a Fall Tablescape
How to Make a Thankful Tree for Thanksgiving
Delicious Pumpkin Bread
7 Thanksgiving Dinner Place Setting Options
https://www.whitearrowshome.com/7-thanksgiving-dinner-place-setting-options
Thanksgiving Centerpieces With Moss Covered Pumpkins
https://thistlekeylane.com/thanksgiving-cen…covered-pumpkins/
21 Tips for a Stress Free Thanksgiving
Set a Beautiful Table with These Thanksgiving Table Runner Ideas
Thanksgiving Tablescape DIYS
https://savedfromsalvage.com/thanksgiving-tablescape-diys/
Did you like this post? PIN it for later!