Fun Halloween Party Ideas That Anyone Can Do
Halloween is just two weeks away and that means it's the perfect time to start planning those parties! Every Halloween our neighbors throw the best Halloween party and I always leave inspired. So today I am joining up with two of my friends to share fun Halloween party ideas that anyone can do! My goal is to leave YOU inspired!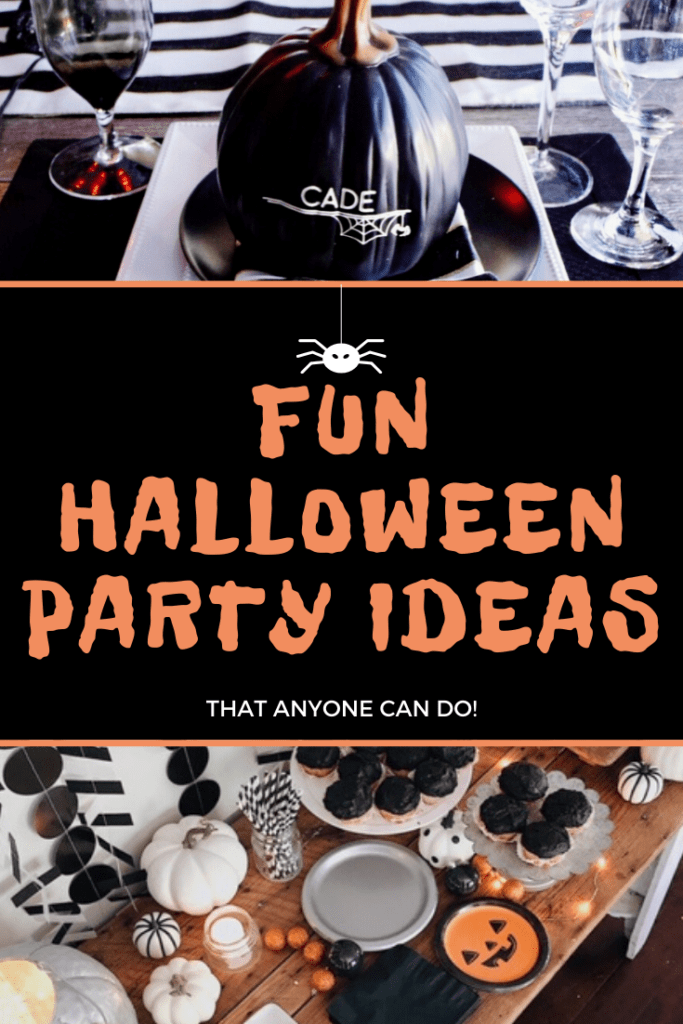 Fun Halloween Party Ideas that Anyone Can Do
Even though I don't host the neighborhood Halloween party (I host the 4th of July one) I still like to decorate our porch and our entryway and dining room for Halloween! These are the areas that visitors see and my kids thinks it's fun and get excited too. This year the girls plan to be a police office and a 50's Car Hop waitress and the boys are still yet to decide if they will even dress up. I will be dressing up as a 100 year old woman! I do this every year and my kindergartners love it. Here is a picture of me from last year. Hopefully I don't scare you too much!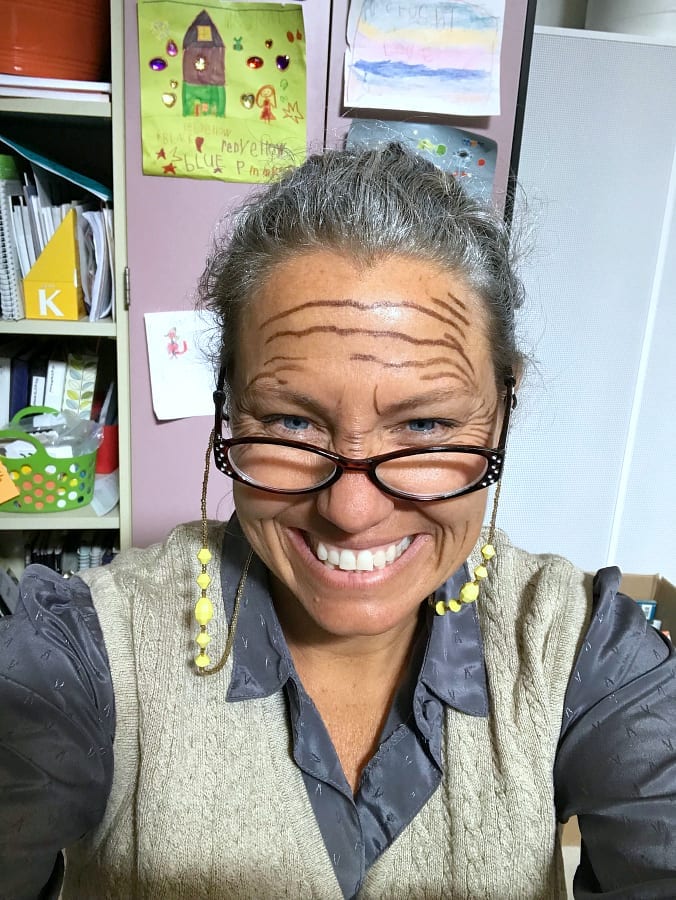 Now that I shared that crazy old lady picture with you how about some pretty Halloween decor? Our dining room is directly off our entry way and the last few years I have enjoyed decorating it for Halloween. In my opinion it turned out pretty awesome this year! (I might be a tad bit bias) My simple DIY Halloween centerpiece is perfect for a Halloween party and I promise it's so easy to make!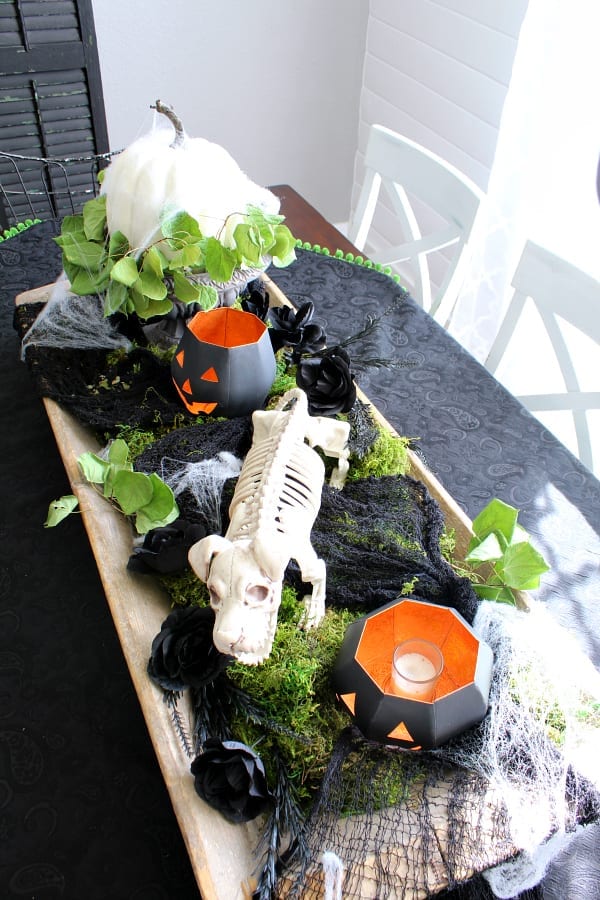 You can see how to make this centerpiece and more of my spooky table and decorations HERE. Make sure to look at what I added to our dining room chandelier. It's my girl's favorite part!
Brendt from She Gave It A Go shared how to set up a not so spooky Halloween party food table that I thought was awesome! She shares all of her sources as well as many budget friendly tips that make her Halloween table fun and one that anyone can set up! Her classic orange, black and white color scheme was done so well and I love how it wasn't spooky at all. Don't you just love the black dot backdrop she added? It brings that instant Halloween fun feeling. Make sure to check out her secret tip HERE for making your Halloween table all come together! I'll be right over Brendt!
Merichelle from We're The Joneses has a wonderful post all about how to throw a haunted Halloween dinner party! I wish Merichelle was my neighbor because she created this Halloween tablescape for all of her mom friends to come enjoy. A "mom only" party sounds absolutely wonderful to me right now. 😉 She kept her Halloween party ideas very classy and incorporated a stylish flair that I feel is perfect! My favorite part of her party table are the black and white striped runner and her pumpkins that she turned into place settings. You can see just how she did that by visiting her post HERE! Also, I think I need to add her flashing candelabra to my list of must have Halloween decor!
Halloween Party Inspiration
I don't know about you but after all of that Halloween party inspiration I am ready to have some fun! The best part is that all of the ideas shared above are fun Halloween party ideas that anyone can do! Do you plan a Halloween party or do you attend a fun one with your friends? I would love to hear and see your ideas!
Happy Halloween friends!
Here are a few more of my Halloween posts you might like:
xoxo,
Kelly