Crosby's New Tween Girl Bedroom
It finally happened, we were able to bring Crosby's new tween girl bedroom to life in just a few short days! I can't wait to walk you through our process and share all the details! Let's just start with the fact that she loves is and that is all we could ask for.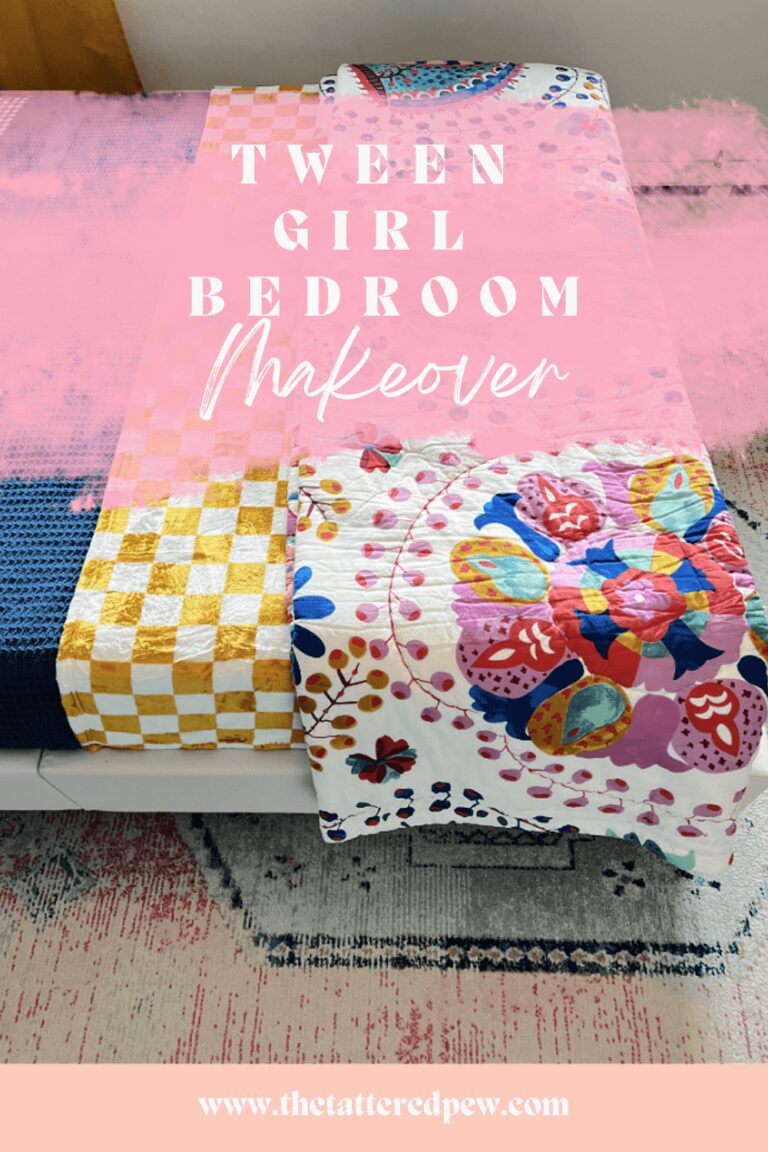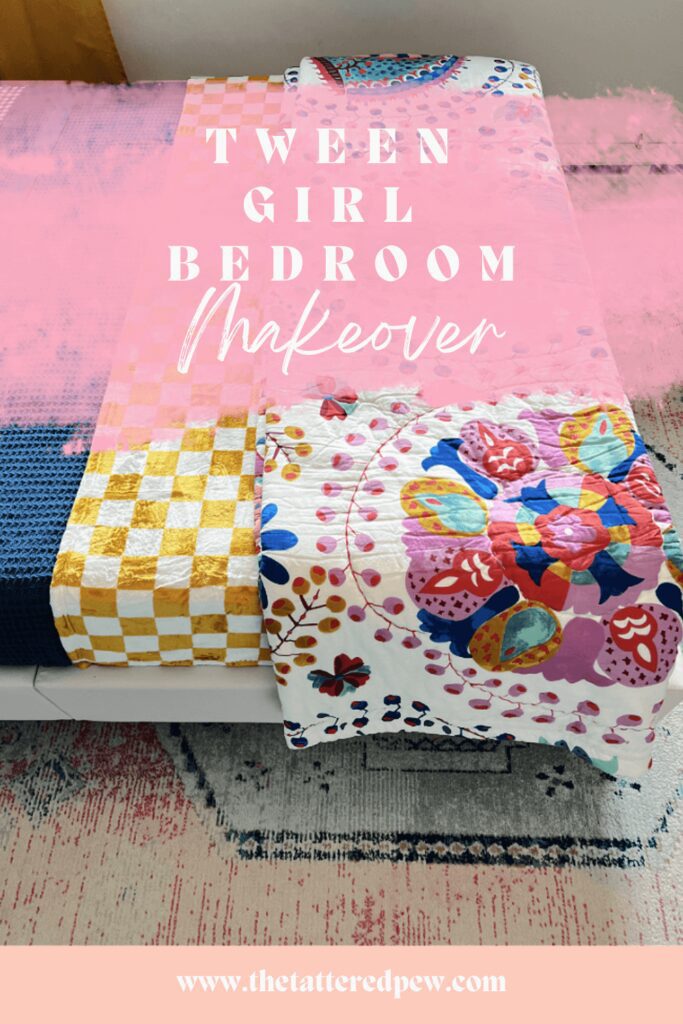 *As an Amazon Associate, I earn from qualifying purchases. This post contains other affiliate links too for your convenience. Click here to read my full disclosure policy.
Crosby's New Tween Girl Bedroom
When I refer to the we in this bedroom makeover I am referring to my wonderful mother who are kids call Memaw! I could not have done this project without her. And just like's Grace's bedroom makeover, we were able to bring this mood board to life in a short amount of time!
Now let me back up a bit and give you some details on this really fun makeover that we are all totally in love with. I mean how much fun are all these colors?!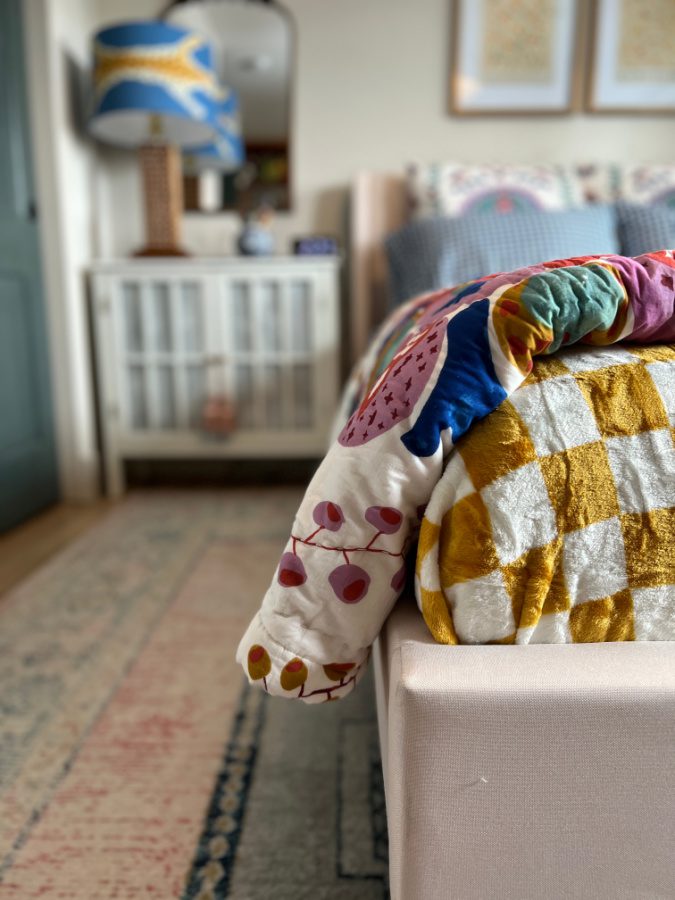 Once Crosby saw how "cool" Grace's bedroom makeover turned out she wanted mom and I to do hers as well. But unlike Grace, who gave us specific colors, Crosby gave us her full trust and let us completely surprise her!
And oh boy as much as this sounds amazing (and truly it was) we found it to be a bit harder than we expected or had anticipated.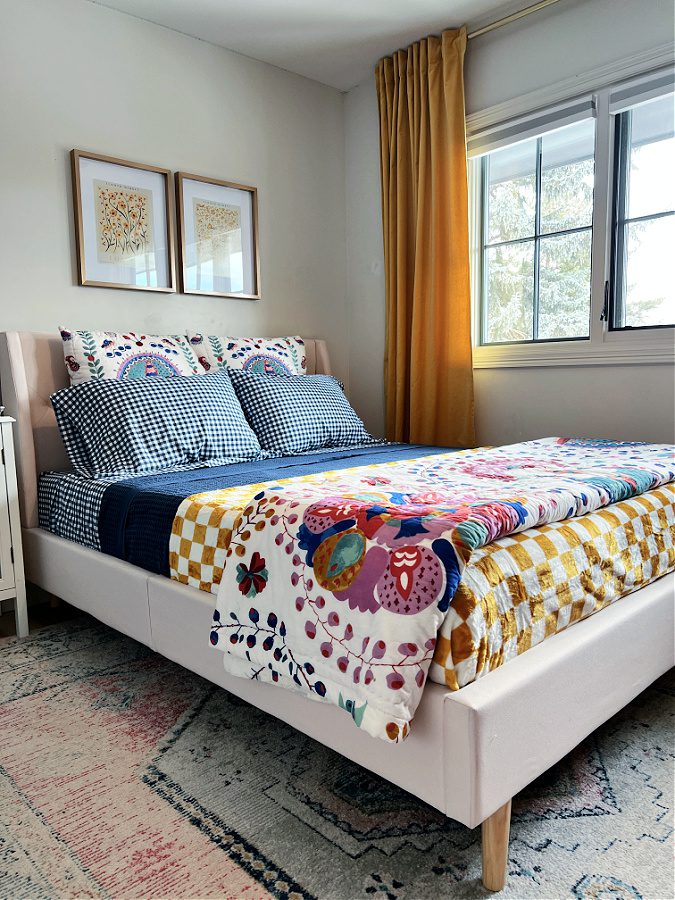 What We Started With
We had the foundation of the room in place when we started.
Her light pink upholstered platform bed, her rug and the white cabinet. There is also a pine dresser I found at a consignment shop , with her dollhouse that my mom made for her on the dresser. With this being a small room , and it already having a built in bookcase, we had limited options on arrangements of furniture.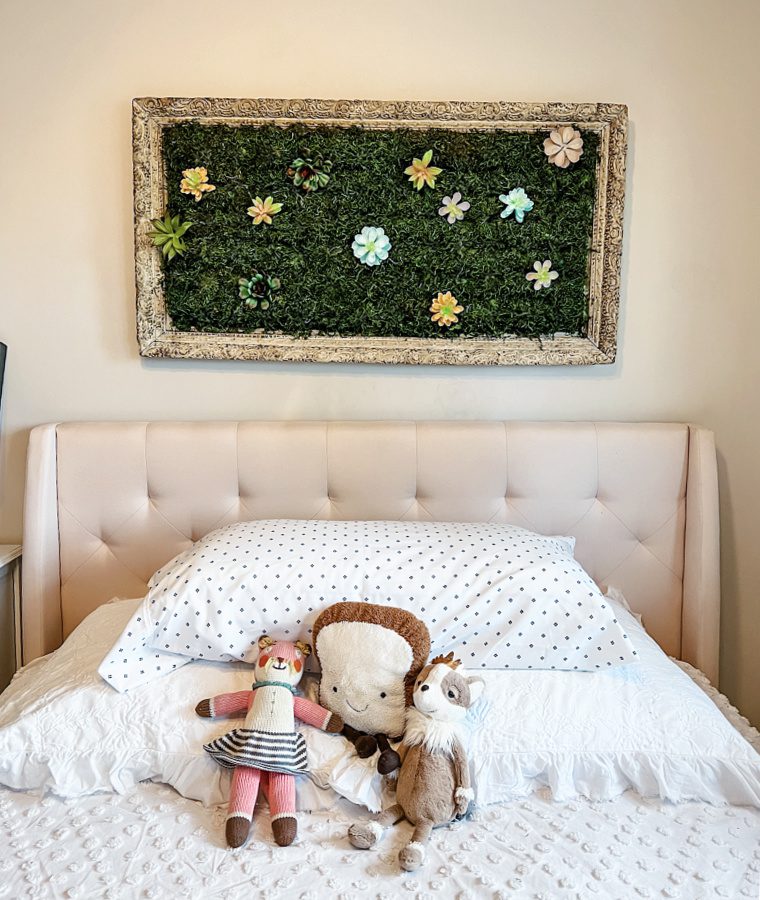 And goodness gracious did we have to purge a bunch of crap'ola out of her room! Crap'ola is fancy for crap. 😉
Once that was done we were excited to get going!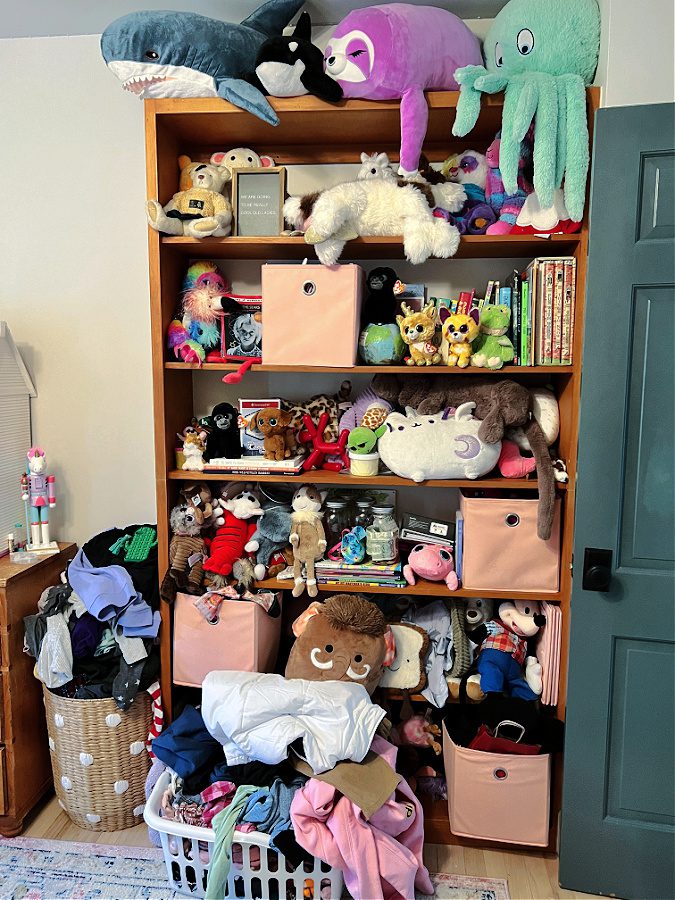 We knew we had to go big or go home with the bedding and decor…and so, we did!
Choosing a Style
For Crosby we wanted to play off of her creative personal style. She is 10 and loves art, travel, stuffed animals, dolls and dance! (just to name a few) She is rather quiet when you first meet her but as she grows comfortable she is smart as a whip, witty and so much fun.
So my mom and I wanted her room to showcase her fun and wild personality! We also wanted it to be able to grow with her and last as long as she wants or needs. You will notice it is more of a tween space than a little girl space.
So if we had to give this room a label or style I think we would just call it funky and fun! Bold colors, bold choices all mixed with funky patterns, textures and art.
The Bedding
We found her gorgeous and colorful quilt over on Anthropologie when they were having a huge end of the year sale! It was a big driving force in how the color choices were made in the room. I also grabbed the matching euro shams.
Isn't it awesome?
Once we had the quilt, we held up the navy blue gingham sheets we already had to it and loved how they looked together. I found similar ones here!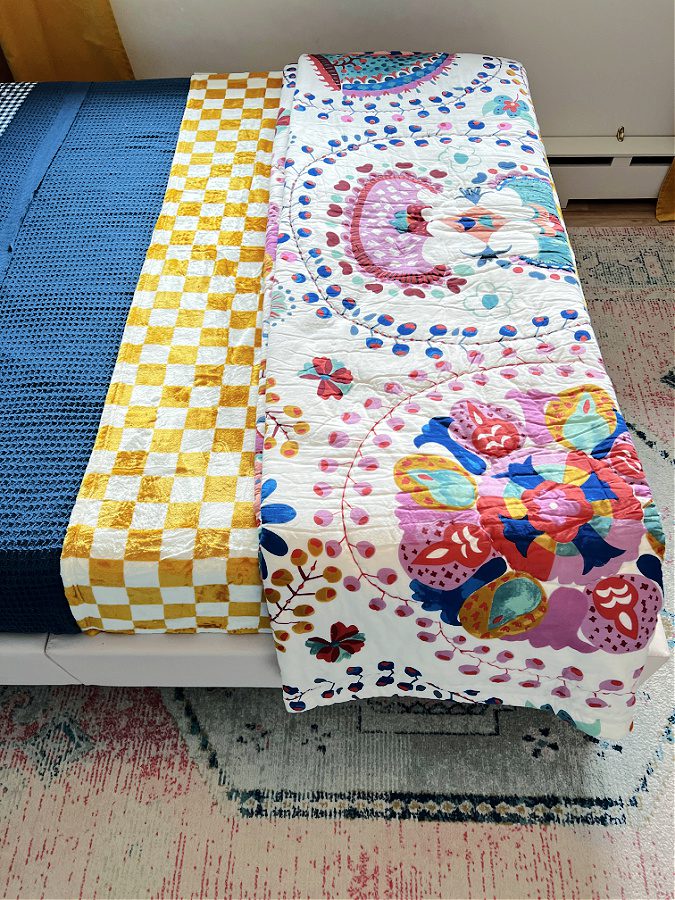 If you know me you know I LVOE to mix patterns.
Next, we knew we needed a solid so we went with a queen sized woven blanket in navy blue as well. All of this contrasted so well with her light pink bed.
But something was missing.
After looking at the other colors in the quilt we decided we wanted to pull out more of the gold/yellow color! The missing piece ended up being the gold and white check plush blanket that we added to the end of the bed under the quilt.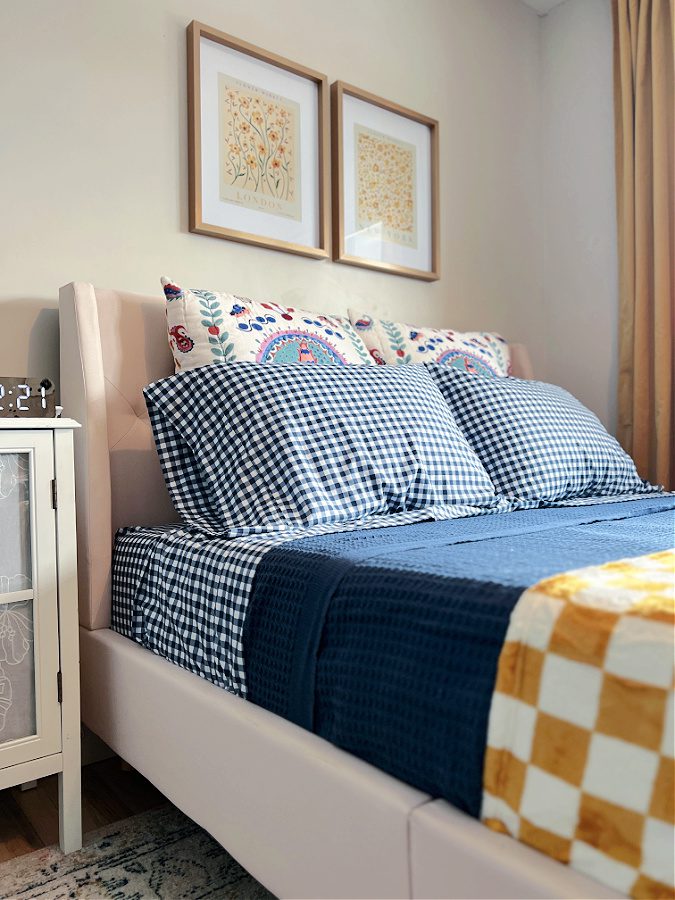 It was just the wow factor and pop of color that the space needed! It was also what led us to try the curtains.
The Curtains
So the gold velvet curtains that we used in the room were actually left here by the previous owners. They are the same curtains in the office downstairs and we found this second set in the closet so I kept them.
I'm so glad I did!
They are originally from IKEA and let me tell you…I personally think they pulled the entire room together! When we held them up to the bedding both mom and I did the happy dance because it was as if they were made for each other!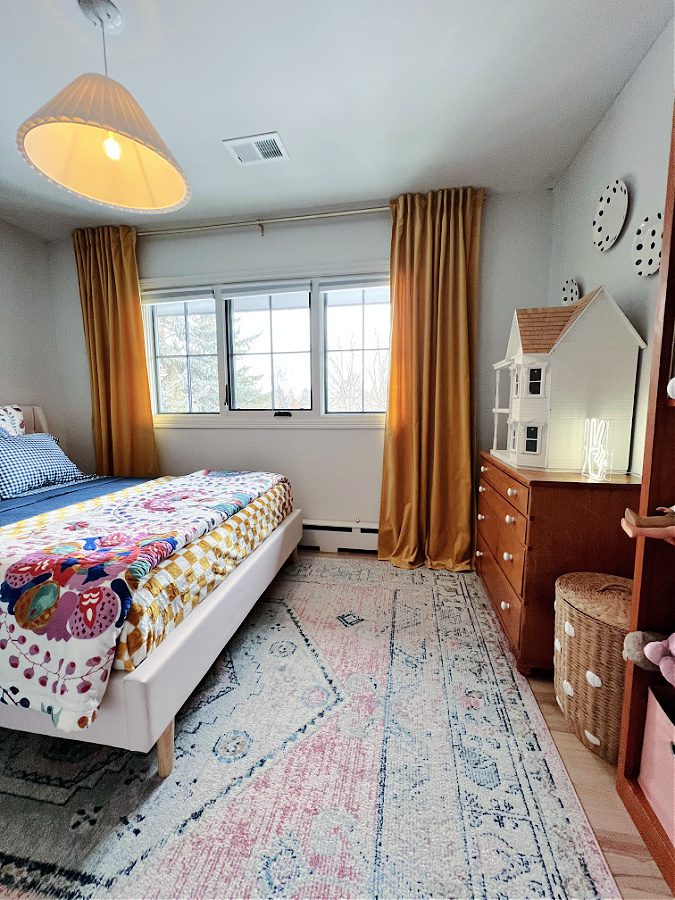 And honestly? You can't beat free!
Like, I adore them and the level they brought the room to.
Notice how we hung the rod high and wide? that enlarges the small room and leaves the windows open for light!
Pure gorgeousness!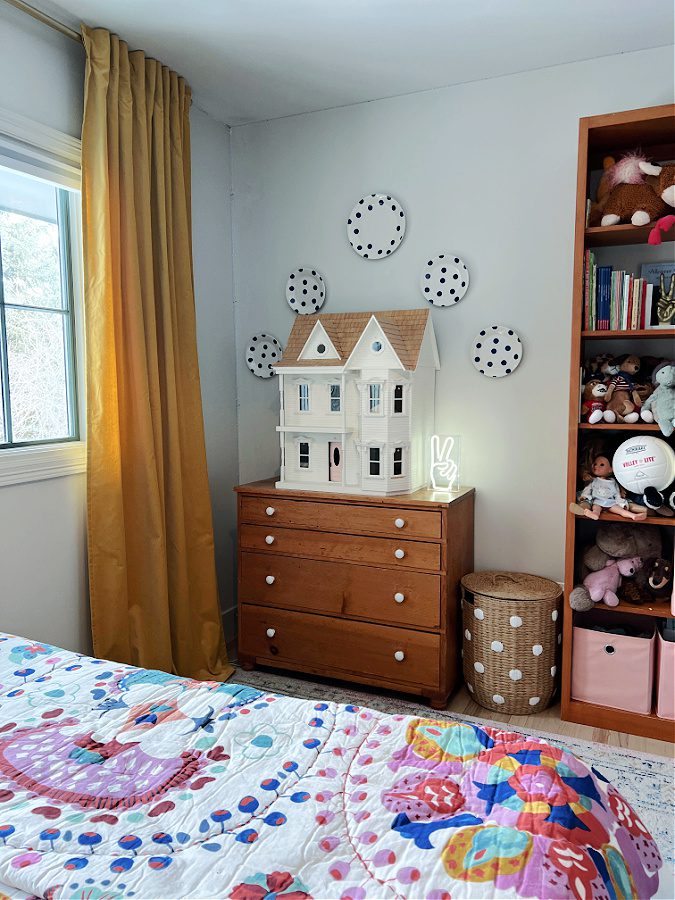 The Lighting
Just like in Grace's room, I knew I wanted different lighting for Crosby's bedroom. Something feminine yet classic and timeless.
At first I ordered this feather light, but it ended up not really working with the space.
So my mom suggested we make our own. And we kind of did!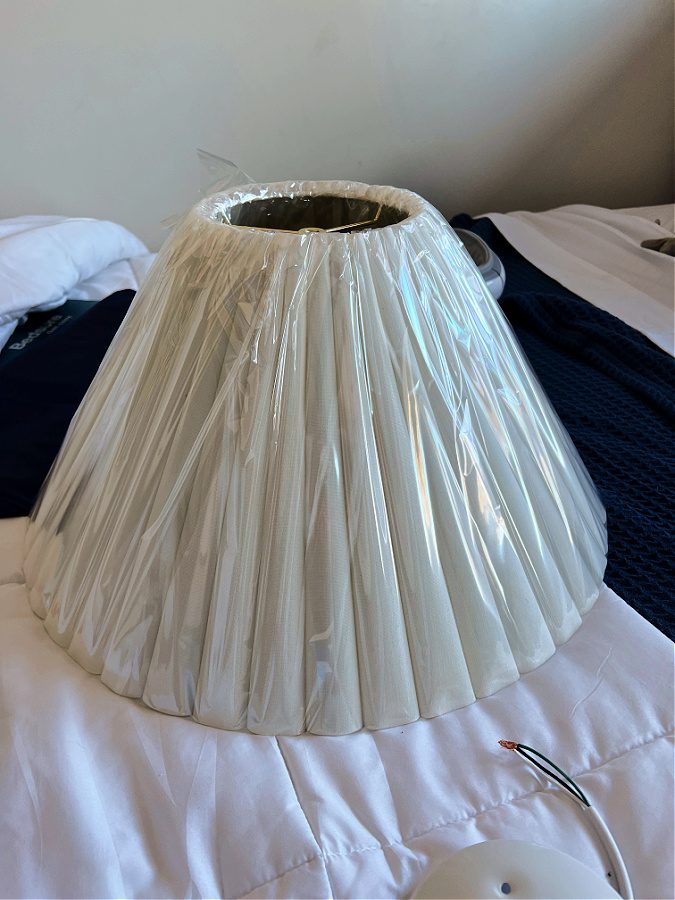 We found this large stunning box pleat empire lampshade and used a single mini pendant light kit. We combined the two and instantly fell in love! You can watch a video I made of the process HERE!
We only had a few mishaps (ha ha) with the electricity and wiring but in the end it all worked out! I won't go into all the details but let's just say that I could not figure out which breaker to turn off for her room and so I ended up turning the entire house off and then couldn't get it back on.
There always has to be some drama involved though, right?!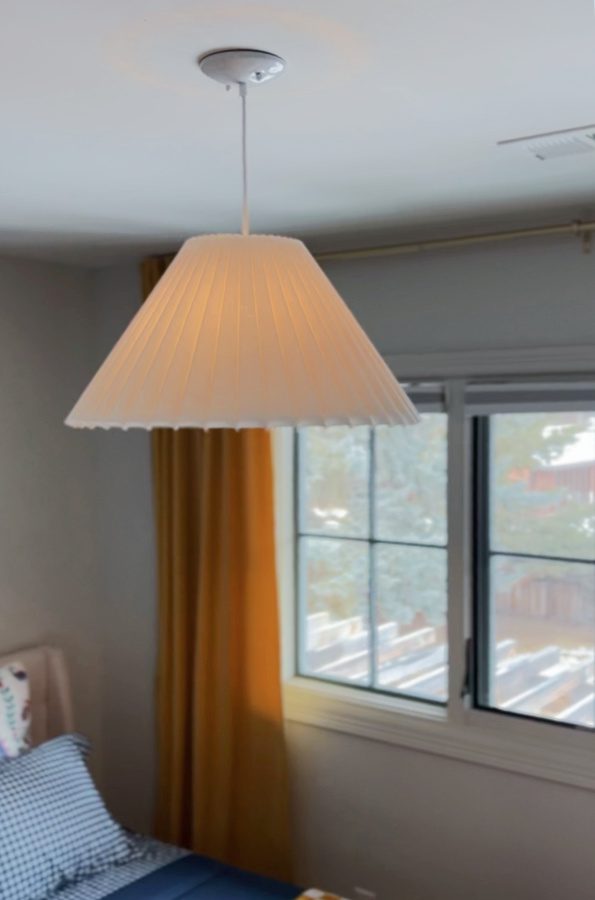 Also, I can not forget the bold leopard lampshade we added to the lamp on the cabinet next to her bed! We found it when we were on the Anthropologie site looking at her bedding.
It was so funky fun and we hemmed and hawed ( my mom's term) over the blue shade vs. the pink. Yep! I t comes in pink too!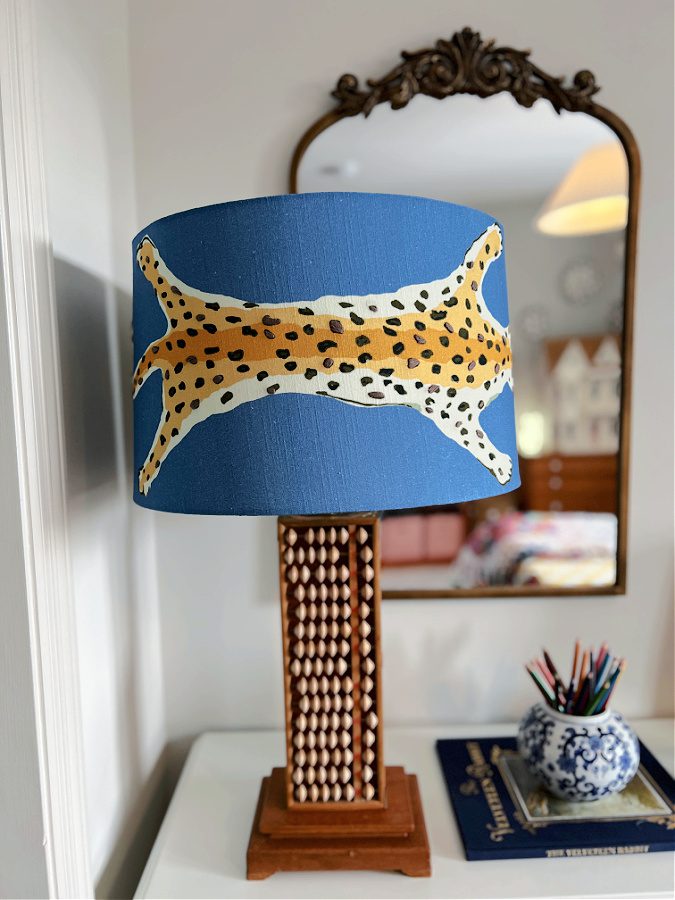 In the end I chose the blue and we both love how it is such a focal point in the room. And did you notice the lamp? Well it was an old lamp of my grandmother's that a friend brought back from Hong Kong! It used to sit next to her bed too.
My mom rewired it and brought it over for us to try. It was love at first sight for me!
Plus, I love that Crosby gets a piece of my grandmother in her room. It makes it that much more meaningful and unique!
The Decor
Mom and I spent several weeks ordering decor and shopping for it. We shopped at Home Goods, Amazon, Anthropologie, Target, Tuesday Morning, ETSY, JoAnn Fabric and of course our own homes!
It was so much fun to bring it all together.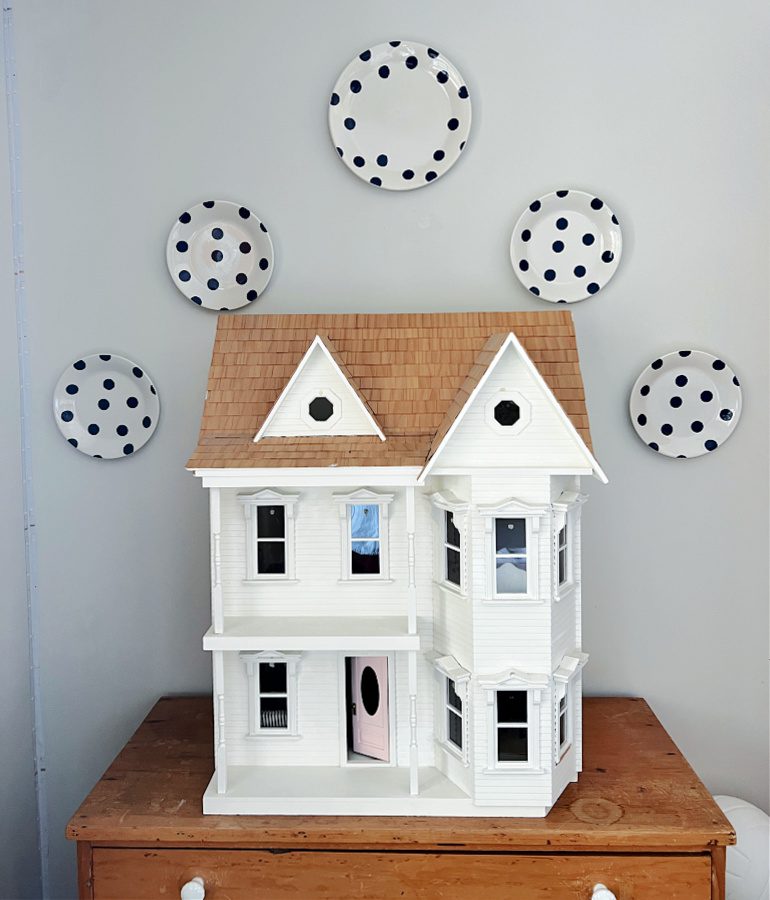 The dark navy polka dot plates on the wall are Kate Spade from Tuesday Morning. They are the one part of the room that Crosby thinks is kind of weird! ha!
We will see how long she lives with them. She can't understand why we would have plates as art?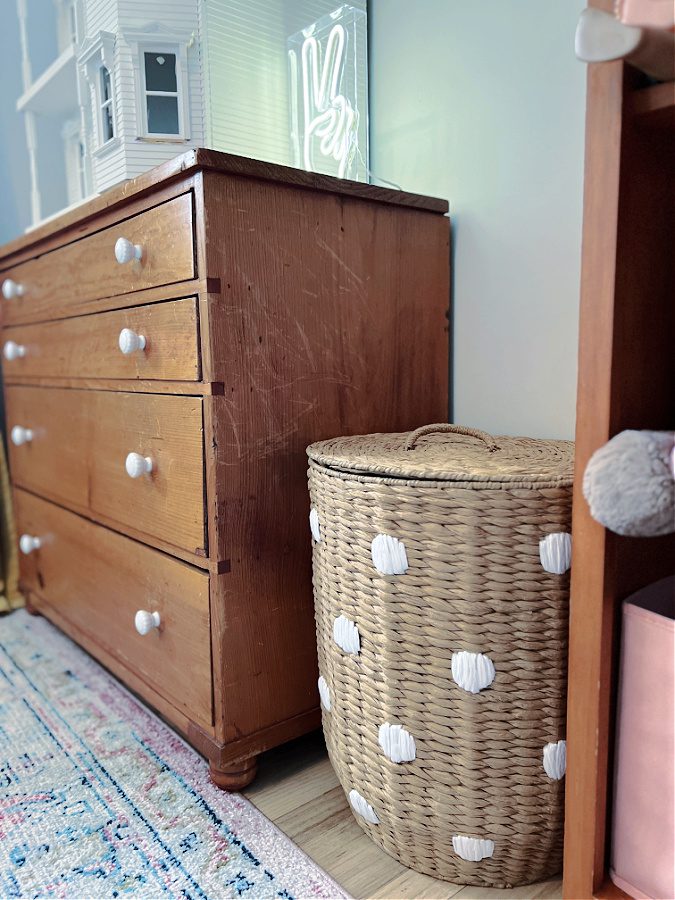 Her polka dot hamper is also from Target and the wild tiger print we hung on the built in shelves is from Home Goods as are the frames above the bed.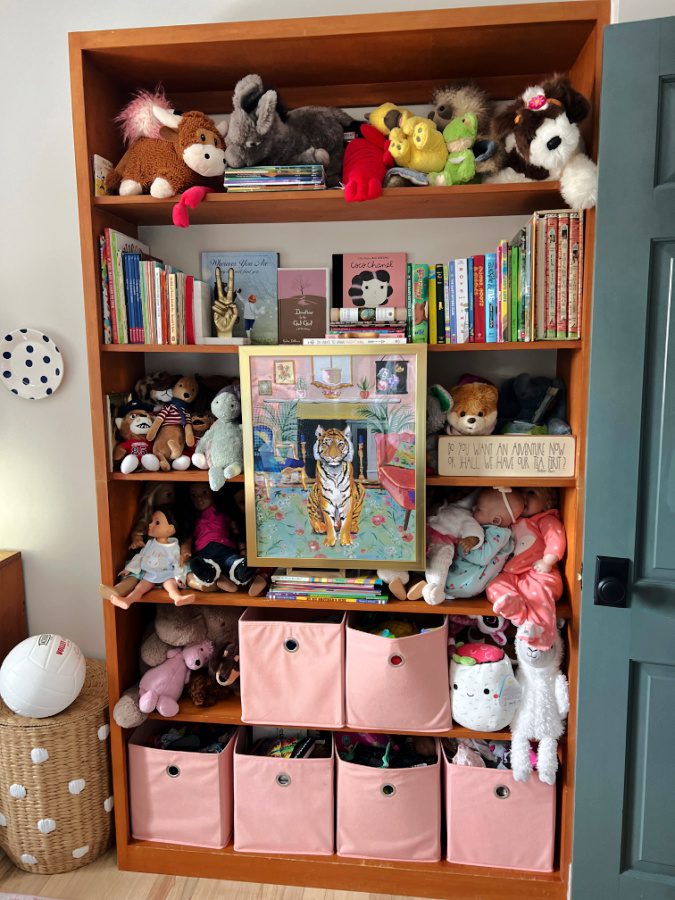 The prints in the fames are of London and New York, two places she wants to travel to! My mom bought them as Downloads from ETSY and we had them printed at Walgreens.
Affordable art is the way to go!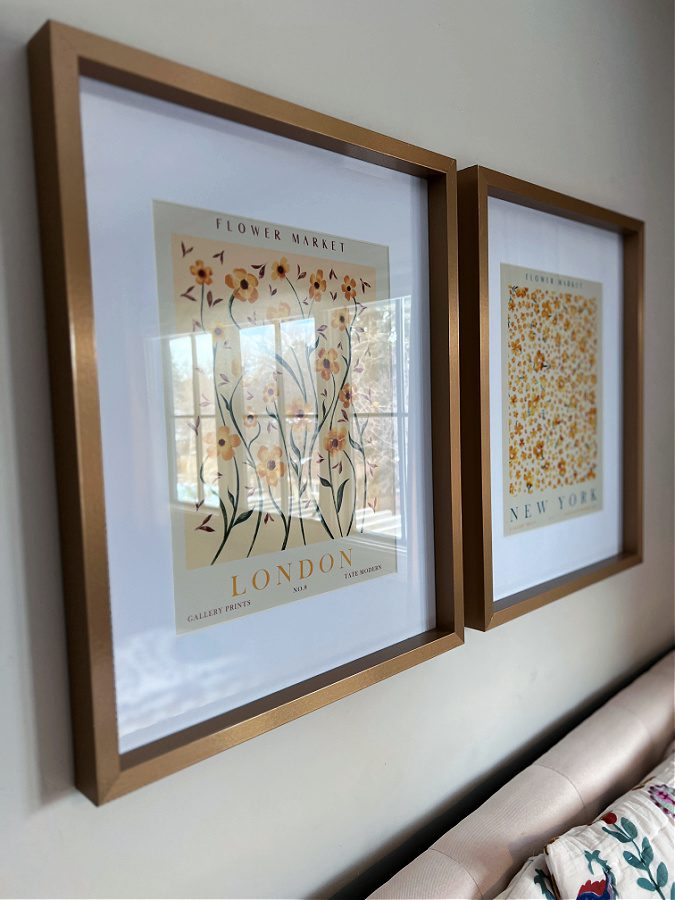 The Cabinet
We gave this old white Target cabinet a bit of a makeover! This was my mom's idea as I was ready to ditch it for something new. I'm so glad I didn't!
The original knobs were black and we used Rub n Buff to make them gold. This gold goes with the Amazon mirror, curtain rod, frames and other accents.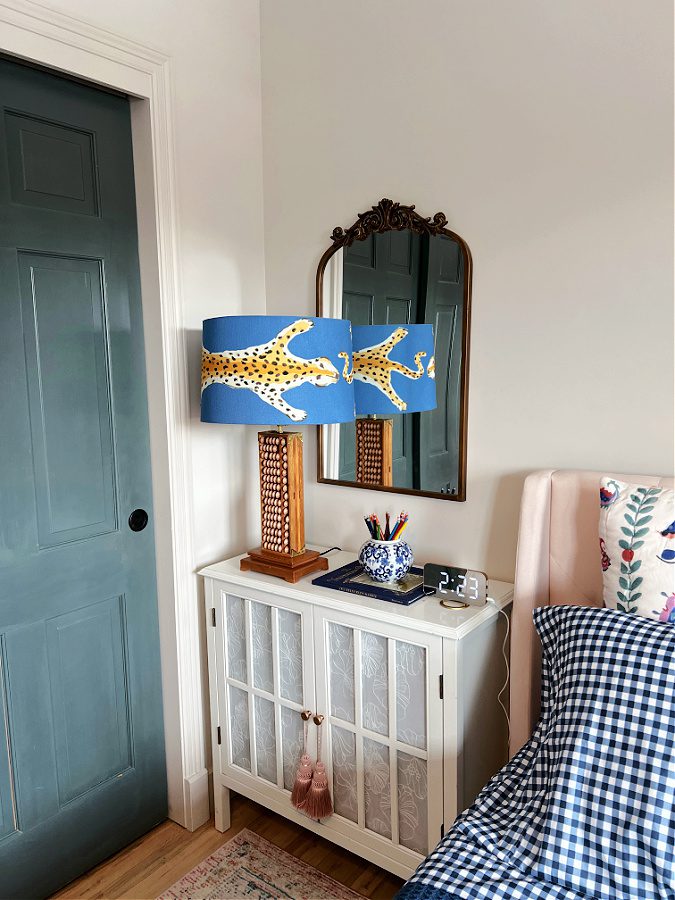 Then we added some fabric from JoAnn to the inside of the cabinet to hide all of her "kid collections'. Would you believe that we just hot glued the fabric to the inside of the doors?
It was so easy yet to impactful to the whole over all look of the cabinet!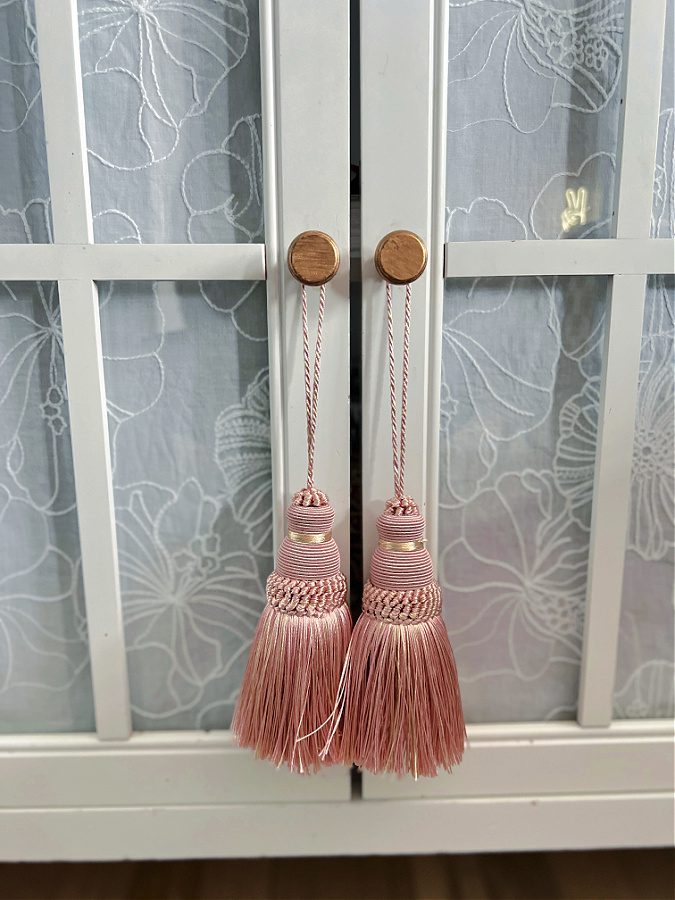 The pink tassels were the icing on the cake. I love how it turned out!
Shop Crosby's Room
Touch the arrows to scroll through items from the entire room! Tap on the picture of the item you are curious about. Have fun!

She Loves It!
The most important part is that Crosby loves it! That night she kept saying just how cool it was and how she couldn't believe it was her room. She loves snuggling up in the bed, especially with her sweet pup Kona!
You can watch her reaction HERE!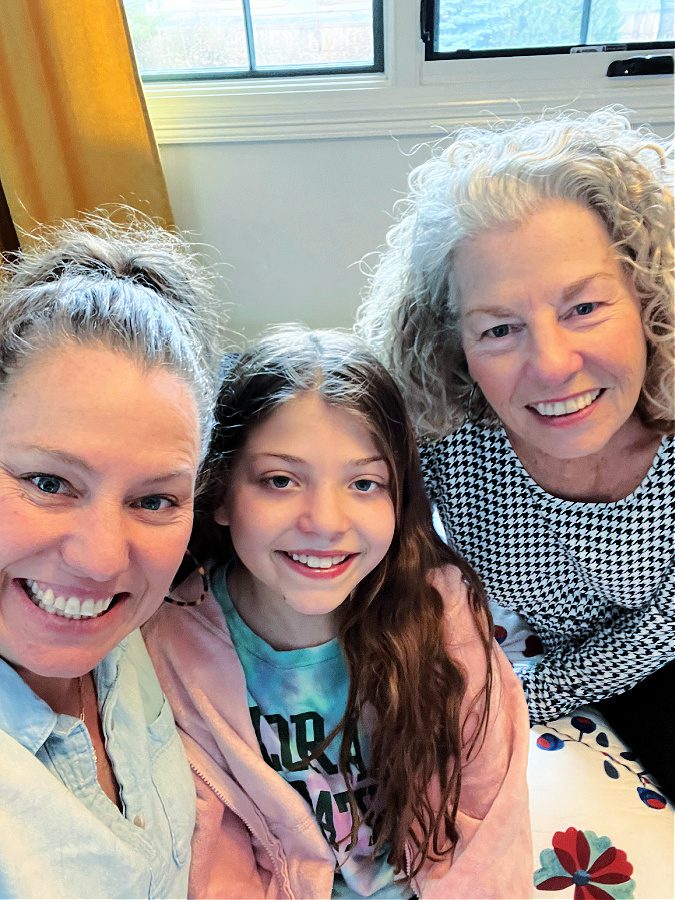 I think she will love this room for a long time! The plates on the wall might not last as long. Ha!
Crosby's New Tween Girl Bedroom
Overall Crosby's new tween girl bedroom turned out even better than we had hoped for. Just seeing her reaction and how much she loved made all of the work worth it.
Being able to make this space come alive and do it with my mom was priceless. We are a great team and I am so thankful that she has taught me everything she knows! I'm also thankful that she loves decorating just as much as I do!
What is your favorite part of the room? Do you have any questions? Leave them in the comments below!
I'd love to have you hang out with me some more! Feel free to follow along with me on any of the platforms linked below.
LTK | Facebook | Instagram | Pinterest | Amazon
xoxo,
Kelly