10 Easy DIY Spring Decor Ideas to Try
Are you ready to jump into spring like I am? With the longer days and warmer temperatures starting to creep in, it's time to enjoy some outdoor activities with friends and family while infusing your home interior with some seasonal decor. Have fun exploring these 10 easy DIY projects that are perfect for creating beautiful spring decorations without breaking the bank. All of them cost less than $25 in materials, making them affordable enough to jazz up any space in your house. And since they only take an hour or two at most, these simple DIY ideas can be completed quickly – so why not get started right away?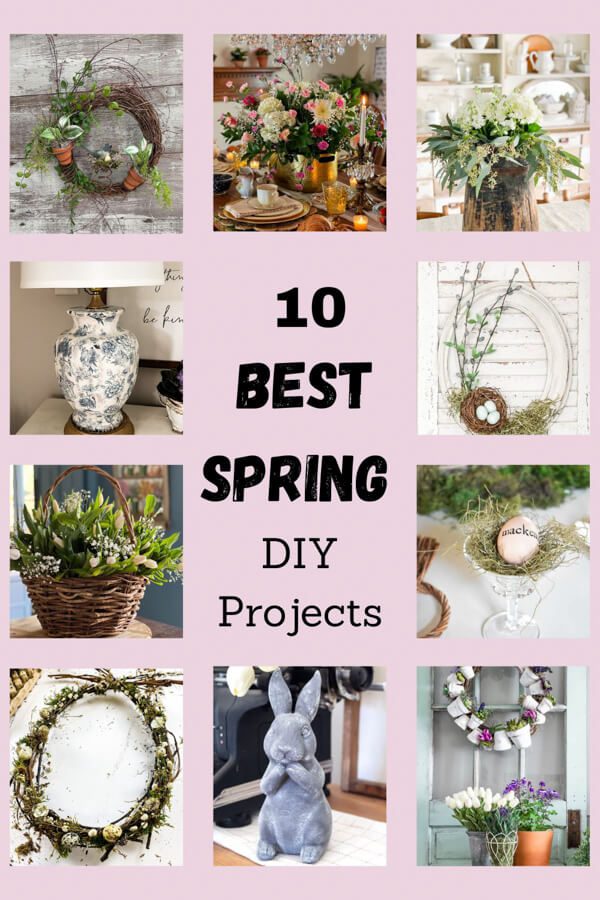 *As an Amazon Associate, I earn from qualifying purchases. This post contains other affiliate links too for your convenience. Click here to read my full disclosure policy.
10 Easy DIY Spring Decor Ideas to Try
I know we still have a bit of time before Spring truly arrives, but I am craving all things Spring and flowers!
Please tell me I'm not alone?
Today I am so excited to be joining 9 of my very talented blogging friends who also are looking forward to Spring and jumped at the chance to le me share their best Spring DIY projects all in one spot for you! A huge thank you to Rachel of The Ponds Farmhouse for organizing this fabulous group.
Have a blast reading through these 10 easy DIY Spring decor ideas to try. I'm so excited to hear which ones were your favorites!
You all know how much I love blue and white decor right? So of course the minute I saw this distressed blue and white decoupage lamp from Rachel at The Ponds Farmhouse I was intrigued! After reading her simple and detailed tutorial I was ready to run out to the thrift store and find myself a lamp! Rachel is so creative and this Spring DIY idea of hers is one I can't wait to try. Beautiful on a budget!
Jennifer from Cottage on Bunker Hill shows you how to make this rustic and natural Spring wreath that has me ready for Spring! All of the tiny little details (like the real quail eggs) add up to one big statement piece. Not only is this DIY Spring decor idea at the top of my list, but it is affordable as well! Jennifer shows you step by step how to get the same look and it took her just under 30 minutes to make. Sounds like a project that I could actually do and enjoy. Pretty much obsessed!
This flower basket is an easy DIY project that I created last Spring! In this post I shared my best tips for buying flowers, arranging them and even my secret tip for keeping them alive longer! A few of my tips might surprise you and I hope you will love creating arrangements in a basket like me. The best part is that it can be portable! I hope you will take a peek.
I'm sure you have seen this exquisite DIY Spring wreath over on Pinterest before. But did you know it was Cindy from DIY Beautify who was the one who created it? An inexpensive terracotta pot wreath, painted and aged and full of French cottage charm. Would you believe that this beauty is filled with succulents, moss and flowers all from the dollar store? It sure is and it makes a big impact no matter where you hang it. Spring perfection!
When it comes to creative table setting or decor ideas for Spring, Michele from Vintage Home Designs is one I always look to for ideas. And this hand stamped egg place card craft is seriously so darling! Her tutorial makes it look so easy and she even suggests adding inspirational words or verses for eggs that you put in a bowl for fillers. I can't wait to try this for our Easter table this year!
Stacy Ling of the blog Brick n' Blooms is giving me all the Spring vibes with her flower arrangements. Her tips and tricks on how to arrange grocery store flowers like a pro are so easy to follow! She shares great ideas on arranging them, placement and shares multiple flower arrangements that she has made herself giving you that visual example we all need. Some of them she even uses flower from her own garden. A must see post if you are a flower love like me!
Don't miss these 10 ways to style old rusty bed springs into Spring decor from Wendy of WM Design House! You will fall in love with them just like I did. I mean talk about creative juices flowing?! I adore how Wendy used these old bed springs on the wreath to hold the pits and bird nest. So many perfect DIY Spring crafts make sure to visit her post to the other 9 ideas she shares. I really loved her last idea !
No vintage vessel is off limits when it comes to adding flowers for Robyn of Robyn's French Nest! She shares her secrets to keeping Spring decor budget friendly by pairing vintage vessels and grocery store bouquets. Her eye for detail and tips and tricks are off the charts and oh so good!!! Visit her blog and be prepared to be inspired by her gorgeous neutral style that truly welcomes you in!
Regina from Saved by Salvage has a wonderful tutorial on how to make a wreath out of an oval picture frame! I mean how darn creative is that? If you love a pretty Spring wreath to display inside or out, you must check out this post from Regina. She keeps it cost effective, beautiful and it's an easy Spring decor idea!
Don't you just love the sweet little nest with eggs that she added?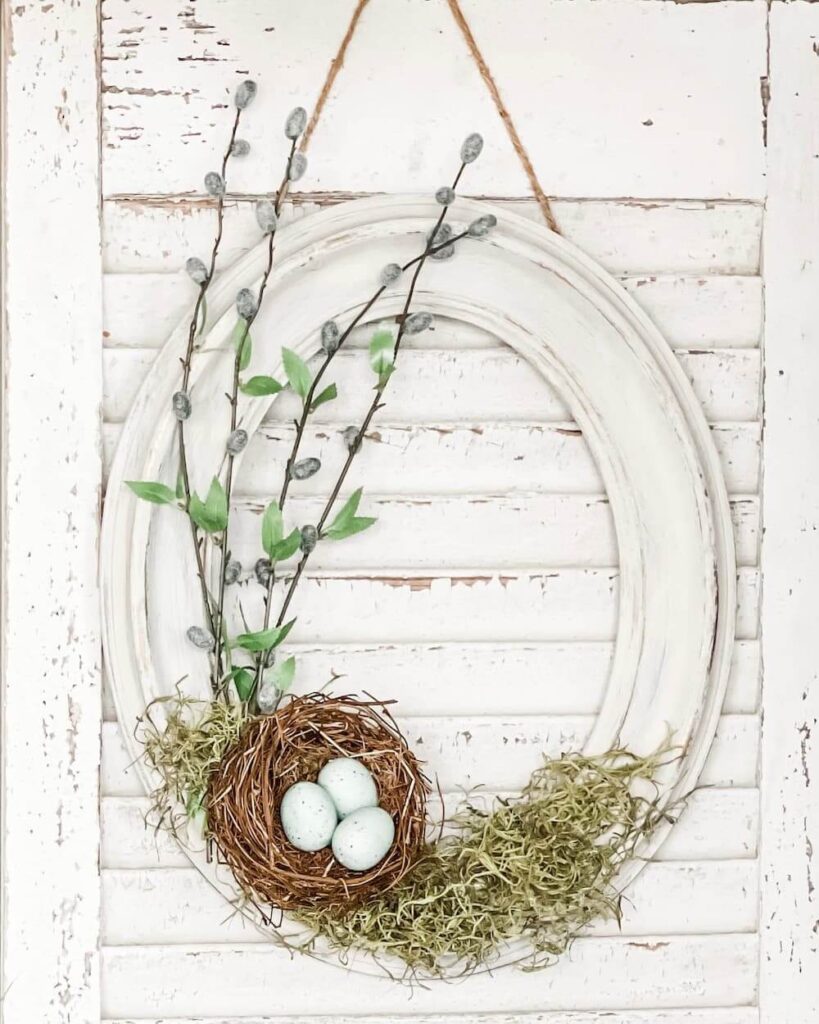 And I saved the best for last! The moment I saw this fabulous DIY from Jen at Midwest Life and Style I knew I wanted to add it to my list of ideas to try for Spring decor.
I have had my eye on the original Pottery Barn one but never wanted to pay the price they were asking. Jen's post is so good at explaining how to achieve this gorgeous look a like bunny. Jen has the best ideas and style and always get lost on her blog! A must check out project!
Easy DIY Spring Decor Ideas to Try
Adding fresh Spring decor to your home doesn't have to be expensive. Keep your budget in check this season by trying one of these ten easy DIY Spring decor ideas. From darling wreaths to vintage vessels as vases, there are plenty of ways to add a touch of Springtime whimsy without breaking the bank. So what are you waiting for? Get started on your own Spring makeover today because it will be here before we know it! Which of these 10 easy DIY Spring decor ideas will you try first?
I'd love to have you hang out with me some more! Feel free to follow along with me on any of the platforms linked below.
LTK | Facebook | Instagram | Pinterest | Amazon
xoxo,
Kelly
Did you like this post? PIN it for later!