Half Bath Makeover Plans and Mood Boards
These half bath makeover plans and mood boards will inspire you with sources, images and ideas for your next small bathroom makeover.
Half Bath Makeover Plans and Mood Boards
Yes friends the title is true! We are currently in the works of creating half bath makeover plans and mood boards for our downstairs bathroom. Well, technically I am creating those plans and I will have my hubby sign off on them before I move forward!
Half Bath Mood Boards
Here are the mood boards I have created for our downstairs tiny bathroom. If you have followed me here on the Tattered Pew for awhile you know that I have been decorating and adding charm to our builder grade home as our budget allows. Well, I am finally ready to tackle our downstairs half bath.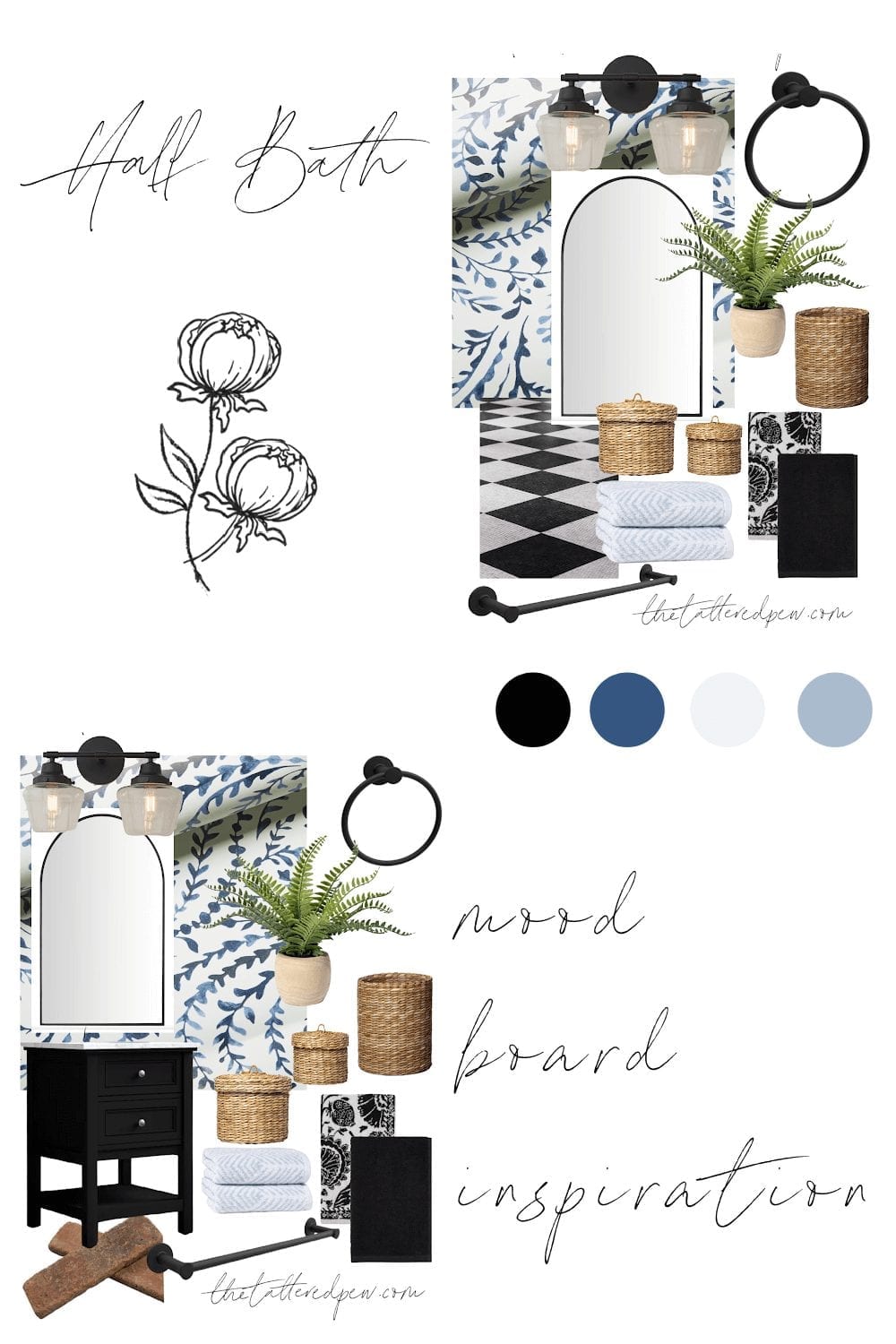 Now let me warn you.
This will be a multi step process so I want you to consider this post as, Part 1: my plans and vision!
Here is what our bathroom currently looks like.
The Current Half Bath Situation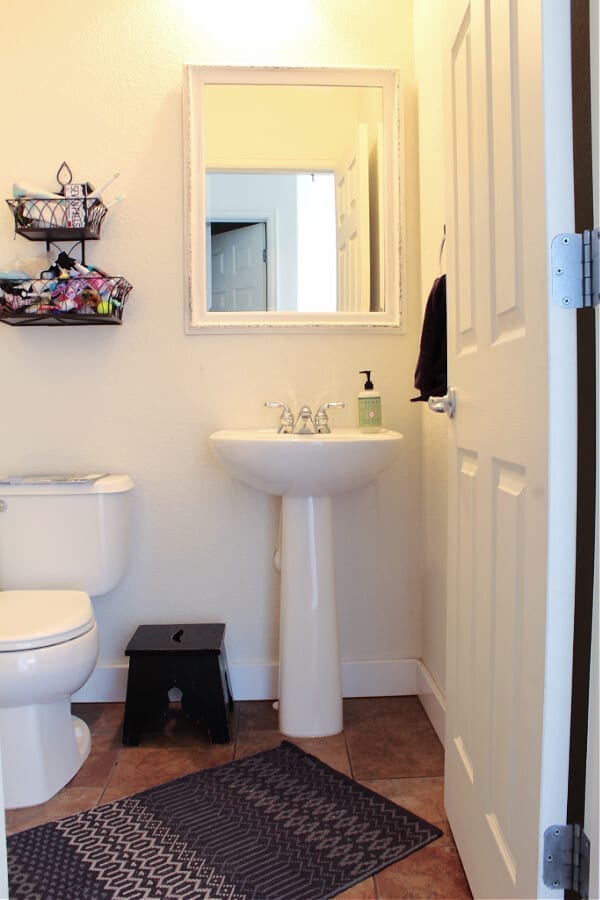 I apologize for the not so great picture. Since it's such a small space it is hard to get a good picture. But just remember, it's super small and super boring! This bathroom sits directly off of our garage entry. It has all the original builder grade finishes including the paint. The only thing I have added was a new (old) mirror which was done over 10 years ago. She is tired and it's time she gets a bit of a facelift.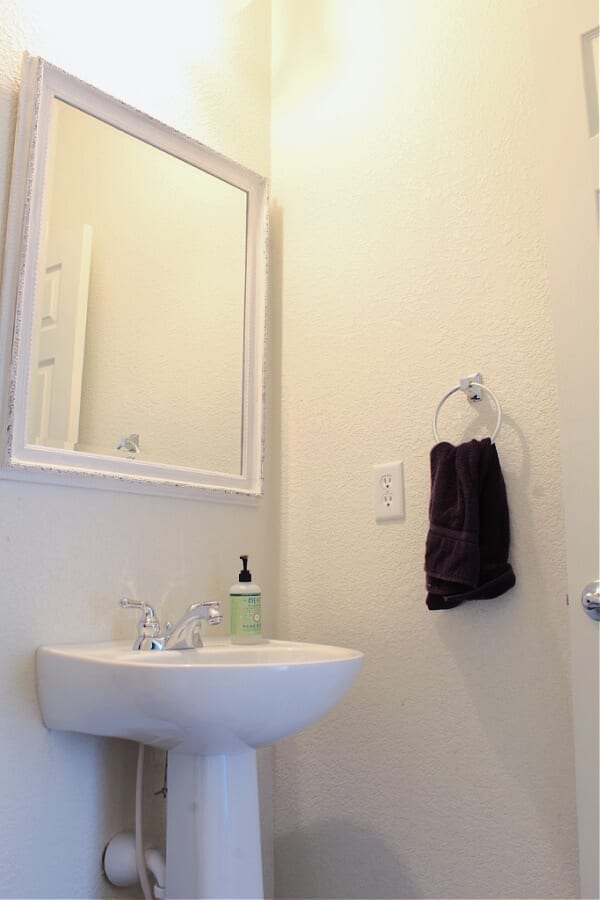 Especially since she is the bathroom used by our visitors!
The Inspiration Behind My Mood Boards
For this half bath makeover I have been scouring Pinterest, Instagram and several of my favorite blogs for inspiration. It has been so much fun!
Lately I have been loving two colors together. The combination of light blue and black has stolen my heart. I fell in love with this bathroom color combo from my friend Jen of Rambling Renovators. Her light blue walls and black accents had me swooning!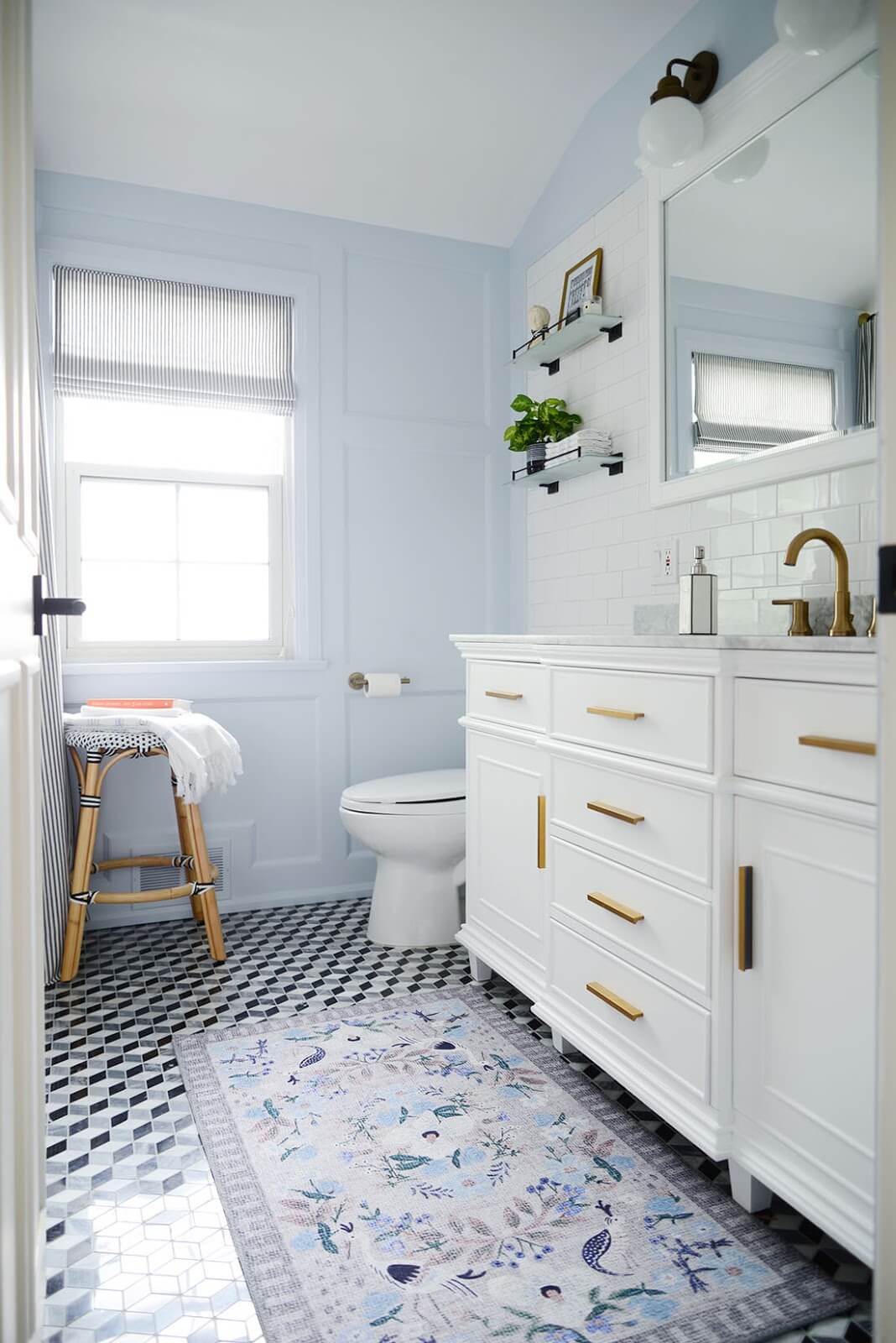 Wallpaper Inspiration
The moment I saw this wallpaper from Serena and Lily on my friend Molly In Maine's Instagram feed, I was determined to find a space for it! I'm a sucker for blue and the mixture of blues in this wallpaper are the perfect combo!
So I figured why not try it in my own bathroom? I know how to wallpaper since I did it in my bedroom! With our half bath being so small and having no windows I feel like a bold pattern in just what it needs.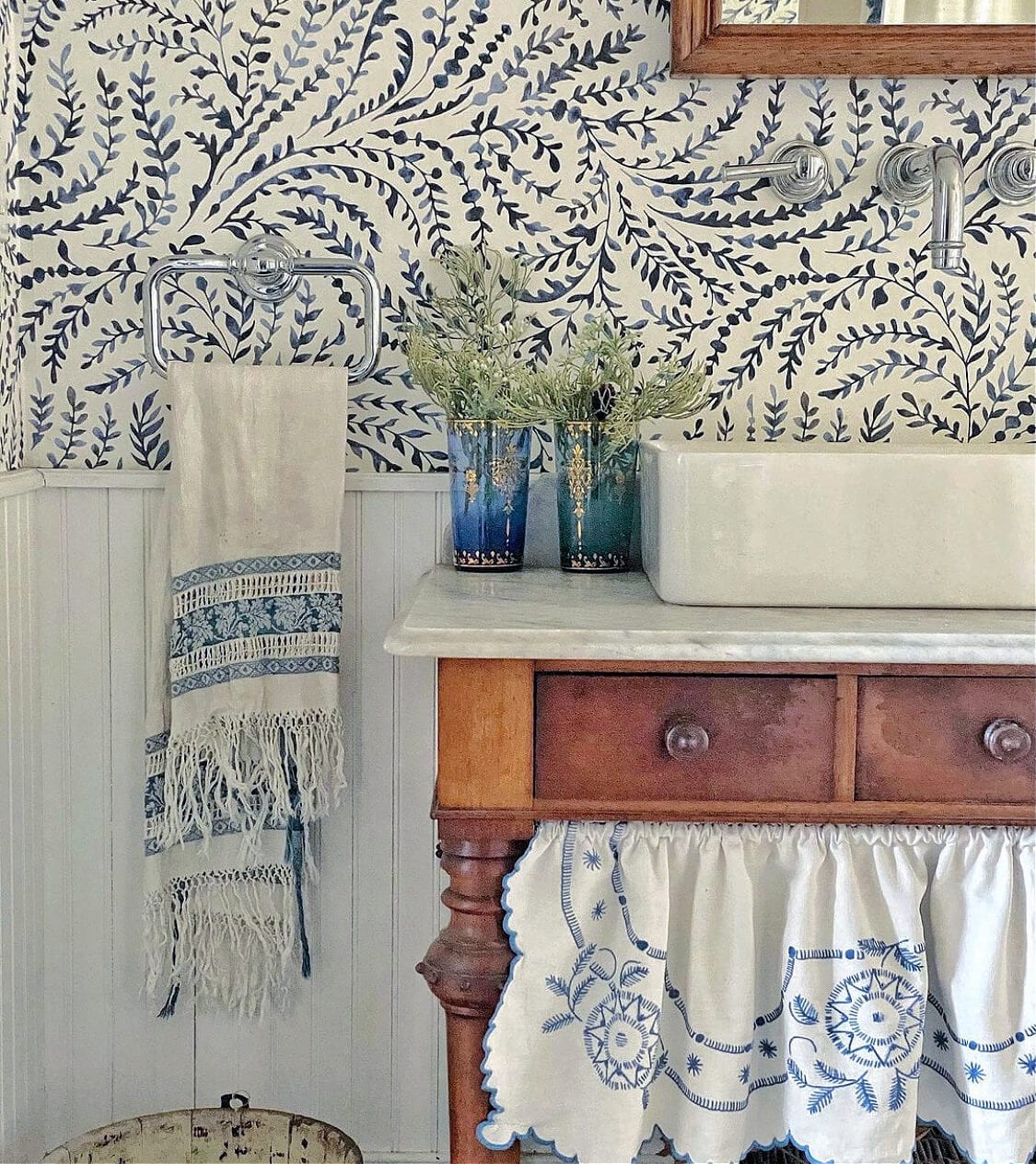 Floor Inspiration
On to the floors.
My biggest nemesis. Here is a close up. Yikes, right?!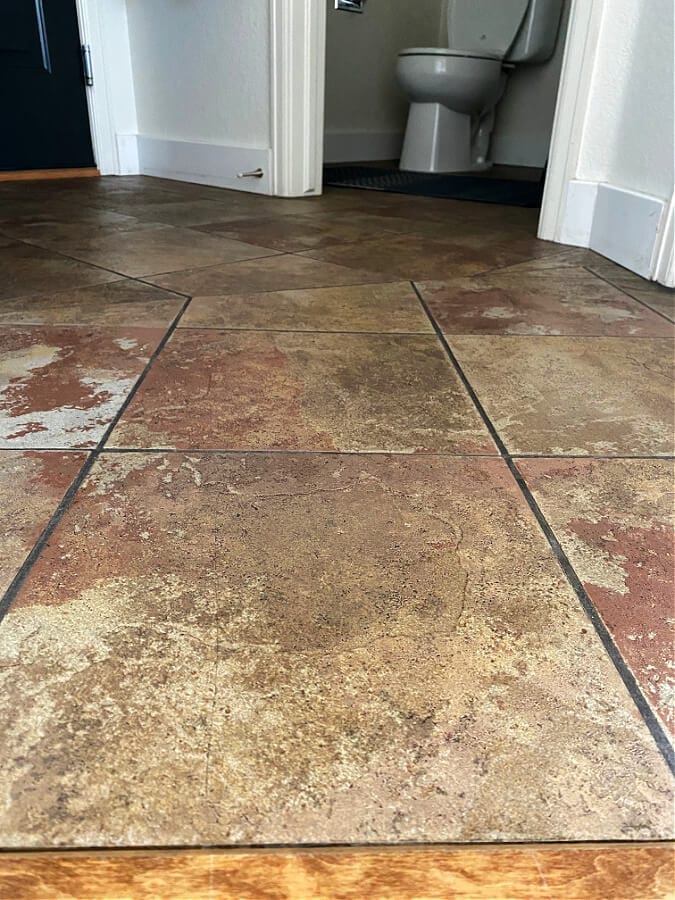 I literally have removed this red tile from everywhere else in our home because it's just not me. We need new floors but new floors usually equal a lot of money. So I am looking at some options as I try to keep this makeover budget friendly!
Currently I am torn between two flooring options. The first option is for me to paint the current tile we have in a black and white harlequin pattern. Of course I wish I could use real tile but that's not in the budget. I was inspired by Wildflower Home Blog and her beautifully painted kitchen floors. She shared a great tutorial!
The second floor option is to add a brick floor. My sister has been talking about doing these in her mudroom for years and she found a great tutorial on Carla's Coastal Creations blog.
Now this would not be a full brick floor but rather a thin brick. Home Depot carries these and they are gorgeous. The good news is that I could add them directly on top of my existing tile simply by using adhesive since they are so thin! My kind of DIY!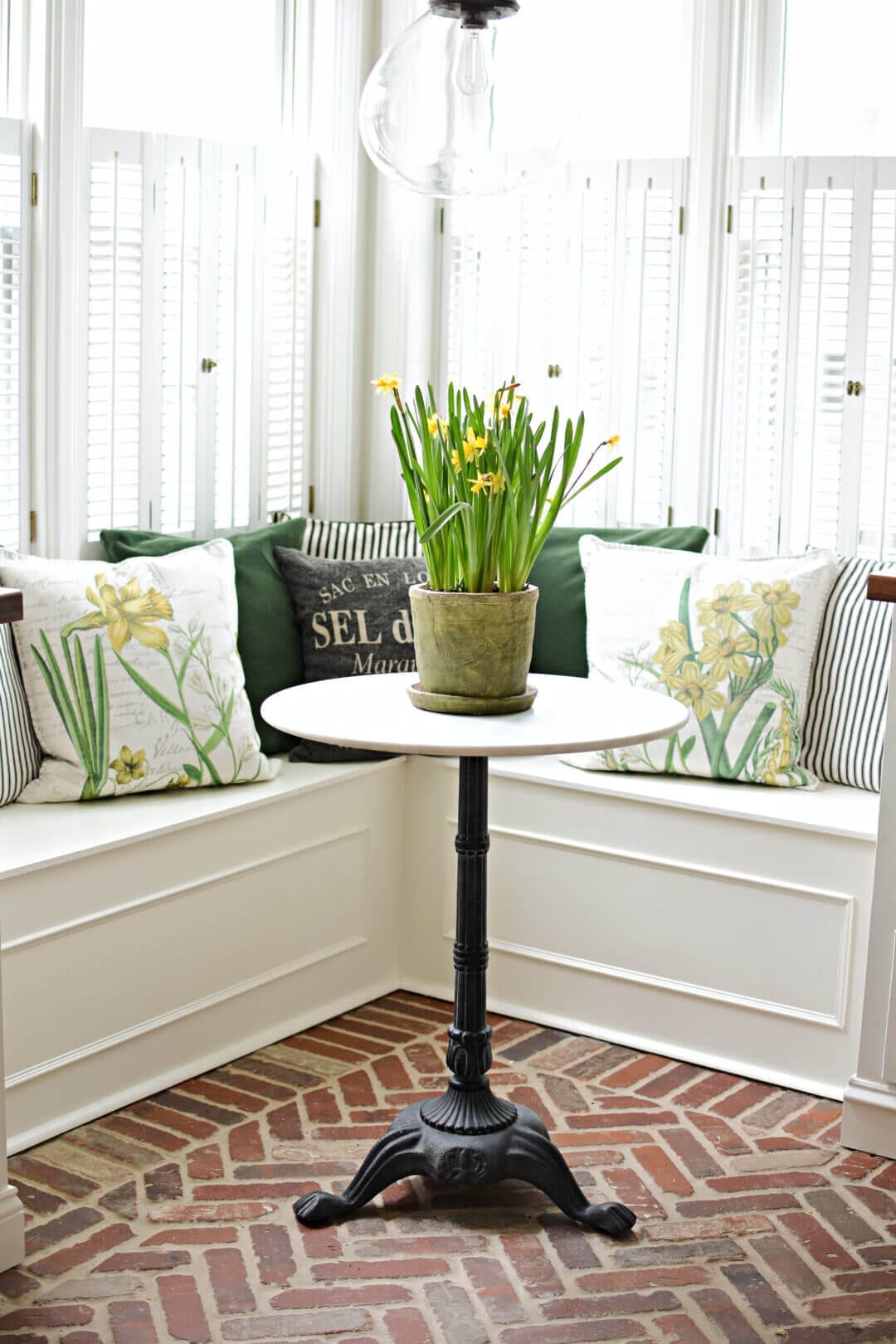 Our Half Bath Makeover Plans
Ok, now on to my plans! So the first thing I plan to do for our half bath is give it a little refresh. The plan is to simply add new towels, towel bars, a mirror, and spray paint the existing light black. All doable things in a day! The wallpaper I will save for another weekend probably when I am out of school for the summer.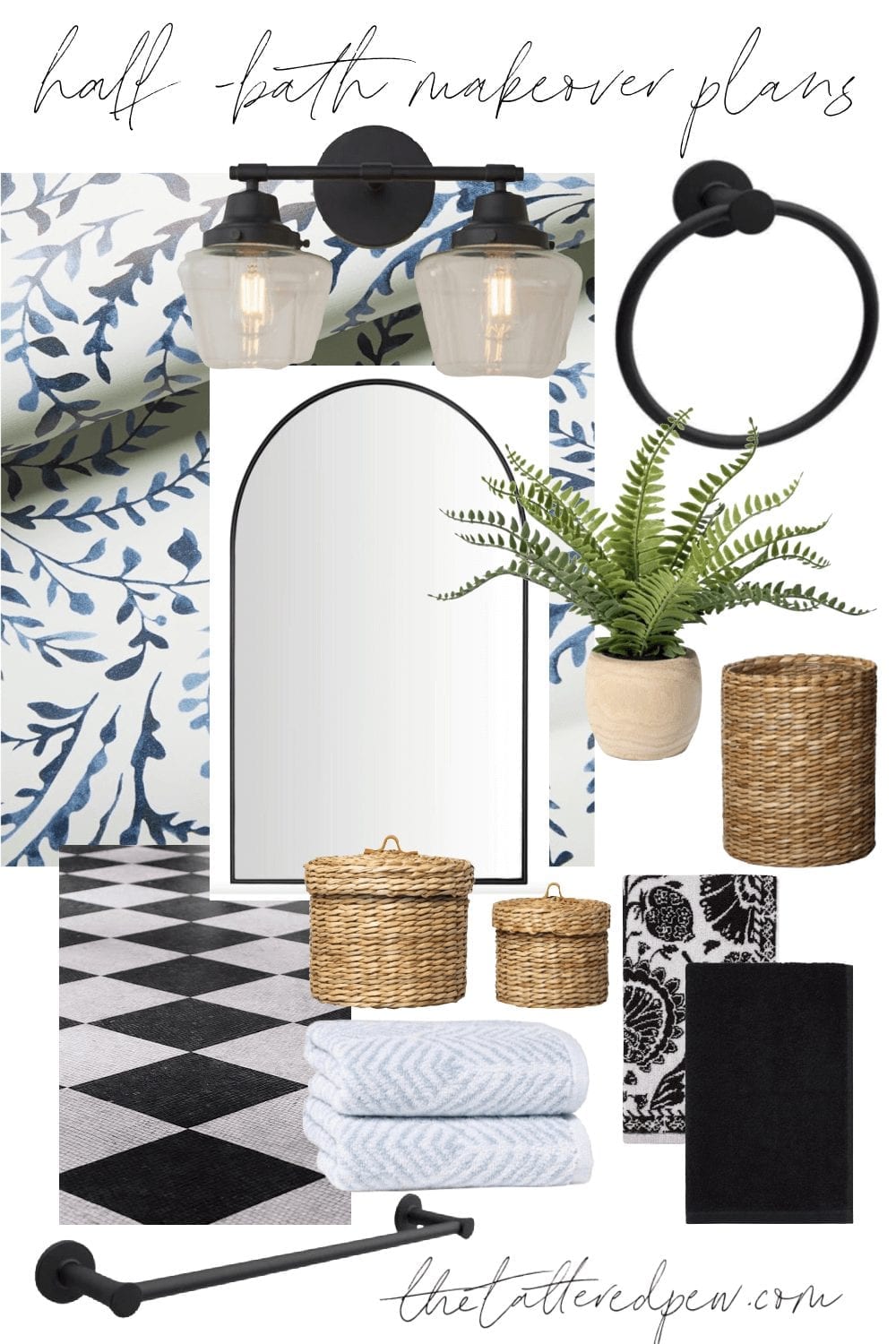 Shop My Half Bath Makeover Plans

Half Bath Makeover Dreams
The mood board below is my dream board! It includes a new vanity, new lights, and the brick floors. This is a down the road dream but I couldn't help switching a few things out to see how they would look in the mood board! All items that aren't necessary so will be added as we save our money. If the floors do happen it will be in a few months when I am on summer break from teaching. Those babies are going to require a lot of time.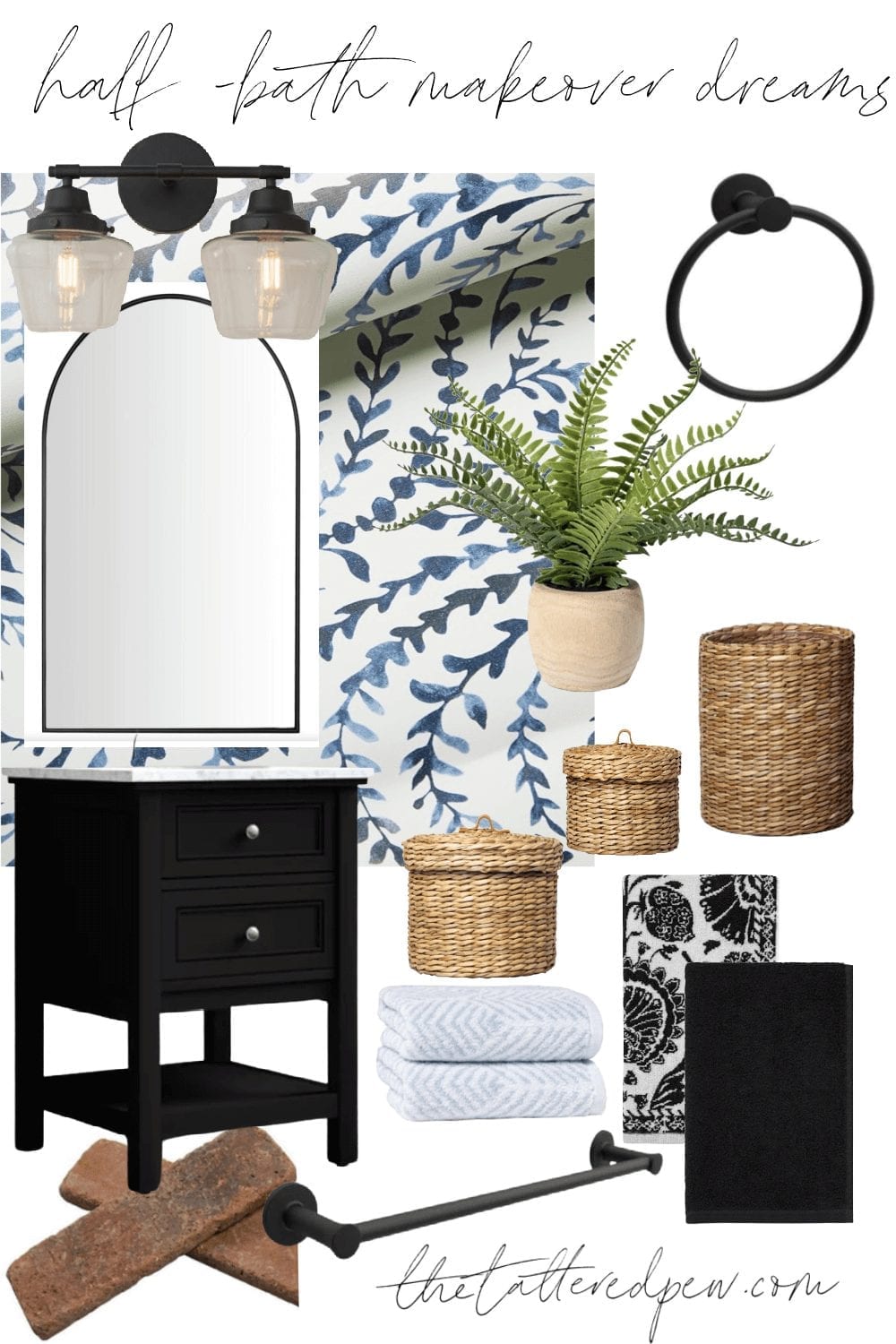 Shop This Dream Mood Board

Making These Come To Life
Now my job is to make mood board number one come to life and then save, save, save to accomplish the remaining pieces. I will be sharing my progress with you next week and I am so excited! There is just something so magical about a makeover and especially one you do on your own!
So what do you think? Both the mood boards are pretty similar but what floors would you go with? Black and white harlequin, or brick? Leave your vote in the comments below!
XOXO,
Kelly