DIY Moss and Glitter Wreath
Christmas is just around the corner and this past weekend it snowed here in Colorado and it instantly put me in the mood for all things Christmas! Since I shared my Christmas mantel with you all last week I thought it would be fun to share a quick and easy Christmas DIY with you this week. You will love this DIY moss and glitter wreath!
DIY Moss and Glitter Wreath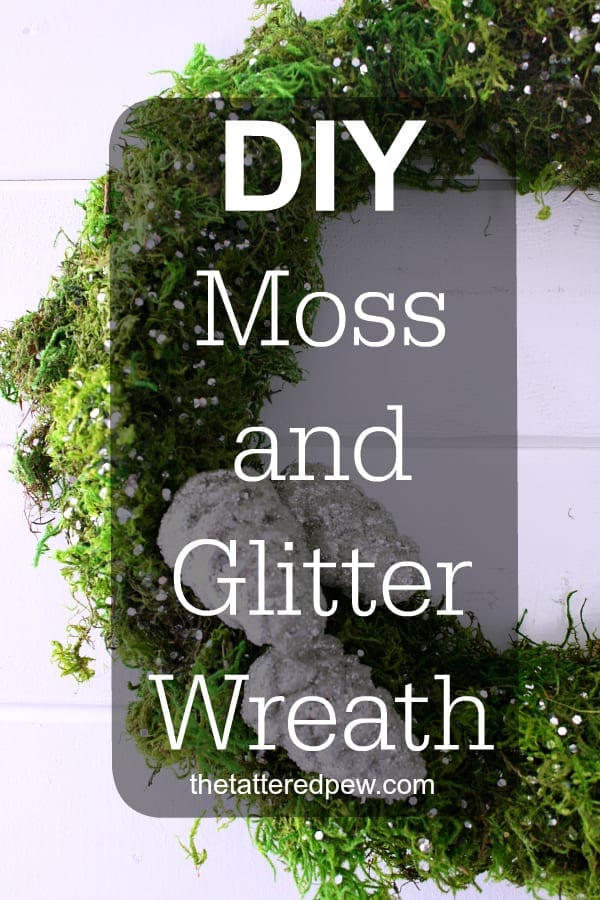 Have Yourself A Merry Little DIY
Today I am excited to be hosting the "Have Yourself A Merry Little DIY" blog hop where 12 bloggers come together to share Chirstmas DIYs over the next two days. Today is day one! If you are coming from Lindsay at Aratari at Home, welcome didn't you just love her candy cane popcorn recipe? Yum!

My Inspiration
If you saw my Christmas mantel featuring my dough bowl centerpiece you know that I am loving moss lately. So since I had an entire bag of moss left over from that DIY I decided I wanted to use it to make a wreath. I didn't want it to be just a plain moss wreath so I spiced it up with some chunky glitter and glittery pine cone picks.
DIY Moss and Glitter Wreath
Here is what you will need to make this wreath:
1 bag of moss
chunky glitter (I found mine in the dollar bins at Target)
glue gun
metal wreath ring (I found mine on-sale at JOANN but I have seen them at the dollar store too!)
glitter pine cone picks (or any embellishment of your liking)
Gather your supplies and find a flat area to make your wreath. Make sure to lay down trash bags to catch any excess moss or glitter. Trust me, this step makes clean up much easier!
Start stuffing the moss into your metal wreath ring and add hot glue as needed to the metal frame so the moss will stick.
Once you are done stuffing and spreading the moss around the wreath frame hold it up to see any holes or areas you may have missed with the moss.
Next, lay the wreath down and sprinkle on as much glitter as your little heart desires! If you have spay adhesive I suggest you use this to help the glitter stay in place.
Finally, hold it up and shake off any excess over the garbage bag. Then add your floral picks or embellishments wherever you love! I love using picks because they stick right in and can be moved around in different spots.
Hang it up and enjoy!
A Beautiful DIY Moss and Glitter Wreath
I had so much fun making this DIY moss and glitter wreath. You should definitely give it a try for yourself…I think you will be surprised at how quick it is to make and how cheap it is too! Whether you use glittery pine cones like me or something else, I would love to know if you make your own! Let me know in an email, a message on Instagram or Facebook or even a comment here on the blog! I may just end up sharing yours on my social media!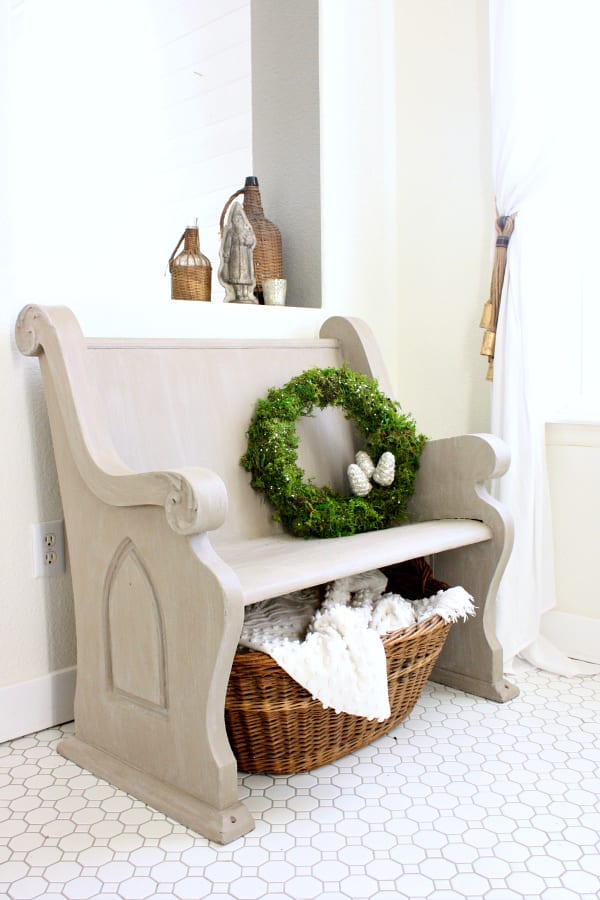 Next, head over to my talented friend Leslie at My 100 Year Old Home and see her DIY wreath! The rest of today's bloggers are listed below and make sure you stop back tomorrow to see the bloggers sharing their DIYs on Thursday!

Wednesday


Aratari At Home // The Tattered Pew // My 100 Year Old Home


Crisp Collective // Bless This Nest // Adored House
Thursday


Seeking Lavender Lane // The Honeycomb Home // Joy In Our Home


She Gave It A Go // Grace In My Space // Little Nest of Four
XOXO,
Kelly
Did you like this post? Pin it for later!