Our Colorful Christmas Home Tour
Our Colorful Christmas Home Tour
Hi and welcome, today I am joining some friends in the Homes for the Holidays 2016 home tours hosted by Cindy over at A Cottage Girl! Welcome if you are stopping by from my lovely friend Jocelyn's tour over at The Clementine Colonial. If you haven't seen her home yet you must stop by after you are done here!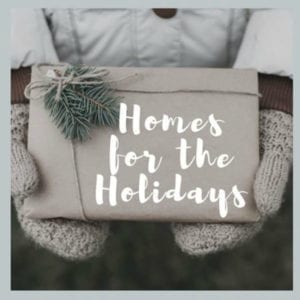 Our Colorful Christmas Home Tour
Today I am so excited to share with you our home all dressed up for Christmas! This year I had some extra help from my four year old, who just like her momma, is obsessed with all things Christmas! I love her excitement and find it contagious. In our home we bring out the traditional Christmas colors and this year we added in some plaids and blues! I always want our home to feel warm, cozy and inviting and even more so during the holidays.  Ok, enough talking…I can't wait to see what you think!
So come on in… this our front door. I love this whimsical Santa and have had him for years. This year I added the vinyl welcome sign to our door from Welcoming Walls Vinyl and I think it compliments the white in the Santa perfectly. I also placed my Decor Steals vintage olive bucket outside with some birch logs.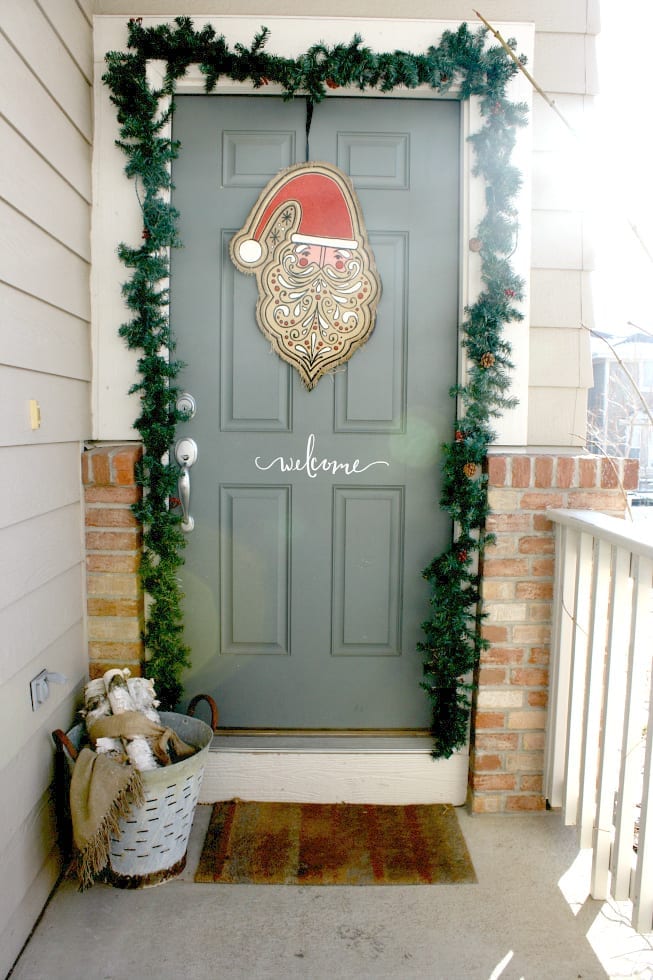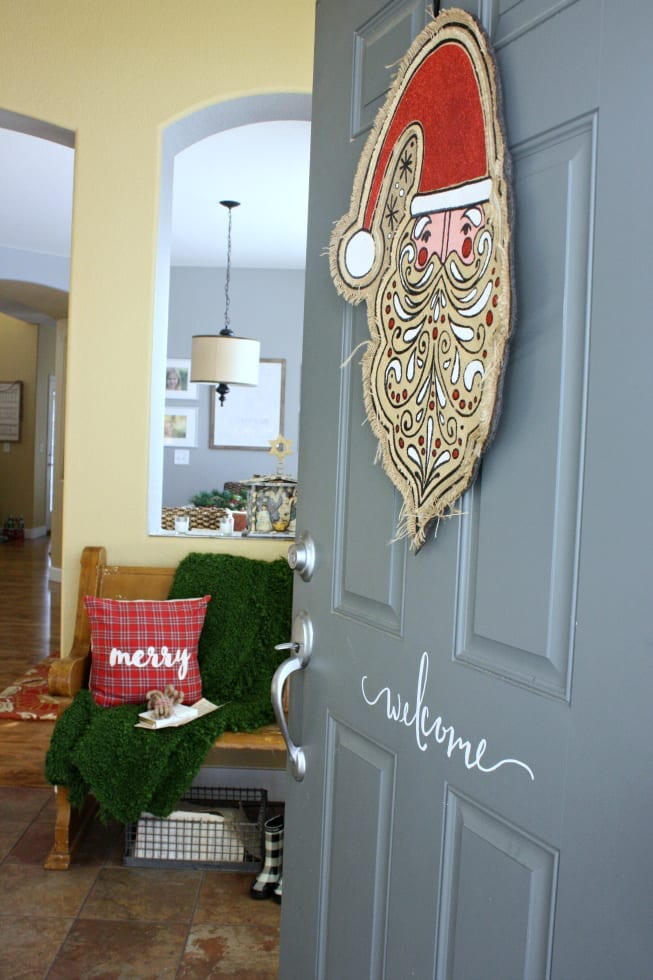 As you walk in to our home you are greeted by my beloved pew! I have her all dressed up with this darling plaid merry pillow from Toile De Jute and a fun green throw from IKEA.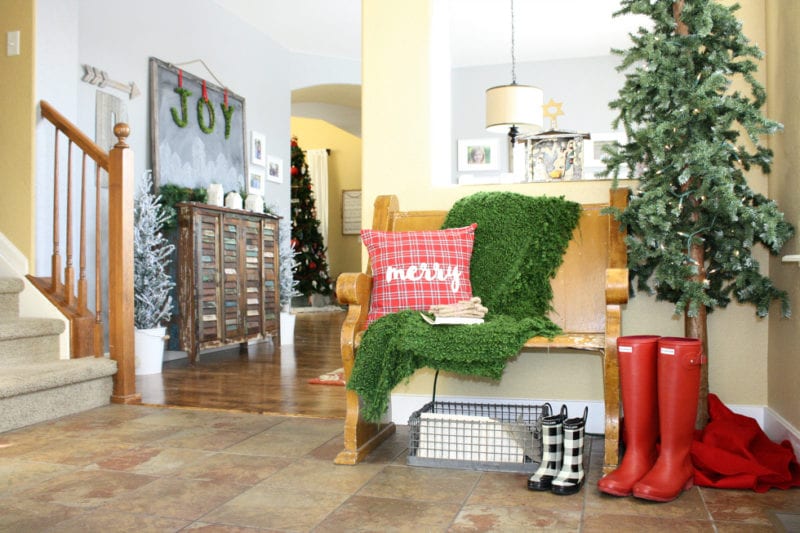 The entry leads you directly in to our dining room and showcases my fabulous new chalkboard from KNAPSACK. The chalkboard was an early birthday gift for me from my husband and kids. I am one loved and spoiled mom and wife !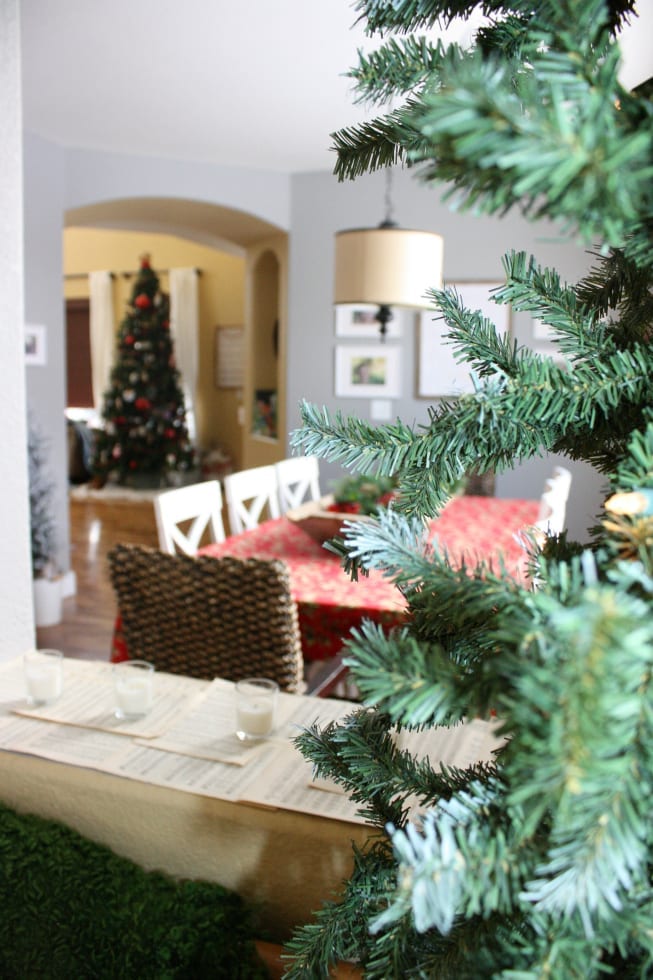 Just above the pew you can peek through this alcove and see our tree in the distance. I have layered the shelf with old hymns and candles. Had to sneak a few hymns in of course!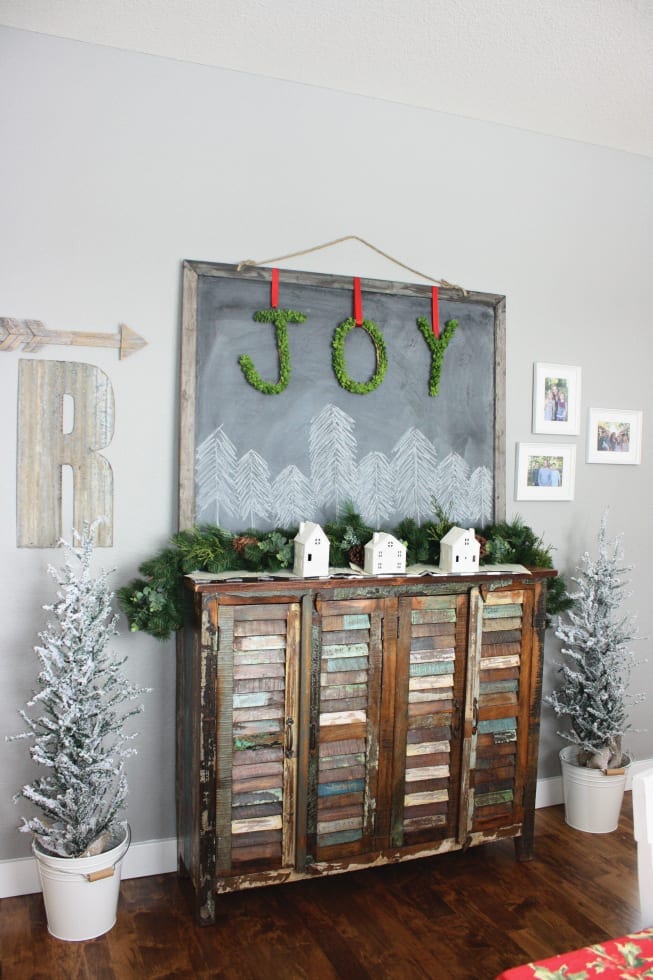 Here is a closer look at my new chalkboard. I did a little DIY chalk art and created these fun winter trees. It was so easy! Then I hung my faux JOY boxwood letters from the top with red ribbon from Hobby Lobby. The white houses are from the Target dollar bins and the green garland was half price last Christmas at a shop here in town called Cozy Cottage. And aren't those little flocked trees amazing? They were a steal of a deal ($18) from Walmart!  They had some wonderful Christmas decor this season and you will see later the flocked tree in my bedroom, also from Walmart. The white pails are my mom's and she purchased them at IKEA and let me borrow them.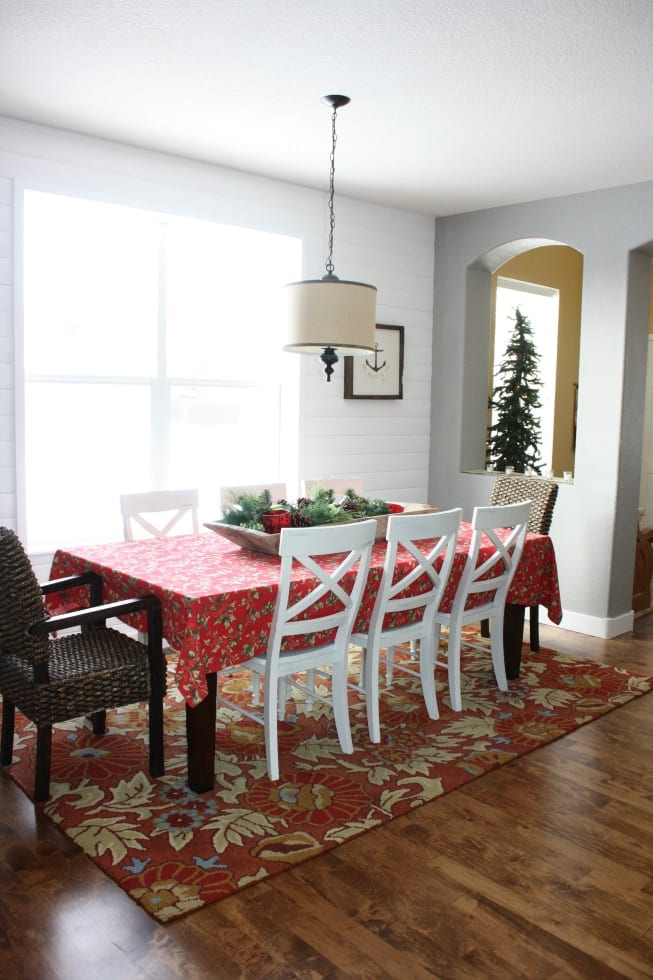 Across from the chalkboard and buffet is my dining room table which is complimented by my shiplap wall. I love how bright this room is!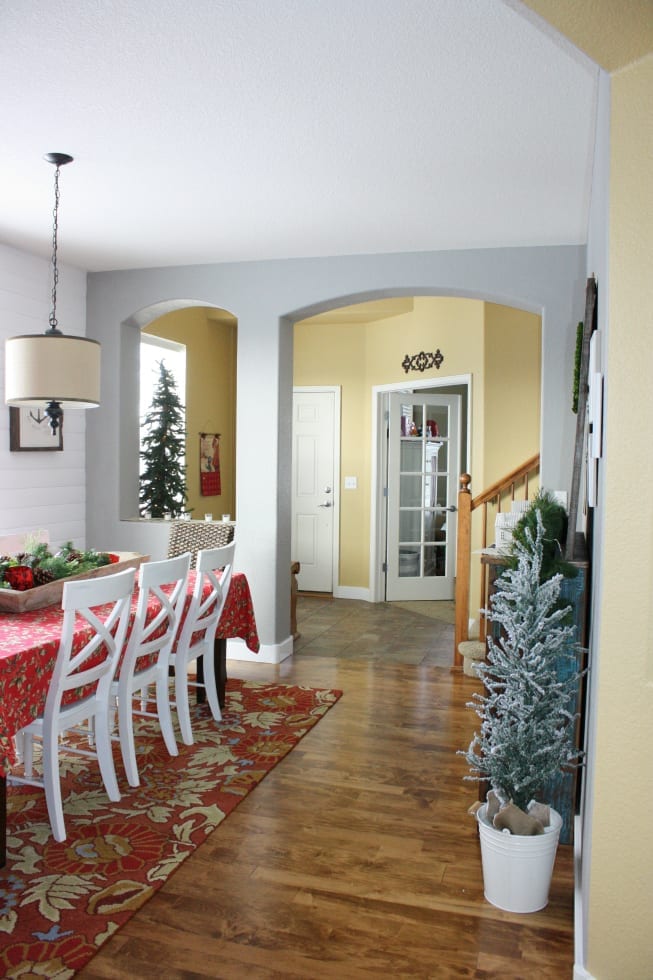 This is the view looking back into our entry and dining room.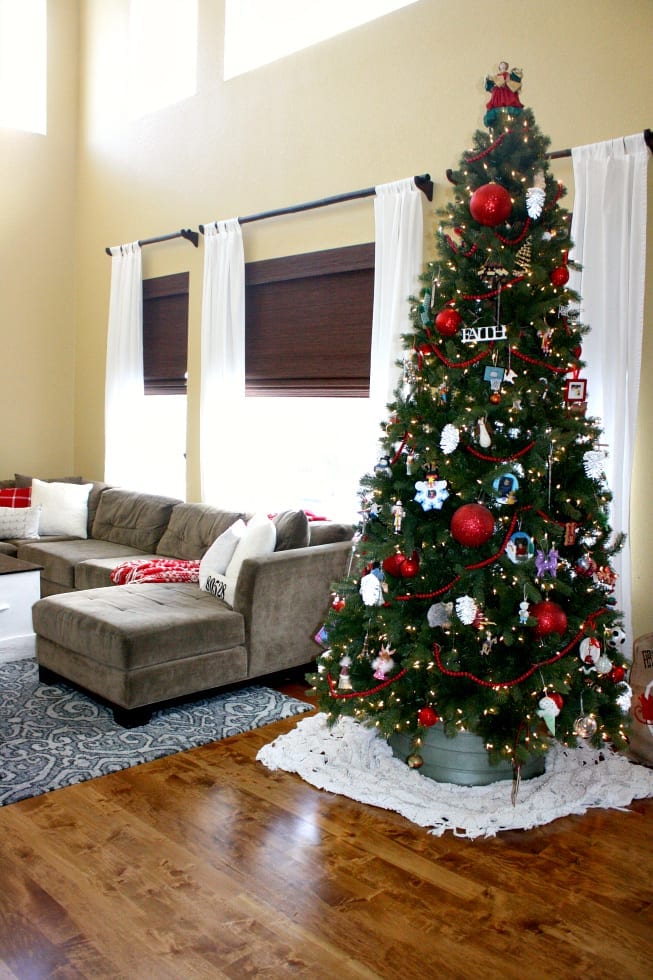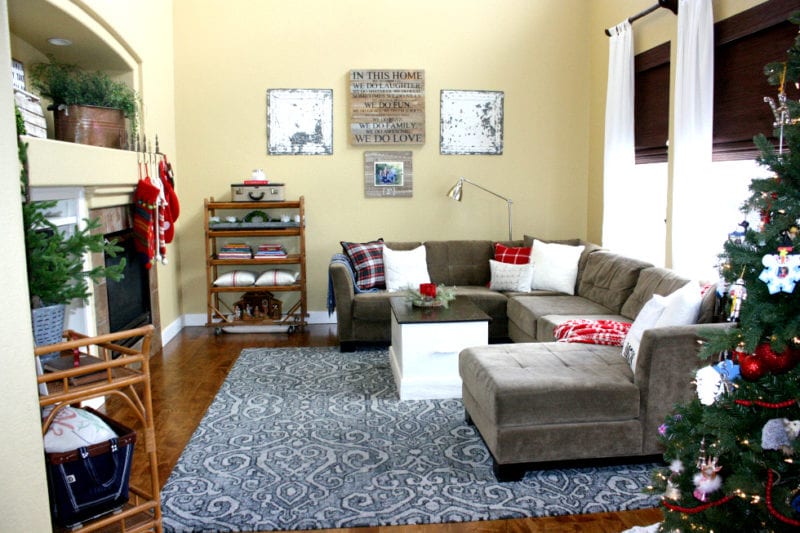 As you walk further into our house you come to our tree and our family room on the left. Our tree was purchased from Balsam Hill during their after Christmas sale! If you are in the market for a new tree, their day after Christmas sale is usually well over 50% off their incredible trees. We got an amazing deal on it and I love how grand it appears even with our vaulted ceilings.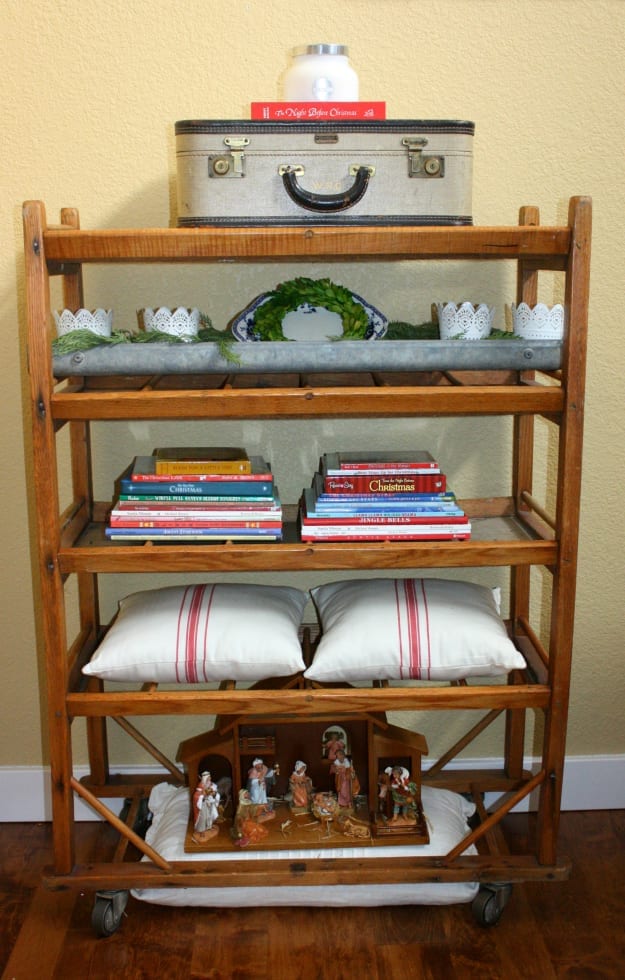 This fabulous antique drying rack (another gift from my wonderful husband) is home to our Christmas book collection and our nativity set. I like to have them both low because our kids play with the set and read the books all the time. We have a fun family tradition that my grandmother started that involves the nativity set. We hide the little baby Jesus (in the kitchen drawer) and bring him out on his birthday, Christmas morning. This simple game is the perfect reminder to my family the real reason we celebrate Christmas. I loved this tradition as a child and I love that my kids have come to love it as well.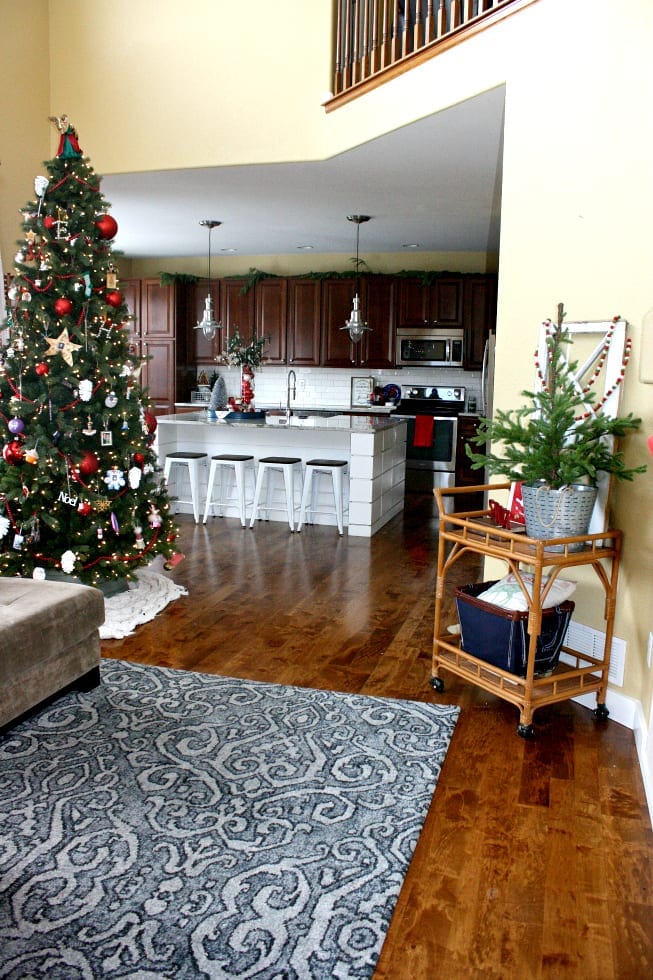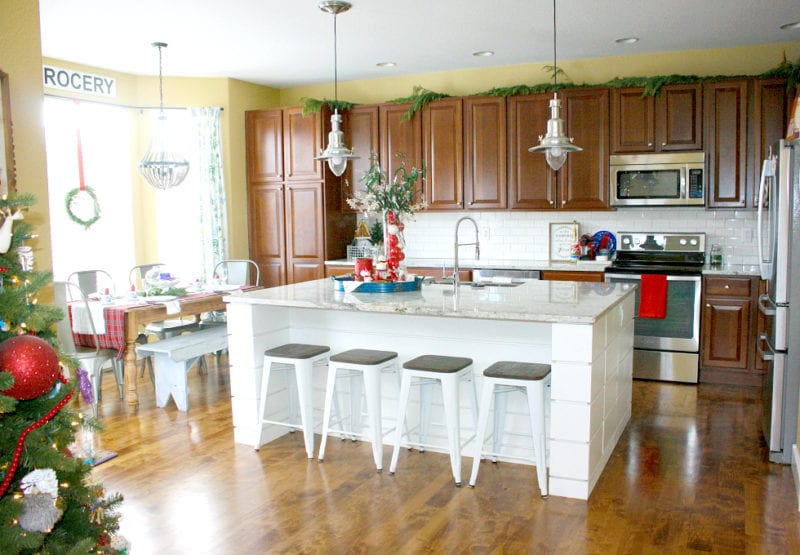 Our kitchen is right off of the family room and I enjoy how the two rooms connect because these two spaces are where you can often find our family of 6.  As you look to the left in the kitchen you can see our kitchen table. I posted all about how I dressed it up for Christmas and if you missed it you can take a peek here! From here I will finish the tour upstairs in our master bedroom.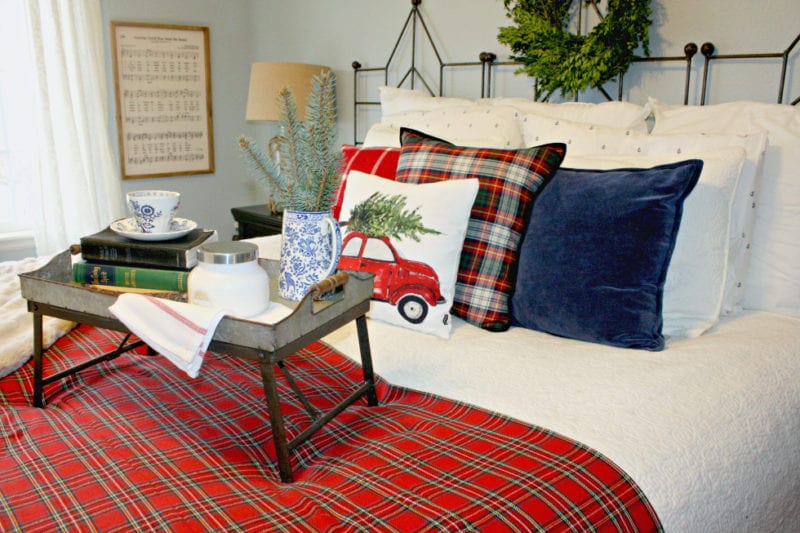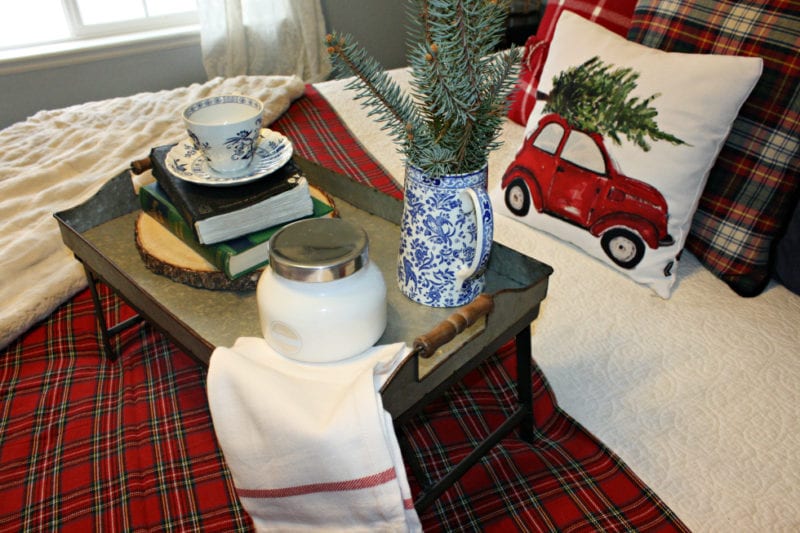 Our master bedroom is hands down my favorite room in our house currently. It is so cozy and has that warm Christmas feeling that I crave. I credit the beautiful flocked 6ft tree we found at Walmart for this cozy ambiance. I placed it at the foot of our bed in a basket that we already had and usually keep in the girls' room. It fit perfectly!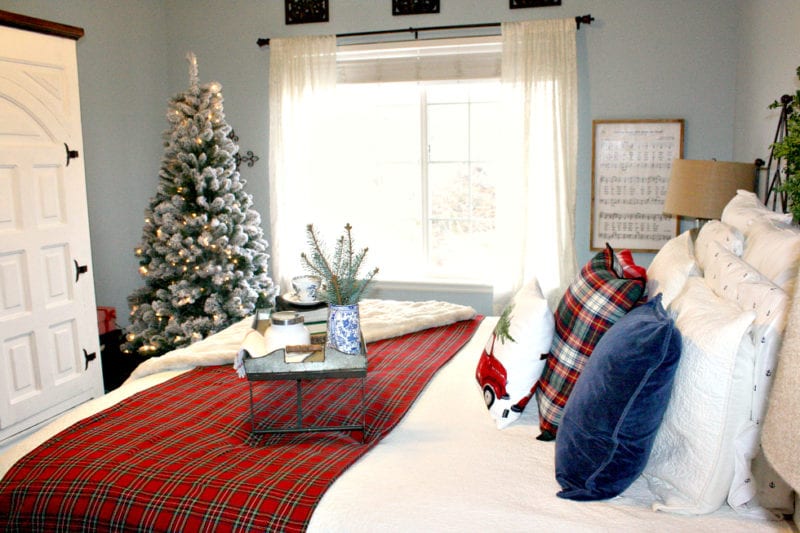 I am also loving all the plaids and this amazing tray from KNAPSACK.  The plaid "throw" on the end of my bed is actually a tablecloth that my mom found for me for only $9.99 at HomeGoods.  I love how it pops against the white bedspread. I also found most of the pillows you see from HomeGoods and the darling red car pillow is from Ms Craftberry Bush. The wooden Hymn sign against the wall is from my friend Vanessa at A  Modern Vintage Home.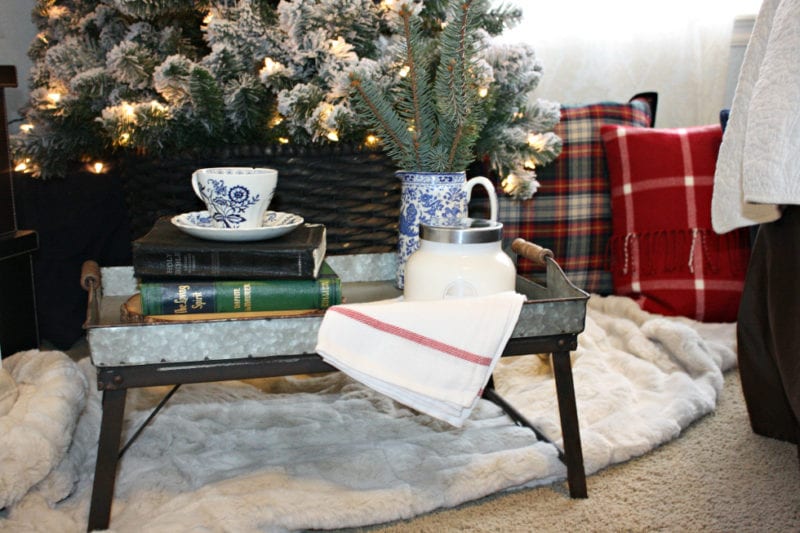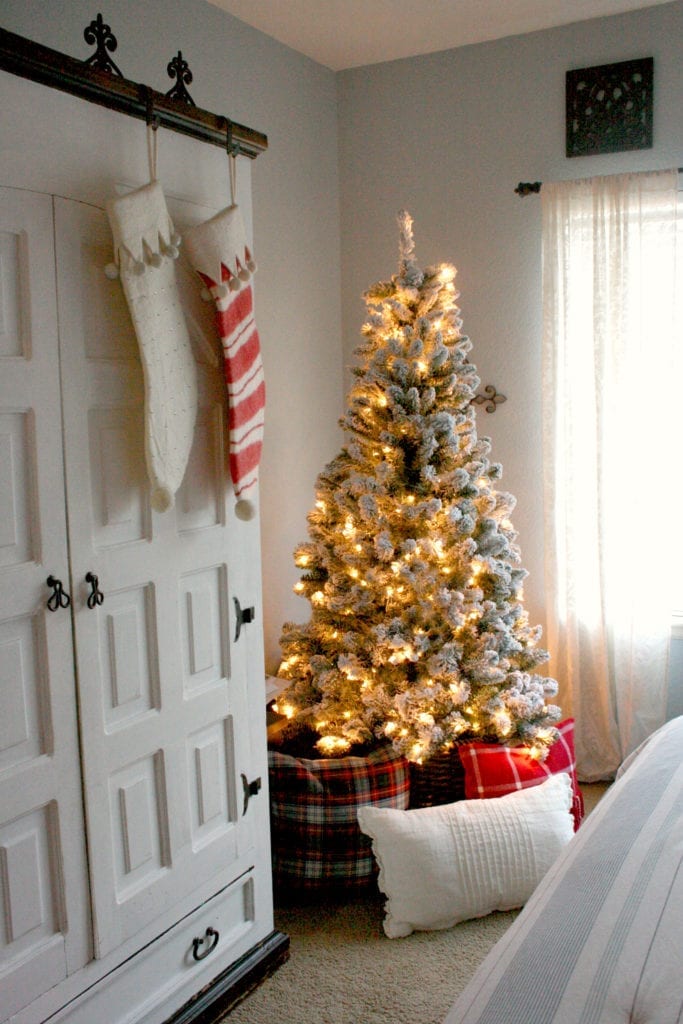 I couldn't resist leaving you with a lit up version of our bedroom tree in the evening! Isn't it just magical? Sometimes we leave the lights on all night. Those are my favorite nights!
I want to thank you so much for stopping by and visiting our home. I hope you enjoyed it and found a bit of inspiration.  Thank you again and be sure to follow along with me on Instagram for even more fun pictures of my home. Blessings to you and those you love this magical holiday season! Next on the Homes for the Holidays tour is my talented California friend Taylor, over at Uniquely Taylor Made. You can find her home all decked out for Christmas here! Have fun!
Kelly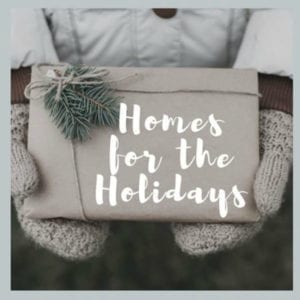 Homes on the Tour
Noting Grace / A Cottage Girl / Vanessa's Vintage Modern Home / Farmhouse on Elder Hill / The Homemaking Momma /Uniquely Taylor Made /
The Auburn Fox/ This Rustic Cottage / The Tattered Pew (me)/ The Rustic Pig / Delightfully Noted / The Clementine Colonial /