Easy Homemade Christmas Soaps For Kids
These easy homemade Christmas soaps for kids are the perfect gift if you want thoughtful and fun gifts for your friends and family this holiday season. A family friendly project that will have you making soap like a pro in no time!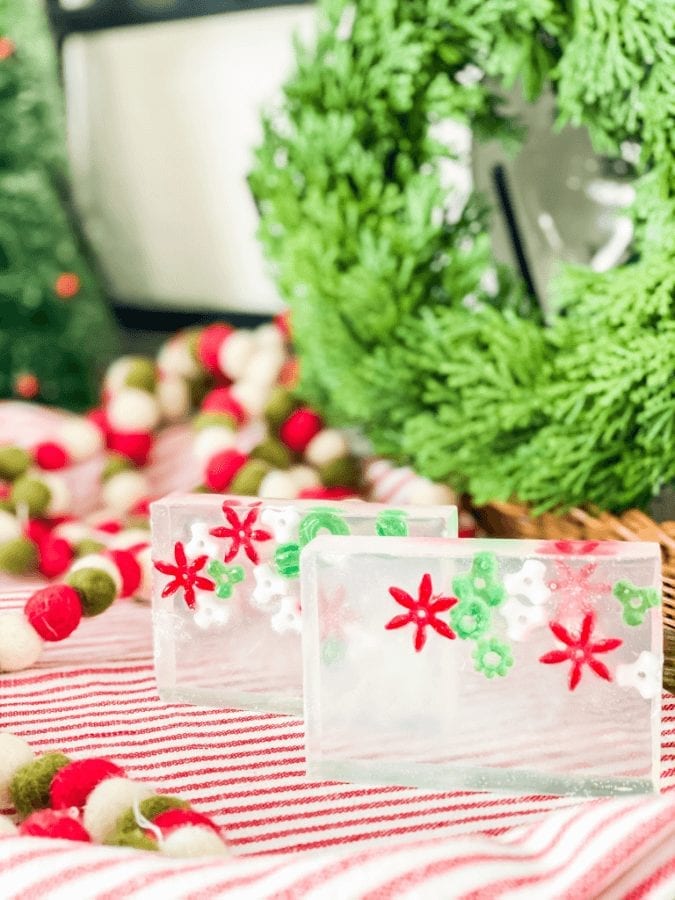 *As an Amazon Associate, I earn from qualifying purchases. This post contains other affiliate links too for your convenience. Click here to read my full disclosure policy.
Christmas is starting to make an appearance around our house and I'm not mad about it. Did you see the darling DIY Christmas pillowcases I shared last week? They are so cute and the girls loved them and they definitely got us all in the mood for more Christmas! This week's DIY is one that my oldest daughter taught me how to make!
Easy Homemade Christmas Soaps For Kids
This year my 11 year old daughter decided she wanted to make gifts to give to her friends and family for Christmas. (I just love her heart!) The inspiration came to her when she learned how to make soap while at one of her friends birthday parties. Immediately she came home and spent her own money on soap making supplies so she could get started.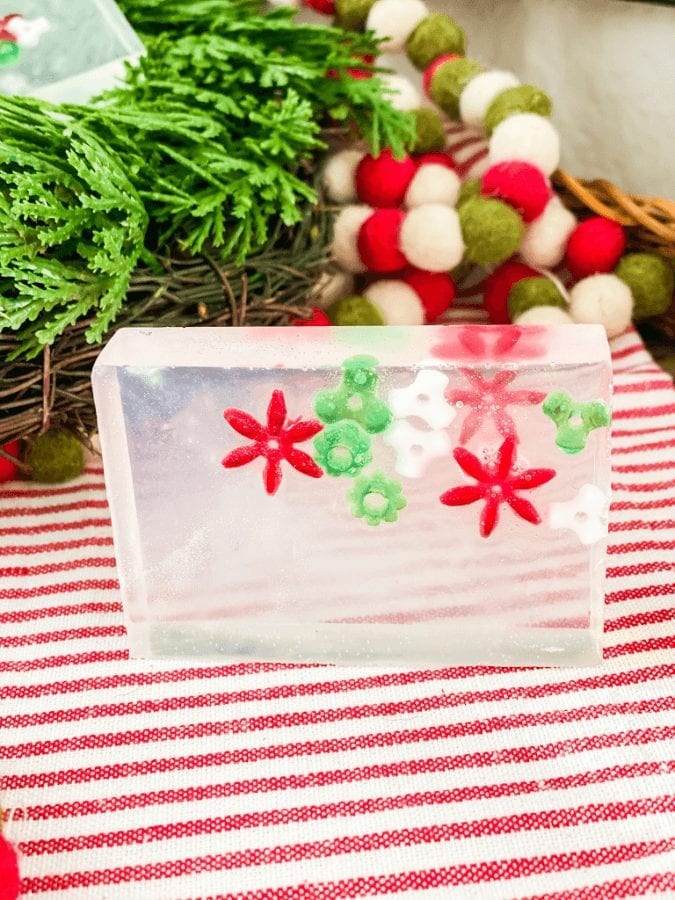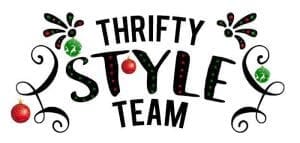 You should have seen how cute she was teaching me. (I like to think she gets her teaching skills from me!) She had fun explaining and showing me how to make it and I asked her if I could share it here on the blog. She was thrilled and goodness gracious they turned out so cute. Who knows, maybe she will grow up to be a teacher like me. I think she would be amazing!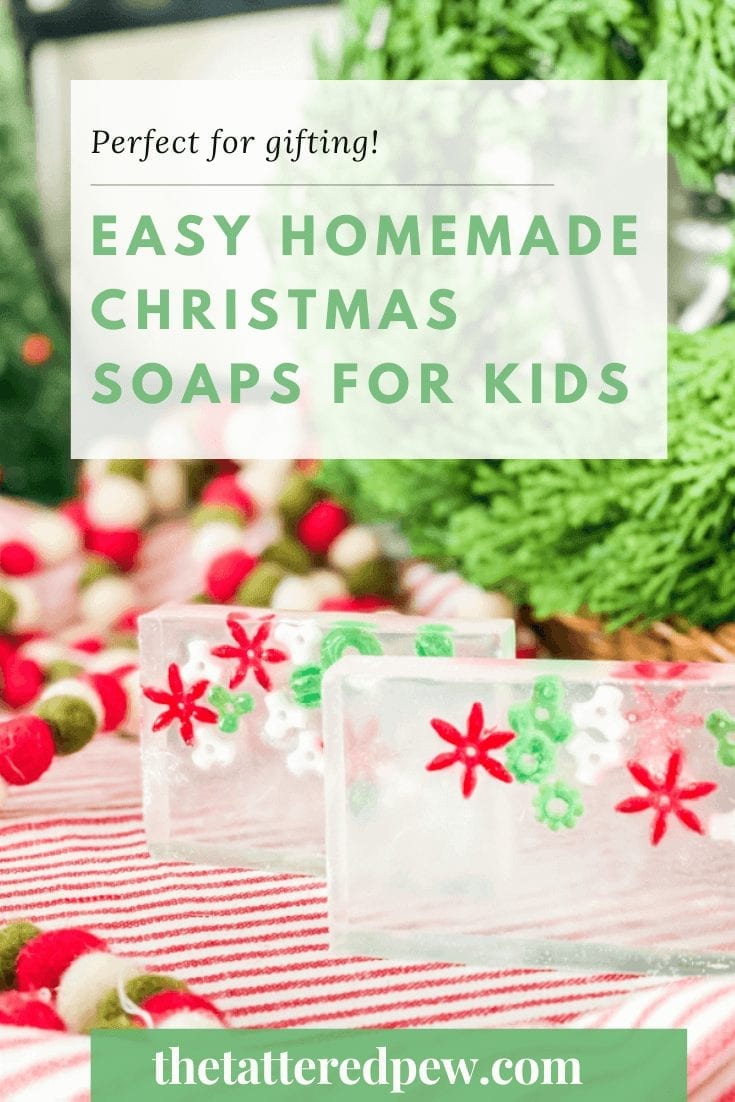 Today's post is for this month's edition of the Thrifty Style Team hosted by Julie over at Redhead Can Decorate! The Thrifty Style Team is a group of very talented bloggers who get together once a month to bring you DIY projects and decor inspiration that won't break the bank! Make sure to catch all of the projects at the end of my post.
And these easy homemade Christmas soaps for kids are not only thrifty, but a quick DIY too! Safe for even your youngest Christmas enthusiasts!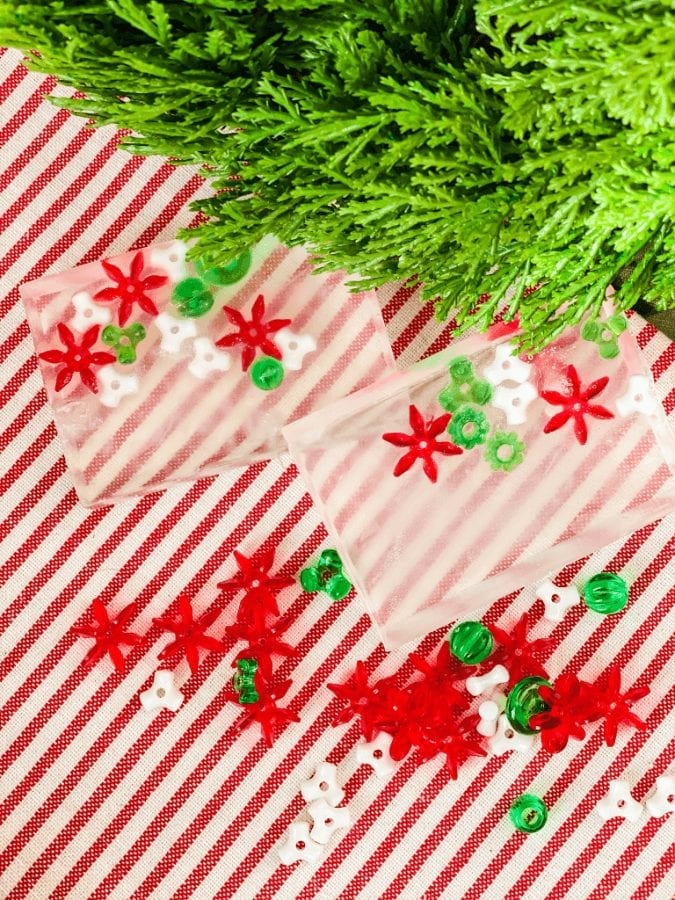 How To Make Homemade Soaps
Here is what you will need for this fun little project. (She got most of her supplies from Amazon!)
microwave for melting
essential oils if you want to make them scented
cutting board and knife to cut glycerin
Step One
Gather your supplies and find a nice clean space like your kitchen counter. Grab your block of glycerin and your cutting board and cut 3 small cubes from the large glycerin block. The glycerin is scored so it's easy to cut off just the right amount. Our silicone molds took 3 cubes to make one bar of soap.
Tip: Make sure to cut your glycerin cubes into smaller chunks to help with even melting!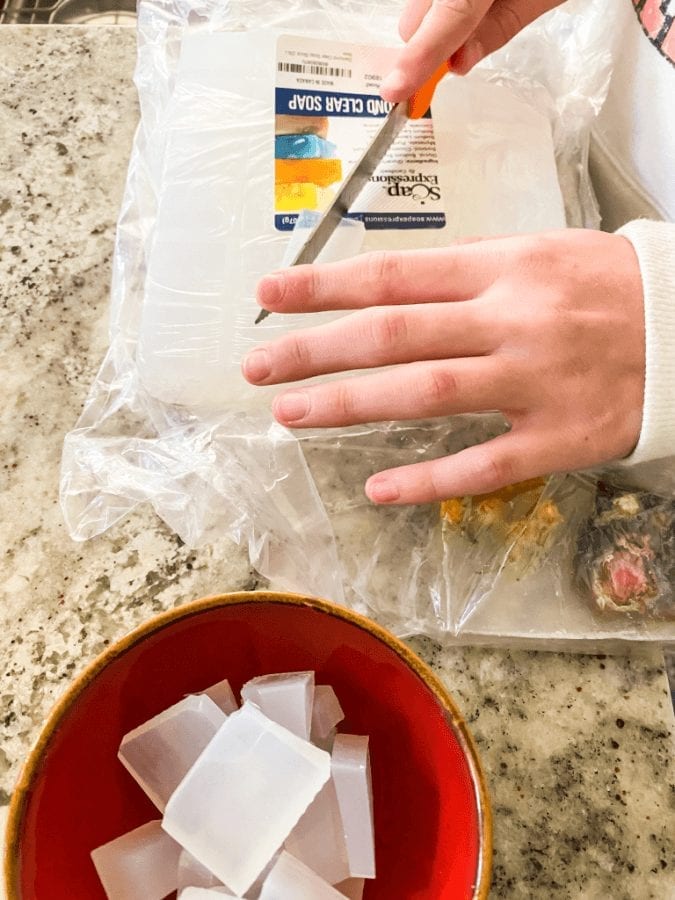 Step Two
Place your beads (or flowers) into the bottom of your molds. Don't worry about arranging them yet because once you pour the warm glycerin in they will move!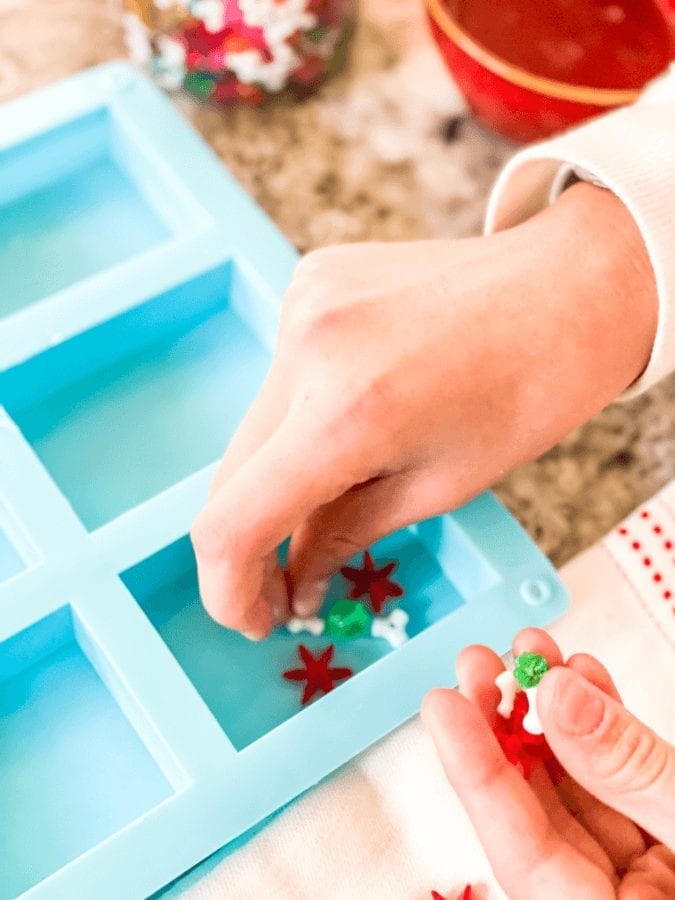 Step Three
Next, place the glycerin chunks in a microwave safe bowl and heat it up for 25 second increments until it is melted.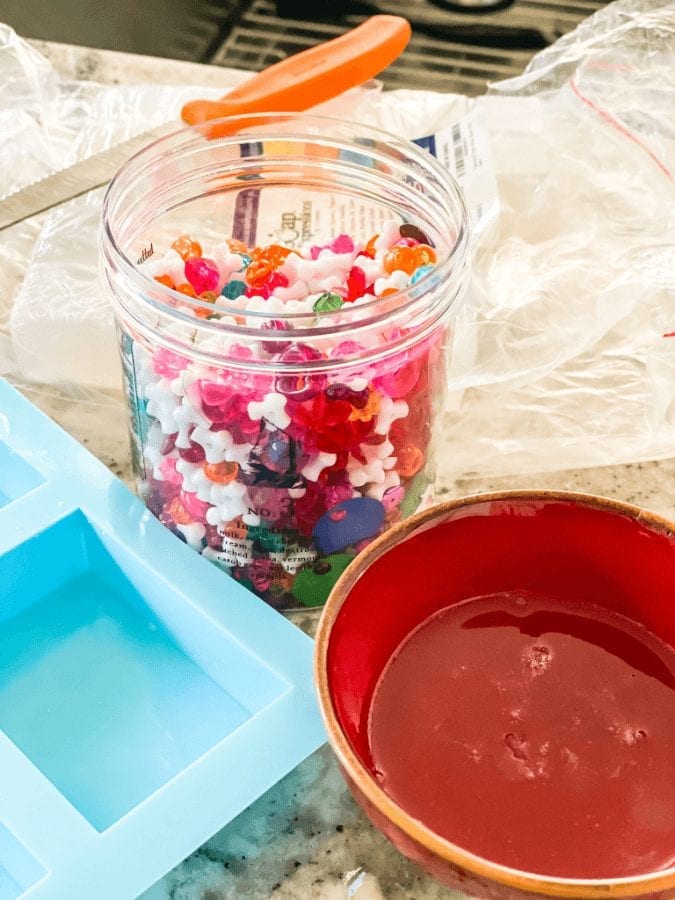 An optional step is to add essential oils to the warm glycerin to make your soap smell amazing! My daughter picked peppermint and frankincense! *Note-the essential oils did make the clear glycerin a bit milky in appearance. Three to four drops will do the trick!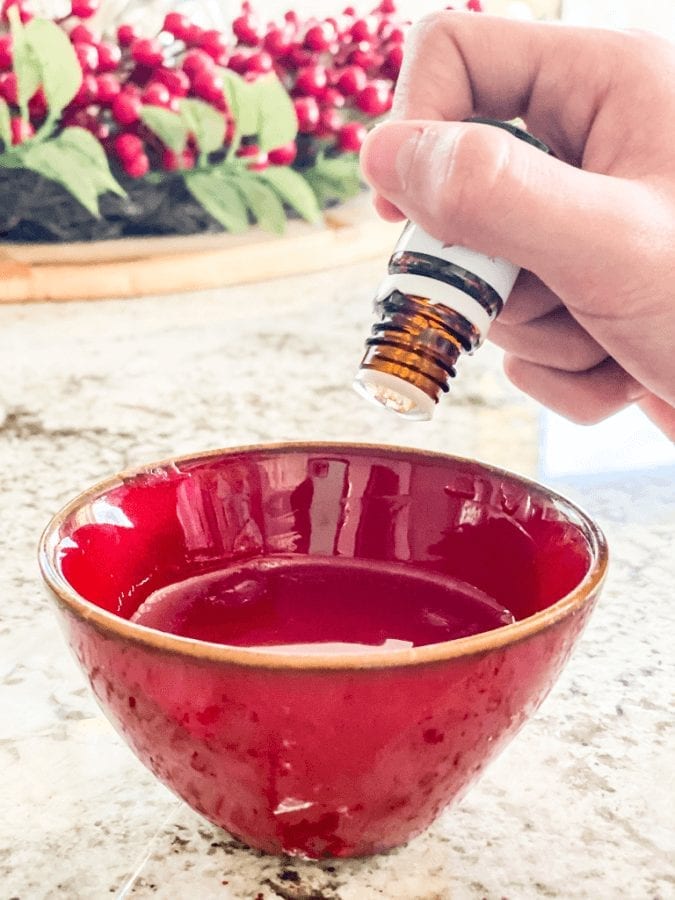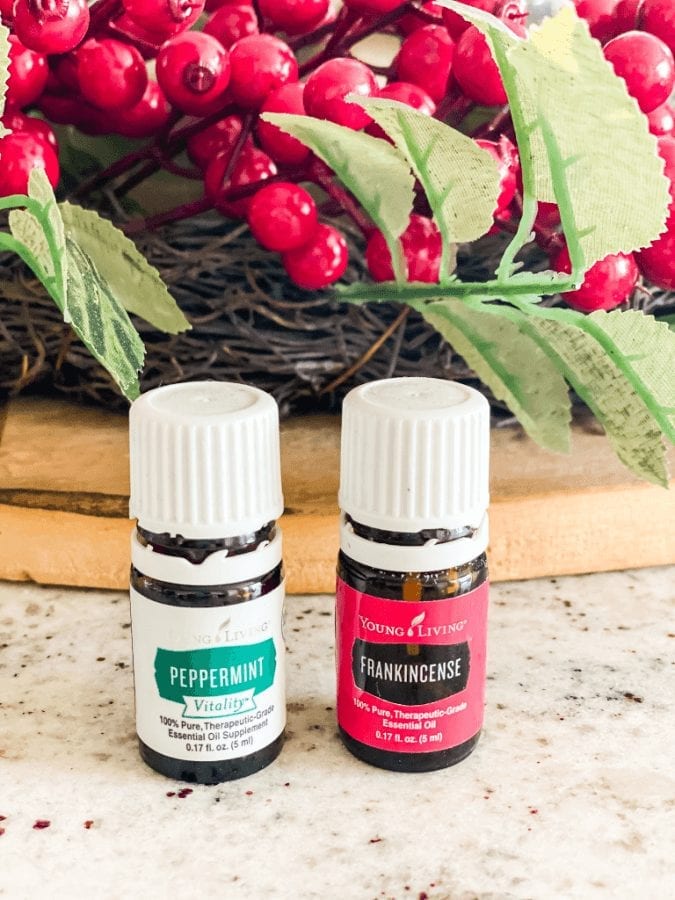 Once the glycerin is heated don't wait too long to pour it into the mold or it will become clumpy.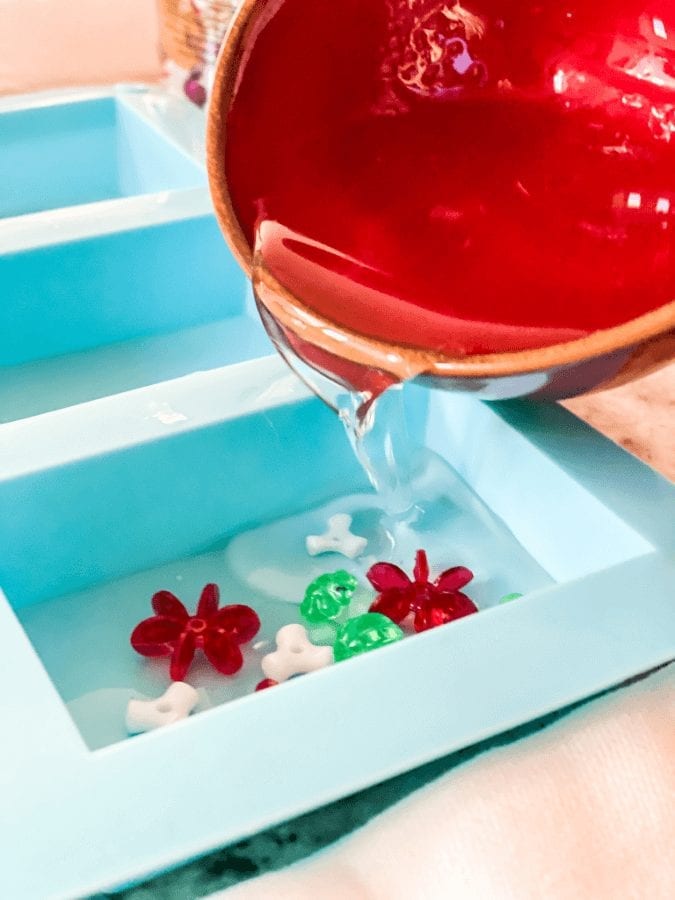 Step Four
Use a toothpick or skewer to push down your beads (or flowers) into the warm glycerin. This ensures that they are coated and placed where you want them to be. This is where you can get creative! My daughter chose Christmas colored beads since these will be Christmas gifts.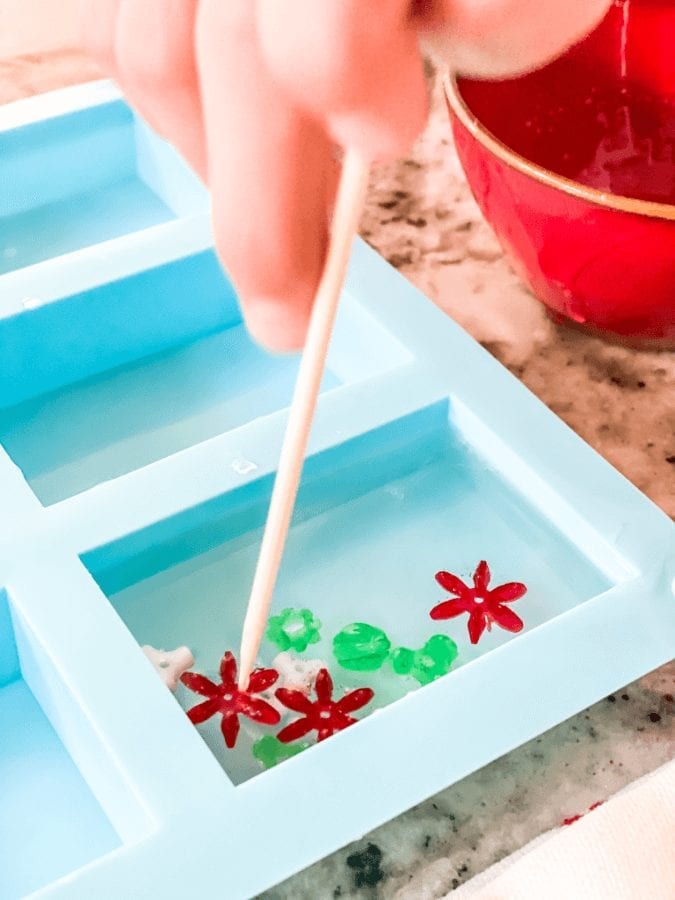 Step Five
Let the full molds cool and harden for a few hours right on your counters. Check in on them periodically and once they are firm, pop them out of the molds and admire your gorgeous soaps!
Giftable Easy Christmas Soaps For Kids
These soaps turned out so stinking cute! I was amazed at how quick of a project this really was. Also, I have to say that I am so impressed by my daughter for taking on this entire project herself. She is so excited to make personalized soaps for her friends and family. She is so creative and I am one proud mama. I can't wait to see the looks on the faces of those she gives the soaps to when she tells them they are homemade by her!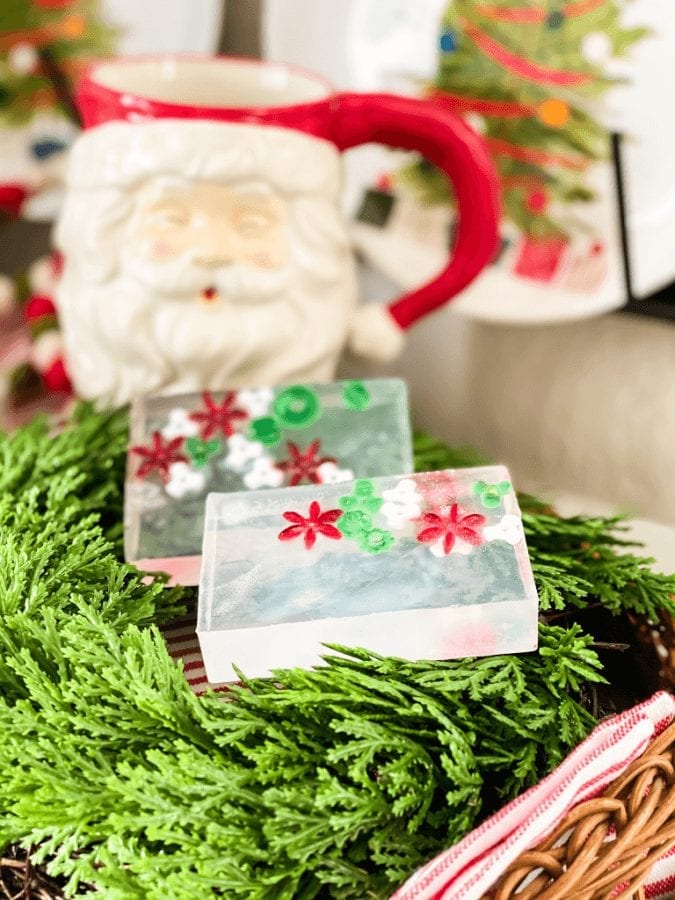 Let me know what you think of these easy homemade Christmas soaps for kids and I will pass it along to my daughter! Do you have any kid friendly DIY projects or gift ideas planned for this Christmas? Share in the comments below!
I'd love to have you hang out with me some more! Feel free to follow along with me on any of the platforms linked below.
LTK | Facebook | Instagram | Pinterest | Amazon
xoxo,
Kelly
Thanks for stopping by today! Now make sure to visit the other Thrifty Style Team projects below!
Redhead Can Decorate – 25 Affordable Thrifty DIY Christmas Decorating Ideas
The Painted Hinge – Vintage 7UP Crate Christmas Centerpiece
DIY Beautify – How to Make a Glitter Ornament Nativity
2 Bees In A Pod – Stamped Book Stacks For Christmas
Postcards From The Ridge – Easy DIY Snowman Wreath
The How To Home – Copper Geometric Christmas Ornament
The Tattered Pew – Easy Homemade Christmas Soaps For Kids
Sweet Pea – How to Make Christmas Cut Out Wooden Candleholders
What Meegan Makes – Glittery Christmas Wreath From An Embroidery Hoop
Cottage At The Crossroads – Wooden Chinoiserie Christmas Ornament
I Should Be Mopping The Floor – How To Make Christmas Tassels
Lora B Create & Ponder – DIY Repurposed Candlesticks with Sheet Metal Shades
White Arrows Home – DIY No Sew Christmas Pillow
Did you like this post? PIN it for later!