9 of the Yummiest Christmas Treats and Recipes
It's that time of year again! Time to start planning your Christmas treats and recipes. Whether you're a baker, cook, or just an enthusiastic Christmas fan, I've got you covered with 9 of the yummiest recipes around. From cookies to cakes to candies, I've got everything you need to make your Christmas celebration even sweeter. So sit back, relax, and get ready to indulge in some serious holiday goodness!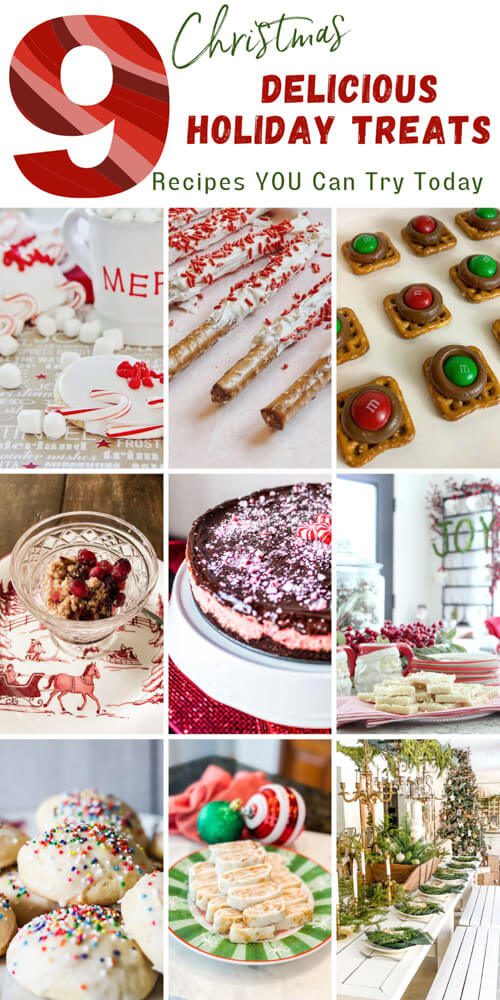 *As an Amazon Associate, I earn from qualifying purchases. This post contains other affiliate links too for your convenience. Click here to read my full disclosure policy.
10 of The Yummiest Christmas Treats and Recipes
Today is day five of the 10 Days of Christmas Decorating Ideas! If you missed Day 1 , 9 Festive & Fun DIY Christmas Project Ideas and Day 2, How to Decorate for Christmas Outdoors, and Day 3 , Simple and Stunning Christmas Tree Decorating Ideas , and Day 4, Beautiful Christmas Table Setting Ideas , come stop by!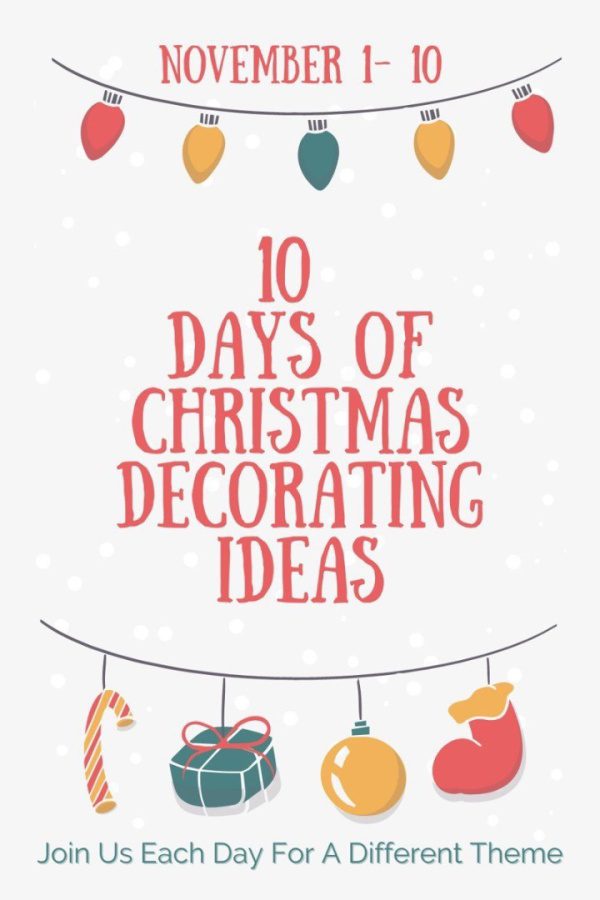 For the next 5 days, there is a different Christmas theme of the day…today is all about 9 of the yummiest Christmas treats and recipes. Are you ready for some tasty inspiration?
Looking for some of the best Christmas dinner recipe ideas for the upcoming holidays? Make sure to check out Robyn's French Nest's family favorites! She shares amazing recipes from her own mom and one approved by her kids too! So helpful all in one spot.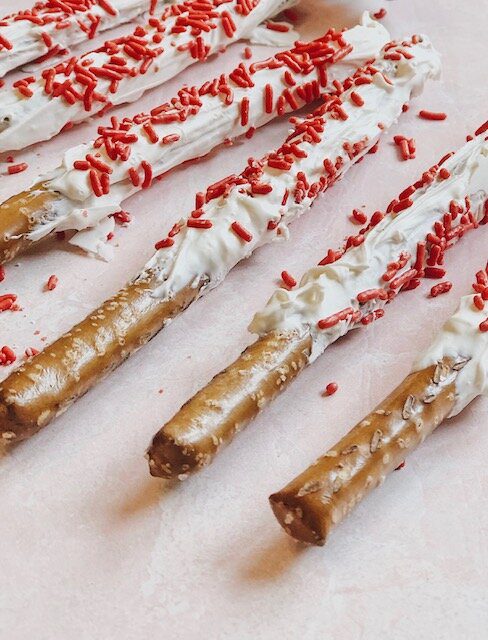 This is such a fun gift to make for Christmas! Who doesn't love receiving something delicious?! These Christmas white chocolate covered pretzel rods are the perfect homemade Christmas gift for everyone on your list. They take under 20 minutes to make and turn out so bright and festive. Simply place them in a ball jar or holiday canister and they will be a hit to whoever is the recipient!
Would you believe me if I told you that this recipe quick and easy Christmas shortbread cookies only requires 3 ingredients? It's true! And my kids beg me to make them several times a year because they dream of them year round. The buttery rich flavor will have you hooked too. A favorite family treat that passes the taste test for ages 0-80 !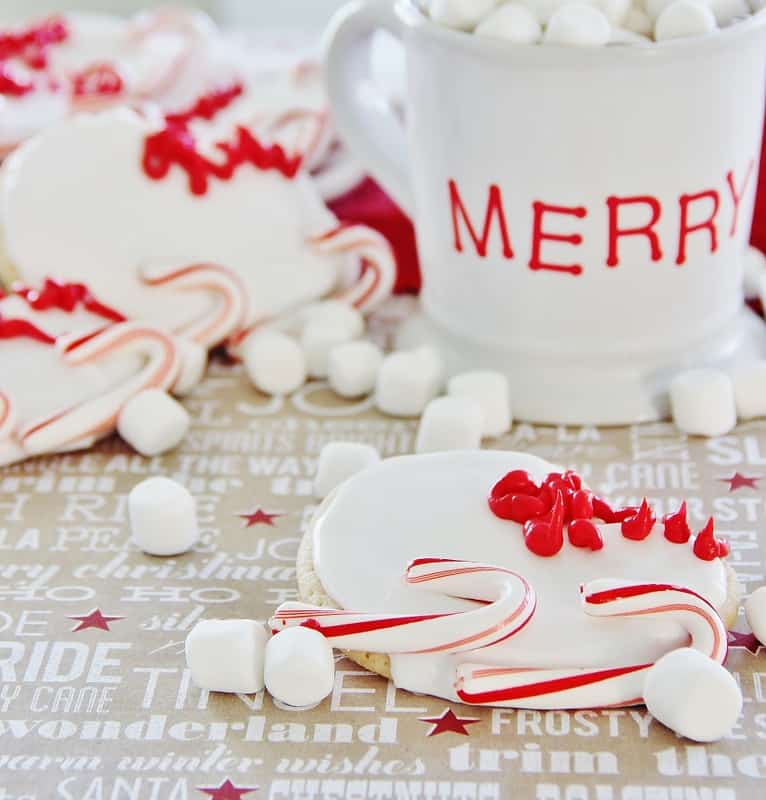 If you know me you know that I am not the baker in the family. So when I saw that this cookie recipe used ready bake cookie dough I was all about it! You can make these easy ice skate cookies from ready-to-bake cookie dough and peppermint candy canes. They are perfect with hot chocolate and marshmallows of course!
There is something so delicious about anything peppermint related during the holidays! So if you want a delicious dessert for the holidays that you won't feel too guilty about then this is it! This Low Carb Peppermint Cheesecake is sure to impress everyone you serve it to! No one will ever guess that it's sugar-free or gluten-free, and they'll be shocked if you happen to tell them.
Oh my word my family and I have made these treats for years and I never thought to share the recipe! But Stacy did and she shares tons of helpful tips from storage to answering if they freeze well. So if you are looking to make easy Christmas cookies these are a must! Check out this quick and easy recipe that is super delicious and great to make with the kids!
Jennifer from Cottage on Bunker Hill and I have a lot in common! But one thing I didn't know is that we both had Nana's who loved sweet treats and Christmas! She makes her Nana's Italian cookies every Christmas in memory of her…they were her favorite! I love that she has so graciously shared this sentimental recipe with us!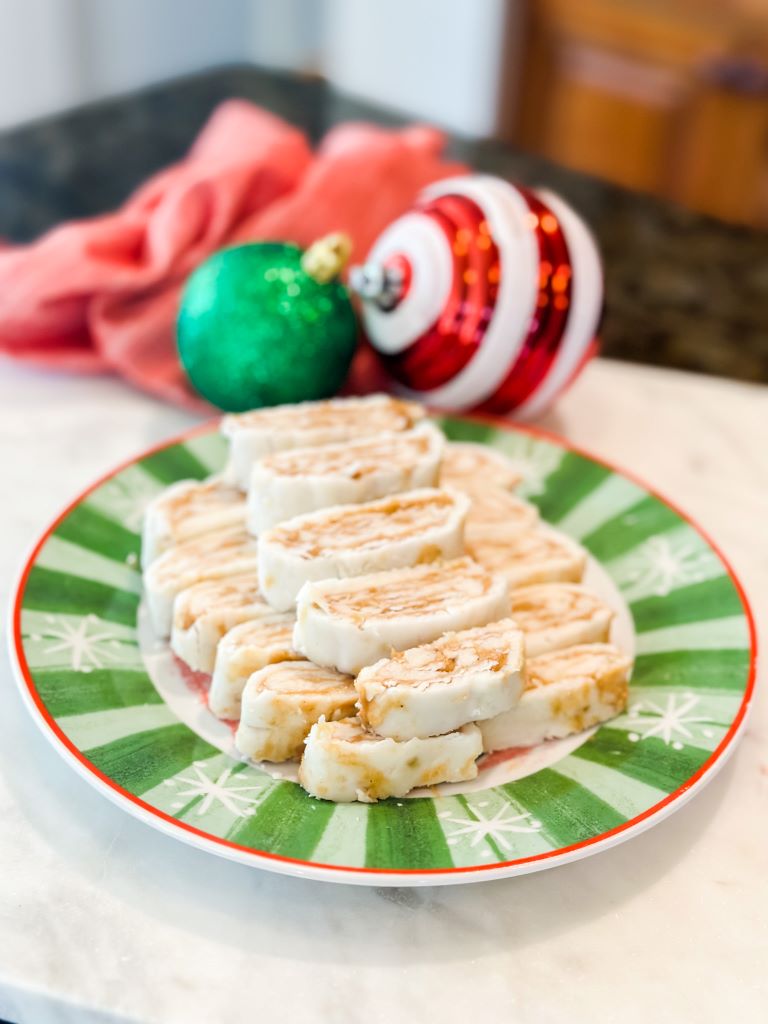 Looking for an easy and sweet treat to make this Christmas? The simple southern candy will be perfect for your Christmas parties. Kim from Cottage In the Mitten shares this family recipe that only has3 or 4 ingredients. And you will never guess what the surprise ingredient is!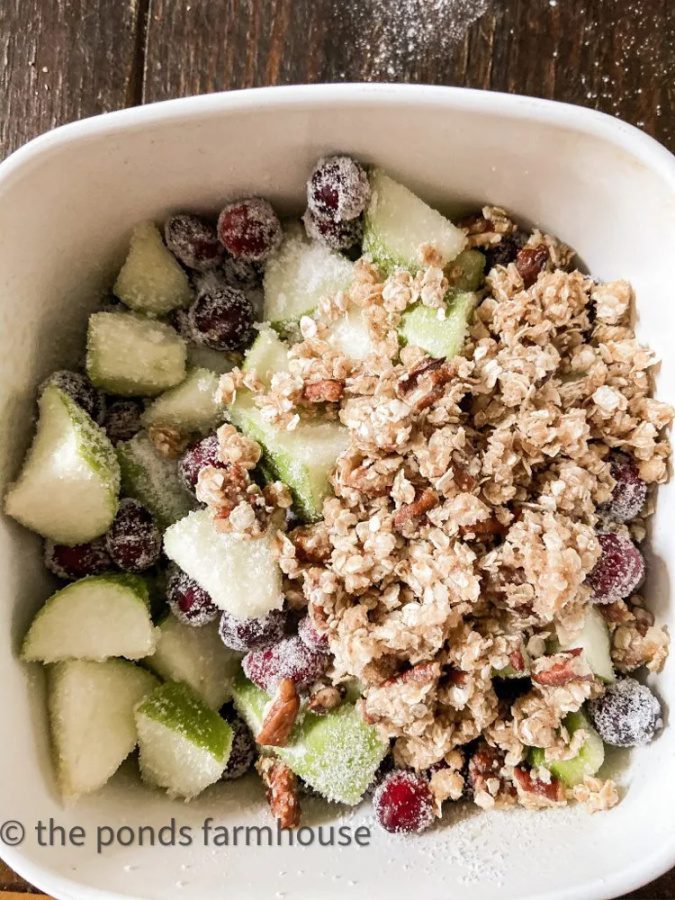 This Cranberry & Apple Bake Recipe is one of Rachel's family's all-time favorite holiday recipes. After reading her post I can assure you it is so easy that even I will make it, and it's the perfect combination of sweet and tart. Yum!
The Yummiest Christmas Treats and Recipes
Christmas is a time for family, friends, and of course, yummy food! We hope you've enjoyed our roundup of the best Christmas cookies and treats. What is your favorite recipe to make during the holidays? Let me know in the comments below – I'm always looking for new ideas! Wishing you all a very happy holiday season.
I'd love to have you hang out with me some more! Feel free to follow along with me on any of the platforms linked below.
LTK | Facebook | Instagram | Pinterest | Amazon
xoxo,
Kelly