How To Make a Dried Peony Wreath
Raise your hand if you love peonies? Me too! Their blooming season is so sweet, yet so short that I wanted to find a way to extend their beauty. And guess what? I found it! I can't wait to show you just how easy it is to make a dried peony wreath.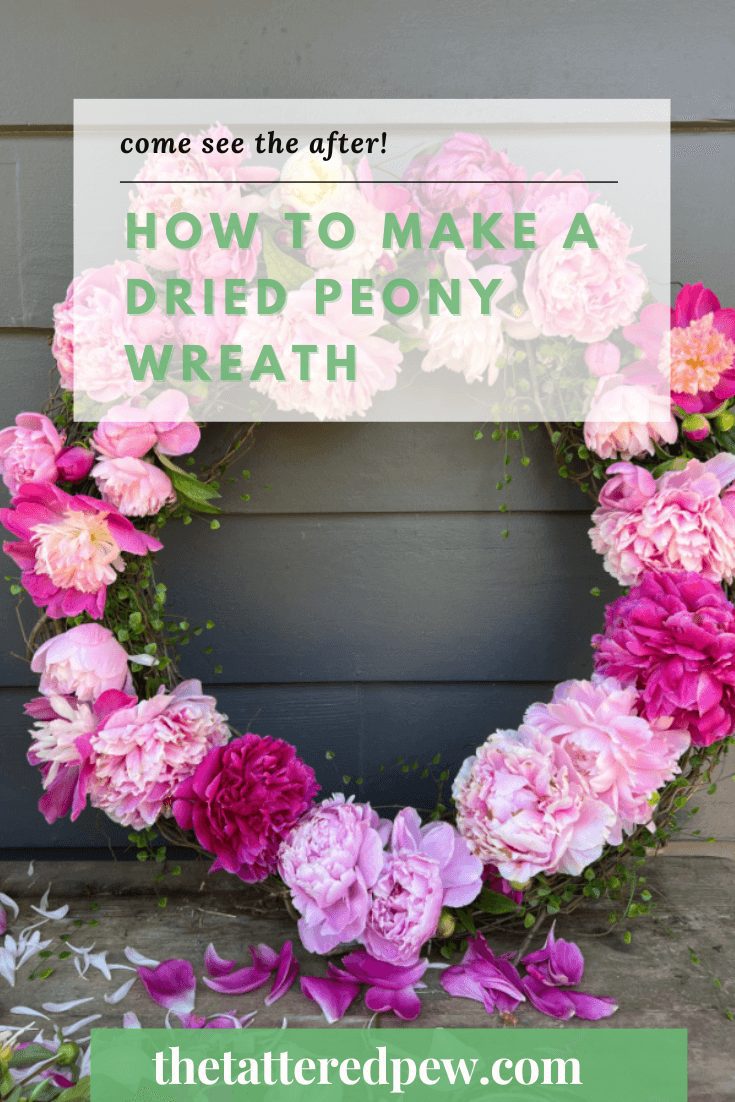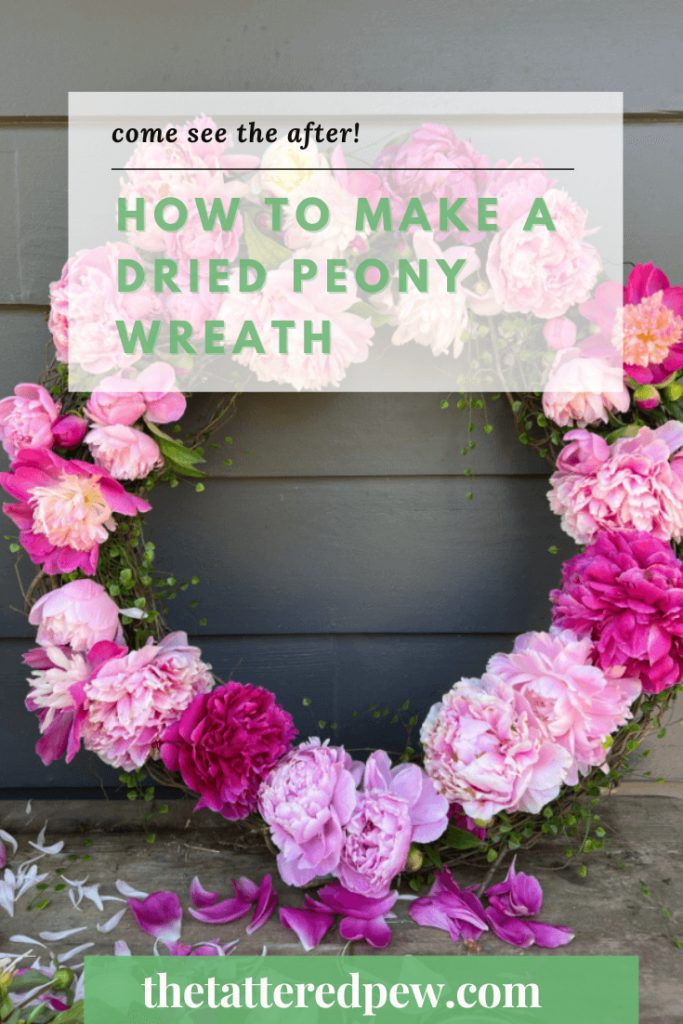 *As an Amazon Associate, I earn from qualifying purchases. This post contains other affiliate links too for your convenience. Click here to read my full disclosure policy.
How to Make a Dried Peony Wreath
This lovely wreath idea came together after my mom, and I put together this beautiful outdoor table featuring these pretty pink peonies from her yard. (Look just beyond the table and you will see my all-white peonies are about to burst!)
I just couldn't bear the thought that they would be gone in a few short days. My brilliant mom said why don't you dry them and use them to make a wreath?
And that's exactly what I did.
In just 10 short minutes I used my favorite grapevine wreath that I have also used for a fall wreath, summer wreath and Christmas wreath! It was time to add a Spring wreath to that list.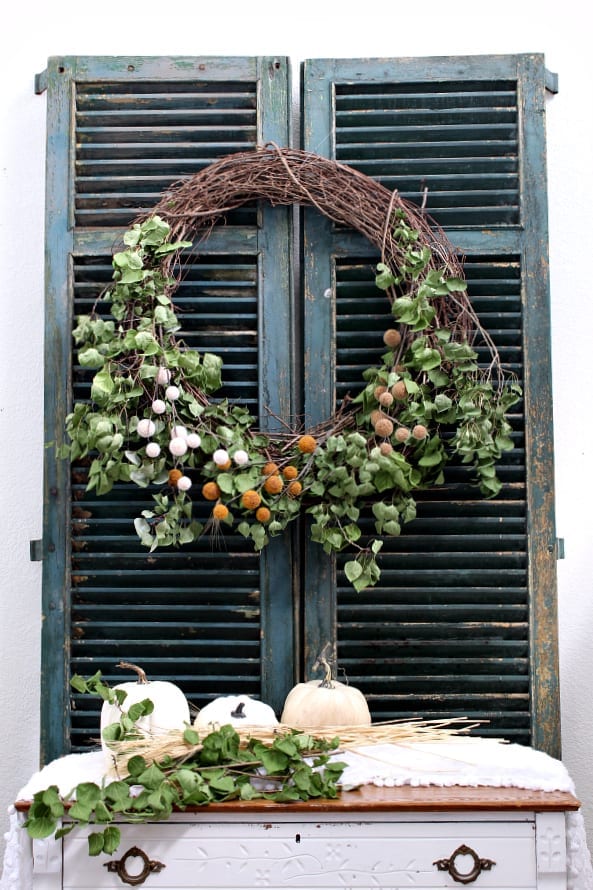 Let me show you how this beautiful wreath came together.
What You Need to Make a Dried Peony Wreath
This simple wreath project requires just a few materials. I was lucky and had them all on hand already. And you might be wondering, are peonies even good flowers to dry? Yes, my friend they most certainly are!
Fresh peony blooms, the variety I used were Kansas (dark pink), Sarah Bernhardt (pale pink) and Gay Paree (white center/pink edges) *If you don't have some in your yard, Trader Joe's has gorgeous ones!)
a grapevine wreath (mine was 30″ from Hobby Lobby)
scissors
floral wire (optional)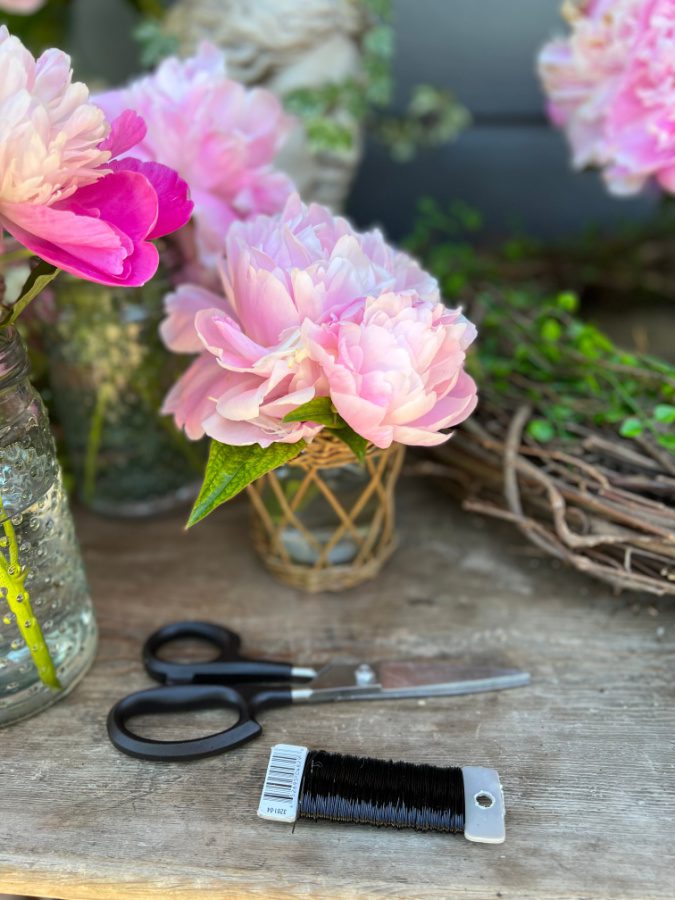 Step 1: Gather Your Supplies
Ok first, a little pep talk. If I can make this wreath than you can too! It really might be the easiest wreath you will ever make.
The most important step in this whole DIY project is finding your flowers!
Like I mentioned above I was lucky enough to get these beauties from my mom's garden. But if you don't have some in your own garden or a friend's then you can usually find them at a grocery store or the famous Trader Joe's.
And if you are stuck finding some you can always go to a florist and see if they can order you some. I think they are well worth it!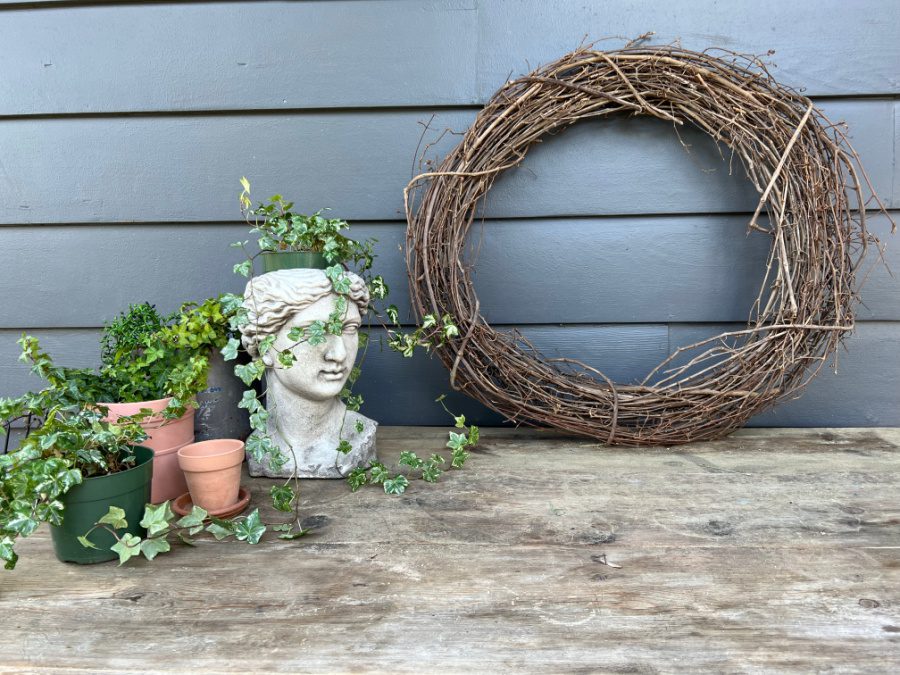 Gather up all of the supplies I listed above; and then you will want to find a clean workspace to get started on your wreath. I used our potting table out back and cleared it off a bit to make some room for this project.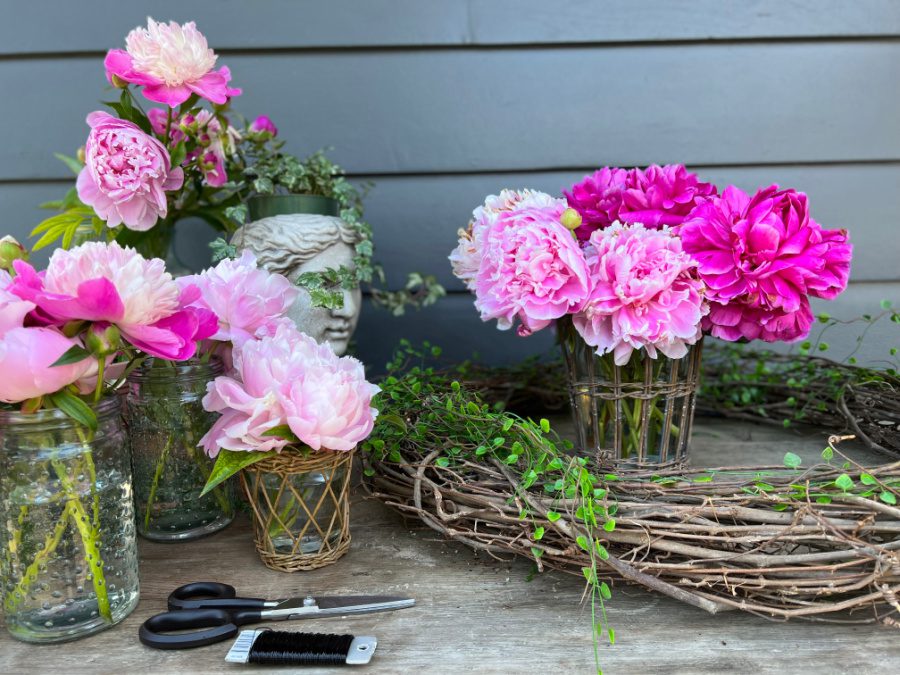 Step 2: Weave in Your Greenery
For the base of the wreath, I used some faux greenery stems to add some color underneath the flowers. This is an important step not to miss because once your peonies have dried, they shrink quite a bit and it is nice to have some greenery showing.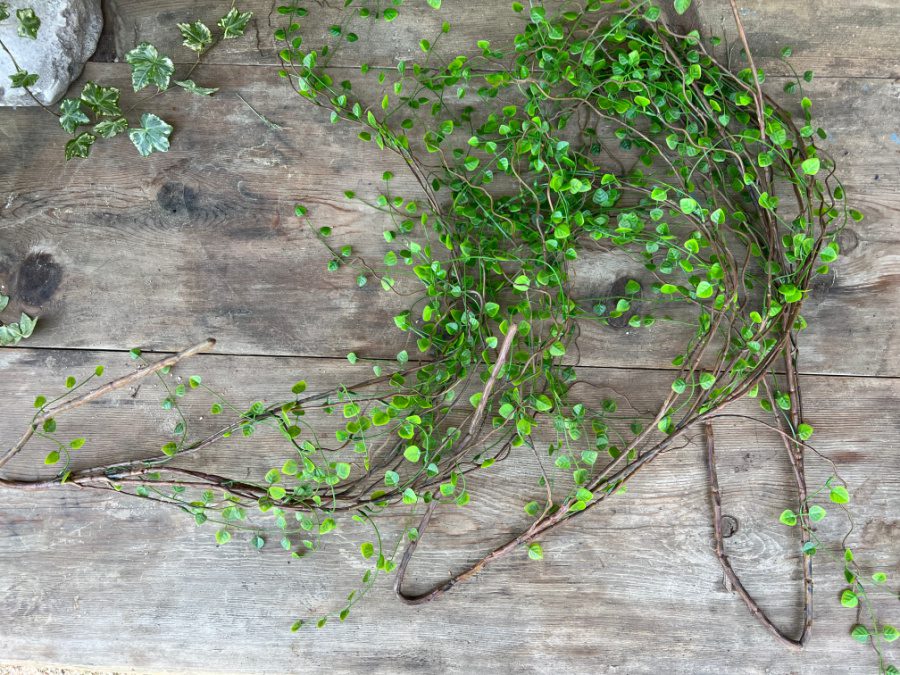 This faux greenery will not fade and will allows some wonderful contrasting colors to pop through on your wreath. This wreath could almost be pretty like this? But why stop when I have peonies waiting?
Step 3: Start Adding Peonies
Ok, now for the fun part!
I decided to prop my wreath up against the house for two reasons. The first reason is this would help me see where to place the flowers and have an even arrangement.
The second reason I propped the wreath up is that this would allow the flowers to hang down and dry in place and I could see if any of them would fall out. So, maybe that is three reasons?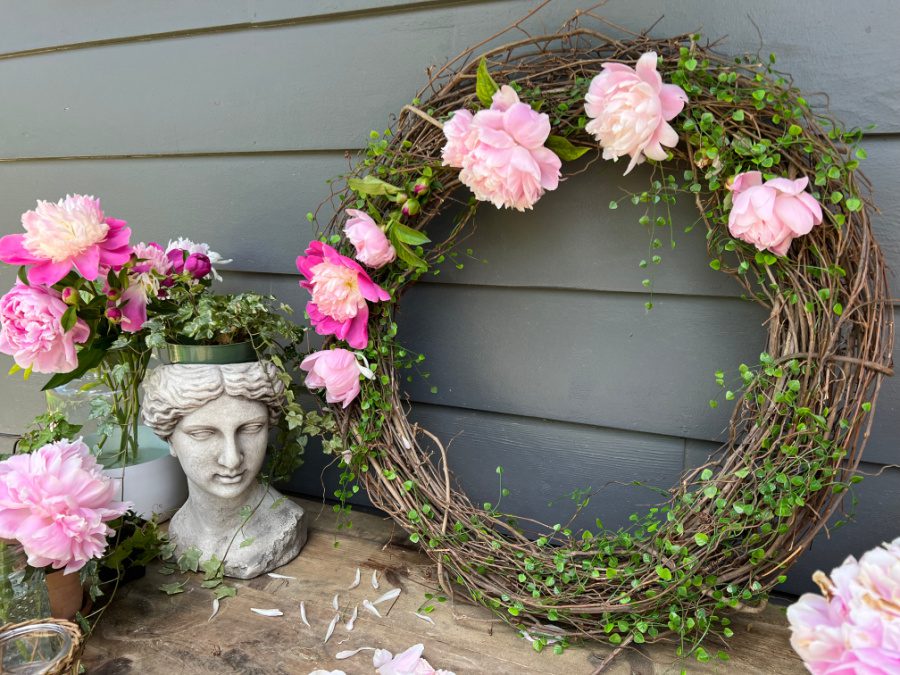 Add Those Flowers
Snip and tuck, snip and tuck.
I simply grabbed individual peony stems and stripped them of their leaves and cut most of their stems off. Make sure to leave enough stem to push into the grapevine.
Next, I tucked them into the grapevine wreath and found that they fit rather snuggly.
I had originally planned to secure them with floral wire but quickly learned this wasn't a necessary step because the peonies were staying in so well. Plus, it would have taken forever!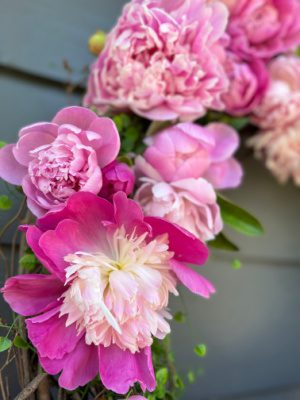 I tried to group some of the similar colored peonies together and I also tried to spread some of the showboat ones out. This is where you can get creative with your peony placement because you can't do it wrong because there is no wrong way.
Did you notice that I even added a few unopened buds? I thought this added a nice variety and shape to the wreath.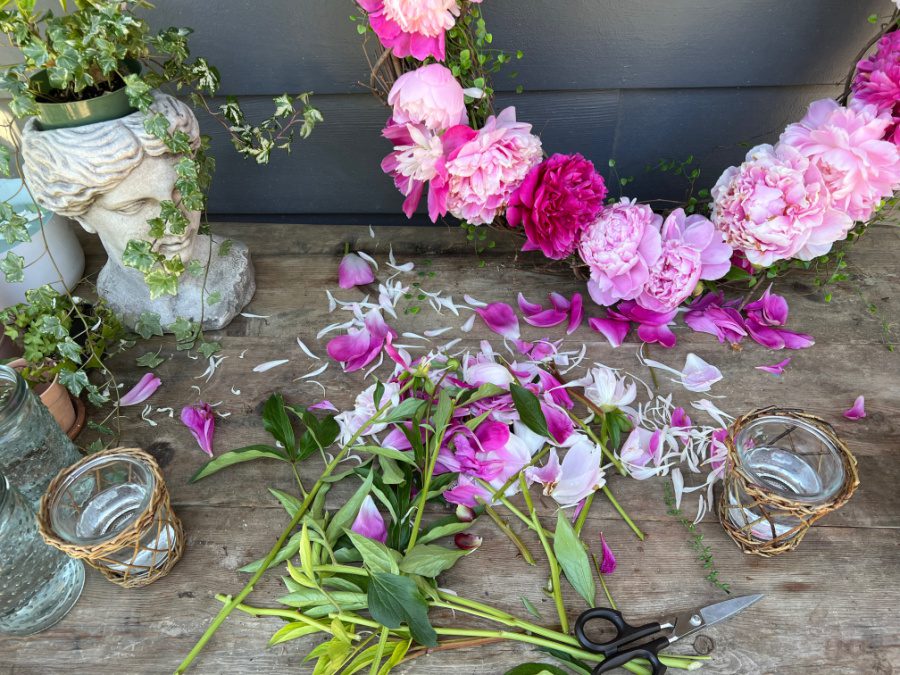 I stuffed the wreath as full as I could and used up all of the peonies! Stuff until you are happy.
My thought is the more the better, right?
And you can always vary the size of the wreath you choose based on the number of peonies you have. Luckily, I had a ton of peonies which was nice since I used this large 30-inch grapevine wreath.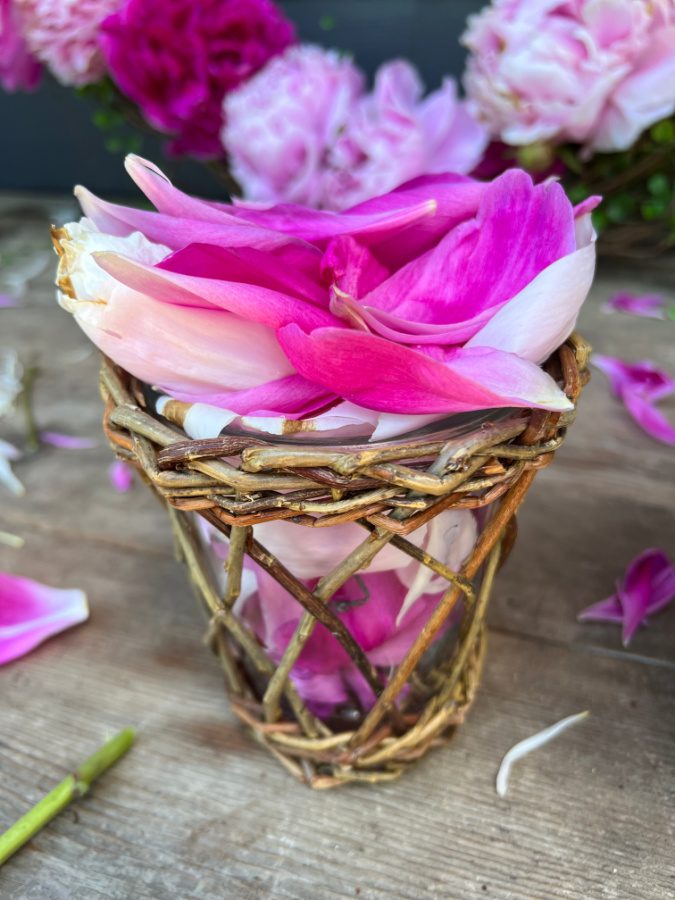 I ended up collecting all of the peony petals that fell off the flowers in hopes to save them for potpourri when they too are dried. This is a lovely trick I learned from my mom as well. She also recommends not leaving them stuffed like this but rather on a plate, so they dry nicer and don't get moldy. So blessed to have her wisdom!
Step 4: Letting the Flowers Dry
Ok now comes the easy part!
Enjoy your gorgeous peony flower wreath in all of its glory. This beauty didn't stay perky for long because the peonies were out of water obviously. But it did go strong for two days!
Peonies dry beautifully if they are allowed to hang while drying or they can even dry in a vase without water just like hydrangeas. Basically, they air dry on their own in a very lovely whimsical and romantic way. So easy!
Side note…how pretty would this be for an outdoor wedding or garden party?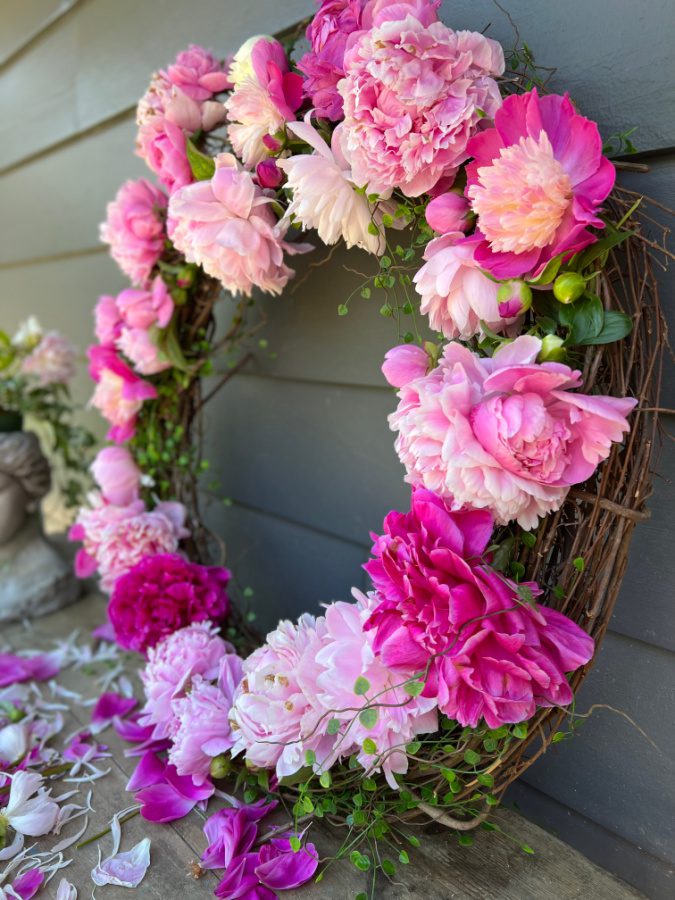 I was instantly smitten!
The picture below shows the flowers almost dried after just three days! I did take it in the garage the first night because we were supposed to have high winds. But for the rest of the time, I left it outside to dry.
I think the heat sped up the drying process (leaving it outside) especially since we were having 80/90-degree weather.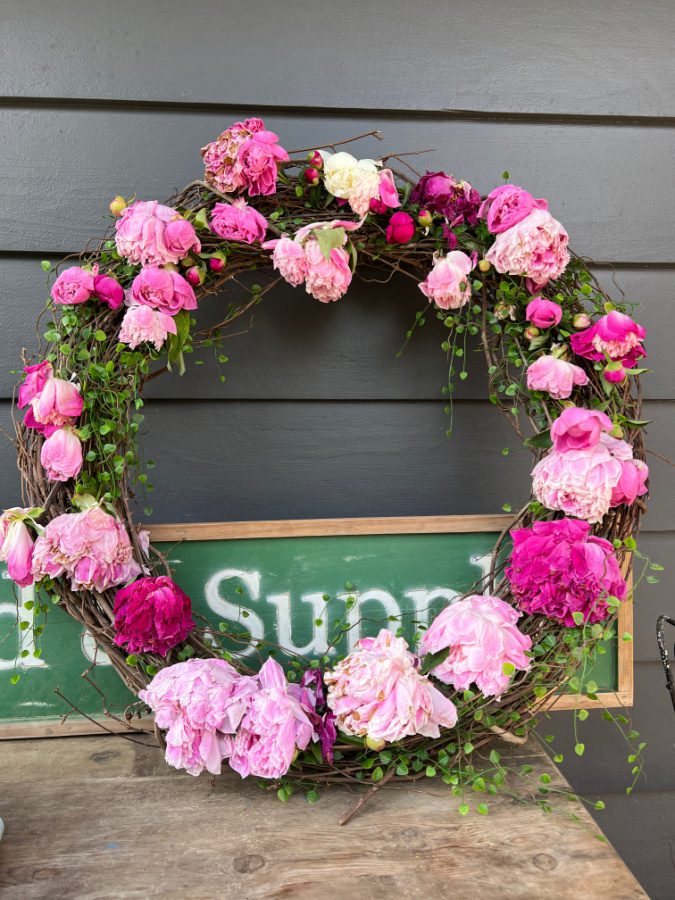 You can see that the flowers started to shrink and dry beautifully. I am in love with their romantic look and how well they hold their color!
A Dried Pink Peony Wreath
This is how it looks a week later, and I can't get over how much I adore it! Now I want to make a million dried peony wreaths so I can have these beauties last a bit longer.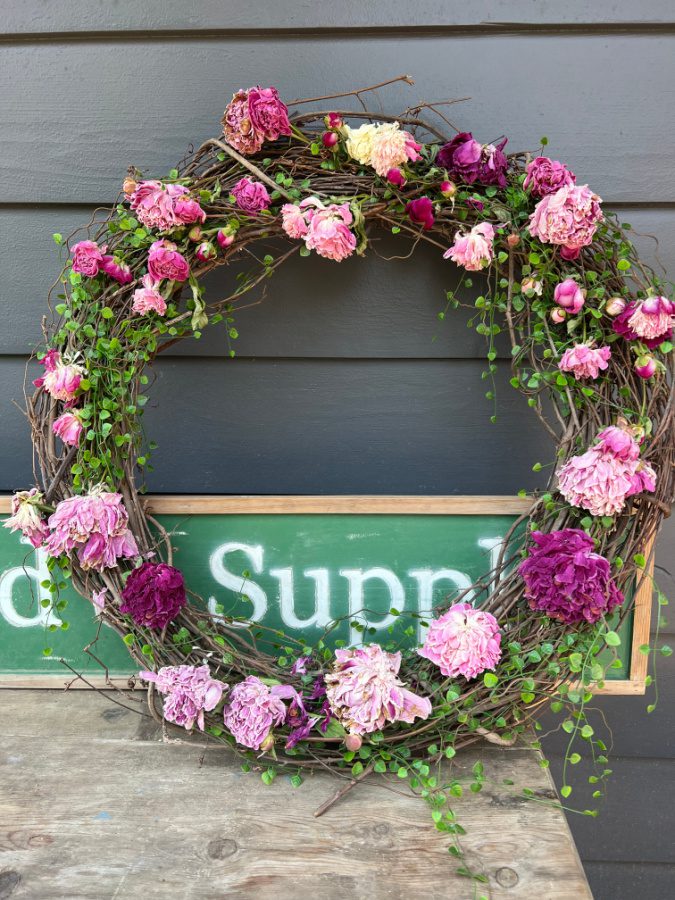 Here are a few closeups so you can admire their lovely, dried petals! Stunning, right?!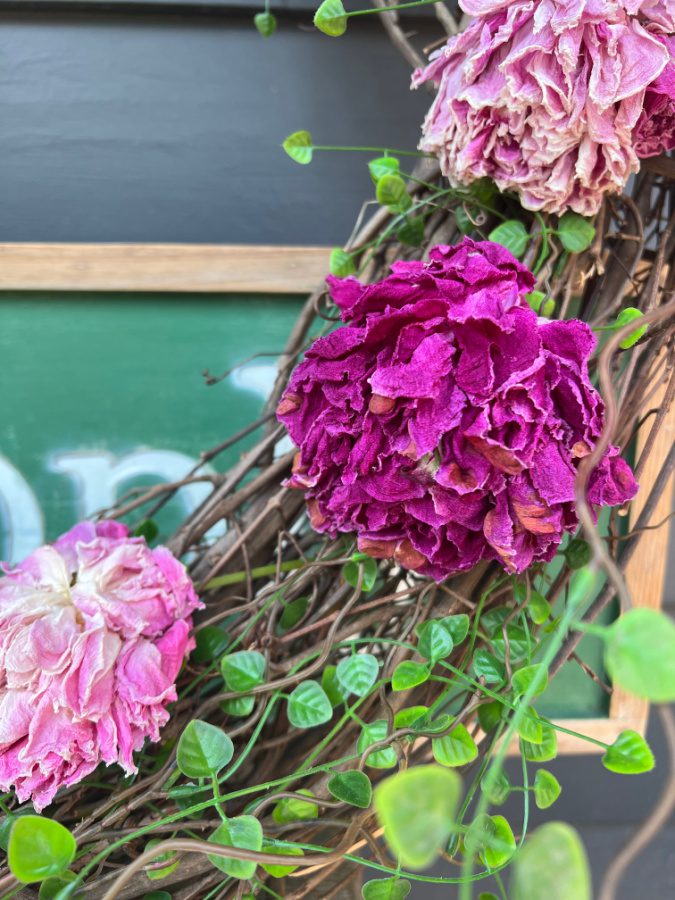 So, what do you think? Do you want to try your hand at making a dried peony wreath? Please let me know if you do and if you have any questions. And now my job is to decide where this wreath will land in our home!
I would love to hang out some more! Let's be friends on Pinterest, Facebook and Instagram too!
xoxo,
Kelly
Did you like this post? If so PIN it for later!