It's summer home tour week and I am over the moon excited to be hosting 30 talented women opening up their summer homes to you this week! This is our first summer in our new home. It was fun to add bright touches of blues, greens, yellows and whites throughout my decor!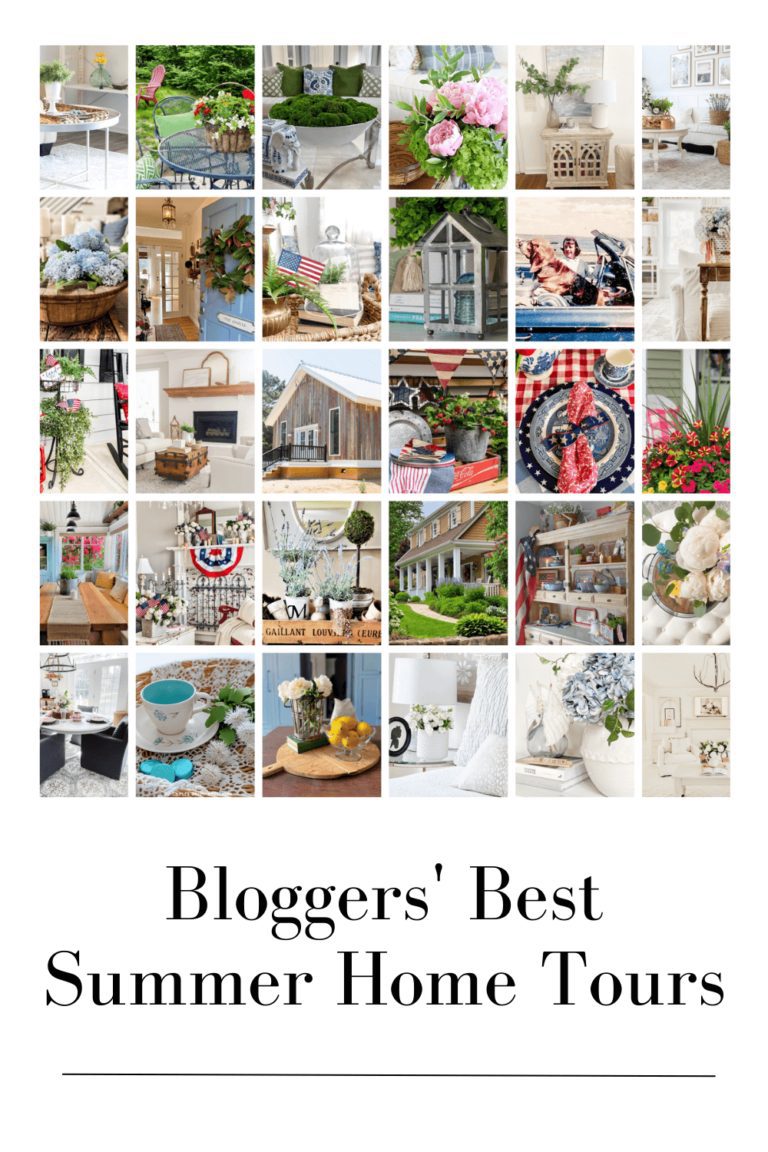 *As an Amazon Associate, I earn from qualifying purchases. This post contains other affiliate links too for your convenience. Click here to read my full disclosure policy.
If you are coming over from my friend Julie at My Wee Abode's darling summer home tour, welcome! Wasn't her new apartment just awesome? I enjoyed seeing how she has pulled it all together; she always has the best tips for small spaces.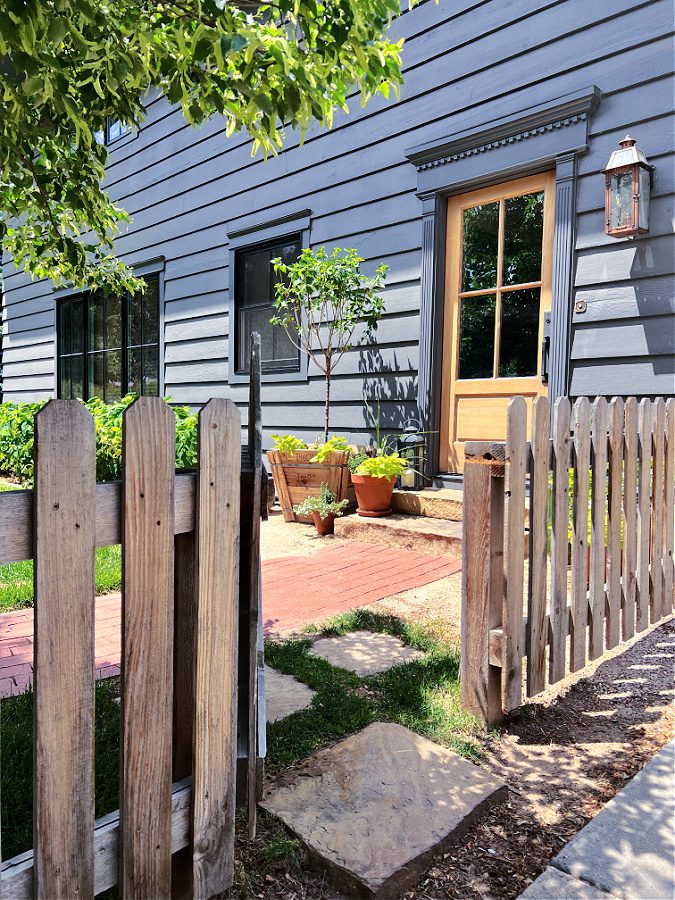 After you take my tour make sure to visit the other tours linked at the end of my post. Six new homes will be added each day this week! I don't know about you, but I love peeking into other peoples' homes!
Summer In Our New Home
If you are new here my name is Kelly and I live in beautiful Colorado! This August will mark one year in this home for our family. You can read a bit more about the fun story of how we sold our former home and see an empty home tour of this house before we moved in.
It's been quite the journey so far and each day I thank the Lord for blessing us with the opportunity to live here. Last month I "retired" after 20 years of teaching and will be giving full time blogging a go. I have a lot of fun things planned so I hope you will hang out with me some more as I start this new adventure!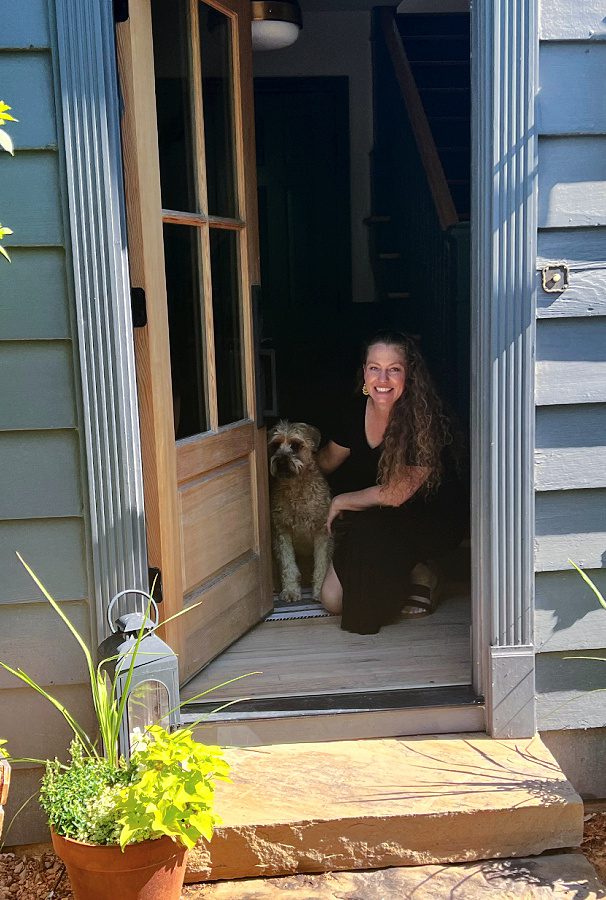 Oh, and next week I will be sharing an outdoor tour as well.
Both the front yard and backyard are beautiful and one of the main reasons we chose this home. Here is a sneak peek at the all-white peonies currently blooming out back. There are even more now since I took this picture!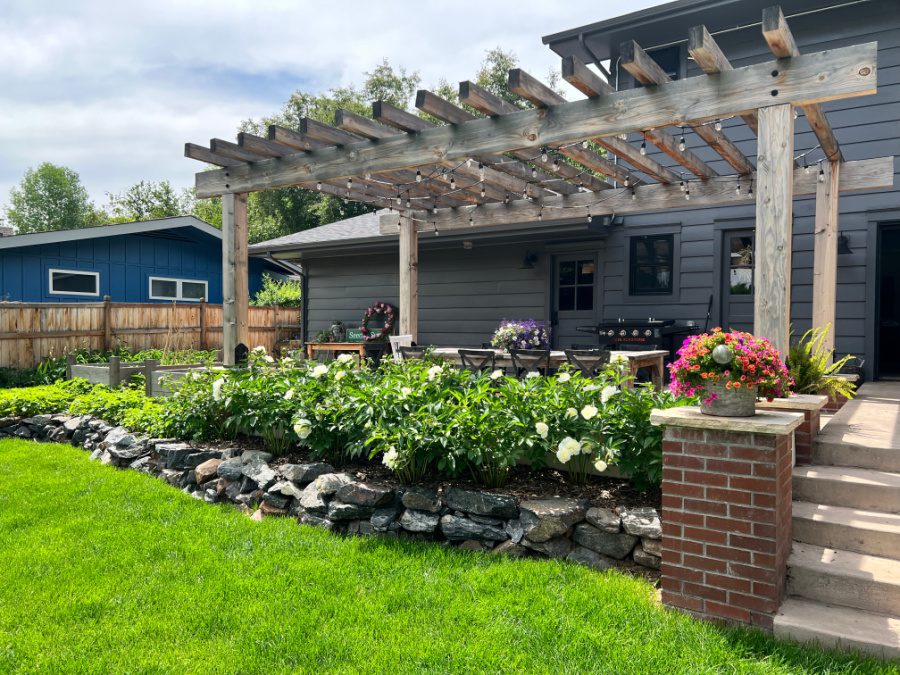 Our Entry
Ok, come on in!
When you first enter our home, you are greeted by the lovely wood and blue staircase. All of our bedrooms except one are upstairs.
I have visions of our girls coming down before high school dances on these stairs!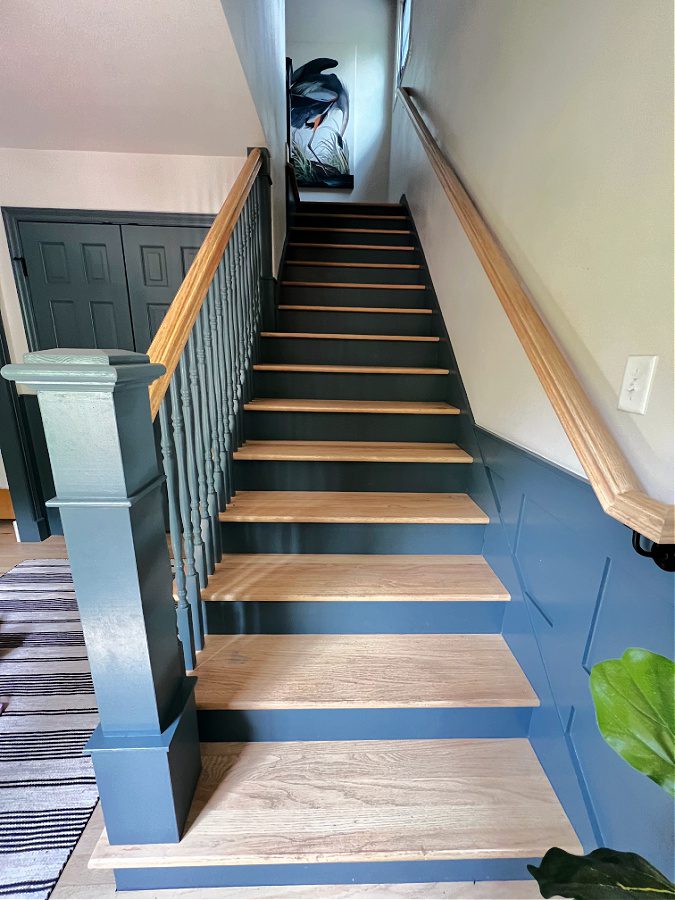 At the top of the stairs, I have a large, wrapped canvas that I found at HomeGoods the same time I found the one in our family room. I almost didn't get it but my mom convinced me too and I am so happy. Because now I couldn't imagine our home without these large pieces of art.
I'm still looking for a skinny bench to go under it and I'm possibly going to add an art light above it.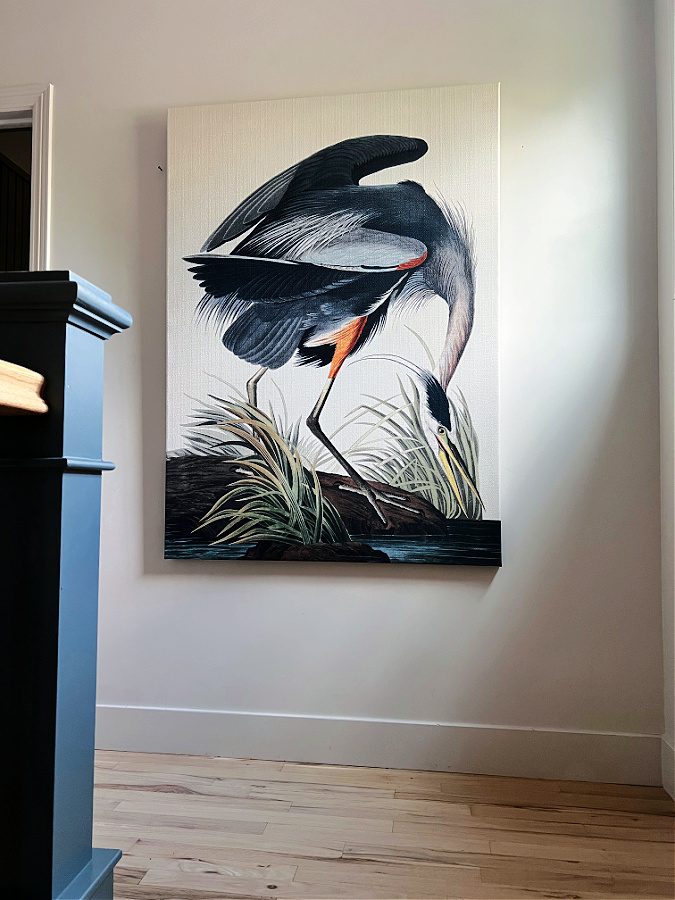 The Tattered Pew
To the left of our stairs is a little alcove of sorts where I have placed my favorite little pew. Besides pews, I have a thing for baskets, and you can see a few of those below.
If you were to open the large, tall one you would find my collection of plaid and wool blankets I use at Christmastime! I've been known to stash things all around the house and then forget where I put them. Can you relate?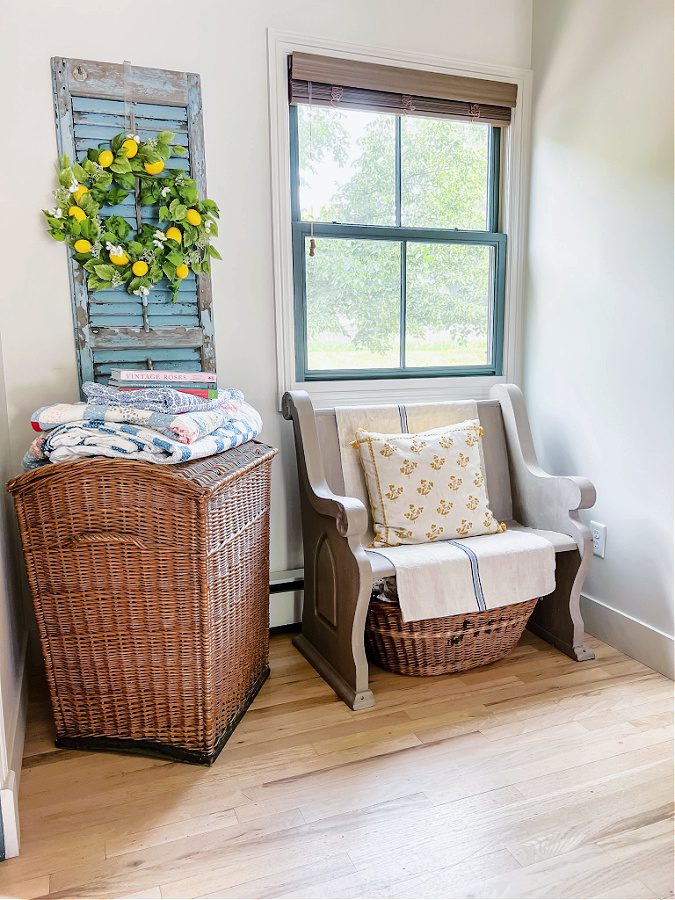 Did you see my summer mantel post? If so, then you know that this summer I am adding lemon decor throughout our home for some fun touches of summer. Lemons and summer go hand in hand if you ask me.
So, when I saw this gorgeous lemon wreath from my friend Laura of the small shop roundwreaths.com, I knew it needed to have a place in our home.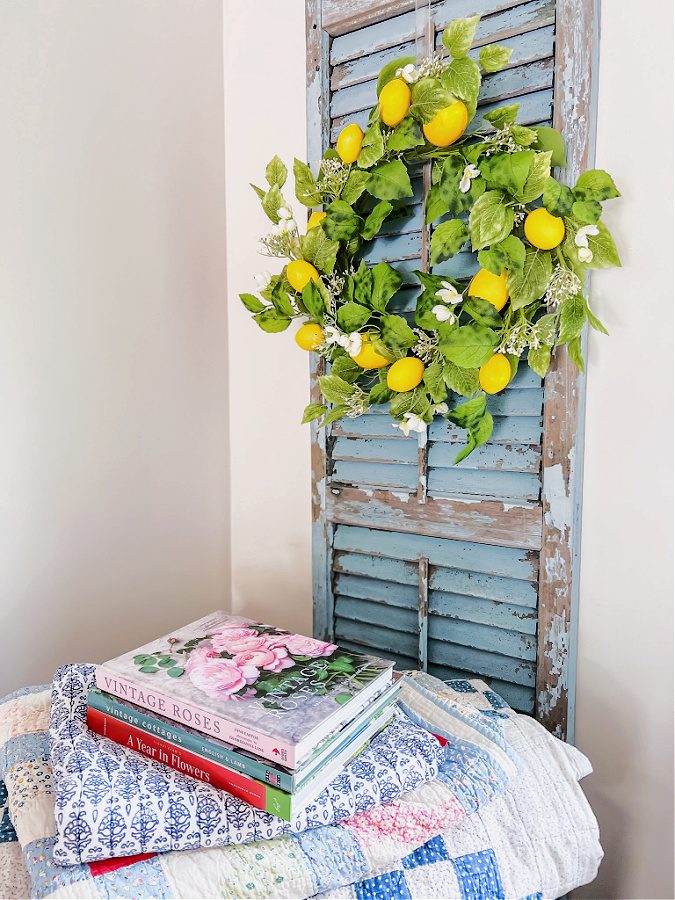 Doesn't it look so pretty hanging on this old shutter?
If you love handmade, gorgeous wreaths from wonderful small shops I can't recommend Laura enough! Her wreaths are top quality and so pretty!
Just across from my pew, still in the entryway area and right before you enter our kitchen, I have one of my favorite FB Marketplace finds, this pine dresser.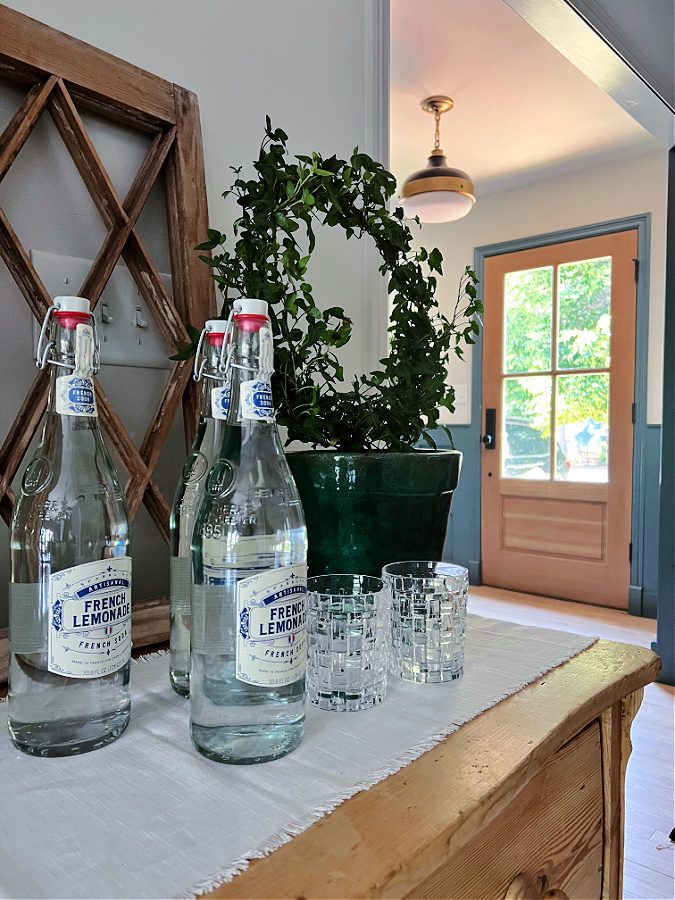 Currently I have a sweet little vignette set up on it with my DIY ivy topiary, some basketweave glasses (that are my husband's) and some French lemonade. Summer perfection and oh so simple!
Shop Our Entry

Our Kitchen
Come on into our blue kitchen! This is one of my favorite spots in our home mostly because I love the color blue and this space is all blue and so charming! This is the color Blustery Sky by Sherwin Williams. It changes a lot depending on the light but overall, it's a lovely soft blue.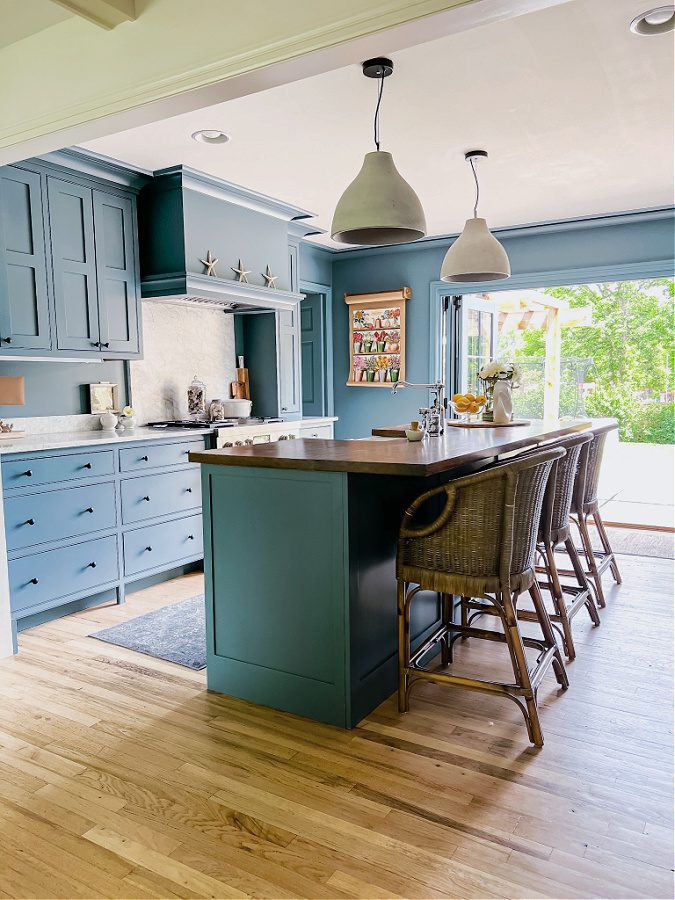 This is the view of our kitchen from out back. Being able to open these tri-fold doors has been so much fun and adds instant extra sqaure footage.
Can you say party time?!
Our pup Kona was curious about what I was doing!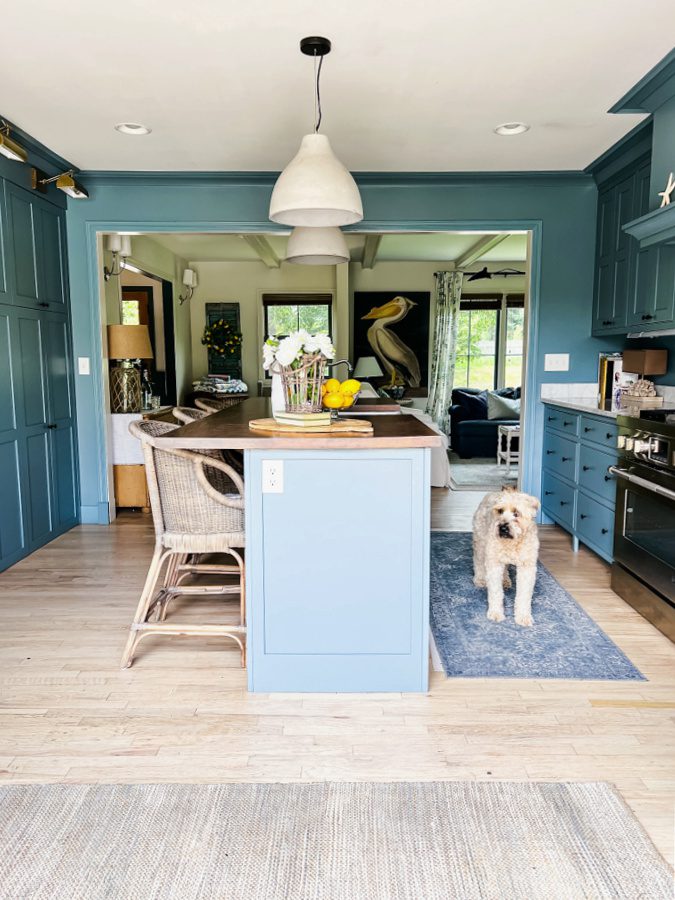 For summer in our new home, I had fun adding small coastal touches like these seashells we have collected from all of our vacations and the starfish above the hood. Personal touches like these are what I think make a house a home.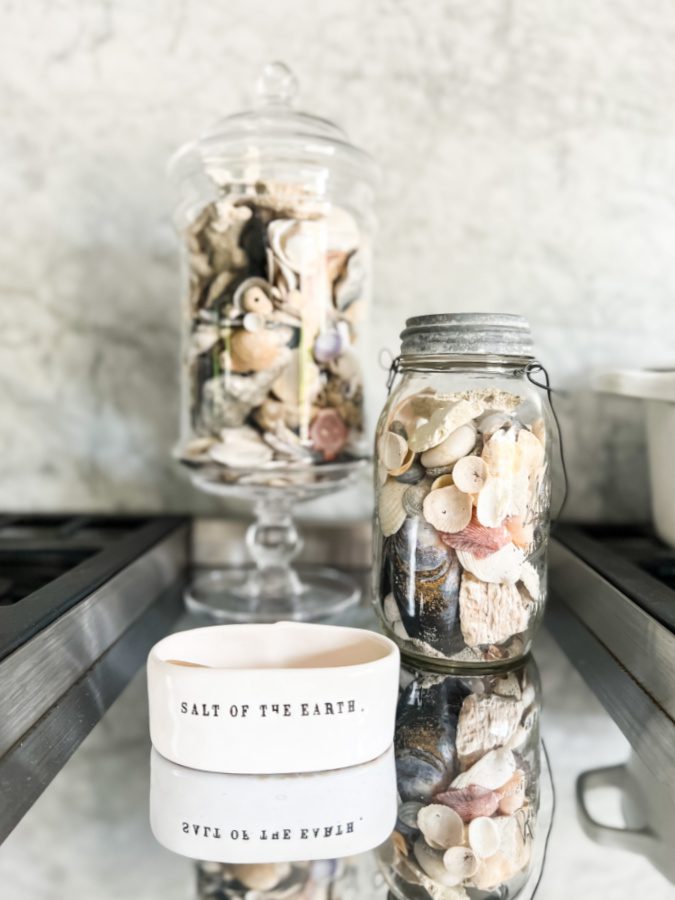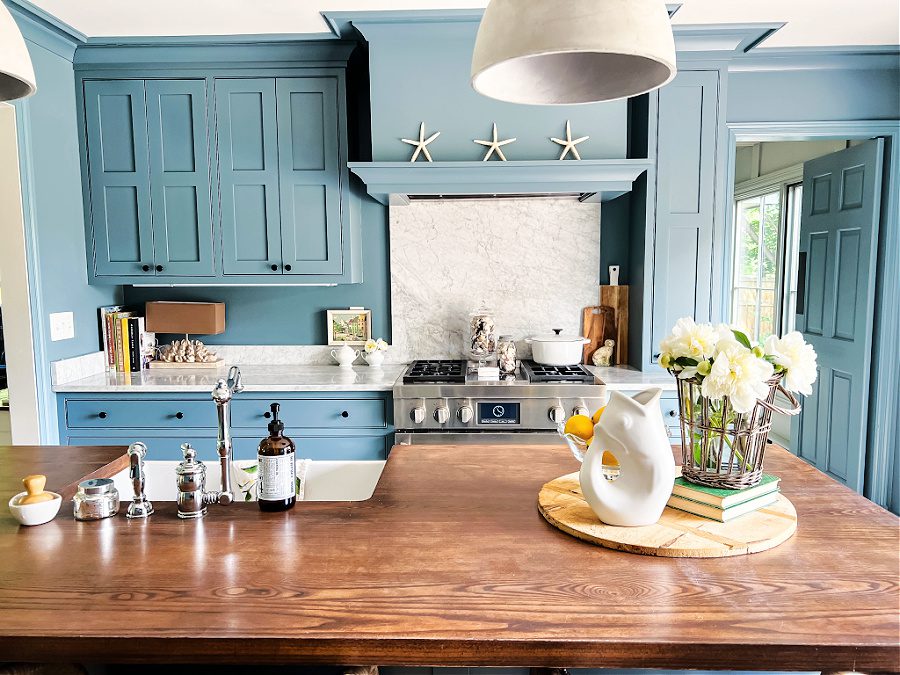 More lemons, some of our gorgeous and amazing smelling white peonies and my favorite gurgle pot are on display on the butcher block counters. If you love lemons too stop by my Amazon Storefront for more lemon decor!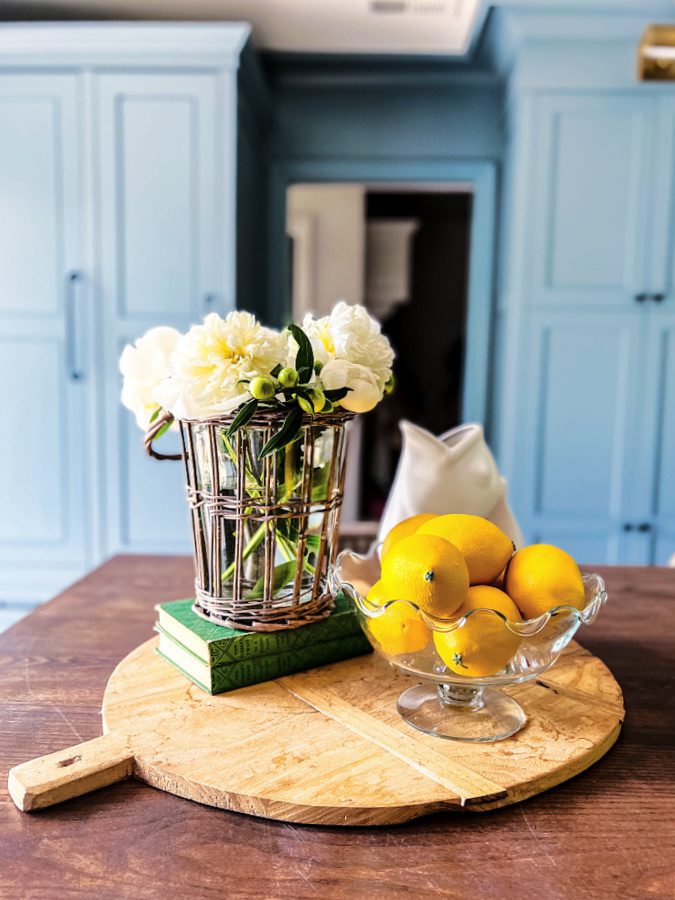 Another sweet little vignette with more white peonies! If only they would last longer. I love cutting them to enjoy inside but also love leaving enough outside to admire as well!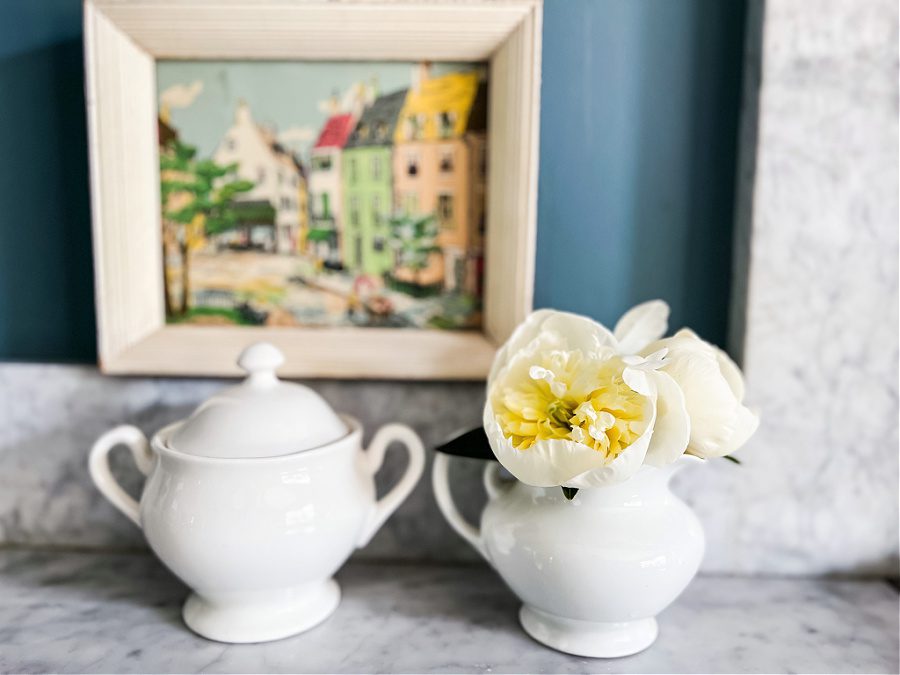 Shop Our Kitchen

Our Family Room
Just off of our kitchen is our family room and the last stop on this tour.
You will see my favorite Boxwood green dresser in all her glory. But take note, these pictures make her appear a bit more green than normal, It's probably a combination of the lighting and my editing skills. I'm still figuring out the lighting in this home. I'll get there!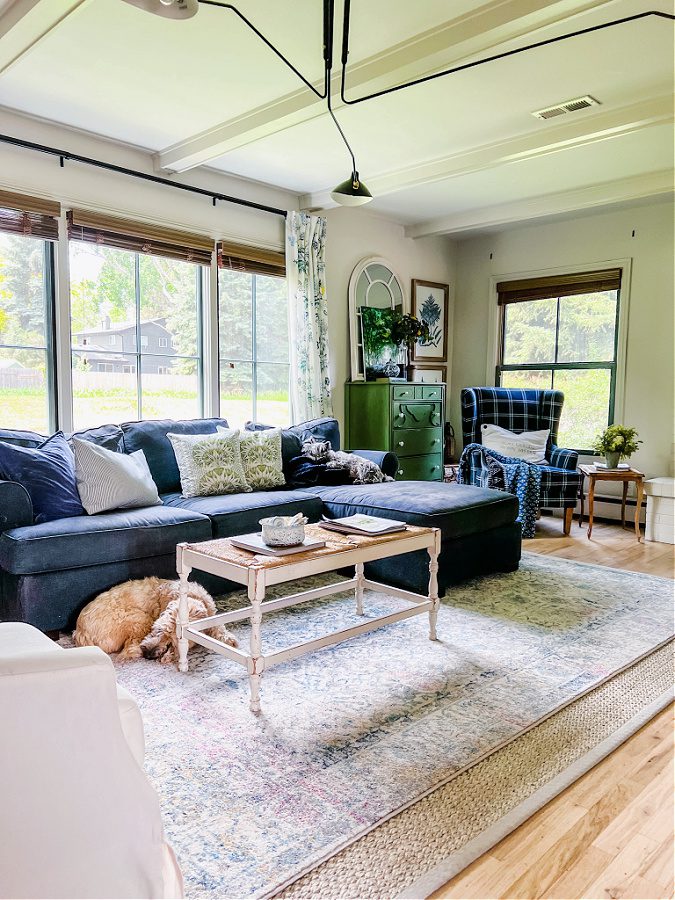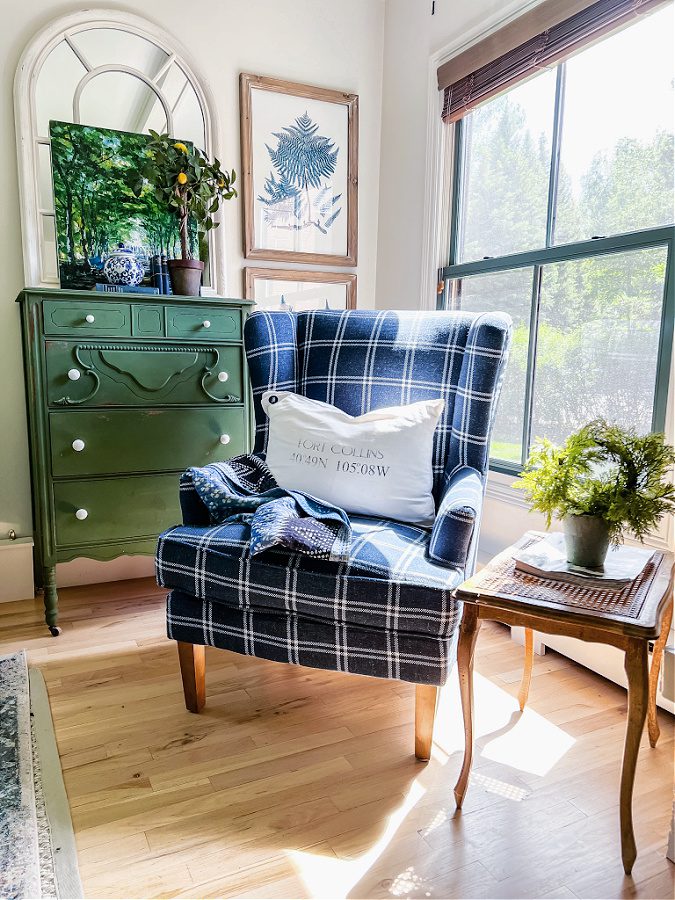 Just to the right of our blue plaid chair is our fireplace. I dedicated an entire post to our summer mantel if you want to see more! It's all white brick with a rustic mantel…she is a beauty!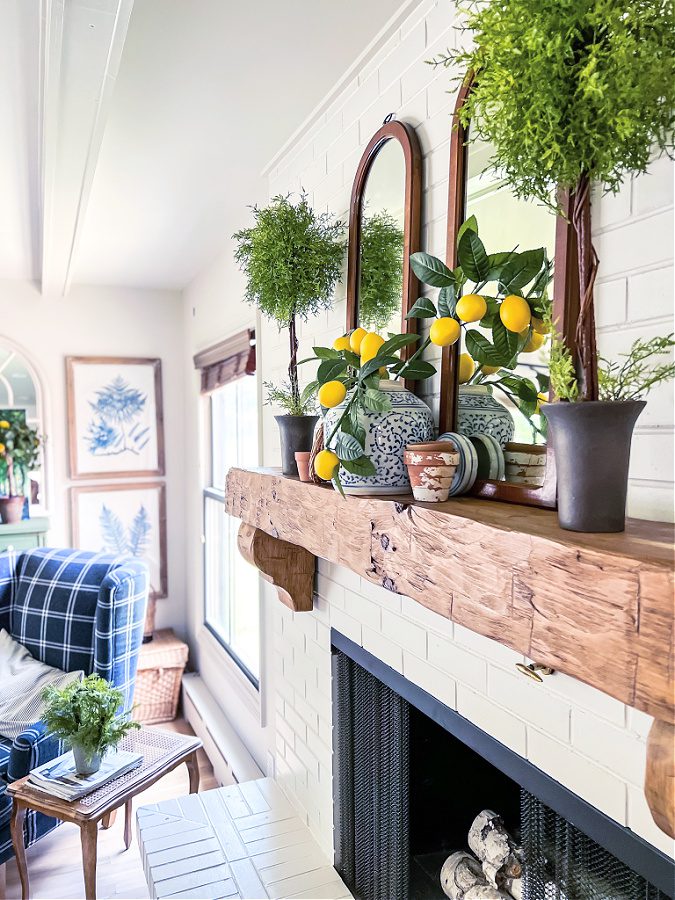 Across the room you will see two white slipcovered armchairs.
Guess what?! I just scored them off of FB Marketplace last week.
Sure did!
I got the both of them for $100 total. Such a deal and I feel like they define the space perfectly. I still need to scotch guard them though! My family, myself included, can be very rough on our furniture and these slipcovers don't come off. So scotch guard it will be!
Do you ever shop on FB Marketplace? I have found so many great furniture pieces of ours that way.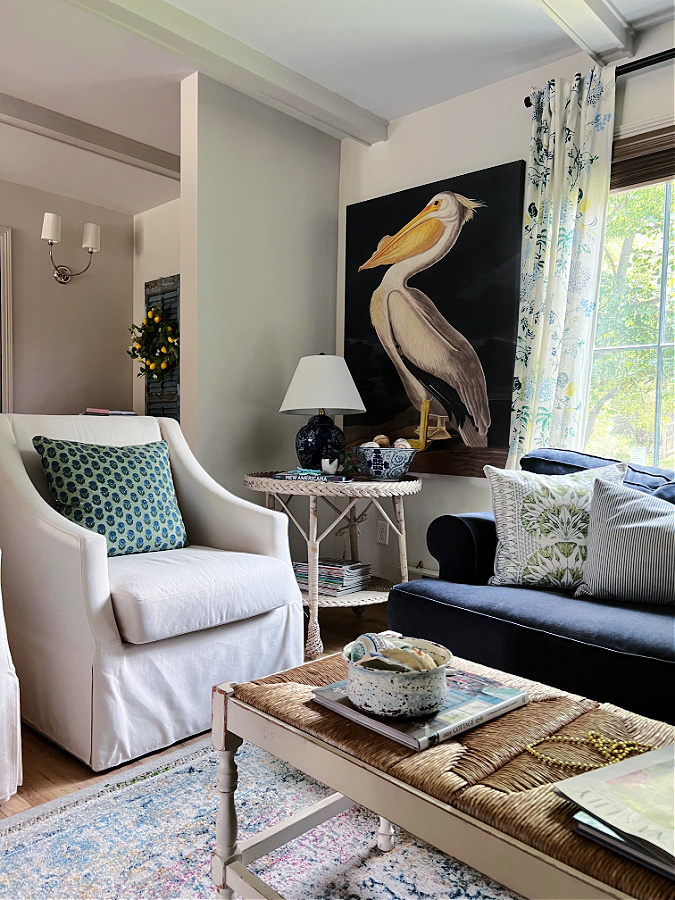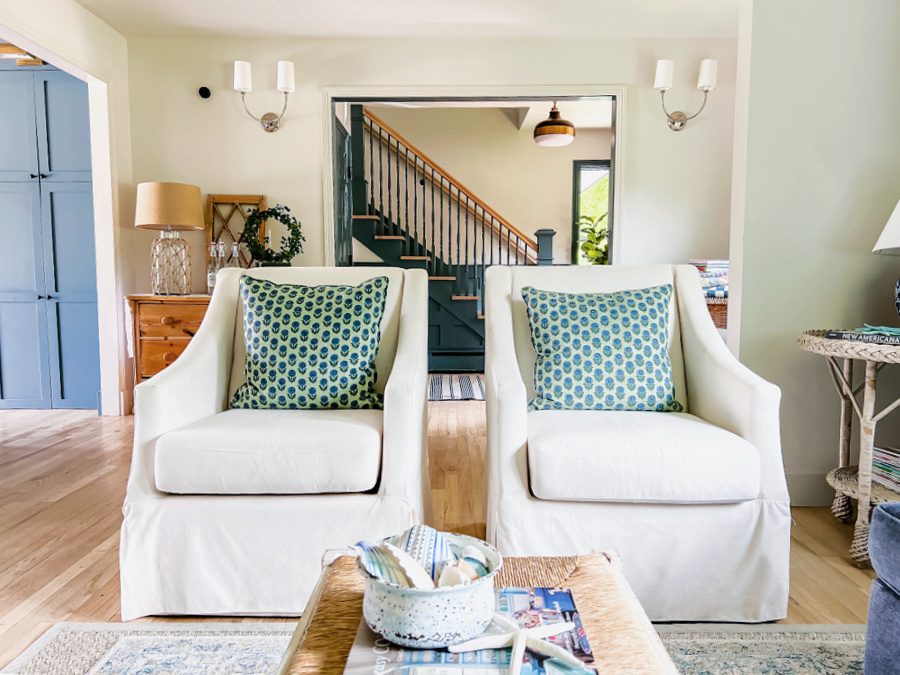 In this space you can really see how I love incorporating layers, textures and the colors green and blue. The block print pillows on the white chairs were a HomeGoods find and the green ones on the sofa are from Amazon!
I love the coastal, comfy and collected feel this room has. We do a lot of living in here as a family.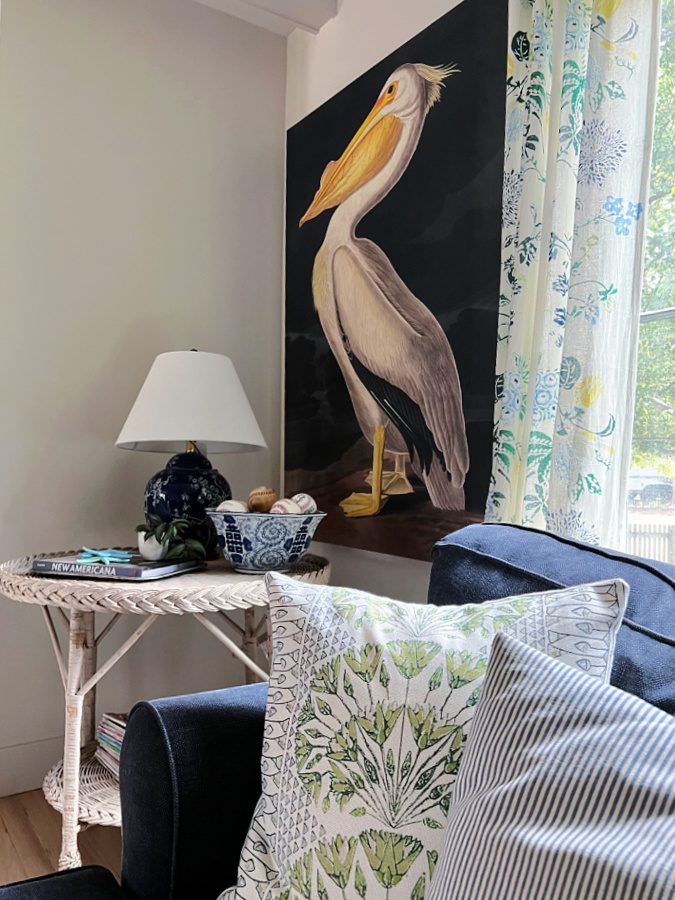 Shop Our Family Room

Summer In Our New Home
And that my friends is the end of my summer tour!
What did you think of our new home dressed up for summer?
I really appreciate you taking the time to stop by today. If you want to hang out with me some more, I would love to have you follow me over on Instagram, Pinterest and Facebook too! Of course, you can always subscribe to the blog as well.
Now make sure to head over to my friend Jennifer from Cottage On Bunker Hill's tour next. Her New England home is charming and full of incredible DIY projects and lovely styling. Then visit the other bloggers listed below. Happy touring!!!
xoxo,
Kelly
Bloggers' Best Summer Home Tours
This week I am joining some of my blogging friends for the Bloggers' Best Summer Home Tours. Thirty talented and creative women will be opening their homes up for you to tour all week long. You can visit each summer home tour by clicking the links below.
Monday's Tours


The Tattered Pew / Cottage On Bunker Hill / She Gave It A Go
Cottage In The Mitten / Stonegable / My Wee Abode
Tuesday's Tours


Thistle Key Lane / Midwest Life & Style / White Lilac Farmhouse
My Thrift Store Addiction / Willow Bloom Home Blog / Dabbling and Decorating
Wednesday's Tours


Bricks 'n Blooms /Amy Sadler Designs / Peacock Ridge Farm
White Arrows Home / Pasha Is Home / The Ponds Farmhouse
Thursday's Tours


Simply2Moms / Country Peony / Southern Home and Hospitality
Shiplap and Shells / Eleanor Rose Home / Cloches and Lavender
Friday's Tours


Le Cultivateur / Lora Bloomquist Create & Ponder / Noting Grace
My Family Thyme / Vintage and Grace Living / County Road 407
Did you like this post? PIN it for later!