Tips for Setting a Quick and Pretty Outdoor Table
Whenever the flowers start blooming in our yard it's my signal that the weather is prime for outdoor dining. The flowers, mostly peonies and roses are blooming here in Colorado currently, and I thought it was high time I put together an impromptu peony table setting. So if you too love flowers and outdoor dining then you might just like my tips for setting a quick and pretty outdoor table.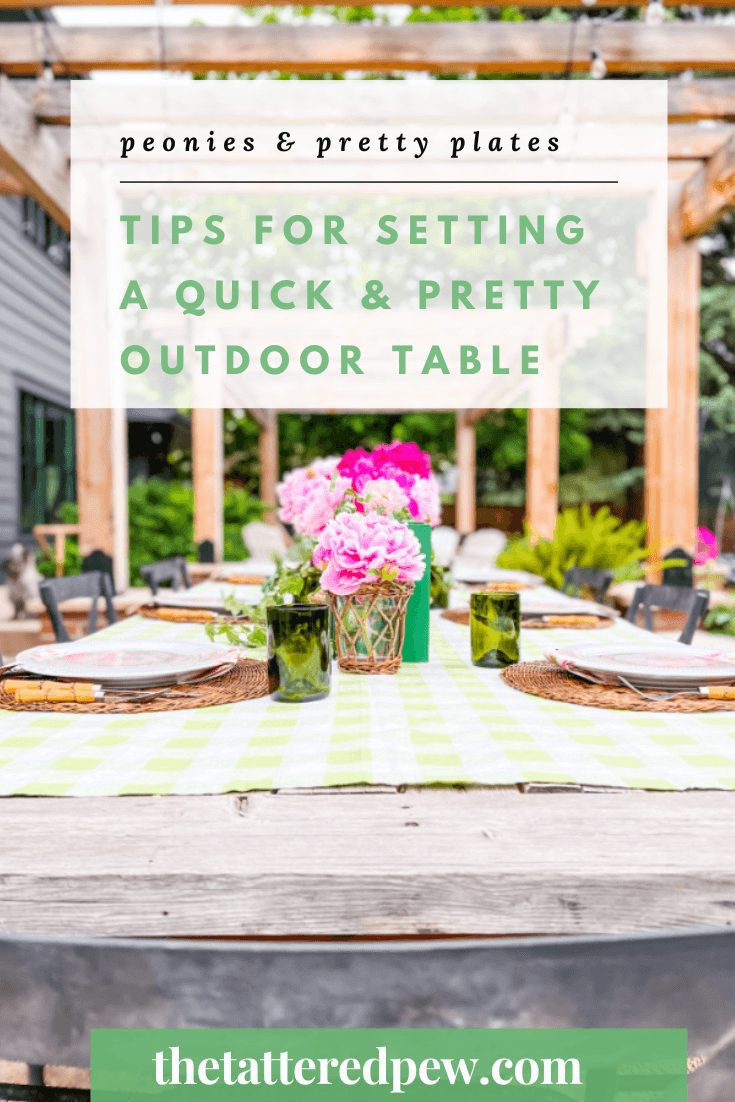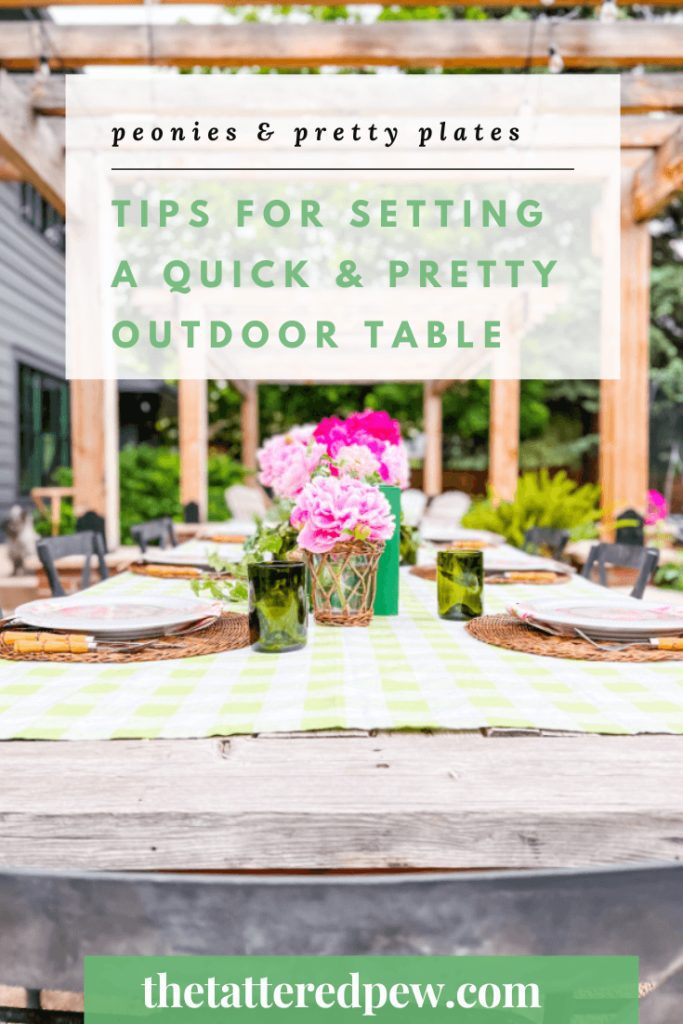 **As an Amazon Associate, I earn from qualifying purchases. This post contains other affiliate links too for your convenience. Click here to read my full disclosure policy.
Tips for Setting a Quick and Pretty Outdoor Table
Well actually I must be honest with you.
I didn't put this lovely table setting together by myself. My wonderful mom helped me. Tip number one, find a partner!
And the gorgeous peonies you are about to see in the pictures are all courtesy of my mom and her amazing yard. Mine are still yet to bloom…but they are close!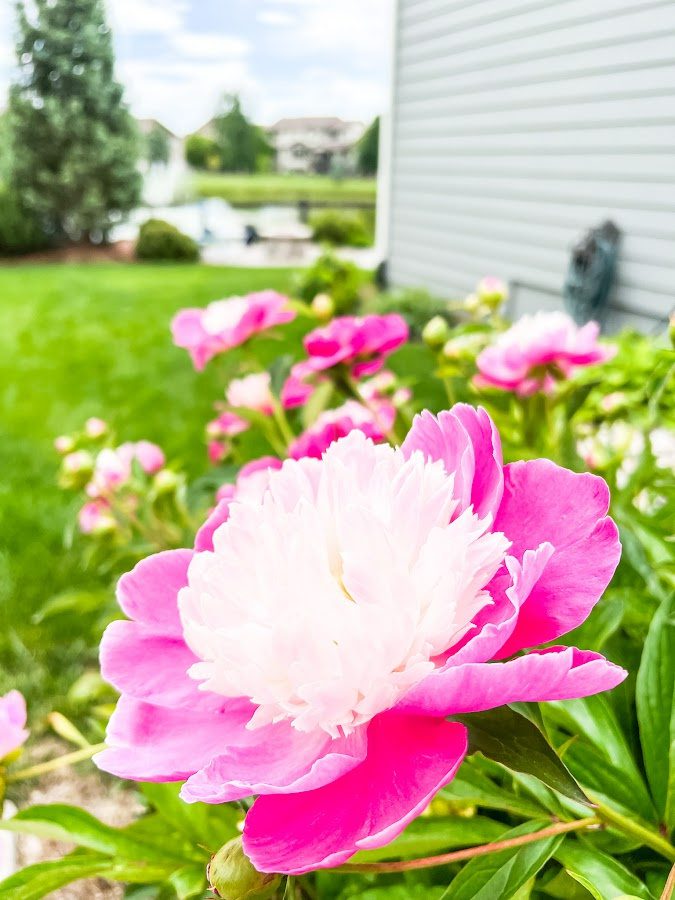 We cut them, hauled them over to my house this past Sunday after church and had a grand old time bringing to life this gorgeous summer tablescape. Join me below and I share how it came together so effortlessly!
And just a warning, this post is going to be FULL of a ton of pretty pictures!
Setting A Pretty Table: Gathering the Goods
I love that we have a large beautiful table to set and eat at in our backyard. We bought the table and chairs from the previous owners because they fit the space perfectly!
On to setting the table…
After we got back to my house we had fun instantly and started looking for vases and items to use on the table. However, the first thing we knew we needed was the green gingham tablecloth I used for my no-sew curtain in our mudroom.
Next, we found two glass hobnail jar vases, two wicker candle holders (minus the candles), one large wicker vase and several green books. I also grabbed a few baskets I have had for awhile now from the Target Dollar bins.
If you know me I am all about symmetry and that's why we gathered a lot of the vases and items in groups of two. I also whipped out some lovely citrus and floral napkins I found at HomeGoods for $4.99! Aren't they the cutest?! If only I had grapefruits to set on each plate! Boy would that be fun!
Creating a Centerpiece Quickly for Outdoors
Once we had the items we got to work cutting the gobs of peonies we brought over from mom's garden and placing them in the vases.
To start we loaded up the large wicker vase with a variety of pink flowers and set it in the middle of the table. This created an instant focal point.
From there we built out and down the center of the table in a line.
This is where the symmetry came in to play and play we did! We moved things around until they felt right. At first they were all spread out down the center of the table but it looked a bit empty. So we squished everything tighter and it looked good.
It was still missing something though so we added the green books and mini baskets with ivy plants and then it was perfect.
Books make everything better, right?!
I love what an impact this centerpiece has and I love how it was so quick and simple to put together. Peonies are some of the easiest flowers to arrange because they can stand alone with their large blooms.
Tip: Use what you have and don't overthink your choices!
Table and Place Settings
Once the centerpiece was in place we got to work adding the place settings.
First we laid out my 6 woven placemats that I used on my Easter table this year. They added the texture aspect that I love!
I am a big fan of layering plates. So my mom and I hauled out my everyday white plates and my clear hobnail plates. I brought out the clear ones so I could put the paper napkins between the two plates and see its pretty colors! Plus, it will hold your napkin if it gets windy. (I'm looking at you Colorado!)
Finally we added my favorite faux bamboo flatware and these stunning new wine bottle glasses Mike surprised me with last week! Aren't they so cool? We saw them at a local Italian restaurant and I couldn't stop talking about them. He is always listening and was so thoughtful to get them for me!
Tip: Pop a fun pattern with your tablecloth or napkins!
Picking Your Colors
Did you notice that we had a color scheme for this quick and pretty outdoor table?
Yep, pink and green! I am a color girl through and through so this table and all of it'-s pops of color had me smiling the entire time we were putting it together!
Picking colors doesn't have to be hard. Find one element that you want on your table and use the colors it has.
For us that element was the peonies! We pulled the pinks, greens and whites from the flowers and used it across the tablescape. Then we added touches of brown which balanced out the table and pergola!
Shop This Post

Peony Care Tips
Rinse peonies under water to remove ants and break down the sugar sap on the buds
Massage closed buds
Remove leaves from base of bud to help them open
Trim stems at an angle daily to prolong life
Remove leaves that will be below the water line
Change your water daily (cool water temps help too)
If their petals fall off you can save them and dry them!
Tips for Setting a Quick and Pretty Table
Well that was a lot of fun! I mean, who doesn't love peonies, right?! Hoping you found a few gems and tips for setting a quick and pretty table. Just remember, it doesn't have to be hard! If you have any questions please leave them in the comments below.
Do you have an outdoor table you love to set in the spring and summer?
xoxo,
Kelly
Did you like this post? PIN it for later!