With Spring just around the corner that means it's time to bring out the jadeite! If you saw my last post on the old dresser I painted Boxwood Green , then you know I am loving all things GREEN! One of my favorite things to collect and display around our home is jadeite. These pretty old green glass dishes are fun to hunt for but you have to be careful because there are so many reproductions out there. Today I will share all about Jadeite: Old vs. New and how to tell old from new jadeite, where to find it and where to buy it.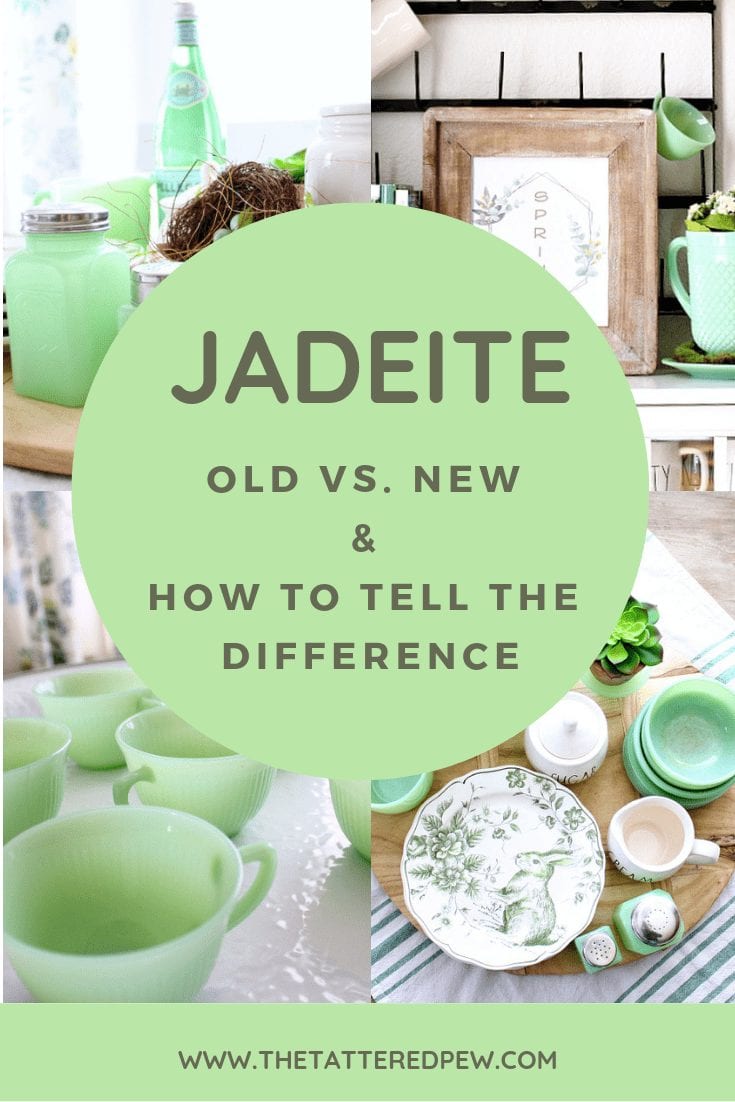 *As an Amazon Associate, I earn from qualifying purchases. This post contains other affiliate links too for your convenience. Click here to read my full disclosure policy.
Jadeite: Old vs. New
How to Tell Old From New Jadeite
Since I started collecting these dishes I have done some research to find out how you can tell if a piece of jadeite is old or new. One of the best articles I found on this topic was from Country Living Magazine. This picture below from their article shows the three names and types of authentic jadeite.
I keep the above picture on my phone when ever I am out hunting. So far I mostly have Fire King pieces.
This past weekend at the Rebel Junk Market I found and added this darling little pitcher to my growing collection. So far my collection includes cups, plates and bowls and now the little jadeite pitcher.
I think what also makes collecting these vintage jadeite pieces so fun is that it usually is affordable. For instance I only paid $40 for my Fire King set of 6 cups and saucers . (pictured below)
Where to Find Old and New Jadeite
So are you wondering where I find it? Finding jadeite has been a bit harder than I originally thought it would be. My go to places are flea markets and vintage markets!
Yep you heard me… I love shopping at our local flea markets and the occasional vintage market!
I truly enjoy the hunt and like I said before,  it's not usually outrageously priced, thus helping make it easier to add to my collection. Every once in awhile I will find a piece or my mom or sister will find a piece for me. My collection is slowly growing and I love it.  You can also find it on E-Bay as well as on Etsy and these sites are great if you are looking for specific pieces. There are so many options!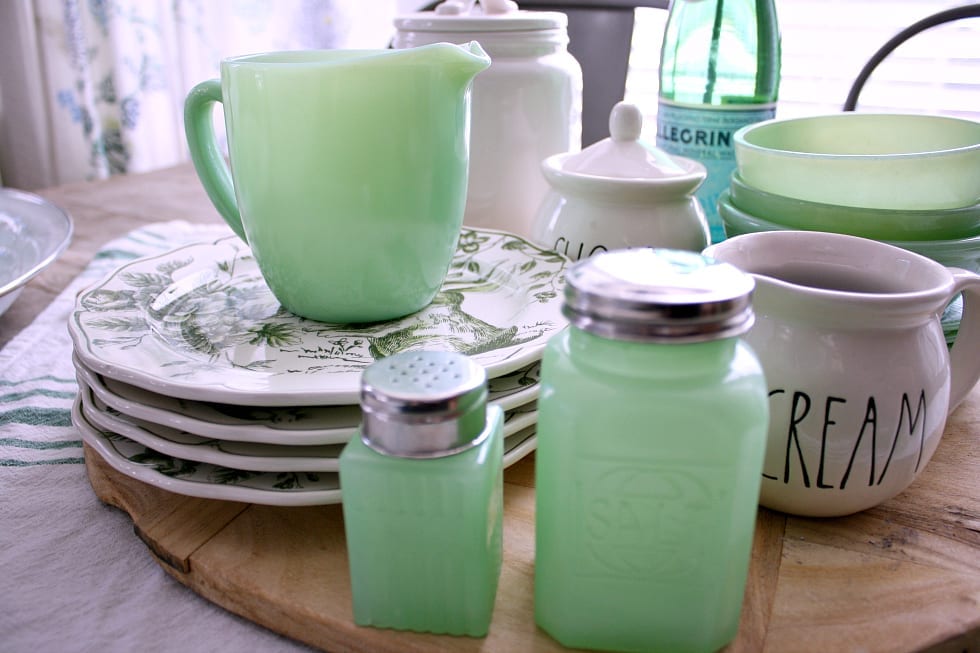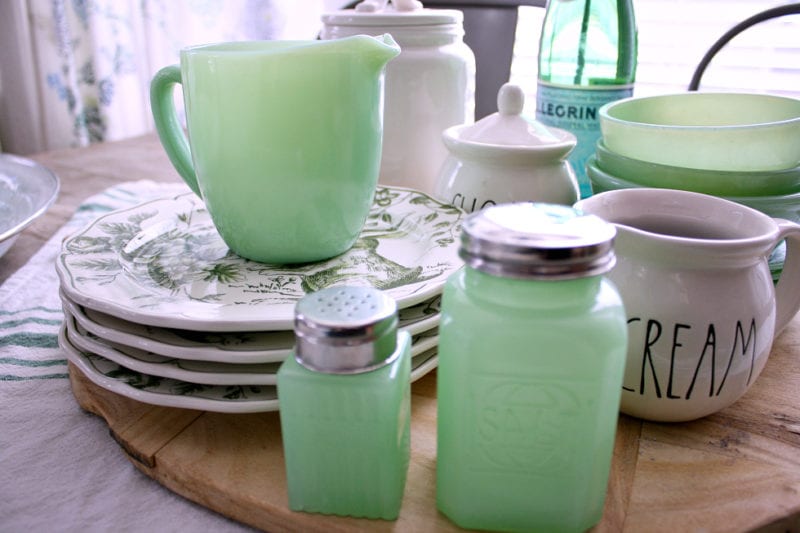 Where to Buy Both Vintage and Replica Jadeite
Now you may have noticed that I have a few other pieces of jadeite in my pictures. These pieces are replicas and hold me over in between my flea market and vintage market searches. I love how they mix in and sometimes it is hard to tell which ones are the old pieces and which ones are the new ones.
You would be surprised at all of the different stores that sell jadeite replicas.  I have found it at Home Goods, Crate and Barrel, World Market, Amazon and even Target! Now that I know how to tell the difference between old and new jadeite the shopping has become so much more fun!
If you have followed along with me for awhile now you know I also love to support small shops… my girl Abby from Farm-House Market has some lovely replica pieces and often has them on sale! So don't forget the small shops when you are out looking! My large cake stand and large pitcher are both from her shop! My smaller cake stand is from a local shop I love, Knapsack !
Shop Old and New Jadeite With Me
Below I will share some affiliate links for you to shop jadeite for yourself! Just click on each blue link to shop.

Jadeite: Old vs. New
Hopefully you learned a little bit about one of my favorite collections; jadeite! Also I hope you were able to learn how to tell old from new jadeite.
Do you collect jadiete? If so leave a comment below with your favorite piece. I love chatting with you all and I appreciate you stopping by the blog today. You can also check out my jadeite board over on Pinterest for more inspiration! I hope you have an awesome week!
I'd love to have you hang out with me some more! Feel free to follow along with me on any of the platforms linked below.
LTK | Facebook | Instagram | Pinterest | Amazon
xoxo,
Kelly
Did you like this post? Pin it for later!