Decorating With Blues and Greens for Summer
Hello, dear friends, welcome to this year's Bloggers' Best Summer Home Tour! I am once again thrilled to be your host for this week long tour where 25 of my talented blogging friends are all sharing their homes freshly decorated for summer. For my tour this year I will be sharing ideas on decorating with blues and greens for summer!
Get comfortable, grab a refreshing beverage, and let me give you the scoop!
*As an Amazon Associate, I earn from qualifying purchases. This post contains other affiliate links too for your convenience. Click here to read my full disclosure policy.
Bloggers' Best Summer Home Tours
Like I mentioned above this is a week long tour. I host these tours seasonally and always look forward to visiting all the homes included to get inspired for our home. You can find all of the ladies sharing linked below.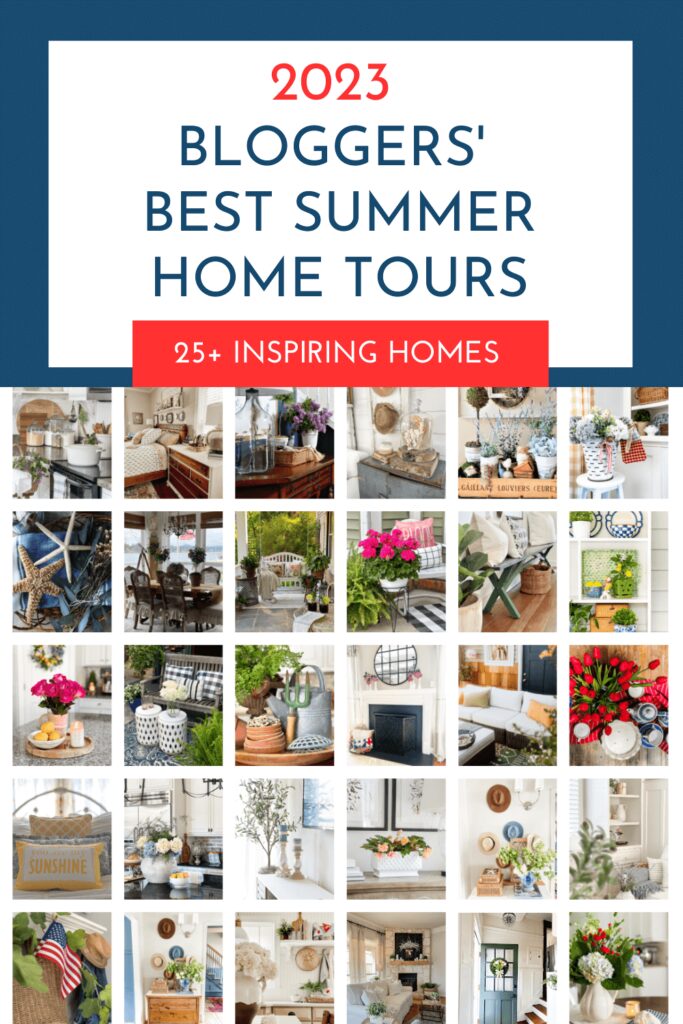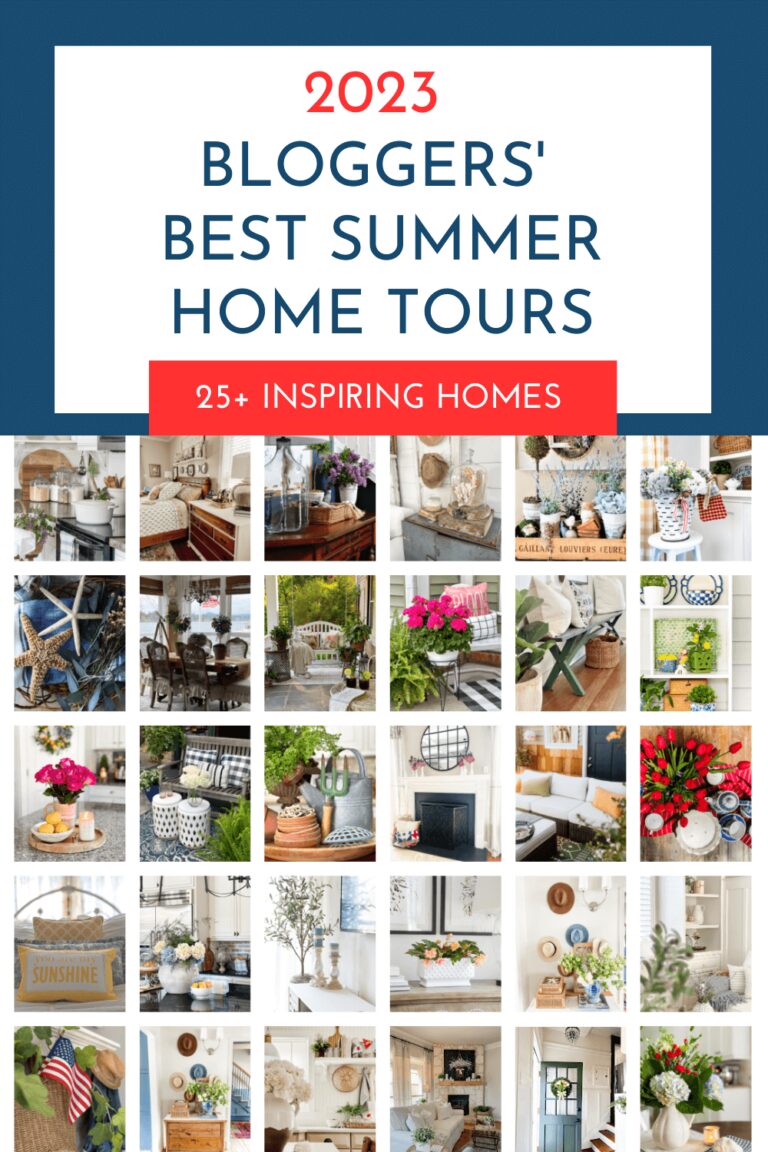 If you are a regular here, welcome! If you are new and happened to find me after taking Cecilia from My Thrift Store Addiction's tour, welcome! Don't you love her beautiful summer decor?
And don't forget, new homes will go live each day this week so make sure to come back each day to visit them all!
Decorating With Blues and Greens for Summer
Ok so before we get started on pictures of our home here is a little bit about me. My 14 year old daughter took these pictures of me to share with you all for today's tour.
As she was taking them she was being so funny and literally cracking me up! We had some fun laughing together and after looking at them I felt like she really captured me well.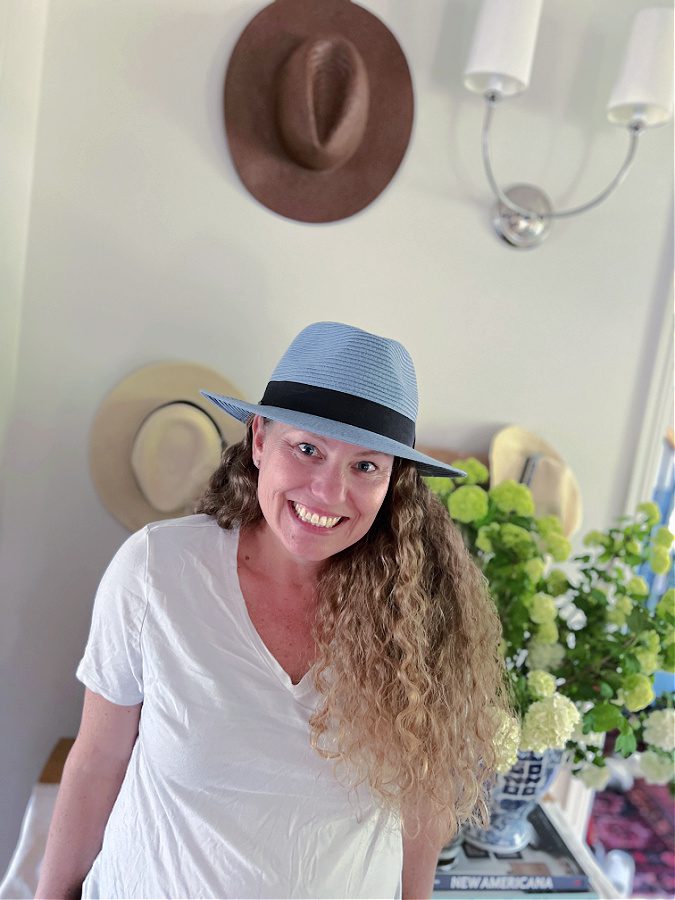 You can see my casual style (wrinkly shirt and all), curly hair, love for hats and probably a few other things.(find my blue hat here!) I'm truly just a hot mess mama who needs Jesus, time to putter in my garden and an occasional gin and tonic.
Oh, and you will also quickly learn that even though I live in beautiful Colorado, I decorate like I love near the ocean!
Hopefully someday that will happen! Now let me show you around our home a bit.
Let's Start In Our Entry
With summer just about here I have been so excited to get our home ready to welcome in the warmer months. We had such a gloomy, cold and wet Spring that has left me craving sunshine and color!
Here is what I came up with!
Our home has a very collected feel with a bit of coastal flair! As you enter our home you see my favorite little pew tucked at the bottom of our staircase. My husband found her for me at a flea market. (He knows me well!)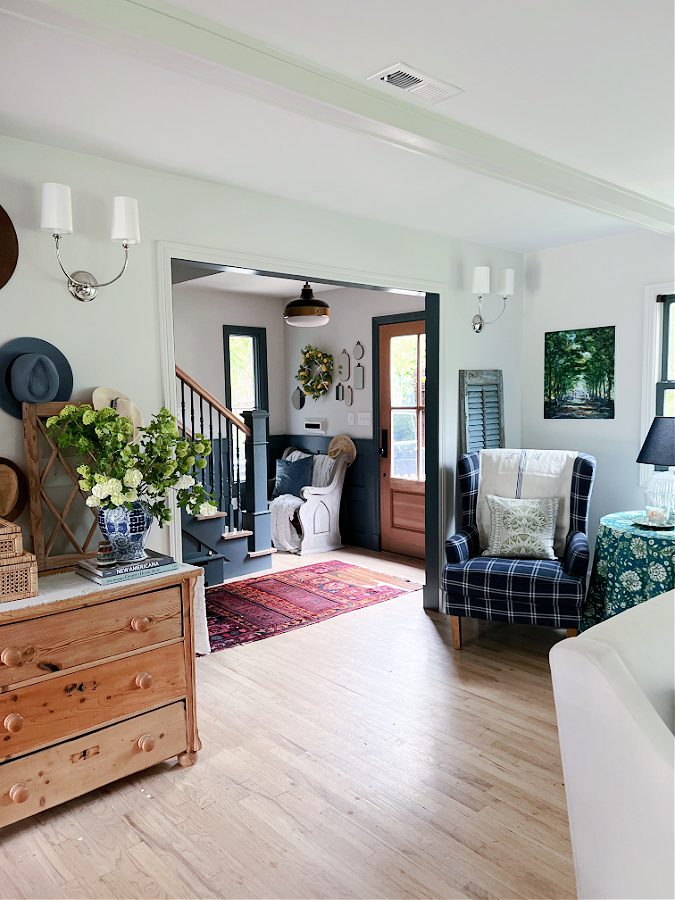 Our home lends itself to decorating with blues and greens thanks to the painted woodwork. So I have had fun pulling out blues in my summer decor by using blue books, vases, furniture, pillows and more!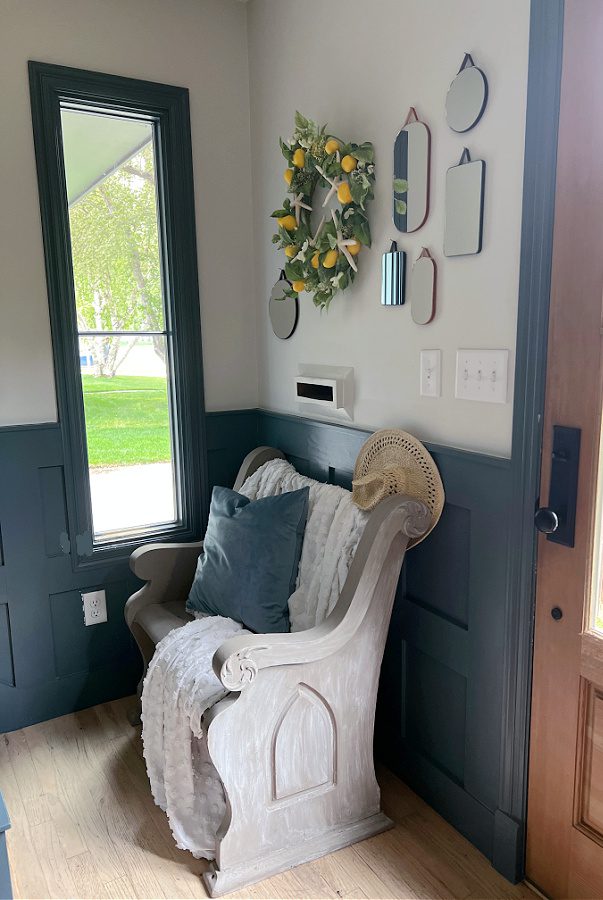 To add a bit of coastal flair in this spot I quickly tucked some starfish into an existing lemon wreath! Not only does this combo add color but a fun nod to summer.
And did you notice the fun set of mirrors surrounding the wreath? They are one of my favorite Amazon finds and all 6 of them come together.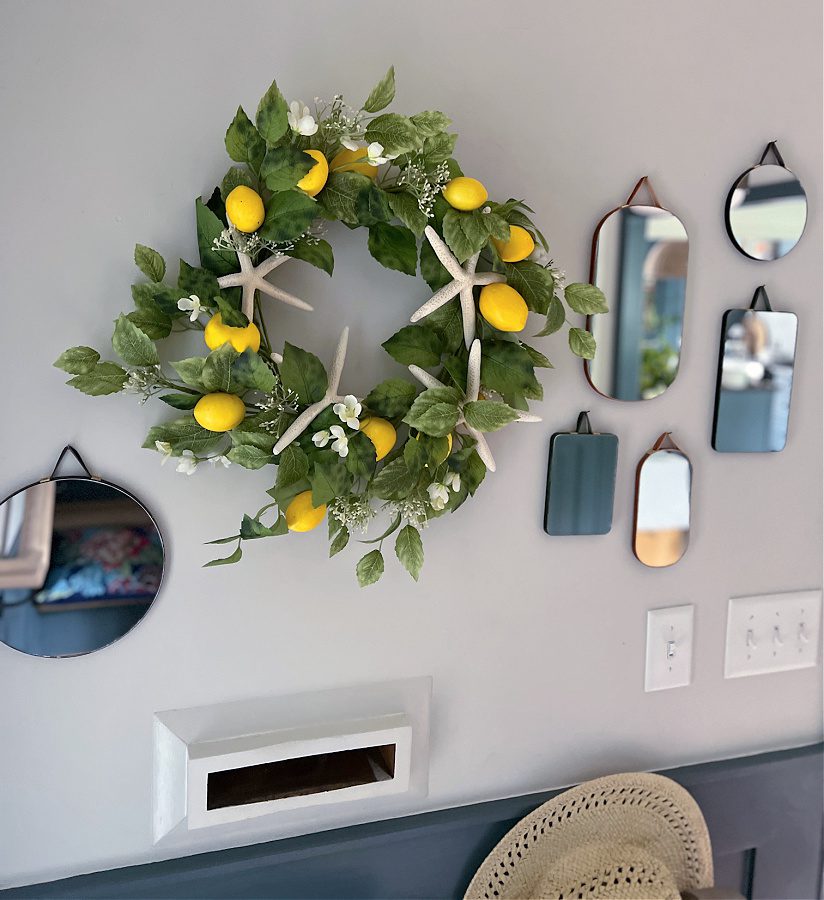 For me, summer and sunshine means I often need to wear a hat to protect my fair skin. So I decided that since this is the case I should just use them in my decor! Functional decor at its best. ha!
I have a fun collection, this is only a few, that look so lovely on our wall above my favorite little pine dresser. The blue hat my husband got me last year and I simply adore it. I love how it pulls out the blue in our wood work and the vase.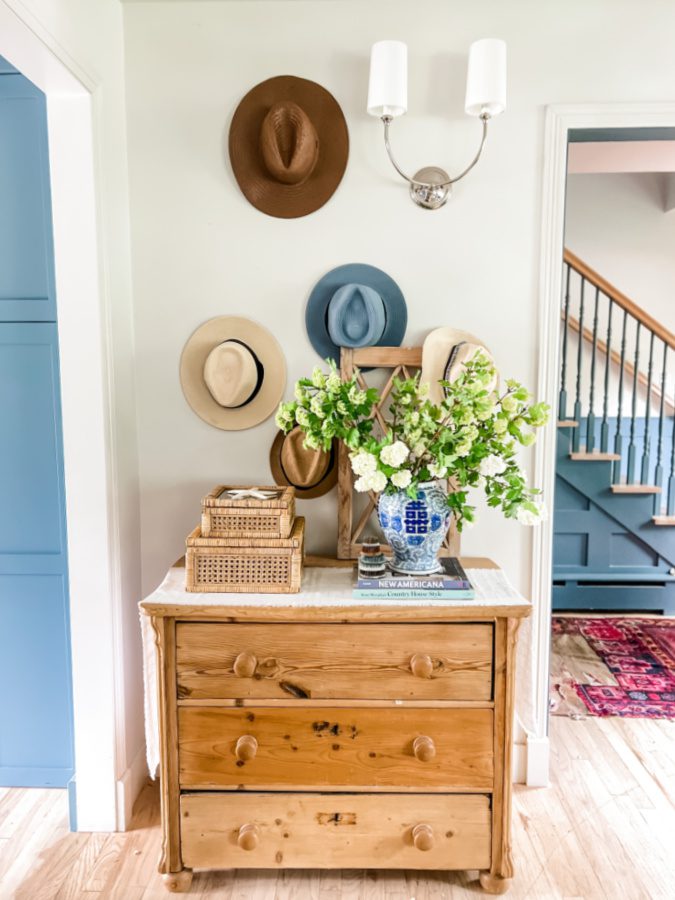 My mom was so sweet and stopped by last week with some of her gorgeous viburnum snowball blooms for me. I had several of these bushes in our former home and really miss them!
Don't they look so pretty in my blue and white ginger jar? Their leaves pull out the green I love while the vase and books add to my blue theme.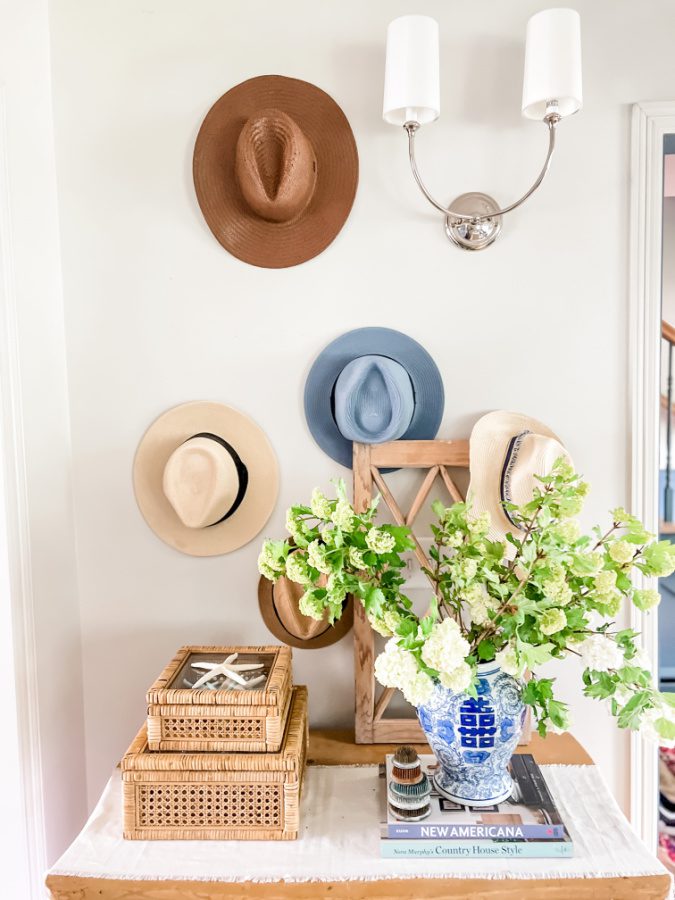 Scroll through the items below to shop this area!

Small Sitting Area
Just around the corner from our front door is a little sitting area. I moved my blue and white plaid chair over here and opened up a side table to fill the space.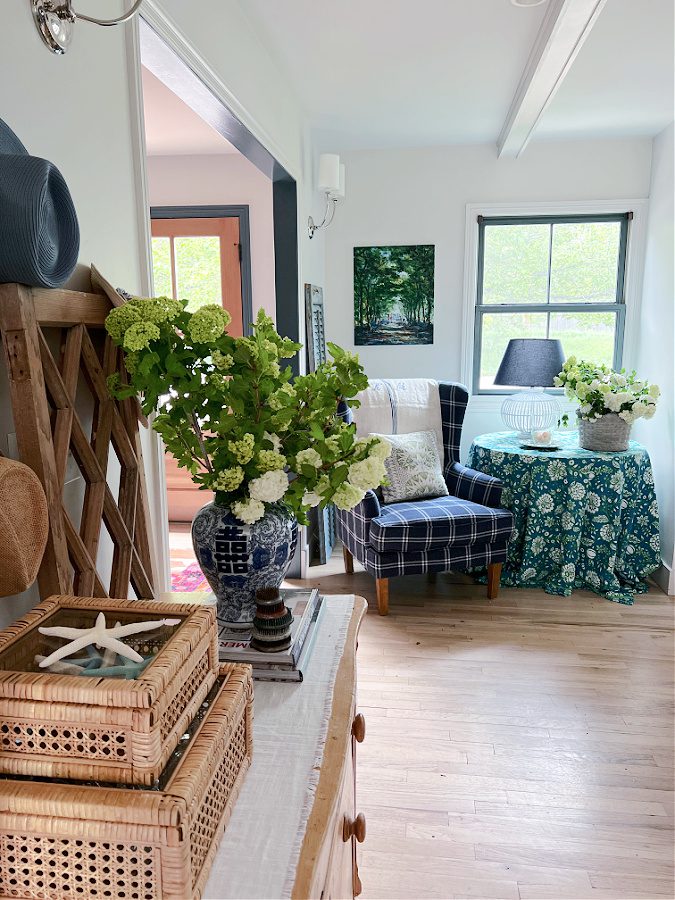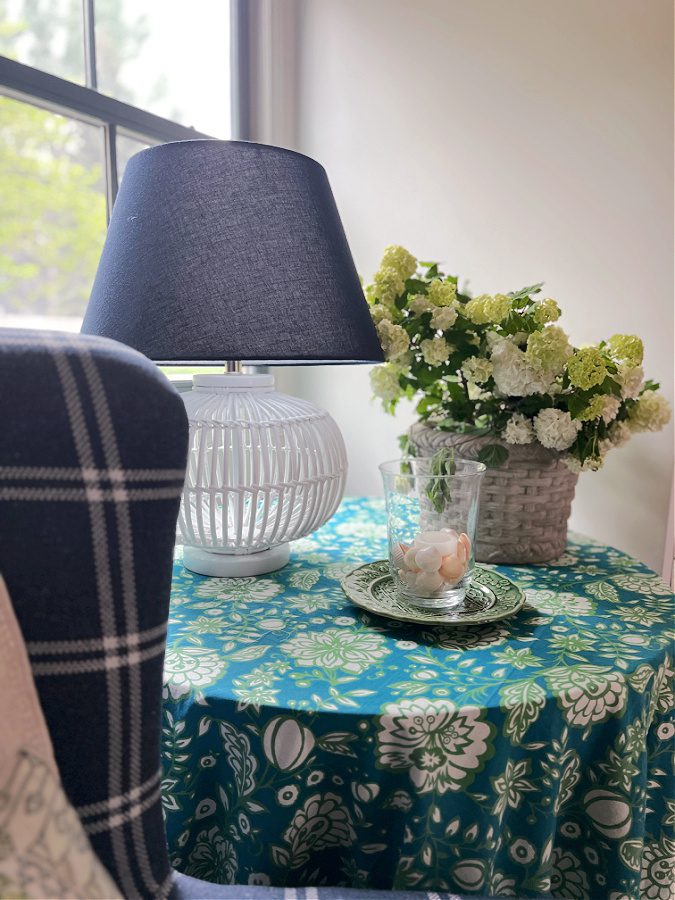 You can see I pulled blues and greens in this space with the tablecloth, more flowers, a pretty plate and the shade on the lamp.
I scored this lamp at HomeGoods!
I have to say I am a bit pleased with myself because I bought nothing new for this tour! Instead, I moved things around.
If you saw my Spring home tour you know this lamp and chair were on the other side of the room!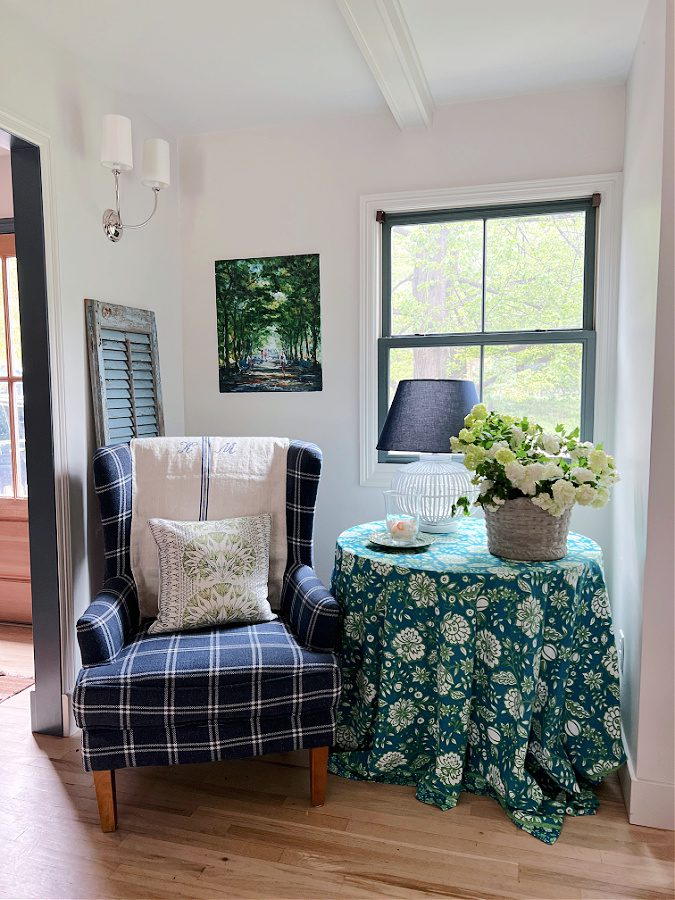 This vintage grain sack I draped over the back of our chair has the initials of my husband and I embroidered on it. This was a thoughtful gift from my parents one Christmas and I still can't believe they found it!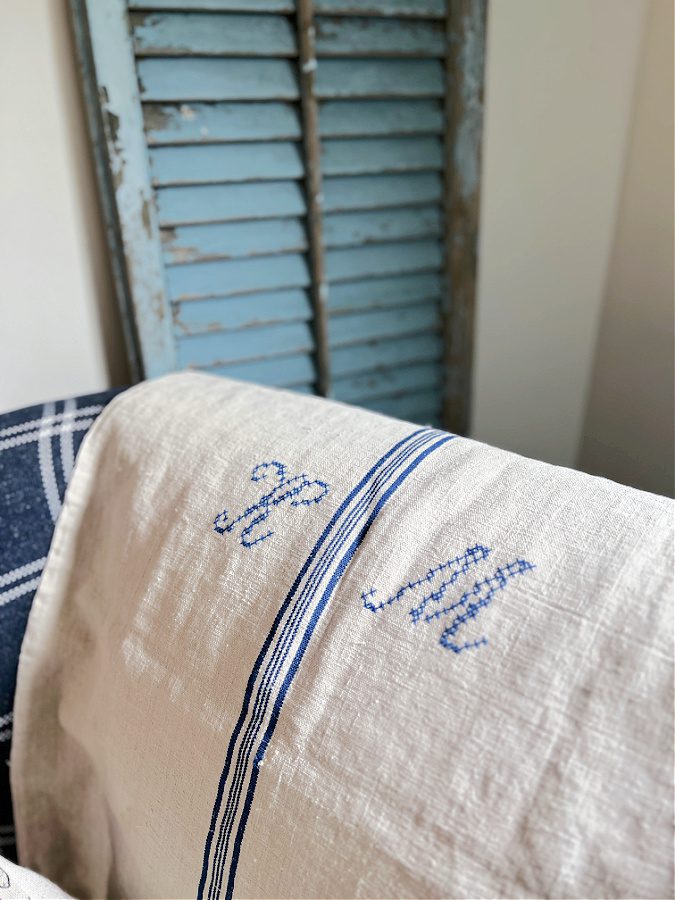 Notice the sea shells I snuck in around the candle? Those are from our tip to Florida last summer! The green plate the candle is sitting on was a flea market find and the cement pot with the basket weave detail was a gift from my mother. There are actually two!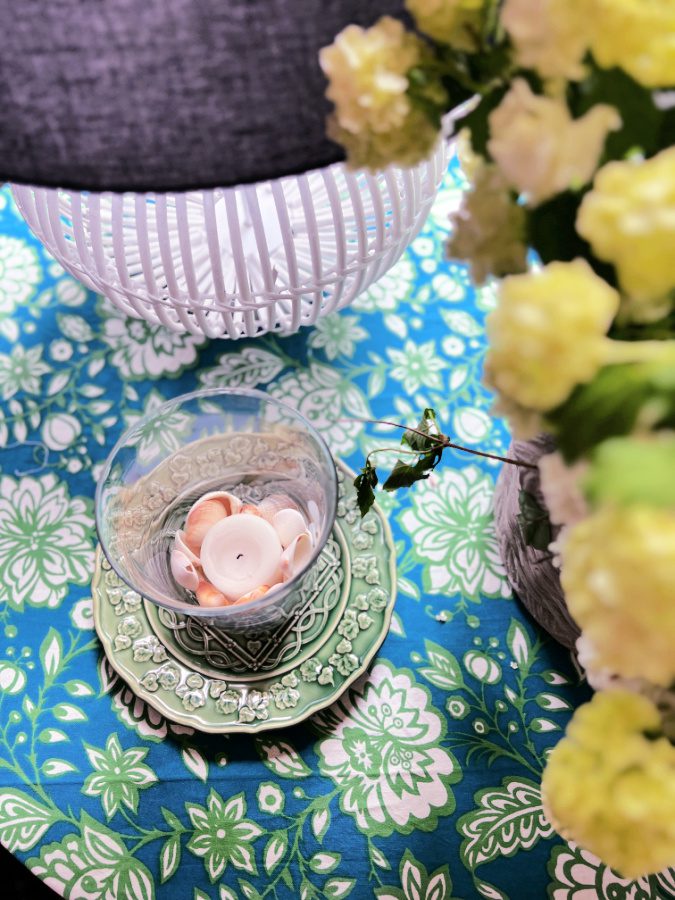 Shop this space by scrolling below!

Our Family Room
Now let's take a peek at our family room!
Just on the other side of that little sitting area I have more chairs. Chairs seem to be a weakness for me. My husband walked in the other day and noticed I had brought more chairs in and was like, wow, more furniture huh? Yep honey, you can never have enough! ha!
These two white slipcovered chairs were a Facebook Marketplace finds and I adore them! I placed two sets of pillows on them with pretty blue patterns.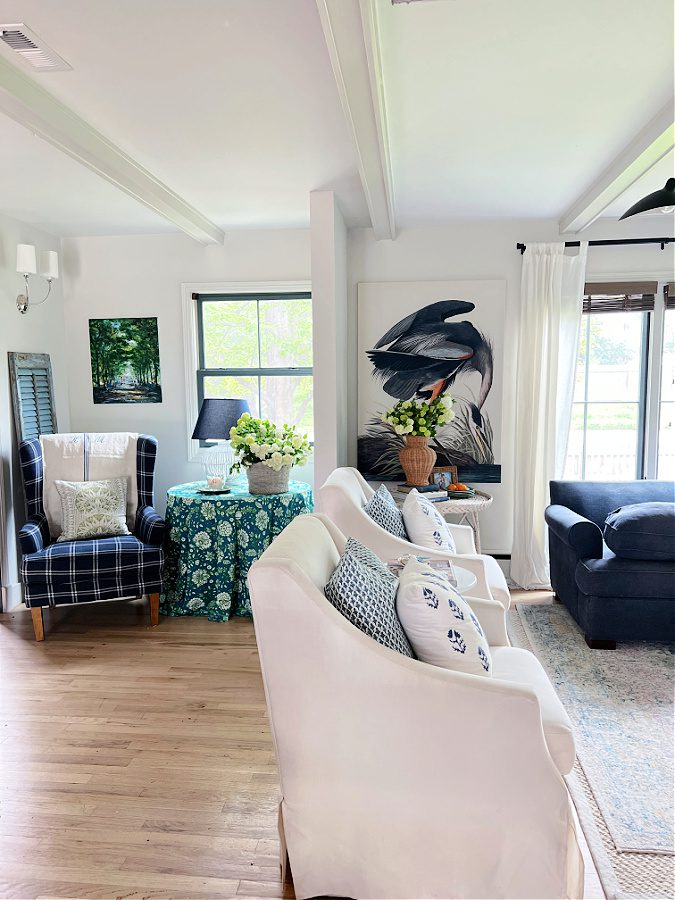 In between the chairs is the cutest little table and to the side of them is some large coastal art. I scored the bird art at HomeGoods last year!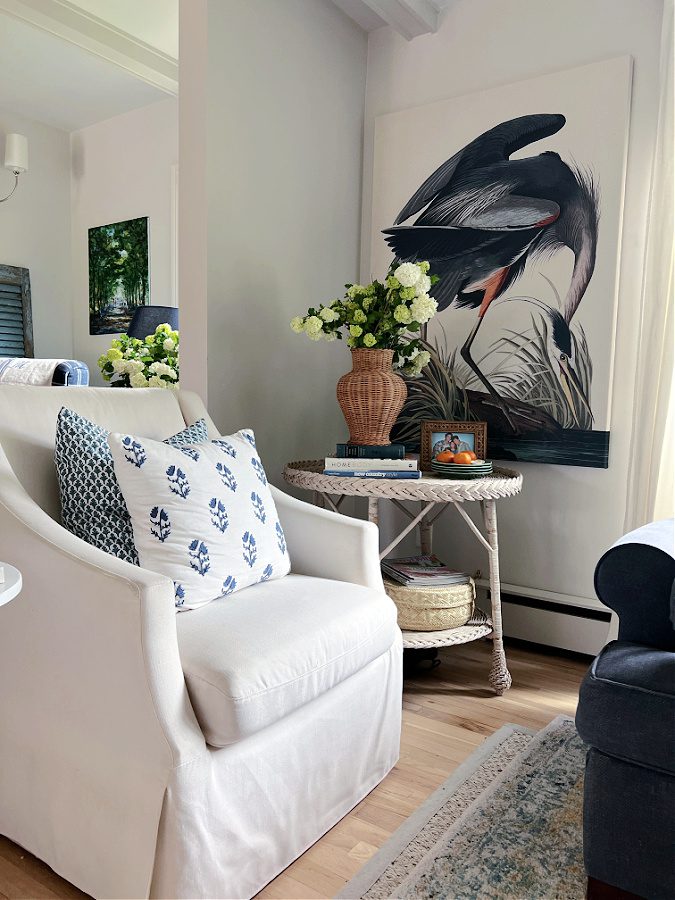 More viburnum snowballs add a fun punch of white and green to this larger round side table. I stuck them in this wicker vase with a special little trick you can see HERE over on Instagram.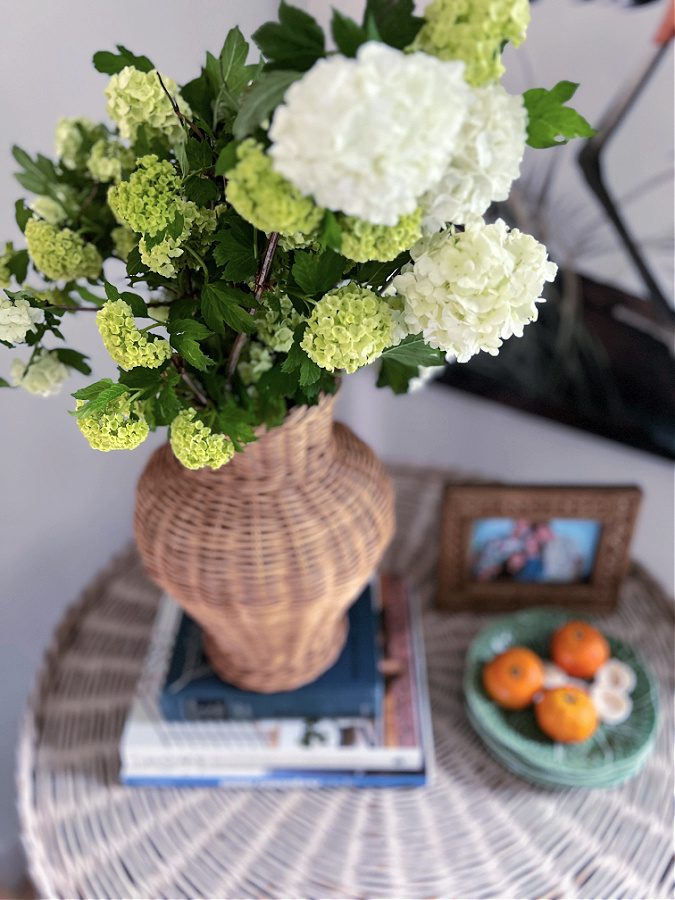 Scroll below to shop this space!

The Other Side
The other side of our family room features our fireplace and another sitting area. Yes, more chairs!
These bamboo chairs I found at Pier One years ago and they have been sitting in my parents basement for quite some time. I had my mom bring them over to try in our family room.
I'm thinking about painting them but I'm not sure. What do you think? Should I paint them?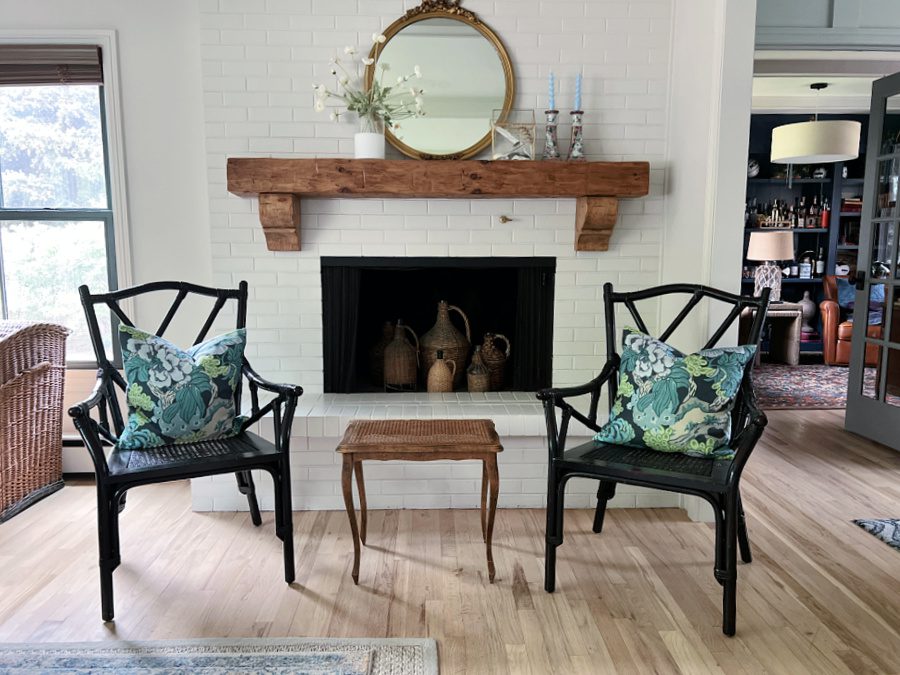 I kept the mantel to a minimum this summer which is a bit different from how I decorated last summer's mantel. However I did bring some light blue in with these fun spiral candles.
In the pretty gold terrarium I placed some more sea shells and a few feathers for a pretty and natural look.
And those white poppies…they are faux! Not going to lie, I'm a bit obsessed with them.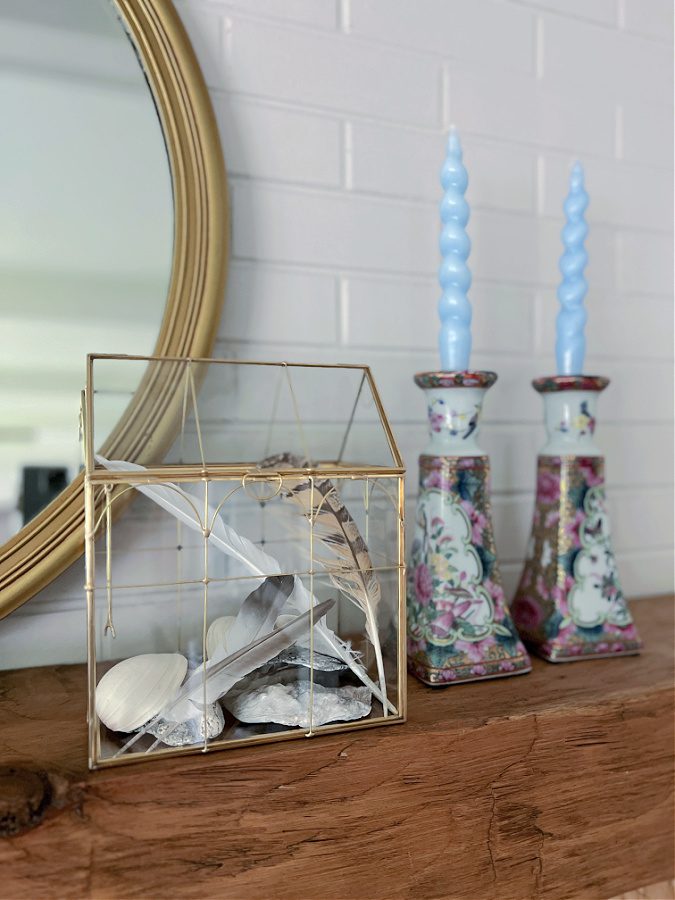 Shop this space by scrolling below.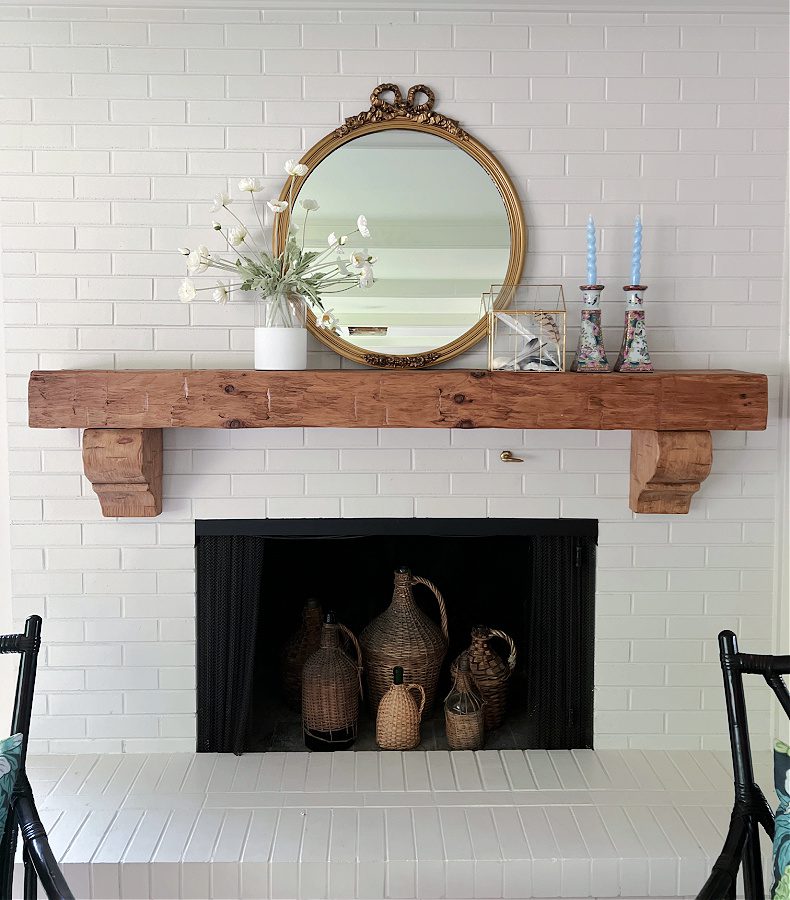 I was sparked with a bit of creativity one day and corralled all of my wicker demi-johns and placed them in our fireplace opening.
Obviously we don't use it in the summer so I thought this was a fun way to display my growing collection.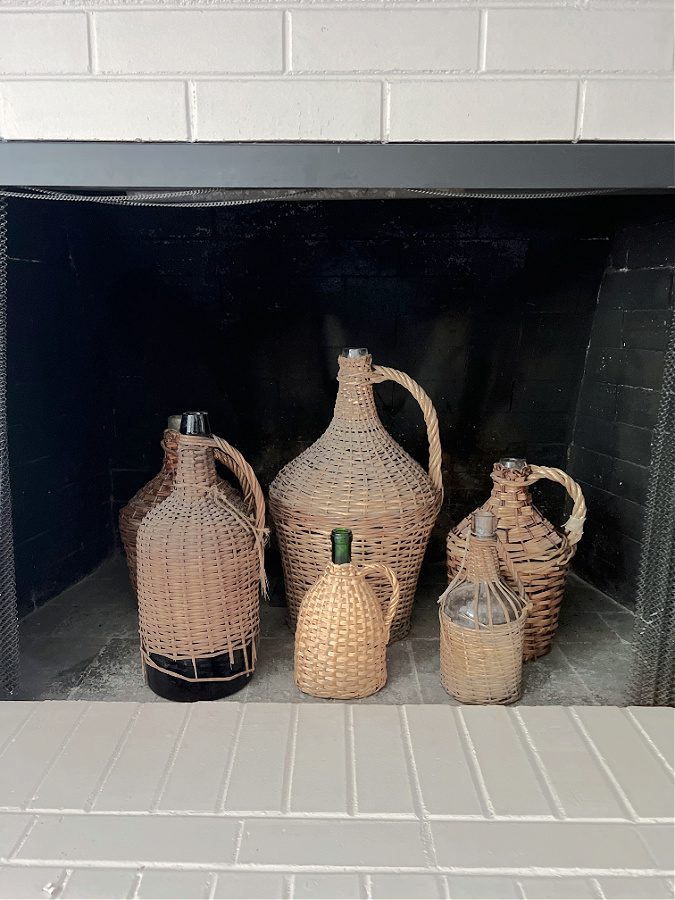 Finally, to the left of our mantel is my favorite boxwood green dresser. Each season I challenge myself to style her in a new and fun way.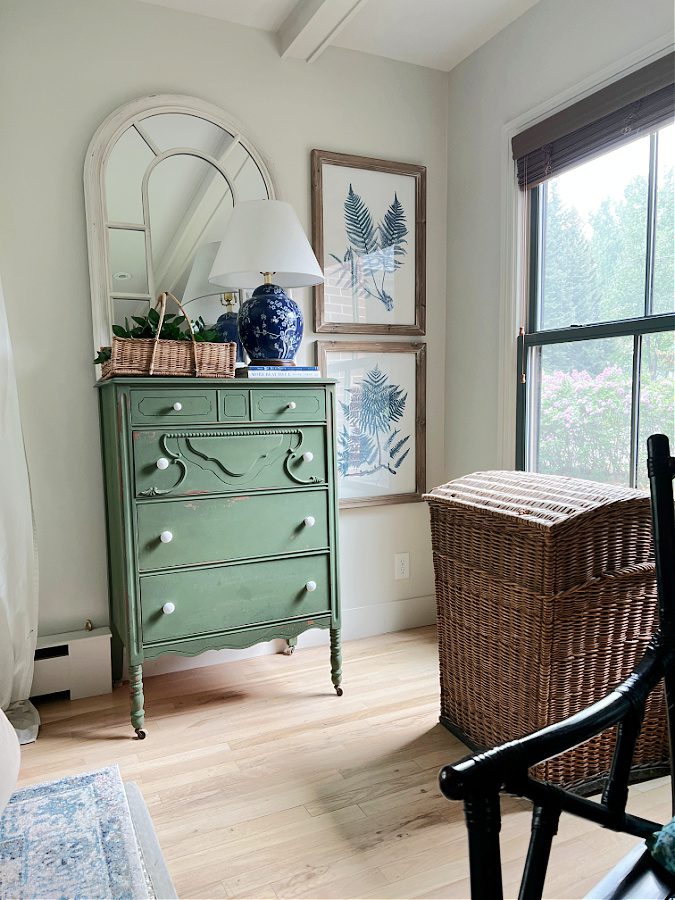 For some fresh summer decor I moved our blue and white lamp from the kitchen and placed it on top of some books . Then set this darling basket next to it stuffed with greenery.
Simple yet full of fun texture!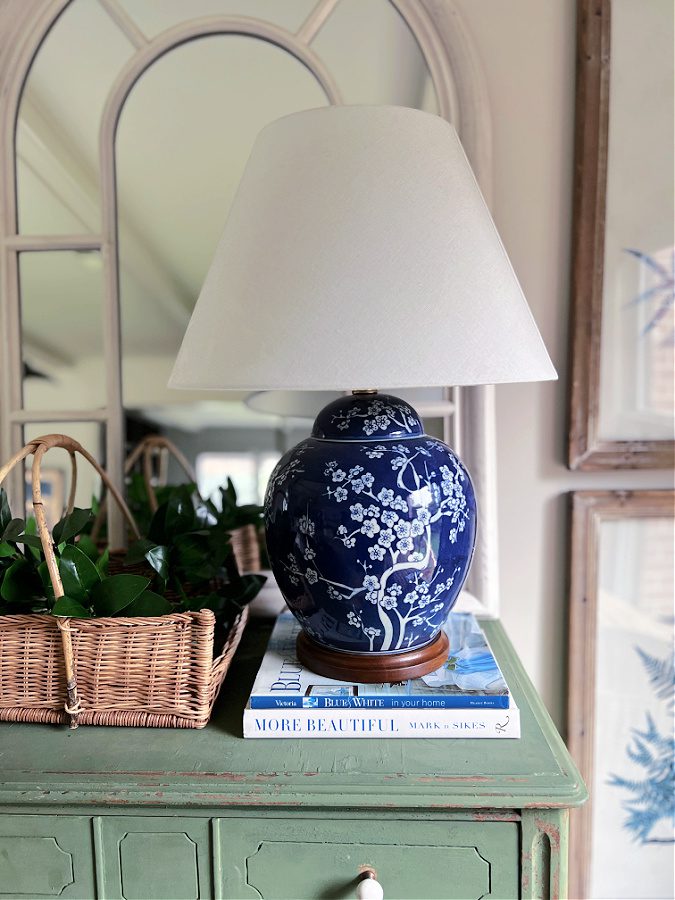 Books are always a part of my decorating and for this sweet little vignette I pulled books with blues to play off of the lamp.
As you can see I just had fun decorating with blues and greens for summer this year by pulling items from all around our home. It wasn't hard since these are my two favorite colors.
Summer decor doesn't have to be over the top. Little touches here and there can make a space feel pulled together.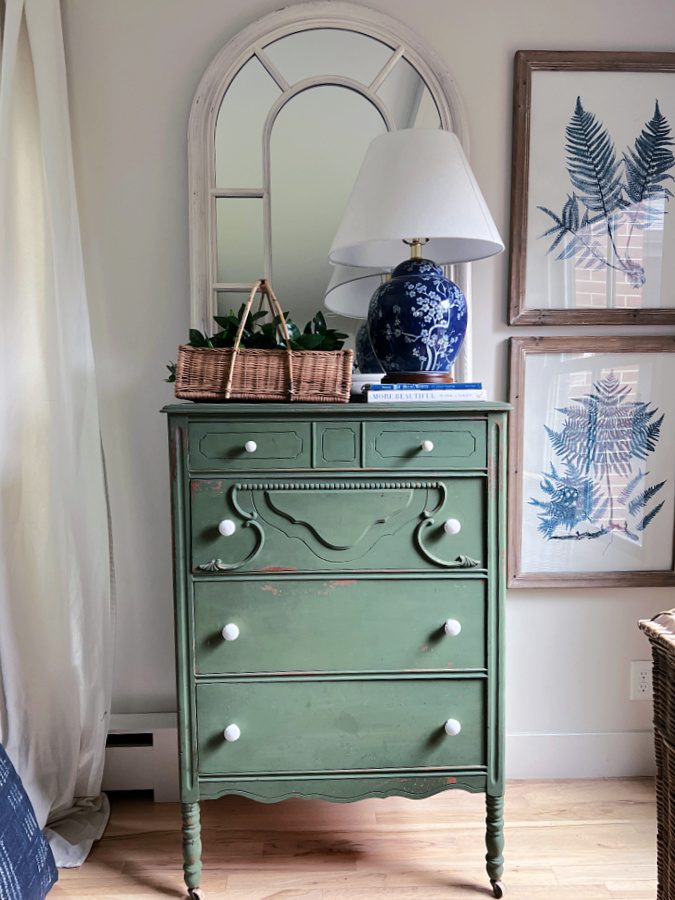 Shop this space by scrolling below.

Decorating With Blues and Greens for Summer
That's it for today, thank you for stopping by my 2023 Summer Home Tour! If something caught your eye and you have questions please leave me a comment below and I will do my best to answer it for you! Make sure to subscribe to be a Tattered Pew insider because I will be sharing an outdoor summer tour here in a few weeks!
Meanwhile make sure to keep scrolling to find the links to this weeks home tours. Next up on the tour is Suzy from Worthing Court blog. She is sharing her lovely porch and how she has decorated it with blues and greens. We are kindred spirits!
Bloggers' Best Summer Home Tours
This week I am joining some of my blogging friends for the Bloggers' Best Summer Home Tours. Twenty eight talented and creative women will be opening their homes up for you to tour all week long. You can visit each summer home tour by clicking the links below.
Monday's Tours

The Tattered Pew // Worthing Court // StoneGable
My Wee Abode // Southern Home and Hospitality // My Thrift Store Addiction
Tuesday's Tours

She Gave It a Go // Cottage In The Mitten // Eleanor Rose Home
Peacock Ridge Farm // Bricks n' Blooms // Cottage On Bunker Hill
Wednesday's Tours

White Arrows Home // A Life Unfolding // Simply2Moms
WM Design House // White Lilac Farmhouse
Thursday's Tours

The Ponds Farmhouse // Thistle Key Lane // Open Doors Open Hearts
Robyn's French Nest // Cloches and Lavender // DIY Beautify
Friday's Tours

Pasha Is Home // My Family Thyme