Christmas On Our Steps : An Evening Tour
Welcome friends to Christmas on our steps…an evening tour of our house all lit up for the holidays! For our first Christmas in our new house I could hardly wait to decorate the outside of our home. I knew I wanted a lot of greenery, vintage accents and a lot of lights. So that's what I did!
This post contains some affiliate links for your convenience. Click here to read my full disclosure policy.
Vintage Christmas Tour Of Homes
Today I am joining Amber from Follow The Yellow Brick Home for her Vintage Christmas Tour of Homes blog hop. If you are coming over from Kim of Shiplap and Shells and her vintage inspired Christmas bedroom, welcome! Don't you just love her cottage and beautiful style?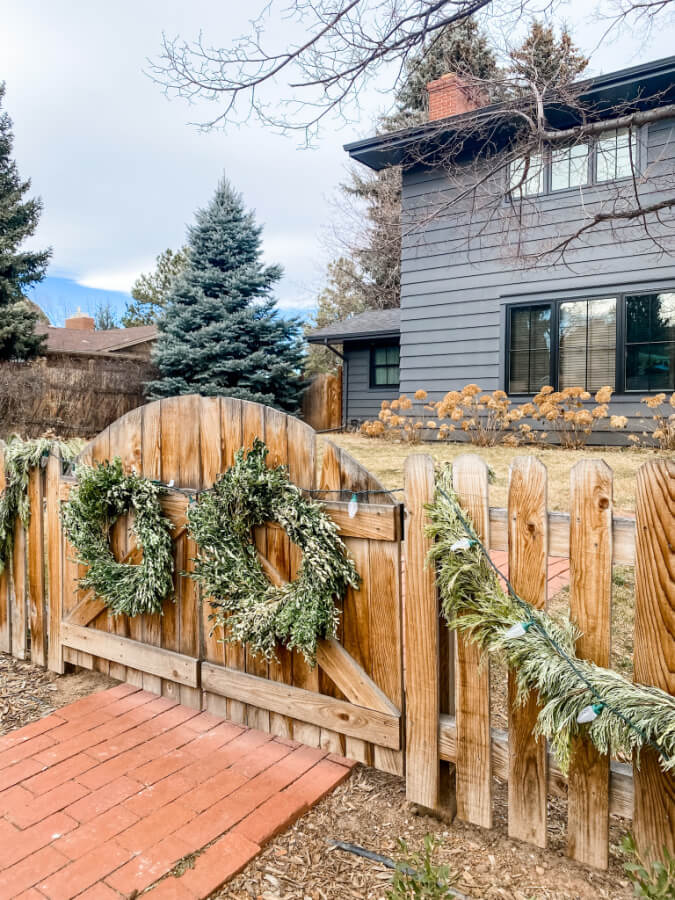 I'm Kelly and I live in Colorado. My family and I recently moved into a new to us home and so this is the first year I have decorated it for Christmas! Our home was originally built in 1964 but recently remodeled by the previous owners. They kept a lot of the character and charm of the home and we absolutely love it! They also added a lot of charm like the wooden fence that encloses our front yard, brick path and the new door and trim. All just a few of the reasons we fell in love with this home!
If you are curious about the inside I shared our Christmas Home Tours last week and you can see Part 1 here and Part 2 here. And now I can't wait to share the outside with you all today!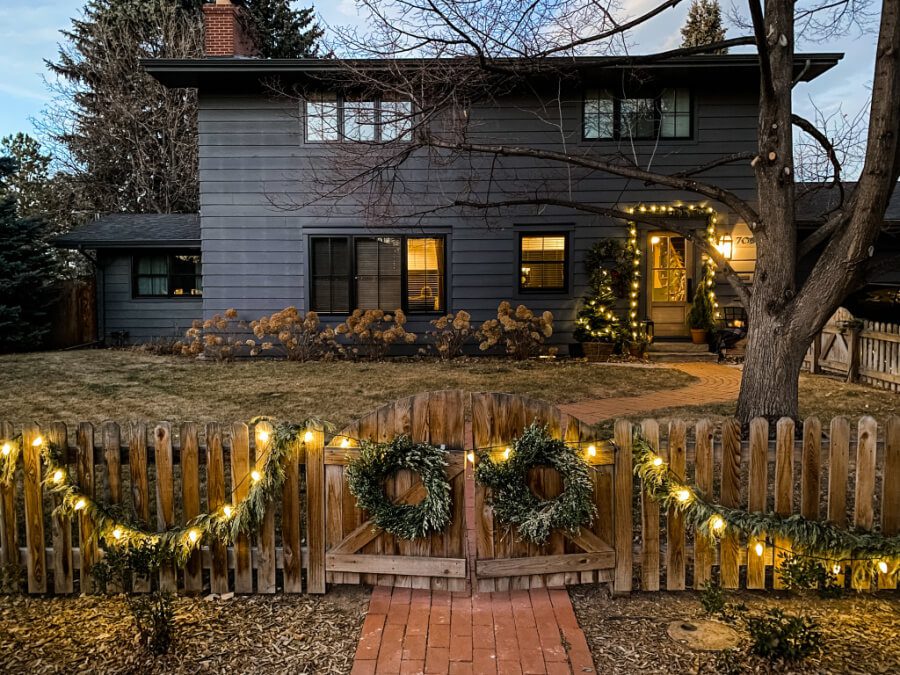 Christmas On Our Steps: An Evening Home Tour
Every year around or on my birthday, December 22nd, we have a family tradition of driving around and looking at Christmas lights as a family. We either bring hot chocolate or pick some up at a local coffee shop and do a scavenger hunt looking at the lights around town. So the moment we saw at our new house can you guess what I was thinking?
This front door and this picket fence would looked fabulous draped in greenery and lights!
So that's what I did!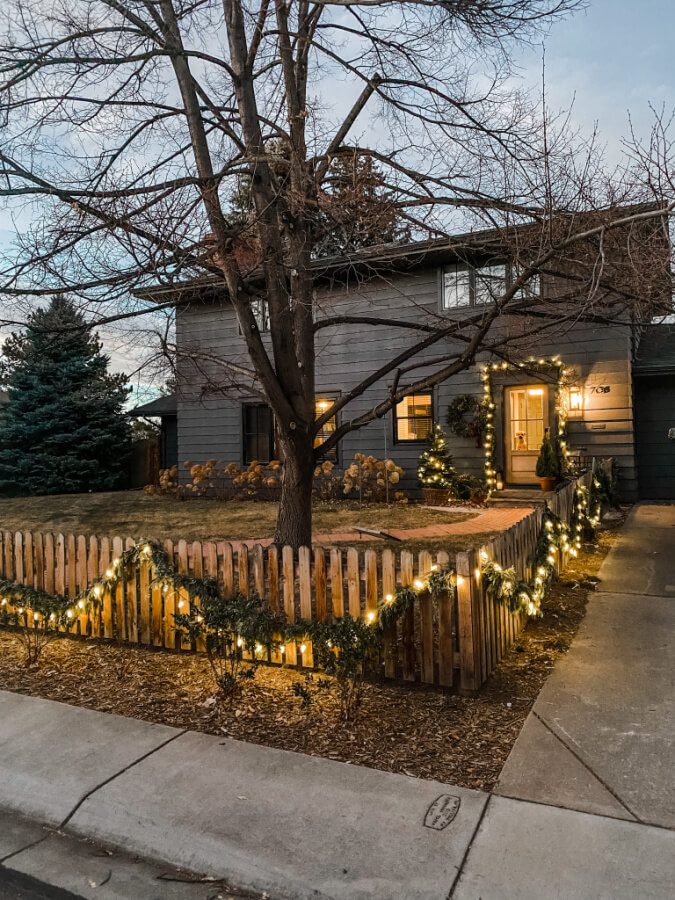 It's like this fence was made for greenery to be swagged along it with lights!
Accents of Greenery
For the greenery around our door and half of our fence I went to O'Tooles Garden Center in Denver. I chose their mixed greens, a 4.5 foot Fraser fir tree and a large mixed greens wreath. They have the absolute BEST greens that are so fresh! Because our fence is so long I didn't get enough and had to pick up some more garland from Home Depot to finish off the fence.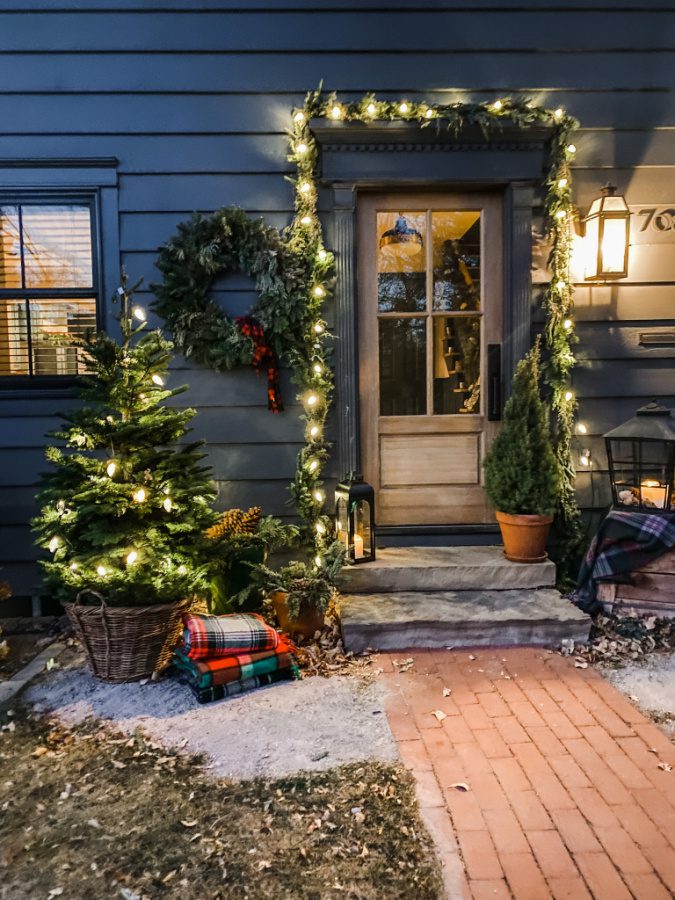 I couldn't leave out pots bare so I used sugar sugar pine cones, pine cones from our yard and trimmings from the tree and garland to add color. I did learn that since our new house is south facing that the greenery will not be lasting as long as it did at our old house which was north facing and had a covered porch. So next year I might be using faux on the fence which will save me some money too!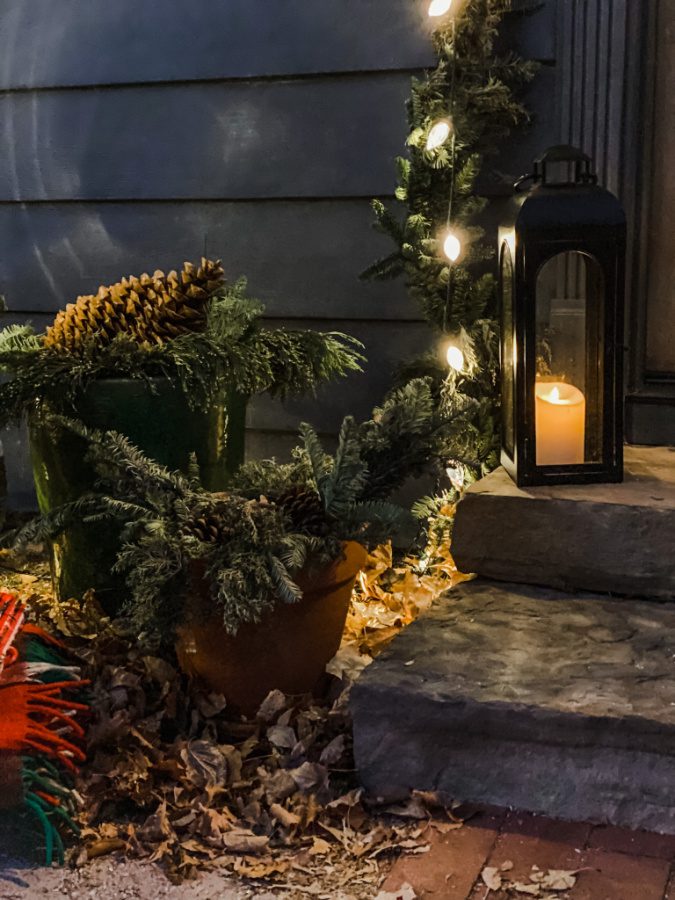 Sadly you can see there is currently no snow here in Colorado. It's been a very warm winter and so there are still a ton of leaves on the trees and our yard. I swear we have raked them up numerous times. I'm crossing my fingers we get snow. I just know it will be magical with the greenery and lights!
Vintage Touches
My heart belongs to vintage accents so whenever I can I like to add vintage touches around our home. That also applies to our front steps! I had fun stacking some of my vintage plaid blankets on the ground. They add just the right amount of color!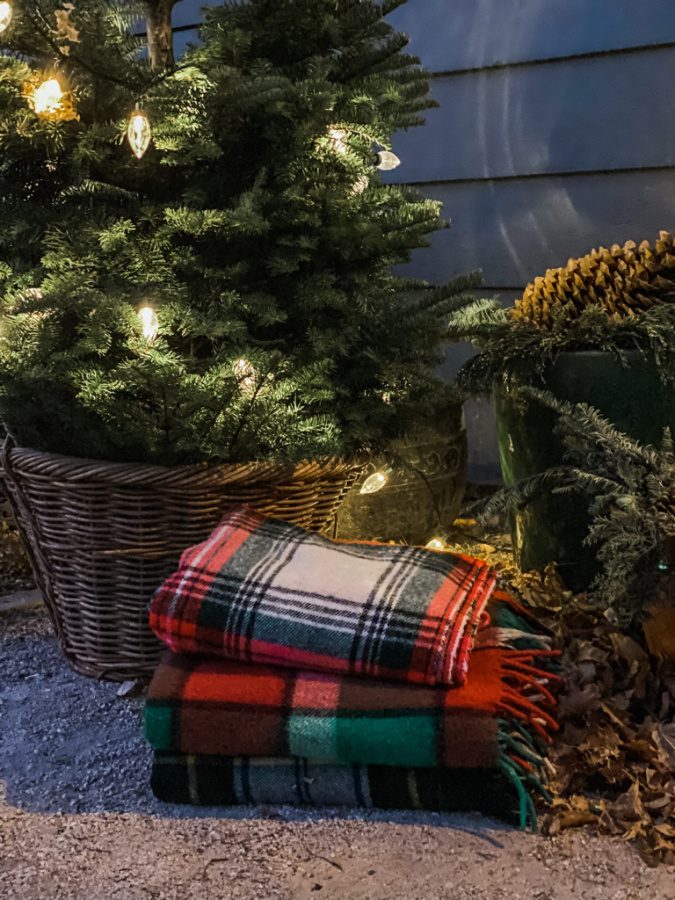 I also tied a vintage plaid scarf around the huge wreath next to our door.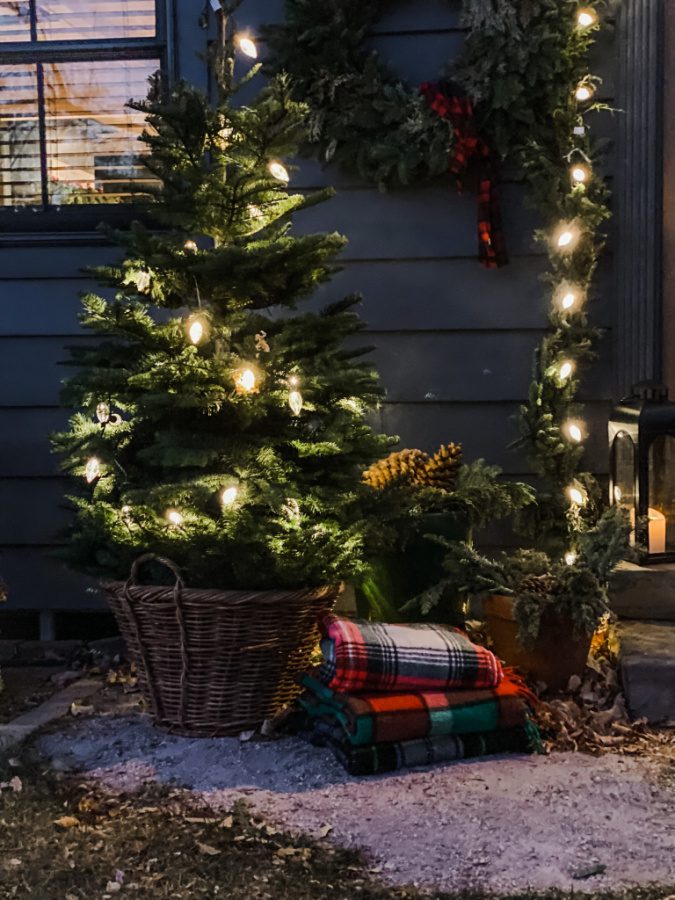 And I can't forget about the beautiful vintage basket that our outdoor Christmas tree is sitting in! I found this basket at a flea market a few years ago and loved it's shaped. One afternoon when my mom stopped by our house she noticed it and said I should try the live tree in it out front.
Well goodness gracious was she right! I instantly loved the combo. The tree itself is in a tree stand that I literally wedged down into the basket. Ha!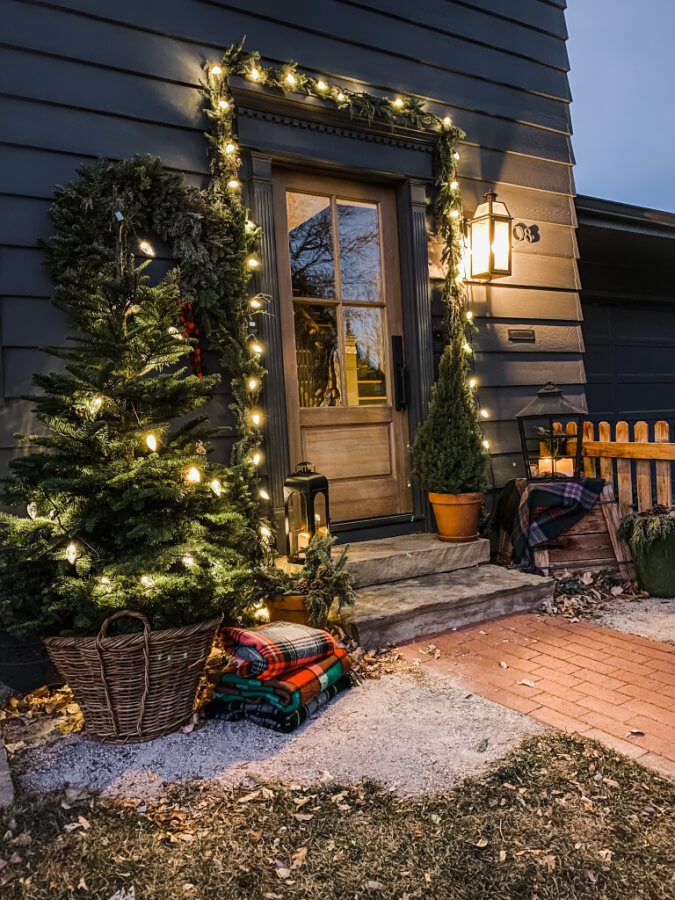 Christmas Accents
On the other side of our steps I have turned over an old tree crate to use as a table of sorts. You can also see how I used on our fall steps!
To soften it I draped another plaid blanket over it and added a large lantern on top. Inside the lantern are more pinecones, greenery and some battery operated candles. I love their warm glow!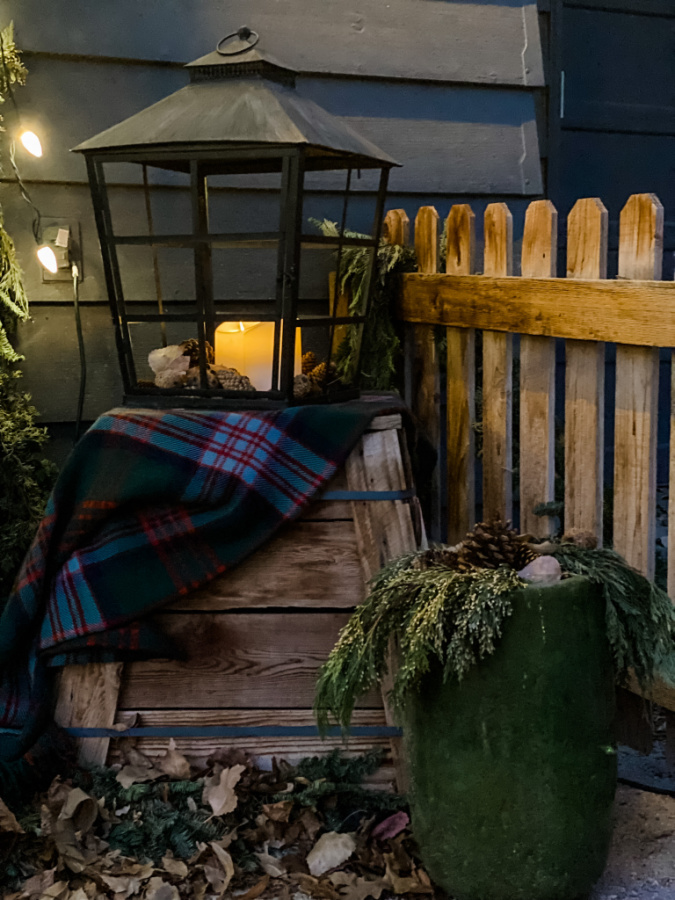 The white lights on our house make me so happy every time I drive up. Maybe next year we can add more around the top of the house and the trees! A girl can dream right? DO you have lights on your home? Are they colored or white?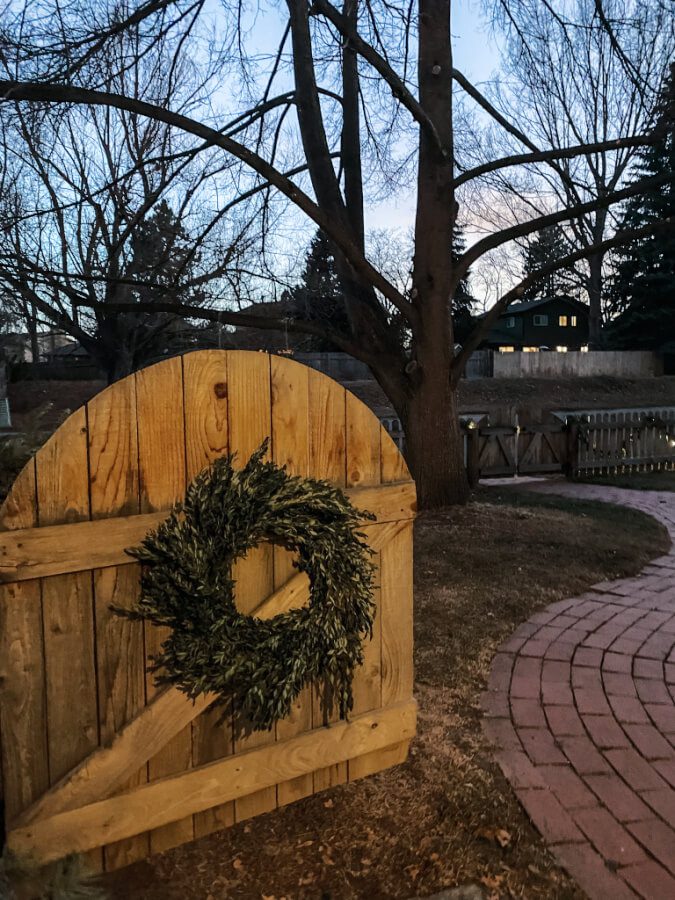 Christmas On Our Steps: An Evening Home Tour
Thank you for stopping by an evening home tour of Christmas on our steps! What did you think? I had fun keeping it simple and classic. I'd love to know what your favorite part was, please let me know in the comments below! If you want to hang out with me some more you can subscribe to the blog. Also, I shared a short video of the outside of our home over on Instagram if you want to see that too! Merry Christmas friends!
Now make sure to stop by Christy of Our Southern Home who is showing some historic Southport homes at Christmas! Then scroll down to see the other ladies sharing for today's tour!
xoxo,
Kelly
You are invited to the Inlinkz link party!
Did you like this post? PIN it for later!