Decorating with Topiaries
I am excited to share with you a few different tips and tricks for decorating with topiaries around your home.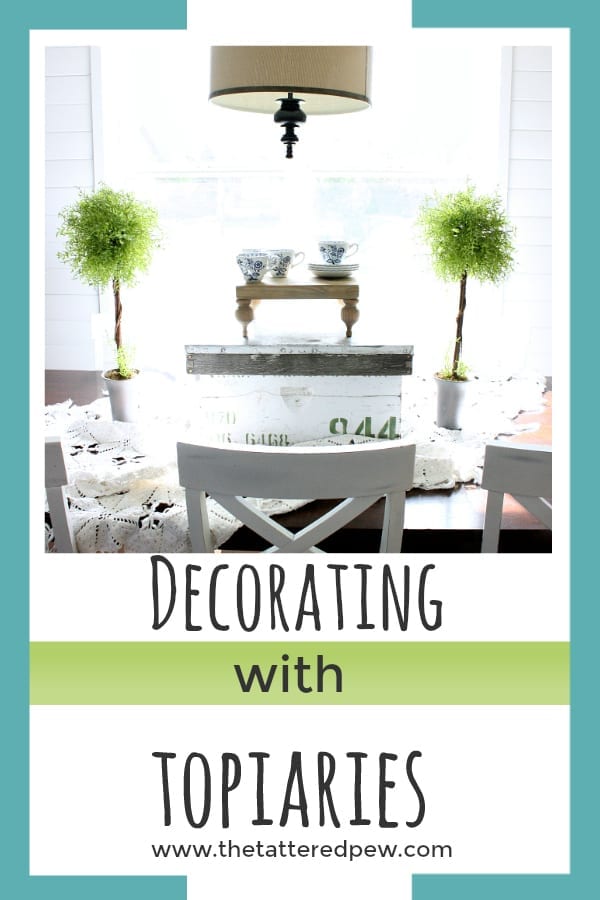 (**The links in this post contain affiliate links and I will receive a small commission if you make a purchase after clicking my link.  Thank you for supporting my blog dreams!)
I have been searching for the perfect topiaries for quite awhile now.  Ok let me rephrase that; "affordable" topiaries.  Because you can usually find beautiful topiaries but goodness gracious they almost always cost a fortune!  My love affair with topiaries started because of my mom.  She has a set of beautiful boxwood topiaries that I have always admired.  I especially love how she uses them in her home.  Thus began my hunt for the perfect topiaries!
Last season IKEA had some beautiful faux and affordable ones and COSTCO had live lavender ones available this year and last year, but apparently I have bad timing because somehow I always seem to miss them. Luckily my mom and sister have been on the hunt for me. Well that happy dance happened last week because my mom was successful and found these beauties for me!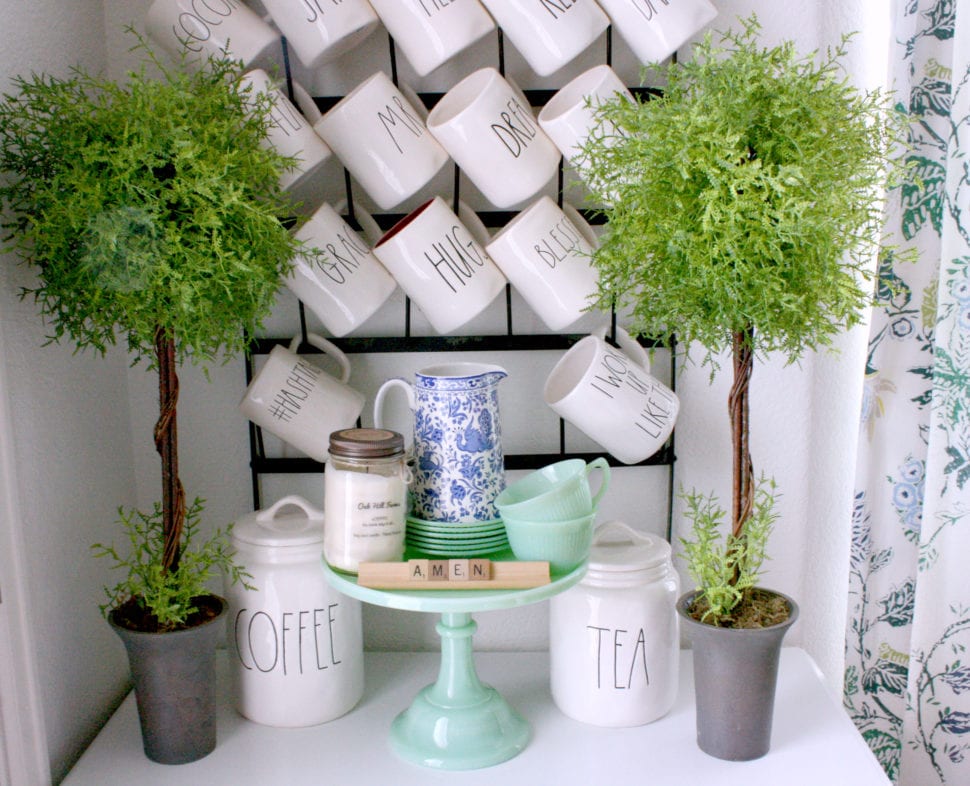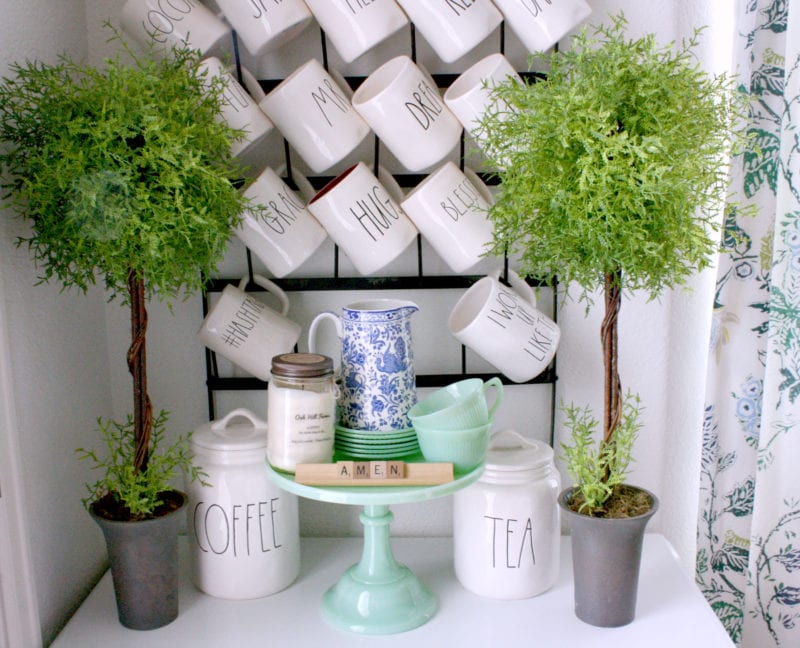 They are faux!  Can you believe it? That means this lady has no chance at killing them! Win win!  My mom found them at a local nursery here in town, Bath Nursery.  They were only $35 each.  Which by far is the cheapest I have seen them for in a LONG time! Thanks mom!
Ok and now for the fun…I will be moving these beauties throughout my home.  Please tell me I'm not the only one who feels that styling your home and creating vignettes is therapeutic?
Let's get started ….
KITCHEN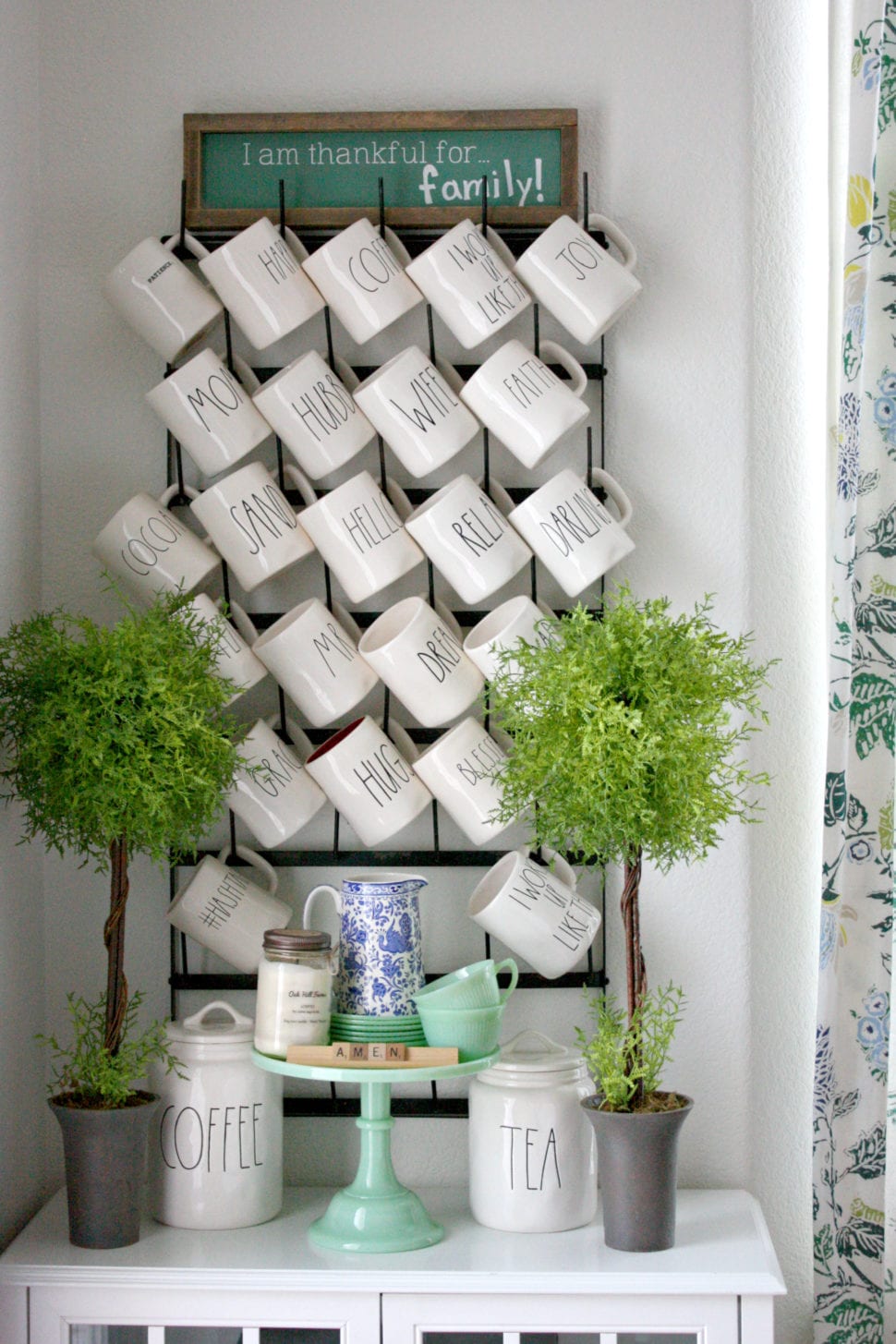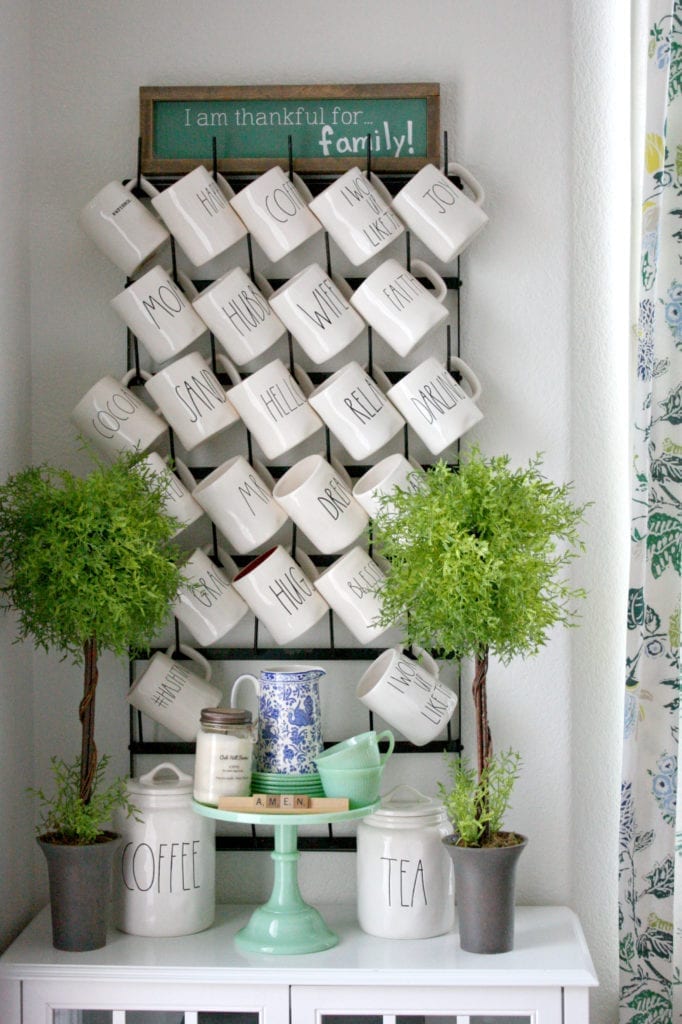 My mug rack is usually the first place I enjoy styling when I have a new purchase!  These topiaries frame my mugs perfectly!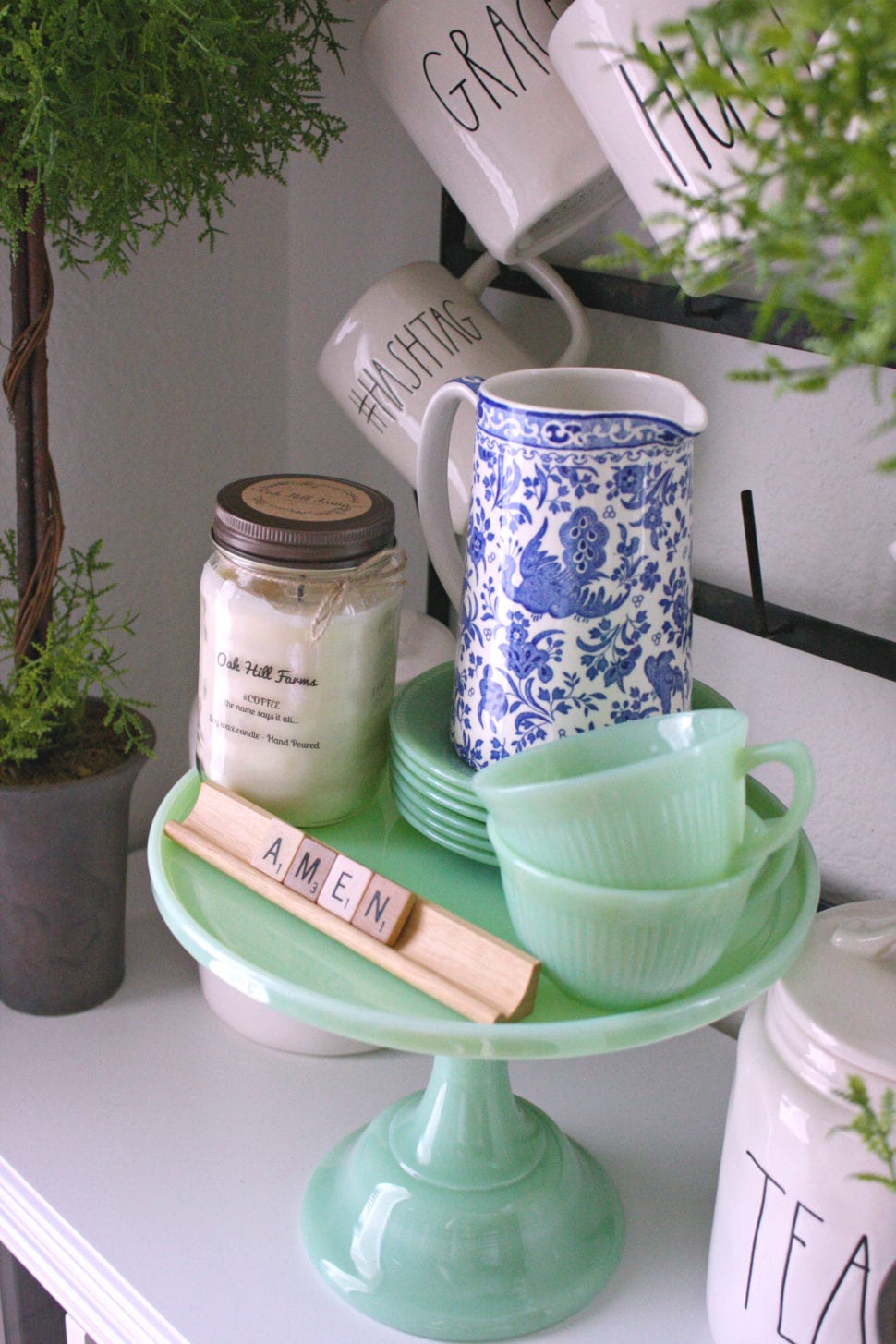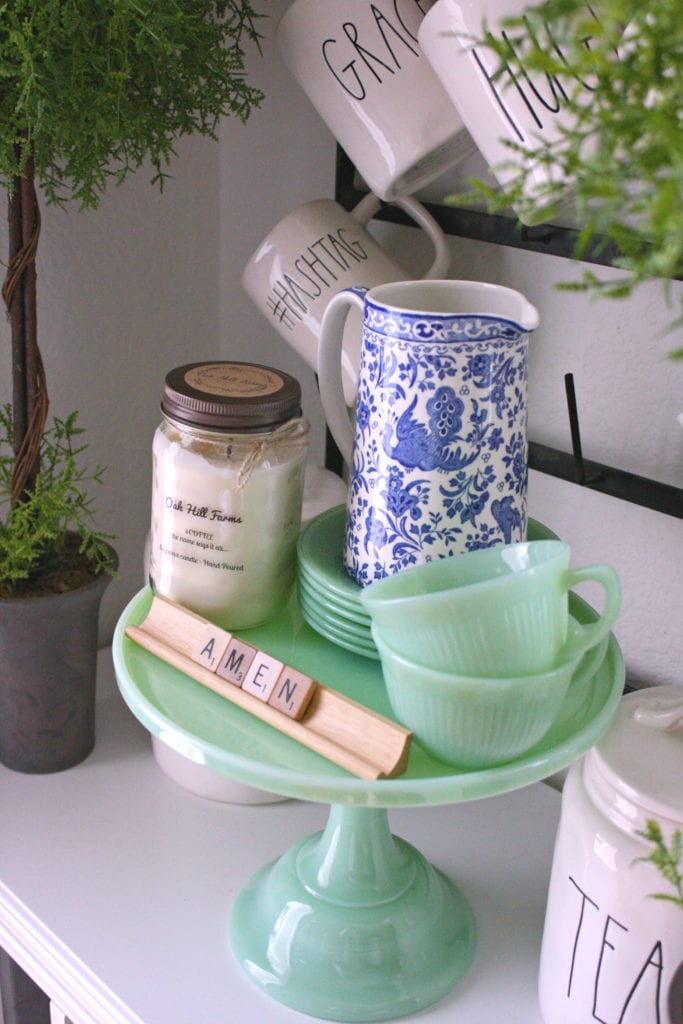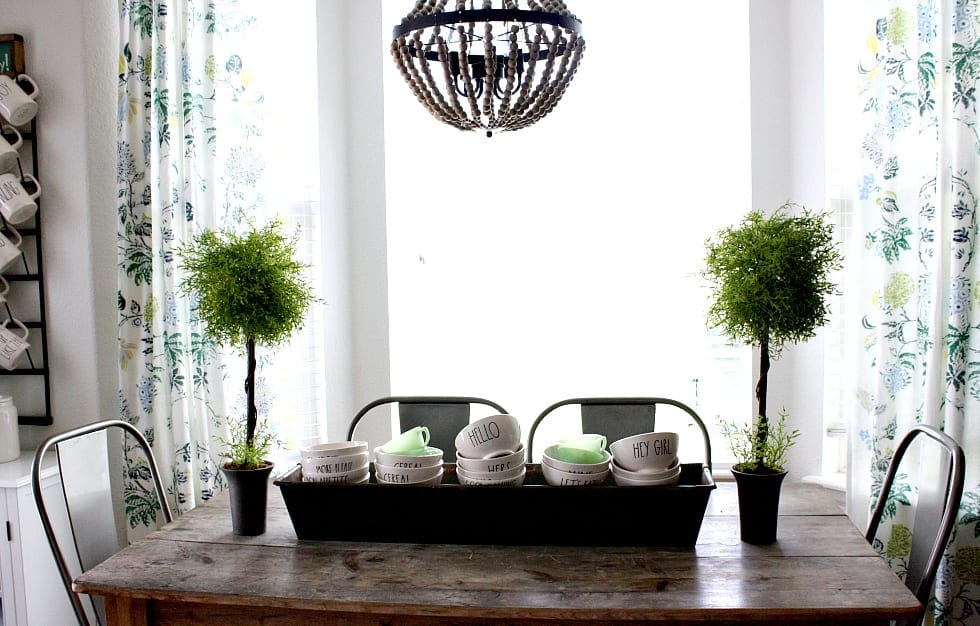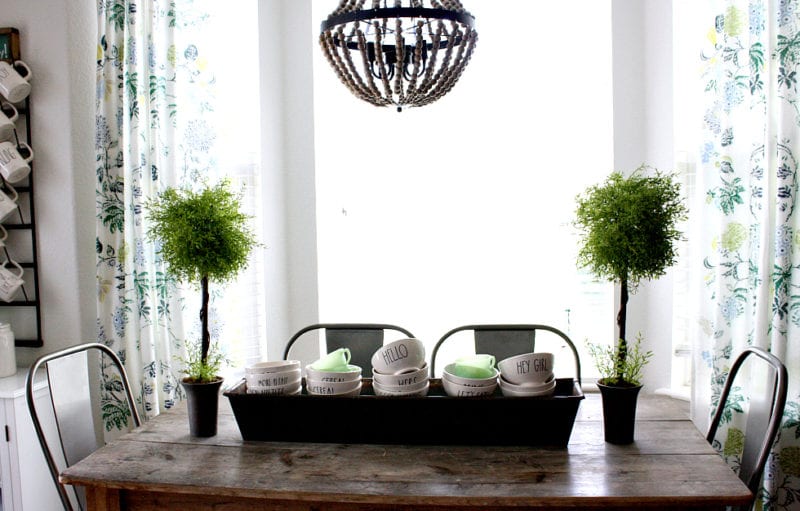 Next, I moved them over from the mug rack to my farm table in our kitchen nook. Seriously, don't these topiaries look good anywhere you put them?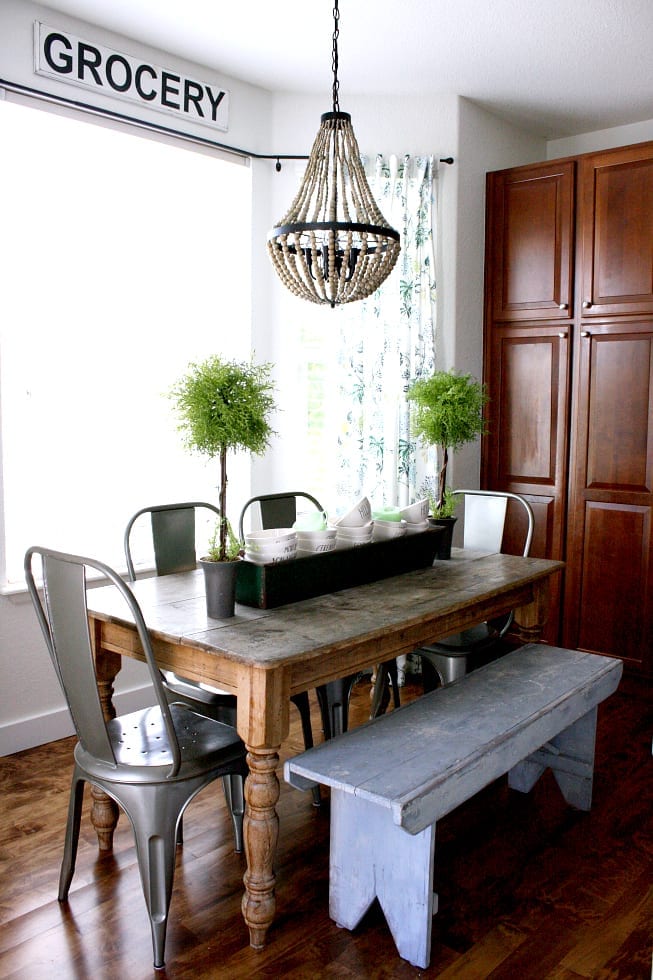 They add the perfect height to any display.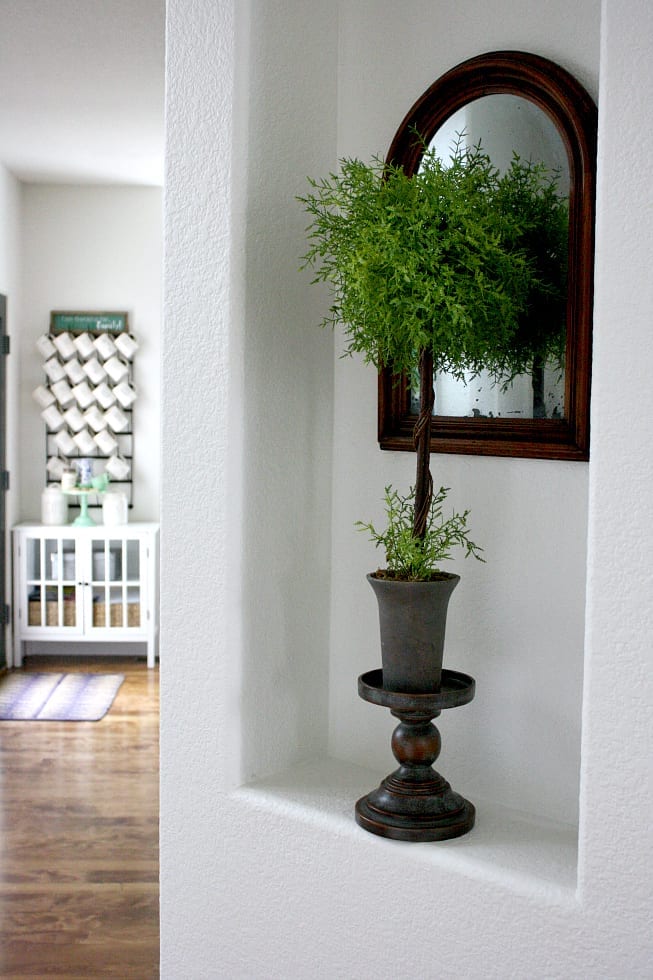 They even look perfect on their own just like this one in my little niche!
DINING ROOM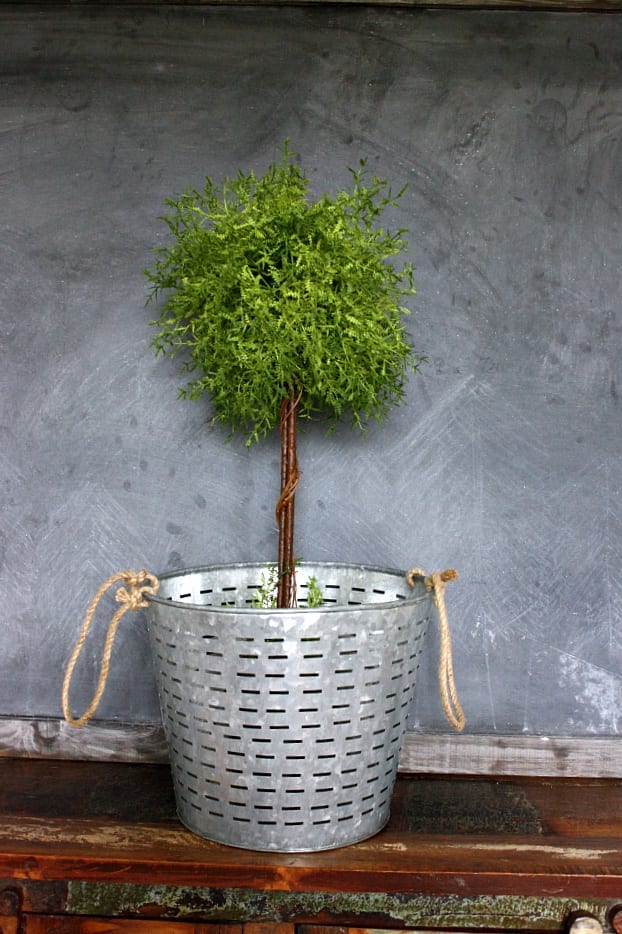 I placed this single topiary in my galvanized garden bucket from Target. I love the contrast and simplicity it creates against the chalkboard that sits on the buffet in our dining room.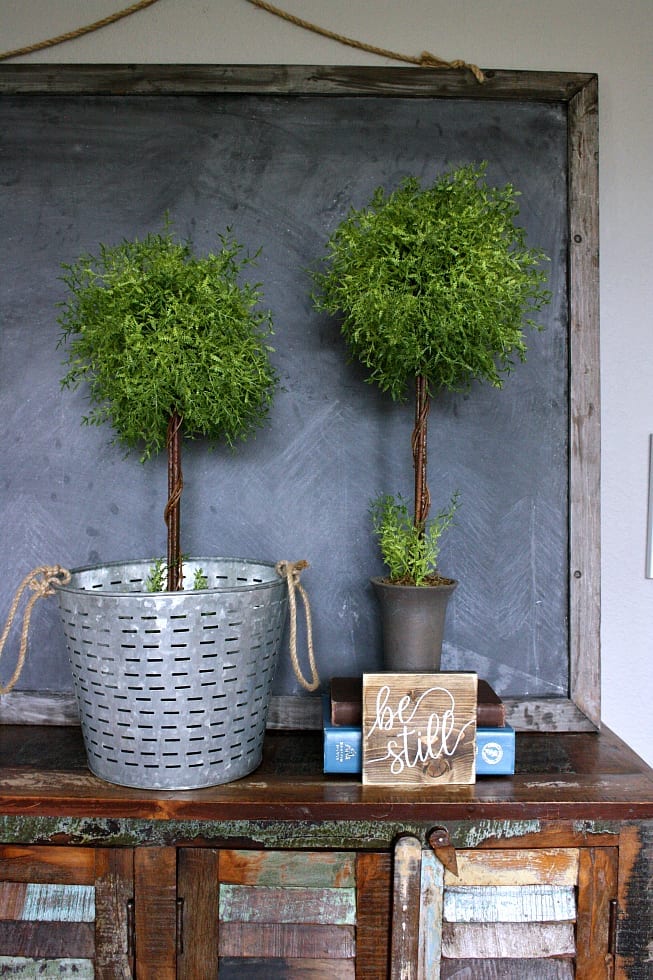 Books are one of my favorite decorating tools! You can always use them to add color or height to any vignette.  I added books here to give the second topiary some added height.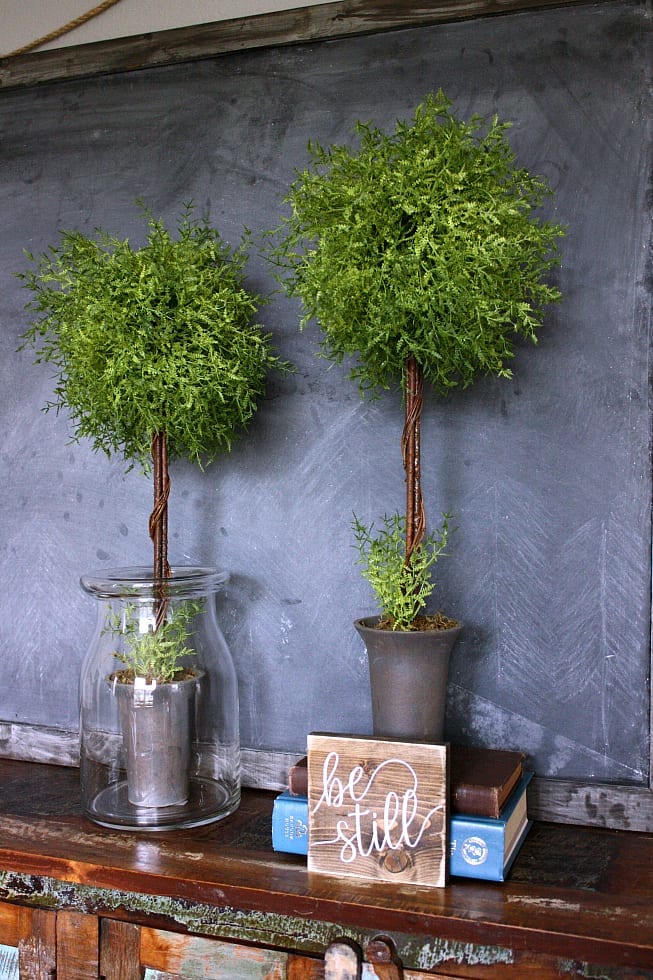 In this picture I traded out my olive bucket for this large glass vase/jar from IKEA.  Don't be afraid to get creative with what you place your topiaries in…usually it will bring about a whole new dimesion and fun look!
Now on to the dining table across from the buffet and chalkboard.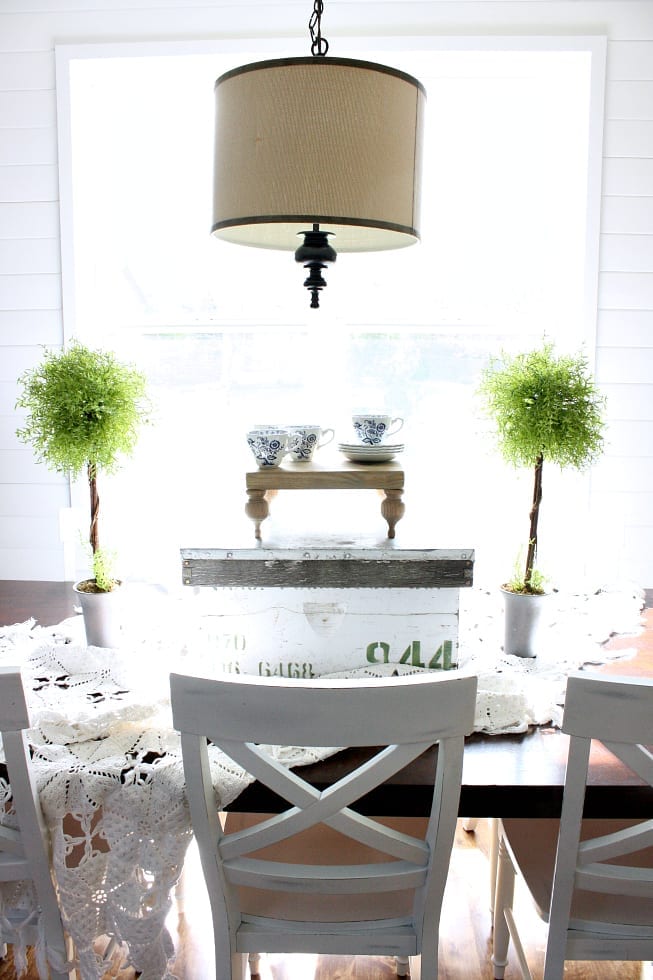 Here I am excited to share how effortlessly these beauties flank this gorgeous old bee box from Brooklyn Finds Design Co.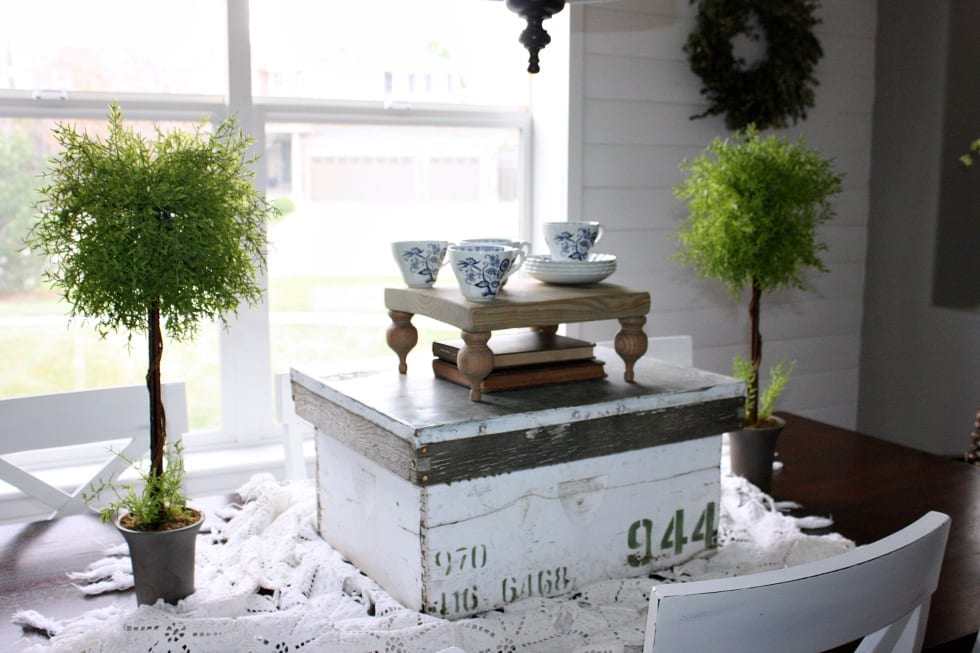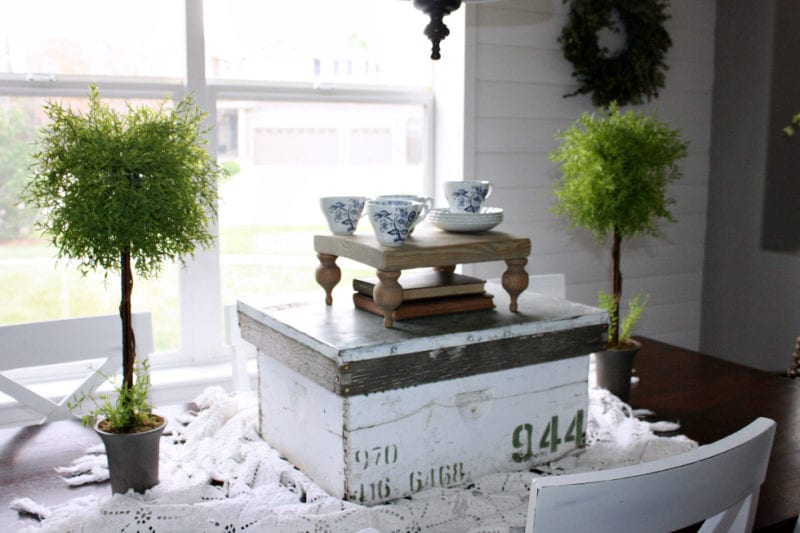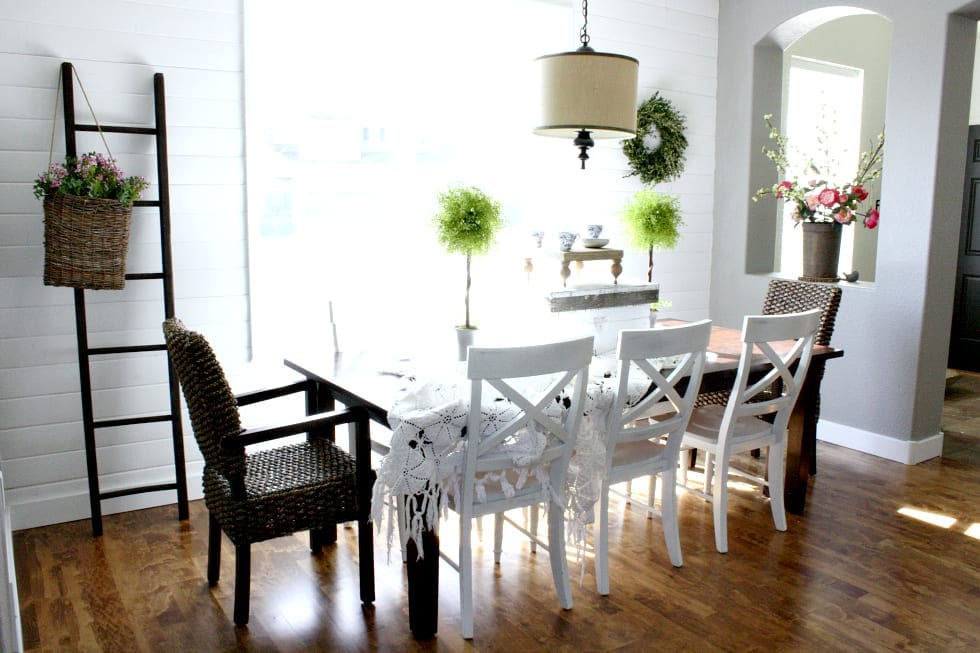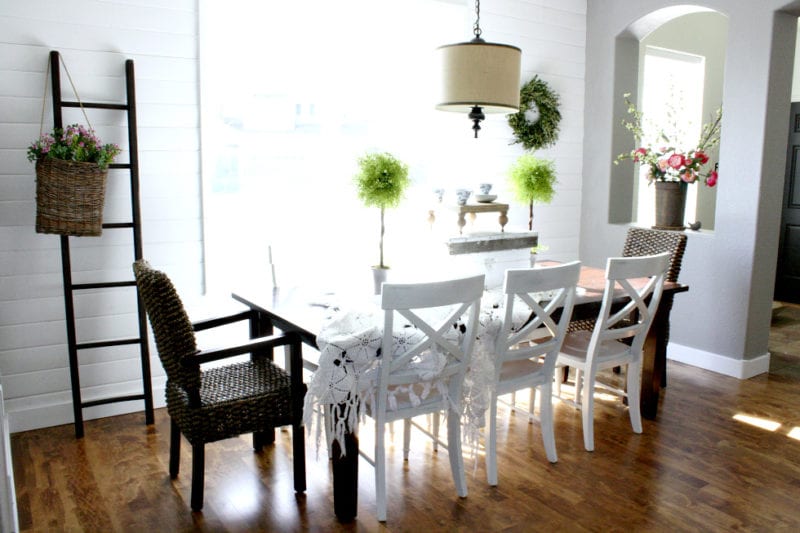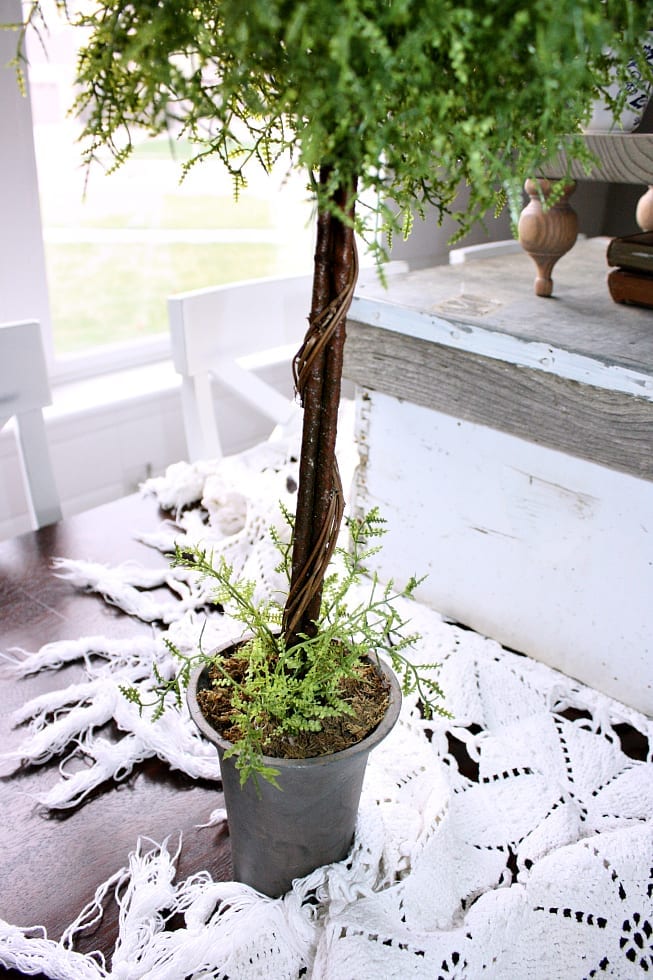 This old vintage bedspread works perfectly as a table cloth and helps soften the topiaries on our table.  With this close up you can tell that this is a faux type of fern.  Overall the look is very realistic and I couldn't be more in love with them!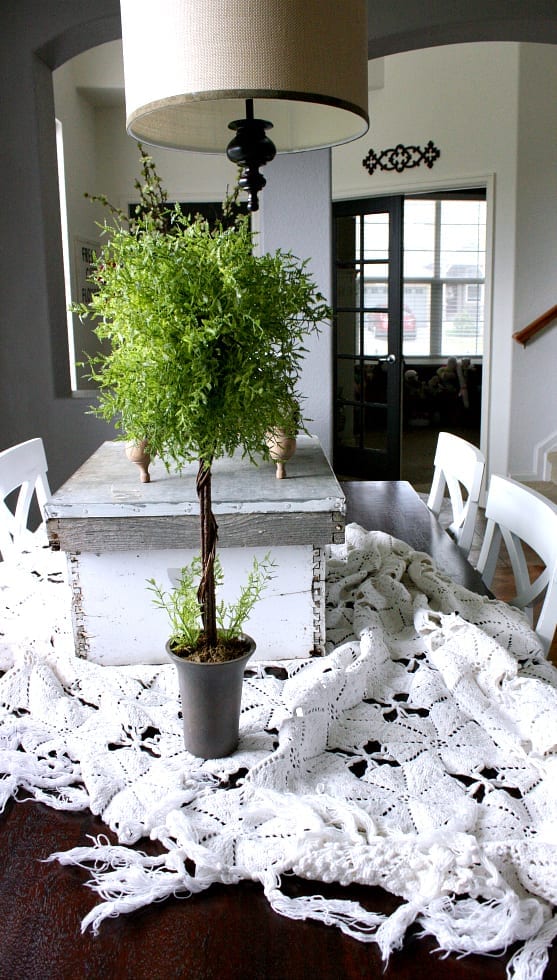 FAMILY ROOM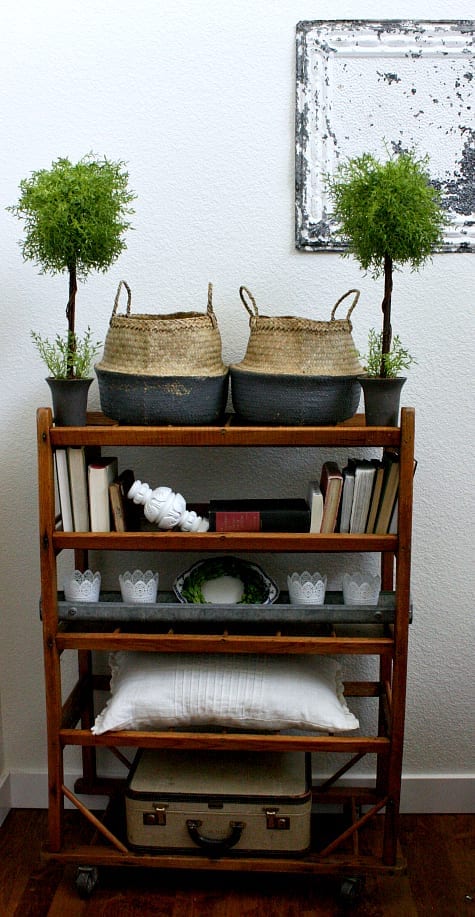 I simply placed the topiaries next to these baskets on my antique drying rack…a simple yet high impact touch on our extra high wall in our family room.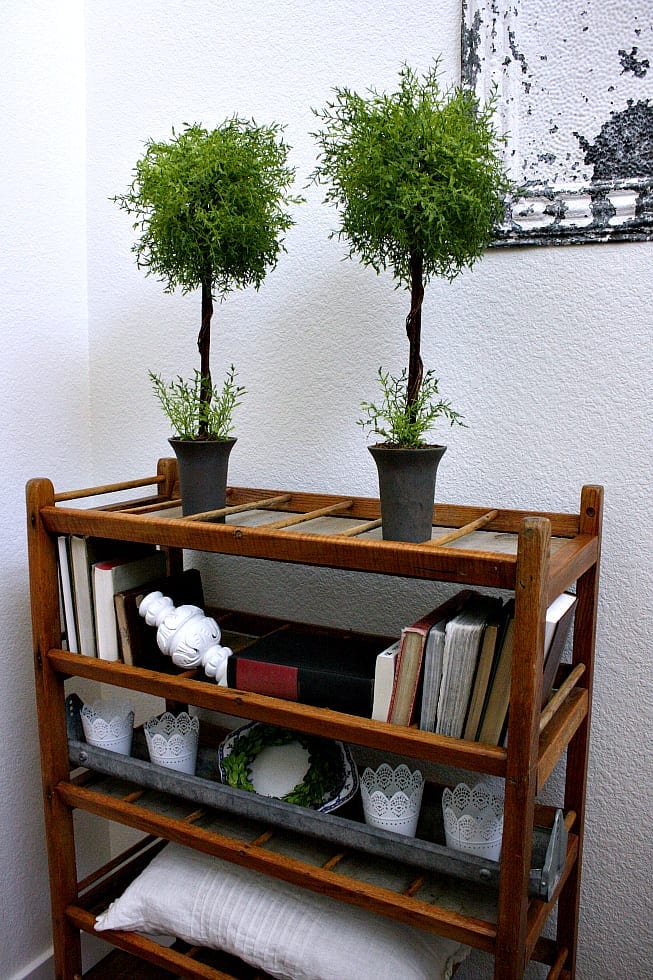 Our antique drying rack sits next to our couch and is always fun to decorate. In this picture I took away the baskets an just set both topiaries on the top. Their height broke up the white wall behind my cart. If you can't tell, I love the look of symmetry!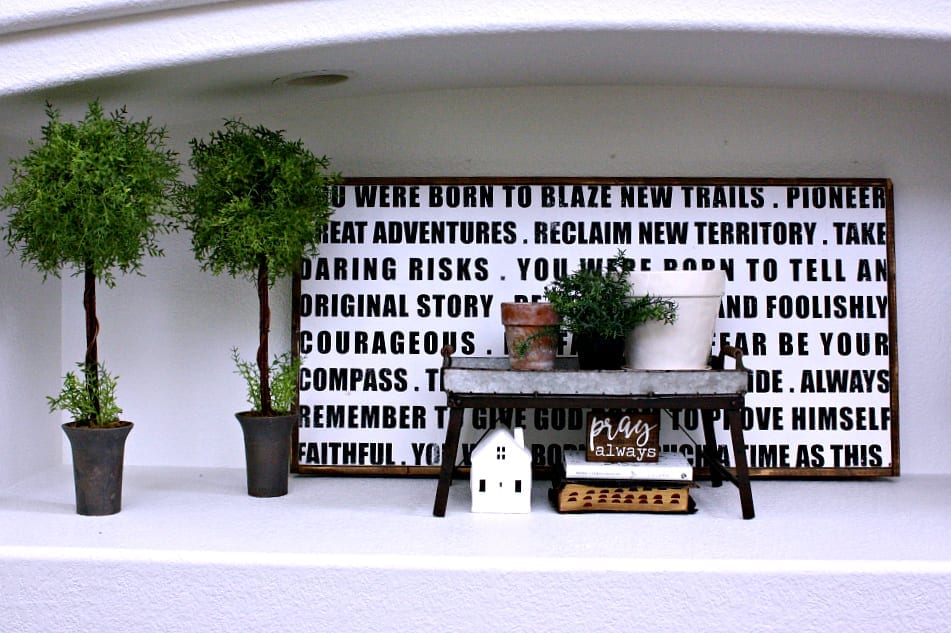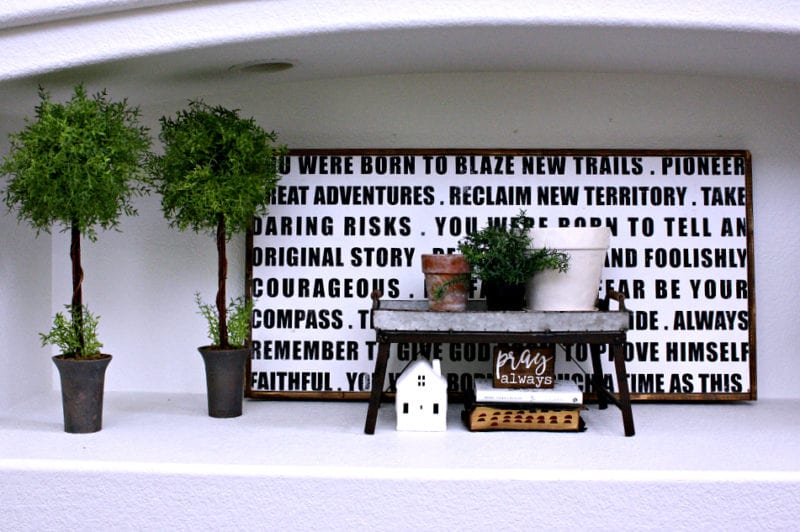 Finally, I moved them to the alcove above our TV and fireplace. I had fun grouping them and separating them!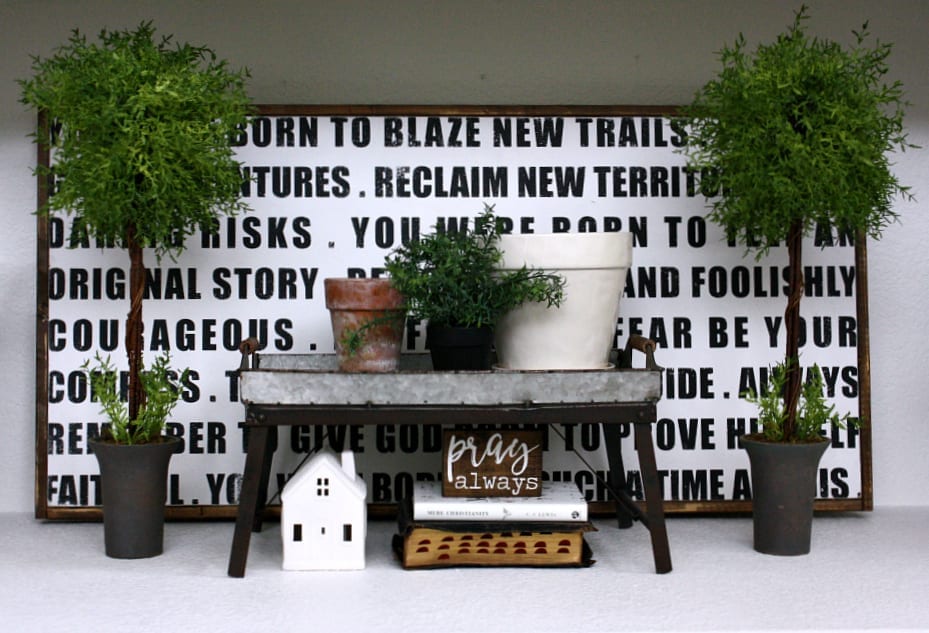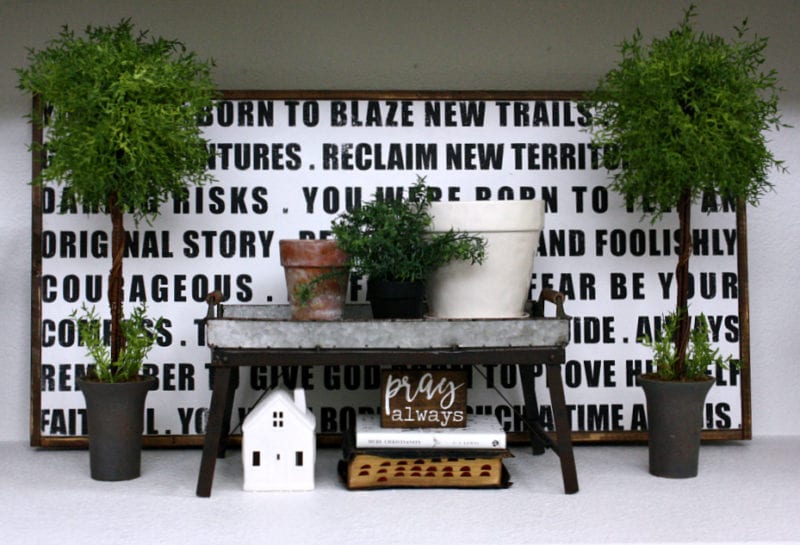 As you can see there is no shortage of ideas for how to decorate with topiaries.  They are the perfect home decor item to bring high impact and wow factor to any space in your home.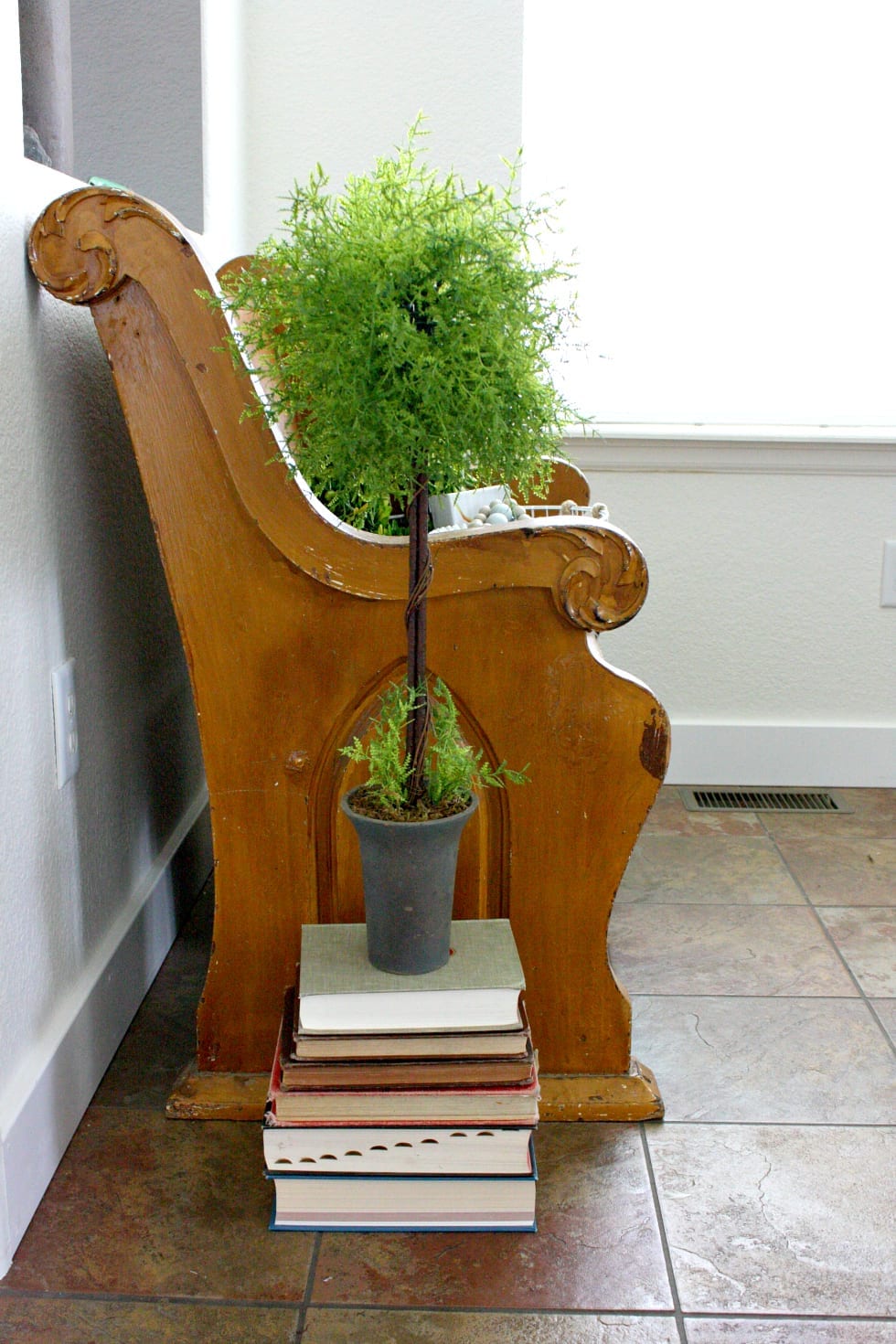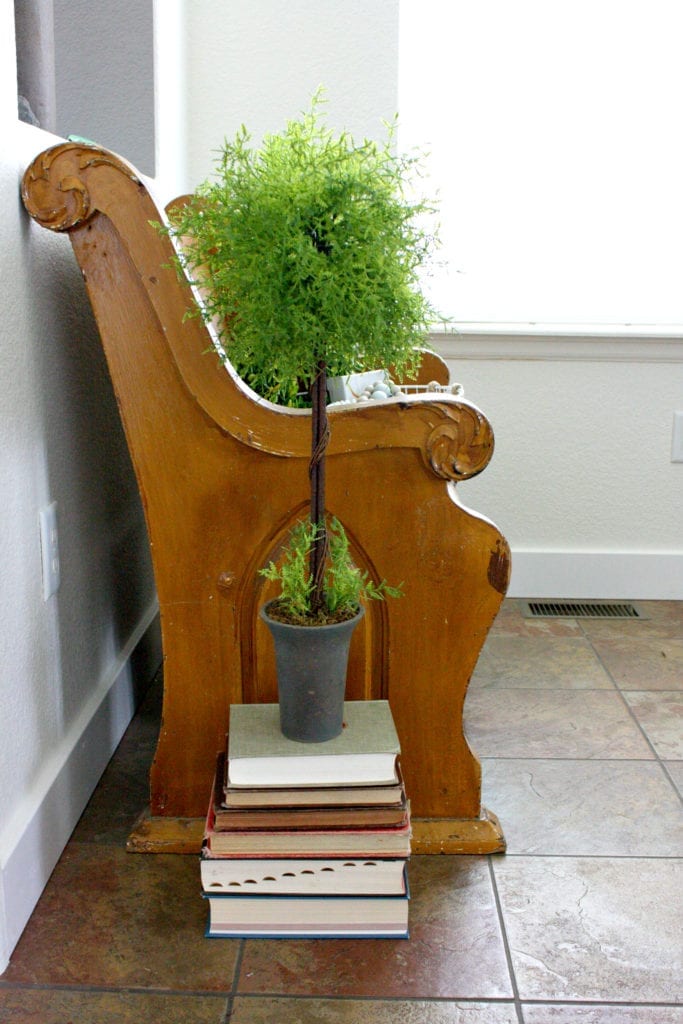 The final landing spot that I fell in love with was right next to my tattered pew! You can see how I updated my pew here!
Thanks for stopping by!  Please let me know below in the comments which spot was your favorite of all the different spaces I shared. I also made these darling tea cup topiaries and I think I might be on the look out for lemon topiaries next!  You can never have too many, right?!
XOXO,
Kelly